Everyone is interested in investing in the future, but the best way to do it goes beyond simply recycling. There is something to be said about those who back up their values with their wallets, and with ESG investing, you can do exactly that. There are many options available to make lasting changes for those who are new to investing or want to diversify their existing portfolio.
However, one of the most affordable is using a Robo-advisor to diversify or build an ESG portfolio that fits your needs. With so many on the market, it can be hard to choose which one will be best for your investment dollars.
To help make things easier, we have put together an OpenInvest review that gives you all the information you need to make an informed decision.
Unlock Sustainable Investing Opportunities 🌿
Join the green revolution by investing sustainably with our top partners. Discover platforms that align with your values and offer remarkable opportunities for growth.
What is OpenInvest?

OpenInvest is a Robo-advisor that offers mainstream investing that is value-based to the public.
The company helps to create financial solutions that will help established finical advisors manage, build, and report ESG portfolios on behalf of their clients with little effort.
For individuals, the service will allow them to invest in the market without getting lost in the complexity of choosing a company based on surface numbers and information.
For those with social and ethical concerns about the current stocks in their portfolio, socially responsible investing with OpenInvest is made for people like you. It is a platform that helps connect ethical investors with companies that are working towards change. The service has low fees, just like most Robo-advisors but offers more options than typical online investing platforms.
On OpenInvest, you can choose to add companies to your portfolio that you agree with and exclude those that you don't.
When it comes to SRI, the option of choice is kind, and OpenInvest makes sure to follow through.
Of all those on the market that claim to offer SRI, this is the only platform that provides users the option to fully diversify while also fully customizing their personal portfolios to align with their own specific values.
See Related: How to Measure Social Impact (Step-By-Step Guide)
All About How OpenInvest Works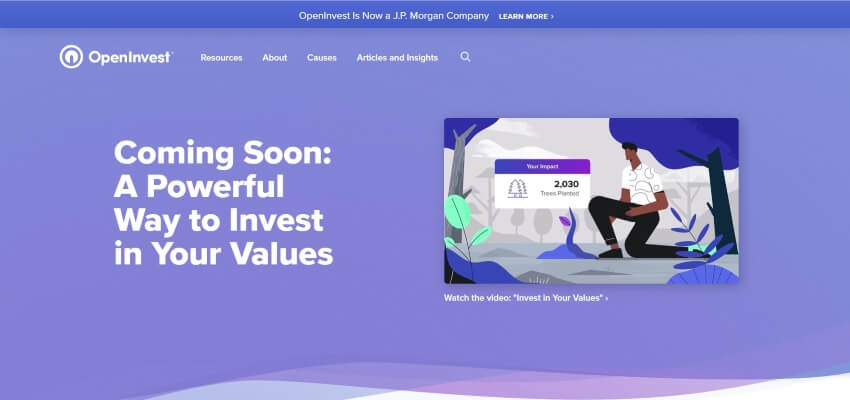 As a registered investment advisor OpenInvest is a registered investment advisor. This Robo-advisor platform offers a range of services for its clients. To open an account, you will need to place a minimum deposit of at least $3,000. The funds will be held by Apex Clearing, a third-party custodian.
This ensures that your investment money is safe and actually makes it to where it is supposed to go. On OpenInvest, the stocks in your portfolio will generally follow the S&P 500. Some adjustments are made depending on your selections.
Unlike some Robo-advisors, there are more than just EFTs in each portfolio. The site makes a point of mixing both stocks and bonds to create a unique balance that offers clients better returns on their investment dollars.
Every portfolio will contain at least 60 stocks that meet the client's investment parameters and risk profile. Bonds typically are directed into Vanguard Total Bond Market, but you can also specifically request that your investment dollars be sent to a green bond fund.
If so, then your bond investment funds will go to CGAFX, and an extra fee of 0.22% will be assessed. Another great benefit of OpenInvest is that clients can invest in both funds and single stocks.
This allows for more efficient tax-loss harvesting, which in turn will translate to improved returns overall. OpenInvest also performs automatic rebalancing according to your specified selections.
This allows clients to maintain a balanced portfolio even during regular market fluctuations. The company is constantly adding new strategies and causes which will cause changes to investment portfolios over time.
Once you read our whole OpenInvest review, you can decide if this is the right investment tool for your long-term financial health.
See Related: Best Impact Investing Jobs
How to Sign up For OpenInvest
We want to cover all aspects during our OpenInvest review, so we will also let you know how to sign up and create an investment account.
Creating an account is easy. You have the option of opening an individual investment account or an advisor account. We will focus mainly on the account types you can create as an individual investor.
By choosing tax-advantaged IRAs or individual accounts, you will have the ability to target various causes that are important to you. You will need a valid ID and a least $100 to deposit to open an account. All users must either be US citizens or permanent residents to apply for an OpenInvest investment account.
Once you apply, you will be asked to verify your identity and also make your initial deposit. The smallest amount you can deposit is $100, but there is no maximum amount. You also have the option of transferring existing stocks and EFTs from other brokerages to OpenInvest.
At the end of the application, there is an option to transfer that will start the process. You will also need to provide your personal and financial information to comply with Anti-Money Laundering and KYC regulations.
Once you have filled out and verified your details, you will choose various causes to seed your portfolio. The available options are diverse, and range from gender equality causes to environmental causes. You also have the option of customizing your own cause to fit your investment goals.
Users also have the option of excluding or including specific companies to create a truly customized portfolio. Investments on the OpenInvest platform are generally passive. The majority of the equities will be US-based companies, and every portfolio is automatically balanced whenever a change is made.
Usually, these changes are deposits, data updates on the platform, and user-made changes to their preferences. Every equity features SIPC protection up to 500K.
See Related: Things to Know About Climate Refugees
Is OpenInvest Legit?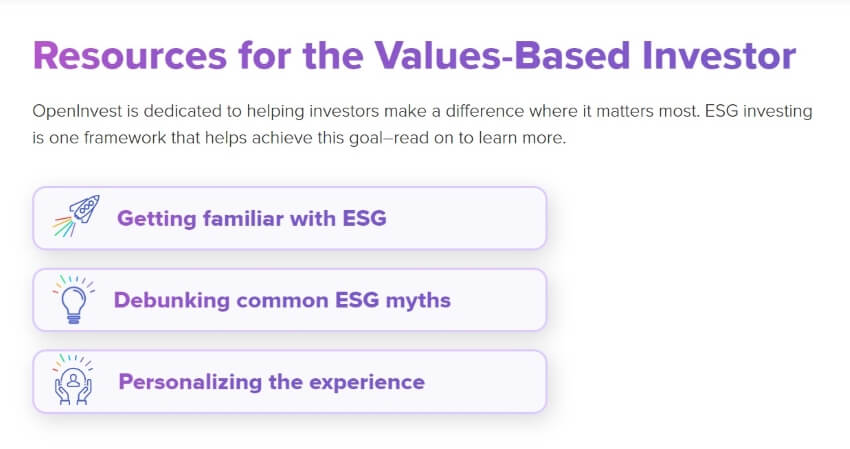 OpenInvest is a legitimate investment tool. The company is licensed and registered to conduct financial transactions both locally and internationally.
The business falls under the regulations of the SEC, among others. OpenInvest, like most Robo-advisors, has joined FINA (Financial Industry Regulatory Authority). Though this is a self-regulatory organization, it allows investors to check the legitimacy and performance records so that a human advisor can be cross-referenced.
As far as the SEC is concerned, robo-advisors retain the same legal status and responsibilities as traditional human investment advisors.
They must be legally registered and in good standing with the SEC to provide services to the public. They are also subject to the same rules, regulations, and securities laws as traditional investment brokers.
Consumers can look up OpenInvest on BrokerCheck to find more detailed information regarding their services and status with the SEC. It is important to note that any assets held or managed by OpenInvest on your behalf are not FDIC insured since they are investment funds and not traditional deposits.
See Related: ESG Investing Trends
OpenInvest Pros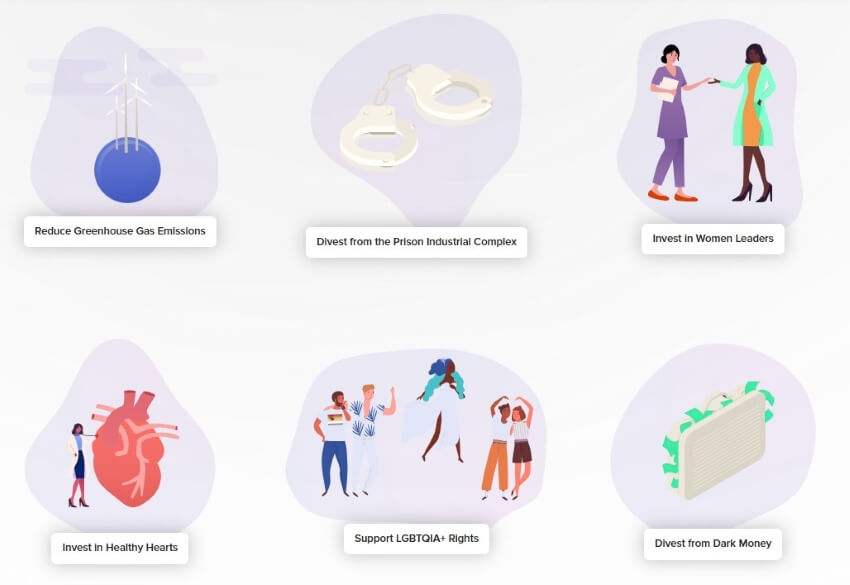 There are many good things to say about OpenInvest, but we will focus on some of the best. For those who are not participating in the green bond fund, the investment fees are extremely affordable. We are talking about an all-in fee of just 0.50%, which is much lower than many other services of the same type.
Ethical investing is a trendy topic right now, but it has actually been around for quite some time. OpenInvest allows you to create an ethically aware portfolio that helps you support causes in line with your personal values. There is a range of socially responsible investments to choose from, which not only will make you feel good but will help you diversify your portfolio overall.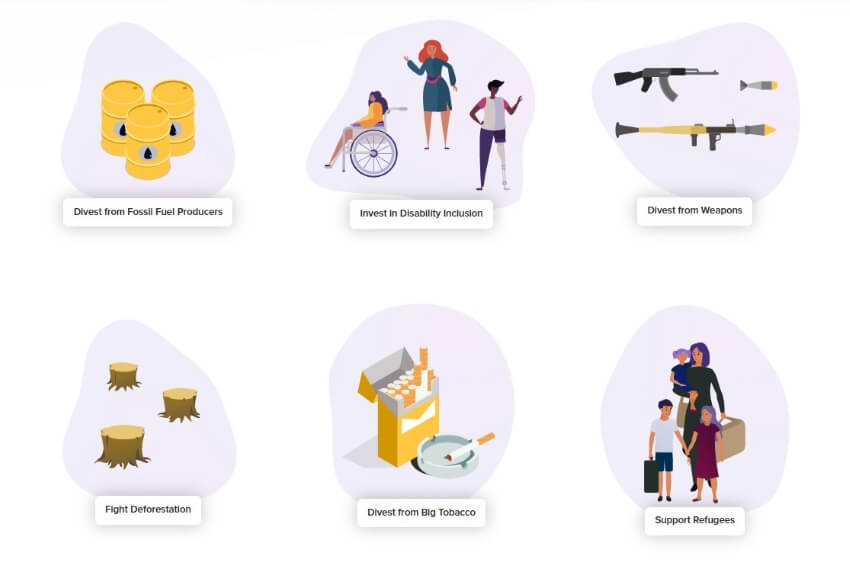 Many Robo-advisors are a bit light on additional features. This, of course, is to leave something up to actual professionals in terms of service offerings. One of those items is tax-loss harvesting. This platform includes it as part of the Robo service, which is a great way to help you recover a portion of any losses you may incur on your investments.
There are also mobile apps for all platforms that allow you to monitor your account and make changes from the comfort of your mobile phone. You even have the chance to vote on stocks that you invest in. Specifically, you will get voter rights so you can make your opinions known when it comes to shareholder resolutions.
See Related: Best Impact Investing Books to Read
OpenInvest Cons
OpenInvest has a lot going for it, but like anything that seems perfect, a few negatives lurk below the surface. Thankfully, they are not deal-breakers, but you should be aware of them before committing to avoid regret or shock later down the line. The main downside is that SRI is not the most profitable way to invest.
Moral investing is good for the planet and your conscience, but it is not always wallet-friendly. Though returns may be steady, they are often lower than other investment options out there.
If your goal is to diversify and then SRI investment won't have much of a negative effect on your earnings.
OpenInves SRI is a great platform. However, they charge for their superiority. The minimum investment is $3,000, which can be restrictive for some. With a lot of people interested in getting started in investing, the high minimum will prevent many of the newer investors from being able to use this platform.
At the same time, the limitation also frees up resources for more serious investors interested in using the platform over a live advisor. Customizing your portfolio is a double-edged sword; you can create one that matches your goals. However, there is a bigger chance of error when you have this option.
See Related: Investing in Carbon Credits
OpenInvest Fees
OpenInvest has a $100 minimum investment and charges an account management fee of
0.5% annually regardless of account level.
For green bond funds, the account management fee is 0.72%.
For HIP Investors, the account management fee is 0.75%.
For HIP Fossil Free investors, the account management fee is 0.99%.
There are no additional expense fees or hidden charges, and the platform will also reimburse new accounts that have to pay an account transfer fee from other brokerages.
See Related: Examples of the Collective Impact Model
OpenInvest Performance Ratings
OpenInvest is a great low-fee option for those looking to start investing. It is also great for people who want to diversify their portfolios without hiring a full-time advisor.
With this robo-advisor, you have the option of controlling where your investment funds go and what industries you support.
Overall the site is easy to use, and many of the features are intuitive. Customer service could be better, but for an online investment firm, it is okay.
OpenInvest also has low fees and tax-loss harvesting as a standard option for all user accounts, which is uncommon for online robo-advisors.
If you are interested in taking control of your portfolio, this is a great option to consider for long-term investment.
Ease-of-Use – 4
Features – 4
Customer Service – 4
Value for Money – 4
See Related: Reasons to Start Social Impact Investing
OpenInvest Referral
There are several aspects to ESG investing, one of which is social responsibility. If this is the main reason you want to diversify your portfolio, OpenInvest is a great choice that will help you reach your goals. The fees here are much lower than other similar services, and there are no hidden fees to speak of.
Affordability is a big sticking point with many investors so if you are looking for a lower-cost option, consider OpenInvest. It is worth noting that although this service is rather affordable, it does not have a large selection of low-volatility asset classes.
Related Reviews
Related Resources