Are impact investing podcasts helpful? Absolutely! If you want to bring positive change to the world, listening to impact investing podcasts is a perfect place to start. There are many choices of podcasts about impact investing that you need to listen to.
The reason why you should consider an impact investing podcast is to help you learn ways to create a positive social and environmental impact on the world around you.
Whether you want to promote gender equality, social justice, sustainability, climate change, or corporate social responsibility programs, impact investing podcasts can help you learn how to get started.  
Unlock Sustainable Investing Opportunities 🌿
Join the green revolution by investing sustainably with our top partners. Discover platforms that align with your values and offer remarkable opportunities for growth.
Besides creating value-packed podcasts for their listeners, impact investing podcasts interview guests making an impact in the world to shed light on how to get involved.
You can listen to some great impact investing podcasts on Spotify, Google Podcasts,  Apple Podcasts, iTunes, Listen Notes, and RSS feed. 
If you're on a hunt for the best impact investing podcasts, you've come to the right place. I have compiled these 19 hand-picked podcasts to help you kickstart your journey into the impact investing space.
Top Impact Investing Podcasts

Grant Trahant, the founder of Causeartist, conducts one-on-one interviews with business entrepreneurs making a positive impact worldwide. The interview's main objective is to help entrepreneurs learn how to work towards social and environmental good.
This Causeartist podcast features leaders focusing on crucial matters such as:
Impact investing,
Ethical fashion,
Sustainable travel.
The recent podcast in Disruptors for Good is titled "Funding the Future of Food." In this episode, the Causeartist interviews Adrian Rodrigues, the co-founder of Provenance Capital Group. The podcast has several recent episodes focusing on equality, empowerment, and sustainability.
You can access this podcast on iTunes, Listen Notes, and the RSS feed.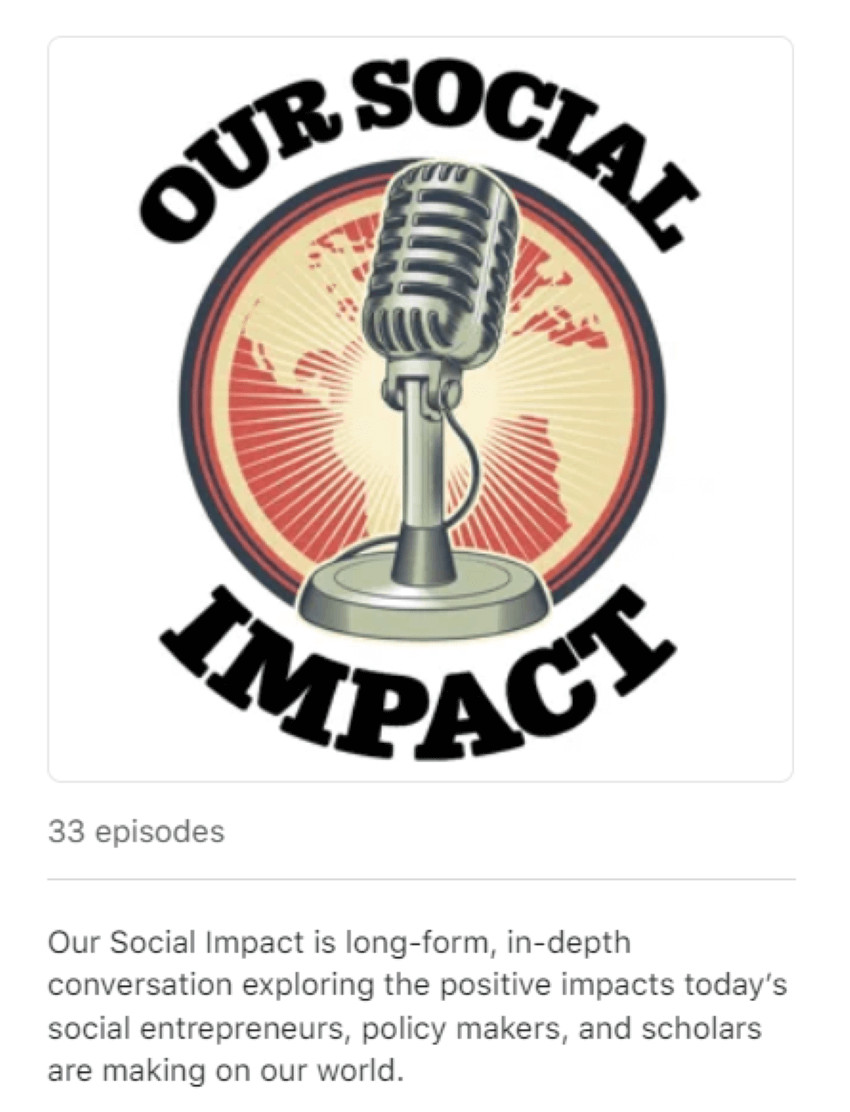 Our Social Impact podcast is a detailed conversation focusing on the positive impact that today's social entrepreneurs, scholars, and policymakers are making on our world. This impact investing podcast hosts hold conversations about justice, campaigns for change, and socially responsible investing.
In one of the recent episodes, Dirk Van Velzen, the CEO at the Prison Scholar Fund, discusses violent crime prevention strategies employed by READI Chicago with Marlon Chamberlain, the Project Manager at Englewood Community Project.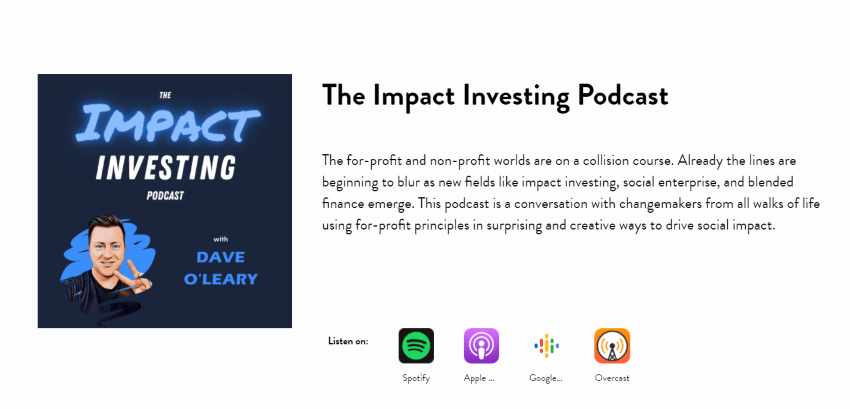 This impact investing podcast by Kindwealth gives insights on bringing positive change to the environment. The podcast is a series of conversations with change-makers and thought leaders from all walks of life.
David Oleary, the host, interviews leaders using for-profit principles in surprising and creative ways to drive social and environmental impact.
Through this podcast, impact investors can easily learn how to drive positive change through discussion of the world's biggest challenges, such as:
Impact investors and those aspiring to make a difference should certainly listen to this podcast.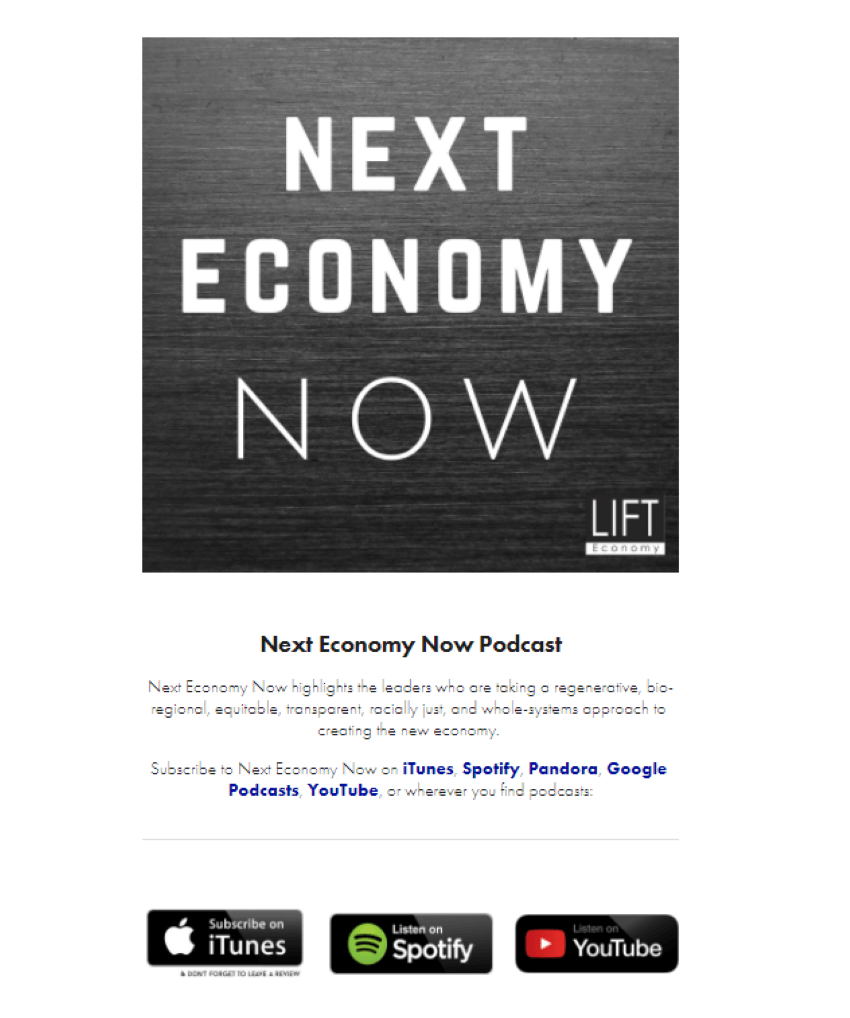 This is a business podcast on lifteconomy.com. It explores the efforts inspirational business leaders are making for a good cause.
The podcast interviews the leaders taking democratic, regenerative, equitable, bio-regional, and racially just approach to businesses. The main topics of discussion on this podcast include:
Movement strategies during COVID 19,
Investing and funding
Race and impact.
Recent episodes include "Autumn Brown: The Solidarity Economy" and Chris Chrass's: Let's Talk about White People."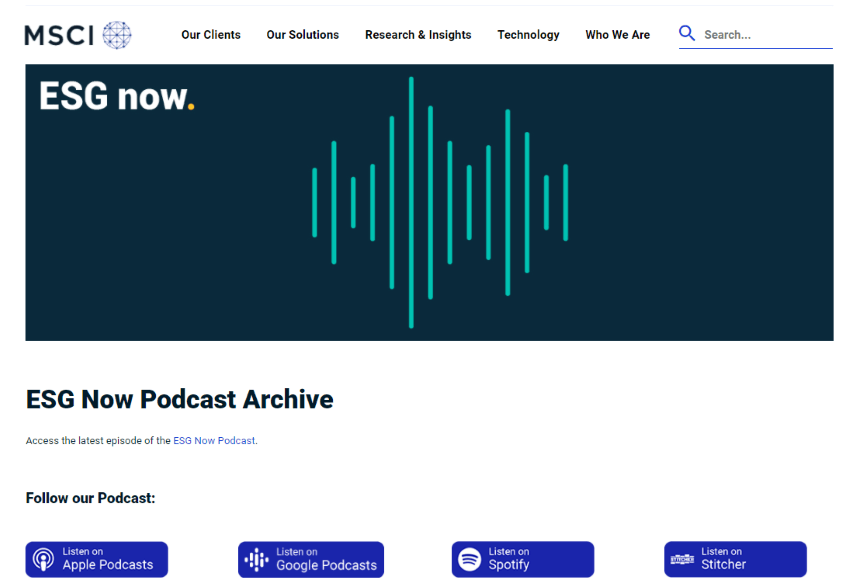 The hosts of ESG Now, Mike Disabato and Bentley Kaplan, explore investments that power a better future. They interview experts on environmental, social, and governance issues. 
Some of the topics discussed on ESG Now weekly podcast include:
Low-carbon energy
Deforestation
Biodiversity
Episode 137, for example, talks about "No change for Diversity, Equity, and Inclusion." The episode revisits the promises on racial equality and ethnic diversity in the workplace made after the death of George Floyd.
This episode focus on better transparency in regards to inequality in the workplace. You can listen to this podcast on Stitcher, Apple Podcasts, Spotify, and Google Podcasts.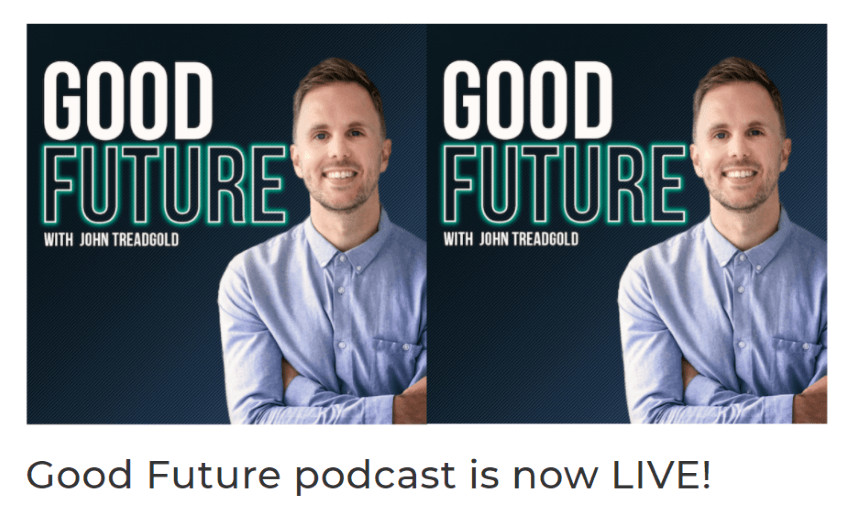 Good Future is a podcast about sustainability published by John Treadgold. He interviews innovators and leaders rethinking the economy and creating companies as a force for good.
John's objective is to redefine impact investing, social enterprises, and sustainability podcast. He explores the impact of investment and business decisions regardless of their size.
His favorite guests include Andy Kuper, the CEO and founder of Leapfrog Investments, a pioneering "Impact Investor," and Damon Gameau, an optimist who shares a beautiful 2040 new doco vision. You can listen to the Good Future podcast on iTunes and RSS feed.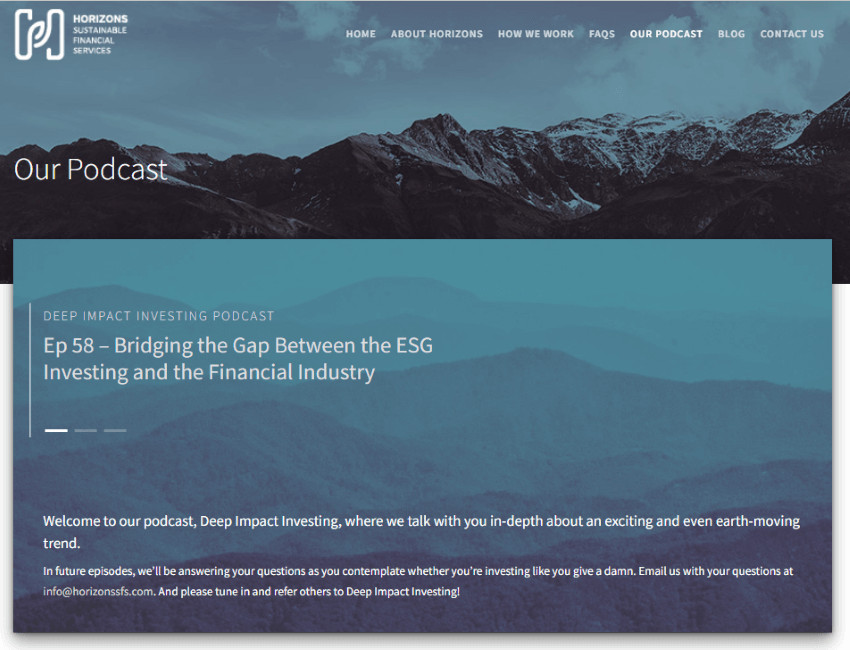 This is one of the best impact investing podcasts to listen to. Published by Horizons Sustainable Financial Services, the podcast discusses different matters that help impact investors to make informed decisions.
Kimberly, the host, explores how you can invest in businesses that bring a positive impact, both to the planet and society.
In episode 56, Kimberly discusses "Leadership & Community Investments as Crucial ESG Components" with George Gay, the CEO of First Affirmative Financial Network. They explore the military background of George and how one can attain leadership in the ESG investing arena.
In episode 57, Kim talks with Leslie Samuelrich, Sam Adams, and Sarah Adams on a topic titled "Sustainable Shareholder Advocacy." In this episode, they discuss mutual funds and ESG investing.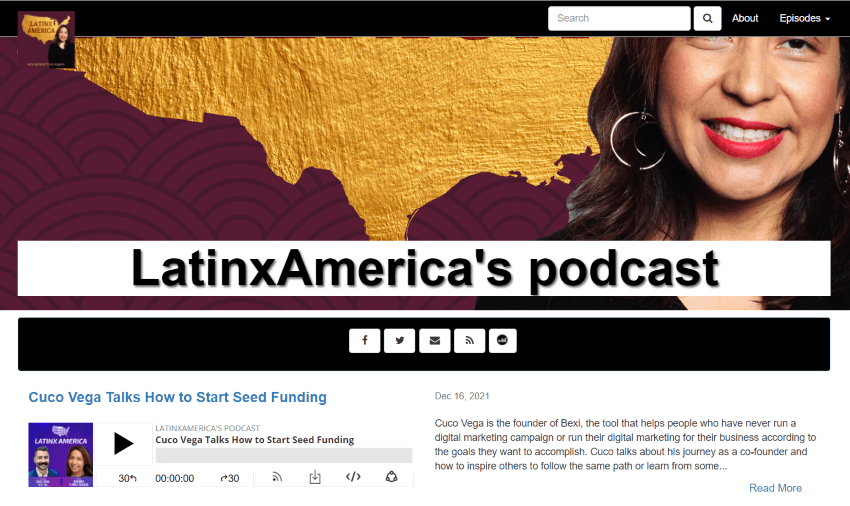 Published by Adriana Flores-Ragade, LatinxAmerica is an excellent impact investing podcast. It highlights catalysts leveraging, investing, using, or creating technology with a positive impact in the Latinx community. 
Experts use the podcast to tackle different topics, including:
Health,
Education,
Civic engagement,
Diversity
Wealth creation/financial stability.
In a recent episode, Jennifer Garcia, the founder of influential leadership, talks about personal and professional growth.
In this episode, she offers individual solutions for personal and professional growth and equips individuals to up-level their leadership abilities.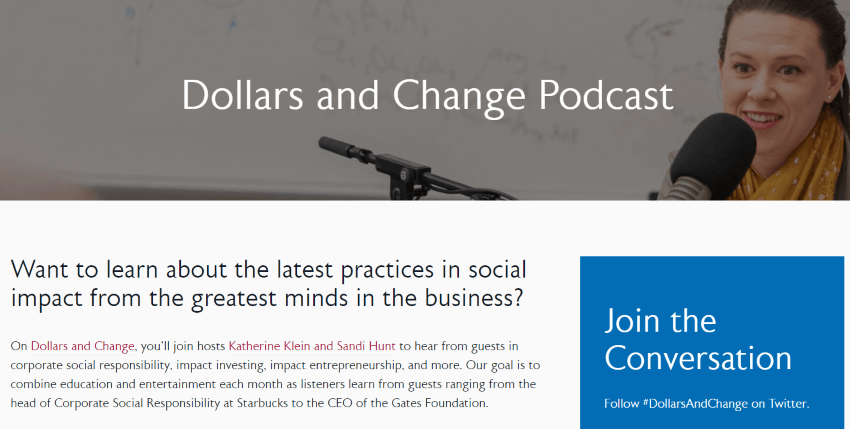 A social impact initiative by the Wharton University of Pennsylvania, Dollars and Change podcast is an impact investing podcast you should listen to. The podcast hosts Katherine Klein and Sandi Hunt, interview guests involved in:
Impact investing,
Impact entrepreneurship.
The objective of these talks is to combine entertainment and education. Listeners learn from a wide range of guests, from CEO of charity foundations to heads of corporate social responsibility. 
The recent episode is an interview with Cheryl Dorsey, President of Echoing Green, titled "Investing in Transformational Social Innovators."
See related: ESG vs SRI vs Impact Investing: What's the Difference?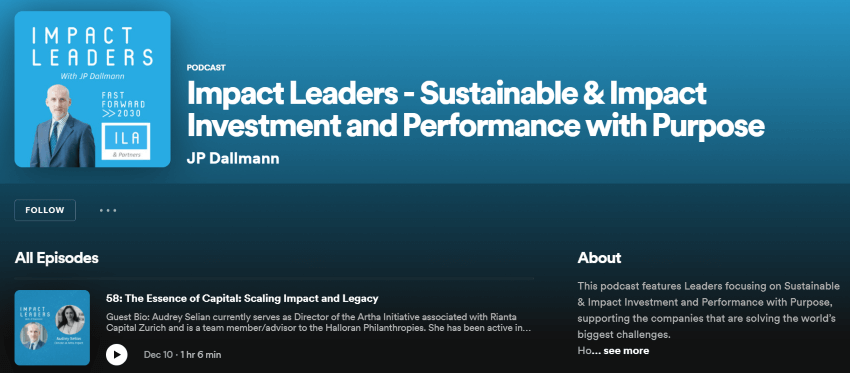 This is a sustainable and impact investment podcast. The host, JP Dallman, an impact investment advocate, focuses on performance with purpose. The podcast features leaders who give advice and share stories and messages to increase leadership impact and influence the typical investor belief.
The recent episode is titled "The Essence of Capital: Scaling Impact and Legacy," a talk he holds with Audrey Selian. Audrey is the Artha Initiative's current leader.
Artha's initiative is linked to Rianta Capital Zurich and an advisor and team member of the Halloran philanthropies. She has been actively involved in impact investing since 2006 and is the founder of Arthaplatform.com, an online impact investment platform.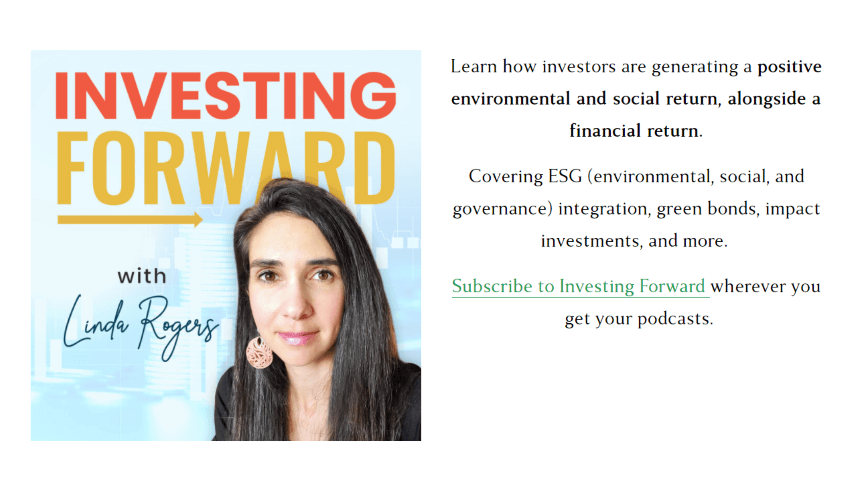 Linda Rogers, the host of Investing Forward podcast, teaches investors how they can generate a positive environmental, social, and financial return. The podcast covers topics such as:
Impact investments
Environmental, Social and Governance (ESG) integration
The latest episode on Investing Forward podcast is a children's show covering currency and exchange rates. In that episode, the host talks about living in Japan and the different types of currency and exchange rates.
In another episode, Linda discusses impact investing and Superstorm Sandy. In the episode, she discussed long-term solutions that can help address systemic issues, including lack of affordable housing, a situation that persisted after the sandy storm.

This is a podcast published by Refinitiv. The podcast is thought-provoking and involves a series of sustainable finance talks. The conversations dive deep into matters such as:
Impact investing
Sustainable leadership
ESG investing
This podcast aims to leverage data and intelligence to develop ideal business decisions. The latest episode is on the market correction possibility and ESG investing.
In this episode, the host Keesa Schreane interviews Nikita Singhal, the  Co-Head of ESG & Sustainable Investment at Lazard Asset Management.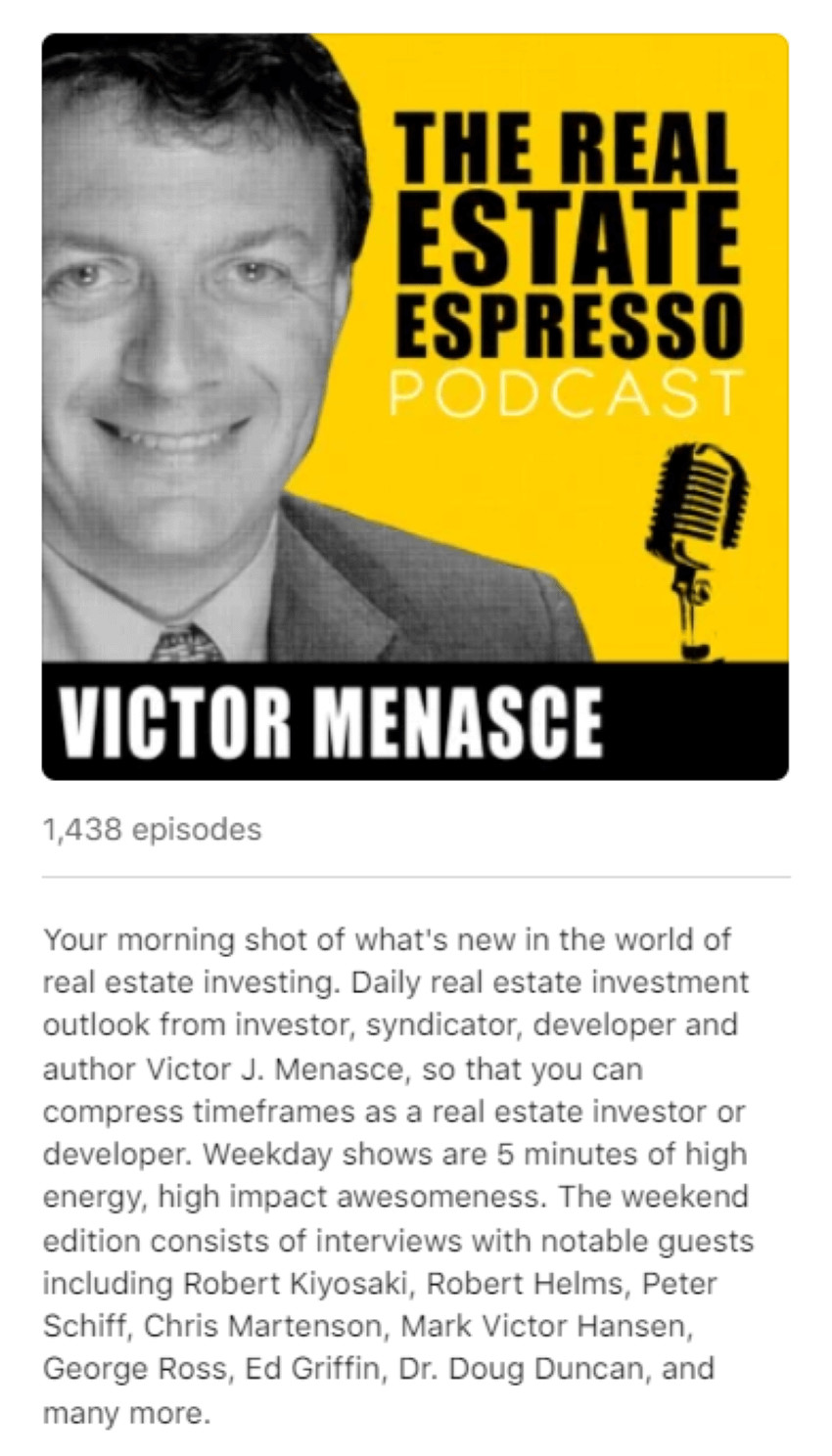 Real Estate Espresso discusses what's new in the world of real estate investing.
This morning shot podcast offers a daily real estate investment outlook from the point of view of a developer, syndicator, author, and investor Victor J. Menasce.
Victor holds 5-minutes of high-energy and high-impact shows. The weekends are packed with interviews with distinguished guests such as Robert Kiyosaki, Peter Schiff, Robert Helms, Mark Victor Hansen, Ed Griffin, Chris Martenson, George Ross, and Dr. Doug Duncan.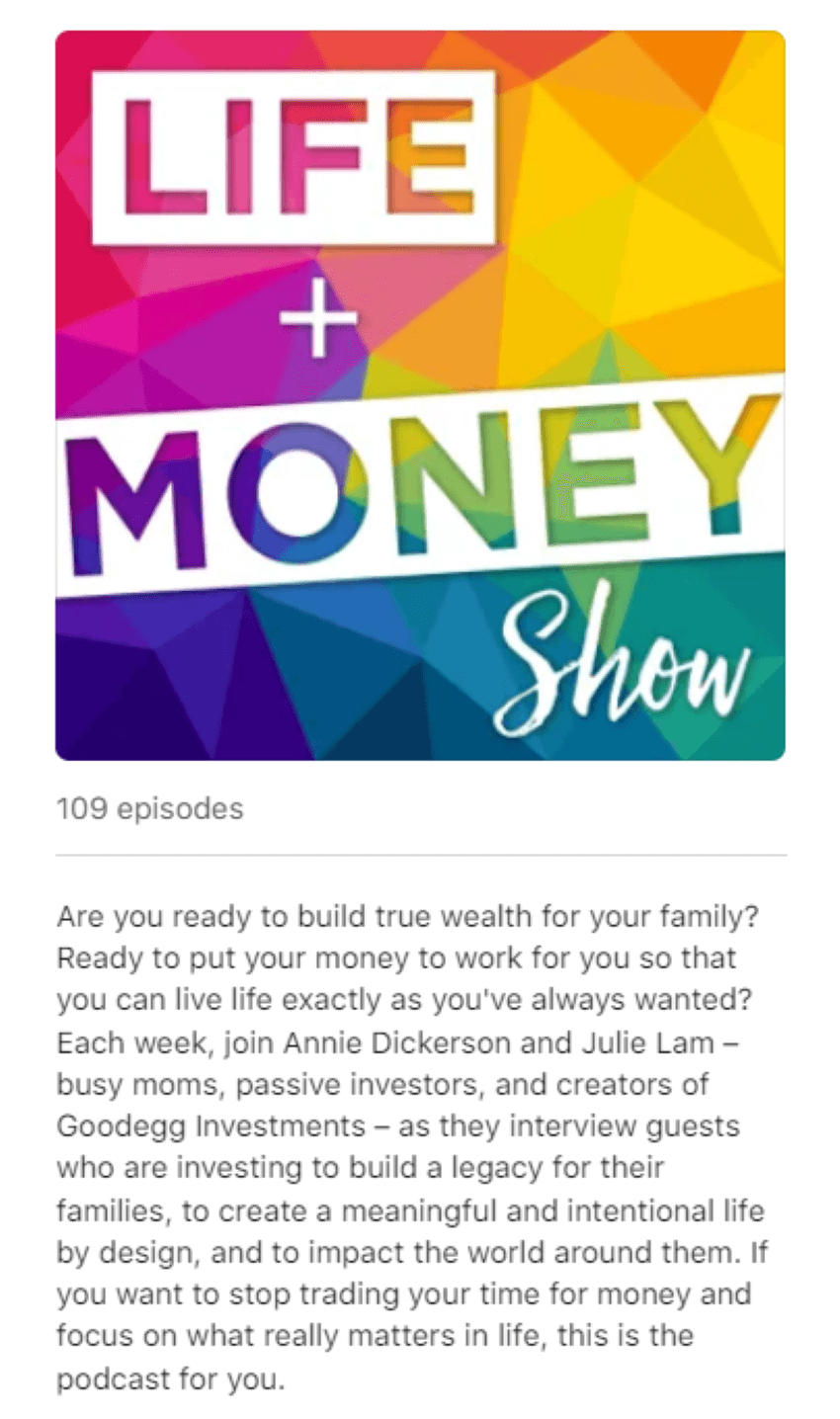 This podcast's objective is to help listeners build wealth for their families. The hosts Julie Lam, Annie Dickerson, and Whitney Hutten are busy moms and passive investors with a passion for impact investments.
They hold one on one interviews with guests involved in impact investing. Their goal is to build a family legacy and an intentional and meaningful life by design while impacting the world around them positively.
If you want to focus on what matters and quit trading time for money, this is the ideal podcast.
The hosts Julie Clark & Joe Bauer of this podcast, will help you improve your real estate investing decisions. The purpose of the podcast is to help real estate investors attempt to impact people through their investments.
The duo has been in real estate investing for over 20 years. Therefore, they have first-hand experience of how different fluctuations affect investments and are ready to share their journey with you.
The Nuts & Bolts of Real Estate Investing podcast is a section of the Seattle Investors Club, and they hold actual real estate meet-ups.
Julie and Joe do rehab, wholesaling, listings, and creative real estate transactions in their real estate businesses.
Over time, they have been able to find real estate deals and have made a point of using them in a way that'll bring the most value to them and the sellers.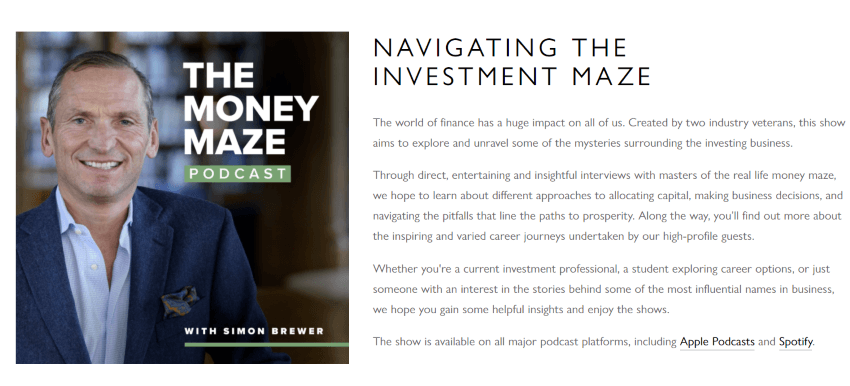 This impact investing podcast by Simon Brewer and Will Campion helps unravel some mysteries in the investing business. Simon and Will are investing veterans who hold direct, insightful, and entertaining interviews with change-makers and industry leaders.
The podcast teaches different approaches and methods of:
Capital allocation,
Making business and investment decisions,
Navigating the bottlenecks on paths to prosperity.
This podcast aims to give helpful insights to current and aspiring investments professionals, students exploring career options, and regular investors. To listen to this value-packed podcast, go to iTunes or listen on the RSS feed.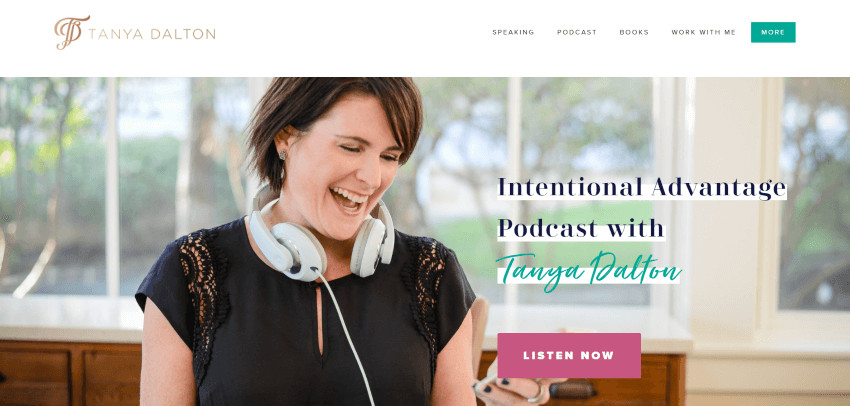 Tanya Dalton of inkWELL Press hosts this International Advantage podcast.
The podcast, formerly the productivity paradox, has the objective is to help people restore time and bring greater change while being more involved in their personal life.
Tanya, the host, is a nationally renowned productivity expert, speaker, best-selling author, and CEO of inkwell Press Productivity Co.
Every episode she hosts is packed with actionable productivity tips.
She teaches how to be confident as a leader in your workplace or personal life. Also, she explains how to invest in yourself, live the life you desire, and make the changes you love.

The host and co-founder, Cory Ames, invites guests to discuss social entrepreneurship and innovation. The conversation dives deep into experiences of starting, running, scaling, and sustaining successful and mission-driven social enterprises.
The podcast's mission is to shed light on how you can expand your impact and leave the world a better place. The podcast provides strategies, resources, and stories to educate, inspire and empower future social entrepreneurs and change-makers.
Some of the podcasts' great hits include "From Wall Street to B Corp: The Transition from CPA to CEO of a Thriving Conscious Company," and the guest is David Kahl, Founder of Ergo Depot, now, Fully.
He founded Fully, an office furniture company, to make workplaces happier, healthier, and more productive through innovative and sustainable designs. You can listen to the podcast on Apple Podcasts, Youtube, and Spotify.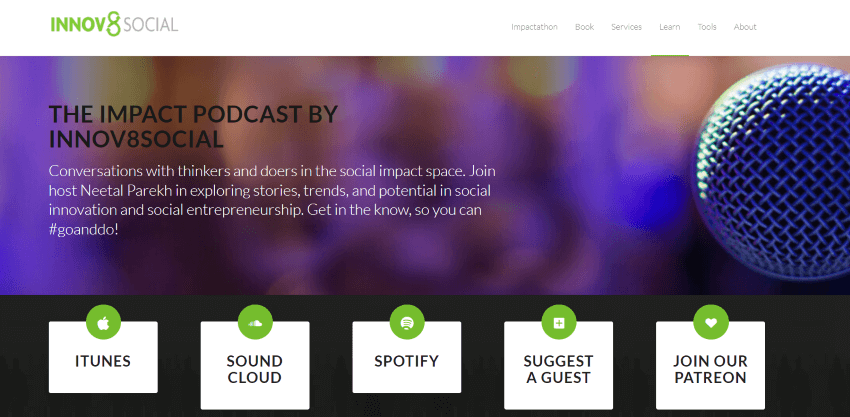 The host is Neetal Parekh, the CEO, and founder of Innov8social, speaker and author of "51 Questions on Social Entrepreneurship."
Neetal holds talks on social impact through business, leadership, and innovation. In this podcast, you'll listen to stories, reflections, and interviews that will help you reach your impact potential.
The main topics of discussion on this podcast include:
Impact investing
Social enterprise
Food and nutrition
Design-thinking,
Regenerative economy,
Startup methodologies,
Visit iTunes or RSS feeds to listen to this impact investing podcast.
Related Resources