Our lives revolve around electricity. Almost every gadget or device we use these days runs on electric power. It seems our lives would stop if we can't access this crucial commodity.
Unfortunately, electricity is not available everywhere we go. The power grid has no universal coverage. Some homes and remote places are not connected, requiring portable solar panels.
This article reviews portable solar panels for homes to buy. Read on as we unveil a list of carefully and thoughtfully selected solar panels.
Unlock Sustainable Investing Opportunities 🌿
Join the green revolution by investing sustainably with our top partners. Discover platforms that align with your values and offer remarkable opportunities for growth.
Best Portable Home Solar Panels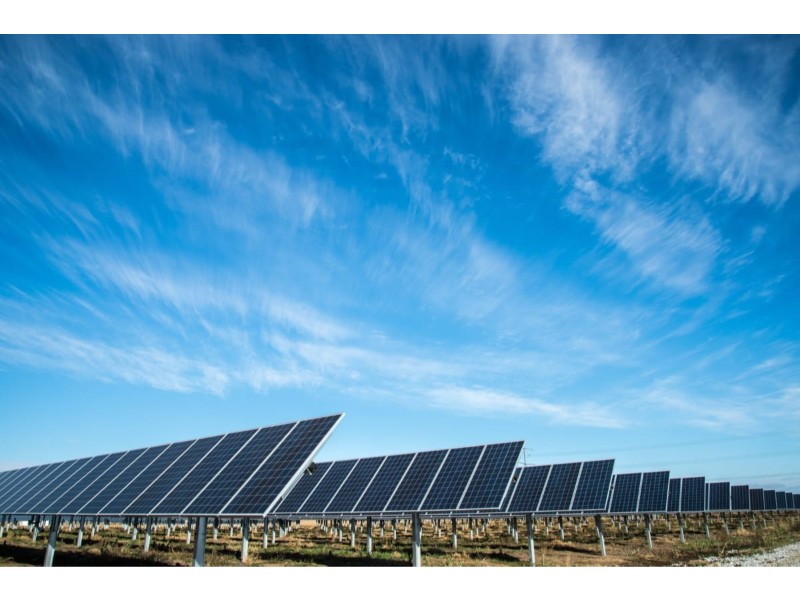 Many solar panel companies make portable solar systems for homes and other uses. You can be overwhelmed by the options in the market. This list is your guide to help you make the best decision when buying a solar panel.
These portable solar panel reviews cover all factors you consider before buying solar panels. We will write a buying guide at the end of this list to help you know which portable solar panels are the best for your intended use. Meanwhile, let's get to the countdown of the best portable solar panels.
If you are not working on a tight budget, this may be the best choice for a portable solar panel for your home or any other use. It features two 50W monocrystalline panels that fold into a briefcase-style for portability. It is designed to give you the solar power you need to keep you charged on the go.
The Goal Zero Boulder portable solar panels pair with the Goal Zero Yeti power station to offer a reliable solar charging solution. You can use it at home or the campsite. These products can also double as RV solar panels to keep you powered on the road.
The Goal Zero Boulder 100 Briefcase Solar Panel is durable, dependable, and ultraportable. Its design features an aluminum frame with reinforced corner protection and a tempered glass cover to make it waterproof.
This portable solar panel is safe and easy to use. You don't need an electrician to help you hook it together. Besides, it has a built-in kickstand to help you position it for optimal solar energy collection.
Pros:
Comes with a 2-year warranty
Very efficient monocrystalline solar panel
Foldable solar panels for portability
Durable and all-weather
Versatile
Cons:
Only available in 100 watts option
No direct charging port
See Related: Tesla Outage: Do Solar Panels Work in a Blackout?
This is the ultimate choice if you want portability. The unit comes with a USB phone charging port and weighs just under 3 pounds, but its size cannot be underestimated for its power.
GoSun Portable Solar 30 comprises three foldable solar panels, giving 30 watts. These are highly efficient monocrystalline panels made of water-resistant, flexible polymer.
GoSun Portable Solar 30 is easy to use. Connect your phone to the USB charger that comes with it, and you are ready to go—no need for solar power stations.
This product is all-weather. Come rain, sunshine, clouds, or snow. It remains intact and effective. If you need a portable home solar panel that you can easily backpack when camping, choose GoSun Portable Solar 30.
Pros:
Highly portable
Comes with a USB charging port and an 18V DC port for powering other devices
All-weather
Cons:
30 watts can be limited power for some devices
See Related: Best Credit Union Solar Loans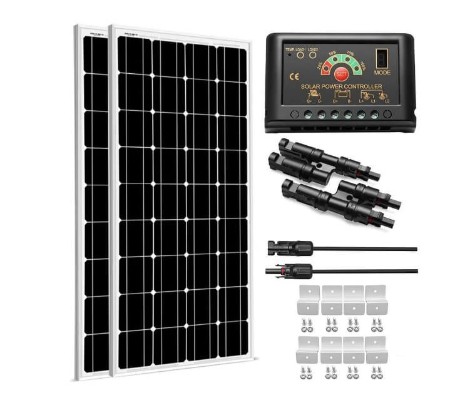 SUNGOLDPOWER is a solar panel company that brings you a complete portable solar panel kit for home and other uses. The kit consists of 2 pieces of 100 watts solar panels, a 20A LCD PWM solar charge controller, and a solar system connecting cables and Z-brackets.
If you are looking for a backup portable solar panel for your home, this is the best option. It produces enough solar electricity to power most electrical appliances and electronics used at home. This unit comes in handy during emergencies such as power blackouts or problems with your line.
The installation of the system is straightforward. Solar panels come with pre-drilled holes for faster mounting and securing on the roof. It is also recommended for RVs, golf cars, electric cars, yachts, boats, and camping.
The unit has a 25-year warranty on the solar panels and one year on the rest of the components.
Pros:
Produces enough power to run most electronics
All-weather design
The idea for extended outdoor use
Complete kit with all solar system components
Versatile
Cons:
Can be bulky to carry around
No direct USB charging
See Related: Best Tesla Solar Rental Alternatives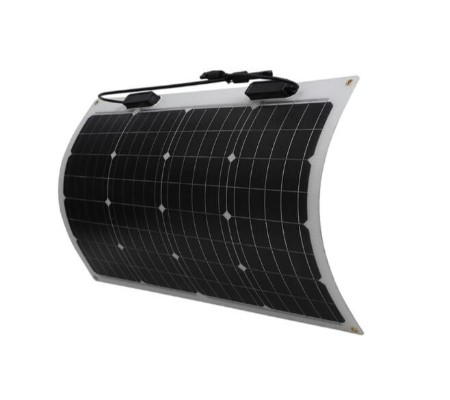 If portability is your primary factor, Renogy has the best product for you. This 50-watt 12-volt monocrystalline solar panel weighs just under 3 pounds. It is also the first flexible solar panel on this list.
The flexibility of this Renogy solar panel gives it an edge over others when you need to install your solar on a curved surface. Sometimes the roof has a design that makes it nearly impossible to harness solar energy with rigid panels.
The product is also ultralightweight. It is made of advanced polymer material, making it about 70% lighter than conventional solar. That makes its transportation and installation straightforward.
Additionally, the solar panel features a super-thin lamination that aids in a stealthy setup. It is also very durable and withstands extreme weather elements.
Pros:
Compact and lightweight
Affordable
Easy mounting
IP65 rated against weather elements
Cons:
50W power can be limiting
See Related: How Much is a Wind Turbine? Here's What to Know
Jackery SolarSaga 100W monocrystalline solar panel boasts a high conversion efficiency of 23%. This portable solar panel is best suited for outdoor and home use. It will make you immune to power blackouts because it produces enough power for your electronics.
The Solar panel can be set up in just seconds. It comes with two kickstands that can hold firmly on any surface. You can also carry it around easily by holding the TPE rubber handle, a unique feature for this brand.
The solar panel is ETFE-laminated to resist weather elements, thereby increasing its lifespan. It is also IP65-rated against splashing. However, the manufacturer advises against putting it in the rain or soaking it in water.
This product is versatile and compatible with many models of Jackery power stations. It makes your life easy during off-grid camping and unexpected power outages.
Additionally, the Solar Saga 100 portable solar panel features 2 USB output ports (USB-C(5V,3A) and USB-A(5V, 2.4A)) for charging phones and other small electronics.
Pros:
Direct USB-A and USB-C charging
Highly portable
Enough solar power for charging phones and running other devices
Durable
Cons:
Not waterproof
Jackery power stations needed
6. EcoFlow 110W Solar Panel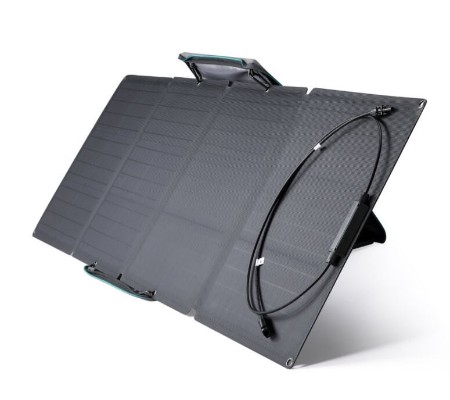 EcoFlow has the best choice of solar panels for the home. With its 110W solar panel with efficient monocrystalline silicon cells, you can stay off the grid. It produces solar power for recharging portable power stations and keeps most electrical equipment running.
The solar panel is compatible with most solar power stations with the MC4 and XT60 cable. It can recharge DELTA and RIVER types of power stations. If your needs are high, you can connect four 110W EcoFlow solar panels in parallel.
Each EcoFlow solar panel comes with a foldable kickstand. It also has a rubber handle and flexible bracket stand for mounting and positioning. It can be oriented as needed for optimal solar energy collection.
Lastly, EcoFlow 110W Solar Panel is long-lasting and weatherproof. It is an ideal choice for outdoor activities such as camping and hiking.
Pros:
IP67 rated for water and dust
Highly portable
Aesthetically appealing
Compatible with most power stations
Cons:
No anchoring eyelets
Only available in 110 watts
7. BLUETTI PV200 200W Solar Panel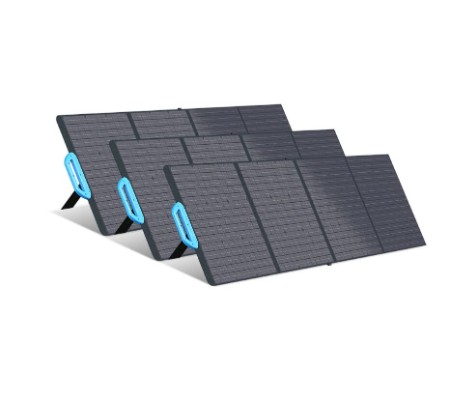 BLUETTI Power is a highly reputable solar panel company known for its portable solar products. Its PV200 200W solar panel has also set the bar in features and technical specifications.
As the first portable solar panel on this list, BLUETTI PV200 200W Solar Panel is expensive. But if you can afford it, you will have nothing to worry about when there is a power shortage.
The product features one of the highest conversion efficiencies in the industry, clocking at about 23.4%. It also has excellent transparency of 95%, making it perform many times better than polycrystalline solar panels.
This monocrystalline panel is more durable and scratch-resistant. It is made of a long-lasting ETFE material and rated IP65. These properties make it an ideal portable solar panel for home and outdoor activities such as camping, fishing, hiking, etc.
BLUETTI PV200 200W Solar Panel is designed to be compatible with most solar generators in the market, not necessarily a BLUETTI brand. This solar panel is also foldable and convenient to carry around.
Pros:
High output power of 200W
Durable
IP65-rated
Compatible with different power stations
Cons:
No USB direct charging
Can be bulky to transport for some applications
8. Nekteck 28W Solar Charger
The Nekteck 28W Solar Charger generates electricity to charge your gadgets on the go. The 28W solar panel is your ultimate choice if you are looking for foldable panels that you can easily carry around.
The Nekteck 28W Solar Charger has top features that make it appear on this list. First, it has a high conversion efficiency of 23-24%. Secondly, it has 2 USB charging ports for your iPhone, iPad, and other mobile devices. Its advanced smart IC chip detects any plugged device and sets the appropriate current for fast charging.
The portable solar panel is small-sized, lightweight, and foldable. Its compact design makes it the camper's favorite.
Lastly, the Nekteck 28W Solar Charger is durable. The design features a canvas surface and precision stitching to withstand elements when used outdoors.
Pros:
High conversion efficiency
Small, lightweight, and foldable
Affordable
Cons:
9. ECO-WORTHY 120W Portable Solar Panel Kit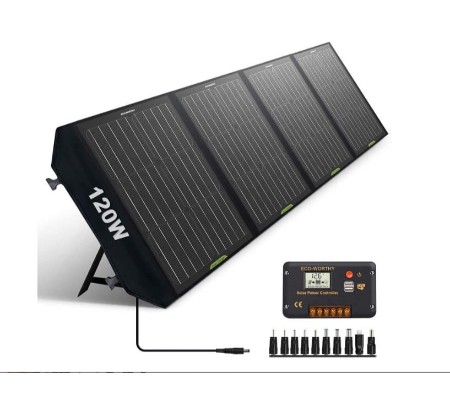 ECO-WORTHY portable solar panel kit is cost-effective and meets the need of most homeowners. The entire unit can generate up to 500WH per day under sunny conditions. If you buy it, you get a 120W foldable solar panel, solar power controller, and a set of 12 connectors for different devices.
The solar panel has a built-in solar charge controller. This is compatible with most battery types, including lithium, gel, and lead-acid batteries. The controller protects batteries from overcharging or correcting. It also features 5V USB ports for charging phones, tablets, etc.
The ECO-WORTHY 120W Portable Solar Panel Kit also has tilting kickstands that allow you to harvest more solar energy than the flat-lying design. It additionally has a cable to let the solar panel follow the sun.
Lastly, the solar panel is lightweight and has a zippered pouch for storing the controller and other accessories.
Pros:
Come with a solar controller
Tilting kickstands for optimal solar energy collection
Compact and lightweight
Enough power for most electronics
Compatible with up to 95% of power stations
Cons:
Kickstands are a bit short
10. Newpowa 100 Watts 12 Volts Polycrystalline Solar Panel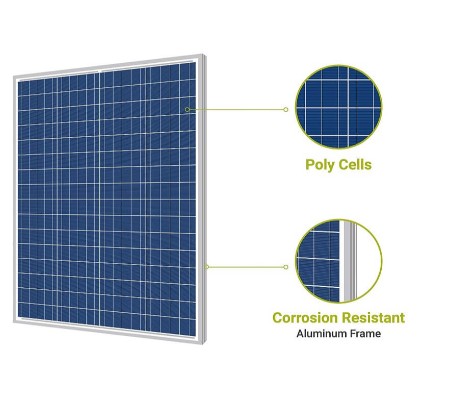 Polycrystalline solar panels are not as efficient as monocrystalline ones. But they are better than thin-film panels. This Newpower 100W solar panel stands out among other portable panels in its category.
Newpowa solar panel has a rugged, heavy-duty frame to withstand extreme weather elements. It also features pre-drilled holes for easy mounting on rooftops, RVs, tents, or boats.
The solar panel is IP65-rated. It is resistant to water and dust. However, it should never be submerged in water. Also, many homeowners may find it heavy to transport.
Pros:
Water and dust resistant
Corrosion-resistant aluminum frame
Resistant to extreme weather elements
Cons:
Heavy for some applications
Does not have kickstands
11. Zamp Solar 80P Portable Charge Kit
The Zamp Solar 80P Portable Charge Kit has an 80-watt solar panel and 10A solar controller. You can use it as an independent power source to charge and maintain a battery. If you need more power, you can connect several units in parallel.
The solar charge controller is mounted on an EZ-view swinging bracket for ease of parameter reading. It is a 5-stage, weatherproof PWM controller with an LCD.
The Zamp Solar 80P Portable Charge Kit provides 4.6 amps of charging current under optimal sun conditions. You can get a daily average of 36A in summer and 18A in winter. So, it can be an ideal RV solar panel if you like camping in the summer.
This solar is easy to set up and use. You can easily plug it into a solar-ready port of your RV or use clips to charge your battery at home.
Pros:
Compact and portable
Can be cascaded for more solar power generation
Comes with a solar charge controller
Easy to set up and use
Zamp solar-ready compatible
Durable carrying case
Cons:
12. Go Power GP-PSK-80 80W Portable Folding Solar Kit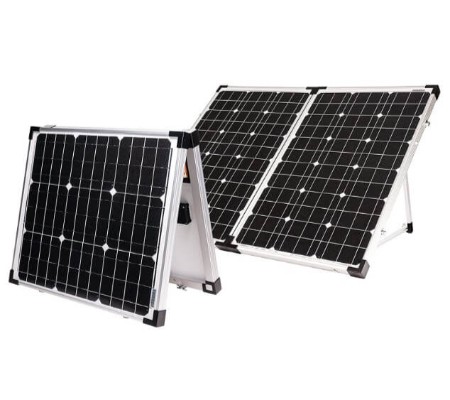 Go Power Solar Panel comes in 90W or 120W options. What you choose depends on your needs. These monocrystalline panels suit people who need power on the go or even if they need a backup solar system at home.
Like many portable solar panels on this list, Go Power solar panels come with kickstands. That allows tilting the solar panel at the most appropriate angle for maximum solar energy collection.
Also, the solar panels are foldable to fit in a compact carrying case. That enhances portability. So, you don't only buy them as the best portable solar panels for homes. You can pack it when out camping or on a road trip.
Go Power folding solar panels are ready for use right from the box. They come with a charge controller that makes setup quick and easy.
Pros:
A built-in solar charge controller
Kickstands to track the sun
Compact and foldable for portability
Highly efficient
Easy to set up
Cons:
Some users complain of low quality
13. DOKIO 150w Solar Panel
DOKIO 150W monocrystalline solar panel is designed for portability and versatility. It is well protected with a layer of thick fabric pocket sewn and a handle for easy carrying.
The DOKIO solar can be used in cars, roofing, boats, snowmobiles, and tractors. It is your ideal partner for hiking, camping, picnic, and emergencies.
It is one of the best portable solar panels for homes because of its power rating. It looks small and compact but can give up to 150 watts of solar power for your needs. You can choose it as a backup plan against a power outage or road trip.
DOKIO solar leverages the efficiency of monocrystalline solar cells. That makes it possible to produce a lot of power regardless of the solar panel size. The kit has a free solar controller and solar charger for your 12V batteries.
Pros:
Digital charge controller
Built-in carrying handle
Waterproofing fabric cover
Low-effort portability
Cons:
Can be blown away by strong wind
14. Renogy 100-Watt Eclipse Monocrystalline Solar Panel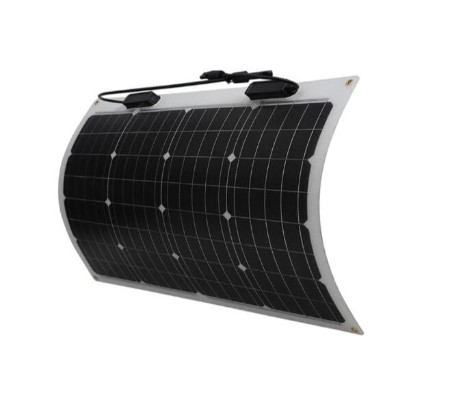 We have already looked at a smaller version of this brand on this list. It has all the features of the Renogy 50-watt solar panel, which will give you more power to run more appliances.
The Renogy 100-watt, solar panel set, consists of two foldable solar panels in a suitcase for portability. It also features kickstands, a charge controller, and alligator clips for easy setup.
Pros:
Comes as a set of two solar panels, a charge controller, and alligator clips
Compact and lightweight
Protective suitcase for ease of transportation
Compatible with different battery types
Cons:
100W of power may be limited for intense home use
Benefits of Portable Solar Panels
Portable solar panels for homes ensure you have electricity to charge your phone and run other electronics and electricals on the go. Besides, you can carry them when camping or on a road trip. Let's briefly explain the main benefits of the best portable solar panels.
Lightweight and portable
Undoubtedly, a portable solar panel is designed to be lightweight. This enhanced portability makes it easy to carry around, even on a road trip. Apart from portable solar panels for homes, there are camping solar panels. These are ultra-lightweight and compact. Some solar panels are also foldable.
Highly Versatile
The versatility of portable solar panels is unquestionable. You can use them differently, including mounting them on your RV. A portable solar panel kit comes as a complete unit of solar generator. These provide power for charging phones, laptops, and kitchen appliances during an emergency. However, later use may require a more powerful portable solar system.
Affordable
Given their small sizes, portable solar panels are very affordable. Most of them will cost you under $200 for a solar panel. A complete portable solar panel kit with inverters and charge controllers can cost higher. But generally, everyone can afford portable solar power.
Cost-Efficient
Many portable solar panels are cost-efficient. They provide free electricity and are maintenance-free. Once you pay the low, upfront cost, you will not spend additional money if using your solar power station.
Green Energy
Unlike other sources of electricity that emit greenhouse gasses into the atmosphere, portable solar power is clean. If you care about the environment, solar panels should come first. Choose them over fossil-fuel-burning lanterns.
Noise-Free
A solar power generator operates quietly, unlike diesel generators. This property makes them ideal for indoor and outdoor use.
Weather Proof
Most portable solar panels you mount on your roof, RV, or cabin are weatherproof. They are not affected by rain and storms. Electronics such as solar charge controllers and inverters are put indoors.
Provides Renewable Energy
Solar power can be sustainably harnessed as long as the sun shines. They are also efficient, more so monocrystalline portable solar panels.
Portable Solar Panel for Home: Buying Guide
You have many factors to consider when looking for the best solar panel to buy. There are different options to go for, but that can be overwhelming. And even from the list provided, picking the best one for your needs can still be a problem.
This portable solar panel for home buying guide is all you need to make an informed buying decision. Consider the following factors:
Types of Portable Solar Panels
Monocrystalline, polycrystalline, and thin-film solar panels are your options. The efficiency varies from one to the next. So, which is the best portable solar to buy?
Monocrystalline panels are the most efficient and most recommended. However, considering the same wattage ratings, they are also the most expensive.
If you are working on a tighter budget, consider the polycrystalline alternatives. Thin-film or amorphous solar panels are not the most common and least efficient. So, they should not feature on your list of the best portable solar panels.
The efficiency of the Portable Solar Panel
Efficiency is a performance parameter that indicates how well a portable solar panel converts solar energy into electric energy. Even if you go for portable monocrystalline solar panels, you must decide on the brand.
Solar panels manufactured by different companies have varying efficiencies. We recommend choosing the highest efficiency as the best portable solar panel for the intended purpose.
Wattage Ratings
The wattage rating is another solar performance parameter that tells you the maximum power you can get from the system. The higher the wattage, the more powerful the solar panels are. However, it would be best if you went for what meets your electricity demands.
For example, you are good to go with a 30W or less portable solar panel if you want it for charging your mobile devices. But if you have other power-hungry kitchen appliances like a refrigerator, go for a higher wattage rating.
Portability of the Solar Panels
This should have been the first factor to consider since it appears in the title of this article. You are looking for portable solar panels. So, the best choice should be one. But again, it depends on what you intend to use the solar panels for.
Most portable solar panels are compact and foldable, making them easy to transport and store. However, the actual size and portability depend on the wattage rating.
If you want a more powerful portable solar panel, you must sacrifice some portability. But if you want a camping solar panel to charge your phone and provide lighting, its size and weight become primary factors.
Size of your Pocket
What you have on the budget is a major contributing factor to buying a portable solar panel. You may need the best in the market. But if you work on a tight budget, you may be forced to go for the second-best. Determine what you want to spend on the product and determine what is within that price range.
Other Considerations
Solar panels do not work on their own. A complete solar system has many pieces of equipment and accessories connected. If you want to buy a portable solar panel, you may go for a complete kit.
However, your choice changes if you already have batteries or a charging station. You should now opt for a brand that is compatible with what you already have.
Related Resources