Predictive analytics has become a vital tool in the banking industry, allowing financial institutions to leverage cutting-edge technology to analyze vast amounts of data and make well-informed decisions. This innovative approach involves sophisticated programs relying on artificial intelligence, data mining, and machine learning, which help predict future events and improve the banking experience for customers and financial professionals.
One crucial aspect of predictive analytics in banking is credit scoring, a process that calculates the creditworthiness of potential and existing borrowers.
By employing predictive analytics software, banks can create alternative credit scores for individuals without a credit history, using behavioral traits such as social media activity and spending habits. This alternative method increases lending opportunities and mitigates financial risks for the institution.
Unlock Sustainable Investing Opportunities 🌿
Join the green revolution by investing sustainably with our top partners. Discover platforms that align with your values and offer remarkable opportunities for growth.
Moreover, banks utilize advanced predictive and prescriptive analytics to enhance their overall business intelligence capabilities. These techniques have significant applications in several areas, including commercial, risk assessment, innovation, and technology.
The key lies in embedding analytics into decision-making processes and workflows, which ultimately translates into a more efficient and effective banking system.
What Is Predictive Analytics in Banking?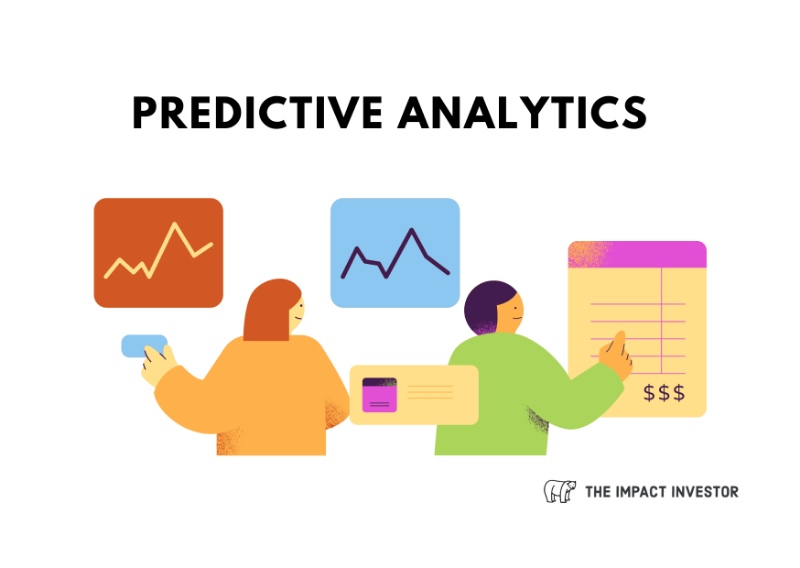 Predictive analytics in banking is leveraging data, artificial intelligence, and statistical algorithms to anticipate and forecast future outcomes, trends, and customer behaviors.
This approach enables banks and financial institutions to be proactive in decision-making and optimize customer experience, risk mitigation, and operational efficiency.
One crucial application of predictive analytics in banking involves assessing credit risk. Banks can accurately predict the likelihood of loan default or credit card delinquency using historical data and machine learning models. This enables financial institutions to make well-informed lending decisions, reducing the risk of lending to high-risk individuals and lowering potential financial losses.
Additionally, predictive analytics can be employed to detect and prevent fraud. By analyzing behavioral patterns and transactional data, banks can identify unusual or suspicious activities and take swift action to mitigate potential damage. This minimizes financial losses and safeguards the bank's reputation and customer trust.
Another important aspect of predictive analytics in banking is customer segmentation and targeted marketing. Banks can develop comprehensive customer profiles by analyzing spending and transaction data, allowing them to tailor products and services to individual preferences. This approach can lead to increased customer satisfaction, loyalty, and profitability.
Predictive analytics enables banks to harness vast data to make well-informed decisions directly impacting customer relationships and their bottom line. Through the proactive management of credit risk, fraud prevention, and customer engagement, financial institutions can optimize their performance and establish a sustainable competitive advantage in the ever-evolving landscape of modern banking.
Role of AI and Machine Learning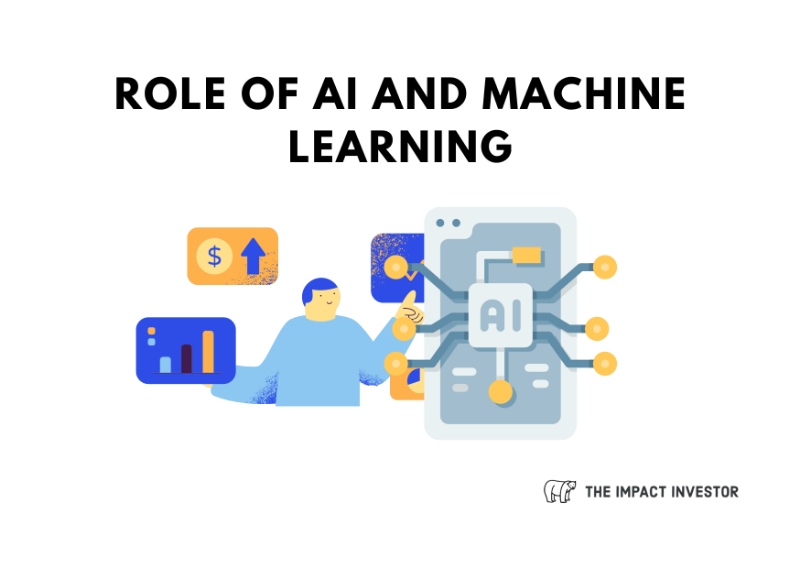 AI in Banking
Artificial Intelligence (AI) transforms the banking industry by automating repetitive tasks, reducing costs, enhancing security, and improving customer experiences. The adoption of AI in banking enables financial institutions to leverage vast amounts of customer data, which can be utilized to make better decisions and offer personalized services.
Machine learning, a subset of AI, is critical in several key banking areas, such as fraud detection, credit scoring, risk assessment, and customer segmentation. By implementing machine learning algorithms, banks can analyze data in real time, identify patterns, and make predictions, allowing for more efficient decision-making processes.
See Related: Best Artificial Intelligence Stocks to Buy Now
Techniques and Models
Banks employ various AI models and techniques to enhance operations and offer superior customer-centric experiences. Some of these include:
Predictive Analytics: Using machine learning algorithms, banks can analyze customer spending patterns and other behaviors to predict future trends. This helps in tailoring personalized marketing campaigns and offering relevant product suggestions.
Anomaly Detection: AI-powered systems can detect unusual activities in real time, allowing banks to identify potential fraud or security breaches quickly. This enhances overall system stability and helps prevent substantial financial losses.
Shared Learning Models: These models enable collaboration between different financial institutions to enhance the accuracy and efficiency of machine learning algorithms. Banks can better understand customer behaviors, industry trends, and potential risks by sharing data and insights.
Customer Segmentation: AI techniques can analyze customer data and segment them into different groups based on preferences, spending habits, and risk profiles. Banks can efficiently target and serve customers with tailored products and services.
Integrating AI and machine learning techniques in the banking sector drives innovation, creating a competitive edge for financial institutions adopting these cutting-edge technologies. By combining the power of advanced analytics with real-time insights generated by machine learning, banks are well-positioned to thrive in a rapidly evolving financial landscape.
Using Predictive Analytics for Decision Making
Understanding the Data
Banks utilize various data types to harness the power of predictive analytics for decision-making processes. The primary data sources include customer demographics, transaction histories, credit scores, and external market information.
Banks analyze this colossal data set using artificial intelligence, data mining, and machine learning techniques. This process enables banks to identify patterns and trends that help make more informed decisions.
For instance, customer transaction data can offer insights into their financial behavior, which may inform credit decisions or customized product offerings. External market data, such as economic indicators and industry trends, aids banks in identifying investment opportunities and potential risks.
Risk Assessment
In the banking sector, accurate risk assessment is crucial, as it directly affects the profitability and stability of the financial institution. Predictive analytics assists banks in evaluating potential risks through statistical models and historical data. By integrating these predictive models and analytics into their risk assessment processes, banks can effectively:
Identify early warning signs of credit default, enabling proactive measures to mitigate losses
Monitor credit risk with real-time data and adjust lending strategies accordingly
Assess the risk profiles of potential new borrowers based on past credit performance and financial behavior
Improve fraud detection capabilities by identifying abnormal transaction patterns
Fraud Detection and Prevention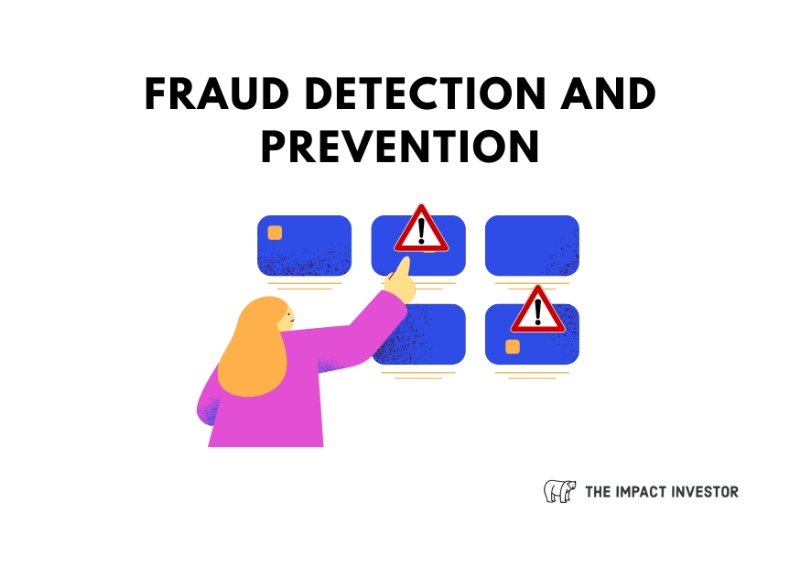 Predictive analytics is vital in fraud detection and prevention within the banking sector. By leveraging historical data patterns and sophisticated algorithms, predictive analytics can help identify potential fraudulent activities before they materialize, protecting financial institutions and consumers.
One primary use case is account takeover fraud detection. Banks can use predictive analytics to analyze customer behavior patterns and identify unusual transactions or activities.
For instance, multiple login attempts from unfamiliar locations or devices may indicate a potential account breach. Banks can promptly take preventive measures by flagging such deviations in real time, such as initiating additional authentication protocols or freezing the account.
In addition to account takeover, predictive analytics is instrumental in combating new account fraud. By scrutinizing data from various sources, such as credit bureaus and device fingerprints, banks can determine the likelihood of an application being fraudulent. This proactive approach helps banks avoid losses associated with fraudulent account openings and their consequent unauthorized transactions.
Fraud prevention within the mobile channel is another critical application of these predictive analytics solutions. As mobile banking usage continues to rise, so does the risk of fraud. By incorporating real-time behavioral analytics, device identification, and geolocation data, banks can detect and prevent fraud attempts within mobile applications.
Removing friction from the customer experience (CX) is crucial, as overly complex fraud prevention measures can alienate customers. Predictive analytics enables banks to balance security and convenience by utilizing risk-based authentication.
This approach assesses the risk level of each transaction and only prompts for additional authentication when necessary, resulting in a smoother CX overall.
See Related: Best Banks for Low-Income Earners
Customer Analytics in Banking
Churn Prediction
Churn prediction is a crucial aspect of customer analytics in the banking sector. By analyzing customer data such as spending patterns and account activity, banks can identify potential churn risks and take proactive steps to minimize the impact on their business.
Machine learning models can be trained using this data to predict customer churn with a high degree of accuracy. This allows banks to tailor their offerings and promotions to individual customers, enhance customer service, and improve customer retention rates.
Customer Segmentation
Effective customer segmentation is another application of predictive analytics in banking. Banks can design targeted marketing campaigns and personalized product offerings by categorizing customers into segments based on their values, behavior, and preferences. This helps banks in optimizing their resources and improving customer satisfaction.
A precise segmentation process involves using customer data, such as demographics, account balances, transaction history, and credit scores for high-value customer segments. Machine learning algorithms can identify patterns within this data and create meaningful customer segments.
Using customer analytics in banking, specifically through churn prediction and customer segmentation, allows banks to enhance the customer experience and build stronger relationships with their clients.
By leveraging the power of predictive analytics and machine learning, banks can better understand their customers' needs and behaviors, ultimately leading to a more profitable and more profitable customer-centric organization.
Benefits and Challenges of Predictive Analytics
Predictive analytics in banking has become a valuable tool as financial institutions seek to analyze and understand massive amounts of data. Several notable benefits and challenges are associated with implementing predictive analytics in the banking industry.
Benefits
Enhanced Customer Experience: By leveraging predictive analytics, banks can offer personalized services and recommendations to customers based on their unique profiles. This data-driven approach can lead to increased customer satisfaction and loyalty.
Improved Decision-Making: Predictive analytics enables banks to make informed decisions across various operations, including risk management, marketing activities, and compliance initiatives. This results in better overall bank performance and potentially higher profits.
Anticipating and Preventing Fraud: Predictive analytics allows banks to detect suspicious activities and patterns more efficiently, reducing the likelihood of fraud and ensuring that corrective actions are implemented promptly.
Efficient Compliance: Predictive analytics can help banks streamline their anti-money laundering (AML) processes and other regulatory compliance measures, reducing non-compliance risk and associated penalties.
Challenges
Data Quality and Management: Banks must ensure that the data used for predictive analytics is accurate, complete, and up-to-date, which may require significant investments in data management infrastructure and processes.
Privacy and Security Concerns: With the increased use of data comes the need to protect customer information and ensure compliance with privacy regulations. Banks must address these concerns while implementing predictive analytics.
Integration with Existing Systems: Implementing predictive analytics may require integrating it with existing banking systems, which can be challenging and time-consuming.
Skilled Workforce: Predictive analytics requires skilled professionals, such as data scientists and analysts, who may be in high demand and command significant salaries.
Predictive Analytics in Finance Sector
Predictive analytics is crucial in finance, enabling organizations to make data-driven decisions and optimize performance. Financial institutions leverage predictive analytics to assess potential risks, improve investment and lending decisions customers manage well, and enhance customer experiences.
One of the primary applications of predictive analytics in the finance sector is fraud detection. Financial institutions can detect potentially fraudulent activities by analyzing historical transaction data and identifying patterns and taking necessary actions to prevent them.
Risk assessment is another key application. Predictive analytics can evaluate credit risk for borrowers in the loan origination process. Financial institutions can use these insights to make better lending decisions, minimize default likelihood, and optimize their loan portfolios.
In the investment domain, predictive analytics can help organizations to identify potential investment opportunities. By analyzing market data, historical trends, key performance indicators, and company financials, firms can make informed decisions on which assets to invest in, improving the overall performance of their portfolios.
Customer segmentation and targeted marketing can also benefit from predictive analytics. Banks can analyze customer data to identify various types of customers and cater to their specific needs through personalized product offerings and marketing campaigns.
See Related: Free Financial Advisors to Start Financial Planning
Top Financial Analytics Tools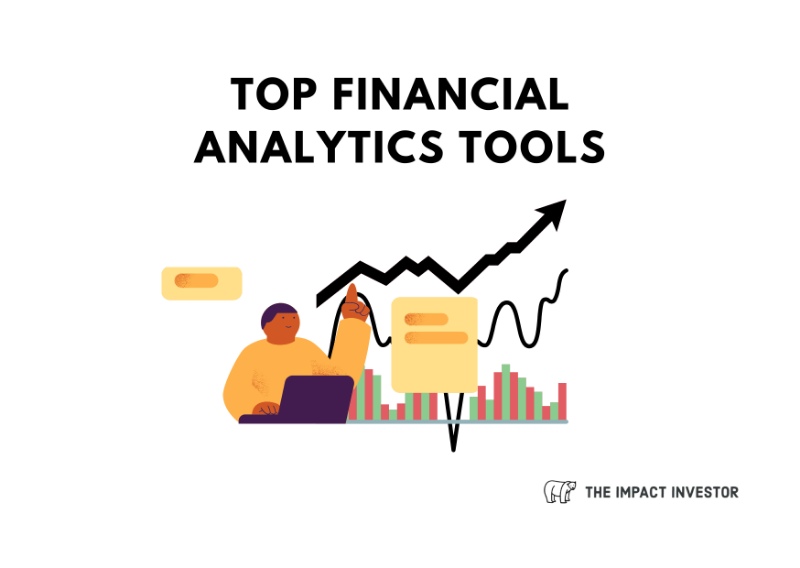 Financial analytics tools are crucial in decision-making, risk management, and enhancing overall performance in the banking industry. These tools help professionals analyze market trends, evaluate investment opportunities, and gain a competitive edge. Here are some of the top financial analytics tools currently being used in the banking sector:
FactSet is an industry-leading analytics platform that offers comprehensive data, advanced analytics, and flexible technology. With over 122,000 users, FactSet helps users identify and seize potential opportunities efficiently. The platform includes portfolio analysis, risk management, and research capabilities tailored for financial and investment management professionals.
Tableau is a data visualization and analytics tool that enables banking professionals to create interactive, customizable dashboards for easy data analysis. Tableau can process large volumes of data quickly, making it an ideal choice for financial institutions that require timely, actionable insights to make informed decisions.
SAS Banking Analytics offers advanced analytics solutions specifically designed for the banking industry. With modules such as credit risk management, anti-money laundering, and customer intelligence, SAS helps banks better understand their customers and optimize their product offerings.
Alteryx is a versatile analytics platform that enables users to blend, enrich, and analyze data from diverse sources. Its user-friendly, drag-and-drop interface makes it easy for technical and non-technical users to create sophisticated data models. Banking professionals use Alteryx to uncover insights related to customer segmentation, revenue growth, and operational efficiency.
QlikView is a BI (Business Intelligence) analytics platform focused on delivering self-service data analytics. The platform allows users to explore and analyze data from various sources, making it ideal for banks seeking insights into customer behavior and trends. QlikView's associative data model is designed to help financial professionals discover deep insights that would be otherwise challenging to find using traditional querying techniques.
Related Resources