I am beginning to become very interested in self-directed investing, especially through apps. The stock market is a bear market right now and I believe that is a great opportunity to begin to invest.
Also, I've been putting money away in a high-yield saving account through the Varo and Chime apps. Now that I've put away enough to cover six months' worth of expenses, I'm ready to put more aside in investments.
You might be starting to understand by now that there's a trend of folks who are beginning to invest through apps, me being one of them. In fact, the number of people using investment apps has grown from 35.6 million in 2017 to more than 150 million in 2021. That means the number of people using investment apps has almost doubled every year for the last five years.
Unlock Sustainable Investing Opportunities 🌿
Join the green revolution by investing sustainably with our top partners. Discover platforms that align with your values and offer remarkable opportunities for growth.
I've been trying out the Public app lately. I am looking for an app that allows me to learn about investing and do some experimenting. But, I also want an app that will work for me when I gain some experience, settle down, and develop a more solid investment strategy.
What is Public app?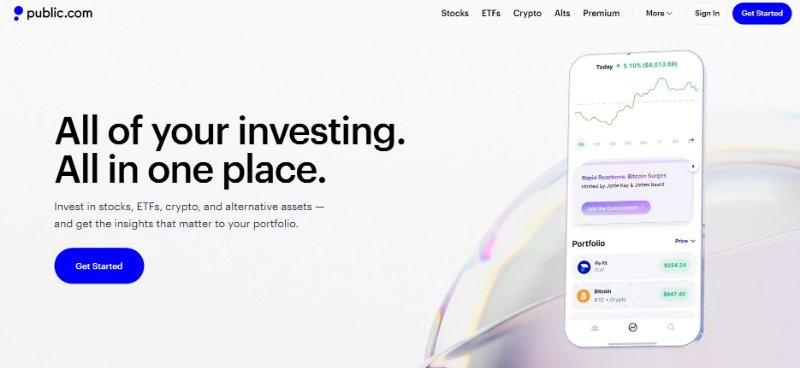 Public is an all-in-one investment app that provides an opportunity to do crypto trading and invest in stocks, exchange-traded funds (ETFs), and several alternative investments, such as art and collectibles. You can buy fractions of shares, so you don't need a lot of money at first.
The company states that one of its aims is to make people better investors and it includes real-time analysis, company metrics, and shows about investing. It also has a social media community. All investing is self-directed, although the app has FINRA-licensed professionals available seven days a week.
How Does the App Work?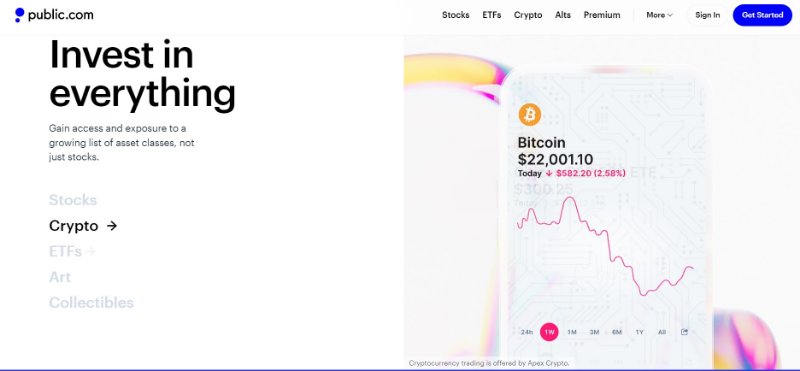 You can use the app for free, however, you won't begin to build wealth until you fund the account. You can fund the account with as little as $1 and invest in fractional shares. You can fund the account in various ways.
Plaid allows you to transfer money from your bank or financial institution into your Public account using your secure log-in at the bank. Plaid links with most banks or financial institutions automatically, but, if a bank isn't on the list, you can link it through verifying micro-deposits. Once the bank account is linked, you can move money between your bank account and your Public account.
Debit cards. Public partners with Braintree (which is a subsidiary of Paypal) and WellsFargo to enable its members to link debit cards to their Public account. Members can deposit up to $1,000 in each transfer from their debit card. Debit card transfers are faster than bank account transfers through Plaid.
Check or wire. Public will accept wire transfers or checks sent through the mail. Checks sent through the mail are one of the slowest ways to fund the account, however.
When I first signed up, it offered to invest between $3 and $300 in one of several assets when I make my first deposit. I was able to choose between Amazon, Microsoft, Disney, Tesla, Alphabet, Apple, Bitcoin, Ether, or the iShare Core S&P 500 EFT. It also provided the opportunity to set my investment goals.
The app offers commission-free trading and does not charge fees for ACH withdrawals to your bank account. It doesn't make money through fees, but it does have a solid business model that allows it to make money in other ways.
The app offers the option to provide a tip when you make a trade.
It also offers a premium membership for which it charges a fee.
It is a financial institution so it makes money the same way other financial institutions do: through securities lending (through partner Apex Clearing Corp.) and 1 percent to 2 percent markups on crypto transactions. It also earns interest on uninvested cash that members hold in their cash accounts.
While Public app charges no fees on stocks or ETFs, it does charge fees on alternative asset classes. And, it charges fees if you need to make an instant cash withdrawal from your brokerage account.
It also earns money through a program it calls Pulse partnerships. These partnerships allow companies to build relationships with their retail investors.
The company is well-capitalized and funded through venture capital.
Its History
Public app was one of the first investment apps and is popular, with about 1 million users. Most of its users are long-term holders, but some active traders use it as well.
The company behind the app has also enjoyed support within the industry. It has raised more than $300 million from various investors since 2019.
See Related: Best E-Trade Alternatives | Similar Sites & Apps
Pros and Cons
As I've been using the app and reading reviews from others, I've found several pros and cons.
I found a lot of things to like about Public app.
Pros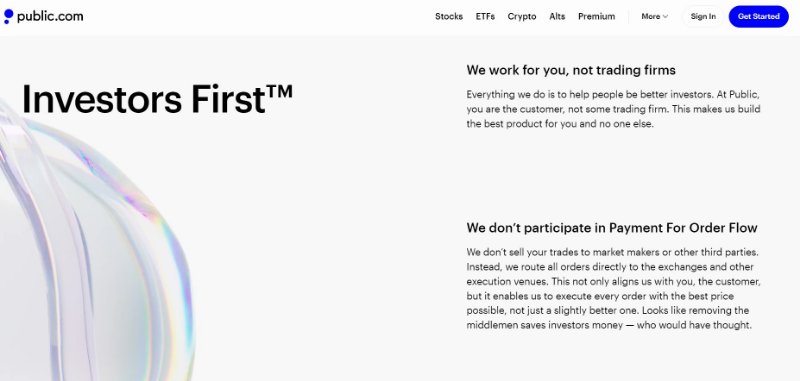 Educational Resources
The app has an abundance of educational resources to help me as a beginning investor to understand investing. The articles talk about investing in general, the stock market in particular, IPOs, crypto trading, alternative investments, and retirement.
It also provides a lot of tools for calculating things like capital gains or compound interest and an extensive news feed. If I pay a small monthly fee, I can customize the metrics I want to see about companies, as well.
I also have access to a community of other investors who can provide investment advice. I can even follow other investors to see what they're investing in.
And, I like being able to listen in on Q&A sessions with executives of publicly traded companies. I find them an interesting learning experience to hear questions that other investors have submitted. I'm also beginning to come up with some intelligent questions myself.
Free
The app is free unless I want premium features such as customized metrics and stock insights. The premium access is $10 a month.
I also have commission-free stock trading on the app, although it does offer me the opportunity to "tip" if I want. If I want to invest in crypto, I do pay a fee.
Friendly to Small Investors
I'm a small investor so I like that the app has no minimum investment requirement and that it allows fractional share investing. It also allows me to set up automatic reinvestment of dividends into fractional shares too.
Only a few other investment apps allow for both fractional investments and automatic reinvestment of dividends into fractional shares. They include big companies such as Fidelity and Charles Schwab, and some smaller ones such as Robinhood and M1 Finance.
Indeed, Public app was one of the first apps to offer fractional share investing. The ability to make small, but consistent investments is a large part of my investment strategy and the app encourages its members to build an investment habit in several ways.
When members receive dividend payments, the app automatically reinvests them, which allows the value of the investment to build. The app also allows members to automate their investments by setting up weekly, biweekly, or monthly investments. Finally, the app offers several ways to easily transfer money from your bank account, including by debit card which provides instant access.
I believe the app will help me build my investments just like Varo and Chime have helped me build my savings.
See Related: Best Investments for Young Adults
No Payment for Order Flow
Payment for order flow is popular with some commission-free trading apps. It pays the broker, usually in fractions per share, to execute trades on certain exchanges. Often payment for order flow results in higher costs for individual investors.
Public app does not participate in payment for order flow schemes. Instead, it directs all orders to exchanges without sending them first to third parties or market makers.
See Related: FarmTogether Review: Is It Legit or Worth It?
Diversified Portfolios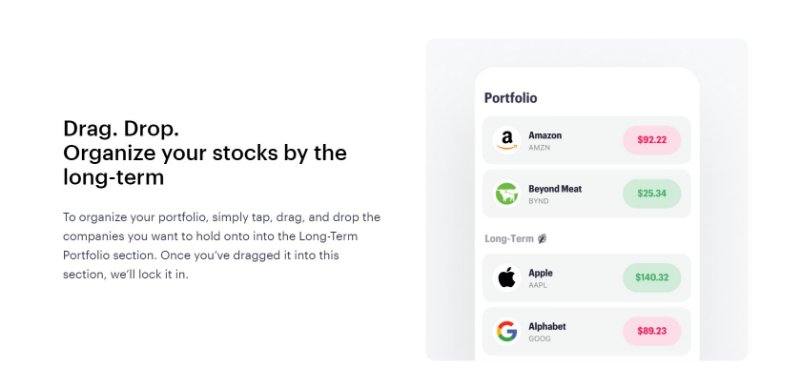 Public offers a wide variety of investment types, which makes investing interesting and fun. It also allows me to diversify my portfolio.
For example, it offers stocks, ETFs, crypto, and alternative investments. The number of cryptocurrencies available is also high, including more than 25.
See Related: Best Banks for Low-Income Earners
Ease of Use
Opening an account was quick and easy. I was on in just a few minutes.
I also like the investing themes, which are curated lists of stocks and funds for particular interests, such as socially responsible investing, women in leadership, diversity in leadership, American-made, and sports companies. Using these themes to invest was also very easy in the app.
Funding Through My Other Accounts
I can fund my Public account in several ways. Of course, I can use a check or wire transfer, but they are old technology! I can also transfer using by debit cards linked to my Varo or Chime bank accounts or transferring using Plaid. While this is a benefit, I could invest directly from my checking account if I used M1.
Stellar Customer Service
Although I like technology, I also like being able to talk with a person from time to time, especially since I'm a new investor. A real benefit of Public is that they have securities professionals licensed through the Financial Industry Regulatory Authority (FINRA) that I can talk with seven days a week. And I love their Southern accents, too.
They are based in North Carolina. Neither Titan, M1, or Robinhood offer the option to talk with securities professionals, although Robinhood does offer the opportunity for support over the phone.
See Related: Best Wealthfront Alternatives | Apps Like Wealthfront
Cons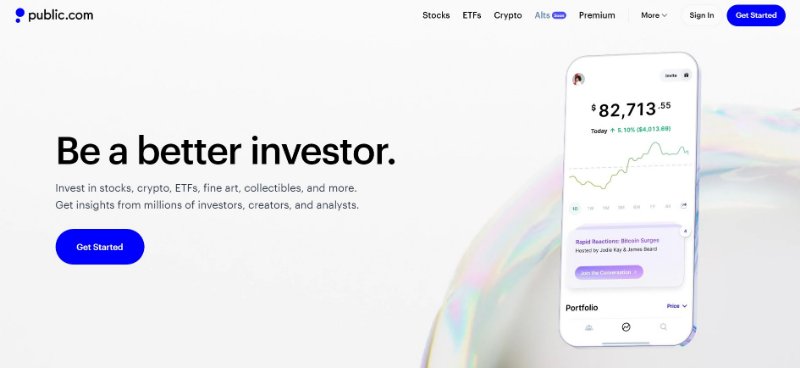 Of course, even the most popular apps have weaknesses.
Limited Investment Options
Public allows investments in certain high-value stocks that Public lists alphabetically on its website. ETFs or exchange-traded funds also are options. ETFs are a way to diversify and manage risk.
They are similar to mutual funds but are not professionally managed. They also trade throughout the day. The Public app also offers the opportunity to invest in a wide variety of cryptocurrencies, also listed on the website.
Finally, Public offers the option to invest in alternative asset classes. These asset classes include NFTs (or nonfungible tokens), fine art, and collectibles.
The downside is that, although Public offers a variety of different types of investments, it doesn't offer mutual funds, bonds, or options. These are more advanced options that I'm not quite ready for yet.
However, I might want to invest in them in the future. If I choose to go with Public for most of my investing, I'll have to use another app. Robinhood, allows me to invest in options.
Also, Titan Invest allows investment in real estate, real estate, and private credit, as well as crypto. Titan, however, offers only managed stocks and requires a $100 minimum. It also has a 1 percent fee.
No Tax Strategies
With Public, I'm on my own for investing and for managing my taxes. The app doesn't offer a tax harvesting strategy as some apps do.
No Margin Loans
Some apps, such as M1 and RobinHood, offer the opportunity to take out margin loans. Margin loans would allow me to take advantage of certain great purchasing opportunities that might come along if I'm cashed strapped.
Alternatively, it could provide a long-interest line of credit. With M1, for example, I could borrow up to 40 percent of my portfolio's value with interest payments between 5 percent and 6.5 percent. Robinhood's margin investing is controlled by its partner, Robinhood Financial, and costs $5 per month plus interest rates between 5 percent and 9 percent.
Of course, margin loan borrowing carries some risk. For example, if the securities in my portfolio decline in value and I've borrowed against them, I might face the liquidation of my securities and lose all the benefits of investing.
I could even lose more than my initial investment and interest rates could rise, increasing the cost of my loan. While I like the option for margin loans that some apps provide, I think I should avoid using them unless absolutely necessary. Even if I do use them, I want to limit the amount I borrow.
See Related: Best Credit Builder Loans
Key Features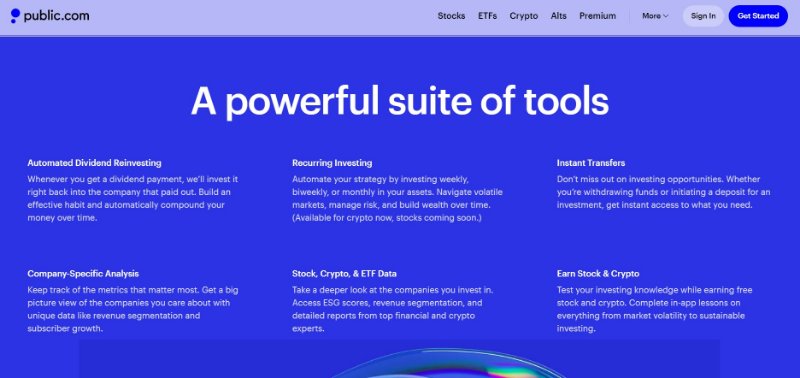 The Public investing app provides several key features.
Guides and Tutorials
A major feature is its vast educational resources section, which is particularly important to me as a new investor. It includes several guides and tutorials that Public offers its users. These guides tell me everything I need to know about investing in all the investment classes the app offers: stocks, crypto, ETFs, and several types of alternative investments.
Including stocks, ETFs, crypto, and collectibles. Public app also offers s"town halls" where I get the opportunity to talk with executives of publicly traded companies to get an idea of their strategies.
I and my fellow investors submit questions in advance of the town halls and listen for the answers. Finally, Public app has a community of investors, and investors can follow other investors to see what trades they make.
Ability to Follow Other Investors
Because Public offers me the opportunity to follow other investors, I can find a mentor and watch what they do on the platform. I think following others is an excellent way for me to learn others' strategies and consider which parts of their strategy I'd like to incorporate into my own strategy.
Bonus
I like the bonus of a $3 to $300 slice of stock randomly.
Curated Theme Options
While I like the idea of self-directed investing, the idea of being able to invest in curated stocks around a theme is also appealing. M1 also offers that option, although Robinhood does not. Some of the themes are:
women in leadership
educational technology
diversity in leadership
sports
SaaS companies
American-made companies
Green energy companies
Cannabis businesses
See Related: Best Betterment Alternatives | Apps Like Betterment
Premium Version
A premium version of the app is available for $10 a month. The premium version provides an even more robust resource section that provides a significant amount of information to help you decide how to invest your money.
For example, you can unlock analyst ratings, customized metrics, and advanced data. You also get VIP customer support.
Security
The platform offers bank-grade security with AES 128-bit encryption, TLS for data transfer, and two-layer authentication.
Avoidance of Pay for Order Flow
Payment for order flow is a scheme that gives brokers a financial incentive to route trades to certain exchanges. Payment for order flow schemes typically cost the investor more money and the practice is controversial. Public does not participate in payment for order flow schemes.
It has trademarked the slogan "Investors First" and believes that payment for order flow schemes does not fit with this value. It routes all orders directly to the exchanges without using third parties.
See Related: Best Apps for Automatic Investing in ETFs
Ratings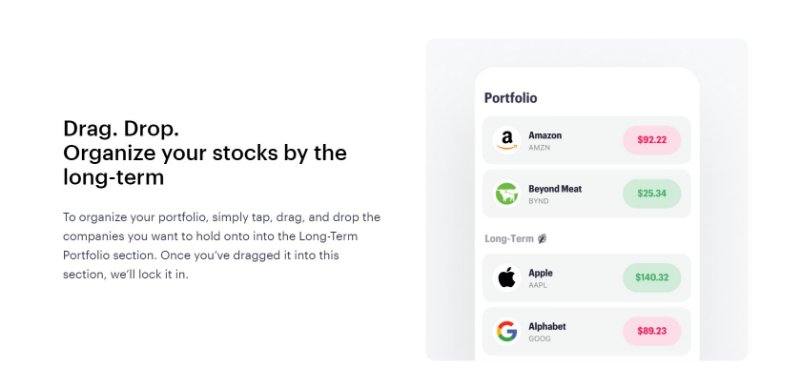 Overall, I'd give Public a 4.5 rating out of 5. Here is how I break that down:
Ease of Use. 5. I had no trouble intuitively using the app even though I am new to investing and investing apps. Sign-up and funding are easy. Choosing investments is easy as well.
Features: 4. The Public app has various features that I find useful, particularly the educational features and the ability to follow other advisers. However, I wish it offered opportunities for margin borrowing, even though I expect to use that feature sparingly.
Friendliness to Small Investors: 5. I can fund my account with as little as $1 and buy fractional shares. I don't have to commit $100 or more as with some other apps.
Customer Service: 5. Public offers excellent service because I can gain independent financial advice from its FINRA-licensed staff seven days a week.
Value for Money: 4.5. Public app is free to use and also doesn't charge trading fees. However, many other investing apps are also free and some offer additional features that Public lacks. For example, Robinhood has a larger variety of stocks. M1 allows me to think of my investment strategy as pieces of the pie, which is easy for me to grasp.
Verdict
I like the Public app very much. However, I haven't spent enough time with M1, Robinhood, and Titan to know which I prefer. I definitely like the customer service options and the ease of use I've found with Public.
I also find the educational materials, including the town hall meetings with CEOs of publicly traded companies, to be a very interesting feature. From what I've seen, Public seems to be the best app for beginning investors, like me, but I don't know that it will grow with me.
Some of the other apps offer a wider variety of stocks and support mutual funds investment. I also find the option to invest in real estate, which Titan offers, to be interesting over the long term.
FAQs
Here's a list of questions a potential investor might ask about Public app.
How easy is the app to use?
Public is an intuitive app. Sign up and choosing investments is very easy. Phone customer service is also available for problems.
Where Can I Find the App?
The app is available on the Apple app store or the Google Play store.
Is Public a legitimate app?
Absolutely. It is a legitimate way to make self-directed investments. It was one of the first investment apps and it has about 1 million users. The company is also a member of the Securities Investor Protection Corporation (SIPC) which protects investors should the brokerage firm fail. The SIPC protects consumer investments up to $500,000 from brokerage firm failure.
Is Public investing safe?
Investing on the Public app is as safe as any other type of investing. First, the app has all the security features that banking apps have, including two-factor authentication. Investments are insured through the SIPC on Public just as they are with all legitimate brokers. Of course, investing in stocks and ETFs, cryptocurrency, and other assets carries some risk. Investors aren't guaranteed to make a profit with each investment. If you buy an asset and it loses money, you will lose money too if you have to sell when the price is low.
Do other people use Public App?
Yes. It is a very popular app with more than 1 million users. It also has been around longer than any other investment app and has an excellent reputation among industry leaders, including the venture capital firms that fund it.
Related Reviews
Related Resources