Today, companies and businesses are evaluated upon a wider spectrum apart from their financial performance. Find out how the quadruple bottom line lets you take multiple investment concepts into consideration.
For hundreds of years, the only threshold an organization had to meet to succeed was above-average financial performance. Although this aspect is still a prerequisite for an effective organization, it is no longer the sole component.
Meaning, the money-making potential is not enough to define the overall performance of a company. Instead, for several decades, companies have been held accountable for the various outcomes they generate besides material returns.
Unlock Sustainable Investing Opportunities 🌿
Join the green revolution by investing sustainably with our top partners. Discover platforms that align with your values and offer remarkable opportunities for growth.
Subsequently, many criteria are created to assess these outcomes, the most popular of which is the triple bottom line approach.
Recently, the concept has been upgraded to the quadruple bottom line, which takes more matters into account and broadens the horizons for organizational accountability and responsibility.
In this article, I will explain what is quadruple bottom line, along with its origins, to help new investors understand the concept. So let's get started.
The Fourth Bottom Line
To understand the fourth bottom line, or in other words, the quadruple bottom line, we'll have to go a few years back in time and revise a few concepts. In 1994, the celebrated corporate sustainability activist John Elkington came up with the triple bottom line performance assessment.
This was mainly a systematic evaluation technique for businesses to see how they perform in areas apart from financial returns. The triple bottom line also took social and environmental sustainability into account in addition to the profit quotient.
However, this system was not successfully implemented until a decade later, when easier consensus and analysis methods came into being.
Today, attributing to the increase in data recording metrics and computing abilities, a fourth bottom line is beginning to emerge in the business sector.
Along with already existing triple bottom line components, investors will evaluate businesses based on their purpose and how they achieve them.
Yes, all this probably sounds quite confusing to newbies in the investing world. To make things easier for you, I'll explain the bottom line and triple bottom line concept before I establish a specific definition of the quadruple bottom line.
Bottom Line: What is it?
The term quadruple bottom line consists of two common words. While the opening term denotes the meaning of four levels or layers, the bottom line is something you need to understand before indulging further into this topic.
As far as the stock market is concerned, the bottom line is the basic income or earnings of a company per share. The term is usually used to represent any up or down in an organization's net earnings.
For example, one would say that a company is trying to improve its bottom line when it is lowering its production costs. Besides that, there are other ways companies use to improve the financial bottom line. These include contributing to top-line growth or increasing workforce efficiency.
In addition to financial growth, now the bottom line is used to define companies' success in other areas.
How is the Bottom Line Derived?
The bottom line is derived from the net income amount left at the end of an income statement. The report begins with the company's organic revenue, followed by the indirect revenue sources such as interest and investment income.
Furthermore, the list is followed by expense reports organized according to the industry the company belongs to. Eventually, the expenses are subtracted from the net income showing the final bottom line amount.
Why is the Bottom Line Important?
The bottom line is crucial because it shows the profitability of the company. In simple words, the company can use the bottom line amount to influence stakeholders' investing decisions.
Similarly, by keeping the total earnings on track using the bottom line, an organization can allocate assets to company expansion and product development to improve its profitability in the long run.
What is the Triple Bottom Line?
As I explained above, the bottom line is derived from a company's net income and is used to display its financial performance and enhance it in some cases. Now, the term triple bottom line defines the profitability of a company beyond its financial performance.
This means, along with material profits, companies should take other aspects into account, including the environmental and social implications of their actions as an organization.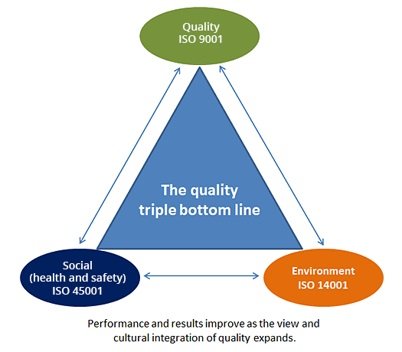 The triple bottom line concept compels businesses to count these factors as a representation of their overall performance, as they do with their net income bottom line amount.
That's why, instead of focusing on the financial costs and benefits, companies should focus on three bottom lines.
Namely, financial profits, benefits to people around the world, and positive effects on the planet. For example, let's say a company performs well according to its regular bottom line after subtracting the total income expenses.
However, if the said company is involved in workplace discrimination or is responsible for releasing harmful greenhouse gases into the environment, this will diminish its triple bottom line rating.
See Related: Why ESG Investing is Important
Why Use The Triple Bottom Line Concept?
A company producing coffee is making a tremendous income and distributing substantial dividends among its investors. Seemingly, the company is doing great.
Later, the company decides to increase its income by diminishing its costs and introducing its coffee shop chain. The cost of increasing the income would only be denoted in the surplus generated by the cafe chain and the savings incurred by cutting costs at the supply chain end.
But, what's the actual cost of growing this business? Is the financial bottom line all that matters? That's where the triple bottom line concept comes in handy.
The system helps effectively identify the social and environmental costs of companies' growth and sales strategies, which is represented in its final triple bottom line.
Going back to the coffee company, if it is using unfair means to reduce the procuring costs of the coffee, it shows a negative impact on its social quotient. Similarly, if the company contributes to deforestation while erecting its cafe outlets, its triple bottom line index will help investors take those costs into account.
Quadruple Bottom Line Definition
Now that you clearly understand the bottom line and triple bottom line concepts, you will find it easier to get your mind around the quadruple bottom line definition.
In a nutshell, a bottom line is a final number generated from an extensive sheet of expenses and profits of a certain company. Additionally, the triple bottom line works to include the environmental and social costs and benefits as well, alongside the material profits and losses.
Contributing to this concept, the quadruple bottom line adds a fourth component to the concoction. It evaluates the purpose the company serves. In other words, it assesses the essence, soul, or spirituality of an organization apart from the material profits and losses.
While the purpose or relevance of a company is usually counted in the social quotient of the triple bottom line concept, its meaning was elaborated enough to be set apart only a few years ago.
To define the quadruple bottom line concept extensively, I have tried to explore each quotient individually to give you a clear idea of today's investment trends.
Quadruple Bottom Line Performance
Let's face it. Anyone who starts a business has financial profits in mind before anything else. However, the quadruple bottom line sets the financial performance as a part of a big picture, rather than displaying it as the complete picture.
That doesn't mean the company's profitability should be undermined while keeping sustainability, environmental impacts, and purpose in mind. If the financial performance diminishes while achieving the other components, the quadruple bottom line will still go down considerably and make the business less appealing.
This means the material profitability of a business is in no way undermined by the quadruple bottom line concept. If you believe in making money out of your business, your company won't directly be labeled as one that opposes social and environmental responsibility until proven otherwise.
Let's take the example of the renowned furniture company IKEA. The Swedish giant reported a whopping $37 billion in sales revenue, which included its profits from waste recycling.
In previous years, this waste material that wasn't recycled was costing the company more than a million dollars annually.
By moving towards the improvement of its environmental quotient, the company ended up enhancing its financial returns, displaying the true essence of the quadruple bottom line concept.
This was further elaborated by the famous statement made by IKEA's head of sustainability for the UK, that they don't only recycle because they love trees, it helps them save money.
Quadruple Bottom Line and Social Responsibility
The quadruple bottom line concept's social factor shows how the company works to make the world a better place. A company that considers this aspect would control social stigmas such as workplace discrimination, unfair wages, dire work conditions, gender bias, and unethical treatment of supply chains.
A clear example is the partnership of the company 3M with United Way. Mainly, 3M contributes a chunk of its profits to STEM education and contributes to society in its way.
This enhances the quadruple bottom-line value of the company and makes it attractive to investors who believe in their cause.
Quadruple Bottom Line Sustainability
Another essential section of the quadruple-bottom line concept is environmental sustainability. Today, we live in a world where more people are aware and worried about the implications of human intervention in the environment.
Unfortunately, multi-million dollar enterprises are the ones that have been brushing these issues under the carpet for years and generating huge revenues while damaging the planet. But that's not possible anymore.
A poll in 2016 showed that more than 64% of US citizens are concerned about the climate change issue. This means these citizens would feel safe investing in companies that incorporate trends like reducing carbon footprints or promoting renewable energy.
Notably, tech giants like Facebook and Google are rapidly working towards using renewable energy to power their facilities. Similarly, Apple released a statement showing that 93% of all its energy comes from renewable sources.
Quadruple Bottom Line Purpose
The three components of the quadruple bottom line mentioned above are also included in the triple bottom line concept. What sets this improvised version apart from its predecessor is the fourth layer of purpose.
The first person to mention this terminology in the business sector is Ayman Sawaf. In 2014, he proposed that a business should contribute to one's spirituality by serving a unique purpose in addition to financial, social, and environmental returns.
Usually, in making a business profitable and making it adhere to social and environmental responsibilities, one forgets to ask, why am I doing this in the first place?
Does the company contribute in any way to your happiness, align with your beliefs, or assist you towards personal growth?
Mainly, the quadruple bottom line sets your motives at par with other business objectives to help produce a sense of purpose and spirituality in your life. Now, unlike financial gains, social improvements, and environmental conservation, your goal becomes the integral motivating factor for your business.
In simple words, the fourth layer denotes the soul of your business and introduces a factor of compassion and empathy for the cause you're contributing to through your company. This helps develop an altruistic value for your business that did not exist previously in the triple bottom line concept.
Quadruple Bottom Line Example
Now that you know the quadruple bottom line system's main concepts, you're probably wondering what are the top companies that have a quadruple bottom-line performance.
While many companies worldwide already adhere to the triple bottom line principles, only a few have managed to include the fourth bottom line in their business policies.
However, New Zealand's government is already using the concept to promote cultural continuity and sustainable development in indigenous communities.
Similarly, Social Enterprise Associates aims to incorporate all quadruple bottom line concepts into its consulting offerings, NGOs, and assisting companies. This means that along with contributing to society and the environment; the company will fulfill its core purpose of philanthropy and welfare.
Besides that, the National Water Quality Management Strategy of Australia states the sustainable use of the country's water resources as its core purpose.
Final Words
Does that conclude my take on the answer to what is the quadruple bottom line? While the concept of triple bottom line evaluation has been around for decades, the idea is relatively new.
This means, along with the advantages of encouraging sustainable businesses and defining core purposes for investors, the concept still has some disadvantages. The most salient drawback is the lack of measurement and specifications required to gauge a company's alignment with all four concepts.
To make this concept work in the long run, we need a criterion through which quadruple bottom line compliance can be evaluated and implemented effectively.
Only then will we achieve the optimum intended benefit of the concept.
FAQs
What are the 4ps of the triple bottom line?
The triple bottom line is a framework that measures an organization's social, environmental, and financial performance. The 4Ps of the triple bottom line are People, Planet, Profit, and Purpose. These four elements are used to evaluate the impact of an organization's activities on society, the environment, and the economy. The 4Ps provide a holistic approach to sustainability, ensuring that organizations consider the impact of their actions on all stakeholders.
What is an example of a business who has a quadruple bottom line?
A quadruple bottom line is a business approach that measures success by considering four factors: social, environmental, financial, and cultural. An example of a business that has a quadruple bottom line is Patagonia, an outdoor clothing company that prioritizes environmental sustainability, ethical labor practices, and social responsibility in addition to profitability. Patagonia has implemented initiatives such as using recycled materials in their products and donating a portion of their profits to environmental causes.
What are the quadruple bottom line of corporate social responsibility?
The quadruple bottom line of corporate social responsibility is a framework that expands on the traditional triple bottom line by including a fourth dimension – social justice. This approach takes into account not only the economic, environmental, and social impacts of a business, but also its impact on society as a whole. The quadruple bottom line recognizes that businesses have a responsibility to address issues such as income inequality, human rights, and access to education and healthcare in addition to their financial, environmental, and social impacts.
What is the quintuple bottom line?
The quintuple bottom line is a framework for measuring organizational success that expands upon the traditional triple bottom line by adding two additional dimensions. These two additional dimensions are education and governance, which are added to the existing three dimensions of people, planet, and profit. The quintuple bottom line is used by organizations to evaluate their impact on society and the environment, as well as their financial performance.
Related Resources