It's no secret that robots are cropping up in more and more industries each day. Today there are products on the market that would have been considered a stretch for even the boldest sci-fi novel just a few decades ago.
If the history of the stock market has proven anything, it's that investing today in the major trends of tomorrow can be a very lucrative move. But how do you know which robotics stock to choose?
As with any sector, the first step is to get familiar with the top publicly traded companies in the robotics industry. From there, you'll want to gather data on things like market cap, net income, and current trends based on your own unique trading style.
Unlock Sustainable Investing Opportunities 🌿
Join the green revolution by investing sustainably with our top partners. Discover platforms that align with your values and offer remarkable opportunities for growth.
While the search for the top robotics stocks for you will depend on various factors, we'll help get you started by pointing you towards some of the best companies to look into.
Best Robotics Stocks To Buy or Follow
1. Intuitive Surgical (NASDAQ: ISRG)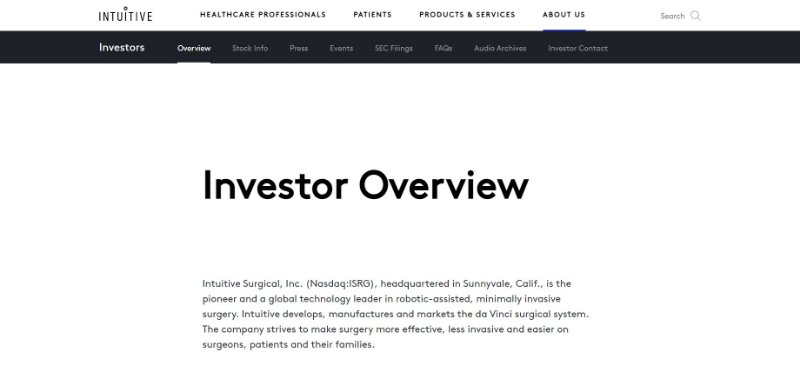 No list of top robotics stocks would be complete without mention of Intuitive Surgical. The company has been around for over two decades now and is best known for pioneering the innovative da Vinci system.
The da Vinci system allows surgeons to perform minimally invasive surgery by controlling a set of precise instruments designed to move like the human hand. The difference is that the system has a built-in tremor filter to allow the surgeon a far greater range of control.
The da Vinci vision system also helps surgeons by providing 3D, 10x magnified views of the surgical area in order to enhance precision and patient outcomes alike. In 2021, Intuitive Surgical announced that their robotic surgery system had been used to perform 10 million procedures in 67 different countries.
The benefits of surgical robotics have proven so impressive that they're only likely to find further acceptance over time. As a leading provider of some of the most innovative solutions in the medical industry, Intuitive Surgical is definitely one of the best robotics stocks worth looking into.
See Related: Best Artificial Intelligence Stocks to Buy Now
2. Nvidia (NASDAQ: NVDA)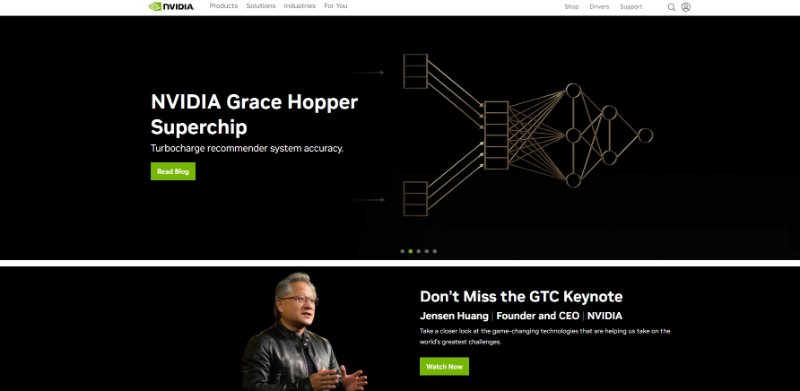 Yeah! The graphics-card-with-endless-ENDLESS-updates-people!
There's an adage among investors that points out that plenty of money was made during the California gold rush. These fortunes weren't necessarily made by gold miners themselves but by the guys who sold them wheelbarrows.
Nvidia is a similar play, as the company makes the technology that powers some of the top robotics stocks on the market. The company started in 1999 when it ushered in a new era of graphic processing units or GPUs.
While GPUs were originally targeted toward the gaming industry, they're now considered essential components of everything from artificial intelligence to machine learning software. Nvidia has grown at a rapid pace over the past few decades in its quest to become a global leader in the AI and robotics industry.
Their products aim to bring digital transformation solutions that range from tracking the effects of climate change to enabling the development of self-driving cars. The fact that Nvidia's innovations have implications for a huge array of different industries makes it a solid long-term play that's certainly worth considering.
See Related: Best Copper Stocks to Invest in Today
3. Rockwell Automation (NYSE: ROK)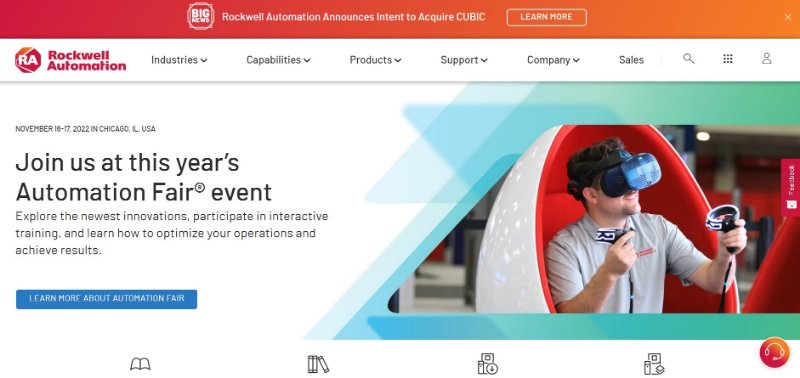 Rockwell Automation is dedicated to making companies as efficient and productive as possible through industrial automation. But what exactly is industrial automation?
The company describes it as, "the elimination or reduction of repetitive manual processes/tasks in an industrial environment or application." Some of their robots can do repetitive tasks such as monitoring temperature, speeds, or sensors.
Others can automate tasks such as transforming raw materials into goods, packaging consumer goods, or assembling appliances. Not only does Rockwell automation equipment provide a vast array of different solutions for the manufacturing industry, but the company is also heavily focused on sustainability.
As a company, Rockwell Automation also provides solutions for energy, water, and waste management to make the world a greener place. If you're looking for an ESG-friendly investment, then Rockwell is a great robotics stock to research.
See Related: Best Green Companies to Invest in 2023
4. UiPath Inc. (NYSE: PATH)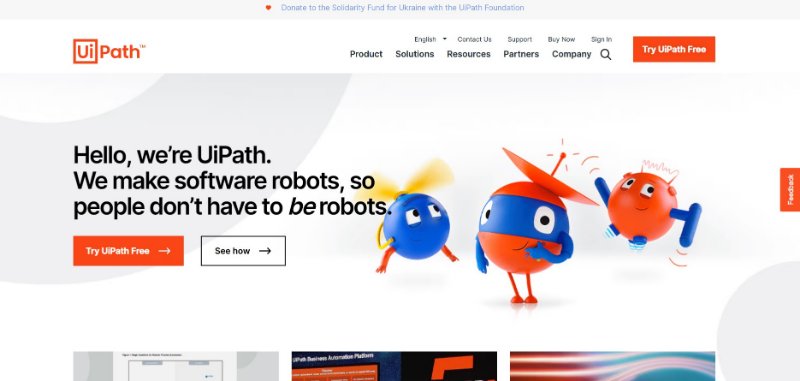 UiPath Inc. proves that not all robotics stocks represent companies out to unleash Star Wars-style robots on the world. The company's focus is on robotic process automation (RPA), which is software designed to automate mind-numbing office tasks.
Rather than replacing human workers, UiPath's software products are designed to serve as virtual assistants who can help make their lives easier. By using UiPath's end-to-end platform, employees can easily train online robots to carry out specified activities with no need for complex coding.
Examples include generating invoices and scheduling appointments to KYC checks and loan automation. As more companies contend with worker shortages, automation solutions are a great way to increase efficiency and boost productivity.
Granted, PATH stock has long lingered firmly in value investing territory. But as the global economy sees rising demand for automation, it may end up paying off for long-term investors.
See Related: Best Energy Storage Stocks to Buy
5. Fanuc Corporation (OTCMKTS: FANUY)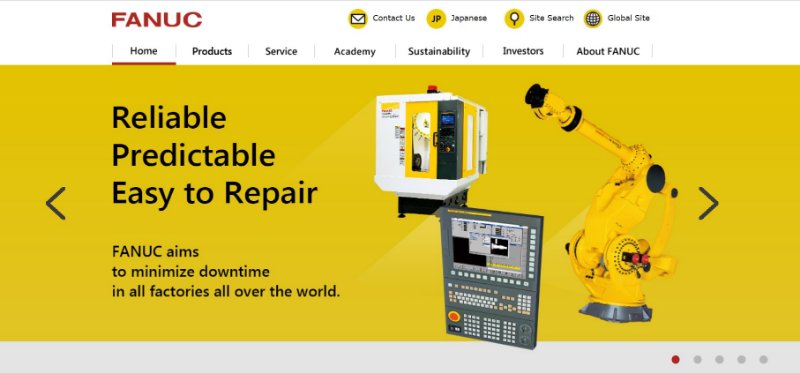 Don't be fooled that Fanuc is only available OTC where questionable penny stocks sometimes roam. Fanuc is actually a Japan-based leader in the global robotics industry, with locations in the U.S., China, Japan, and Germany.
Originally a part of Fujitsu, Fanuc is now quite possibly the world's largest industrial automation company. With over 25 million products worldwide, Fanuc offers industrial automation products for every industry in the book.
From robots and CNCs to compact machining centers and lasers, Fanuc offers a huge range of solutions with countless applications. The company even offers educational programs and machines intended for school use to help students prepare for high-tech careers.
If you're looking to invest in an automation company that's unlikely to go anywhere anytime soon, then Fanuc is a true hidden gem of the stock market.
See Related: Best Edge Computing Stocks to Invest In Today
6. Teradyne, Inc. (NASDAQ: TER)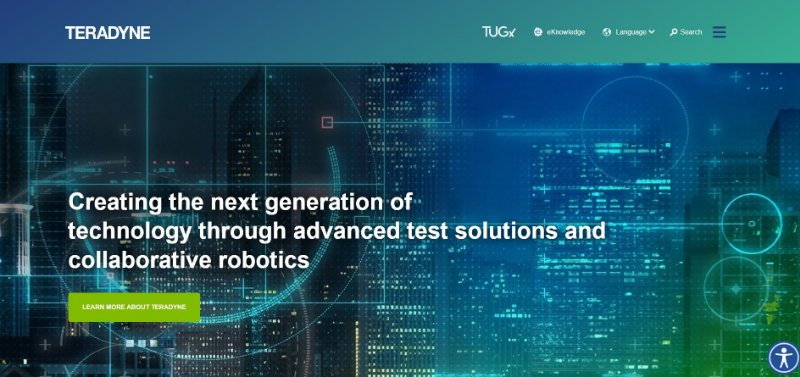 Our next top robotics stock is Teradyne, which tackles some of the biggest challenges in manufacturing through two segments. On one level, Teradyne is a task automation company, while on another, it offers automated testing for electronic products.
On the automation front, Teradyne provides collaborative and automated robotics solutions for a variety of different industries. Their subsidiaries include AutoGuide Mobile Robots, Universal Robots, and Mobile Industrial Robots, all of which are dedicated to introducing new features that allow employees to work more efficiently.
Teradyne is also well known among tech investors for speeding up the testing process for things like semiconductors, wireless products, storage devices, and beyond. This helps get the latest products on shelves faster with a reduced risk of technical issues. Teradyne is an interesting choice for investors looking into robotic stocks and tech stocks by combining the best of both worlds.
See Related: What is Impact Investing? Things You Need to Know
7. Northrop Grumman Corporation (NYSE: NOC)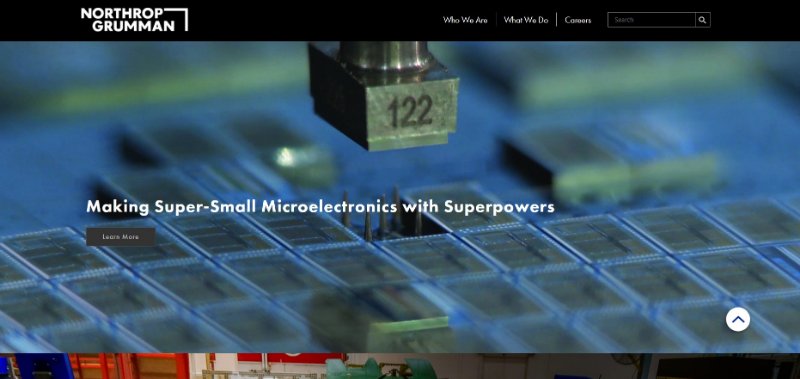 Regarding the top robotics stocks in the defense industry, Northrop Grumman is among the best on the stock market. One of the world's largest military technology manufacturers, Northrop Grumman recently developed one of the first unmanned aircraft systems for use on aircraft carriers.
While Northrop Grumman has developed some of the most advanced aircraft in history, its services don't end there. The company constantly improves robotics solutions for land, air, sea, and space.
Among their most recent contributions was their work on NASA's James Webb Space Telescope. Their other services include advanced communications technologies and cyber attack prevention software. If you're looking for stocks from a company that has always been among cutting-edge industry leaders, then Northrop Grumman is worth adding to your watchlist.
8. Zebra Technologies Corporation (NASDAQ: ZBRA)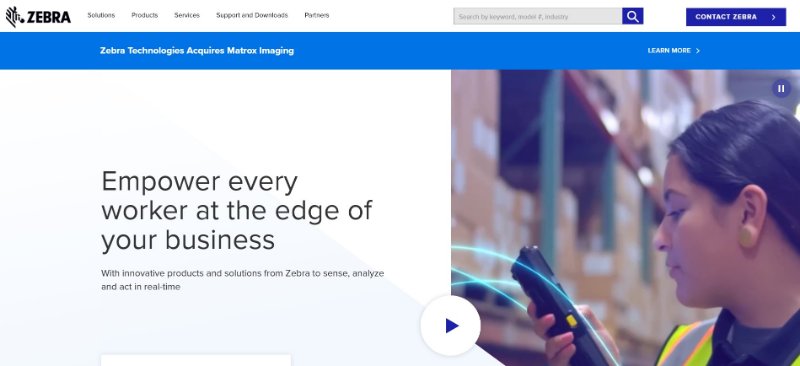 Zebra Technologies was first established in 1969 and has formed 10,000 partnerships in 100 different countries. The corporation has gone on to develop so many solutions that it's almost hard to nail down what they do.
Zebra provides data collection and asset intelligence solutions for various industries, from retail and manufacturing to healthcare and the government. Their products include visualization software, RFID readers, barcode scanners, and high-tech printers.
But the company is also at the forefront of robotic solutions that automate tasks and streamline nearly any business. Zebra partners with Fetch Robotics to offer end-to-end solutions for product distribution and fulfillment centers.
Whether you're looking to gather data more efficiently, streamline distribution, or use a robot to manually move products, Zebra has got you covered. It will be an interesting company to follow as the world embraces a global economy.
9. ABB Ltd. (NYSE: ABB)
Regarding robot stocks, ABB has been cropping up on many analysts' watchlists over the past few years. One look into the company makes it easy to see why.
ABB was established over 130 years ago and has been at the forefront of technological innovation ever since. Now a huge multinational brand, ABB operates in over 100 countries with the mission of creating a more productive and sustainable future for manufacturers in a variety of industries.
The company boasts a huge number of offerings from sustainable electrification solutions to process automation and robotics tools. As a respected leader in the global robotics industry, ABB's products can be found in automotive factories, hospitals, e-commerce delivery centers, and beyond.
Recently, the company reported the impending opening of a new $150 million factory in Shanghai, which a representative says "will be the most advanced, automated, and flexible factory in the robotics industry worldwide." With a firm grip on the latest innovations across multiple industries and continents, ABB offers a unique opportunity for future growth.
See Related: Best Cobalt Stocks to Invest in Today
10. Emerson Electric Company (NYSE: EMR)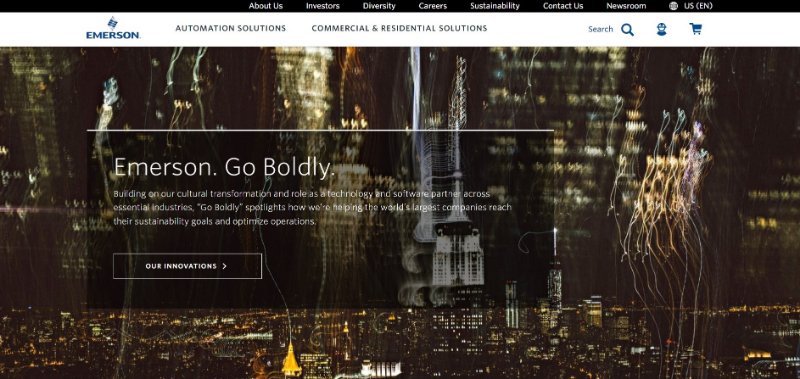 Emerson Electric started over a century ago, selling fans and motors. It's since grown into a huge global leader focusing on two segments, including automation and commercial & residential solutions.
Not only is Emerson Electric a solid industrial company, but their automation division has produced impressive returns as manufacturers seek control products to enhance safety and efficiency. The company also offers next-generation software solutions that capture the power of the Industrial Internet at its finest.
From cutting-edge IoT technology software to COM express modules designed to withstand any environment, Emerson's solutions are designed for a variety of industries. The company is also a sustainability investment, as its services already include sustainable energy collection and transfer devices. As we move toward a more virtual world, Emerson is pioneering the basic building blocks needed for a more innovative, sustainable tomorrow.
The Best Robotics Technology ETFs on the Stock Market
As you can see from this brief overview of some of the best robotics stocks on the market, plenty of companies are now pioneering solutions in the robotics and AI industry. Some are solid blue chip stocks with a huge market cap and solid dividends.
Others are still value stocks with plenty of room to grow. So how are you supposed to choose which ones to invest in?
One option is to invest in ETFs, which allow investors to invest in a full portfolio of stocks from a given sector. If you're looking to diversify without having to research a huge amount of data or invest a ton of money, this may be a solid approach.
Remember that robotics and AI are still emerging industries, so many of these ETFs may be best approached as long-term plays. When in doubt, make sure you consult with a professional investment advisor.
Global X Robotics & Artificial Intelligence ETF (BOTZ)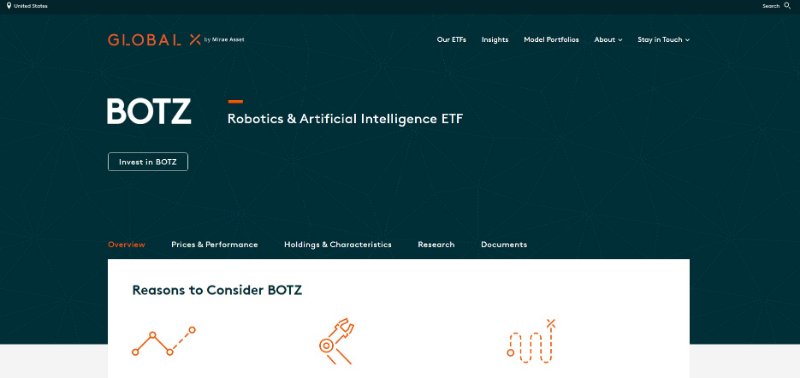 BOTZ is among the most popular ETFs that invest in companies poised to benefit from the increased adoption of robotics and AI. It also offers an extended reach into technology like semiconductors and software solutions.
ROBO Global Robotics & Automation Index ETF (ROBO)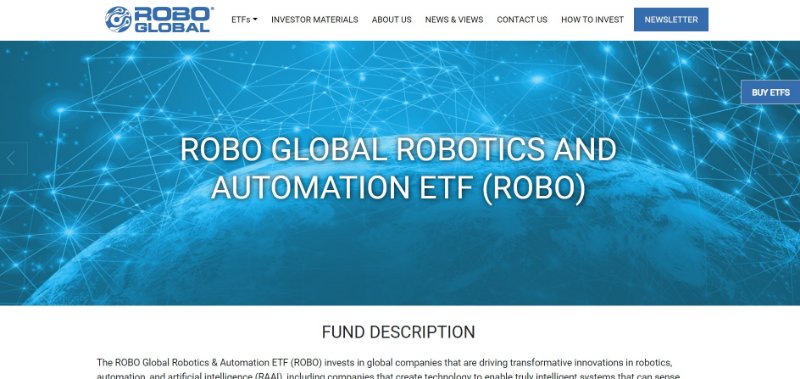 ROBO is a nice choice if diversification is among your biggest goals. The ETF offers exposure to AI, robotics, and healthcare technology solutions around the globe. It also offers a nice collection of large, mid, and small market cap companies.
See Related: Best Solar Energy ETFs to Invest in Today
ARK Autonomous Technology & Robotics ETF (ARKQ)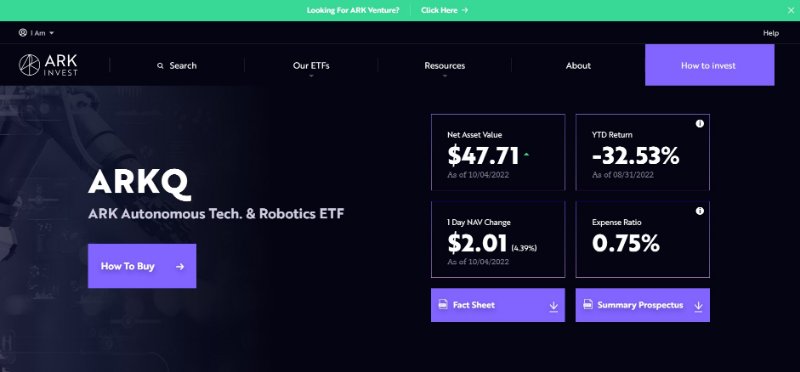 If you're a legendary investor Cathie Wood fan, ARKQ may be the ETF for you. Some of ARKQ's holdings include space-related companies, while others focus on everything from autonomous transportation to energy storage, robots, and automation.
iShares Robotics and Artificial Intelligence Multi-Sector ETF (IRBO)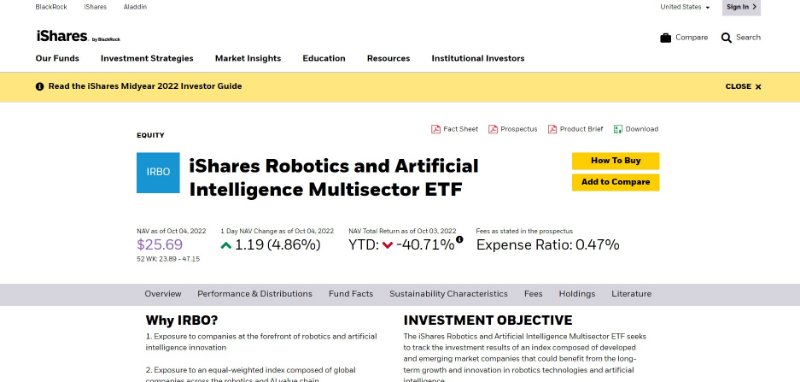 iShares also has a solid list of holdings, emphasizing cloud-focused and data-processing automation businesses. The ETF offers a selection from several different industries, including IT, industrial automation, communication, health care, and consumer discretionary.
Before making a decision, be sure to take a good look at each fund's portfolio and gather your data, particularly on its top holdings.
Where to Invest in Robotics Stocks
In order to start investing in stocks and ETFs, you'll first need a brokerage account. These days, there are plenty of great options. Some of our favorites include:
Robinhood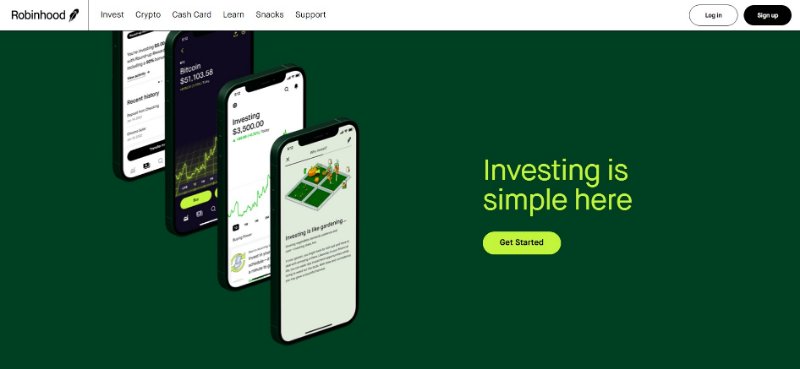 Robinhood was the first to pioneer commission-free investing and offered an easy, beginner-friendly platform for investing in stocks, EFTs, and crypto-currencies. Robinhood tends to be very straightforward compared to other platforms, which may be a welcome relief for some investors.
It tends to be a great choice if you know which stocks you're interested in investing in ahead of time. It also offers features such as a debit card to connect to your account, fractional shares, and the ability to schedule automatic future investments.
See Related: Best Yieldco Stocks to Invest in Today
M1 Finance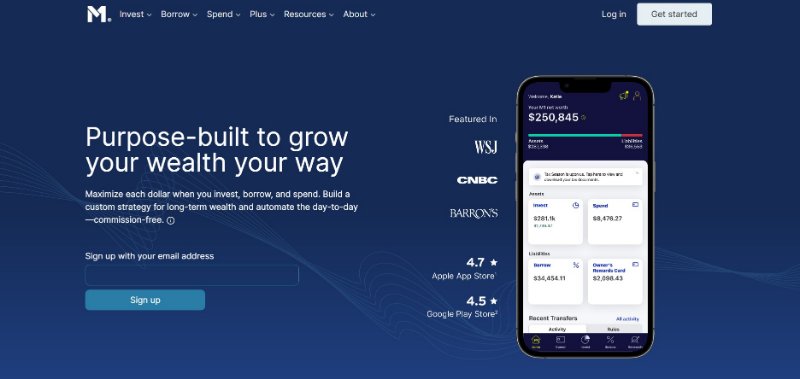 Not into hands-on investing? Check out M1 Finance, which offers customizable commission-free options for automated investing. M1 also offers a full suite of financial tools, including a flexible, low-interest line of credit and a checking account.
They've also got you covered with credit with the Owner's Rewards credit card, which can earn you up to 10% cash back on select purchases.
Betterment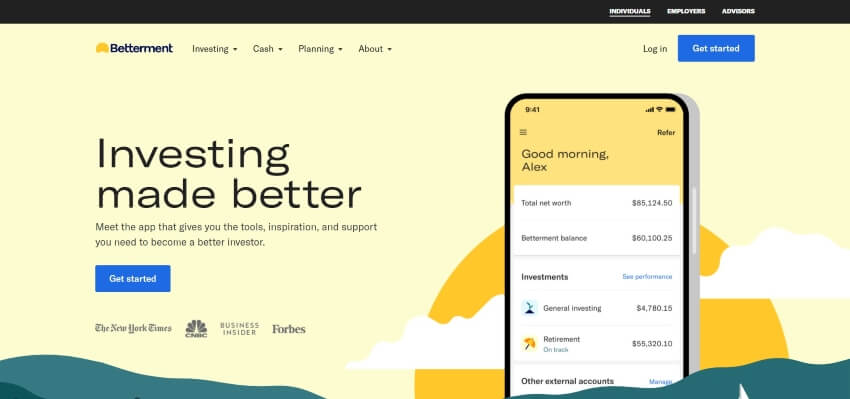 Betterment is also a great choice, particularly for beginning investors. The platform uses optimized technology to direct your automated investments toward companies in the industries that interest you.
Just create a free account, tell them a little about your interest, and they'll handle the rest. Betterment offers a great way to invest your money the way you want without spending much time on research.
See Related: Best Betterment Alternatives | Apps Like Betterment
Personal Capital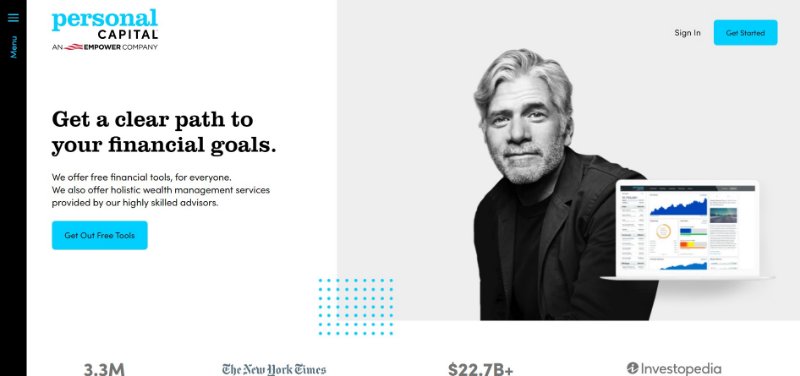 If you're a more experienced investor looking for an all-around financial management plan, then Personal Capital may be for you. While the account minimum is pretty hefty, Personal Capital does offer robo-advisor capabilities that can help you put your money behind the causes that interest you.
While Personal Capital tends to cater to more affluent investors, it also offers a nice suite of free financial tools that anyone can enjoy. You can use them to check up on the health of your investments, plan for retirement, or create a budget plan.
What are Robotics Stocks?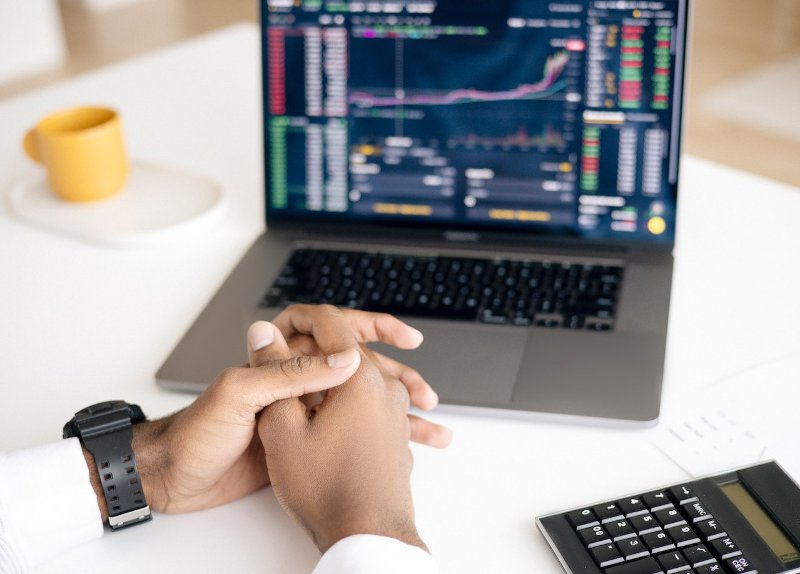 Before we get into the best stocks to buy or watch, let's first take a minute to establish exactly what robots are up to these days.
Considering the rapid technological advancement over the past few decades alone, it's no surprise that some people remain skeptical of robotics technology. Some fear that robots will take away human jobs at best or go all Terminator on us at worst. Hide your clothes, your boots, and your motorcycle, yo.
However, it's important to separate fact from fiction by understanding that the field of robotics covers a lot more than shiny, synth flesh-wrapped humanoids. Robotics stocks are offered by companies that do everything from developing the chips used in cellphones and electric cars to creating automation solutions to help businesses scale their capabilities.
While it never hurts to keep an eye out for companies intent on using technology for questionable purposes, most simply attempt to make human life easier. Whether that means they automate basic tasks that humans never really enjoyed anyway or develop lifesaving surgical robotics solutions, plenty of great companies are worth investing in.
See Related: Best Virtual Reality Stocks to Invest in Today
Why Invest in Robotic Technology?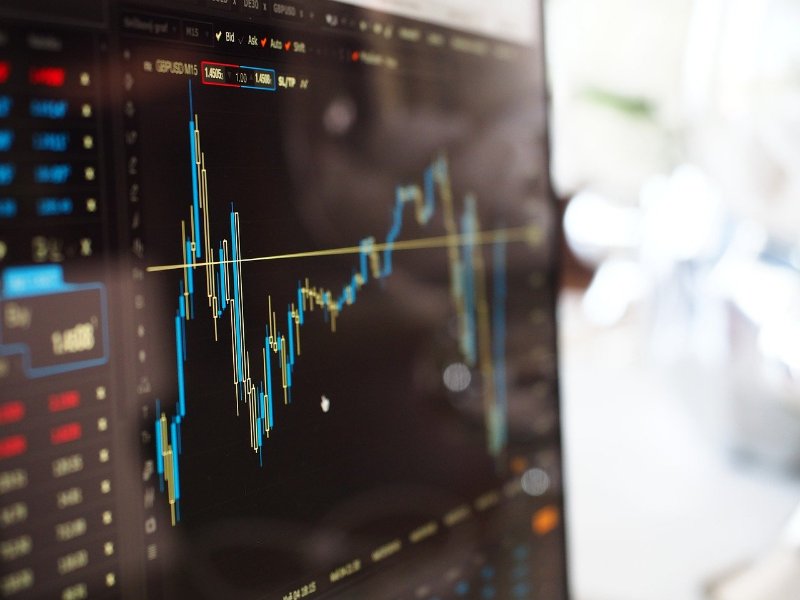 This leads us to our next question – why invest in robotics stocks in the first place? Why advance the advent of Skynet or the Matrix? [Editorial Note: Okay, stop it now] When it comes to the stock market, something must be said for making a great return.
But for many investors, it's also about a lot more than that. Investing in a robotics company you believe in is a great way to support the development of services that are changing the world for the better.
That's why, rather than focusing on financial market data, we'll be giving you an overview of exactly what each company is doing to help improve life for humanity. Remember that the opinions expressed here are intended to help point you in the right direction of companies worth looking into. Doing your research is an integral part of choosing the right stocks.
What companies are leaders in robotics?
Robotics is a field that involves the design, construction, and operation of robots. Some leading companies in the robotics industry include Boston Dynamics, iRobot, and ABB.
Boston Dynamics is known for its advanced humanoid and animal-like robots, while iRobot is a leader in consumer robots such as the Roomba vacuum cleaner. ABB is a global leader in industrial robotics, providing robots and automation solutions for a wide range of industries.
FAQs
What are the best robot stocks to invest in?
Robot stocks to invest in are publicly traded companies specializing in robotics and automation technology. These companies design, manufacture, and sell robots and other automated technologies to a variety of industries.
Some of the most popular robot stocks to invest in include companies like Intuitive Surgical, iRobot, and Teradyne, which have a proven track record of success and a strong financial outlook. It is important to conduct thorough research and consult with a financial advisor before investing in any stock.
Is it worth investing in robotics?
Investing in robotics is worth considering due to the growing demand for automation in various industries. Robotics technology has the potential to increase efficiency, reduce costs, and improve productivity, making it an attractive investment opportunity. As with any investment, potential risks and uncertainties should be carefully evaluated before deciding.
Can I invest in robotics?
Investing in robotics is possible and can be a wise financial decision for those interested in technology. Robotics companies are involved in developing and manufacturing robots for various applications, including healthcare, manufacturing, and automation. Investing in robotics can provide exposure to the growing demand for automation and technological advancements in various industries.
Related Resources