When it comes to self-driving cars, the future is now. What once seemed like a far-off futuristic concept is fast becoming a reality, and the time to invest is here.
Organizations worldwide are looking to jump in on the emerging autonomous vehicle (AV) trend. Companies involved in autonomous transportation technology range from standard automobile players to innovative and exploratory tech companies.
So, how can you invest in autonomous vehicle stocks, and what else should we consider before investing in this sector?
An Outlook of the Autonomous Driving Industry
Before buying any stocks, it is crucial to consider the industry outlook. An essential part of any investment is determining the potential for a profitable return on our investment (ROI). There is a lot to consider when it comes to the autonomous car sector.
1. Growth Potential
First and foremost, this is a booming industry that is red hot at the moment. It is absolutely worthy of your attention. The automobile industry is going through a massive evolution, kickstarted several years ago by the electric vehicle movement.
Autonomous cars would change the future of transportation on an even grander scale. This could range from the way people commute, to ride-sharing, to the transport of goods. The growth potential is both exciting and extensive.
The technology involved in autonomous vehicles is also in high demand in ways that extend beyond just cars to other modes of transportation.
See Related: Tips for Buying a Used Tesla
2. The Technology
Autonomous driving technologies consist of the development of five distinct phases:
Level 1: Driver Assistance
Level 2: Partial Automation
Level 3: Conditional Automation
Level 4: High Automation
Level 5: Full Automation
The goal of nearly every serious player in the industry is to conquer all five phases and provide consumers with a versatile array of options. The challenge is finding companies with the capability of reaching levels 4-5. The concept is simple, but the technology involved is quite complex.
Autonomous vehicles combine numerous hi-tech sensors, including radar, sonar, GPS, thermographic cameras, and other advanced control systems to perceive surroundings and move with little to no manual human involvement.
Creating autonomous vehicles relies on an elaborate combination of advanced automotive design, high-quality materials, and cutting-edge technology. Companies capable of one, two, or all three of these skills are in high demand and make for good investment potential.
Considering the technology involved is very important to understanding the self-driving car industry and the companies in it, with distinct competitive advantages.
See Related: Similar Stocks Like Tesla (TSLA) to Invest in Today
3. Safety Concerns
Another critical determination to make when investing in any industry is highlighting the obstacles that could lead to a setback or derail growth altogether.
What are the most significant risks involved?
When it comes to driverless cars, safety concerns are at the forefront. It takes a lot of faith for consumers to take their hands off the wheel and put their complete trust in a machine.
Part of assuaging these concerns is understanding the technology involved and identifying companies with a track record of success and consumer safety.
See Related: 21 Best Spacial Computing Stocks to Invest in Today
What Makes a Good Self-Driving Car Stock?
After coming to a better understanding of the autonomous vehicle industry and some of the key components at play, the next thing to determine is what individual companies represent the best potential. When considering autonomous car stocks, it is important to weigh the following:
1. Growth Potential
Again, we need to weigh the growth potential, but this time on a more direct and individual level that evaluates a specific company/stock.
What technology does the organization have and what's special about it?
What advantages help the company succeed in the autonomous vehicle sector?
How will the company keep growing?
How is the company structured and who are the leaders?
These are some of the questions to help you evaluate the growth potential of a company to shortlist in your investment portfolio.
See Related: Best Artificial Intelligence Stocks to Buy Now
2. Trustworthy
Investing is not just about explosive growth potential; it is also about mitigating risk. When looking at individual stocks, consider companies in this sector that can be trusted and have a proven track record of success.
Entrusting in established organizations limits the level of speculation involved. Suppose a company is profitable and has strong revenue streams. In that case, they are more likely to pursue new business avenues, such as research and development, acquisitions of critical competitors/new technology, and increased trials to test both quality and safety.
If we know where to invest in the self-driving sector, we can confirm we are putting our money in an organization we can trust to conduct itself from a business, ethics, and technology standpoint.
3. Innovative Capability
While trusting an organization is a critical first step, it is also essential to ensure they are innovative.
The driverless cars industry is still in its early stages. Therefore, companies involved must have the capacity and skill to create, innovate and improve different technologies in the sector.
It's also not enough to just have a new and creative idea. When investing in autonomous car stocks, it is pivotal to highlight organizations with the technological and financial resources to follow through. Revenue streams, strategic partnerships, and attainable goals are all areas to watch  
See Related: Acuity Brands, Inc. ESG Profile (AYI): Is It Sustainable?
Best Self Driving Car Stocks to Invest in
1. Tesla (TSLA) – Best for Innovation
Tesla has long been a pioneer and innovator in transportation technology. The company is often synonymous with the electronic vehicle space, incorporating high-quality materials and cutting-edge technology to gain a competitive advantage.
Unsurprisingly, Tesla is again emerging as a top player in the sector. As a leading innovator, Tesla represents one of the best driverless car stocks out there. One distinct advantage for Tesla is that they already have some semi-autonomous features, with vehicles currently on the market.
New Tesla models come equipped with a "Collision Avoidance Assist" with an intelligent braking system designed to recognize both speed and environment to detect the distance from an object in front of it. Automatic emergency braking helps eliminate or reduce the severity of an accident.
When it comes to full automation technology, Tesla is considering several innovative approaches, including potentially incorporating lidar in their designs.
Lidar is a laser sensing technology that produces a detailed 3D map as it moves, identifying its surroundings and detecting all objects. Astronauts frequently use lidar to explore and map outer space.
Drawbacks for Tesla include some recent product recalls, which have raised safety concerns. Some are also quick to point out that although Tesla presents their newest models as autonomous vehicles, they are actually only level 2 (partial autonomous) at the moment.
Pros to investing in Tesla:
Produce high-quality vehicles
Proven track record of innovation
Continuous growth
Smart braking technology
Cons to investing in Tesla:
History of product recalls (safety concerns)
Tesla cars are very expensive (could impact long-term growth)
Current technology falls short of full automation
Summary
Tesla stock has had its fair share of doubters over the years, but it has consistently outperformed expectations and analyst estimates. The company has turned its sights on self-driving vehicles and it looks poised to capitalize on the high-growth potential.
When we invest in Tesla for its automated driving technology, we know we're am investing in one of the most visionary companies in the world with a track record of automobile innovation. Tesla jumps out among all of the driverless car stocks to buy.
See Related: Is Telsa Powerwall Worth It?
2. NVIDIA (NVDA) – Best for GPU Technology
Nvidia is not an automaker, but its innovative graphics processing unit (GPU) is fundamental in the creation of AI technology.
Artificial Intelligence is a fundamental aspect of the self-driving car sector and NVIDIA ranks among the best with advantages over competitors in data processing and semi-conductors.
Nearly every company that incorporates one of the five levels of automation in their vehicles relies on Nvidia's GPU technology. Therefore even though the company does not design its own vehicles it is a huge player in the autonomous driving space.
The company has partnered with over 370 automobile makers, suppliers, and developers including notable brands such as Tesla, Mercedes-Benz, Audi, and BMW.
Nvidia has started a continuous commitment to "change how people drive and empower vehicles to drive themselves."
The company has maintained consistent growth and profitability and is among the most versatile stocks on this list because its technology is wide-ranging. An investment in Nvidia is not purely an investment in autonomous cars as their technology ranges to numerous other sectors as well.
Pros to Investing in Nvidia:
Among the best AI technology
Fundamental GPUs for the Industry
Extensive partnerships
Extends to other sectors
Cons to Investing in Nvidia:
Not just a self-driving stock, could be influenced by other external factors
Increasing competition
Summary
If you're interested in investing in autonomous vehicle stocks, it makes perfect sense to invest in the technology that makes it possible.
As the autonomous vehicle sector continues to heat up, Nvidia is well situated as a leader in AI technology. Nvidia is among the best technology stocks on the market.
See Related: 13 Best Virtual Reality Stocks to Invest in Today
3. General Motors (GM) – Best for Reliability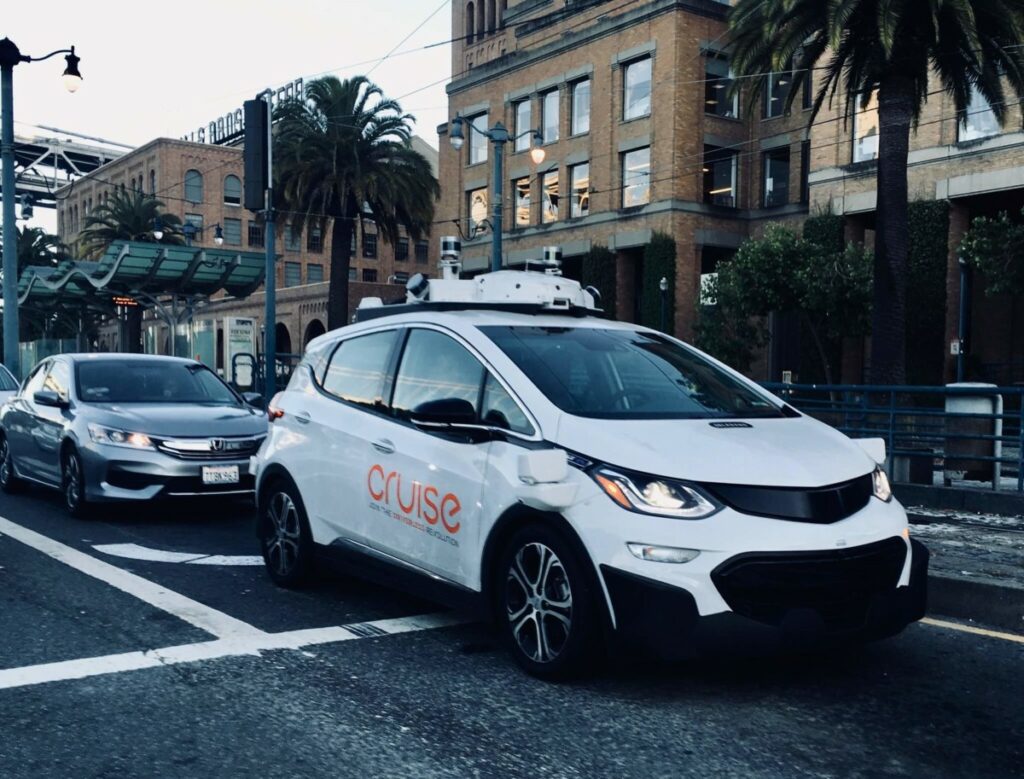 General Motors is a well-established American automaker with a proven track record of over one hundred years of growth, innovation, and sales. Of all autonomous vehicle stocks on this list, I find this company among the most reliable.
GM demonstrated its versatility by embracing the electronic vehicle movement, investing heavily in technology to create multiple EV lines to meet the sharp rise in demand.
Apart from being a household name, GM is proving to be a trailblazer in automobile innovation and technology. The company continues to adapt with the times, making it one of the best autonomous driving stocks.
GM is a compelling entrant in the AV space due to its Cruise division. Cruise is a majority GM-owned company that has been developing driverless vehicles for years.
The company recently debuted the launch of "Cruise Origin," which was designed as a level 4-5 autonomous vehicle. The Origin was built for the sole purpose of being a self-driving car, and unlike other hybrid models, it does not come equipped with any manual steering controls.
GM's Cruise line has already caught the eye of many noticeable investors, including Microsoft, Softbank Group, and Honda, who have all backed the venture.
Cruise is already valued at over $30 billion, giving GM substantial financial resources to refine its technology and make other key acquisitions.
The drawbacks for General Motors are that the Cruise division is still an unproven commodity, and the technology involved is still a work in progress.
Also, there are a lot of external factors besides the autonomous driving division that might influence the stock price. AV is only one component of a large-scale operation.
Pros to investing in General Motors:
Well known and trusted Automaker
Track record of success and innovation
Notable strategic partnerships
Financial resources
Cruise line
Cons to investing in General Motors:
Unproven technology
Non-AV related factors could influence stock
Summary
When considering the pros and cons of investing in self-driving cars, a conventional legacy brand like General Motors may not be the first thing that comes to mind, but it is certainly on our radar.
GM is a company that continues to evolve and adapt while remaining extremely reliable. Investing in GM stock is a good move due to continuous innovations and creations.
See Related: Best Edge Computing Stocks to Invest In Today
4. Ford (FD) – Best for Trusted Quality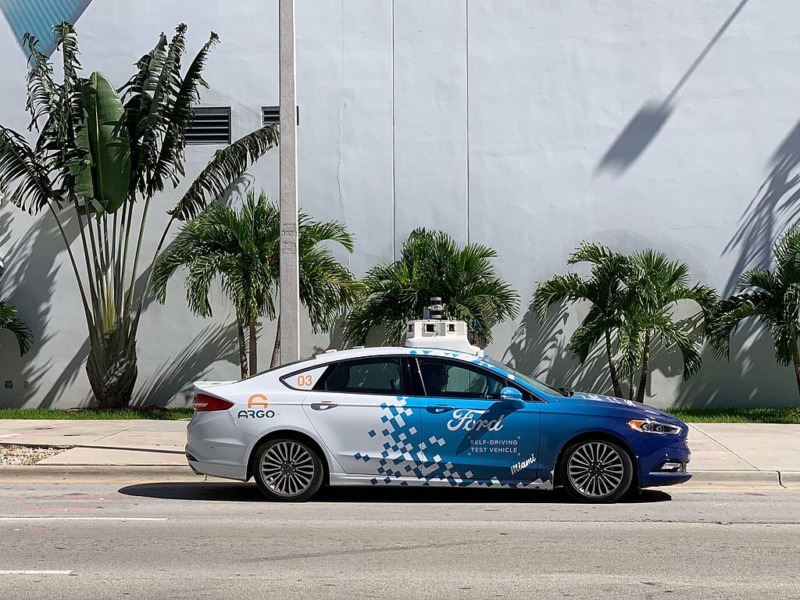 Those intrigued by the brand recognition and reliability of General Motors, will also likely gravitate towards Ford, as another well-established automaker with a long and successful history of creating quality products.
Ford is another legacy car maker with continuous innovation that keeps it at the forefront of the automotive industry.
Just like GM, Ford was quick to adapt to the electronic vehicle movement, investing in key technology and design to gain an edge. Some recent new designs include electric vans and the Mustang Mach E.
Now the company is training its sights on autonomous cars, with plans to tackle all five levels of autonomy. Planning for a self-driving car division is still in the works, but it will be well worth keeping an eye on in the future
Pros to Investing in Ford:
Well known and trusted automaker
Track record of success and quality
Commitment to autonomous driving
Financial resources
Modern designs
Cons to Investing in Ford:
Details on AV rollout unclear
AV line only in beginning stages
Summary
An investment in Ford is an investment in a proven commodity, with a long history of staying ahead of the curve.
Ford produces high-quality cars and is a brand we can trust. While there is still some uncertainty surrounding the timeline of their self-driving car division, it is a company well worth keeping on our radar.
See Related: How to Invest in Electric Car Charging Stations
5. Xpeng (XPEV) – Best for Growth Potential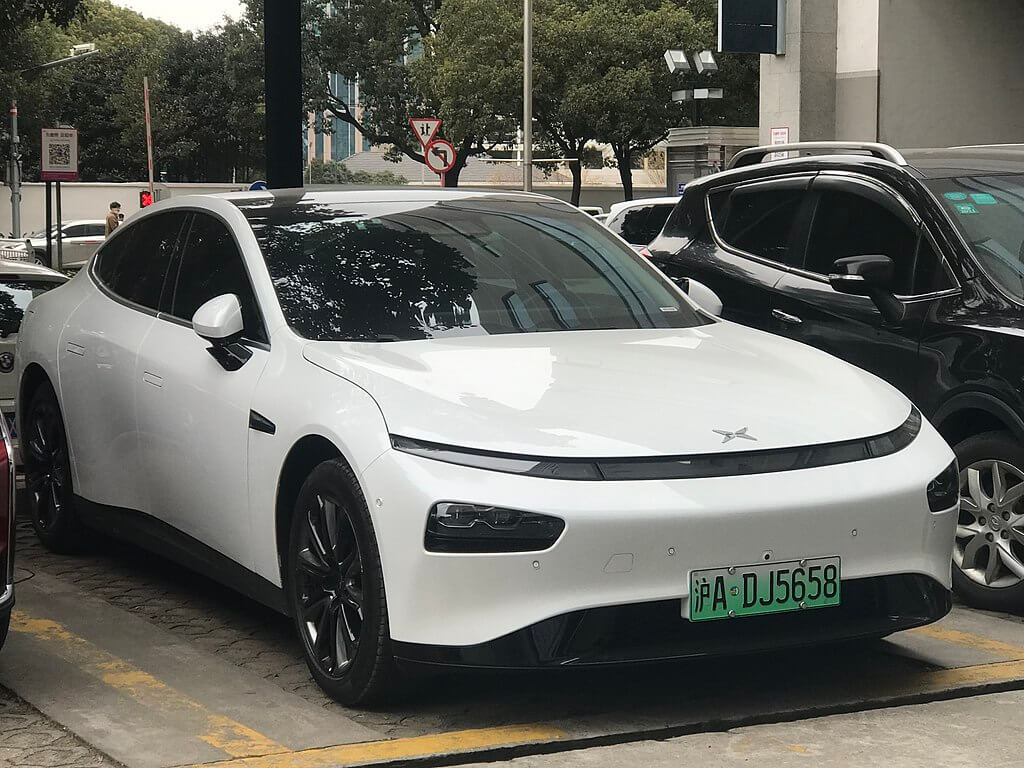 Xpeng is an electric vehicle maker based in China. The company has emerged as a strong player in the self-driving car space, with several smart EV models gaining increased popularity in China.
In 2020 Xpeng acquired Guangdong Foday Automobile, an automotive manufacturing company, giving the company a foothold in the self-driving car market.
The company is emerging as a direct rival to Tesla not just in the EV space but the AV space as well. The Xpilot 3.5 is a level 2 semi-autonomous vehicle that matches Tesla's latest release and marked Xpeng's entrance as a serious player in self-driving technology.
Xpeng is already manufacturing its own autonomous driving vehicles with smart in-car operating systems. The company has fully embraced lidar technology in its P5 electric sedan. The company looks poised to be a leading innovator in autonomous vehicle technology.
One potential drawback is increasing competition within the Chinese market, where electric vehicles are enormously popular. Other high-profile companies such as Nio and Li Auto are already competing for an edge in the market.
Pros to investing in Xpeng:
A leading automobile innovator in the China
Semi-Autonomous vehicles already on the market
High growth potential
Incorporate Lidar technology
Cons to investing in Xpeng:
Untested in international markets
Rising competition in China
Summary
Xpeng lacks the long-term brand recognition of some of the other notable automakers on this list.
However, it is one of the more intriguing stocks for self-driving cars based on both short and long-term growth potential throughout China and internationally. Xpeng is already incorporating advanced AI technology in its designs and has proven itself a capable innovator thus far.
6. Aptiv (APTV) – Best for Ridesharing
Aptiv is a global technology company founded in 2011 with global headquarters in Ireland. The company manufactures and sells vehicle components focusing on signal and power solutions, electronic power, and advanced safety technology solutions for automotive vehicles.
Aptiv focuses on autonomous commercial vehicles, looking to gain a foothold in ride-sharing through the creation of robotic taxis.
The company has joined forces with Hyundai Motor and Lyft in launching Motional, an all-electric robotaxi. Passengers can order rides via App, and each cab is equipped with a computer communications system to input directions and customized services.
This is an exciting addition to the list of best autonomous vehicle stocks because it capitalizes on a whole separate industry. The technology can be a game-changer in the ride-hailing sector, streamlining existing services.
Companies like Uber and Lyft have struggled to maintain profitability because paying drivers cuts substantially into profits. Automating the driving eliminates the majority of business expenditures and can be very lucrative.
A drawback for Aptiv is that self-driving taxis seem a little less appealing to consumers, who wouldn't be driving these cars anyway.
Pros to Investing in Aptiv:
Motional line already in place
Potential to revolutionize ridesharing
High-profit margins
Strategic partnerships
Cons to Investing in Aptiv:
Not an established brand
Still has many tentative deals
Not too many advantages for consumers
Summary
When looking for investment outside the realm of traditional automakers and established brands, Aptiv represents an exciting alternative.
The company already has self-driving technology in place, giving it an advantage over competitors. Ridesharing has soared in popularity over the past decade, so the potential in this market is considerable.
See Related: Best Robotics Stocks to Buy Now
7. Luminar Technologies (LZN) – Best for Lidar Technology
Luminar is a self-driving car technology stock to consider. As previously mentioned with Tesla and Xpeng, many automakers are beginning to test and incorporate lidar technology as a central component of self-driving technology.
Luminar represents one of the best opportunities to invest in this technology. Luminar makes laser sensors that detect movement as well as stationary objects nearby. The technology is crucial to the safe adaptation of self-driving vehicles.
Another compelling area of note is a strategic partnership with Nvidia allying to two of the strongest AI tech stocks on the market.
As Nvidia GPUs provide computing power, combined with advanced motion/object detection would have the potential to offer automobile companies an all-encompassing tech package.
A potential drawback is that lidar technology can be quite expensive. For this reason, some automakers are hesitant to universally adopt it and are still searching for alternative AI technology in their autonomous designs.
Pros to investing in Luminar:
Cutting edge lidar technology
Key partnership with Nvidia
Potential deals with automakers
Cons to investing in Luminar:
Expensive to produce
Not the only self-driving AI technology
Summary
Luminar is another exciting opportunity to invest in autonomous car stocks without actually investing in an automaker or manufacturer. Lidar is an undeniably compelling technology that could be a game-changer in implementing and adapting autonomous vehicles in the years to come.
8. Alphabet (GOOG) – Best for Sophisticated AI
Alphabet is the parent company of notable search engine Google.
What on earth does this have to do with self-driving cars?
As mentioned with the other tech stocks on this list, AI is a central component in the creation and function of autonomous vehicles, and Google has some of the best AI technology in the world.
The same AI technology that makes Google the number one search engine in the world can be used to develop self-driving cars. With superior AI tech Google is at a distinct advantage over nearly all competitors.
Apart from owning valuable AI tech, Alphabet owns Waymo, a company in the ride-sharing sector. Similar to Aptiv, Alphabet has expressed interest in the implementation of digital taxi services.
The goal is to provide a seamless user experience while cutting out the bulk of expenditures typically seen in ride-sharing. The company has even launched a pilot program in Phoenix, Arizona called Waymo One.
A drawback to investing in Alphabet is that self-driving cars are still only a minimal aspect of a massive corporation.
Even more so than GM or Ford, many additional external factors could influence the stock price that has nothing to do with autonomous vehicles.
Pros to investing in Alphabet:
Brand recognition
Leading innovator
Superior AI technology
Development of Waymo
Cons to investing in Alphabet:
Limited involvement in self-driving cars
Stock can be influenced by external factors
Summary
Alphabet may be the most surprising addition to this list. Although it is not exclusively a self-driving car stock, its AI technology is undeniable and could play a vital role in the evolution of autonomous vehicles down the road. When it comes to self-driving car stocks, Alphabet is definitely on our radar.
FAQs
Which companies are investing in autonomous vehicles?
Autonomous vehicles are self-driving cars that operate without human intervention. Many companies are investing in autonomous vehicles, including traditional automakers like Ford and General Motors, as well as technology companies like Alphabet's Waymo and ride-sharing companies like Uber. These companies are investing in autonomous vehicles because they believe it is the future of transportation and will lead to safer, more efficient roads.
Which company is a leader in self-driving cars?
Is Waymo a leader in self-driving cars? Waymo is a subsidiary of Alphabet Inc. that specializes in autonomous vehicles. With over 20 million miles driven on public roads and a fleet of over 600 vehicles, Waymo is widely considered a leader in self-driving car technology. In 2020, Waymo launched a commercial ride-hailing service using its autonomous vehicles in the Phoenix metropolitan area.
Are self-driving cars good investments?
Self-driving cars are vehicles that use artificial intelligence and sensors to navigate and operate without human input. Investing in self-driving cars can be a good long-term investment due to their potential to revolutionize the transportation industry and reduce costs associated with accidents caused by human error. However, the technology is still in its early stages and there are regulatory and safety concerns that need to be addressed before widespread adoption.
What is the 1 stock for the self-driving revolution?
Is there a specific stock that is the best investment for the self-driving revolution? It is difficult to definitively say which stock is the "1 stock" for the self-driving revolution, as the industry is still in its early stages and several companies are investing in self-driving technology. However, some of the major players in the industry include Alphabet's Waymo, Tesla, and General Motors' Cruise, which may be worth considering for investment opportunities. It is important to conduct thorough research and analysis before making any investment decisions.
Related Resources
Kyle Kroeger, esteemed Purdue University alum and accomplished finance professional, brings a decade of invaluable experience from diverse finance roles in both small and large firms. An astute investor himself, Kyle adeptly navigates the spheres of corporate and client-side finance, always guiding with a principal investor's sharp acumen.
Hailing from a lineage of industrious Midwestern entrepreneurs and creatives, his business instincts are deeply ingrained. This background fuels his entrepreneurial spirit and underpins his commitment to responsible investment. As the Founder and Owner of The Impact Investor, Kyle fervently advocates for increased awareness of ethically invested funds, empowering individuals to make judicious investment decisions.
Striving to marry financial prudence with positive societal impact, Kyle imparts practical strategies for saving and investing, underlined by a robust ethos of conscientious capitalism. His ambition transcends personal gain, aiming instead to spark transformative global change through the power of responsible investment.
When not immersed in the world of finance, he's continually captivated by the cultural richness of new cities, relishing the opportunity to learn from diverse societies. This passion for travel is eloquently documented on his site, ViaTravelers.com, where you can delve into his unique experiences via his author profile.