Social impact MBA programs help create positive changes in the world by developing business leaders with a high level of education and training. These top social impact MBA programs offer unparalleled instruction to produce well-informed, sensitive leaders ready to roll up their sleeves and make a difference.
I suggest these top 10 MBA programs because they can provide the best information and preparedness for students who value fair social practices and want to tackle social obstacles in the business world. By taking innovative approaches through hands-on learning, students apply what these programs teach to make a difference.
What Topics do Social Impact MBAs Address in the Business World?
Social impact MBA students learn to tackle various topics and issues across many areas. Some of the most innovative ideas and pressing issues students learn to understand and manage through modern progressive business measures include the following.
Unlock Sustainable Investing Opportunities 🌿
Join the green revolution by investing sustainably with our top partners. Discover platforms that align with your values and offer remarkable opportunities for growth.
Human rights
Social justice
Environmental management
These are just a few areas where I feel these programs offer an outstanding education. Each school I've gathered below has a reputation for producing world-changing leaders who tackle critical challenges with innovative solutions.
Top MBA Programs for Social Impact
Individuals interested in enrolling in one of the top MBA programs for social impact should consider the following institutions. These MBA programs offer exceptional education and training to prepare graduates to become successful in the workplace.
1. Yale School of Management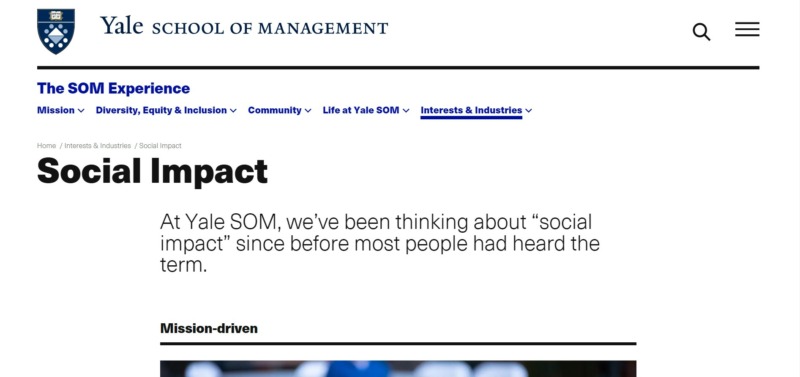 Yale School of Management, or Yale SOM, offered a social impact MBA program well in advance of the current trend. I think they have plenty to offer in terms of education and producing a well-rounded expert ready to tackle the social issues in the business industry. Yale SOM has a wide range of focus areas, which include the following.
Diversity and inclusion
Sustainability
Social Enterprise
Non-profit management
Economic development
Healthcare
Not only is Yale known for its superior level of instruction, but its graduates have positively impacted the world of business. The curriculum for Yale SOM includes relevant course materials that makeup 1/4 of the classroom instruction time.
Topics range from modern complex social issues to environmental topics. Students can select a core course and a wide range of electives to supplement their core focus.
Yale SOM also offers attendees unique opportunities to participate in conferences and events related to economic development, education, and philanthropy. Students also team up with global organizations to help create solutions to real-world challenges in exchange for course credit.
Yale SOM offers a chance to sit down with the faculty at the social impact lab to help create solutions to current social issues and also have access to the Net Impact Club. All these courses and clubs allow Yale SOM students to learn public leadership and strategic management in the business world to ensure success.
See Related: Best Circular Economy Jobs to Start Your Sustainable Career
2. Skoll Centre for Social Entrepreneurship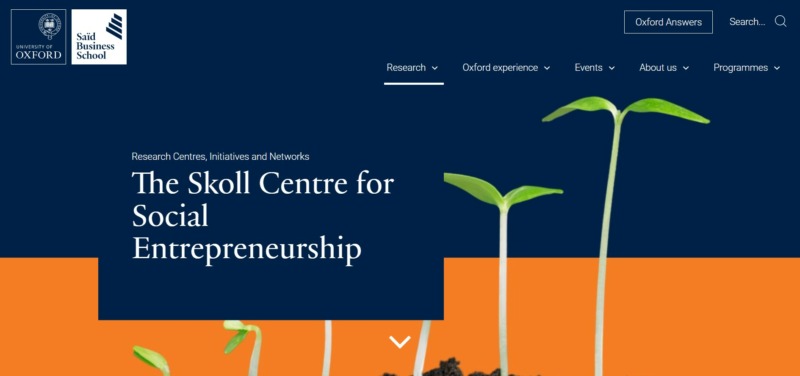 The Skoll Centre for Social Entrepreneurship, or Skoll Centre, is a branch of the University of Oxford. Its goal is to produce high-achieving leaders who learn to use effective techniques and skills to create effective change through business leadership.
This business school includes instruction and insight from leading practitioners with in-depth topic knowledge to give exceptional views of methods used to create change.
This program offers students a fully-funded one-year scholarship, including a living stipend. Along with the core curriculum, there is also an opportunity for students to join the impact lab.
This program offers co-curricular impact leadership instruction. Students also have access to a global competition called Map the System to help them understand issues in all parts of the world. They can also attend a program called GOTO: Oxford to help produce systems thinking in participants. Some areas of focus include the following.
Social impact
Mission-driven organizations
Financial management
Responsible business practices
Management of non-profit organizations
Experiential learning
This MBA program works with Oxford Said researchers and noteworthy social impact practitioners to create new ideas and approaches that help make real-world positive changes.
Areas of focus include social sector leadership, social enterprise initiatives, and creating an environmentally sustainable world. Working with experts in this field sets this program apart from other top-performing institution programs.
3. NYU Stern Social Enterprise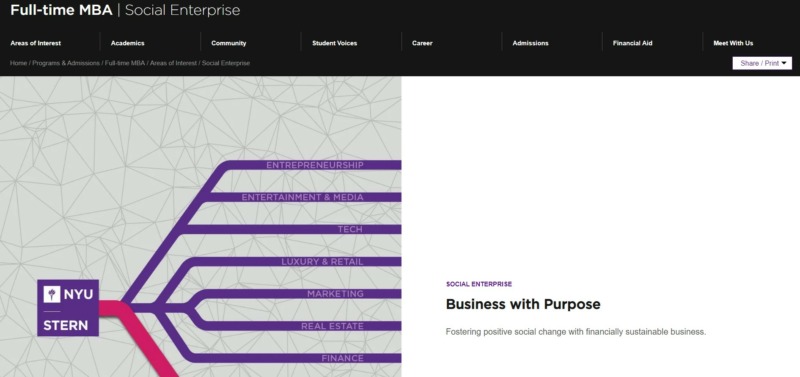 The New York University Social Enterprise MBA program at NYU Stern School focuses full-time on fostering positive change by creating sustainable business practices.
The core curriculum at NYU Stern school focuses on topics and areas directly related to the student's career objectives and goals. Each student can select three focus areas from the 20 options offered.
I think these focus topics make this a highly diverse and flexible course. Some examples of the core curriculum include corporate social responsibility, entrepreneurship, and venture philanthropy.
Students can go on to practice in specialized areas, such as the following areas.
Global Business
Entrepreneurship and innovation
Sustainable business and innovation, and strategy
This program is hands-on and offers students the chance to work directly with the faculty on the Stern Signature Project to learn more about areas such as multinational organizations, film distribution, urbanization of emerging markets, and much more.
This MBA program also offers a CPRL Education Practicum, which connects students who can work with other students of related programs who enroll in upper-level graduate programs.
See Related: Best Social Impact Careers to Pursue
4. Berkeley Haas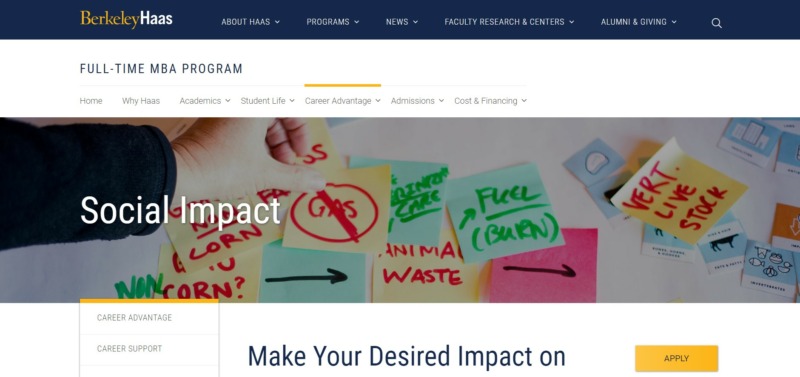 Berkeley Haas has a reputation for excellence in producing MBA students. The school teaches social innovation and develops well-rounded professionals. Berkeley Haas is a full-time social impact MBA program that propels students to excel in fields such as the following.
Corporate social responsibility
Public leadership
Non-profit management
Whether individuals want to include social impact studies in their business education or pursue a career in these field-focused areas, Berkeley Haas has the instruction and opportunities to help students succeed.
Individuals can experience coursework through hands-on experiences and social impact classes. Some examples of courses offered include the impact investing practicum, social investing, social impact marketing, social sector solutions, and human rights.
Students also have the option to participate in the Net Impact Club and Berkeley Board Fellows. Graduates have many opportunities afforded to them after they receive their education and move forth in the business world, ready to incite change.
5. Chicago Booth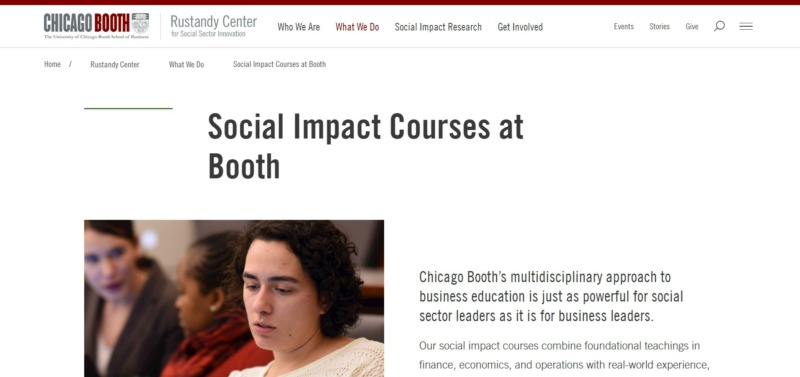 The social impact course offered at Chicago Booth produces social experts and leaders focused on specific areas, including the following.
Operation
Economic
Finance
Business sustainability
Social innovation
The course allows the students to participate in a live project. This approach will enable individuals to reflect on their societal roles and responsibilities and practice corporate social responsibility and sustainability.
They also instruct on impact investing and how to effectively deploy company financial resources to change social issues via market interventions. The featured coursework also includes a focus on new social ventures.
This program focuses on learning about and developing an innovative social startup. Other courses include scaling social innovation search lab, social entrepreneurship and innovation, social sector strategy and structure, and the social impact lab. I like this option because of the many instruction angles and comprehensive learning.
See Related: How to Create a Social Impact Measurement Framework
6. INSEAD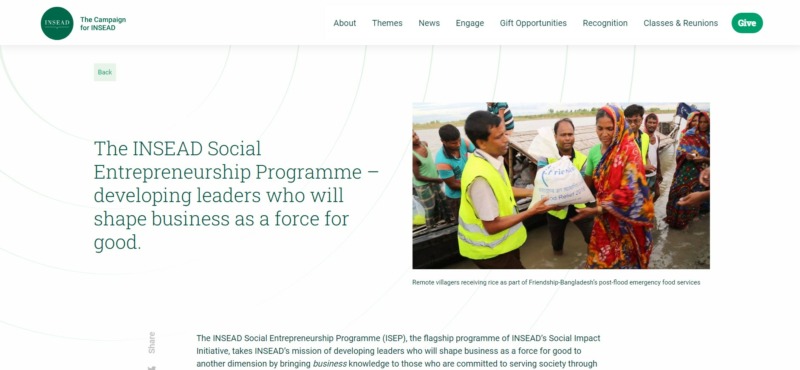 The Entrepreneurship & Family Enterprise program at INSEAD allows students worldwide to develop their leadership skills and learn how to make effective changes in their careers.
The Social Entrepreneurship Program, or ISEP, is considered the flagship program of the Social Impact Initiative. Some focus areas include the following.
Business restructuring
Business leadership
Innovative thinking
Social entrepreneurship
This prestigious school is considered to be a global business education facility. The goal is to closely analyze the world's challenges and complex issues to help develop top business leaders worldwide.
The goal is to help decision-makers in business markets re-think how they organize their business structures and design business processes.
This program monitors a business's development to embed information in the instruction materials. INSEAD helps students develop a real-world example with critiques and suggestions to improve business practices for current and future students.
7. MIT Sloan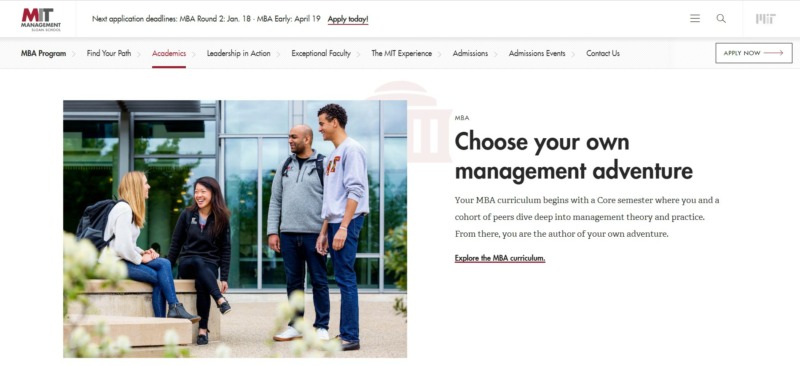 The MBA program at MIT Sloan considers itself to be an incubator for innovation and change. It's also one of the top business schools in the world.
The MBA program teaches students to tackle significant challenges armed with insight and information to take on the most critical issues in the world.
The graduates from this program can go on to build their own socially responsible businesses or help restructure a business using ethical practices. They may also make changes to important social topics. Some learning focus areas include the following.
Management theory and practice
STEM
Experiential learning
Social entrepreneurship
This program is also LGBTQ-friendly and encourages women's leadership. The MBA program also encourages students to use their career resources through the career development office to help them find their direction. I recommend this program for individuals looking for diversity and school support during their studies.
See Related: Social Impact Examples You Need to Know
8. Stanford GSB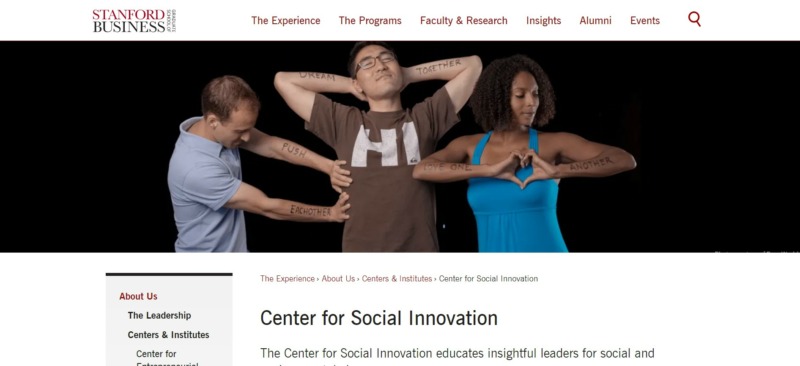 The Stanford Graduate School of Business, or Stanford GSB, is focused on creating a positive social impact through its Center for Social Innovation. The goal is to produce leaders with insight and information to help make effective change. Some focus areas of this program include the following.
Social innovation
Impact
Experiential learning
Social entrepreneurship
Global Health
There are plenty of resources for students, including access to academic research, working in the field, participating in investment committees, fellowships, and much more.
Graduates can enter their practice field with a well-rounded global business outlook and the ability to use real-world experience to solve complex social issues.
9. Northwestern Kellogg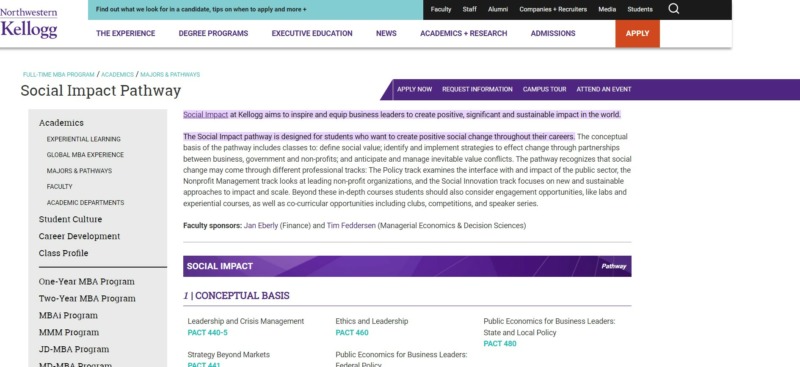 Northwestern Kellogg offers a full-time MBA program that develops thoughtful and inspiring leaders to create positive change. They provide a social impact pathway to focus on primary studies such as the following.
Government and non-profits
Public sector impacts
Social values
Impact and scale
This program offers students experiential learning with options to participate in competitions, listen to speaker series, join clubs, and choose either a policy track, a non-profit management track, or the social innovation track. Some courses include Leadership and Crisis Management, Ethics and Leadership, Strategy Beyond Markets, and Public Economics for Business Leaders.
One of the reasons why the school makes the list of the top 10 social impact NBA programs in existence is that the school focuses on each student's professional track and strengths. They supplement their education with labs and coursework that provide the specific information and training they need to make positive changes in their business innovation.
See Related: Reasons to Start Social Impact Investing
10. Oxford Said Business School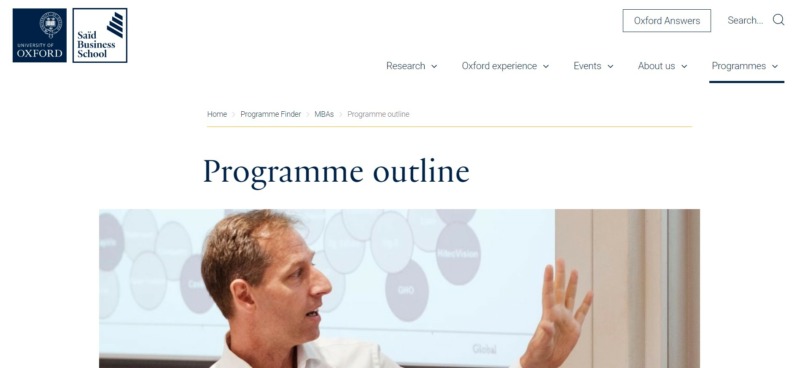 Oxford Said Business School is one of the most prestigious in the world. Their Social Impact Education program combines co-curricular coursework to develop socially conscientious graduate students. Some features of the program that stand out include the Impact Lab, which allows students to connect with other students to learn more about ideas and insights from leaders in their fields.
The Oxford Executive MBA focuses on developing entrepreneur-minded students while participating in an immersive learning program.
The program has 16+ week-long learning modules. The length depends on the student's chosen electives.
Students choose core courses and electives that can include studies overseas. There are also compulsory projects such as global opportunities, the Threats Oxford GOT Project, and the entrepreneurship project.
Students who choose overseas studies can make them their core or elective studies. Electives also focus on the student's primary focus in their studies. Several electives are offered throughout the year to build a well-rounded and informed student. Areas of focus for the social impact MBA program include the following.
Leadership development
Executive career development
Global complexities
Strategic leadership
Students who enroll can also access study groups, debates, discussions, virtual coursework, interactive lectures, and shared learning. I encourage serious MBA students looking for diverse social impact programs to consider this comprehensive and challenging option to receive a highly recognized and comprehensive education. Graduate students have many opportunities to cement their place as innovative leaders for social and ethical change in the business world.
Related Resources