Investing money has always been a productive and beneficial idea, but now it's revolutionary. You can invest money and grow a nest egg for yourself while making the world a much better place for other people. The way to do it is to participate in socially responsible investing.
Socially responsible investing is putting your funds on stocks and other assets of companies that promote positivity or support sustainability. Investing in a solar panel provider or an organization that provides affordable homes is an example of socially responsible contributions.
You might also want to invest in companies you know support recycling, social justice, zero-emissions vehicles, and other ideas that work to keep the environment safe.
Best Socially Responsible Financial Advisors
These are some of the most well-known, reliable firms to help you achieve your personal finance goals while deploying investment capital in socially responsible investments:
1. Greenvest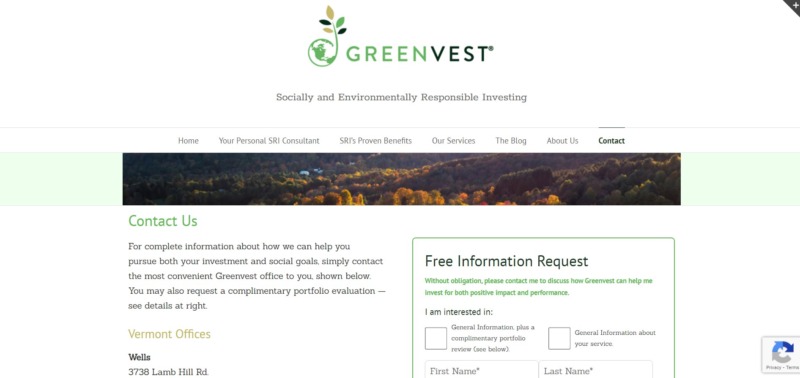 Greenvest made the list because of its numerous advantages and its dedication to socially responsible investing. The company has offices in Vermont, Massachusetts, and California states.
They have an advantage over other financial advisory firms because their agents specialize in socially responsible investing. They also allow their clients to choose their own fee structures, giving a great amount of flexibility to those individuals.
Another element that put this provider on the list is the astounding number of credentials and affiliations it has. Greenvest is a member of the UN Global Compact and the Vermont Green Business Program. Furthermore, it's certified for meeting the standards of social and environmental impact.
See Related: Best Sustainable Robo-Advisors for SRI & ESG
2. White Raven Financial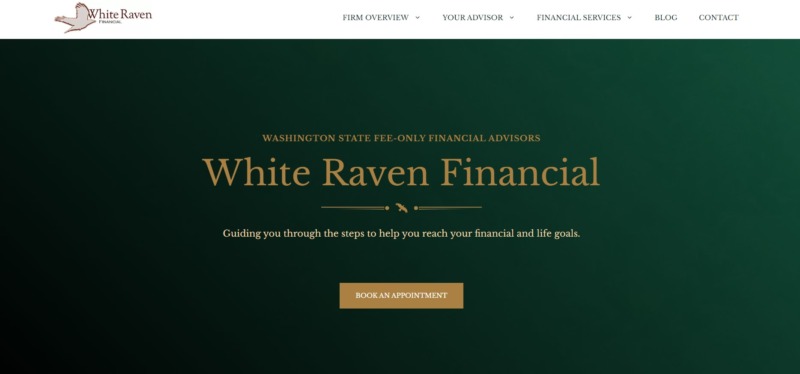 White Raven Financial is a Washington-based company that graced the world with its presence in about 2017. The company has an overall rating of 4.5 stars out of a possible five stars and offers a vast assortment of services, including giving advice about socially responsible stocks and mutual funds.
The financial advisors at this firm pride themselves on caring for their clients sincerely. Therefore, they will ensure that you make investments that make you feel purposed.
White Raven provides many more services than socially responsible investment advice. You can also get retirement planning, wealth management, and small business retirement help.
See Related: Best Portable Solar Panels for Home
3. Vision Capital Investment Management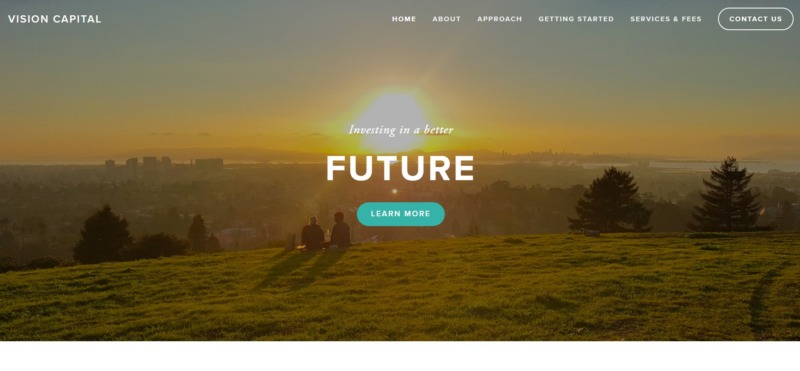 Vision Capital Investment Management has a strong vision that includes backing companies that make socially ethical decisions. The company has been around since 1983 and aims to educate clients about socially responsible investing and guide them along the path of making the best choices for their money.
This company has five stars out of a possible five stars and strives to maintain its high standards for mutual funds, exchange-traded funds, and community investing.
See Related: Best Green Apps for a More Sustainable Life
4. Morgan Stanley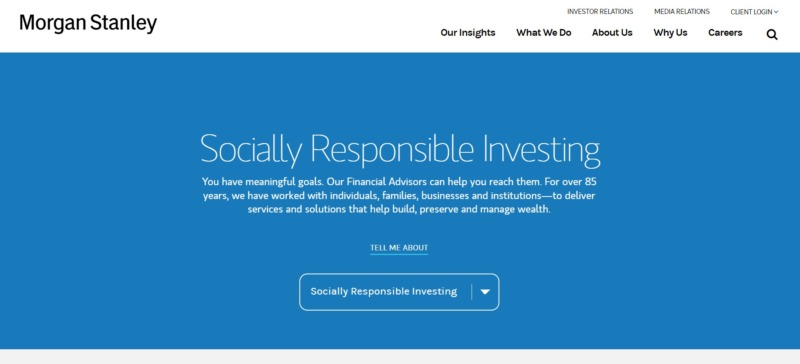 Morgan Stanley has been around for 85 years and is a perfect choice if you're looking for a big-name advisor with a solid reputation. The company is fully on board with socially responsible investing and is committed to doing the right thing, giving back, and including everyone. Many clients have rated this company with five stars for their excellent advisory services.
Morgan Stanley is an advocate of socially responsible investing and advertises its willingness to help people make purposeful investments and mutual funds elections.
See Related: Ethical Dividend Stocks to Invest in Today
5. Capital Intelligence Associates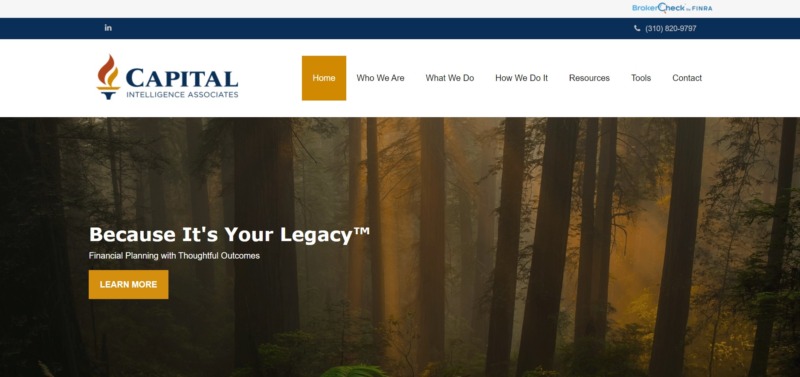 Capital Intelligence Associates specializes in green and value-based investing, which is along the same lines as socially responsible investing. The firm has been operating for more than 70 years and has always been focused on giving clients the most meaningful guidance.
The firm has a perfect rating of five stars out of five and dedicates itself to customer service every day. The agents at this site are mostly planners who help people to plan their futures.
You can feel confident consulting with someone at CIA if you need to get involved in multigenerational or philanthropic financial planning.
See Related: Free Financial Advisors to Start Financial Planning
6. LPL Financial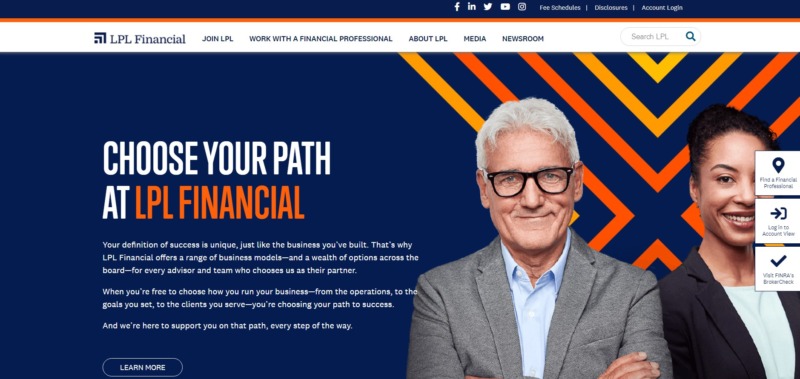 LPL Financial is another firm we took notice of because of its commitment to socially responsible causes. The firm claims that social responsibility is an integral element there. Their investment professionals are committed helping their clients make choices that are both positive and fruitful, so it isn't just your money that's making a different.
LPL does advisory work for more than 21,000 professionals and has partnerships with more than 1,100 businesses. You can hold a great deal of trust in them. Also, their main principle is that they are here to work for the client and not the other way around. Therefore, their advisors do everything possible to cater to the needs of each client.
You can receive a number of services from this firm outside of socially responsible investing. For example, you can also request help with operational support, compliance oversight, consulting, or mutual fund strategy.
7. Morling Financial Advisors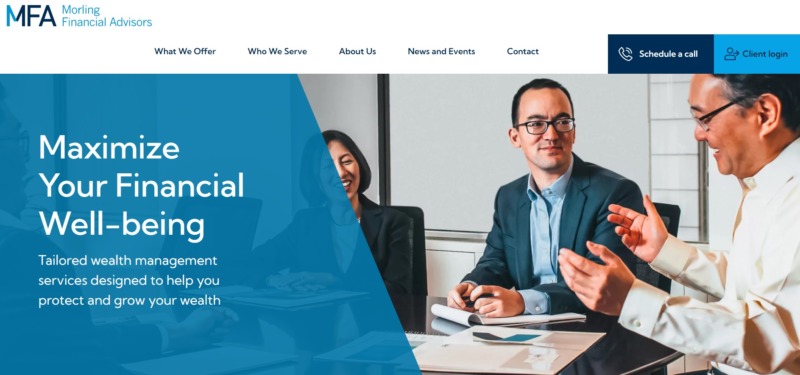 If you are searching for a provider that has proven itself many times over, you may want to speak to someone at Morling Financial. Morling Financial has won an award for employing the best financial advisors for four different years.
This professional firm has been in business since 1999, and prospective clients can expect to see those two decades of experience shine. Their goal is to maximize everyone's financial wellbeing. That purpose includes helping their clients to transition into choosing investments that serve a higher purpose.
Morling has an overall rating of 4.5 stars out of a possible five stars on sites such as investor.com. Investment management is the company's heftiest service offering. However, they also provide tax planning services and a few additional services for those who desire a custom strategy. In addition to those services, the company also offers speciality services like head funds, debt, and private equity strategies.
Morling's advisors have many positive reviews that talk about their patience and grace. One client even said that choosing them was the best thing they could have done for their company.
Many clients have a long-lasting relationship with Morley as well. Thus, you can feel confident in this provider as one that will satisfy your financial needs and help you embrace positivity and sustainability.
See Related: Are Robo-Advisors Worth It? Here's What to Know
8. Effective Assets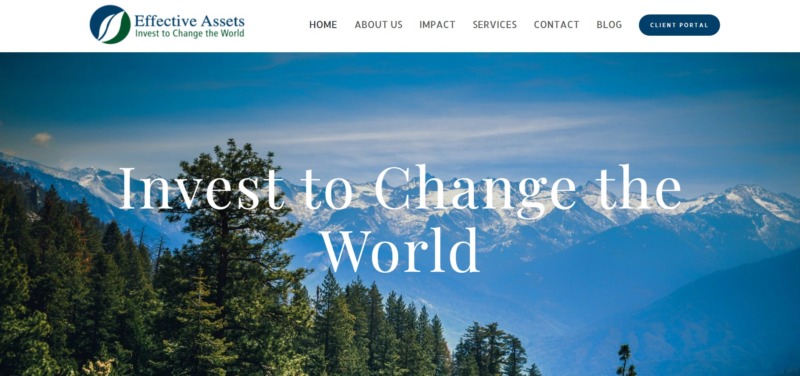 Effective Assets has been in the business of "socially responsible impact investing" for three decades. They have the experience and the compassion to assist you with your thoughtful and positive investments. The agents and investment professionals at this firm will provide you with a tailored and specialized investment strategy that will give you a maximum money return while spreading love to all the areas where you want to help.
The first thing you will do if you choose to communicate with this company is take an assessment. The assessment will help them to understand how they can best serve you. When you are finished with the assessment, someone will help you to create a financial plan.
Other services that you may be interested in are services like account supervision and regular monitoring and reporting. They have numerous offices across the country and can assist people remotely if need be. Be sure to reach out and request a consultation with Effective Assets if you feel this provider can help you. They will explain their vision and ask you to thoroughly explain what you need from them in terms of advice and guidance.
9. Horizon Sustainable Financial Services.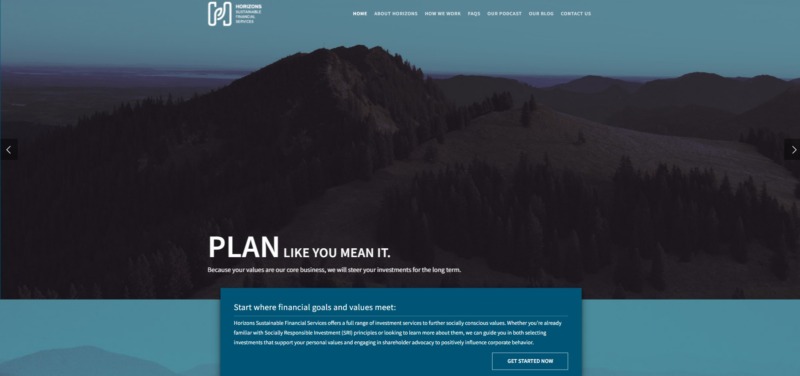 You can tell that Horizon Sustainable Financial Services is all about sustainability, and that's one quality that makes an excellent socially responsible financial advisor.
This company has a small team that takes its time and focuses on each individual's values, goals, beliefs, and desires. Their services for financial planning include a healthy mix of educational material, listening to their clients, and guiding them to achieve their investment strategy goals.
You can feel confident going to this company about anything relating to bettering the world because they have proven results and positive reviews from people who have used their services before. You would be wise to reach out and speak to someone there.
See Related: Best Stock Apps for Investing
10. Domini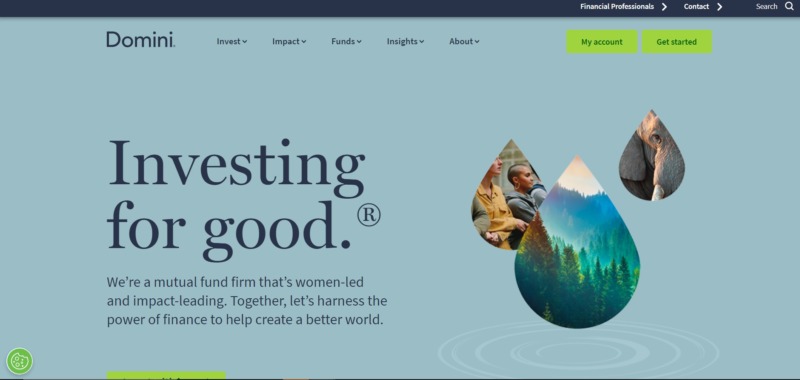 Domini's presence is one that is greatly needed in the socially responsible realm. The company is comprised of female leadership and prides itself on helping people to secure a better future for themselves. Their goal is to better the world and to use various avenues to achieve that.
Hiring female leaders was one step toward making the world a better place. They also work toward this goal by helping people choose investments that will have a long-term impact on the environment. Any cause that supports protection of human rights is also something this company will encourage its clients to invest in.
The firm got its name from the founder, Amy Domini, who has been in the industry of helping people to improve their financial wellness for 30 years. Mrs. Domini has been recognized several times, one time being as the most influential person of 2005.
Domini assists with retirement accounts, educational accounts, and more. The company has a strong sense of leadership that you can trust and a true desire to educate all people about socially responsible investing. Ask about Domini social investments or Domini social index mutual funds for more information.
Why Socially Responsible Investing (SRI)?
Positivity breeds positivity, and sustainability gets stronger with more support. Your investments will encourage providers to continue working toward bettering the earth and the quality of the lives of everyone who lives here. The history of socially responsible investing (SRI) began a long time ago, but today the culture has developed into a strong presence among financial advisory firms.
How To Locate Socially Responsible Investments
Of course, to find the most profitable and purposeful socially responsible investments, you'll need to hire the assistance of socially responsible investment advisors.
How We Made Our Selections
We used various criteria when determining which financial advisors made the cut. We used criteria such as reviews, education, areas of expertise, accolades, and business practices You can have confidence in hiring any of the providers from this list because we used the utmost care to create it to help you in your financial planning.
Related Resources