The need for renewable energy is growing, and solar power is the preferred option. Small businesses and big enterprises now install solar systems to supply the electric power needed.
However, just installing a solar system is not enough. To enhance the efficiency and extend the lifespan of your solar assets, you need a management system.
There are many solar asset management software programs, but we will highlight only a few in this article. But before that, let's briefly discuss what these solar asset management software and tools are and their importance for your business.
What is Solar Energy Asset Management Software?
Solar asset management involves maintaining physical equipment and components of a power generating site. It also entails the efficient generation and sale of solar energy.
In other words, solar asset management is the systematic direction of a site's physical assets for optimal financial performance. Solar asset management software helps you do just that.
Why Do You Need Solar Energy Project Management Software?
Using software for managing your renewable energy assets is like automating the process. That comes with several advantages and benefits, including but not limited to the following:
Time-saving since all manual tasks are automated
Improving transparency of the project portfolio
Reducing the costs of asset management
Meeting all the compliance obligations
Minimizing risks since the error is eliminated
Top Solar Asset Management Software
Renewable energy asset management requires the right software to monitor the system's performance and manage documents and finances.
Additional functions include processing bills, compliance management, production data processing, and reporting. But some do more than what we have stated.
After considering all the functions and features, we have prepared a list of software and tools for the comprehensive management of renewable energy projects.
Consider our top picks highlighted below:
PowerHub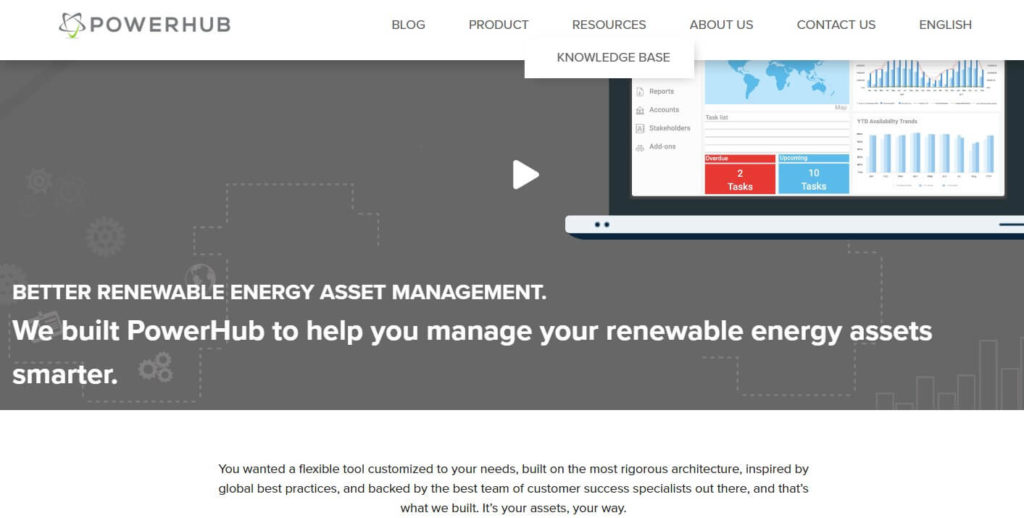 PowerHub is designed for commercial asset management. The tool is customizable, flexible, and should be the best choice for professionals. It aids in technical and financial data collection. That is crucial in decision-making.
PowerHub solar asset management software enhances system efficiency and provides detailed insights. These features help businesses to grow faster. The tool centralizes all your energy data and project information. Even if you manage multiple renewable energy-generating sites, PowerHub is one technical asset management tool for all.
PowerHub is used by solar asset managers for performance monitoring. The software can be configured to meet the specific needs of your renewable energy project. It will make data collection straightforward.
PowerHub has automated workflows and reporting features to help improve your work efficiency. You will no longer waste time tracking your data and retrieving information when needed.
PowereHub is also a perfect choice for financial performance monitoring. You can use it for budgeting, managing cash flow, billing, and much more. With PowerHub, you get your financial reports with a single button click.
Feature Summary:
Automated Workflows and Reports
Automated Invoicing
Financial Management
Communications and Tracking
Contract and Compliance Management
Task and Event Management
Managing Documentation
Portfolio Management
Operational KPI Tracking
See Related: Solar Farm Income Per Acre
ACTIS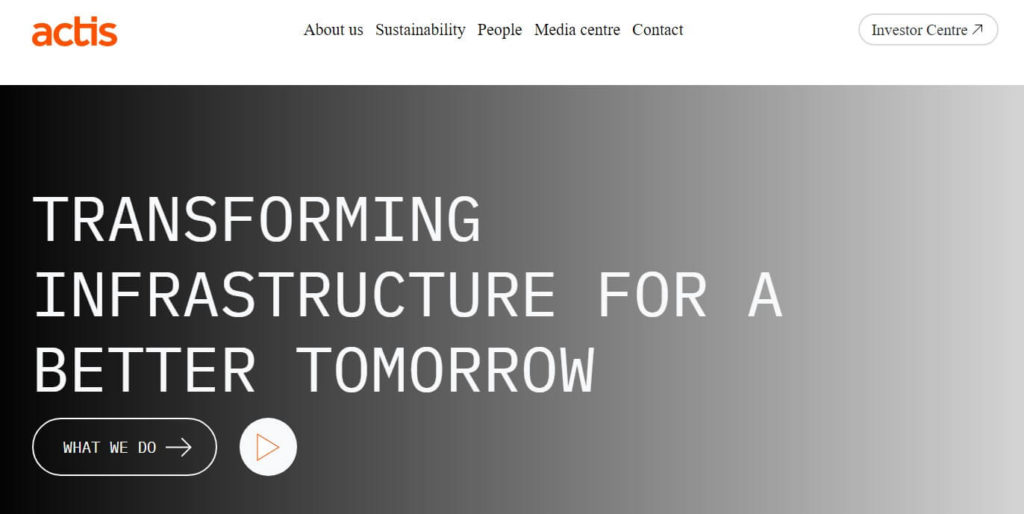 ACTIS is one of the first solar asset management software programs for asset managers. It is a highly reliable tool that helps in solar system performance monitoring and optimization.
ACTIS is an all-in-one tool for your solar PV plant. It does more than just manage renewable energy assets. These tools also ensure compliance and technical and financial data reporting.
With ACTIS, you can integrate all your charts and reports to save time. Report writers can now invest their time elsewhere to enhance the performance of solar PV plants.
You can integrate ACTIS with accounting software for gathering and analysis of financial data. That makes solar project management and financial performance evaluation easy.
Lastly, ACTIS provides a customizable design for real-time monitoring of all parameters on individual solar assets in a solar portfolio. It never matters where your renewable assets are located, ACTIS streamlines management.
Feature Summary:
Monitoring all assets in the solar system
Collecting data of vast parameters, including asset registry.
Monitoring the quality of the communication network
Monitoring the security system
Assessment through advanced data analytics
Dashboards with reflecting real-time information on asset performance and internal operations
Automated alert/notification feature for real-time reporting
Many customizable multidimensional charts to analyze technical and financial data
See Related: How to Store Solar Energy for Later Use
Drive by Power Factors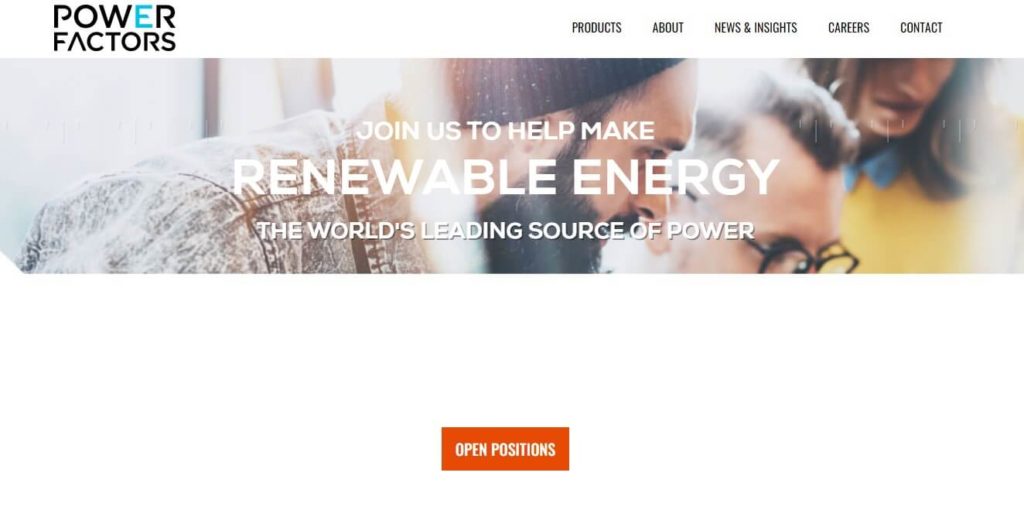 Drive is a cloud-based platform that connects critical areas such as operation, technology, and people. It was designed to provide asset managers with detailed insights into the operation and plant performance.
To an asset manager, this tool can help you manage various applications for more efficient operation and performance. It is a highly reputable software in the renewable space for solar power generation site maintenance and project planning.
Drive solar asset management software is a crucial tool in real-time operations and analysis. You can use it to troubleshoot problems or even prevent them before they cause downtime.
Drive is the best choice for remote technical asset management. Asset managers now don't need to make countless trips to the site. That saves time and makes solar asset management an easy task.
With drive, you can set user-defined parameters that affect the operation of your renewable energy generating plant. Besides, you can save, edit, and catalog data as needed for notification, reporting, and problem diagnosis. It is easy to install KPI modules through a bus system.
Feature Summary:
Planning and scheduling
Storerooms, inventory management, and spare parts
Meeting contractual compliance
Dispatching work orders
Managing reports, KPIs, and dashboards
See Related: Best Business Loans for Solar Energy
Solar-Log Software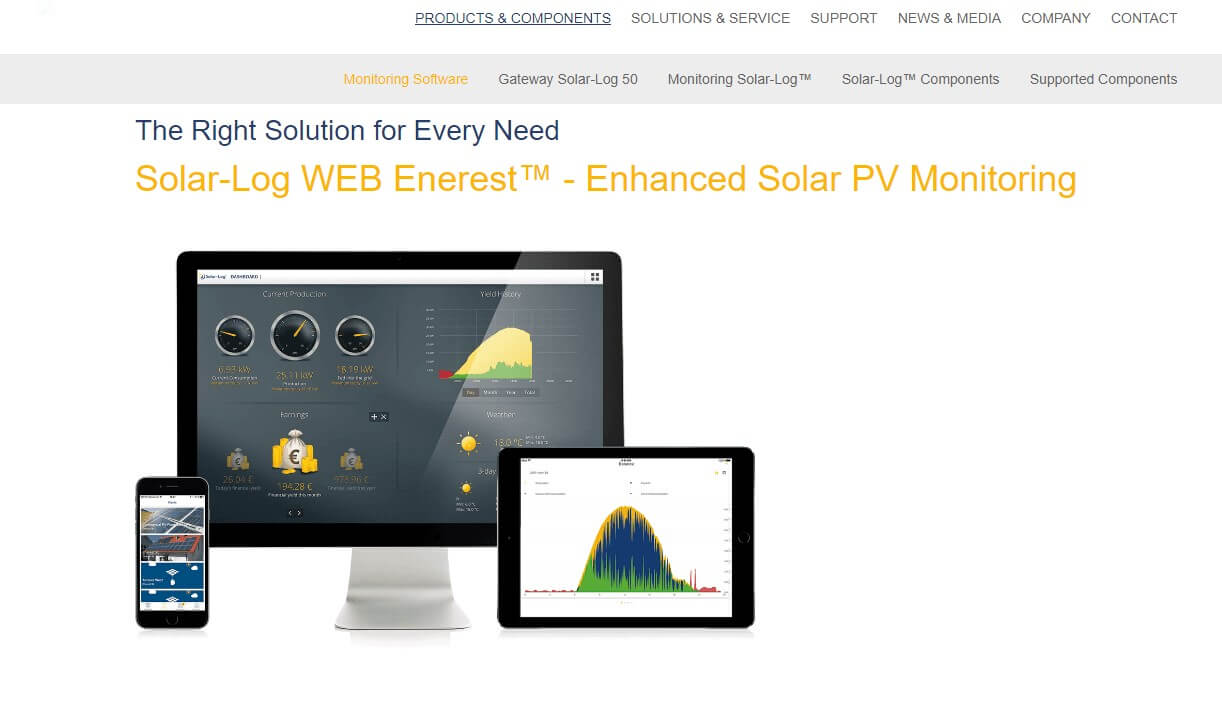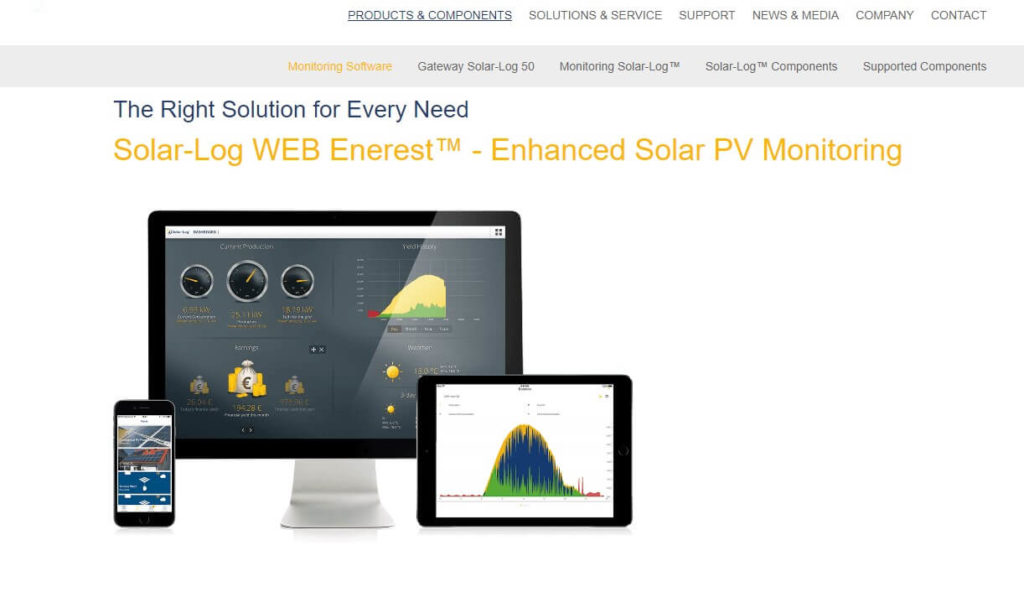 Solar-Log is a device powered by technology to monitor PV systems and feed-in management. It is a compact solution that is easy to integrate into your existing energy management system.
Solar-Log provides innovative direct marketing solutions. The system can automatically transmit data to the marketing team, which saves the cost of hardware and installations.
Solar-Log project management software offers you flexibility. You can select different functions for various PV plants depending on the energy requirements. During peak hours, you can set your system to deliver full power.
Lastly, Solar-Log can optimize self-energy consumption. It smartly interacts with all solar assets and components in the system and manages energy usage. By consuming less of what you produce, you can maximize the returns on your investment.
Feature Summary:
Easy to Install
Innovative direct marketing solutions
Easy Modular Design
Smart Energy
See Related: AcreTrader Review: Is It Legit or Worth It?
3 Megawatt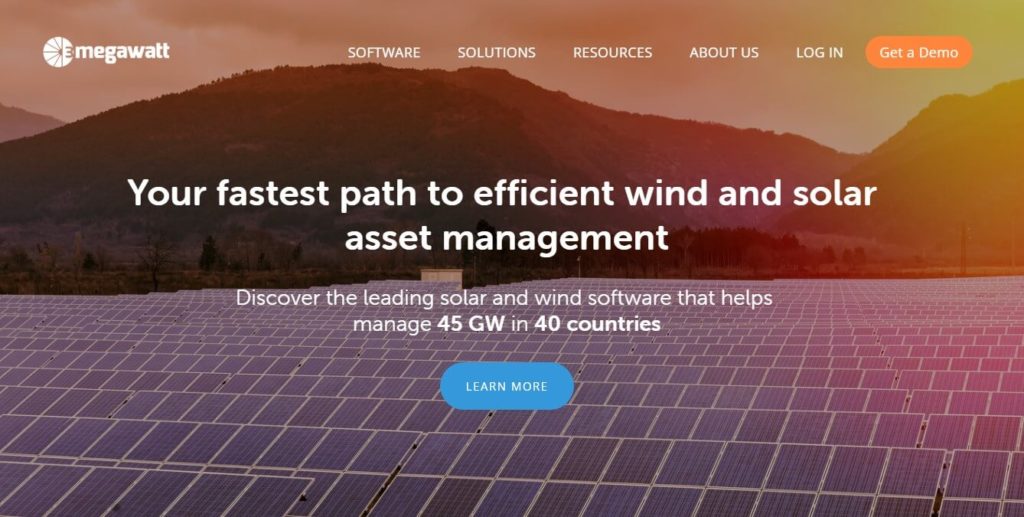 3 Megawatt is one of the most reliable renewable energy asset management tools you can consider for your system. It covers solar, wind, biomass, and hydro assets.
3 Megawatt is a cloud-based platform that offers all-in-one solutions tailored to your specific needs. It has become the industry standard for renewable asset managers. With this software, you can save time, improve efficiency, and reduce portfolio risks.
3 Megawatt allows any asset manager to work smarter, faster, and simpler. That reduces portfolio risks. It is a centralized platform where you access all your project data. You can also integrate it with technical and financial data.
Make solar asset management a breeze by automating your routine tasks with 3 Megawatt. It streamlines every process, making compliance management and performance monitoring easy.
Collect and store data from different solar power generating sites and store them in a central place. You can then access them as needed for project enhancement, portfolio, spare parts, contracts, etc.
3 Megawatt allows you to synchronize technical data from different sources and financial data from ERP solutions. This ensures that all your project data is constantly updated and easily accessible.
Feature Summary:
Collect your project information in one central repository
Connect your data feeds
Automate your tasks
Collaborate with your team and stakeholders
Streamlining of Reports
Contracts and Compliance
Centralized Performance Monitoring
Easy to scale the capacity of your team
Centralized Financial Management
See Related: Best Green Apps for Sustainable Living
Arbox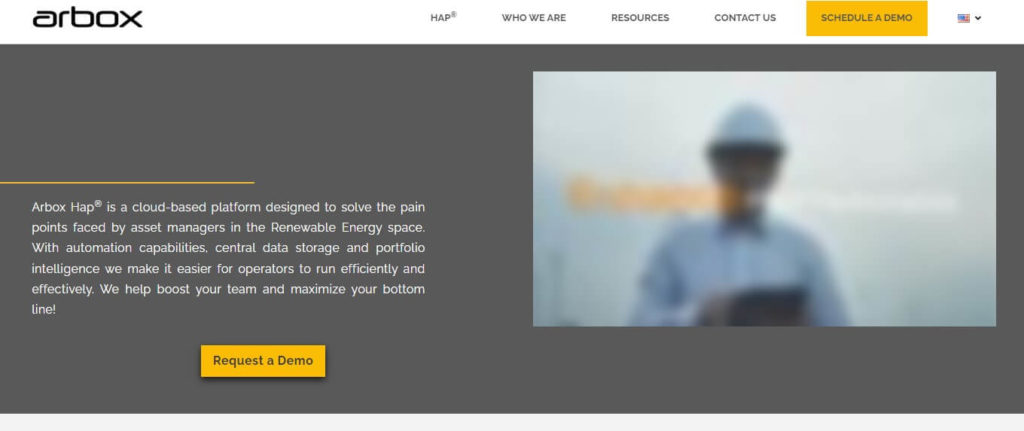 Arbox is another renewable energy asset management software on this list that covers wind and solar systems. It is a cloud-based platform designed for operations, performance monitoring, financial management, and reporting.
Arbox solves all technical asset management problems that most solar and wind power plant operators face. If you are in the renewable energy space, choose Arbox. It features here because of its automation capabilities, central data storage, and portfolio intelligence.
Arbox makes it easier for your business to run more efficiently and effectively. This asset management software will boost your team and maximize performance.
Arbox provides a solar asset management software solution to the wind industry too. If you are looking for a tool for operational administration, financial management, performance monitoring, and report generation, choose Arbox.
Feature Summary:
Portfolio Administration
Compliance
Document Management
Task Tracking
Incident Handling
Work Orders
Automated Invoicing
Budgeting
Contract Management
Expense Tracking
Financial Modeling
Financial Statements: Profit and Loss, Cash Flow, and Balance Sheet
Chetu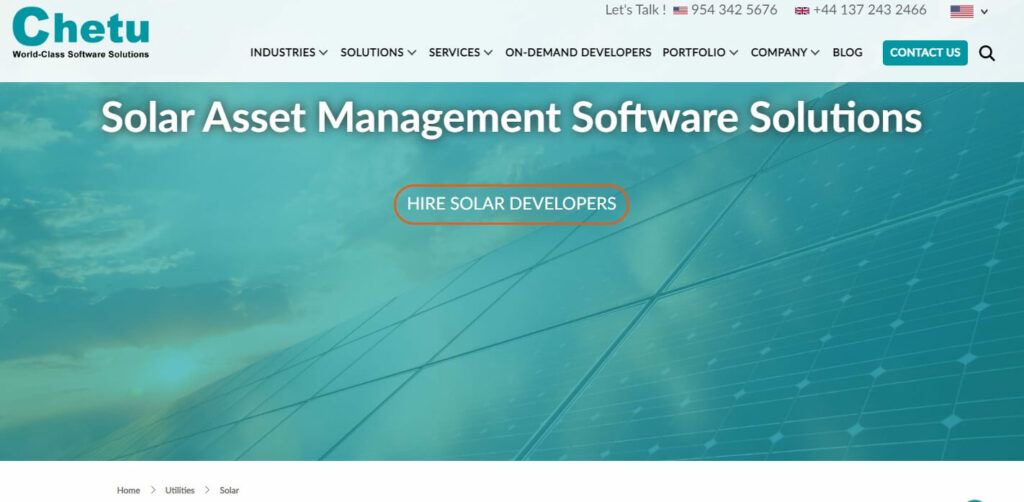 Chetu offers solar asset management software solutions to help you improve your solar energy operations. Chetu has experts to provide tailor-made solar software for your specific needs. By choosing Chetu, you will enhance the design, construction, and management of any type of solar system.
Solar developers at Chetu provide customized solar software to make solar assets maintenance, assessment, and monitoring easier. They program KPI modules that test system performance and enable integration with the utility grid.
You also access solar energy management software from Chetu to help you monitor your solar project from your office. This reduces travel time and expenses on on-site workers. Project information you can monitor remotely include energy loss trend, downtime, underperformance tracking details, etc.
Chetu also customizes management tools for multiple sites. You don't need to buy separate packages to manage assets in different locations.
Feature Summary:
Solar Asset Management Software Development
Photovoltaic Software
Solar Energy Management
Proposal Software
Solar Design
Sensor & Tracking Software
Billing Software
QBi Solutions
QBi is a renewable energy asset management software that transforms raw data into business insights to improve and secure the value of assets. It is an end-to-end business platform that centralizes all your assets' information into one source.
QBi Solutions provides insights and KPIs you need to make data-driven decisions through advanced analysis of available data. It also helps you in performance monitoring and reporting.
QBi Solutions introduces a paperless and effective billing system to your business. You can use it to automate the generation and delivery of invoices to your customers. That is done according to the power purchase agreements.
You can tailor the platform to suit your specific needs. Use the add-on KPI modules to fit your business processes.
QBi Solutions allow your team to securely collaborate on any project. Use its multi-role permission feature to grant access to team members and stakeholders.
Feature Summary:
Data-Driven Strategy
Data Quality and Events management
Make the sources talk
Collaborative, Flexible, and Secure.
AD Hoc Reporting
Be in total control of your assets
Reporting and advanced analytics
Automated invoicing
Team collaboration
Tasks and compliance
Document management
Health and safety management
Milk The Sun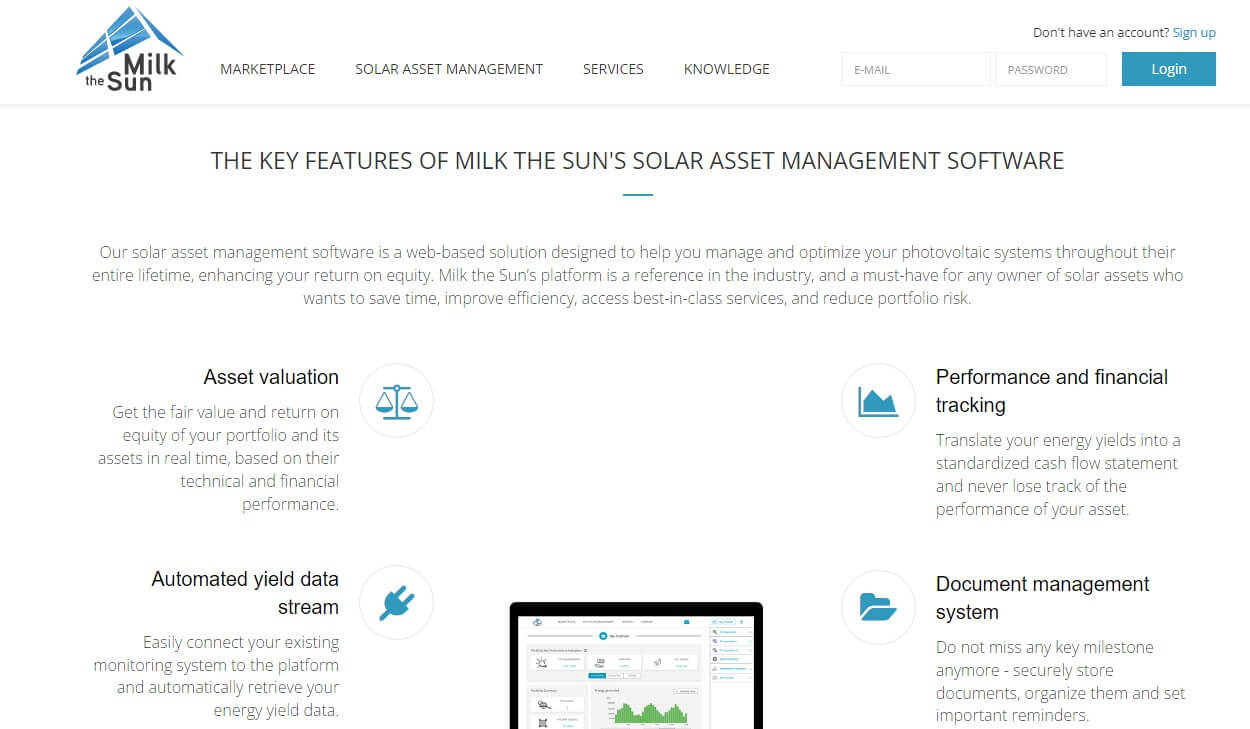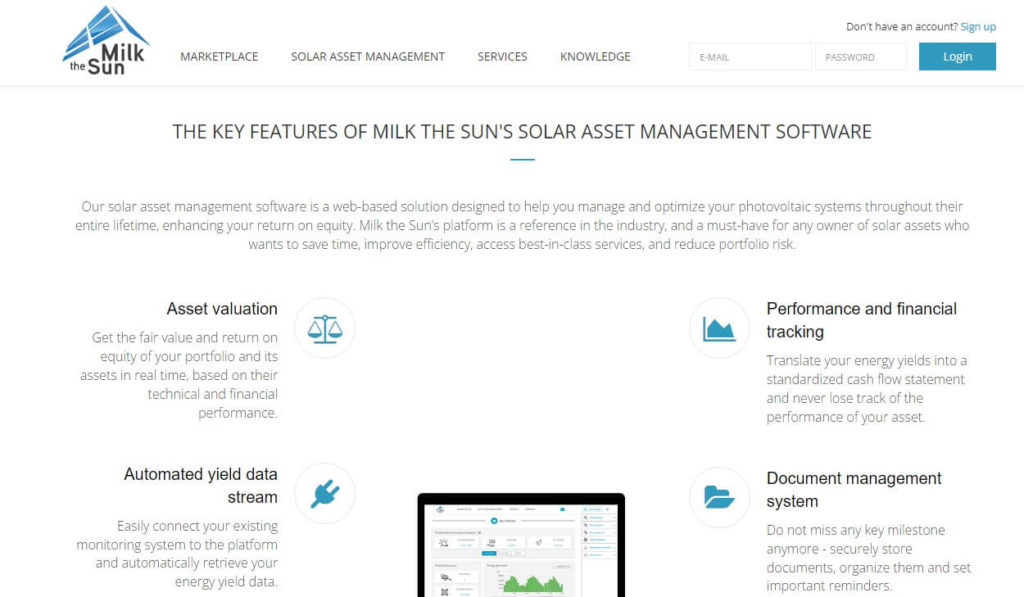 Milk The Sun is a free solar asset management software that helps plant operators and businesses maximize returns. It provides you with all features you need to manage different photovoltaic systems. You will access a digital clean energy asset management solution to care for your solar asset portfolio.
You no longer need Excel or other tools to manage your data. Milk The Sun offers you a centralized platform to access data and get insights into your business. Through that, you can make data-driven decisions in real-time for maximum returns.
Milk The Sun is an ideal choice for private investors, independent renewable energy producers, commercial portfolio managers, O&M service providers, etc.
Feature Summary:
Asset valuation
Performance and financial tracking
Document management system
Professional service access
Marketplace access
Benchmark and reduce expenses
Safe document storage and management
Asset or portfolio optimization
ENACT Systems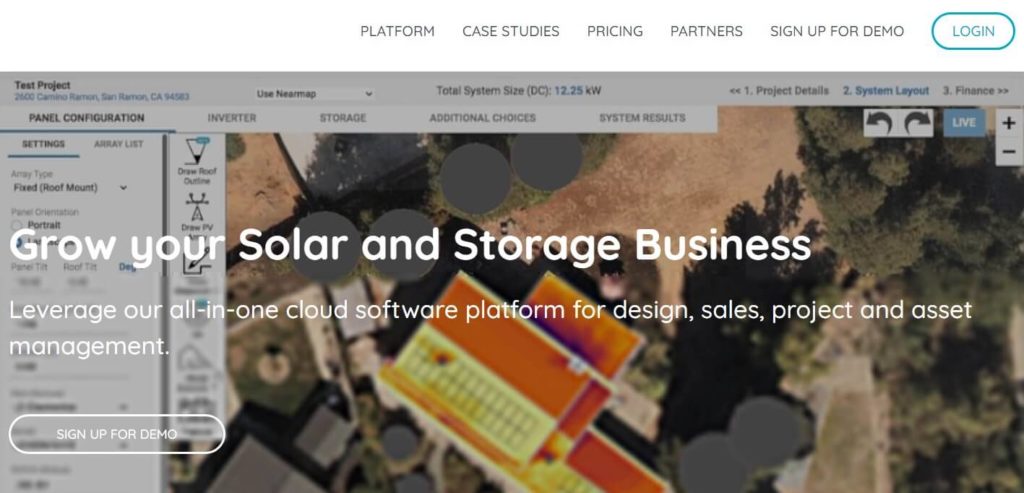 ENACT Systems is a single platform for managing solar projects. It can handle all tasks from design to finances and installation. ENACT Systems is best suited for large enterprises in all sectors that seek solar system deployment in their portfolio.
You can perform analysis on any commercial or residential solar plant site remotely. There is no need for site visits. When designing, you can use drone imaging systems.
ENACT Systems also allows you to manage finances and portfolios. The software is reliable in calculating your investment and ROI before and after installations.
Feature Summary:
Installation Management
Finance Management
Portfolio Management
Advanced analytics
Feasibility Analysis
Related Resources
Kyle Kroeger, esteemed Purdue University alum and accomplished finance professional, brings a decade of invaluable experience from diverse finance roles in both small and large firms. An astute investor himself, Kyle adeptly navigates the spheres of corporate and client-side finance, always guiding with a principal investor's sharp acumen.
Hailing from a lineage of industrious Midwestern entrepreneurs and creatives, his business instincts are deeply ingrained. This background fuels his entrepreneurial spirit and underpins his commitment to responsible investment. As the Founder and Owner of The Impact Investor, Kyle fervently advocates for increased awareness of ethically invested funds, empowering individuals to make judicious investment decisions.
Striving to marry financial prudence with positive societal impact, Kyle imparts practical strategies for saving and investing, underlined by a robust ethos of conscientious capitalism. His ambition transcends personal gain, aiming instead to spark transformative global change through the power of responsible investment.
When not immersed in the world of finance, he's continually captivated by the cultural richness of new cities, relishing the opportunity to learn from diverse societies. This passion for travel is eloquently documented on his site, ViaTravelers.com, where you can delve into his unique experiences via his author profile.