From the beginning, the sun has been our primary source of energy. Humans have strived to capture the sun's energy and other renewable energy sources to power their daily lives for centuries. With new research in solar power today, the field is advancing beyond what we once thought possible.
When it comes to investing in solar, there are three distinct aspects that you can invest in. First, and perhaps the most obvious option, is to invest in companies that manufacture solar panels or the components that go into making them.
Second, you could invest in a company that installs solar panels, either in-home settings or on a massive industrial scale. Third, you could invest in facilities that harvest solar energy and distribute it to customers as clean and renewable electricity.
Unlock Sustainable Investing Opportunities 🌿
Join the green revolution by investing sustainably with our top partners. Discover platforms that align with your values and offer remarkable opportunities for growth.
If you're interested in adding solar to your portfolio, we have gathered over 20 of the best stock options that we could find in this field. From global installations to new companies, we hope to present something that will fit every investor's style.
Keep reading to discover 23 excellent solar energy stocks to invest in today.
Best Solar Energy Stocks to Invest in Today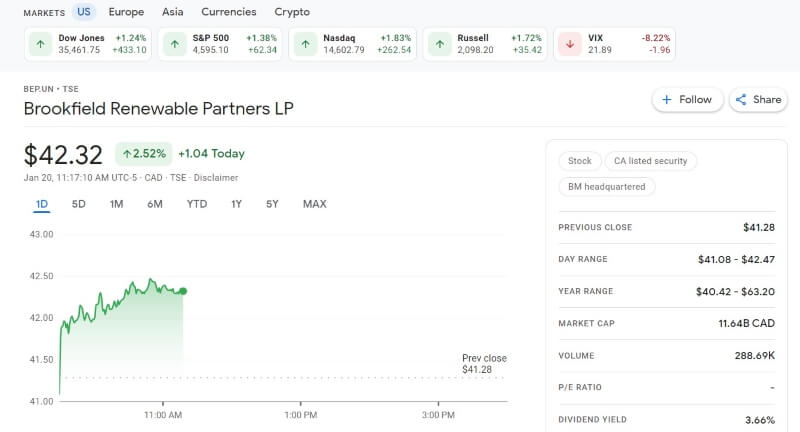 The first entry on our list is Brookfield Renewable. This company controls a variety of solar, wind, and hydroelectric projects worldwide.
You can access the portfolio for Brookfield Renewable in two ways. The BEP listing is for Brookfield Renewable Partners LP, based in Bermuda.
The other option is BEPC for the Canadian Brookfield Renewable Corporation. The business created BEP first but later added BEPC to give investors more portfolio options. The two share types have the same weight. A shareholder can use them internally by simply exchanging one share for another.
There are many great reasons to invest in Brookfield Renewable. First, it is a global entity that is rare in the solar or renewable field. Plus, Brookfield Renewable has a solid financial position.
Thanks to its diverse platform that spans continents and technologies, it is very stable as a renewable stock.
See Related: Best Solar Energy Proposal Software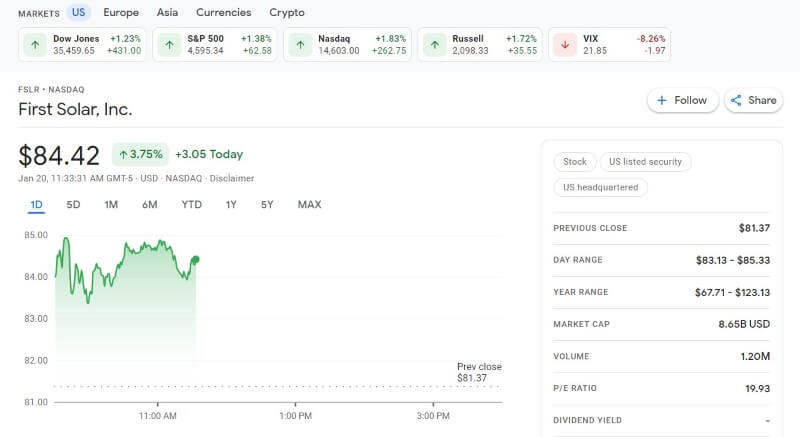 If you prefer a solar stock dedicated to solar and only solar, First Solar is a great option. What sets First Solar apart is their proprietary film to manufacture their solar panels.
This film allows panels to perform better than their competition in low-light conditions. First Solar tends to make large-scale panels, perfect for utility-scale solar projects. The large panels also reduce the cost per watt generated.
What sets this company apart financially is its superb balance sheet. They pride themselves on having more cash than debt in their accounts at any said time.
At such a position, First Solar continues to be able to invest further in its solar technology and meet the demands of future expansion.
See Related: Tesla Outage: Do Solar Panels Work in a Blackout?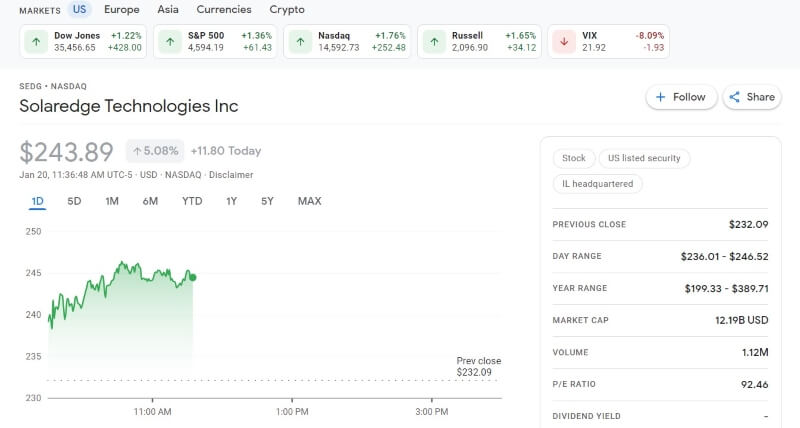 For companies that specialize in solar panel components, we had SolarEdge Technologies.
Solar Edge crafts the inverters and optimizers used to convert solar energy captured by the panels into electricity. What sets SolarEdge apart is that its optimizers are known to cost less and are more efficient than the competition.
Solar Edge has secured a firm market share away from its competitors with its focus on low-cost components. Aside from the optimizers and inverters they are known for, SolarEdge uses its strong financial position to invest in research and development for new products.
They are looking into solar storage, energy management, and smart modules. Solar Edge designed these new technologies further to increase its revenue with every new solar installation.
SolarEdge's balance sheet has far more cash than debt, allowing them to expand into other forms of energy, including oil and gas.
They are also interested in the technology sector with wireless providers and semiconductors.
See Related: Best Green Companies to Invest in 2023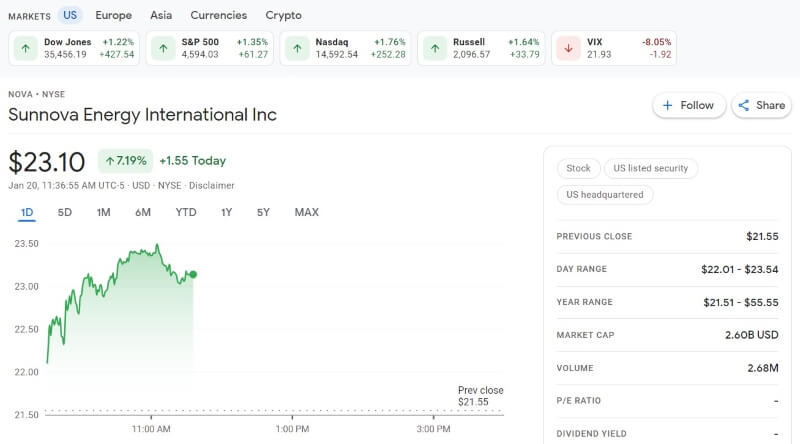 Outside of manufacturing, Sunnova Energy is a company that provides electricity to residential accounts via solar solutions. Through Sunnova, you can create a solar system that fits your home, family, and living situation.
In addition to working with residential accounts, Sunnova works with contractors and homebuilders to act as dealers for Sunnova solutions.
Together they can craft a solar solution on a local level for their customers. Sunnova Energy is such a good stock option because they have done nothing but exceed expectations in recent years. If you invest in Solar, Sunnova is a solid option while they are on the rise.
See Related: Best Biofuel Stocks to Invest In Today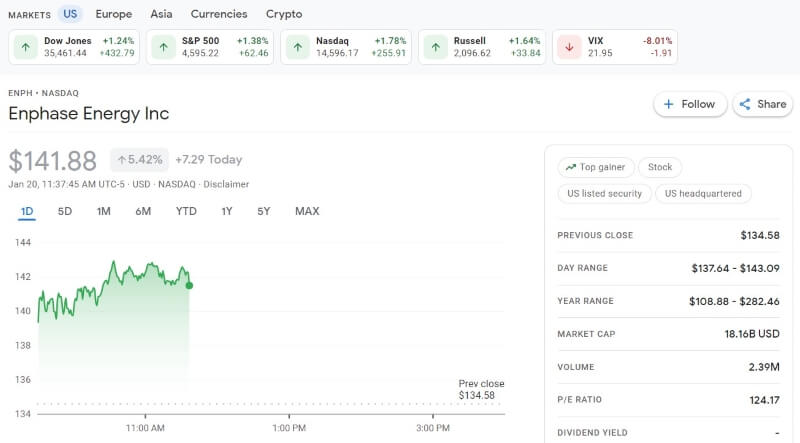 Like Sunnova, Enphase Energy is another company that provides solar solutions for its customers. They spread their focus wider than Sunnova, including residential accounts and business owners.
They have a few products that are a part of the Enphase system. First, they have a revolutionary smart microinverter that can be controlled and tracked through a smartphone app.
The microinverter can run essential electronics during a power outage, even if you don't have a battery installed in your home. Second, they have their energy bank to store the sun's energy for later use.
In recent years, Enphase Energy has increased its revenue by as much as 96% from one year to the next.
Other investors have praised Enphase and their innovative microinverter as the reason for their success.
See Related: Best Portable Solar Panels for Home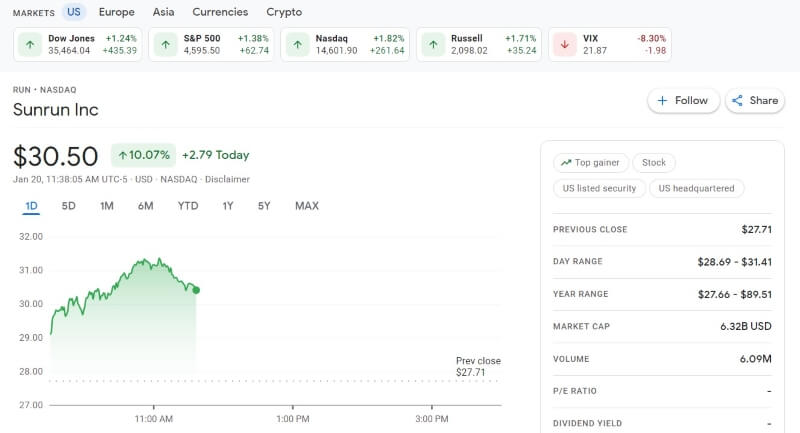 Sunrun is a company that supplies solar panels and battery packs for residential use.
To give homeowners more access to solar power, Sunrun offers several different means of financing, including buying the panels outright to having them on lease. Their solar experts will help you find the best plan for your family, given your financial situation and where you live.
Sunrun's stellar growth and ability to outperform estimations make it an excellent stock option. Over one year cycle, they were able to raise revenue by %109.17.
Other investors have noted Sunrun's growth similarity with other S&P 500 companies, such as Microsoft. While Sunrun is still relatively new, experts project it will continue to rise in value over the coming years.
See Related: How to Invest in Stocks: A Comprehensive Guide for 2023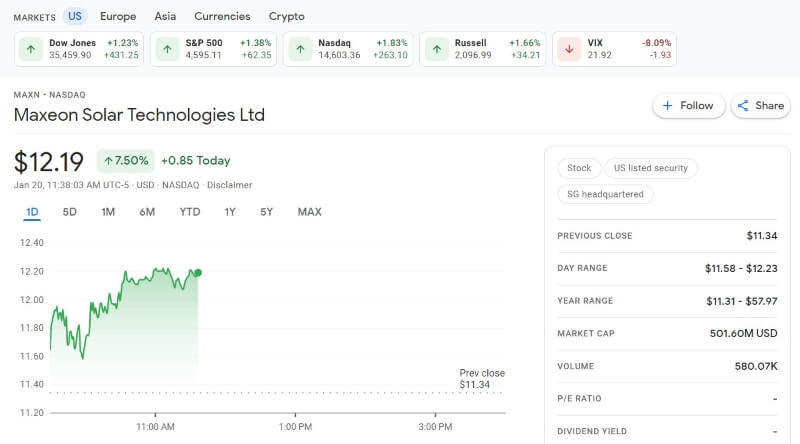 Maxeon Solar was once a part of SunPower Corporation, based in California. Maxeon stepped out on its own in 2020 and has since grown into a global behemoth that handles solar products worldwide.
They work with over 100 countries and have a vast network of retail partners to bring solar technology anywhere and everywhere. In most countries, they deliver SunPower brand products. In the United States and Canada, however, they are Maxeon.
At the end of 2021, stocks for Maxeon were bullish, steadily rising in price. As a newer company, Maxeon has shown steady through slow growth. While they have raised their revenue by a solid 6%, they have also fallen below estimates by several million.
Maxeon shows excellent potential. One of the things that should give Maxeon a bit of a boost in the future is that it could be eligible for a tax benefit.
See Related: Best Green Jobs to Start a Sustainable Career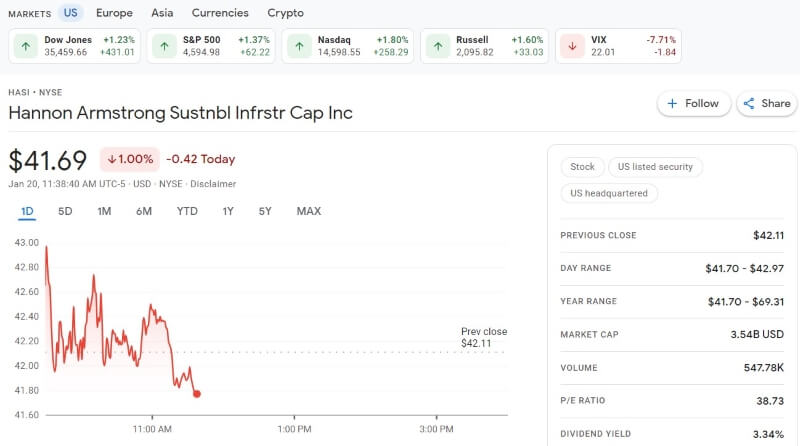 Based in Maryland, Hannon Armstrong is purely an investment company that aids in the growth of the renewable energy sector.
Over the past 35 years, they have invested in heating, AC, ventilation, lighting, roofing, energy control, and building shells. The vision of Hannon Armstrong is that every investment they make should benefit the future climate of our planet.
Over its long history, Hannon Armstrong has proven itself to be a stable choice in terms of investment. Stock in the recent quarters has met estimations almost exactly, showing a steady rise in revenue. Some investors have praised Hannon Armstrong as being one of the best solar stocks for this year. 
See Related: Best Business Loans for Solar Energy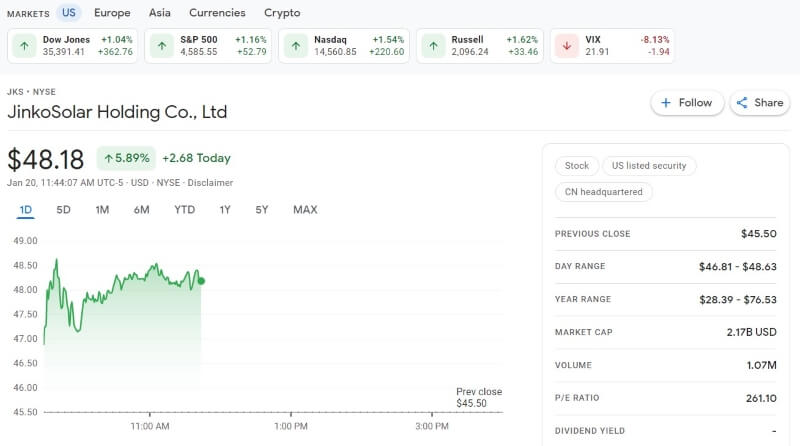 Standing as the world's largest producer of solar panels, JinkoSolar has its headquarters in China with contracts across the globe.
They supply solar panels to homes, industrial settings, and commercial installations. JinkoSolar serves not only China but also Japan, Germany, the United States, the United Kingdom, United Arab Emirates, Brazil, Italy, France, and Spain.
As part of the manufacture of solar panels, they make solar cells, modules, and mono wafers.
Thanks to their vast size and worldwide spread, JinkoSolar remains one of the best available solar stock options.
Their finances continue to rise, with earnings per share exceeding expectations. Their revenue also increased in the past year, not quite meeting estimates but still steadily rising.
JinkoSolar is expected to continue its steady rise in the coming year thanks to its partnership with the Brazil company Aldo Solar. This partnership is the most significant one that JinkoSolar has ever participated in and includes 2 gigawatts of power distributed through Aldo Solar.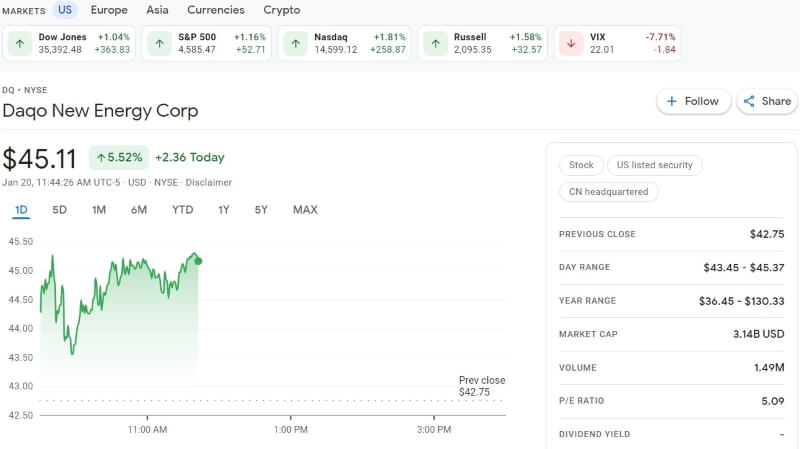 Another China option is Daqo New Energy Corp. They manufacture materials for solar panels, including monocrystalline silicon and high-purity polysilicon. Daqo made this list thanks to their solid annual results. They saw a revenue jump of 366.65%, well-exceeding expert estimates.
They also showed an EPS raise of $3.84, exceeding previous estimates. Eighteen hedge funds involved in Daqo New Energy were bullish at the end of 2021.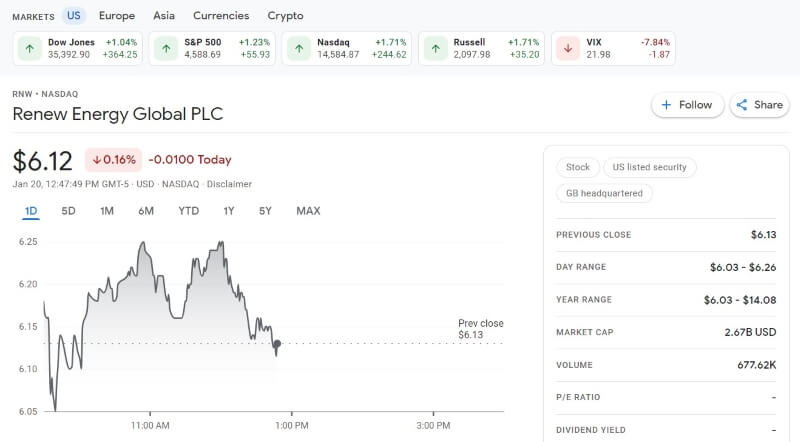 ReNew Energy has a mission of transitioning India away from using fossil fuels as its primary source of power. They deal in industrial-scale projects, including solar, wind, and hydro.
Their solar farms spread across India and have been responsible for 4.42 GW of energy distributed by solar alone. They operate not only in India but worldwide as well, delivering utility-level options for use in government, education, and retail.
With such a significant foothold as a solar producer, ReNew Energy has seen a steady rise in revenue and EPS in the last year.
Both factors surpassed estimates made by analysts. By the end of last year, 24 hedge funds were bullish for ReNew Energy Global.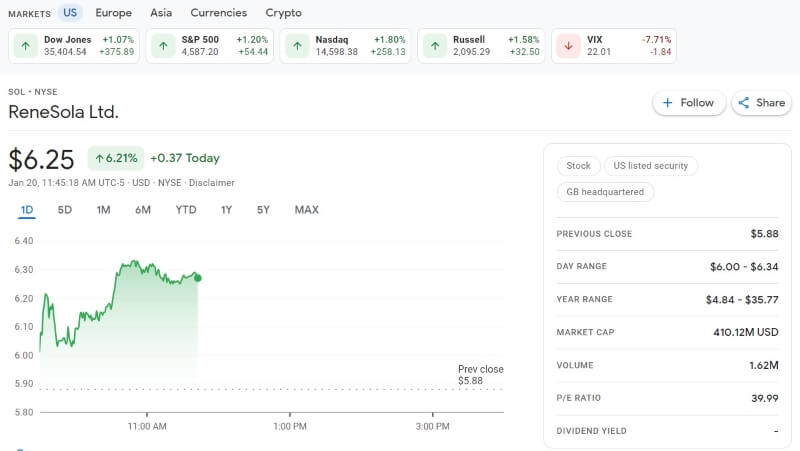 ReneSola was founded in 2005 and is a supplier and manufacturer of solar components and other products. Aside from solar features, they also produce lightbulbs and lighting fixtures that are LED and very energy efficient.
The solar solutions offered by ReneSolar are all-inclusive, covering everything from panels to inverters. They offer bundles to make them more affordable on a residential or industrial scale.
Outside of manufacturing, ReneSola invests and finances in solar energy projects around the United States in order to increase the use of green energy around the country.
By the end of 2021, ReneSola reported that net revenues soared while their net income plummeted. The large increase in revenues was thanked by ReneSola's involvement in solar projects in Poland and United States.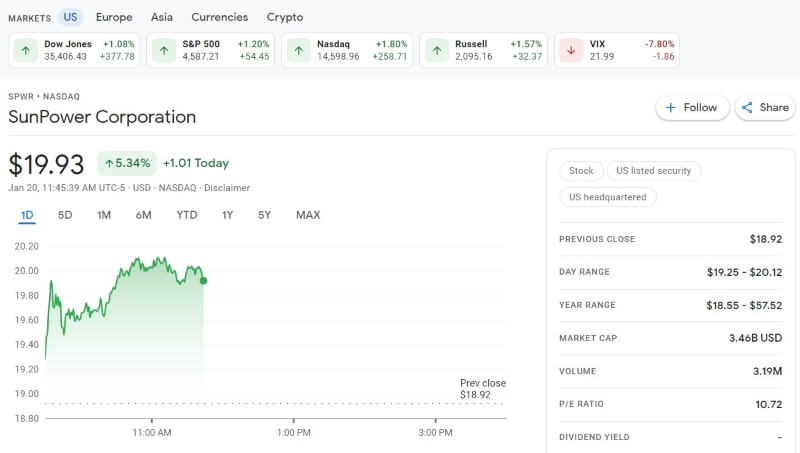 As the parent company of Maxeon Solar Technologies, SunPower has a long history of supplying reliable solar systems to both homeowners and businesses. They founded the company in 1985 and made their home in Silicon Valley.
They ranked number one in commercial solar in the United States in 2017, 2018, and 2019, and they hold over 1000 patents for their proprietary solar technology.
SunPower has a mission to make solar power accessible to anyone. Therefore, they design solar packages that include everything a homeowner or a business may need to harvest their energy from the sun and sell the excess back to the grid. They believe in their systems so much that they offer a 25-year warranty after installing them.
SunPower is a great stock option because of its history and foothold in the solar industry. Experts believe that solar use and business will quadruple by 2030, meaning that investing in a well-established solar company is a reasonably safe bet. They have 35 years to prove that they are not going anywhere, with projections to show they will only increase in value.
See Related: Best Water Stocks & ETFs to Invest in Today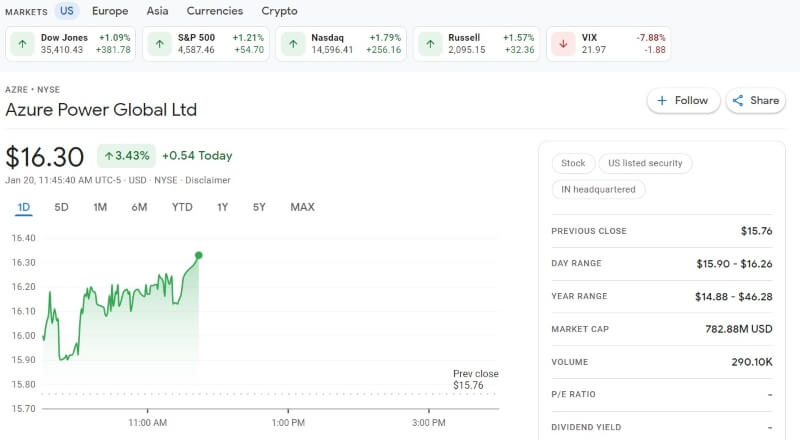 For another India-based company, we have Azure. Azure Power Global specializes in building and operating solar projects at various scales, including utility and microgrids.
They currently boast over 7.4 GWs of energy produced across India from their combined projects. Their mission is to displace 230 million tonnes of greenhouse gases by 2030.
They were founded in 2009 and were responsible for the first utility-scale solar project developed in India. Azure Power Global made it to this list thanks to its rapid growth since its inception.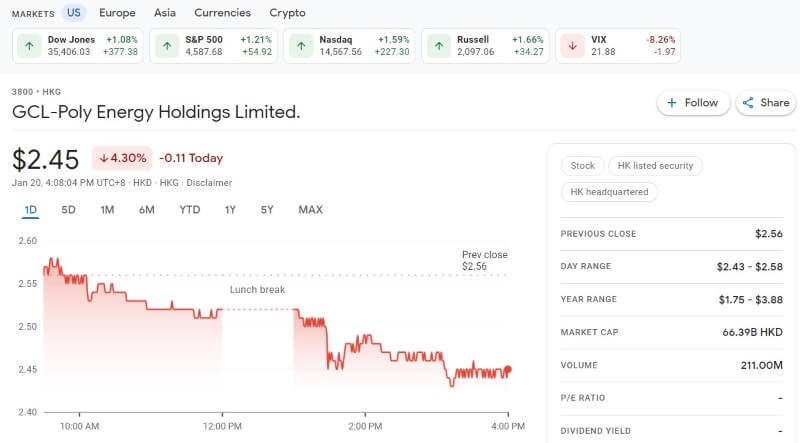 GCL-Poly is a solar company with a wide range of offerings and products. Here is a quick look at what all they offer:
They are responsible for manufacturing panel components, including silicon and polysilicon wafers.
They offer complete solar system solutions on an industrial scale.
They own several solar farms.
Plus, the company holds several patents in China for their proprietary silicon wafers and even won a China Patent Award for their ingenuity.
This solar-based company was founded in 2006 in Hong Kong and appeared in two separate index funds. In 2012, Forbes Global listed them in their top 2000 list.
To determine which companies make the Forbes 2000 list, experts weigh the businesses against each other over several factors, including assets and market value.
GCL-Poly made it to this list because it had incredible upward momentum in such a short period that it has blown other companies out of the water.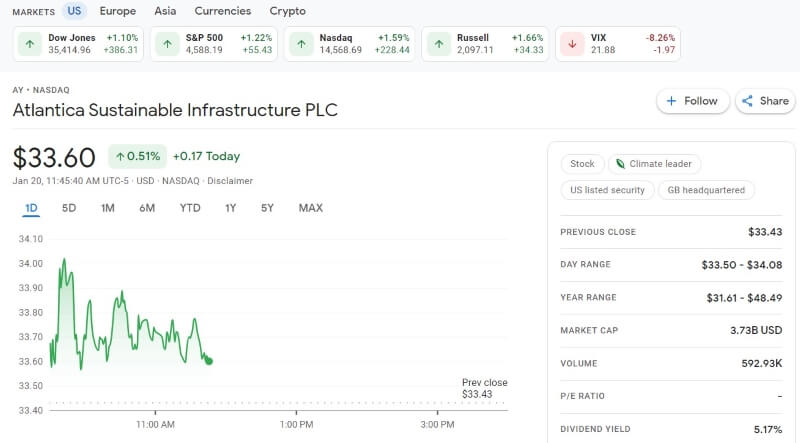 Atlantica is a UK-based company split between solar and natural gas. On the solar side, the company sells products for solar systems. Regarding natural gas, they own and operate several natural gas fields. In their efforts to support natural and renewable energy forms, they have also begun to present in water-based energy.
Between their 36 assets across different forms of clean energy, they generate 2022 MW of power. While based in the UK, they operate out of North America, South America, and Europe.
Like GCL-Poly Energy, Atlantica has had significant momentum in recent years, quickly gaining traction and increasing in value.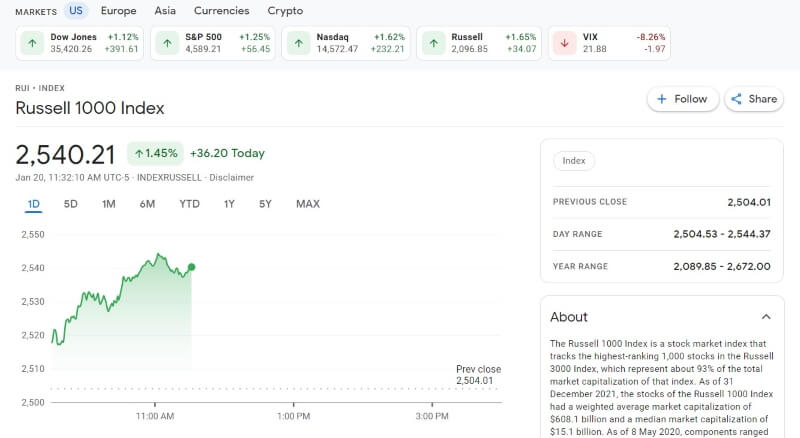 Another option outside of investing in a particular stock is to invest in an index fund. An index fund is, in essence, a collection of the top stock options by some metric. In the case of the Russell 1000, it is the top 1000 stocks available in the US equity market, chosen by their market capitalization.
As the list includes the top 1000 companies, not every stock within this index is strictly solar. The list includes other solar stocks we mentioned, such as First Solar and Brookfield Renewable. But it also includes non-solar companies such as Apple, Bently Systems, and Garmin.
Index funds are always an excellent option when investing as they are low risk due to the high diversity. They are also known to have low fees and tax advantages.
If you still want to invest in solar energy but prefer something safer than stocks, an index fund such as Russell 1000 may be an excellent choice.
So long as you don't mind investing in a wide variety of other companies.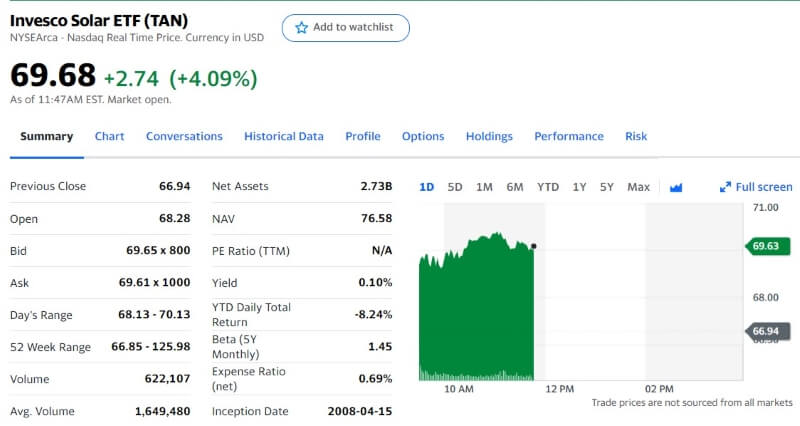 If you liked the idea of an index fund but would prefer one comprised only of solar options, then Invesco Solar is a great option. Like other funds, it is a collection of a variety of companies. This one, in particular, is based on the MAC Global Solar Energy Index.
What sets this index apart is that all of the companies that comprise it are within the solar industry. These businesses participate in all facets of solar energy mentioned in our introduction: the manufacture of solar components, solar installation, and energy companies.
This index fund is balanced quarterly, with taxes automatically withheld. It includes many of the solar options already on this list.
Coming out of Canada, Canadian Solar deals with complete solar solutions for residential, industrial, and utility-sized installations.
They offer turnkey systems that include all the components to begin harvesting and storing solar energy. They start with tiny kits with just enough energy to power a lightbulb and scale up to massive utility-scale installations.
By and large, Canadian Solar is considered a trade secret among knowing investors. Just in the past year alone, stocks have risen by 81%. Experts project an accelerated growth rate going into 2022.
Of course, nothing is perfect. Keep in mind that Canadian Solar doesn't pay a dividend. Despite its stellar performance as of late, this point makes it a riskier stock to get involved with.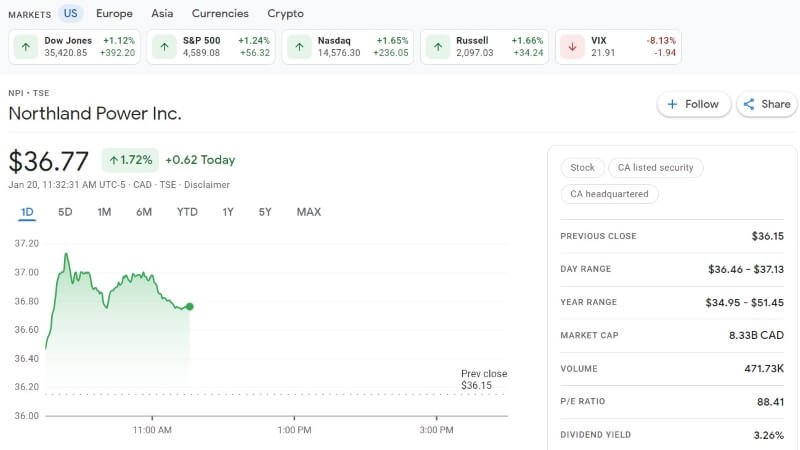 Northland Power has been working since 1987. With that kind of history, it has become a staple in the solar power industry in Eastern Canada.
Northland Power is an energy company that harvests electricity from green and renewable resources, including solar, wind, and natural gas. They distribute 2.8 GW of electricity, with future projects estimating they will reach 5GW.
Northland Power has seen a compound annual growth rate of over 30% over the last three years. They have assets in Canada, the Netherlands, and Germany.
Northland Power is found in various Index lists, including TSX Clean Technology Index and S&P SmallCap Index.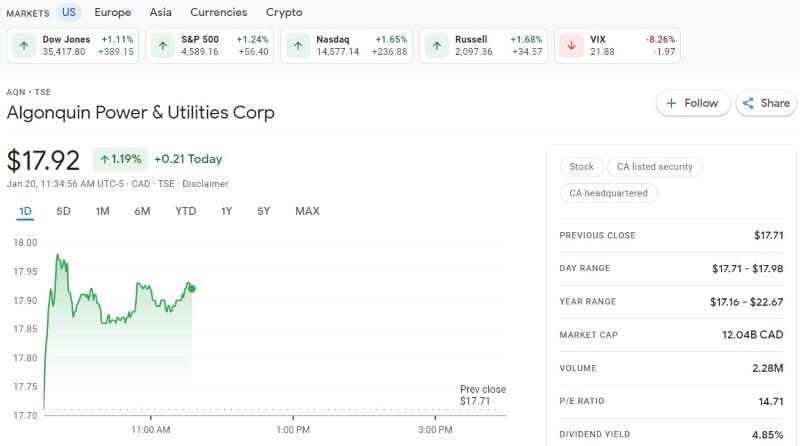 Since Algonquin's beginning in 1988, the company has dedicated itself to generating clean, renewable energy for its customers.
Although the headquarters are in Canada, the company has expanded globally. Algonquin holds $16 billion in assets and generates over 4GW in electricity. They have several long-term contracts worldwide that generate power using solar, wind, and hydroelectric projects.
What stands Algonquin apart is its growth rate. In the past year alone, it has increased its earnings by 33%. If you're a fan of index funds, Algonquin appears as a top-five on one of Canada's most significant utility funds.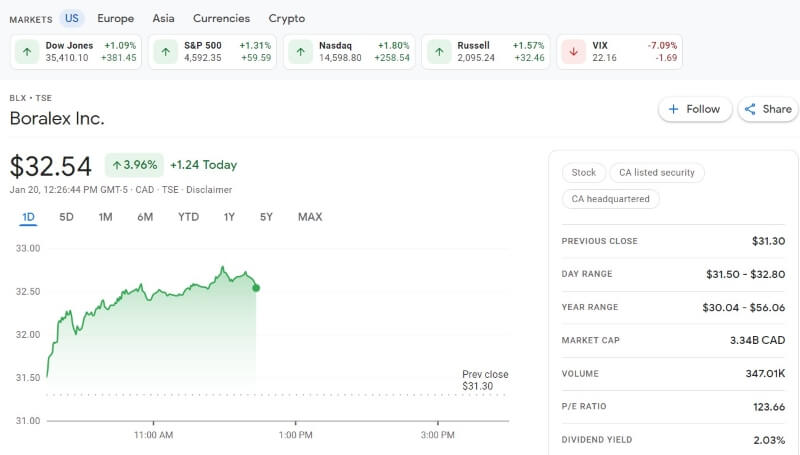 Boralex is a Quebec, Canada-based company. Boralex has been generating electricity for its customers for 30 years using only renewable resources. There were initially based in Quebec but have since expanded into France and the United States.
They generate power using solar, wind, hydro, and thermal projects. They also operate in energy storage for future use. The vast majority of their operations focus on wind and solar energy. Solar energy is responsible for 9GW of the power produced.
With their efforts to expand into other countries, investors have been watching Boralex closely.
They have already shown steady growth over their long history, but those numbers are expected to accelerate shortly.
23. Tesla (NASDAQ:TSLA)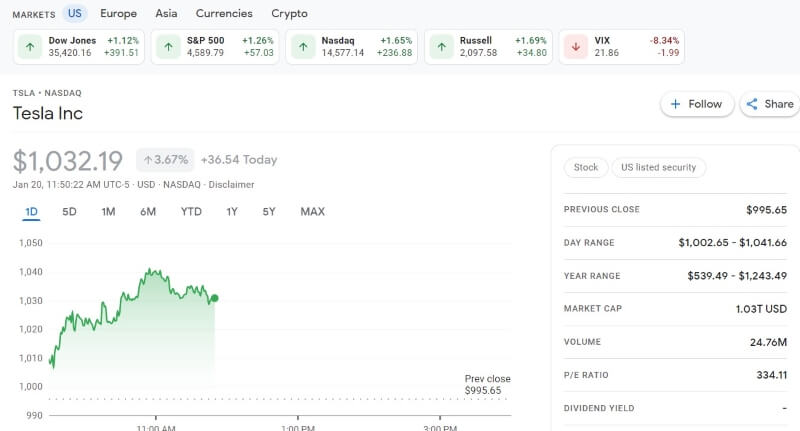 No list of solar stock options would be complete without Tesla. Tesla started as a manufacturer of electric cars but has since expanded into solar solutions and energy storage.
They have two main options for residential use. They have low-profile solar panels installed on your existing roof and their proprietary solar tiles. The tiles are small solar panels designed to look like roof shingles.
The idea is to cover your roof in these durable tiles and covertly collect the sun's energy. Tesla also makes low-profile home energy storage with a sleek design that takes up little room on the side of an exterior wall.
One of the big draws for consumers is that they can monitor the battery pack from a smartphone or other similar device.
Tesla has been a strongly performing stock for many years, primarily thanks to its constant innovations. The company has succeeded so much that it appears in many index funds, such as the S&P 500.
Related Resources