According to the Solar Energy Industries Association, the United States has a 100 GW solar capacity that can power up to 18.9 million homes. Since 2010, solar power has had a 42% annual growth rate.
Overall, solar panels present a new and profitable way to increase your income. The industry is growing rapidly, so you can expect to find success.
Many types of solar panels vary in efficiency, cost, and electricity production. However, 40% of solar farms use around 3.5 acres to produce one GWh yearly. This value translates to 0.28571 GWh/acre/yr or 285.71 MWh/acre/yr.
Nevertheless, the amount of solar irradiance in your region will change how your panels produce. How much money does 1 acre of solar panels make?
In 2019, you could sell solar power for $27.40/MWh. As a result, you could make approximately $7,828.45 per acre. Keep reading to learn more about solar farms, how to start one, and ways to maximize income from solar farms.
What is a Solar Farm?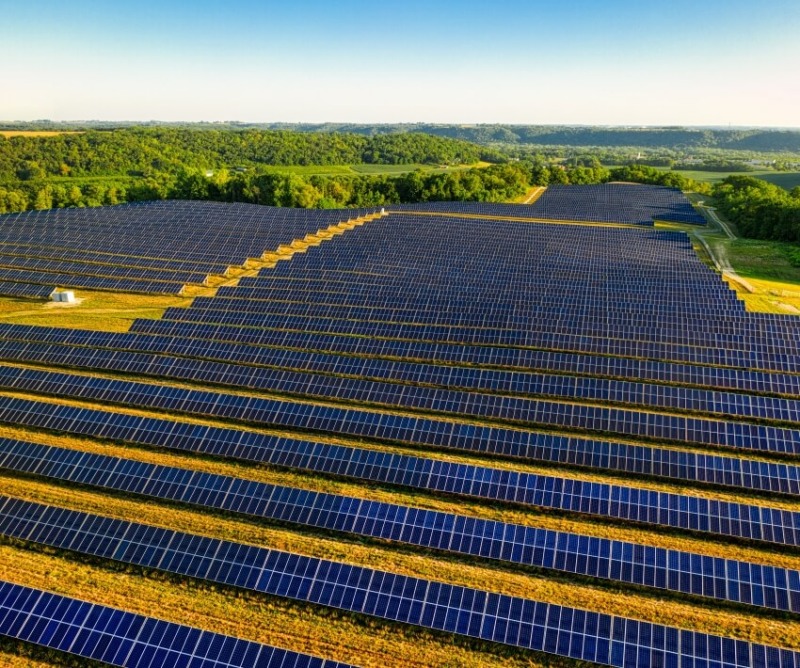 A solar farm is a collection of large-scale solar technologies mounted on the ground. Usually, they use solar photovoltaic (PV) panels. However, they sometimes involve concentrating solar power (CSP) or solar heating and cooling (SHC) systems.
Regardless, they find ways to harness the sun's energy for use on Earth.
Other names for solar farms include solar power stations, parks, and plants. They function the same as a fossil fuel power plant, but without greenhouse gas emissions.
Also, solar farms differ from most residential and commercial solar systems. For instance, installing a solar farm often costs less as you usually get a bulk discount. You have greater freedom to choose the location, so you can use a spot free from tree coverage.
Furthermore, solar farms cover more ground area and generate substantial electricity. The power produced often gets sent to the electric grid to join the energy mix from the utility.
Utility vs. Community Farms
Utility solar farms are expansive, with 1-2,000 MW capacities. On the other hand, community farms have capacities under 5 MW.
Many times, they do not exceed 100 kW. Furthermore, utility farms are controlled by utility companies.
The power from these plants goes into the company's mix to serve many residential and commercial customers. Community farms primarily serve nearby individuals who opt into the power.
Components of a Solar Farm
Most solar farms operate with PV panels. These panels operate using the photoelectric effect. They absorb photons from the sun and release free electrons. Capturing the electrons generates an electric current that you can use as electricity.
A solar panel features many photovoltaic cells. These solar cells feature thin semiconductor wafers that get treated to create an electric field with one positive and one negative end. Electrons get loosened from the semiconductor's atoms when photons strike the cell.
By attaching electrical conductors to the positive and negative sides of the semiconductor, you form an electrical circuit. The electrons are captured in the circuit's electric current (electricity).
This electricity is in the direct current (DC) form. It enters the central inverter on the solar farm that transforms it to alternating current (AC) electricity. The AC power enters a medium voltage (MV) transformer to boost the voltage.
Lastly, the electricity enters the distribution system. It may also pass through a recloser, breaker, or disconnect switch and metering. Other components you might need include:
Batteries
Charge controllers
Wiring
See Related: Tesla Outage: Do Solar Panels Work in a Blackout?
Pros and Cons of Solar Farms
Here are some of the advantages and disadvantages of solar farms.
Pros
Using solar power can decrease or eliminate your energy bill
Humans will never run out of sunlight in their lifetime, so you will always have power
You can sell the extra power produced for profit
They have virtually silent operation
Cons
Many people do not like the aesthetics of solar farms, so it may detract some homeowners
The manufacturing of photovoltaic cells involves toxic chemicals and mining materials
Solar thermal farms require a lot of water to function and can strain water resources
They can take up a lot of space and displace plants and animals
See Related: Best Sustainability Posters to Buy
How to Start a Solar Farm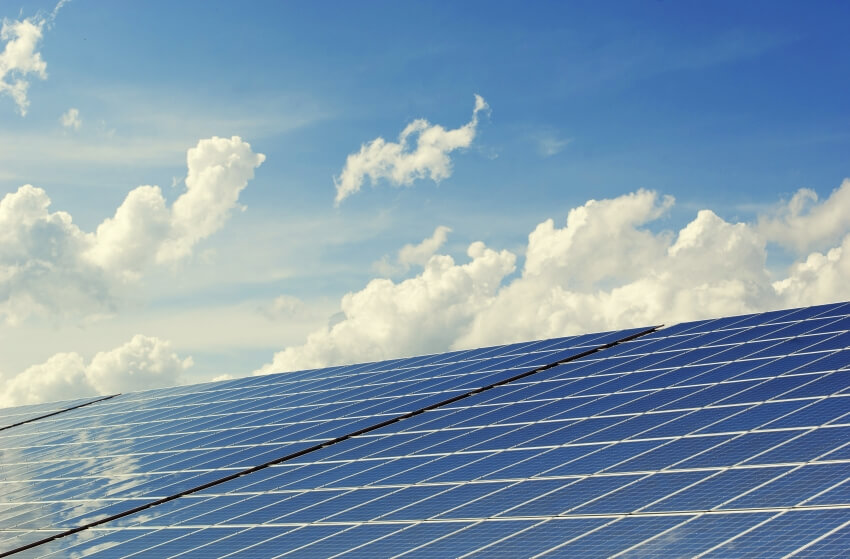 Creating a solar farm requires a lot of income, planning, and hard work. However, you will likely make a sizable income from solar farms once in operation.
See Related: Greensky Finance Review: Is It Legit?
1. Understand the Capital and Operating Costs
Solar farm costs are one of the biggest boundaries toward further adoption. What is the cost of a solar farm per acre? Usually, the capital cost is $0.82-0.95 per watt for utility farms.
Consider the value above of 285.71 MWh/year for one acre. This amount is equivalent to:
285.71 MW-hyr*1365 yrday*124 dayh=0.03262 MW=32.62 kW=32,620 W
At this rate, you will pay between $26,748.40 and $30,989 for solar panels per acre. You will also need to pay for the other components, such as racking equipment, inverters, batteries, transformers, and wiring.
You will likely pay $400,000-$500,000 per 1-acre solar farm. For the most part, solar farms do not require much maintenance. On average, you must pay between $15-$25/kW/yr. One acre amounts to about $489.30-$815.50 annually.
See Related: How to Store Solar Energy for Later Use
2. Plan the Farm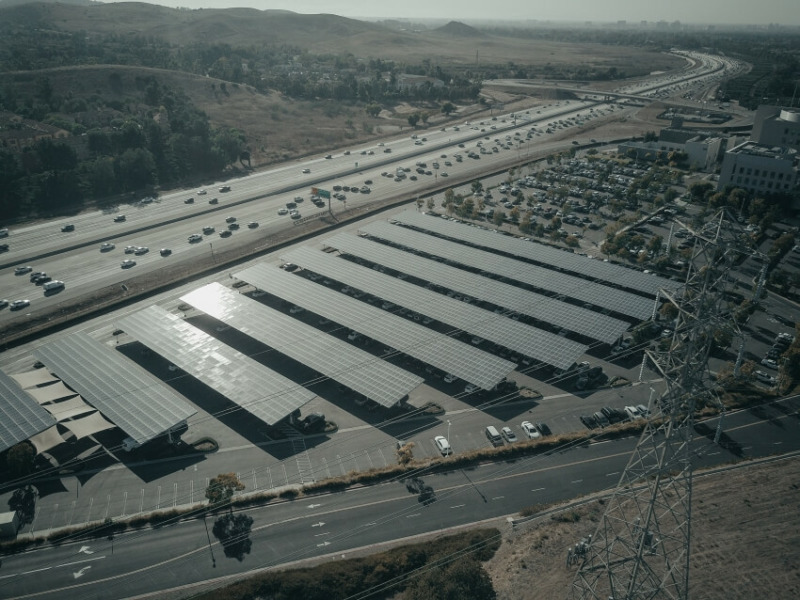 You need to figure out the specifics when planning for a solar farm. For instance, you use many different types of solar cells that come at varying costs and efficiencies. You might opt for:
Monocrystalline
Polycrystalline
Amorphous and micromorph silicon
Cadmium-telluride
Copper-indium-selenide
Copper-indium-gallium-diselenide
Concentrating photovoltaic
Organic photovoltaic
Try to work with an expert to conduct a cost-benefit analysis and see if installing a specific type of PV panel is feasible and profitable. Other aspects of your plan include the location, land used, scale, positioning of the panels, quantity of panels, power produced, specifications, and needed components.
Project proposals typically have cost estimates and an estimated return on investment (ROI). Perform calculations for at least ten years of business to determine when you will start profiting.
See Related: What is the Average Tesla Repair Costs? Full Budgeting Guide
3. Fulfill the Legal Requirements
You need to register your farm with the government to become legally recognized. To do so, you will need to register a business name. Make sure you have completed these basic legal documents, potentially with the help of a lawyer:
Apostille
Business plan
Certificate of incorporation
Company bylaws
Employment agreement
Insurance policy
Memorandum of understanding
Non-disclosure agreement
Operating agreement/operating agreement of LLCs
While every state has different specifications, you will need to obtain licenses and permits, such as:
Contract labor license
Insurance policy
Land conversion certificate
Operating agreement
See Related: Best Portable Solar Panels for Home
4. Find a Location That Meets the Land Requirements
The position and location of the panels will determine the amount of power produced. You can have the highest-rated panels available, but facing them in the wrong direction under a shady tree won't produce any power. The location also impacts the cost of construction.
Look into the proximity of the farm to grid infrastructure. If you want to sell excess power, it helps to be close. Also, find an area and position that will absorb the most solar irradiance.
This calculator will help you determine the best position for your geographical region.
Avoid shady spots, and consider the quality of the soil. You want it to be hardy enough to handle the equipment installed on it while saving fertile soil for agriculture.
Check out the demand for renewable energy by nearby utilities and homeowners. If you rent the property, see the solar farm lease rates for the land.
See Related: Best Business Loans for Solar Energy
5. Build the Structure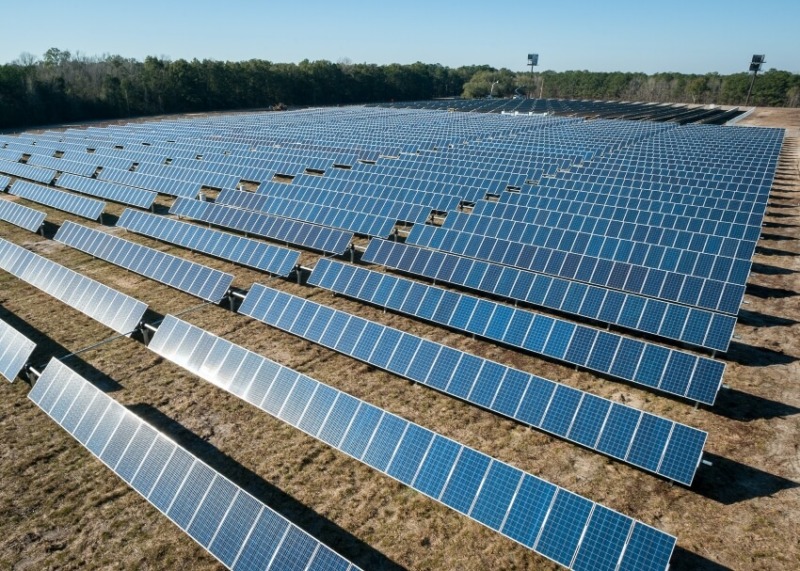 After you figure out the semantics, you can start building the structure. Buy all of the necessary components and install them on the land.
Ensure you work with professional installers to mount them properly in the optimal orientation. Most installation firms also offer maintenance to help you sustain long-term projects.
Look for a firm that you can use throughout the lifecycle of your panels to simplify the process.
See Related: AcreTrader Review: Is It Legit or Worth It?
6. Release Proposals
To sell the generated electricity, you will want to craft proposals. Reach out to firms, industries, and people to discuss your services. Figure out how much you will charge for your electricity, payment options, and service costs.
See Related: How to Start Investing With Purpose
Potential Gains and Profitability of Solar Farms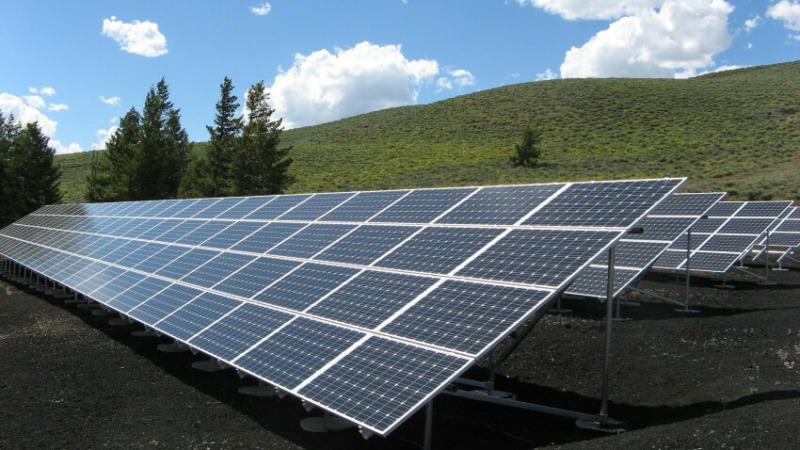 Here we will look at existing plants to determine the approximate solar farm income per acre.
Pavagada Solar Park is the largest solar farm in the world, with a 13,000-acre area. It produces about 2,050 MW each year. The companies it sells to save $1.7 million per hour or about $7.4 billion a year from a 12-hour day.
Many farmers in the United Kingdom have begun converting their infertile soil into solar farms. While the UK is not known for its sunny weather, plenty of people have profited from selling solar electricity.
For instance, Mandy Wilson has a 30-acre solar farm. She earns about £30,000 each year on rent from the panels.
Your solar farm profit per acre will vary based on the size and efficiency of your array. How much money does a solar farm make? On average, you might profit around $21,250-$42,500 per acre.
Other potential gains from operating a solar farm include:
Guaranteed steady income from a solar land lease throughout the term, which is usually 20-25 years
Benefitting residents with new tax revenue because the local government can direct the funds to improve community services
Improved air quality, reduced pollution, and fewer harmful emissions compared to nonrenewable energy
See Related: Best Environmental Stocks to Invest in Today
How much does a 1-acre solar farm cost in the USA?
A 1-acre solar farm is a plot of land used to install solar panels to generate electricity. The cost of a 1-acre solar farm in the USA varies widely depending on several factors such as location, solar panel efficiency, and installation costs. The average cost of a 1-acre solar farm in the USA can range from $200,000 to $500,000 or more.
How to Boost Solar Farm Income Per Acre
By understanding the factors contributing to solar farm income, you can determine how to maximize the solar farm income per acre.
Size and Location
You can install more solar panels if you acquire the rights for a larger landmass. The wider your solar array, the more electricity you can generate and sell. However, you will likely face limits on the size of your farm.
While solar farming does not have a detrimental environmental impact, you must check with local ordinances. Also, survey the residents to see if they approve of a solar farm.
Try to construct the largest farm you can in an area with plenty of solar irradiance and compliant residents. You might have better luck in areas with much-unused land and few residents.
Also, check out the property taxes in various towns and states. Consider the local costs of labor and land as well. Overall, you need to figure out the most affordable location for your farm.
Areas with a higher going rate for solar electricity are also ideal for profit-making. These places have higher demands for electricity. While electricity will not have zero demand in the foreseeable future, it does vary based on population and standard of living.
External Financing
You can profit sooner using external financing to pay for the installation. Government tax credits and incentives can cover some of the costs. Also, check out low-interest loans.
Panel Type
While older panels with less efficiency will cost less upfront, they will likely cost you in the long term. Work with engineers and materials scientists to determine which panels provide the most efficiency in your price range.
Spending a little more on high-quality panels upfront than replacing the system more frequently will be worth it. Nevertheless, you can perform a return on investment calculation to see which option is best for you.
Maintenance and Operation
You can minimize the frequency of needing maintenance on your solar farm by keeping the panels clean and performing regular inspections. Also, look for an experienced manager to ensure these tasks are performed regularly.
Try to stay focused on maintaining your solar farm so that you can increase solar farming profits. Since this business is one of the most profitable at this time, you are likely to experience a profit from it.
Marketing
Nobody will purchase your electricity if nobody knows about your humongous solar farm. You can advertise to utilities, companies, and residents to supply some energy. Your audience does depend somewhat on the size of your farm.
Develop a loyal customer base who can provide a testimonial for your business. That way, you can improve your authority as your business matures.
See Related: Does Sustainable Investing Lead to Lower Returns?
Are solar farms profitable?
Yes. According to our calculations, you can make approximately $7,828.45 per acre each year. Since most utility solar farms have a 5 MW size (about 20 acres), you will likely make around $156,569 profit from your farm.
Since solar projects are some of the fastest-growing renewable energy solutions, you are almost guaranteed to make a profit.
If you want to start solar farming, try to make a business plan to see how much it will cost to build, operate, and maintain a plant.
FAQs
How much can you make from a 1-acre solar farm?
A 1-acre solar farm is a land area of approximately 43,560 square feet used to generate solar power. The amount of money that can be made from a 1-acre solar farm depends on several factors, including the location, the cost of electricity, and the efficiency of the solar panels. On average, a 1-acre solar farm can generate enough electricity to power around 200 homes and earn between $1,000 and $2,000 monthly in revenue.
How many acres should a solar farm be?
A solar farm is a large-scale installation of solar panels used to generate electricity. The size of a solar farm can vary depending on the amount of energy needed to power a specific area or population.
Generally, a solar farm requires several acres of land to accommodate the large number of solar panels needed to generate electricity. The number of acres needed for a solar farm depends on energy demand, solar panel efficiency, and available land.
How many solar panels can you put on 1 acre of land?
One acre solar farm is a plot of land used to generate electricity through solar panels. The number of solar panels that can be installed on one acre of land varies depending on the efficiency of the panels, their size, and the layout of the solar farm. However, on average, a 1-acre solar farm can accommodate between 400 to 600 solar panels.
Is 40 acres enough for a solar farm?
Yes, 40 acres can be enough for a solar farm depending on the capacity of the solar panels and the energy output desired. The size of a solar farm can vary based on factors such as location, available land, and energy demand. Generally, a solar farm can range from a few acres to hundreds of acres in size.
Related Resources
Kyle Kroeger, esteemed Purdue University alum and accomplished finance professional, brings a decade of invaluable experience from diverse finance roles in both small and large firms. An astute investor himself, Kyle adeptly navigates the spheres of corporate and client-side finance, always guiding with a principal investor's sharp acumen.
Hailing from a lineage of industrious Midwestern entrepreneurs and creatives, his business instincts are deeply ingrained. This background fuels his entrepreneurial spirit and underpins his commitment to responsible investment. As the Founder and Owner of The Impact Investor, Kyle fervently advocates for increased awareness of ethically invested funds, empowering individuals to make judicious investment decisions.
Striving to marry financial prudence with positive societal impact, Kyle imparts practical strategies for saving and investing, underlined by a robust ethos of conscientious capitalism. His ambition transcends personal gain, aiming instead to spark transformative global change through the power of responsible investment.
When not immersed in the world of finance, he's continually captivated by the cultural richness of new cities, relishing the opportunity to learn from diverse societies. This passion for travel is eloquently documented on his site, ViaTravelers.com, where you can delve into his unique experiences via his author profile.