A hybrid solar system may be your best choice if you want to gain from both worlds. It combines a grid-tied solar system and an off-grid solar system. As the homeowner, you enjoy the advantages of the two systems.
But wait; what is the difference between grid-tied and off-grid systems? How do they combine to become a hybrid system? Before we talk about the components of a solar hybrid system, let's first get on the same page.
Best-Of by Category
The Best Solar Hybrid System Components to Invest in
The best solar hybrid systems are only made up of the best components. If you want a solar hybrid system that's immune to a power outage, consider only the best solar battery, hybrid inverter, charge controller, and solar panels.
You can get different quotes from reputable manufacturers and solar companies at EnergySage. This is an online marketplace for all solar equipment. Alternatively, you can contact individual solar companies for the necessary components.
We've come up with the following recommendations:
1. Tesla Powerwall +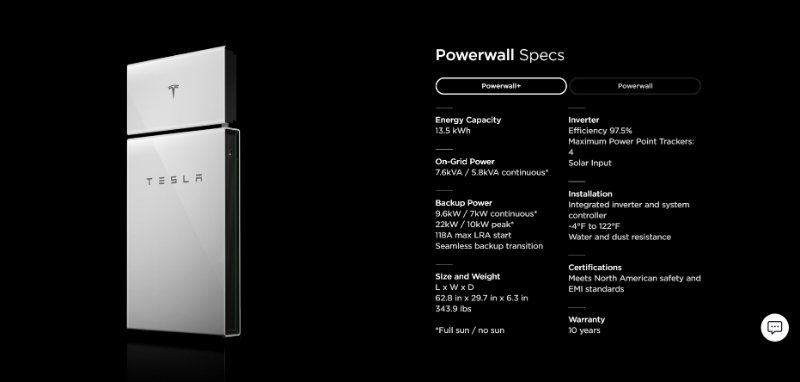 Tesla has made a hallmark with its 13.5KWh battery backup system named Powerwall+. The company is a market leader and definitely wanted it known worldwide when it introduced a one-of-a-kind powerhouse on the market.
The backup energy storage protects you from power outages and makes you grid-independent. You only need to charge it with solar daily to run all your appliances at night. It guarantees solar power every day of the week.
You can also monitor and optimize your stored solar power with a Tesla App. It provides an interface for setting the preferences that will make you immune to power outages and enhance cost savings. Additionally, you can remotely monitor your system and get real-time alerts about the solar system's status.
The Powerwall+ battery system features an ergonomic, minimalistic design that complements home decor. You can install it indoors or outdoors for a permanent power solution.
See Related: Is Tesla Powerwall Worth It?
2. Generac PWRcell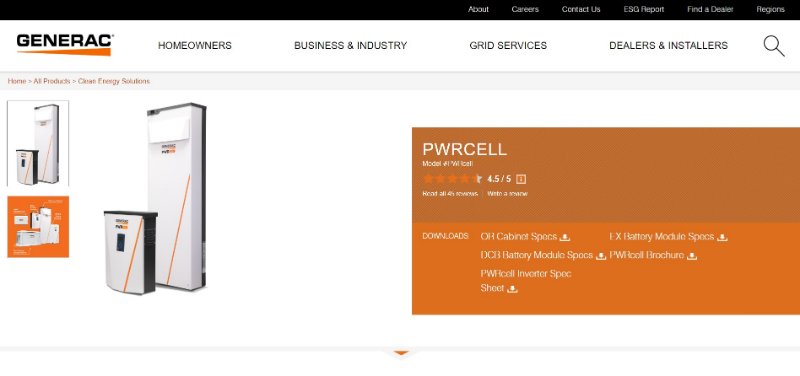 Generac is the go-to place if you want a solar hybrid system. The company is one of the leading manufacturers of solar panels and battery storage systems that can generate solar electricity and store enough to power the entire home. You can also size the solar system according to your power needs.
Generac PWRcell solar battery has a storage capacity of 9kW. This is more than the energy most homes require for daily use or backups. If you no longer want a grid connection, you can also scale up the system to remain independent.
The Generac hybrid solar system can be configured to meet your energy needs and lifestyle. You don't have to pay what you will not use or get less than your demand. The company has technicians to help size your solar system so that the stored solar energy powers your home as expected.
The PWRmanager is a smart solution for load management. This device makes your home solar system more flexible and profitable by allowing whole home backup.
You can monitor the system using an app that can optimize solar power storage batteries to serve you more efficiently and for longer.
See Related: Best Commercial Solar Finance Companies
3. First Solar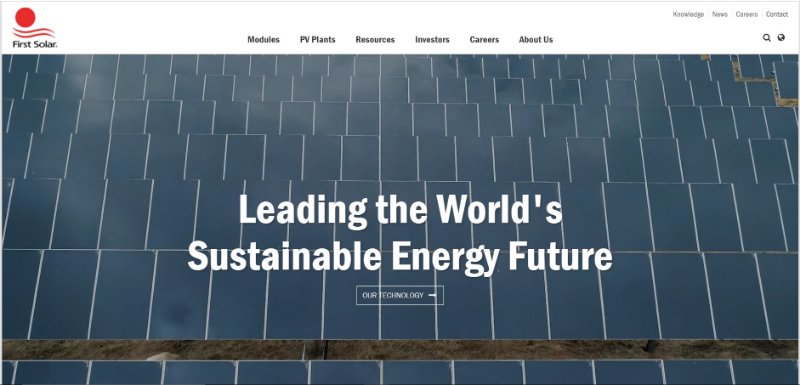 If you want the best solar hybrid system installed on your property, shop at First Solar. The company uses leading technology in the manufacturing of highly efficient solar panels. It also partners with reliable solar system components and equipment manufacturers to bring you the best.
You can size your solar panel systems according to your needs and be sure to benefit from them in the long run. The PV solar modules from First Solar are among the few modules in the world to pass the Atlas 25+ years. As a result, you are guaranteed a 25-year warranty on these modules.
The company is also one of a kind, being a leader in recycling its solar PV modules worldwide. It has been doing this for over 10 years, striving to keep our world safe from solid waste pollution. Develop your solar hybrid system with First Solar for a guaranteed benefit and return on your investment.
See Related: Best Solar Project Management Software
4. Panasonic Energy Solution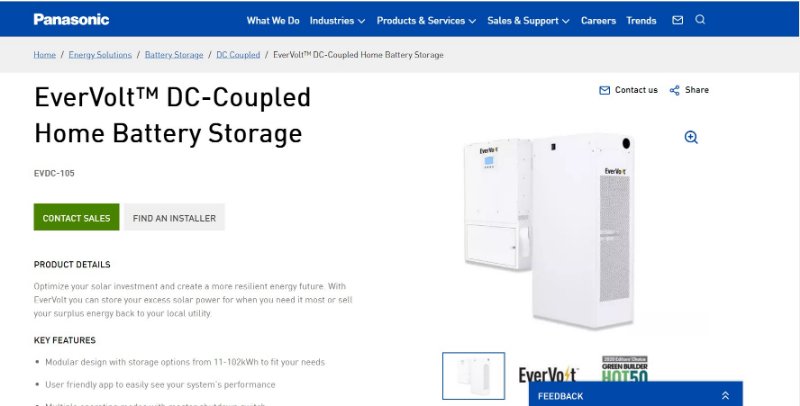 Panasonic is known for its broad catalog of electronic devices and as one of the leading providers of solar energy solutions. If you want to go off-grid, choose Panasonic products for guaranteed green power for years.
Go solar with one of the most trusted brands to provide your family with clean solar energy and energy-saving solutions. Panasonic boasts high-efficacy solar panels that come with a 25-year warranty. These solar panels can produce more solar power than you need during the day. Hence, the need for a solar battery.
With Panasonic EverVolt solar batteries, you can create a solar hybrid system with a storage capacity that meets your needs. You can choose from 11kWh to 102kWh to fit your specific energy needs. Coupled with a user-friendly app, you can monitor the system performance and optimize it for a better result.
EverVolt maximizes your solar investment by storing surplus solar energy when your usage is at its peak. It also helps you save money through net metering and provides flexibility in the design. With the battery storage system from Panasonic, you can also manage your energy flow from your phone. The Panasonic EverVolt has a ten-year warranty against defects and workmanship.
It covers the entire system, including lithium-ion battery cells, AC-coupled and DC-coupled inverters, cabinets and enclosures, and other components. That is an assurance of its reliability as a battery system for energy storage.
See Related: Diversify Your Portfolio With These 4 Proven Steps for Investing in Storage Units
5. BSLBATT Energy Storage System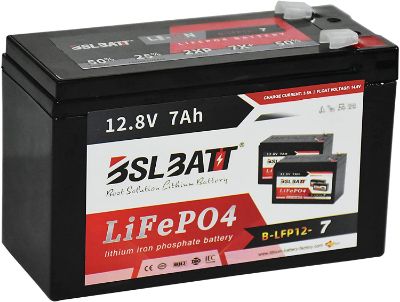 If you want a reliable battery system as a heavy power consumer, consider the BSLBATT Energy storage system. BSLBATT is one of the leading providers of microgrid solutions, industrial or commercial energy storage, utility energy storage systems, data center battery backup systems, and an uninterruptible power supply.
BSLBATT provides the most reliable energy storage systems for stabilizing the power supply of traditional power plants. Renewable energy-generating facilities can also depend on this solution to meet peak-hour demands by installing batteries.
BSLBATT boasts a smart energy management system. The unit is more than a solar power storage system in a hybrid system.
It helps make the entire system more efficient, reliable, and eco-friendly. You can get an energy storage solution that fits your needs to store any surplus solar energy you generate and use it later.
As a utility company manager, you can have the microgrid sized according to your needs. Renewable energy you generate when natural elements are favorable can be stored in the unit and transmitted to consumers during peak hours.
BSLBATT energy storage solution improves power quality and can be a backup power supply. You also don't have to worry about load shifting during peak hours because you will always have a balanced output curve.
See Related: Top 10 EV Charging Station Stocks to Invest in Today
6. BLUETTI Portable Power Station AC200P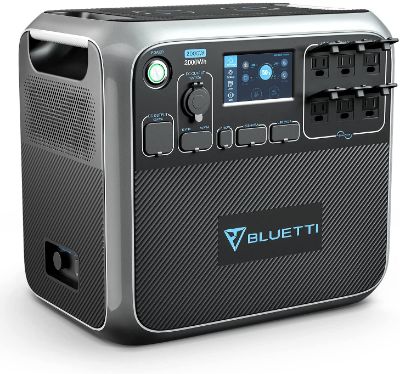 Most solar hybrid systems discussed so far suit commercial and utility-scale uses. But if you are just a homeowner with low electrical consumption, you may need something more portable. That is where the BLUETTI AC200P comes in.
BLUETTI AC200P has a remarkable energy storage capacity 2kWh and an integrated 2000W inverter. These are the components it takes to power about 99% of homes. This battery backup unit gives you confidence, even during emergencies or outages.
The BLUETTI AC200P unit comprises ultra-safe LiFePo4 battery cells and a high-quality battery management system (BMS).
This BMS protects the battery cells from overcharging and over-draining, squeezing every service life. The battery storage station is rated for 3500+ life cycles and should maintain about 80% of its energy storage capacity for over a decade.
BLUETTI AC200P supports dual recharging from 700W solar and 500W AC from the electrical grid. That makes charging the portable power station possible in just 2 hours.
It also features up to 17 outlets for versatility. These include 6 AC ports, standard USB-A, two wireless charging pads, and a 12V/25A DC port. It also comes with a 2-year warranty.
7. EF ECOFLOW DELTA Max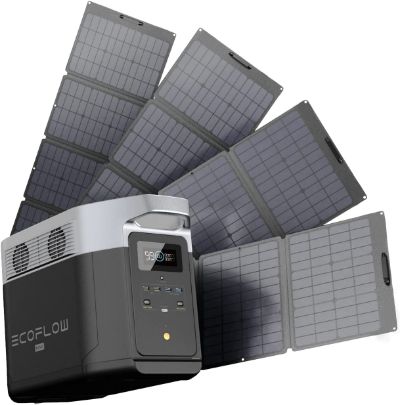 If the BLUETTI AC200P power station does not meet your energy needs, we found another product with even a higher storage capacity. EF ECOFLOW DELTA Max has an expandable 2.016kWh capacity and features 6 AC outlets.
EF ECOFLOW DELTA Max is ideal for home backup, emergency, or outdoor activities. Have your energy on the go with a portable powerhouse that meets all your energy needs. EF ECOFLOW DELTA Max makes you power outage-proof. You can pair it with EcoFlow solar panels to create a hybrid system that ensures your home is always powered no matter what.
The unit can be charged from AC through grid connection, solar, EcoFlow Smart generator, or even your car. You can recharge it from 0 to 80% in just 65 minutes. It is also possible to combine solar and generator for an even faster charging rate.
Another unique feature of EF ECOFLOW DELTA Max is connecting multiple units in parallel. This flexibility makes them ideal in almost all applications. It scales up according to your energy requirements.
See Related: Best Solar Asset Management Software
ypes of Solar Systems
Solar energy can be harnessed through three systems. These include off-grid, grid-tied, and hybrid systems. So, let's briefly discuss what each means.
Grid-tied Solar System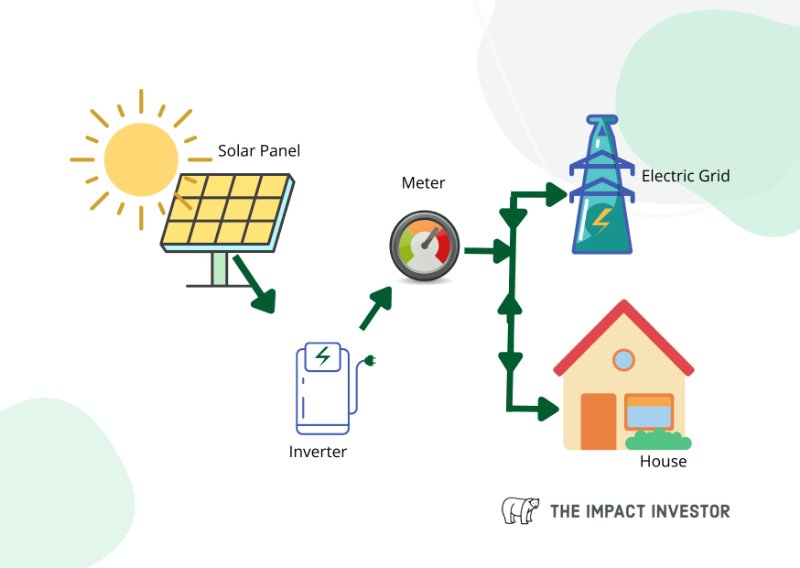 This system consists of only an array of solar panels on the roof and a grid connection through net metering.
The net solar electricity produced during the day at peak hours is exported to the grid. When the sun goes down, you import energy from the grid. That's the main advantage of a grid-tied system because you can actually earn money from your system.
See Related: Ways to Subscribe to Community Solar
Off-grid Solar System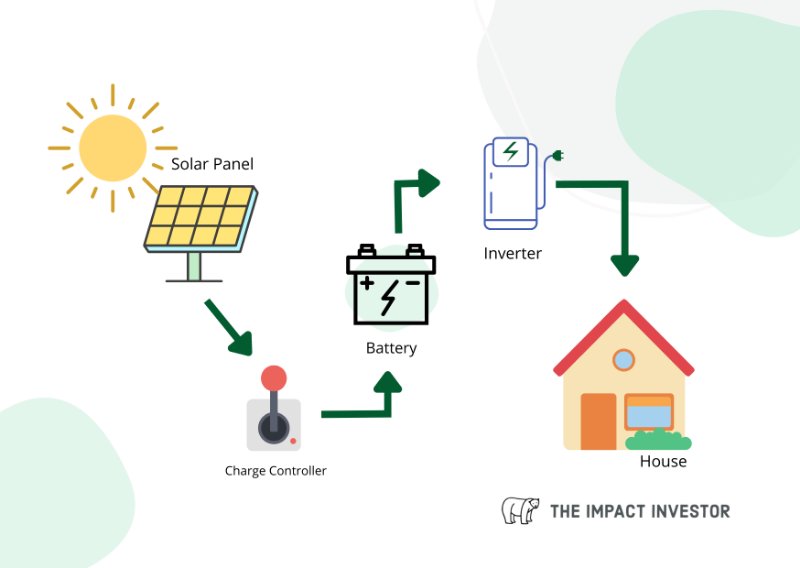 In this system, the utility power is not in the picture. Instead, battery storage systems are introduced. The excess solar energy produced during the day is stored in the battery backup unit for later use when the sun goes down. You become independent of grid power and rely wholly on your backup battery system.
See Related: Tesla Outage: Do Solar Panels Work in a Blackout?
Hybrid Solar System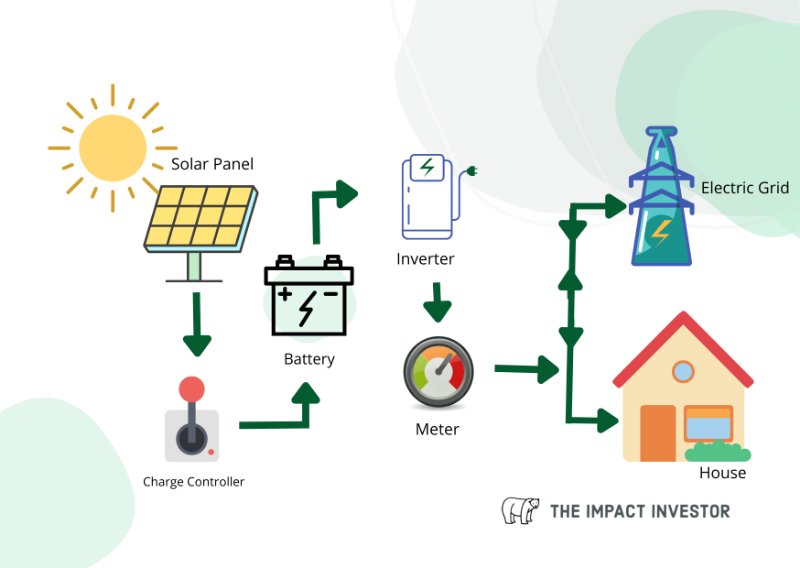 As mentioned, hybrid systems combine grid-tied and off-grid solar systems. You will have home battery backup systems and stay connected to the grid.
This situation is ideal if you are not eligible for net metering or as a backup system if the utility power fails. It ensures an electricity supply 24/7 to keep your devices and appliances running.
Components of a Hybrid Solar System
Hybrid solar systems are more complex and the most expensive of the three types of solar systems. This is because of the additional components required and the complexity of the design. So, to install solar panels in a hybrid, you must prepare for the high upfront solar cost.
The following are the components of a hybrid solar system:
Solar panels: This is the source of solar energy. If you want to buy them, you need a technician to help you size them appropriately. Solar installation requires expertise.
Batteries: In a hybrid solar system, you can use lithium-ion batteries or other technology. A battery backup unit stores excess solar power generated during the day for use at night. You must also appropriately size your energy storage unit to get enough power for intensive evening use.
Charge controller: This is an essential component that ensures the health of battery backup systems. As the name suggests, it regulates the flow of electric charges into the battery. Your battery system should not be overcharged. Doing so will shorten their lifespan as cells get damaged.
Hybrid inverter: A hybrid inverter is essential in hybrid solar systems. Its primary function is to convert DC power generated by solar panels and battery power to a usable AC form. It monitors the performance of solar panels and records energy received, consumed, stored, and excess power exported to the grid.
DC distribution board: as the name suggests, this is a panel consisting of circuit breakers and other circuit protection systems for combining multiple connections from the solar panels.
AC distribution board: This is a breakout board with fuses and circuit breakers to protect connected appliances and devices. It is like your consumer unit.
See Related: Solar Farm Income Per Acre
How a Hybrid Solar System Works
The working principle of hybrid solar systems is simple. During the day, solar panels generate electricity. This passes through charge controllers to charge the solar battery. A hybrid inverter draws the battery power and converts it to AC for powering appliances.
During peak solar power generation, the excess flows to the hybrid inverter. The inverter converts it to AC and feeds it to the utility power lines. If you are the homeowner, you earn money proportional to the electricity you supply to the system.
Advantages and Disadvantages of a Hybrid Solar System
A hybrid solar system has many advantages over others we mentioned earlier. However, it also has some drawbacks that we will list shortly.
Advantages
Reduced dependency on the grid – immune to power outages
Provides an uninterruptible power supply
Ideal in areas with frequent power outages
Ideal in areas with lots of sunshine
Possibility of earning from net metering
Disadvantages
High upfront cost
Increased maintenance cost
See Related: Best Solar Energy ETFs
When Should You Consider Solar Hybrid Systems?
Hybrid solar systems are not for everyone. Some situations are not ideal to consider installing solar panels and a battery system. For example, urban dwellers don't have to spend on battery backup systems because the grid power is typically more stable.
So, when is a hybrid solar system worth the investment? Consider the following cases:
Eligibility for net metering
All utility companies do not favor net metering. Some don't have favorable policies for exporting your excess solar power to the grid, and others don't even allow it in the first place.
If you can't benefit from net metering, you don't have to waste time with it. You can install a battery backup system to store electricity generated by the solar during the day. This will reduce your dependence on the grid and lead to cost-saving in the long run.
Energy tariff variations
If the utility company charges different rates, you may still consider a hybrid solar system. When the rate is low, which is usually during the day when everyone is at work, you can store the solar energy produced.
Wait until peak hours in the evening when the rates are at maximum. Switch to the battery power. And if you stored more than you need to use, you can still export to the grid if net metering is favorable. This trick helps you play the system and avoid cost surges when demand increases.
See Related: Best Solar Panel Alternatives
Power Outages
If you live in the countryside, you might be in an area where the grid isn't as stable, and occasional blackouts could inconvenience you. Also, repairing grid lines damaged by storms and such in the sticks generally takes more time. That is when your hybrid system comes in handy.
If you've sized your battery backup power system correctly, you won't have to worry about anything! You can still run all your appliances directly from solar batteries with or without grid power. These are eco-friendly and more cost-effective long-term than using diesel-powered generators for backups.
Availability of Finances
A hybrid solar system is the most expensive of all three solar systems. The cost of solar batteries for a backup can be more than that of solar panels.
Unlike grid-tied solar systems that can be funded through solar lease and power purchase agreements, hybrid systems don't qualify for such programs. So, you should be ready to shoulder the high upfront cost. It will only be a feasible option if you are financially stable.
Related Resources
Kyle Kroeger, esteemed Purdue University alum and accomplished finance professional, brings a decade of invaluable experience from diverse finance roles in both small and large firms. An astute investor himself, Kyle adeptly navigates the spheres of corporate and client-side finance, always guiding with a principal investor's sharp acumen.
Hailing from a lineage of industrious Midwestern entrepreneurs and creatives, his business instincts are deeply ingrained. This background fuels his entrepreneurial spirit and underpins his commitment to responsible investment. As the Founder and Owner of The Impact Investor, Kyle fervently advocates for increased awareness of ethically invested funds, empowering individuals to make judicious investment decisions.
Striving to marry financial prudence with positive societal impact, Kyle imparts practical strategies for saving and investing, underlined by a robust ethos of conscientious capitalism. His ambition transcends personal gain, aiming instead to spark transformative global change through the power of responsible investment.
When not immersed in the world of finance, he's continually captivated by the cultural richness of new cities, relishing the opportunity to learn from diverse societies. This passion for travel is eloquently documented on his site, ViaTravelers.com, where you can delve into his unique experiences via his author profile.