Solar panel installation depends on several factors, cost, being one of the major ones. In this post, we will explore solar panels cost per square foot, to determine how much money you need to install that solar system you desire.
Everyone now wants to go green and live sustainably. For this reason, the demand for renewable energy sources continues to grow.
In fact, according to iea.org reports, the use of renewable energy increased by 3% in 2020. This resulted from an increase in the generation of electricity from renewable sources, by almost 7%. In contrast, the use of other fuels declined significantly.
Unlock Sustainable Investing Opportunities 🌿
Join the green revolution by investing sustainably with our top partners. Discover platforms that align with your values and offer remarkable opportunities for growth.
Solar energy is one of the major contributors to renewable energy that is also quite accessible to everyone. It is easy to install solar panels in our homes, offices, and even on large commercial or industrial properties.
However, before installing a solar power system on your property, you should always ask yourself a few questions.
For instance, how much do solar panels cost per square foot?
What other costs does the installation attract?
And, is it a feasible solution to your energy problems?
If you wish to install solar power on your property, here is a comprehensive cost breakdown guide on everything you'll need.
Solar Panels Cost Per Square Foot Guide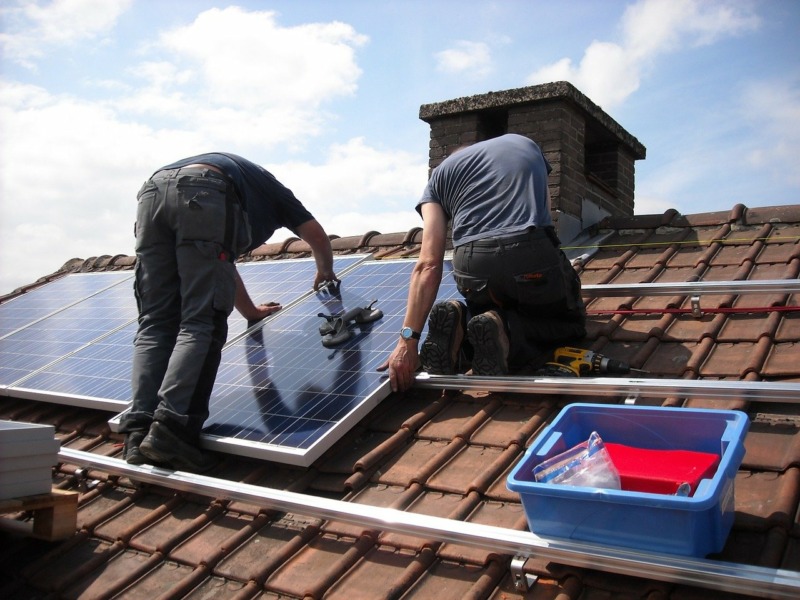 So, how much do solar panels cost per square foot? Well, this is not always a straightforward situation as many of us might want it to be.
The cost of solar panel installation is influenced by various factors. For example, you might want to look at the size of your house and its energy needs, location, solar panel brand, etc. Labor costs will also determine your total installation costs as some professionals might be more expensive than others.
This means that even with the cost of a solar panel, so many other things come into influence on the overall installation costs.
Generally, the average solar panel installation cost ranges between $10,626 and $26,460, after tax credit. These are costs for a system between 6kW to 12Kw, which is capable to power most average homes.
As for the return on investment, it takes between 7 and 12 years to cover that cost. This is considering that solar energy will help you save $600 to $2,000 annually on electricity costs.
Factors Affecting Solar Panels Cost Per Square Foot
Understanding the factors that influence the cost of solar panel installation per square foot is crucial. It helps you to determine how much money it will cost you to install that solar panel.
Let's take an in-depth look at each of these factors;
1. Size of the System
This one goes without saying! The bigger the solar system you wish to install, the more money it will cost you.
The size of a solar panel is usually measured in kW (kilowatts). And, kilowatts stand for the amount of power a certain solar panel delivers in perfect conditions. One kilowatt is usually 1,000 watts (W).
The more kilowatts on a panel the bigger the panel. This means that a 6 kW solar panel will deliver less power than a 12 kW one.
On the other hand, a kilowatt-hour, abbreviated as kWh, stands for the number of kilowatts consumed hourly.
This is used to measure how much power your home or property requires. Typically, the more power you need in your home, the bigger the solar panel size required, and the higher the cost of installation.
Therefore, before buying a solar panel, you should know precisely how much electricity your home consumes and by how much you need your electric bill reduced.
Here is a breakdown of the cost of solar panel installation depending on size:
| | | | |
| --- | --- | --- | --- |
| System Size | Avg. Cost per Watt | No. of Panels | Avg. Overall cost |
| 4 kW | $3.25 | 11 | $9,620 |
| 8 kW | $2.85 | 23 | $16,872 |
| 10 kW | $2.75 | 29 | $20,350 |
| 12 kW | $2.75 | 34 | $24,420 |
| 16 kW | $2.60 | 43 | $28,860 |
If you look at this table, you'll note that the cost per watt reduces as the system size increases. However, since bigger systems mean more panels, the overall cost increases as the size also rise.
See Related: How to Store Solar Energy for Later Use
2. Location
The location also matters significantly when it comes to the cost of installing a solar system. But how?
Available sunshine (irradiance): How sunny is your location? If ample sunlight is available in the area, an average system will suffice. However, little amount of sunshine means that you'll need more panels to be able to produce enough electricity. Subsequently, this leads to higher costs.
Incentives (federal, state, and local): There is the federal solar tax credit (26%) known as ITC that significantly reduces solar prices. And, there are other solar rebates and taxes both from the state and local governments. Different locations will have different incentives.
Market factors: The average cost of solar panels per square foot or per watt will also be affected by numerous market factors. These include competition between installers, labor costs, policies, job volumes, etc. All these will determine the end cost of a solar panel and the installation cost.
The table below shows just how location can lead to differences in the cost of solar panels and installation. The figures are based on a 6kW system:
| | | |
| --- | --- | --- |
| State | Average cost per watt | Average installation cost |
| Alaska | $2.41 | $10,878 |
| California | $2.68 | $11,899 |
| Colorado | $2.51 | $11,144 |
| Delaware | $2.65 | $11,766 |
| Georgia | $2.33 | $10, 345 |
| Kansas | $2.39 | $10,612 |
3. The Brand and Model of the Panels
It's no secret that some solar panels are more expensive than others. Some brands are well-known and have gained customers' trust over the years. For this reason, they tend to ride on their good name and popularity when setting up their prices.
While most of them have quality products, other smaller and less-known brands are producing just as good products. For instance, popular brands like LG, Panasonic, and SunPower are significantly cheaper than brands like Jackery solar panels.
Therefore, before making your purchase decision, ensure you consider quality and benefits more. The brand name should come after.
Does Home Size Determine Solar System Prices?
In most instances, larger houses mean more solar panels, due to higher electricity consumption. However, you might still find some smaller houses that consume more power monthly than larger ones. Also, even same-sized homes might have different energy demands.
For this reason, it wouldn't be factual to state that solar panels' cost is entirely determined by the home's size. But, which factors will influence the type and size of the solar system you install?
1. Electricity Demand
The amount of electricity your home needs every month dictates the type and size of the solar system you need. Homes with high electricity demands require larger solar systems than others. This will mean more costs to cater to the higher power consumption.
For example, take a 1,000-square-foot home that has two occupants. Assume, these people are always at home, working from home, love watching movies and playing games, do their laundry thrice a week, and the dishwasher is constantly in use.
Also, take another house, the same size, but has a single occupant. The person living here loves traveling and works in the office, rarely spending much time in the house. Also, despite the homeowner here having a laundry machine, it's only used once a week.
While these two houses might have the same size and design, their power consumption is certainly different. Therefore, when shopping for a solar system, they will be looking for different specifications, depending on how much power they consume.
In our case, the first house requires more energy than the second one. Subsequently, the solar cost per square foot will be more for the first house than that for the second one.
2. Roof Space and Material
For residential properties, solar panels are mostly installed or mounted on the roof. These are referred to as roof-mounted systems. A roof-mounted system is relatively cheaper and doesn't take any space in your yard – this makes them quite popular.
However, roofs are also different. Even two 1,000-square-foot houses might have different roof spaces. And roofing materials also vary.
For example, a two-story building will have a different roof space than a 1,000-square-foot barn house on a large ranch. The design of your roofing determines how many solar panels it can hold. This means that one house might easily hold a larger system than another one, despite having the same square footage.
Different roof types will also demand different installation equipment and labor. For instance, a solar array can be fitted on metal roofs, flat roofs, shingle roofs, etc. But for each of these roofs, different equipment is required, and so is labor.
All this will translate to varying solar panel installation costs despite installing the same system or having the same square-footage roof.
3. Equipment Costs
Solar panel cost will also be influenced by the type of equipment you choose. As we said earlier, various brands offer different pricing for their solar panels.
This usually depends on quality and brand name. It's therefore quite important that you do thorough research before buying a solar system. That way, you are sure that you bought a system that meets your energy needs in the most affordable way.
Solar Incentives and Grants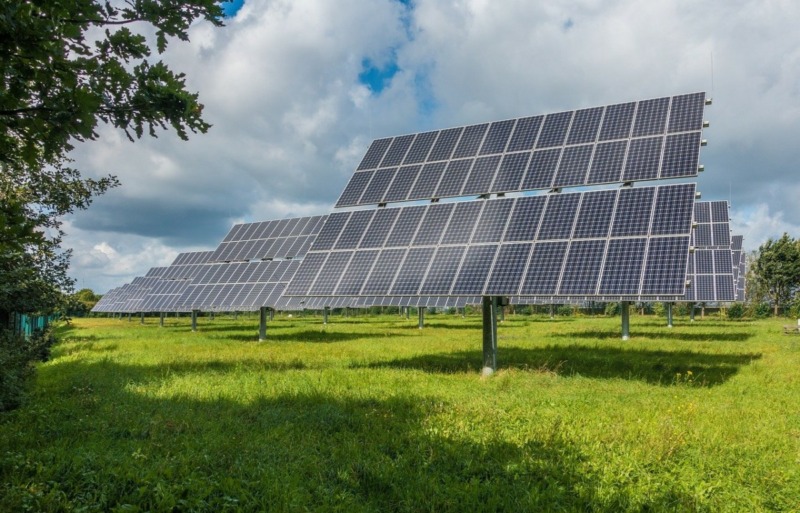 Cost is a major hindrance when it comes to installing solar panels. Most homeowners, around 97%, are held back from installing a solar system due to perceived high costs.
However, solar incentives and grants from the federal, state, and local governments, somewhat reduce that cost. The only challenge comes in when trying to pinpoint the best incentives for you.
Here are some good examples of incentives, discounts, and rebates you can try out.
1. Federal Government Incentives
The federal government is the first major advocate for renewable energy. For this reason, all taxpayers are eligible to claim part of the expenses incurred in installing a solar system, up to 26% (solar investment tax credit).
This program is managed by the Residential Renewable Energy Tax Credit and you can only claim expenses for your own home, where you also live in.
Some of the qualified costs for the claim include system assembling and installation, on-site labor, wiring and piping costs related to the installation, etc. The good thing is that if the tax credit exceeds your tax liability, it can be carried forward to the following year.
This tax credit is designed to decrease to 22% by 2023, and thereafter to a permanent 10%, only for commercial solar installations. This means by 2024, ITC will no longer benefit homeowners.
2. State Incentives
Like the federal government, many states also offer their residents various incentives to encourage the shift to renewable energy use. These incentives work in a similar manner to that of the federal government and you should find out what your state offers.
While various states have different incentives, almost all of them range between $500 to $5,000. Some cities will also offer extra rebates which encourage solar systems installations by reducing the average solar panel cost per square foot.
3. Solar Panel Rebates
These are rebates offered by the states, solar panel manufacturers, and utility companies. They are designed to reduce the burden of solar system installation on the final consumer.
The rebates are paid to the installer, who in return passes the savings to the homeowner.
4. Solar Renewable Energy Credits (SRECs)
These are tax credits that a homeowner receives for every megawatt-hour (MWh) their solar system produces. Therefore, if a homeowner has a system generating 6 MWh, they receive 6 credits per year.
But how do you benefit from the credits?
Homeowners are free to sell these credits to utility companies in an open market. How much the credit goes for is determined by prevailing market conditions (supply and demand).
One thing you should, however, the note is that SRECs should be reported to the IRS. They are part of the property owner's income for that year.
Here are some states with active SRECs:
Delaware
New Jersey
Maryland
Massachusetts
Pennsylvania
Washington D.C.
Illinois
Ohio
North Carolina
Massachusetts, however, is not accepting new installations.
5. Net Metering
For homeowners, net metering is one incentive that reduces the long-term cost of solar installation. It is specially designed to benefit homeowners with their residential solar panels.
Each kWh your system produces earns you one kWh that is deducted from your electricity bill. Net metering is meant to ensure that you benefit from every kWh your system generates.
The excess electricity from your system is transferred to the main grid.
6. Tax Breaks
Tax breaks are tax incentives that aim at reducing the cost of solar panel installation, although indirectly. Unlike other incentives that benefit residential solar owners with direct credits, this one is different.
On the contrary, tax breaks help homeowners avoid sales and property taxes they might have paid.
The tax breaks don't offer any kind of additional savings in the long run. They usually include sales tax and property tax exemptions.
Sales tax exemptions lower the initial solar panel's cost. On the other hand, property tax exemptions help owners to void extra taxes on their property, due to increased home value resulting from the solar system's installation.
7. Performance-based Incentives (PBIs)
PBIs are ongoing incentives for electricity generation. They are performance-based, meaning that they benefit the solar system owner directly for the amount of electricity generated.
They are paid as bonuses to the solar owner, although the amounts are not big.
See related: Community Solar vs Rooftop Solar: What's Better?
Actual Solar Panel Cost Per Square Foot
The average solar panel cost per square foot ranges between $4 and $10. However, many installers estimate solar costs in terms of the number of watts needed to feed your home energy needs.
This usually ranges between $2.53 and $3.15 per watt. The cost is estimated before tax incentives and credits. Besides the home size, solar panel cost per square foot also depends on the roof size and design, as well as the type of panels and your energy needs.
Here is a cost estimation of the cost of installing a solar system, based on your home's size.
| | |
| --- | --- |
| Home size in square foot | Average cost (in $) |
| 1,000 | 4,760 – 5,950 |
| 1,500 | 7,140 – 8,925 |
| 2,000 | 9,520 – 11,900 |
| 2,500 | 11,900 – 14,875 |
| 3,000 | 14,280 – 17,850 |
Generally, the more energy you need to run your household, the higher the costs will be of installing the solar system. If you don't have many appliances that keep running or are not always in the house, your energy needs will reduce and so will the cost of a new solar installation.
Commercial Solar Panel Cost Per Square Foot
The size and the type of your commercial solar system will determine the cost of solar panel cost per square foot. The larger the solar system, in kW or MW, the higher the cost.
For example, a commercial solar system between 10 kW and 2 MW will cost around $1.83 per watt. Larger systems beyond 2 MW costs a bit lower around $1.06 per watt.
If you want to install a solar system for your small or mid-sized business, it will cost you around $43,000 to $175,000 for systems between 25kW and 100 kW.
With commercial solar systems, you will likely recover up to 45% of your solar panel costs in one year from rebates and tax credits.
Types of Solar Panels
There are four main types of solar panels: monocrystalline, polycrystalline, shingles, and thin film. Each type has its own advantages and disadvantages.
Exploring each one of them will help you decide which one best fits your home or business.
1. Solar Roof Shingles
Solar roof shingles are a type of solar panel that is designed to look like regular roof shingles. They are made up of small solar cells that convert sunlight into electricity. Solar roof shingles can be installed on top of an existing roof, or they can be used as the primary roofing material.
These solar panels have been around for decades. Many homeowners choose to install them on their homes because of their aesthetic appeal and durability.
Generally, they can withstand high winds, hail, and other extreme weather conditions. Also, they have a longer lifespan (up to 30 years) which is quite impressive.
Each solar shingle can generate between 13 and 17 watts of energy. Installing these panels will cost you around $21 to $25 per sq. foot.
2. Monocrystalline Solar Panels
Monocrystalline solar panels are made from a single piece of pure silicon. They are the most efficient type of solar panel and can convert up to 22% of sunlight into electricity.
These solar panels are typically more expensive than other types of solar panels, but they produce more power per square foot. They also have a longer lifespan (up to 30 years) and come with longer warranties.
To top it all, Monocrystalline solar panels are less likely to be damaged by extreme weather conditions such as high winds, hail, or heavy snowfall.
3. Polycrystalline Solar Panels
Unlike Monocrystalline solar panels, Polycrystalline panels are made from several pieces of silicon molten together. They are, however, less efficient than monocrystalline solar panels, but they are also less expensive. On average, these types of solar panels can convert up to 17% of sunlight into electricity.
The solar panels tend to be larger in size than monocrystalline solar panels. They are also significantly heavier than their counterparts.
Polycrystalline solar panels have a shorter lifespan (20-25 years) compared to monocrystalline solar panels. But, at least they are cheaper than monocrystalline ones, covering for the lower efficiency level.
4. Thin-film Solar Panels
These are the newest kids on the block. And while they are not as popular with home users, their use has continued to grow over time.
These types of solar panels are made by rolling several layers of semiconductor materials such as silicon, copper indium gallium selenide, and cadmium telluride.
Compared to other types of solar panels, thin-film solar panels are the least efficient ones. They only convert up to 14% of sunlight into electricity, producing less power per square foot.
However, they are less expensive than most other solar panels. Their lifespans range between 20 to 25 years. And, they are an excellent alternative to solar roof shingles.
See Related: How Much Does a Solar Battery Cost?
Best Solar Panels for Home
So, what are the best solar panels for home use? The answer to this question depends on your needs and budget. SunPower continues to outperform in average efficiency according to our data compiled.
Also, Tesla makes for a great option given the ability to pair the panels with a high-efficiency Powerwall battery storage system.
If you want the most efficient solar panels available, then monocrystalline solar panels are the way to go. However, if you're looking for lower solar panel cost per square foot, polycrystalline or thin-film solar panels are good choices.
Some of the best names when it comes to solar panels for your home include:
| | |
| --- | --- |
| Brand | Average Efficiency |
| SunPower | 22.8% |
| LG | 22.1% |
| REC | 21.9% |
| Panasonic | 21.7% |
| REC | 21.4% |
| Canadian Solar | 21.4% |
| Q CELLS | 20.45% |
| AXITEC | 20.45 |
The first four brands are the most popular, and it's not without a good reason. They are known for their high efficiency, durability, long warranties (25 years), and competitive pricing.
Best Solar Panels for Business
Just like residential solar panels, the best solar panels for businesses will also depend on the level of energy consumption and budget.
Some excellent options here include:
This solar system contains 144 solar cells, producing a maximum power of 450W. It is a monocrystalline type of solar panel, with an efficiency level of 20.2%.
Generally, it comes with a 25 years warranty on performance and a 15-year one on the product. This is certainly a great product to check out.
A high conversion efficiency reaching 23.4%, makes this an excellent solar panel choice for your business. This conversion rate is slightly higher than the market's average which falls between 20% and 23%.
These solar panels are covered with durable ETFE material, which makes them significantly hard to scratch or tear. They are also waterproof meaning you can even use them for your camping or fishing adventures.
SunPower is a leading manufacturer of high-efficiency solar panels. Their Performance Series solar panels are some of the most efficient on the market, converting up to 22% of sunlight into electricity.
This specific solar panel can generate a maximum of 420w from its monocrystalline PERC cells. Its efficiency level stands at 20.4%, which is high compared to many models in its range.
The best thing about this solar panel is that it offers a 25 years warranty both for performance and the product.
Canadian solar panels are quite popular in the commercial sector. This is mainly because of their efficiency, reliability, durability, and most importantly, affordability.
The Canadian HiKu 450w solar panel system offers an average efficiency level of 20.4%, generating around 450w maximum power. It's made of monocrystalline PERC cells, with power tolerance of 0 ~ + 5w.
When it comes to warranty, it offers a 12-year warranty on the product and a 25-year one on performance. So, when you think of solar panel installation, this one wouldn't be a bad choice.
FAQs
How much is a solar system for a 2000 sq ft house?
A solar system for a 2000 sq ft house is a photovoltaic system that generates electricity from sunlight. The cost of a solar system for a 2000 sq ft house varies depending on factors such as location, system size, and equipment quality. On average, a 6 kW solar system for a 2000 sq ft house costs around $15,000 to $30,000 before incentives and rebates.
How much is a solar system for a 2500 sq ft house?
A solar system for a 2500 sq ft house is a photovoltaic system that generates electricity from sunlight. The cost of a solar system for a 2500 sq ft house can vary depending on factors such as the location, the type of system, and the size of the system. On average, the cost of a solar system for a 2500 sq ft house can range from $25,000 to $50,000 before incentives and rebates.
How many solar panels do I need for a 1500 sq ft roof?
To determine the number of solar panels needed for a 1500 sq ft roof, it is important to consider the wattage of the panels, the average daily sunlight hours in the location, and the household's energy consumption. On average, a 1500 sq ft roof can accommodate between 18-24 solar panels, assuming each panel is around 250 watts and receives an average of 4-5 hours of direct sunlight per day.
However, it is recommended to consult with a solar panel installation professional to accurately determine the number of panels needed for your specific roof and energy needs.
How many solar panels do I need for a 1500 sq ft home?
Solar panels for a 1500 sq ft home require a specific number of panels to generate enough power. The number of solar panels needed for a 1500 sq ft home depends on several factors such as the amount of energy consumption, the climate of the area, and the type of solar panels used. On average, a 1500 sq ft home requires around 15-18 solar panels to generate enough power to meet its energy needs.
Related Resources