As businesses become more and more focused on sustainability, the need for software to help manage this process increases. Finding the right sustainability software to help manage business continuity can be crucial.
There are many different sustainability software programs available, so it can be challenging to determine which one is right for your business. Here is a list of the best software for sustainability management available, as well as a few tips for choosing the right one.
And to our countdown, let us look at some of the most reliable sustainability performance management software programs.
Best Sustainability Software Programs
SBC Solutions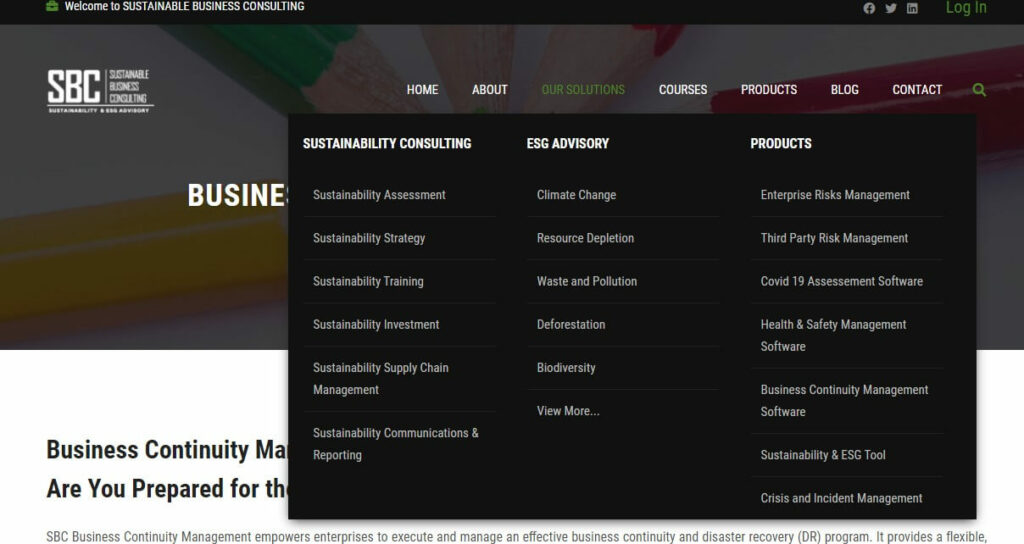 Sustainable business consulting (SBC) empowers businesses to execute and effectively manage their operations to ensure sustainability. SBC offers every client a quality management software solution, regardless of the business size.
With SBC, you can orchestrate business continuity planning, risk assessment, disaster tracking, and recovery action. It makes your business immune to uncertainties. In other words, it makes your organization futureproof.
SBS has provided a robust sustainability management platform with the best sustainability solution for you. It will strengthen your business resilience through well-coordinated and agile strategies.
Don't wait until disaster strikes you now that you know about SBC environmental management software. It offers sustainability consulting, ESG advisory, and products for every business. It is the most comprehensive sustainability program you can ever find for your needs.
Features summary:
Sustainability Assessment
Sustainability Strategy
Sustainability Training
Sustainability Supply Chain Management
Sustainability Communications & Reporting
Enterprise Risks Management
Third-Party Risk Management
Health & Safety Management
Sustainability & ESG Tool
Crisis and Incident Management
Logic Manager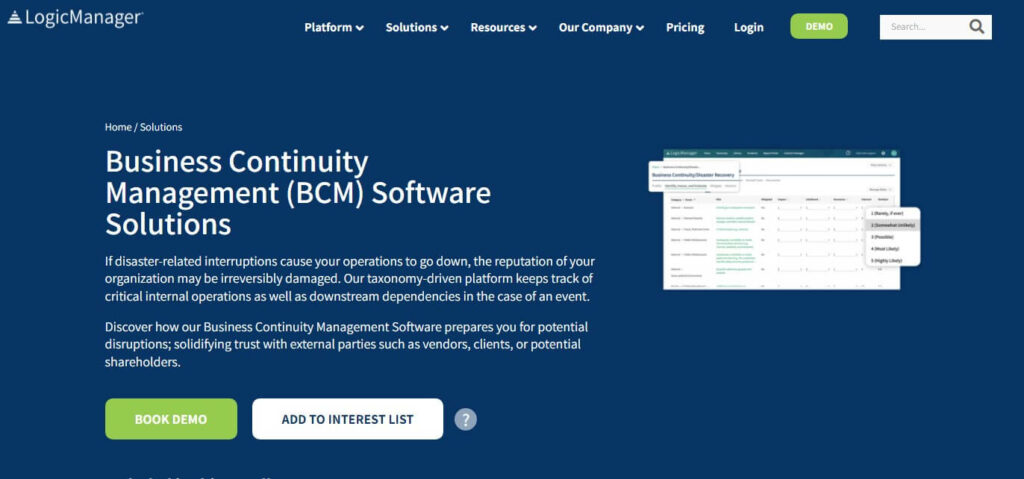 One of the reasons for sustainability management is to assess the risks and prepare for them in advance. No sustainability software does it better than Logic Manager. It can help you avoid potential disruption and cement the trust of your vendors, clients, customers, and other shareholders.
Logic Master offers a leading sustainability management platform that allows you better manage a crisis before it strikes. It is a centralized sustainability data collection, review, and analysis framework. This software allows you to easily access your business continuity and disaster recovery information for better planning.
Logic Master also covers compliance management, allowing you to report everything to the agencies. You can generate configurable reports and compliance checklists right from the platform.
Logic Master also has an intuitive business impact analysis template. You can use this feature to evaluate the criticality of every business process and identify a sustainable solution. It will help you manage risks by linking everything to your business continuity plan.
Feature summary:
Enterprise Risk Management
Audit Management
Business Continuity Management
Human Resources Management
Regulatory Compliance
Events & Incidents
IT Governance & Cybersecurity
Policy & Governance
Financial Controls
Vendor Management
Risk Management
Environmental, Social, and Governance
Browse Solution Library
Virtual Corporation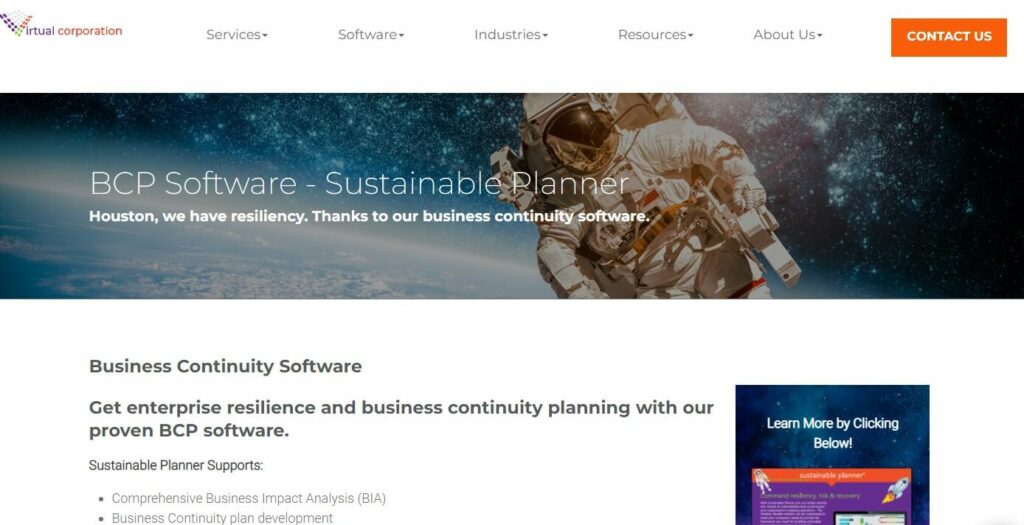 Virtual Corporation is a business continuity planning software that does just as its name suggests. It is a quality management software that improves resilience and risks recovery planning. Fortunately, it is one of the most affordable and customizable sustainability programs.
Virtual Corporation empowers you and your organization to build, update, and maintain your own continuity and risk management plans. These are all you need to meet your sustainability goals. It is the best choice for risk managers and information security professionals who want to optimize efficiency.
Virtual Corporation is, undoubtedly, one of the sustainability management software you should consider. It features a user-friendly administrative dashboard and other intuitive features that make it up to the task.
Besides, there are different options for your organization to choose from. If you want a Virtual Corporation sustainable solution, decide if you need cloud-based or on-site software you can host on your server. There is also a hosted option where the provider hosts a perpetual license.
The sustainability planner comes as a complete tool with everything you need to meet your needs. There are ready-to-deploy templates, but you can also enhance them to match your applications.
Feature summary:
Comprehensive Business Impact Analysis (BIA)
Business Continuity plan development
IT Disaster Recovery
Risk mitigation
Data protection and recovery
Incident management and critical communication
Analyze exposure and enhance preparedness
Control communications
Mitigate disaster recovery
Benchmark ESG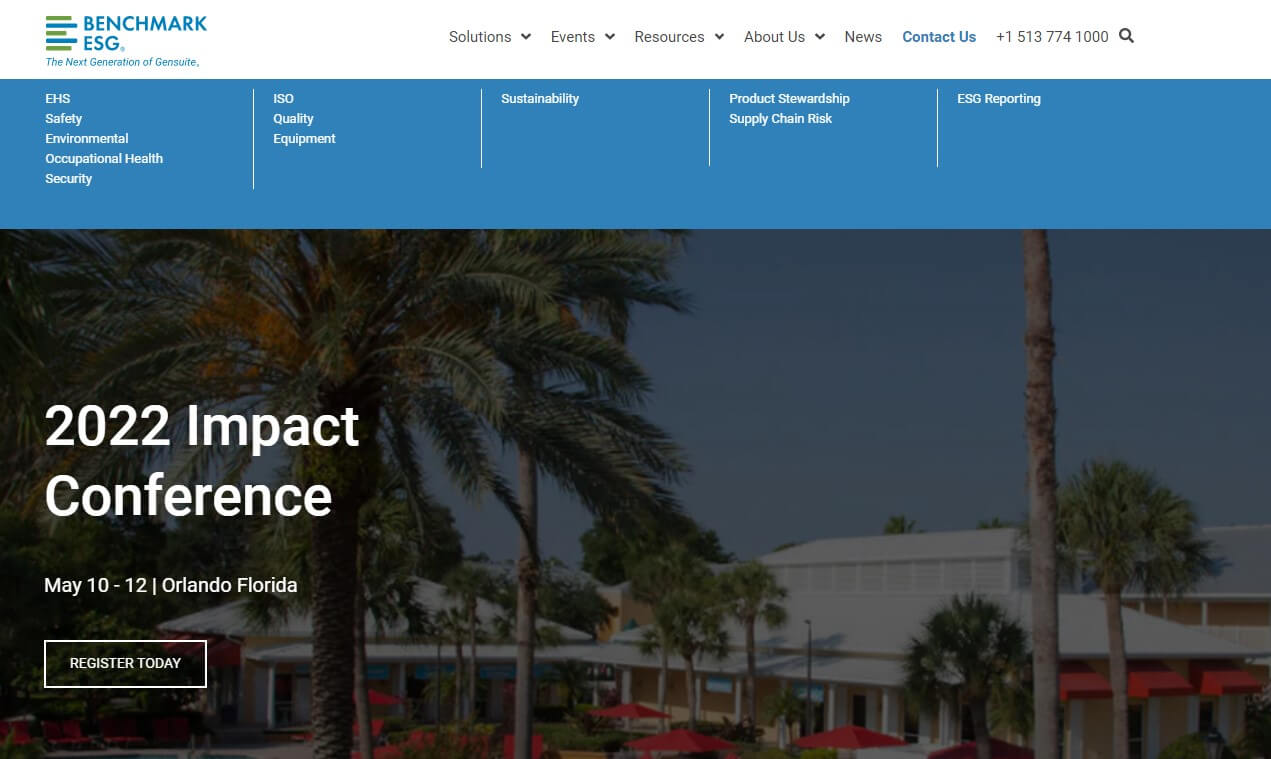 Benchmark ESG is a cloud-based environmental, social, and governance software for risk and compliance management. Over 120 companies trust the software for its intuitive features and best-in-class functionality.
Benchmark ESG can help you and your organization to operationalize your ESG programs. It has many applications focused on environmental, health, safety, responsible sourcing, sustainability, security, and quality.
Benchmark ESG is an already proven quality management software with capabilities to fit any business model. It is flexible, configurable, scalable, and seamlessly integrates with mobile applications. You can choose your preferred language from over 16 possibilities if you subscribe to it.
Benchmark ESG is praised by clients worldwide for its faster return on investment. That is so because it can be implemented individually or collectively to meet specific business requirements. You can additionally configure it to offer maximum ROI.
Feature summary:
Communications Management
Compliance Management
Corrective and Preventive Actions
Document Coding & Control
Document Management
Emissions Inventory
Equipment Management
Forms Management
Hazardous Materials Management
ISO Standards Management
Incident Management
Incident Reporting
Industrial Safety Management
Inspection Management
Issue Management
Maintenance Management
Mobile Access
OSHA Recordkeeping
Occupational Health Management
See Related: Best Sustainable Business Examples to Follow
EHS Insight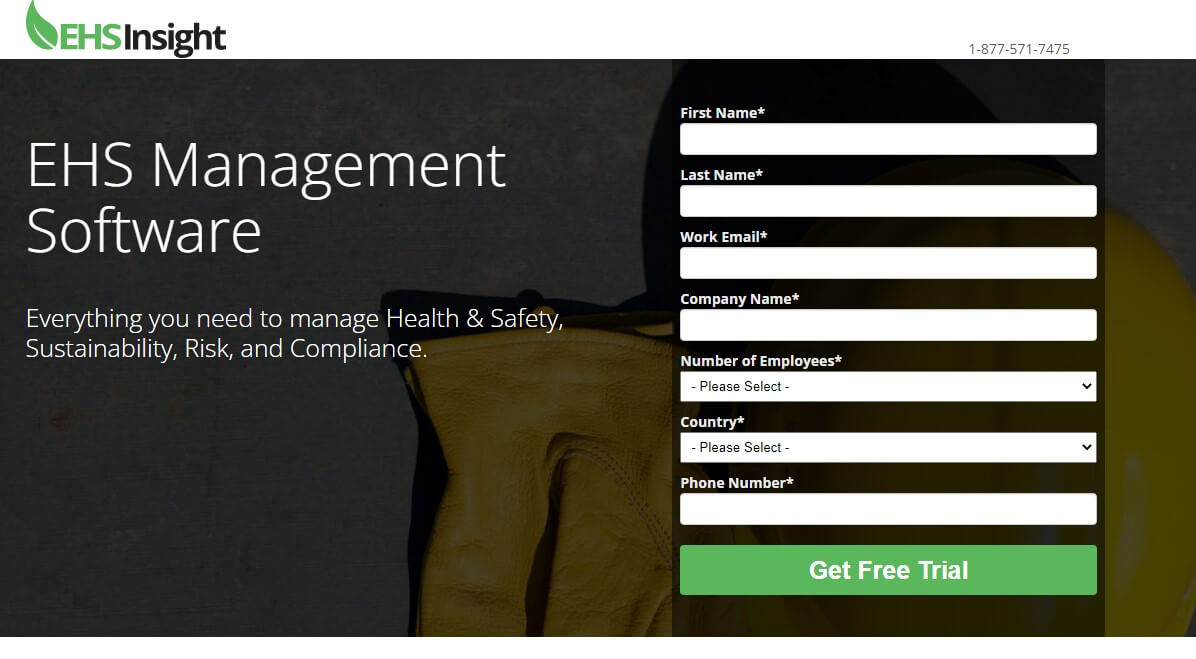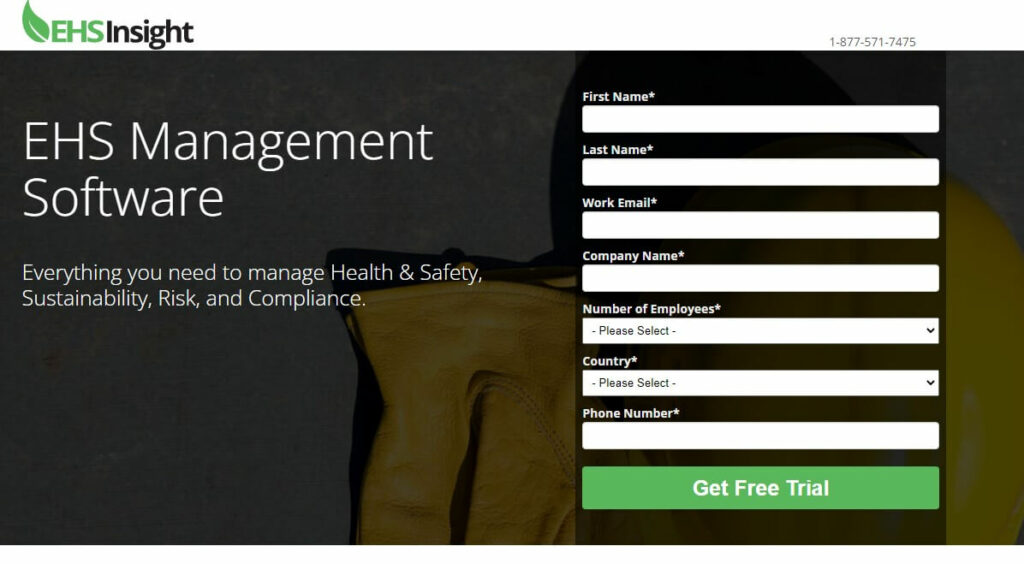 EHS Insight management software is all you need to manage health and safety, sustainability, risk, and compliance. It offers the best value for your investment, making it one of the best sustainability software programs.
EHS Insight is affordable. You spend less on a full-scale environmental management solution. Besides, it is easy to set up. You will have it up and running in just a few minutes. And if you face any problems when deploying it, you can get help from the support team.
EHS Insight is also an incident reporting software. You can use it to report and track injuries and illnesses by the company's regulations and industry standards.
Complete your auditing and inspection on time with EHS Insight. You can use the standard checklists offered on the platform or customize your own. The software reduces your reporting time by half, and you can ensure that all your obligations are met.
Another worthy feature of EHS Insight that makes it appear on this list is sustainability. You can use it for sustainability data collection and apply KPIs to determine how you are doing compared to your peers. It allows you to analyze the data and evaluate general trends.
Feature summary:
Incident Management
Audit Management
Training Management
Near Misses
Root Cause Analysis
Compliance Obligations
Work Observations
Environmental Spills
Nonconformance Management
Actionable insights
Report and track hazardous conditions in the workplace
Track participation in meetings
See Related: Lockheed Martin Corporation ESG Profile (LMT): Is It Sustainable?
Metrio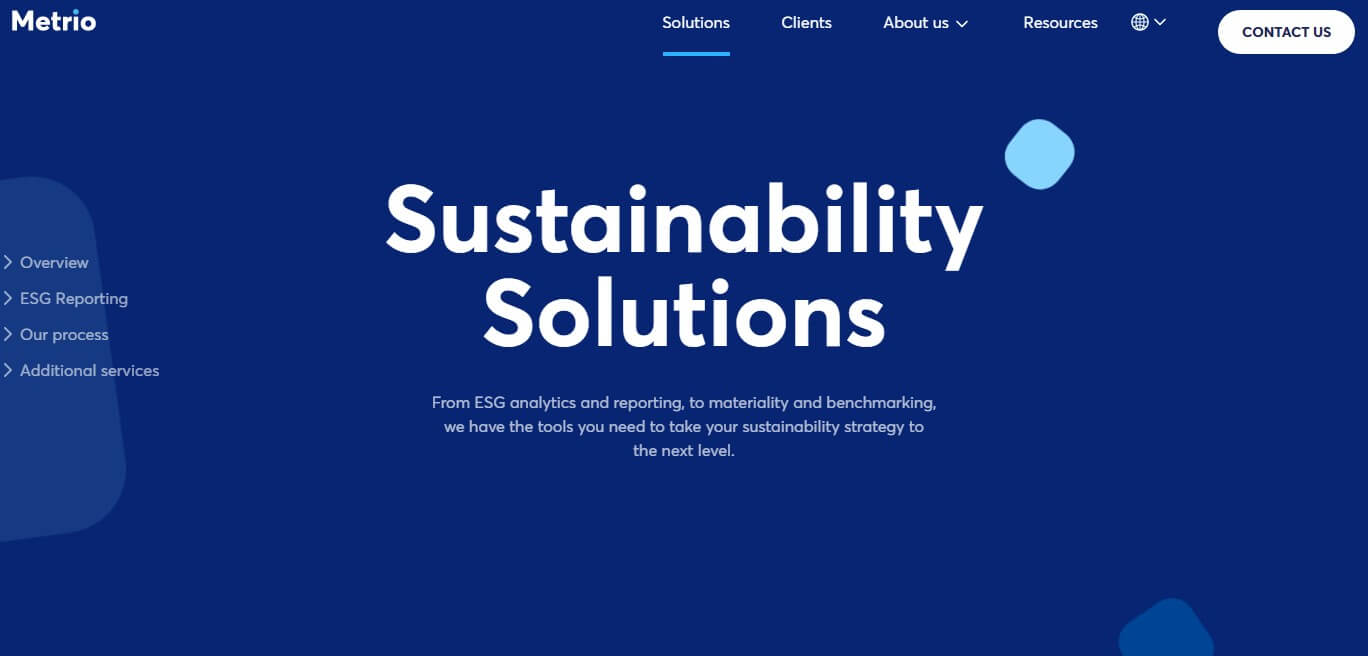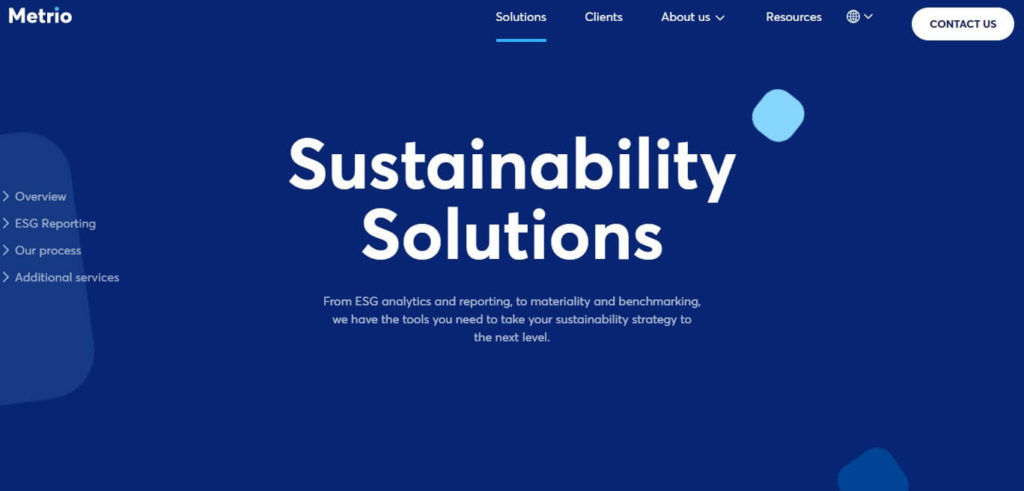 Metrio is one of the most reliable sustainability reporting software programs on this list. It provides an enterprise report production platform and all the tools you need to take your sustainability strategy to the next level.
Metrio is business software for sustainability management. You can use it to make sustainability part of your business narrative. Metrio enhances your relationship with investors, ESG rating agencies, employees, clients, communities, and customers.
You can make your sustainability initiative known to all stakeholders by creating a compelling report from your ESG data. It gives you analytics to extra information that would otherwise disappear in the data pile.
Metrio offers the best way to incorporate suitability into your business operations, strategies, and communication. That is possible through timely and accurate insights. The environmental management software automatically calculates and updates KPIs to save you time for more profitable tasks.
Metrio is a reliable environmental, social, and governance reporting software that creates trust with investors. It accurately reports your sustainable performance and frequently updates investors and ESG rating agencies. Every process is carried out transparently, with seamless access to sustainability and ESG data.
Feature Summary:
Audit Management
Benchmarking
Compliance Management
Corrective Actions (CAPA)
Emissions Management
Employee Training
Energy Management
Incident Management
Performance Metrics
Stakeholder Engagement
Supplier Management
Waste Management
Compliance Management
Emissions Inventory
Sustainability Management
See Related: Best Real Estate Investing Software Solutions
ProActivity
ProActivity offers environmental and sustainability solutions that help maintain a strong foundation of compliance. It manages ISO 14001 requirements, tracks air emissions to reduce carbon footprint, and identifies opportunities for improvement.
ProActivity is designed with different environmental legislations in mind. ISO 14001 and EPA regulatory requirements are some of the problems it addresses. It alerts the business leaders of any regulation change and offers suggestions on remaining compliant.
ProActivity boasts an intuitive and responsive dashboard that allows the business leader to manage compliance tasks and actions across the organization. It also sends an email alert informing everyone of any pending or coming activity.
Simplify your ESG data management and sustainability reporting using ProActivity. It can help you set targets and track progress toward achieving them. This sustainability management software saves time collecting and analyzing data and reporting to third parties.
Feature Summary:
Activity Dashboard
Air Management
Alerts/Notifications
Archiving & Retention
Audit Management
Audit Planning
Benchmarking
Compliance Management
Compliance Tracking
Controls Audit
Corrective and Preventive Actions (CAPA)
Dashboard
Document Management
Emissions Inventory
Emissions Monitoring
IntegrityNext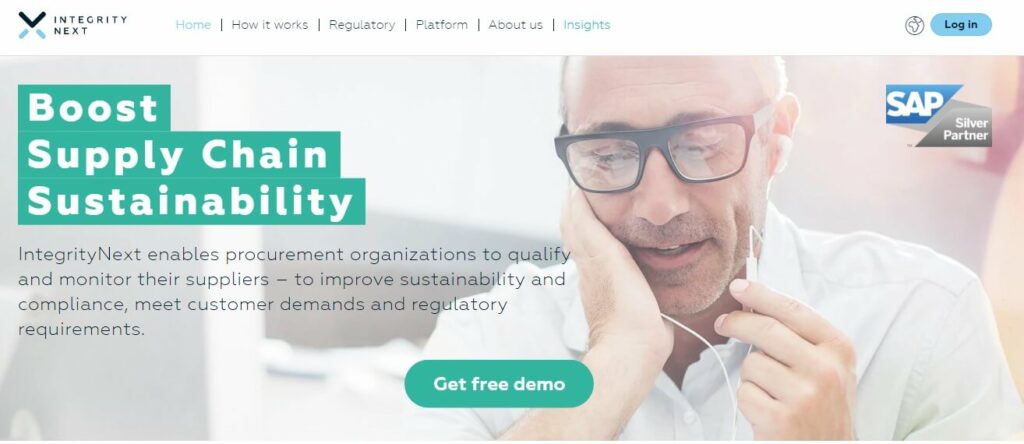 IntegrityNext is the leading provider of sustainability management solutions that boosts the supply chain. It allows procurement organizations to qualify and track their suppliers. This helps in sustainability planning and management compliance to meet customer demands and regulatory requirements.
IntegrityNext is one of the best sustainability programs that monitors 100% of your suppliers with AI. It assists in monitoring the social media messages of all the clients you upload onto the platform. That gives you instant access to data containing background information. If you see any red flags, that supply cannot be part of your supply chain.
Secure our supply chain with IntegrityNext. The software gives you supplier self-assessments and certificates, ensuring you only work with credible people. You can also get an instant CSR report for tracking sustainability objectives.
Feature Summary:
Alerts/Notifications
Compliance Management
Corrective and Preventive Actions (CAPA)
Energy Management
Environmental Compliance
ISO Compliance
KPI Monitoring
Legal Risk Management
OSHA Compliance
Performance Metrics
Reputational Risk Management
Response Management
Risk Assessment
Sarbanes-Oxley Compliance
Goby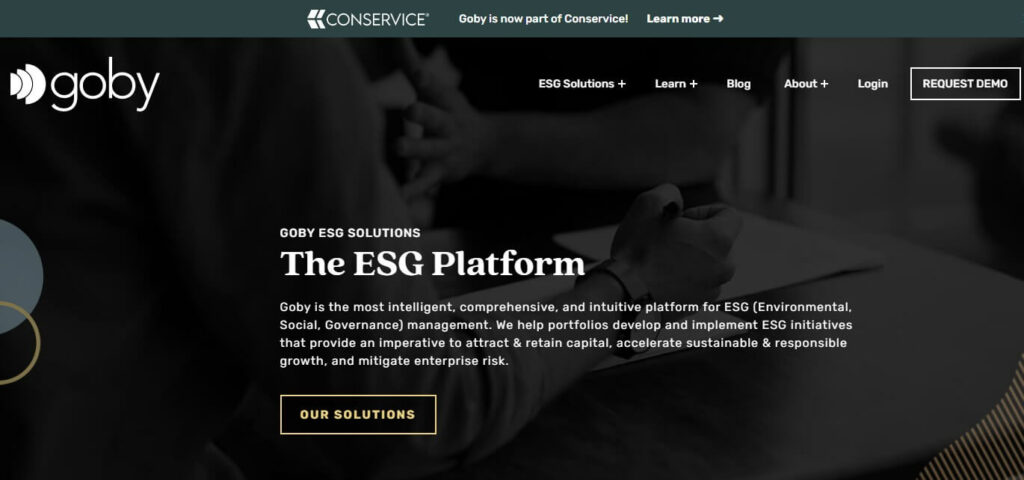 Goby is one of the most intelligent, comprehensive, and intuitive platforms for ESG management. It helps companies worldwide to develop and implement ESG initiatives that attract and retain capital, manage risk, and accelerate sustainable and responsible growth.
Goby drives smarter decisions, applying AI and RPA to change a pile of data into actionable insights. It is a hybrid platform comprising SaaS and strategic professionals for sustainability management.
Goby provides easy-to-use software that makes ESG simpler and more accessible. You don't need the expertise because it is designed for every business leader.
Feature summary:
Activity Dashboard
Risk Management
Workflow Management
Compliance Management
Compliance Tracking
Archiving & Retention
Emex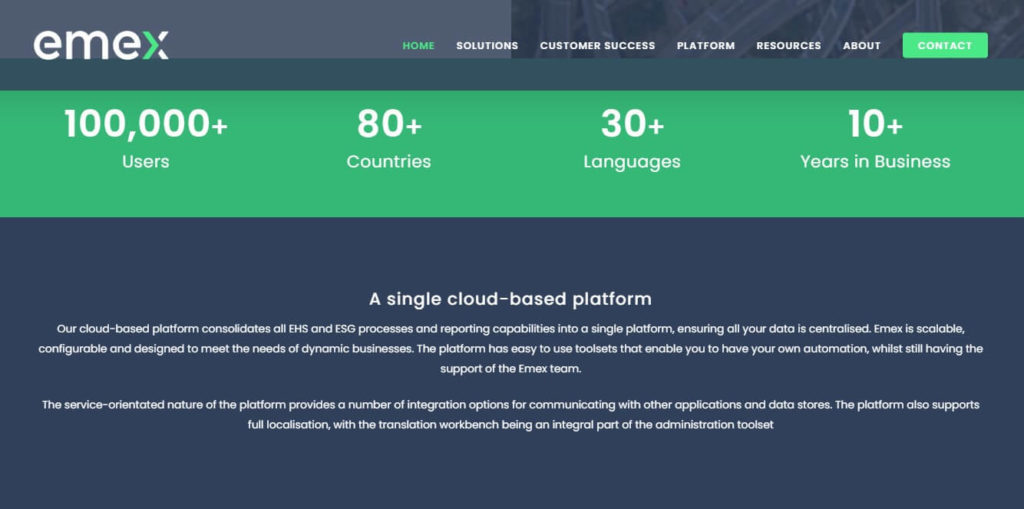 Emex boasts a fast integration capability to sit within any ERP environment. It is the best business software for sustainability and ESG. But you can also use it for EHS management and compliance.
Emex can track and quantify important sustainability metrics for your business and stakeholders. It features comprehensive data collection across different sectors, including supply chain, people, governance, and environment.
Emex has accurate tools for tracking your sustainability goals and assessing impacts. That is possible through performance metrics. It also has analytics that helps you get information from data collected.
Emex centralizes, integrates, and automates the management of EHS compliance within your organization. The software helps you identify trends, manage risks, reduce incident reporting time, and constantly engage workers.
Emex offers a configurable, scalable, all-in-one solution that allows clients to achieve their sustainability targets. The software makes that possible through streamlined data collection, improved data quality, and actionable insights.
Feature summary:
Audit Management
Benchmarking
Compliance Management
Corrective Actions (CAPA)
Emissions Management
Energy Management
Incident Management
Performance Metrics
Stakeholder Engagement
Supplier Management
Waste Management
Safety Management
Risk Management
Energy Management
Emissions Management
EHS Management
Sustainability Software Overview
Many organizations use sustainability software to reduce their environmental impact. Companies can minimize their carbon footprint by lowering carbon emissions and waste, as well as ensuring that their goods and processes are appealing to customers. This guide explains why sustainability performance management is important before making a purchase.
Let us take a look at this: What exactly is Sustainable Software? What's the role of sustainability in software applications? What are some software industry trends to be aware of?
What is sustainability software?
Sustainability solutions are useful for managing all the data generated by a company's activities, from manufacturers to building maintenance to fleet upkeep.
Assessing long-term sustainability in environmental matters entails gathering much data on building and infrastructure electricity, water usage, and fuel costs.
This necessitates collecting extensive information on the buildings' & infrastructure's electricity and water consumption, as well as prices for petrol and other sources.
The program analyzed this information to optimize efficiency to provide efficient monitoring dashboards and frequently links with existing Building Management Systems.
Common features of sustainability software
Sustainability software can store and process data, conduct audits, and monitor sustainability management. This can include the following features in the software program to ensure you have the right tools to improve your sustainability efforts:
A data management system to store and track all of your sustainability data to deploy and improve your sustainability strategy
An analytics engine to help you understand your data and make informed decisions
Tools to benchmark your performance against others in your industry or geography for sustainability reporting
Sustainability reporting tools to communicate your progress to key internal and external stakeholders
Industry trends in software for sustainability
Sustainability software is becoming more popular as companies seek to reduce environmental impact. The following are some industry trends to be aware of when considering sustainability software:
The growth of cloud-based solutions, which allows users to access the software from anywhere with an internet connection
The increasing demand for mobile apps that allow users to collect data on the go
The increasing use of data visualizations to make data more easily understood
The growing popularity of social media platforms for sharing information and collaborating on projects
When choosing a sustainability software program, it is crucial to consider the needs of your business. So, what is the best sustainability software to manage your business? According to experts, some of the top programs can help you reduce your environmental impact, optimize resources and save money.
See Related: Under Armour, Inc. ESG Profile (UAA): Is It Sustainable?
Tips for choosing the right sustainability software
1. Determine your business's needs
When choosing a sustainability software program, it is important to determine what your business needs. The program should be customizable to meet the specific needs of your organization.
2. Consider how the software will be used
The software should be easy to use and handle the data your business generates.
3. Make sure the software is compatible with your existing systems
The software and data collection should be compatible with your existing systems to make data collection and analysis easier.
4. Ask for a trial or demo
It is important to test out the software before purchasing it to ensure it is the right fit for your business.
5. Read reviews
It is also helpful to read reviews of the software for sustainability to understand better what they offer and the user experience. Choosing the right sustainability software can be difficult, but following these tips will help you find the best program for your business.
FAQ
What is an example of environmental sustainability?
Environmental sustainability examples depend on your niche. Solar, wind, biomass, and hydroelectric power are examples in the energy sector. But if you are in agriculture, you can mention crop cover, smart water usage, and crop rotation.
What are the 4 pillars of sustainability?
The four pillars of sustainability include human, social, economic, and environmental. These factors form the KPIs used for evaluating businesses and companies.
How can you promote environmental sustainability?
There are many ways of achieving environmental sustainability, but it all depends on your industry and business. You can think of going paperless, using renewable energy sources, recycling and reusing, saving natural resources, etc.
What does sustainability mean in everyday life?
It means making the right decisions today to improve the planet tomorrow. Sustainability thinking is when you get more concerned about future generations and make the world a better place for them today.
Why are sustainability and environmental management important?
Managing environmental sustainability helps conserve natural resources for the future generation. It also benefits the current generation and business by increasing staff morale, improving profit margins, and sourcing top talents.
Related Resources
Kyle Kroeger, esteemed Purdue University alum and accomplished finance professional, brings a decade of invaluable experience from diverse finance roles in both small and large firms. An astute investor himself, Kyle adeptly navigates the spheres of corporate and client-side finance, always guiding with a principal investor's sharp acumen.
Hailing from a lineage of industrious Midwestern entrepreneurs and creatives, his business instincts are deeply ingrained. This background fuels his entrepreneurial spirit and underpins his commitment to responsible investment. As the Founder and Owner of The Impact Investor, Kyle fervently advocates for increased awareness of ethically invested funds, empowering individuals to make judicious investment decisions.
Striving to marry financial prudence with positive societal impact, Kyle imparts practical strategies for saving and investing, underlined by a robust ethos of conscientious capitalism. His ambition transcends personal gain, aiming instead to spark transformative global change through the power of responsible investment.
When not immersed in the world of finance, he's continually captivated by the cultural richness of new cities, relishing the opportunity to learn from diverse societies. This passion for travel is eloquently documented on his site, ViaTravelers.com, where you can delve into his unique experiences via his author profile.