Sustainable consumption and production (SCP) is a crucial approach for addressing global environmental challenges and ensuring a better quality of life for current and future generations.
The concept entails responsible use of goods and services, emphasizing minimizing natural resources, toxic materials, and waste emissions throughout their life cycles. By adhering to SCP principles, societies can thrive without jeopardizing the ability of future generations to meet their needs.
In recent years, sustainable consumption and production have gained traction as a vital component of economic development and environmental protection. As part of the United Nations' 2030 Agenda for Sustainable Development, Goal 12 specifically calls for establishing SCP patterns. This emphasis on responsibility and sustainability underscores the need for individuals, businesses, and governments to adopt practices that minimize environmental impact, conserve resources, and promote long-lasting global prosperity.
To achieve sustainable consumption and production, various stakeholders must collaborate and foster a holistic approach in developing and implementing policies, technological innovations, and consumer education to ensure sustainable consumption.
Encouraging eco-friendly consumption habits, enhancing resource efficiency, and promoting sustainable business practices are crucial steps in this endeavor. By addressing the interconnectedness of these elements, societies can progress toward a more sustainable and equitable future.
Sustainable Consumption and Production Overview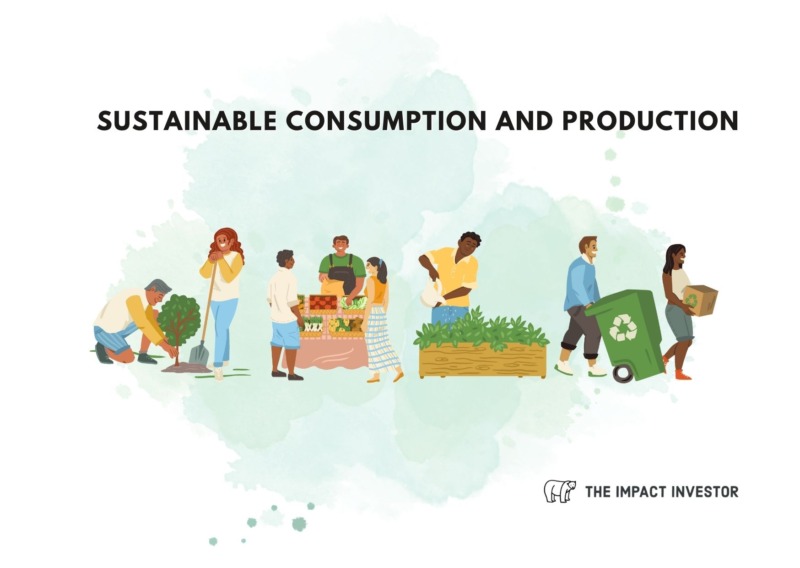 Sustainable consumption and production (SCP) is crucial to achieving a more sustainable and resource-efficient world. SCP focuses on doing more with less, balancing economic growth, environmental protection, and satisfying people's basic needs.
Incorporating sustainability across the entire lifecycle of products and services, SCP aims to minimize the use of natural resources, toxic materials, and waste generation. It promotes the efficient utilization of resources while preventing environmental degradation.
Sustainability reports play a significant role in understanding and addressing SCP. These reports offer insight into a company's or organization's environmental, social, and governance (ESG) performance. By assessing these factors, decision-makers can develop strategies to improve their sustainability efforts.
To foster sustainable consumption and production practices, key stakeholders need to collaborate across various sectors. Governments, businesses, and individuals all contribute to implementing effective SCP policies. Some strategies include:
Encouraging eco-friendly product design and manufacturing processes
Implementing waste reduction and recycling programs
Driving sustainable procurement across supply chains
Empowering consumers to embrace sustainable lifestyles
The urgency to adopt SCP cannot be understated, as our planet's resources are finite, and global demand continues to escalate. By integrating SCP measures into policies, operations, and daily life, we stand a better chance of preserving our planet for current and future generations.
Principles of Sustainable Consumption and Production
Sustainable consumption and production (SCP) encompasses a holistic approach that balances human needs with environmental preservation. It's about utilizing services and products to respond to basic requirements and enhance the quality of life while minimizing resource depletion, waste generation, and pollution throughout the product lifecycle.
One main principle of SCP involves sustainable management. This process focuses on the efficient use of resources, such as water, energy, and raw materials, in addition to preventing or reducing waste and releasing pollutants. Sustainable management ultimately contributes to reduced production and the mitigation of environmental harms, paving the way for conscientious suppliers and businesses.
Another significant aspect of SCP is the promotion of sustainable lifestyles. These lifestyles involve making informed choices and consuming products and services in ways that have a minimal adverse impact on the environment, society, and the economy.
Education and awareness campaigns play a crucial role in fostering this mindset. Sustainable lifestyles integrate recycling, energy conservation, and responsible purchasing, contributing to a healthier planet.
In summary, the principles of sustainable consumption and production aim to accomplish the following:
Embrace a holistic approach that addresses environmental, social, and economic concerns.
Promote sustainable management through efficient resource usage and the reduction of waste.
Foster sustainable lifestyles by encouraging informed decisions and responsible consumption.
By adhering to these principles, individuals, businesses, and governments can work together to create a sustainable future, ensuring that the planet's resources remain available for future generations.
Key Concepts
Decoupling
Decoupling refers to the process of separating economic growth from environmental degradation. It involves increasing resource efficiency and reducing the amount of resources needed for production while maintaining or improving the quality of goods and services. This concept is crucial in sustainable consumption and production as it allows societies to grow economically without negatively impacting the planet's capacity for providing essential resources and ecosystem services.
Life Cycle
The life cycle approach considers the environmental impacts of a product or service from its inception to its end-of-life. This includes analyzing every process stage, such as resource extraction, production, use, and disposal or recycling.
By assessing these impacts, businesses and consumers can make informed decisions on reducing negative consequences and promoting sustainable production practices. Incorporating the life cycle perspective into decision-making allows for a more comprehensive understanding of the true environmental and social costs of consumption.
Circular Economy
The circular economy is an economic model that aims to minimize waste and maximize the use of resources through the continuous circulation of materials in closed loops. Key principles of the circular economy include:
Design for longevity: Construct durable products that are easy to maintain, repair, and upgrade.
Optimize resource use: Choose materials and processes that minimize waste and energy consumption.
Recycle and reuse: This encourages the recycling and reuse of materials to create new products, reducing the need for virgin resources.
Implementing a circular economy approach helps businesses and consumers reduce their environmental footprint and promoting sustainable consumption and production patterns. By prioritizing resource efficiency, this model contributes to the overall goal of long-term sustainability.
See Related: How to Promote a Circular Economy: Tips for Sustainable Business Practices
Influence on Sectors
Sustainable consumption and production (SCP) plays a critical role in various sectors, and it is crucial for achieving long-term economic growth without depleting the environment. Implementing SCP features prominently in infrastructure development, public procurement, and sustainable public procurement (SPP).
Infrastructure is a vital component of any economy and a significant determinant of its environmental impact. By integrating SCP principles in the planning and constructing infrastructure projects, it is possible to minimize the use of natural resources, substantially reduce waste generation, and mitigate pollution. Green buildings, renewable energy facilities, and sustainable transportation systems are examples of SCP being implemented in the infrastructure sector.
In public procurement, governments can substantially influence sustainable consumption and production through their purchasing decisions. As large buyers, they can promote eco-friendly practices within supply chains and drive the private sector towards more responsible production. Governments can foster sustainable growth by adopting sustainable public procurement practices and policies while ensuring that environmental and social considerations are part of decision-making.
Sustainable public procurement (SPP) considers the entire life cycle of products and services while prioritizing environmental and social criteria. These may include energy efficiency, recyclability, and labor practices. SPP helps reduce the overall environmental footprint of public procurement activities, contributes to climate change mitigation, and supports the shift towards a circular economy.
Moreover, SCP can positively impact the agriculture, manufacturing, and tourism sectors. For instance, promoting sustainable agricultural practices can reduce soil degradation and water contamination while increasing food security.
In the manufacturing sector, implementing resource efficiency measures, reducing pollution, and responsible waste management can minimize the environmental consequences of production processes. As for the tourism sector, adopting sustainable tourism practices can help protect natural and cultural heritage, generate social and economic benefits for local communities, and reduce the negative environmental impacts.
By embracing SCP principles and practices, sectors can effectively contribute to sustainable development, mitigate environmental degradation, and secure a prosperous future for future generations.
Implementation Strategies
Implementing sustainable consumption and production (SCP) requires coordinated efforts from various sectors, including governments, private organizations, and stakeholders. Key strategies for promoting SCP involve the development of policies, using scientific and technological capacity, fostering stakeholder engagement, and adopting sustainable procurement practices.
Governments play a significant role in encouraging SCP by establishing policies and regulations that support environmentally friendly practices. These may include investing in renewable energy, implementing waste reduction initiatives, and incentivizing businesses to adopt greener practices. Moreover, governments can lead by example by adopting sustainable procurement, whereby they source goods and services with minimal environmental impact on their operations.
The private sector contributes to SCP by incorporating sustainable principles into its business models. Companies can adopt cleaner production methods, reduce waste, optimize resource usage, and develop products that minimize environmental footprints. Further, companies can engage in corporate social responsibility programs that address environmental issues, enhancing their reputation and fostering trust among consumers and stakeholders.
Stakeholders, such as environmental organizations and local communities, play an essential role in shaping SCP policies and influencing consumer behavior. Through awareness campaigns and advocacy, these stakeholders can steer public opinion towards sustainable consumption, encouraging a change in lifestyle choices and purchasing habits. Collaborative efforts among stakeholders also facilitate sharing knowledge and best practices, contributing to developing innovative solutions for SCP challenges.
Sustainable procurement is a vital tool in promoting SCP as it enables organizations to integrate their environmental and social values into purchasing decisions. It involves selecting suppliers based on criteria such as resource efficiency, recyclability, and the use of non-toxic materials. Organizations can demonstrate their commitment to sustainability, reduce environmental impact, and influence their suppliers to adopt greener practices by adopting sustainable procurement.
In conclusion, SCP implementation strategies involve the cooperation of governments, the private sector, and stakeholders in developing and enacting policies, engaging with various actors, and promoting sustainable and public procurement practices. These combined efforts will help to decouple economic growth from environmental degradation and ensure the long-term sustainability of our planet.
Role of National and International Organizations
National and international organizations significantly support developing countries in promoting sustainable consumption and production (SCP). Their initiatives balance economic growth, social development, and environmental protection.
Sustainable Consumption and Production in Developing and Developed Countries
UNEP actively supports the SCP agenda through the 10-Year Framework of Programmes on Sustainable Consumption and Production Patterns (10YFP), a global commitment endorsed by the Rio+20 conference to expedite action on SCP worldwide. UNEP and other organizations like the Department of Economic and Social Affairs work together to facilitate the implementation of 10YFP in both developing and developed countries.
Sustainable Development Goals (SDGs), specifically Goal 12, outline targets and indicators for ensuring SCP patterns to achieve the 2030 Agenda for Sustainable Development. International organizations, including UNEP, monitor the progress of nations towards achieving these targets.
The World Summit on Sustainable Development, held in 2002, laid the foundation for sustainable consumption and production as a critical aspect of sustainable development. It emphasized the need for a joint effort from governments, businesses, and individuals to address the challenges of unsustainable consumption and production patterns.
Collaboration between national institutions and international organizations such as the United Nations, World Bank, and World Trade Organization is pivotal in providing technical and financial assistance to develop national policies and initiatives targeting SCP. They also facilitate knowledge sharing and capacity building among different countries.
SCP challenges in developing countries primarily revolve around alleviating poverty and promoting equitable access to resources while minimizing environmental impacts. Developed countries, on the other hand, focus more on minimizing resource-intensive lifestyles and encouraging sustainable practices across all sectors.
In conclusion, the role of national and international organizations is crucial in monitoring sustainable development impacts fostering SCP across the globe. By working together, these entities help address the unique challenges developed and developed nations face and contribute to building a more sustainable future for all.
Economic Aspects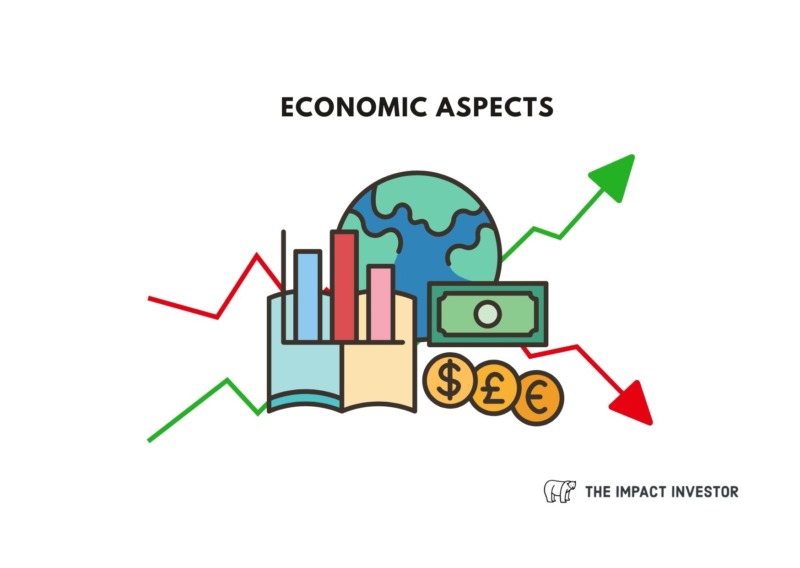 Economic growth relies on sustainably leveraging resources. For years, the primary focus was on increasing GDP, but this approach often resulted in resource depletion and environmental degradation. Sustainable consumption and production is about doing more and better with less, striving to maintain economic progress without sacrificing environmental health.
A significant issue contributing to environmental problems is the presence of inefficient fossil fuel subsidies everywhere. These subsidies result in artificially low prices for fossil fuels, encouraging their overuse and delaying the transition to more sustainable energy sources. Phasing out fossil-fuel subsidies and shifting to cleaner energy options can sustainably promote economic growth.
Resource efficiency plays a crucial role in decoupling economic growth from environmental impact. By optimizing the use of resources, businesses can minimize waste, reduce costs, and increase competitiveness. Improving resource efficiency can also lead to innovation, creating new markets and job opportunities.
It is essential to integrate responsible consumption and production practices into economic policies. Governments and businesses must work together to create strategies that promote sustainable lifestyles, enabling societies to produce and consume without compromising the well-being of future generations. By harmonizing economic development with environmental sustainability, we can protect our planet while fostering prosperity for all.
See Related: Best Circular Economy Jobs to Start Your Sustainable Career
Environmental Impacts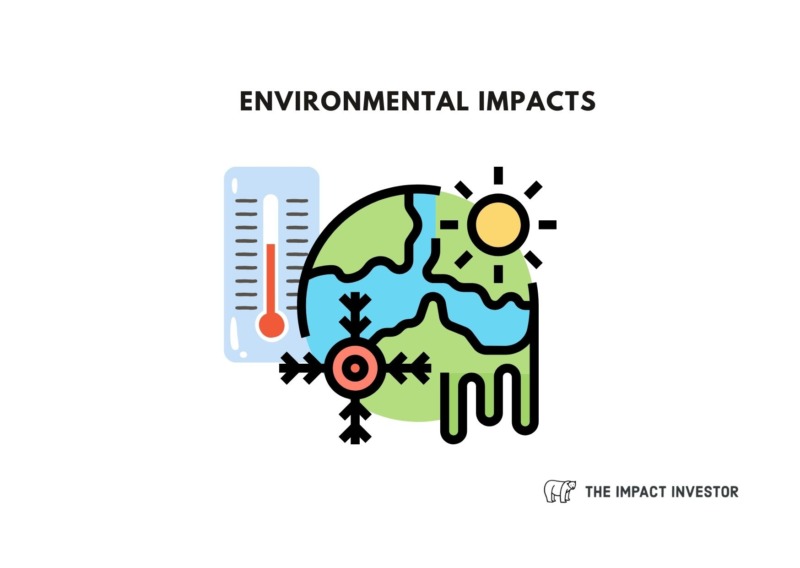 Sustainable consumption and production aims at reducing the environmental degradation caused by human activities. This is achieved by minimizing the use of natural resources and toxic materials, as well as emissions and pollutants from the life cycle of products and services.
The impact of unsustainable consumption and production patterns on the environment has been severe, resulting in increased greenhouse gas emissions and pollution. This damages ecosystems and biodiversity and contributes to climate change and other long-term consequences.
Practicing sustainable consumption and production can significantly reduce greenhouse gas emissions. By opting for cleaner production methods, energy-efficient technologies, and renewable energy sources, businesses can lower their carbon footprint and positively affect climate change efforts.
Moreover, reducing pollution is another crucial aspect of sustainable consumption and production. By limiting the use and release of harmful substances, businesses can decrease the negative impact on air, water, and soil quality. This, in turn, benefits ecosystems and human health.
Resource management is pivotal in sustainable consumption and production, as responsible resource use helps preserve scarce natural resources for future generations. This can be achieved by maximizing resource efficiency, adopting recycling practices, and promoting a circular economy.
By adopting sustainable consumption and production, we can minimize our impact on the environment, mitigate climate change, and ensure a better quality of life for current and future generations.
Social Aspects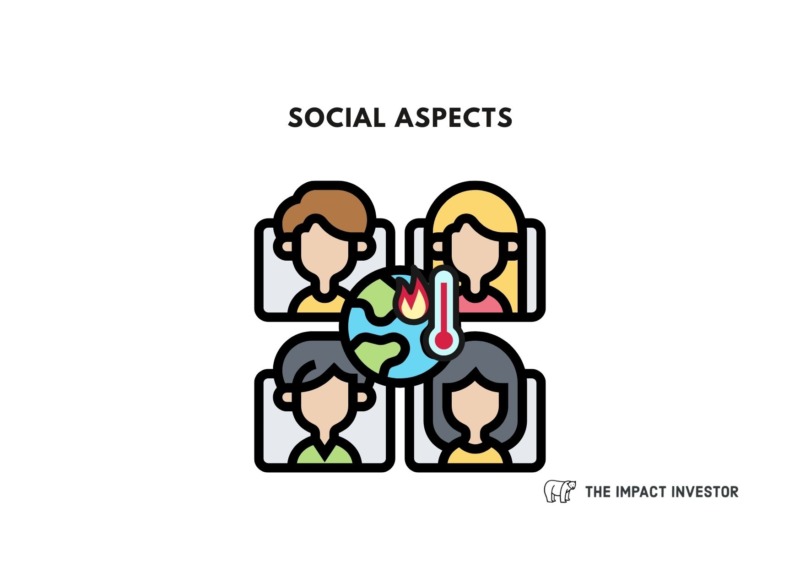 Sustainable consumption and production (SCP) has significant impacts on society, influencing health, education, quality of life, social development, and poverty eradication efforts. When considering the social aspects of SCP, it is essential to keep these entities in mind, as they present both challenges and opportunities for creating a sustainable future.
In terms of health, SCP can contribute to improved well-being by reducing the use of toxic materials and pollutants throughout the production and consumption processes. As societies shift towards more sustainable practices, they can reduce the exposure of their populations to harmful chemicals, leading to better overall health outcomes.
Education plays a key role in promoting SCP principles. By incorporating sustainability topics into curricula, students can better understand the interconnectedness between economic, social, and environmental aspects. This increased awareness will drive more sustainable choices in their everyday lives, contributing to social development and raising the overall quality of life in communities.
Addressing poverty and seeking its eradication are fundamental aspects of SCP. Many will adopt sustainable practices that can lower production costs while creating new job opportunities in rapidly growing green industries, such as renewable energy. By promoting equitable access to resources and opportunities, SCP has the potential to alleviate poverty and create more inclusive societies.
Moreover, SCP can positively influence social development by fostering a sense of responsibility and cooperation among individuals, communities, and nations. As societies begin comprehending the consequences of their consumption patterns, they can work together to implement innovative solutions that promote resource efficiency and minimize waste.
In conclusion, the social aspects of sustainable consumption and production encompass various facets of society, touching upon health, education, quality of life, social development, and poverty eradication. Effective SCP strategies must consider these interconnected domains to create a more equitable, inclusive, and sustainable world for all.
See Related: Best Socially Responsible Financial Advisors
Challenges and Solutions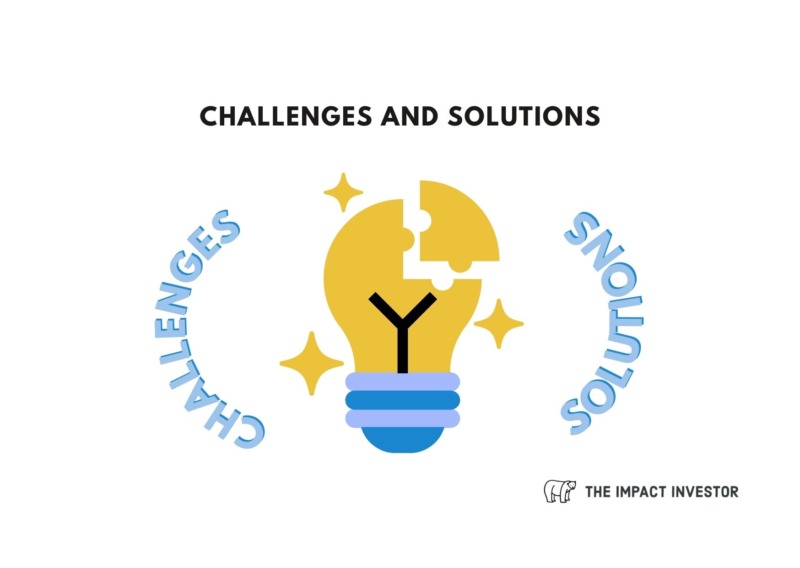 Sustainable consumption and production involves using services and related products that fulfill basic needs and improve quality of life while minimizing the wasteful consumption of natural resources, emission of waste and pollutants, and usage of toxic materials. Addressing this complex issue requires resolving numerous challenges and implementing effective solutions.
A major challenge in achieving sustainable consumption and production lies in the material footprint of products and services. Fostering sustainable design, enhancing efficiency in resource use, production, and supply chains, and encouraging the recycling and repurposing of materials are essential steps towards countering this challenge.
Establishing policies that incentivize eco-friendly product design and resource conservation can significantly curb the material footprint. Companies are motivated to create products with longer lifespans alongside easier maintenance and recycling processes by implementing extended producer responsibility schemes.
Waste management is another critical aspect that demands attention. Effective solutions include improving waste collection and segregation systems, fostering recycling and composting efforts, and promoting a circular economy. Educating citizens on responsible waste disposal and raising awareness about the environmental implications of improper waste handling will contribute considerably to this endeavor.
Toxic materials pose serious threats to human health and ecosystems. Reducing the usage of such materials in product manufacturing and promoting less harmful alternatives is crucial. Regulation enforcement, promoting research in sustainable materials, and raising public awareness about the hazards of toxic substances serve as essential strategies for mitigating this problem.
Food waste and food loss contribute heavily to inefficient resource usage. Tackling global food waste also requires engagement from stakeholders, including consumers, producers, retailers, and governments. Solutions include improving harvesting, storage, and transportation infrastructure, promoting food-sharing initiatives, and educating consumers on meal planning and proper food storage. Reducing food loss helps conserve valuable resources such as water, energy, and agricultural land.
Water and energy management are integral to sustainable consumption and production. Ensuring efficient water usage entails investing in technologies that help conserve and recycle water, implementing smart agricultural practices, and encouraging water-conscious consumption habits. Addressing energy management involves promoting renewable energy sources, investing in energy-efficient technologies, and implementing incentives for industries and households to minimize energy consumption.
Finally, mitigating climate change is vital for overall sustainability. Encouraging sustainable consumption and production practices can lower greenhouse gas emissions while conserving crucial resources. Integrating these practices into government and corporate policies, alongside proactive public engagement, will encourage companies to greatly contribute to a greener and more sustainable world.
Future Implications and Goals
In sustainable consumption and production, future implications and goals are closely intertwined with the need to create lasting, systemic change. As attitudes and practices shift toward more sustainable living, there is an added responsibility to ensure future generations' needs are met through sustainable development and adherence to global goals.
Responsibility Towards Sustainable Consumption and Production
The commitment to sustainable consumption and production requires not only individuals to make responsible choices but also businesses, governments, and societies. Fundamental changes in how resources are consumed and managed can help lessen the environmental impact while providing ample opportunities for growth and development. By fostering a culture that focuses on sustainability, future generations will be better equipped to tackle the challenges associated with finite resources and an ever-growing global population.
Implementing systemic change involves a wide range of initiatives, such as:
Setting global goals and indicators to monitor progress, ensuring that sustainable development remains a priority.
Encouraging businesses to adopt environmentally friendly practices in their operations and supply chains.
Promoting the development, use, and sharing of innovative technologies focused on resource efficiency and renewable energy.
Strengthening partnerships among governments, private sectors, and civil society to facilitate sharing best practices in sustainable development.
By taking on these responsibilities and working together to achieve sustainable consumption and production patterns, it is possible to create a stable foundation for ecological prosperity, both now and for future generations. The collective effort of all stakeholders is necessary to drive the fundamental changes needed for a more environmentally friendly and economically viable society.
See Related: Net Zero: Achieving Global Climate Goals Efficiently and Effectively
Frequently Asked Questions
What are common examples of sustainable consumption?
Sustainable consumption means using products and services that meet one's basic needs while minimizing using natural resources, toxic materials, and waste emissions. Some common examples encourage wasteful consumption include:
– Buying locally produced goods, which reduces transportation emissions
– Reducing water use by installing low-flow faucets and showerheads
– Choosing energy-efficient appliances or renewable energy sources
– Opting for products made from sustainable materials or with eco-friendly production methods
– Minimizing single-use items and embracing reuse, repair, and recycling practices
How does sustainable production benefit the environment?
Sustainable production involves efficient use of resources, reduced emissions, and responsible waste management across the lifecycle of products. The benefits to the environment include:
– Conservation of natural resources, such as water, forests, and minerals
– Reduction in greenhouse gas emissions, contributing to climate change mitigation
– Decreased pollution of air, water, and soil, leading to better ecosystem health
– Preservation of biodiversity and habitats through responsible land use
– Encouragement of circular economy principles, focusing on recycling and minimizing waste
What are the main challenges in implementing responsible consumption and production?
Implementing responsible consumption and production comes with various challenges:
– Lack of consumer awareness or willingness to change habits and preferences
– Inadequate policy measures to encourage responsible practices among businesses
– Economic barriers, such as the initial costs of adopting sustainable technologies
– Geographical disparities, with access to eco-friendly products and services limited in some areas
– The complexity of global supply chains posing challenges to monitoring and enforcing responsible production
How can individuals contribute to responsible consumption and production?
Individuals can contribute to responsible consumption and production through:
– Conscious consumption, including buying local, organic, or eco-friendly products
– Reducing energy and water use at home
– Participating in recycling, composting, and waste management initiatives
– Supporting businesses with responsible environmental and social practices
– Educating oneself about global sustainability issues and advocating for sustainable policies
Why is it crucial to prioritize SDG 12?
Sustainable Development Goal 12 (SDG 12) focuses on ensuring sustainable consumption and production patterns, which is vital for:
-Maintaining the balance between human needs and available resources
-Safeguarding the environment for future generations by preserving natural resources and ecosystems
-Promoting equitable and inclusive growth, with benefits reaching all socioeconomic levels
-Enhancing resilience in the face of environmental challenges, such as climate change and resource depletion
– Driving innovation and collaboration to create sustainable solutions for global challenges
Related Resources
Kyle Kroeger, esteemed Purdue University alum and accomplished finance professional, brings a decade of invaluable experience from diverse finance roles in both small and large firms. An astute investor himself, Kyle adeptly navigates the spheres of corporate and client-side finance, always guiding with a principal investor's sharp acumen.
Hailing from a lineage of industrious Midwestern entrepreneurs and creatives, his business instincts are deeply ingrained. This background fuels his entrepreneurial spirit and underpins his commitment to responsible investment. As the Founder and Owner of The Impact Investor, Kyle fervently advocates for increased awareness of ethically invested funds, empowering individuals to make judicious investment decisions.
Striving to marry financial prudence with positive societal impact, Kyle imparts practical strategies for saving and investing, underlined by a robust ethos of conscientious capitalism. His ambition transcends personal gain, aiming instead to spark transformative global change through the power of responsible investment.
When not immersed in the world of finance, he's continually captivated by the cultural richness of new cities, relishing the opportunity to learn from diverse societies. This passion for travel is eloquently documented on his site, ViaTravelers.com, where you can delve into his unique experiences via his author profile.