Managing healthcare finances is as important as managing your retirement funds. The earlier you start saving for it, the better for you. If you don't plan yourself well, you may live to regret it later when you cannot meet your medical expenses.
Fortunately, there are attractive ways that businesses help their employees manage their healthcare finances. You can do it through a health savings account, HSA. HSA benefits employers and employees since it is one of the most tax-friendly accounts you will ever have.
This article focuses on the best HSA accounts you can consider. But before that, let's shed some light on what HSAs are and how you benefit. So, read on for details.
Unlock Sustainable Investing Opportunities 🌿
Join the green revolution by investing sustainably with our top partners. Discover platforms that align with your values and offer remarkable opportunities for growth.
See Related: Best Ethical Mortgage Lenders to Consider
The Best Ethical and Sustainable HSA Accounts
There are many health savings accounts to cover your health care expenses. But if you want to invest sustainably, you need more than just an ordinary HSA account. It has to be an ethical HSA, sustainable HAS, or both.
Here is the countdown of the best HSA accounts to consider:
Health Equity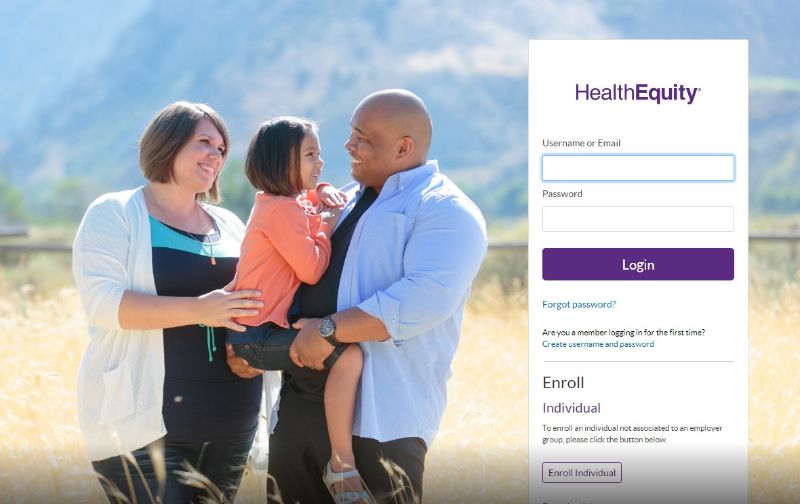 Health Equity was founded in 2002 and has undergone significant growth ever since. In 2021, the company expanded its holdings by acquiring Further and Health Savings Administrators. Both of these are HSA account providers. However, the transition is underway and expected to be complete by 2023.
Health Equity comes first on our list of the best HSA accounts for the right reasons. It offers several features, such as a mobile app for account management and zero account maintenance fees. Every investor knows how significant that is in the long term.
The company also offers HSA accounts with no minimum threshold. Every dollar you contribute to your health savings accounts is immediately invested.
The main highlight of Health Equity is its mobile app. You can use it to monitor all your expenses and balance and submit claims. It means you have control over your HSA account and all its activities.
Opening a health savings account can take as little as 20 minutes. Once ready, you will enjoy the convenience of using a debit card to pay for all medical and dental expenses and withdraw money.
Pros:
No minimum investment threshold
Debit card for convenient paying of qualified medical expenses
Easy-to-use mobile app for account management
Zero account maintenance fees
Cons:
Requires annual investment fee
See Related: Most Unethical Banks You Need to Avoid
Lively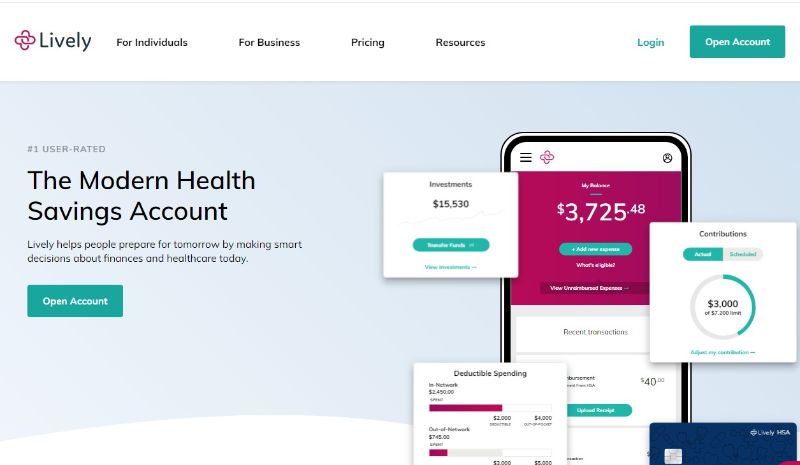 Lively is one of the most recent players yet among the best HSA accounts you can consider. It was established in 2016 and has claimed its market share because of its services and low fees.
In fact, Lively HSA account opening is free and comes with zero maintenance, fund transfer, and debit card fees. It doesn't have any hidden charges either. All the activities are ethically conducted, and your custodians maintain the highest honesty and transparency levels.
Once you successfully open your account with Lively, you get a debit card that allows you access funds to cover qualified medical expenses. This flexibility lets you settle your medical bills just by a phone call from wherever you are.
Like Health Equity, Lively also has a mobile app you can use for tracking HSA funds. You can use it on an Android or iOS device to check your health care expenses and monitor health insurance deductibles.
Additionally, Lively provides paperless account rollovers and fund transfers from one trustee to the other. You also access two investment solutions: TD Ameritrade's Self-Directed Brokerage Account and Devenir's Guided Portfolio. The latter attracts 0.5% annual fees while the former is free to access.
Pros:
No fees charged for health insurance accounts
Convenient online account management
HAS funds investment options available
Mobile app for account tracking
Free debit card for easy payment of medical bills
Cons:
One investment solution requires an annual fee
See Related: Best Investments for Low-Income Earners
HSA Authority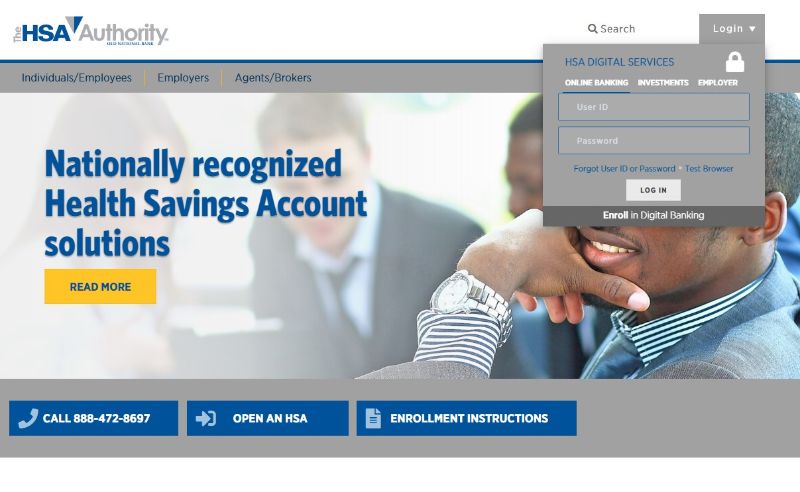 The HSA Authority was founded in 2004. It is run by Old National Bank, which has been in the financial industry since 1834. The HSA accounts here attract zero annual fees; no minimum account balance is required. You are also not charged anything for transferring your funds into or out of your HSA account.
HSA Authority has a dedicated customer support team that's ready to help you through the whole process of creating a health savings account. There is also a wealth of information that the company avails online to help potential customers understand available HSA options for better decision-making.
HSA Authority does not have an independent mobile app. Customers still need to access their accounts through the Old National Bank app, which can be inconvenient to some people. The app also has only a few functions, such as querying for account balance and deposits.
If you have an HSA Authority account, you can use the Old National Bank ATMs without charges. However, you incur withdrawal fees if you use an out-of-network teller machine.
Pros:
Excellent online features for families
Easy account opening and top up
No minimum account balances
No annual fees
Excellent customer support services
Visa card for paying for medical costs
Cons:
The high minimum requirement for investment options
Expense ratios vary depending on the investment option
See Related: UnitedHealth Group Incorporated ESG Profile (UNH): Is It Sustainable?
HSA Bank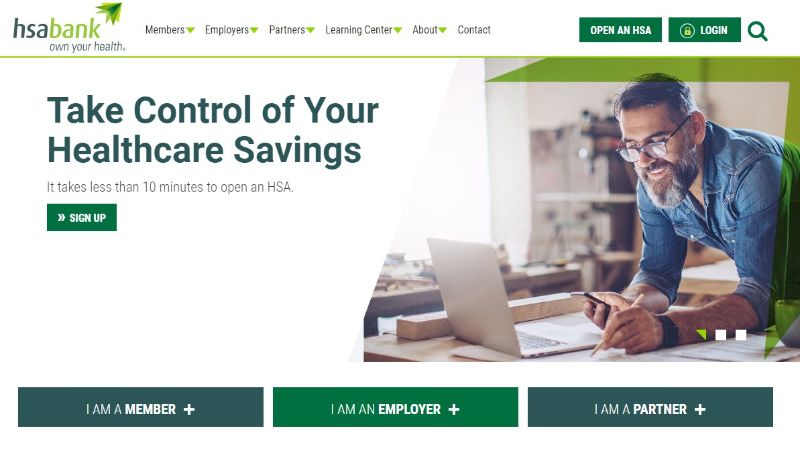 HSA Bank has a rich history that dates back to 1913. Since HSA is a relatively new concept, this bank operated as a traditional community bank offering typical products as the State Bank of Howards Grove.
HSA shifted from offering traditional products to providing HSAs, flexible spending accounts, and many other health products. It features one of the best HSA accounts because of its low minimum requirement and no-account opening fees.
Opening your account with HSA bank online takes only a few minutes and has no minimum requirement to start. You can start saving any amount you have and access your funds online.
This account boasts excellent customer support service. You can contact the call center at any time of the day or night if you need any help, and you will get it. It also has many investment options, including stocks, bonds, mutual funds, ETFs, etc.
However, a small fee is charged for managing your HSA account if the balance drops to less than $3,000.
Pros:
Many investment options
Excellent customer support service
No account minimum needed to get started
Zero account management fees if you keep a balance above $3,000
Cons:
Fees charged for closing your account
May incur investment and account maintenance fees for low balances
See Related: Best Banks for Low-Income Earners
Fidelity Investments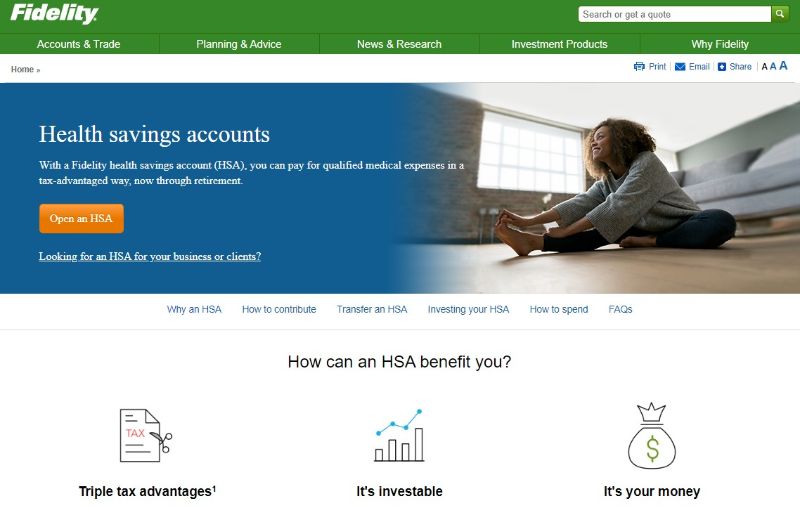 Fidelity Investments was established in 1946. If you are looking for an experienced health savings accounts provider, consider Fidelity. This traditional financial institution offers competitive HSA accounts that come with many benefits.
Fidelity Investments has many investment options and zero account management fees. All the accounts come with waived investment minimums and no transaction fees. You can invest in mutual funds, stocks, bonds, ETFs, CDs, and more. This company also offers educational material to guide customers on the best investment option to choose.
Fidelity is the best choice for HSA investing because you have many low-cost options for long-term growth. Open your account online to start investing with Fidelity.
Pros:
No fees for account opening, maintenance, and transactions
Many low-cost investment options
Easy account opening process
Cons:
Some Fidelity Investment options have high expense ratios
See Related: Ethical Dividend Stocks to Invest in Today
Further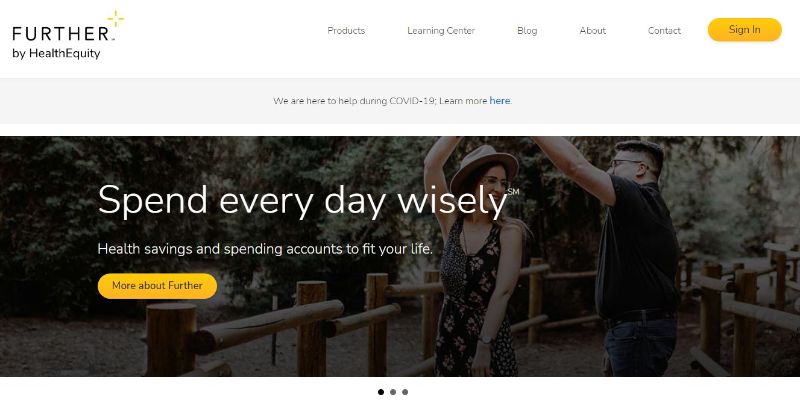 Further was founded in 1989, long before the health savings account HSA was conceptualized. The aim was to make it easy to pay medical bills, which it lived up to before its acquisition by Health Equity.
Further is a kind of HSA account that offers the best healthcare account management options. Further is still the best choice even if you need an HSA account for personal finance management or an entire family.
Employers also opt for Further HSA accounts because the company can manage an extensive selection of accounts. Businesses now turn to Further to assist them in managing the following account types:
Health savings accounts
Flexible spending accounts (FSAs)
Transportation reimbursement accounts (TRAs)
Dependent care assistance programs (DCAPs), etc
Your Further HSA account will earn you variable interest depending on the market conditions. However, some investment accounts require annual fees and minimum amounts to start investing. It also charges varied ongoing fees to employers who sign up for HSA or other reimbursement accounts.
Pros:
Manages multiple employee reimbursement and savings accounts
High-interest rates that help employees grow their HSA funds
Cons:
Underlying fees for investment options
Ongoing charges for investment accounts
Limited investment options
See Related: Best Farmland REITs for Agriculture Investing
OPTUM Bank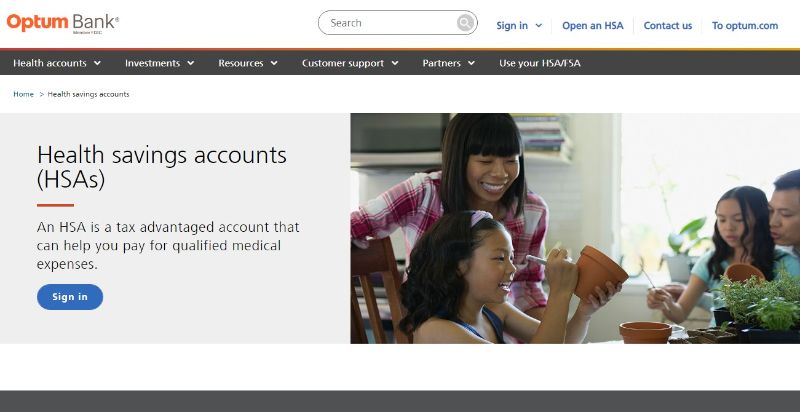 OPTUM Bank offers the best HSAs for investment management. This is because of features and tools provided by Betterment, a robo-advisor and cash management company. It allows OPTUM Bank to offer auto-deposit, receipt storage, automatic portfolio rebalancing, investment sweeping, and more.
The features offered by OPTUM Bank allow you to keep your investment moving. It also helps you comply with HSA regulations as you spend and save money in your account.
The bank also integrates with Personal Capital. This personal finance app lets you track all your fees and your account's investment performance. You can also use it to budget your finances to cover health care expenses.
However, OPTUM Bank does have high annual fees. You may need to consider service charges that apply to your account type. Also, the customer support service ratings fall below average.
Pros:
Rich investment account features
Integration with Personal Capital app for account management
Automatic compliance with HSA regulations
Cons:
High annual fees
Below average customer support
See Related: Best Artificial Intelligence Stocks to Buy Now
First American Bank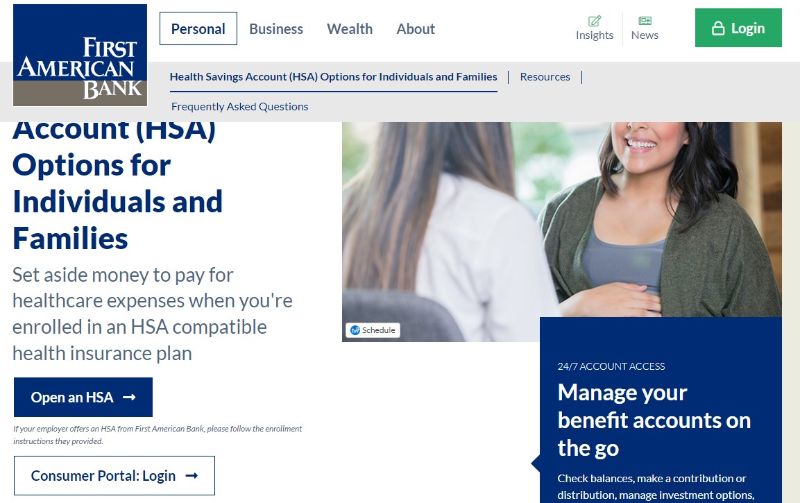 First American Bank also offers HSAs for people with qualified high deductible health plans. You can open your HSA account to pay for eligible healthcare expenses and control your tax savings and flexibility.
The First Bank HSAs are free to open and offer free eStatements. You also get a free prepaid Mastercard debit card to help pay your medical bills. You can also get investment earnings at the most competitive rates if you choose an investment account.
The bank allows you to make most of your investment options. You can select your best choice from low-cost, competitive mutual funds and start earning once you reach $1,000 in savings.
First American Bank's mobile app allows you to help manage your HSA account. With it, you can submit claims, view your HSA investment details, check your balances, check qualified health expenses, etc. The app is compatible with both Android and iOS devices.
Pros:
Great customer support services
Easy way to access funds
Mobile app for account management
Free HSA account opening
FDIC insured deposits
Cons:
Limited investment options
BMO Health Savings Account
BMO HSA is delivered by Lively to help make paying for healthcare expenses quicker and more affordable. The account offers competitive features that make it one of the best HSAs in the United States.
The HSA provides tax-favored health plans to curb rising healthcare costs. That's what you get when you open your account with BMO HAS. Your contributions grow without hidden fees while taking advantage of the triple tax advantage.
Besides spending, BMO HAS is also an excellent choice for starters or seasoned investors. It offers you sustainable, tax-free investing solutions.
Pros:
No hidden costs
Free to open an HSA
Better investment option for beginners
Excellent resources and support
Cons:
Transaction fees when topping up from a different custodian or using non-BMO Harris ATMs
See Related: How to Save Money & Go Green
Affinity Federal Credit Union
The Affinity Federal Credit Union's HSA can help reduce the stress of managing medical care expenses. You can create your health savings account to help you pay for health-related costs and enjoy the benefits. It allows you to enjoy tax-deductible contributions and tax-free distributions.
This HSA requires no minimum deposit or balance requirement. If you are among those with qualified high deductible health plans, you can open an account for free. There are also no limits on the HSAs you can create.
Affinity Federal Credit Union provides debit card and direct deposit options to help you manage and access your funds.
Pros:
No minimum deposit or balance
You can create multiple HSAs
You control the money going in and out of your HSA
The debit card provided for quick payment of hospital bills and related expenses
Cons:
Not ideal for HSA investment option
TIAA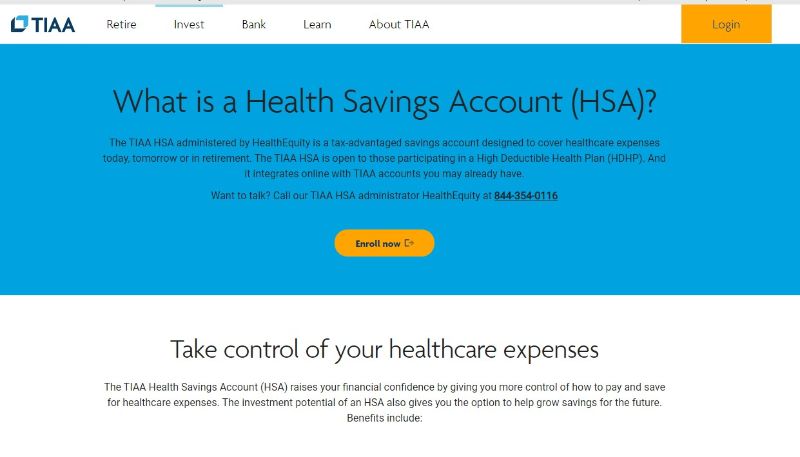 TIAA HSA is administered by Health Equity. This account is designed to help you cover qualified medical expenses now, in the future, and after retirement. You can open a TIAA HSA account if enrolled in a high-deductible health plan.
By opening a TIAA HSA, you gain more financial confidence to control how you save and pay medical bills. You can also decide on how to spend your HSA balance. TIAA allows a rollover feature that lets you save limitlessly or invest in chosen mutual funds.
Pros:
Easy account setup
Mobile app for account management
A resourceful website with many tools
HSA investment through mutual funds
Cons:
Limited equity options
Below average customer service
Saturna Capital HSA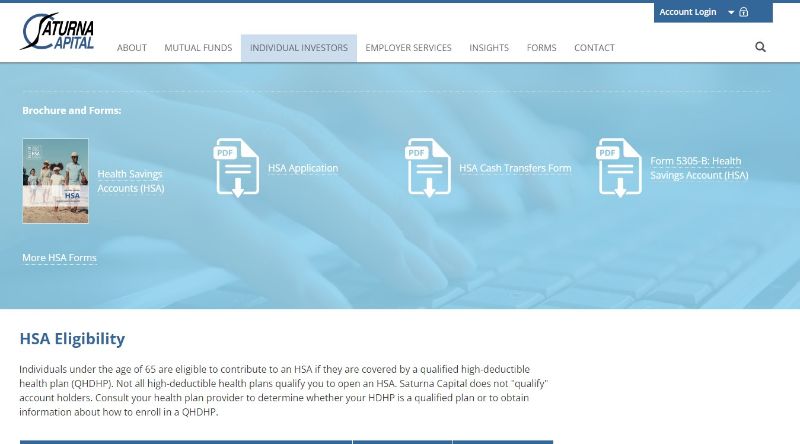 Saturna HSA is for you if your age is below 65 years and has a qualified high-deductible health plan. Once you successfully create your account with Saturna Capital, anyone can contribute. Your employer, family members, or other parties send funds to your account.
Saturna is the best option if you are looking for an HSA investment account. You can invest in multiple funds and custom-made your HSA to reflect your risks and return goals. Also, a Saturna account allows you to add self-directed brokerage to access an extensive array of mutual funds, stocks, ETFs, and more.
Pros:
Wide range of investment choices
Personalized services
Easy portfolio tracking online
Automatic investment from your checking account to Saturna HSA
Cons:
There are account-related fees
Starship HSA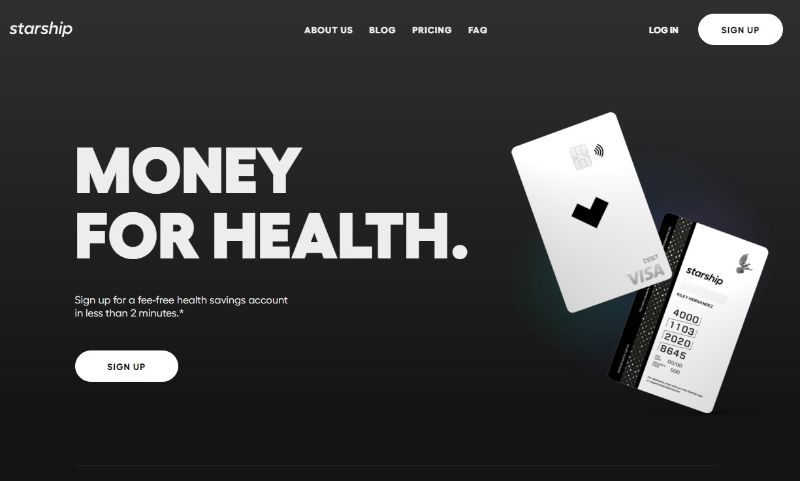 Consider Starship HSA if you feel that the employer-provided HSA plans are not the best option. Starship is a low-cost HSA provider that gives you access to many Robo-advisor investment options.
Starship HSA is easy to fund and manage. After setting up your account (which takes about 2 minutes) you can start saving money and investing your health dollars! You can also log into your account through the mobile app and access many functions.
Starship HSA boasts low fees, no account minimums, and easy fund access.
Pros:
Cons:
Limited investment option
Element Financial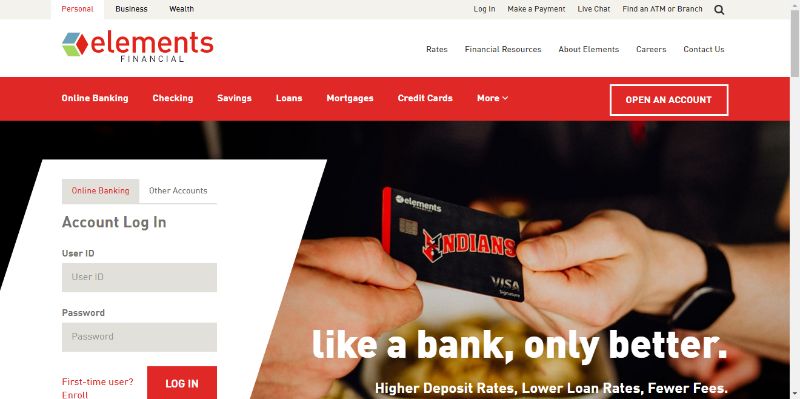 Element Financial is the last HSA on this list. It offers tax-free medical savings accounts for people enrolled in a high deductible health plan. Once you have opened the account, contributions can be made by you, your employer, or other people.
Like other HSAs, the funds are not taxed if used to pay qualified medical expenses. But unlike flexible spending accounts, unused HSA funds are rolled over to the following year and remain your money.
Element Financial provides an online portal for account management and record-keeping.
Pros:
Funds are assessable
Visa debit card for making qualified medical purchases
Online portal for account management
Cons:
A minimum account balance of $100 is required to earn dividends
What is a Health Savings Account (HSA)?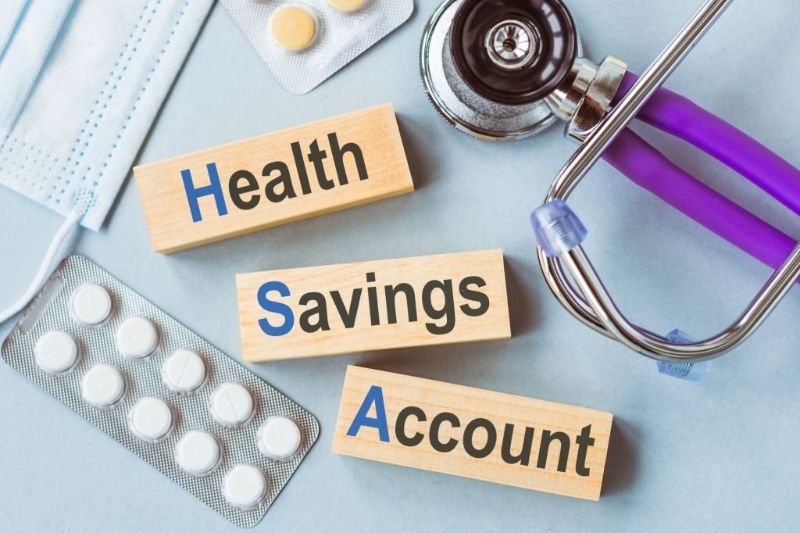 Health Savings accounts were founded in 2003 to help people offset high deductible health plan (HDHP) costs. Since its establishment, the number of accounts and assets has steadily grown. Despite the growing popularity, HSA accounts are still poorly utilized or understood by people compared to IRAs and 401K plans.
A health savings account HSA is a tax advantage savings account you can use to pay for IRS-qualified health care expenses. You qualify for an HSA account if covered under a qualified high-deductible health plan.
HSA funds may pay for other qualified medical expenses, unlike in health flexible spending accounts where you lose what you don't use. You can even use them to pay COBRA, medical, and long-term care premiums.
An HSA account has the following features:
Your HSA account contributions are tax-deductible or pre-tax if made through a payroll deduction.
Any interest earned on the account is tax-free.
All withdrawals for qualified medical expenses are also tax-free.
Any unused HSA funds are carried over to the following year without limit.
Your HSA account belongs to you even after retirement.
A custodian or a trustee manages health savings accounts.
HSA Qualified Medical Expenses
You can use your HSA funds to pay for qualified medical expenses up to the amount deductible. It covers different things, but the most common ones include the following:
Acupuncture
Pediatric services
Prescription medications
Dermatology treatment
Emergency transportation
Eyeglasses and contact lens supplies
Hearing aids
LASIK surgery
Birth control pills
Chiropractic services
Orthodontia and dental treatment
Psychiatric care
Psychology services
Smoking cessation programs
Vaccines
Weight loss programs
Orthopedic services
Osteopathy
Over-the-counter medications
Nursing homes and care
Optometry treatments
See Related: Best Home Energy Saving Products
How to Choose the Best HSA Accounts
When looking for an HSA account, you should consider some factors to get the best service provider. Many financial institutions offer these services, which is why you need to get the best ethical HSA. Consider the following factors:
The intended purpose of the HSA
What do you intend to use your HSA funds for? Is it for short-term or long-term medical expenses? Your answer will influence your decision. Some HSA accounts are the best investing accounts, while others are suitable for spending. Ask those questions to help you narrow down your search.
HSA Account Fees
Different HSA account providers charge varying fees. Before you can settle for a given service provider, ask about the following:
Account opening fees
Account maintenance fees
Investment fees
Paper statement fees
Transaction charge
Debit or credit card replacement or renewal fees
Account to account transfer fees
Overdraft fees
Non-sufficient Funds Fees
The response you get about these fees will help you to decide appropriately. A rule of thumb is that the lower the charges, the more likely the account to be chosen. However, it would be best if you also considered other factors.
Minimum Balances
Most health savings accounts require a minimum account balance. This typically ranges from $500 to $3,000. Once again, the lower the minimum balance, the better.
Interest Rates
Different HSA accounts attract varying interest rates. Compared with service fees, the interest rates are of less significance. A service provider may deceive with high-interest rates on the health savings account, but much of it is eaten up by other fees. But if you want to maintain an HSA spending account, interest rates are something to consider.
HSA Funds Accessibility
You might need your funds to take care of your medical expenses immediately. The faster you can access funds from your HSA account, the better.
So, you may need to inquire if the service provider provides a debit card, checks, or online bill payment method. Also, check how long it takes to transfer funds from your health savings account to your checking account.
Diversity of Investment Options
Many people use sustainable HSA accounts as investment options. These accounts give you the chance to invest and grow your funds.
Health savings account custodians offer a combination of stocks, bonds, mutual funds, and other investment products. The more diverse they are, the better it is for you. Look for different investment options with good performance and better security.
HSA Funds Security
If you want to open an HSA spending account, consider only federally insured banks and credit unions. That gives you cover if your chosen financial institution fails in any way. Federal Deposit Insurance Corporation or the National Credit Union Share Insurance Fund can refund you up to $250,000.
FAQs
What is an Ethical and Sustainable HSA?
It is a health savings account where the custodian of your funds is responsible for ethically and sustainably investing them. As the account owner, you can use your funds to pay medical bills. The balance is carried over to the following year, and you can also invest. You remain the account owner, and unused funds remain yours.
Who needs an HSA?
An HSA is for anyone who wants to save for future medical expenses. It is also an attractive choice if you are employed and nearing retirement. The accumulated funds in your account can be used to settle future medical expenses. You qualify for an HSA if covered under a High Deductible Health Plan (HDHP).
Why should I invest in my HSA?
HSA is an investment tool that helps accumulate funds to pay for out-of-pocket medical expenses. The money invested in HSA grows and enjoys a tax advantage since the proceeds are not taxed. That allows your investment to multiply faster.
Are HSAs worth it?
Ultimately yes. HSAs come with exciting benefits. A health savings accounts help accumulate funds that you can use tax-free on qualified medical expenses. The money remains yours if you retire. And can cover your medical bill. So, consider it if you qualify to open an HSA.
Is HSA better than 401k?
Generally yes, but these plans have their pros and cons too.
Instead of saying yes to one and no to the other, you may need to compare the two. An HSA is the better option because of its triple-tax-free benefit and suits you for tax management. However, the funds are limited to medical expenses. That might make the 401K seem like a better choice.
Related Resources: