What exactly is sustainable insurance? The insurance sector plays an influential role in addressing some of the world's most pressing sustainability challenges, and with good reason. With climate change wreaking havoc on the environment, insurers play the role of first responders – carrying the financial burden of natural disasters and protecting people from financial loss.
Today, insurance firms and their policy products are in a perfect position to help people recover from climate-related disasters while promoting society's overall climate resiliency.
They're also well-positioned to satisfy evolving customer needs as sustainability initiatives and climate change mitigation become increasingly essential differentiators in a competitive insurance market.
Consumers have long been patronizing green products, so it's no surprise that the insurance industry has been slowly penetrating the green space by incorporating sustainable practices in its operations and developing policies that encourage greener ways of living.
Below you'll see some of the best options in the market today, chosen according to their coverage, policies, premiums, and customer satisfaction.
The best sustainable insurance options
Here are the top insurance companies that employ sustainable business practices and reward consumers who make environmentally conscious decisions.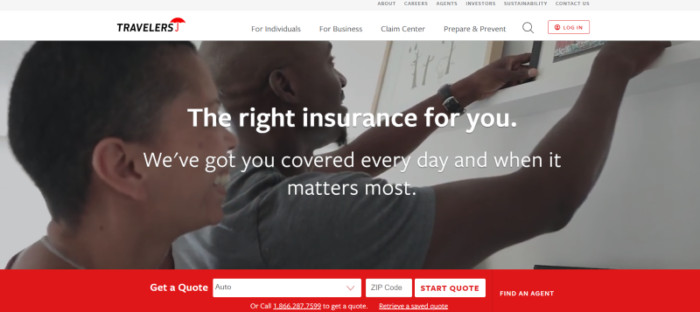 The company: Travelers is the second-largest writer of commercial property-casualty insurance in the United States and, through independent agents, the sixth-largest writer of personal insurance in the United States.
This well-known and well-established insurance company has a lengthy history of paying out on car and house insurance claims. Travelers, unlike many of its competitors, does not provide life insurance coverage.
The rates are lower than the industry average, but you'll find that they aren't the lowest. Nonetheless, you'll be able to pick from a broad range of customizable coverage choices and savings.
Products: A myriad of individual insurance policies for cars, homes, renters, condos, landlords, boats & yachts, motorcycles, travel, and pets, as well as weddings and events. Business products run the gamut from commercial auto and cyber insurance to general liability, property, surety bonds, and worker's compensation insurance.
ESG and Sustainability efforts: Travelers is the way to go if you're looking for a socially responsible insurance provider. In keeping with its overall sustainability goal, The Travelers Companies has pledged to become carbon neutral across all of its owned businesses by 2030. The company reduced Scope 1 and 2 emissions by more than 40% between 2011 and 2020.
The firm claims that the steps will help it meet the Paris Climate Agreement's objective of limiting global warming to 1.5 degrees Celsius in the twenty-first century.
In 2020, the firm donated almost $23 million to vital causes such as promoting academic and professional success, establishing flourishing neighborhoods, fostering culturally enriched communities, assisting pandemic-affected areas, and achieving racial equity all over the United States.
Within 30 days of receiving a claim notification, travelers settled more than 90% of property claims originating from disasters. Despite a massive number of disaster occurrences and a more than 50% rise in catastrophe claims over the previous year, this outcome was accomplished.
Green offerings: Travelers auto insurance offers several insurance products, including a paperless billing discount and a green vehicle discount to help customers save money while reducing emissions.
If you want to combine your policies, Travelers also provides green savings and credits on house insurance. When it comes to insurance for homes, Travelers definitely deserves a spot on this list. It's one of the only big home insurance providers that provide green home rebuilding coverage and savings.
Following a claim, the company's optional green home coverage provides you with additional funds to construct or restore your home using green building materials. To add this extra coverage to your insurance, having a green home isn't necessary.
If you want to go green in the future, you may pay to add this extra coverage to your policy so that if you need to make a repair, you can do it in an environmentally responsible manner.
If your house is accredited by the Leadership Energy and Environmental Design (LEED) group, you can save up to 5% on your homeowner's insurance coverage with its green home discount.
You can get more savings if you combine this discount with other standard discounts, including home-buyer, multi-policy, protective device, and claim-free discounts.
However, consumers may find one flaw with travelers: it fails when it comes to client satisfaction. The company did badly in the policy options and billing process categories in the most recent J.D. Power survey.
Still, consumers gave it good scores for pricing, claims satisfaction, and customer service, so this may not be a cause for concern. Before you buy, you can quickly check its policy offers online to see whether Travelers is a suitable fit for you.
See Related: Quotes About Sustainability to Know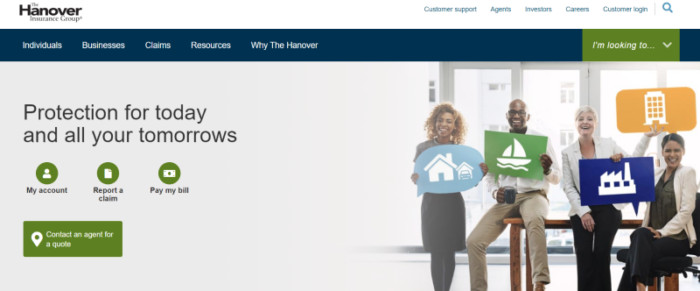 The company: The Hanover Insurance Group is a Massachusetts-based holding company for various property and casualty insurance firms that provide coverage for vehicles, houses, and small and mid-sized enterprises.
These firms form one of the major property and casualty insurance industries in the United States, making them one of the most important roles in risk management in the insurance business to great a more sustainable world.
Products: The Hanover is an insurance provider that offers a myriad of coverages for individuals and families, including auto, home, watercraft, recreational vehicles, valuables, and identity theft insurance. The company has its very own distinctive brand of personal insurance for high-value homes and cars called "Prestige".
Business coverages include cyber, general liability, auto, marine, property, management liability, and worker's compensation, among others.
ESG and Sustainability Strategy: The Hanover is dedicated to conducting business and operating its facilities in an ecologically friendly manner. The company conserves natural resources and eliminates waste by investing in green technologies, energy efficiency, and other activities.
The Hanover purchases wind credits directly from its power supplier to offset electricity consumption at its corporate headquarters in Massachusetts, accounting for 86 percent of the electricity utilized by The Hanover-owned buildings. Purchased wind credits offset 100 percent of its Worcester facility's power usage in 2018.
The company has amended its Environmental, Social, and Governance strategy in 2021, with a commitment to stop making new investments in numerous coal and tar sands businesses by 2025 and partially divest from these industries.
Green offerings: Although there is no discount for environmentally friendly vehicles, The Hanover does provide a discount for paperless billing. Bundling your policy to obtain green deals on both your home and your car is a fantastic idea, thanks to additional reductions on the company's home insurance plans.
The Hanover's Green Building coverage extends beyond standard benefits to include crucial coverages for green structures. It covers damages to an existing green structure or losses resulting from green enhancements made to an existing structure. The Hanover Green Building coverage combines other coverages to provide a completely comprehensive answer to the special exposures of green structures.
See Related: Socially Responsible Investing: How to Get Started and Best Funds to Buy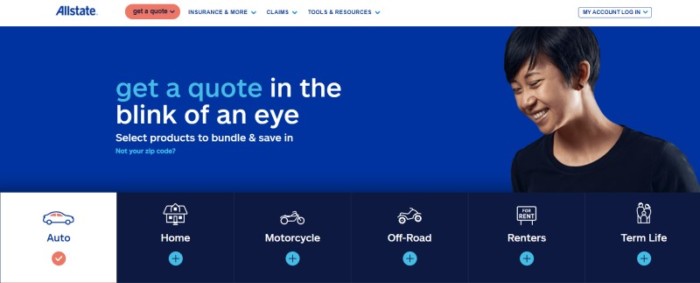 The company: Allstate is an insurance provider that has been offering insurance products, including car, home, and life, for 90 years. In 2019, the corporation ranked 79th in the Fortune 500 list of the largest US corporations by total revenue.
The company is headquartered in Illinois and employs over 12,000 agents across the United States. Allstate has established itself as a leading insurer for millions of Americans, and it presently ranks second and fourth in the number of premiums issued for house and car insurance, respectively.
Allstate is best known for its auto insurance coverage, but the conglomerate also provides a wide range of financial services. It's a wonderful alternative for consumers who seek multiple insurances because of its immense reach, an extensive selection of items, and numerous local agents.
Products: Private passenger auto and home insurance, which is largely sold through agencies, is Allstate's main business.
Allstate, Encompass, and Esurance is the brand names for these goods. The Allstate Financial segment offers retirement and investment products, life insurance, health insurance, and voluntary accident insurance products.
Apart from these, Allstate also offers several other coverages, including business insurance for small business owners, policies for auto dealers, wholesale and retail roadside assistance products, and consumer household insurance like boat, motorcycle, and condominium insurance policies.
ESG and Sustainability efforts: Allstate's sustainability achievements include a 14 percent reduction in greenhouse gas emissions in 2018 after an 8 percent reduction in 2017, being recognized as one of the National Association for Female Executives Top Companies for Executive Women, and winning a spot on the Dow Jones Sustainability Indices for two consecutive years.
Green offerings: If you're looking for sustainable underwriting, Allstate will not disappoint. Allstate provides a variety of green auto insurance savings, including a 10% reduction on green automobiles. That's a significant drop, especially when you consider the company's other pride-reducing choices.
In the home insurance category, Allstate does not presently reward customers who have made green building decisions, but it recognizes that this is becoming increasingly essential to today's buyers.
As a result, it offers an optional green improvement reimbursement coverage that pays for the extra costs of repairing or replacing damaged insured equipment with more energy-efficient equivalents.
This is just one of the many extra coverages Allstate offers, which has enabled it to grow into one of the largest home insurers available today. The firm also provides unique insurance options, including electronic data recovery, identity theft restoration, yard and garden coverage, and sports equipment, in addition to green home coverage.
If you're on a budget, you'll enjoy a variety of discounts and innovative add-ons, including Claim RateGuard programs, Claim-Free Rewards, and Deductible Rewards to make it easier on your pocket. This might help you save even more money on your home insurance coverage in the long run.
See Related: Best Green Companies
The company: The Hartford, a Fortune 500 insurance firm, has been providing vehicle and home insurance in the 50 states since 1810.
Hartford isn't recognized for having a significant market share in the car and house insurance sector, but it does have a bigger presence in mutual funds, group benefits, and business insurance. The firm caters largely to drivers over the age of 50, and it collaborates with AARP to provide unique incentives to its members.
While JD Power has rated The Hartford as below average in client satisfaction, the National Association of Insurance Commissioners has shown strong financial standing and a low complaint percentage.
Products: The Hartford offers a wide range of coverages and options for individuals, small, mid, large, and specialty businesses, and group benefits, including automobile, property, general liability, and worker's compensation, among others.
ESG and sustainability efforts: As a sustainable insurance provider, Hartford was one of the first U.S. insurers to make coal and tar sands pledges in 2019. In addition, it intends to meet its objective of using 100 percent renewable energy throughout its entire operational footprint in 2021.
By 2022, the sustainable insurance provider wants to reduce its carbon footprint by at least 2.1 percent per year, have all of its on-campus corporate cars be electric, and eliminate the usage of styrofoam altogether.
In addition, the insurer is on track to meet its new representation objective of 50% women and 20% persons of color in senior leadership positions by 2030.
In 2011, The Hartford began offering cheaper auto and house insurance to millions of Sierra Club and National Wildlife Federation members through a unique program in several states. The company also built electric car charging stations at two of its Connecticut campuses in the same year and began installing them at its Simsbury campus the following year.
To the delight of environmentally-friendly consumers today, the business has included numerous new green features to its home insurance policies, including insurance for home-based electric car charging stations.
Green offerings: The Hartford is an insurance provider that offers electric car users a discount on their auto insurance premiums, highlighting the company's dedication to environmental protection. Electric car owners will receive a 5% discount when their policies are renewed.
Though Hartford insures homeowners of different ages, it is most well-known among seniors since it has the best prices for this demographic. The Hartford also gives lifelong insurability to AARP members, which is a benefit that very few insurance providers offer. Despite being a senior-oriented home insurance provider, Hartford keeps up with the trends, including the current green building movement.
The Hartford offers optional green rebuilding coverage that boosts your insurance amount by up to 10%. This allows you to reconstruct or replace broken goods with environmentally friendly materials.
Whether or not they already live in a green home, this coverage is accessible to all homeowners. The Hartford will provide you with the additional cash needed to undertake sustainable home repairs or upgrades using your insurance endorsement when you make a claim.
See Related: How to Get Involved in ESG Investing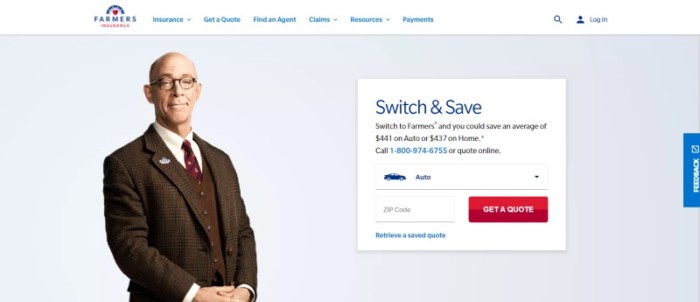 The company: Farmers is an American insurance company that specializes in vehicles, houses, and small companies, as well as other policies and financial services.
The sustainable insurance company has grown from a modest firm insuring farmers' cars to a multibillion-dollar corporation. Farmers, which was founded in 1928, currently covers over 10 million homes with over 19 million individual policies in all 50 states.
The California-based sustainable insurance provider employs over 48,000 independent agents and offers a diverse range of policies that may be tailored to meet a wide range of budgets and needs. Today, the firm provides a diverse range of insurance and is well-known for its extensive network and swift disaster response.
Products: A myriad of policies for automobiles, motorcycles, homes, renters, landlord, and rental properties as well as life, business, recreational, and umbrella insurance.
ESG and sustainability efforts: Farmers' employees have a long history of selflessly donating their time and money to help people in need, including their coworkers. When Farmers workers face financial trouble, the Farmers Family Fund enables the Farmers community to assist immediately. Since its inception in 2012, it has awarded over $2.5 million in awards to workers.
The company's commitment to diversity and inclusion is at the heart of its corporate culture. The Somos Farmers, The Women's Inclusion Network, Disability Inclusion Group, Farmers Asian Alliance, Farmers Pride, FarmersFit, Black Professionals Alliance, Veterans & Advocates, Farmers Future, and Parent Connect are just a few of the company's employee groups.
One of the primary ways the firm aims to assist its communities is via disaster resilience philanthropy. Farmers works with charity partners to help communities plan for and prepare against natural disasters, as well as recover afterward.
In light of the pandemic in 2020, the firm has contributed $311,000 to workers, assisted in funding 29,700 COVID tests, gave 485,819 to non-profits, and made philanthropic donations totaling $7,200,000.
Farmers gives time and resources to charities that help make a difference in its communities as part of their commitment to upholding good corporate citizenship.
Farmers has formed strategic partnerships with Team Rubicon, SBP, Operation BBQ Relief, and the National First Responders Fund, among others.
The aim of being single-use plastic-free is one of the company's eco-friendly efforts. They also have initiatives in their offices to recycle coffee pods and use ecologically friendly food containers.
Green offerings: Farmers auto insurance clients may earn a 5% green vehicle discount as well as a paperless discount. Any vehicle that isn't solely powered by gasoline qualifies, albeit it isn't available in every state.
Farmers Insurance offers several ESG insurance products for homeowners, including an Eco-Rebuild policy with a $25,000 limit. While this isn't as generous as other insurers, it's worth noting that just a few insurance providers even offer this service. In the case of a claim, anybody may add this extra coverage to their Farmers homes insurance policy and use it to pay for green construction materials or appliances.
Farmers stands out from other insurers who offer sustainable insurance because it provides a more extensive selection of green home discount criteria. Farmers will accept homes that are Environmental Protection Agency or Energy Star certified green homes, as opposed to other insurers that demand homes to be LEED-certified.
Farmers provides all of the vital coverage choices and savings you'd anticipate regarding basic home insurance coverage and service, including new home, multi-policy, and protective device discounts. The company performs well in J.D. Power polls, so if client satisfaction is a top concern for you when picking home insurance, it's also worth receiving a quotation.
See Related: Johnson & Johnson ESG Profile (JNJ): Is It Sustainable?
What is sustainable insurance?
The insurance industry has long been tackling sustainability for quite a while now, not only to benefit the world but for today's growing roster of sustainable investors.
The UNEP Financial Initiative's four principles of sustainable insurance were introduced in 2012 to guarantee that environmental, social, and governance (ESG) problems are considered in the operations of insurance providers, and the industry has made significant progress since then.
But what is ESG in insurance, and what does sustainable insurance really mean? Sustainability in the insurance industry means identifying the asset management products, insurance requirements, ESG risk management, and advisory services that help people's lives and assist them in managing risks while contributing to the environment and society positively.
While many businesses may be unfamiliar with ESG or Sustainable Development Goals, insurers have long been active in identifying and managing these and other risk factors as a necessary element of conducting business.
Insurers who include ESG in their business strategies invest in environmental sustainability and resilience, offer products that are available, affordable, and equitable, and encourage a diverse and inclusive workplace while creating and protecting customer and shareholder value.
See Related: Best Tesla Car Insurance Options
How does an insurer become sustainable?
There are a variety of ways an insurance company can do this, from providing insurance that encourages sustainable practices and assisting underprivileged populations to withhold services to unsustainable businesses, employing greener and more sustainable operational practices, or strengthening their corporate social responsibility.
For example, some insurance providers offer auto insurance to fuel-efficient and electric vehicles drivers and property insurance for homes with solar panels on the roof.
Some of today's up-and-coming insurance firms also provide investment options that allow consumers to put their money into funds that promote environmentally friendly and sustainable solutions.
To slow down climate change, several international insurance firms have decided to withdraw or limit coverage for unsustainable industries such as coal mining. So far, 17 of the world's major insurers have declared coal-free plans.
See Related: How to Implement an ESG Integration Framework
What are the Principles for sustainable insurance?
The Principles of Sustainable Insurance provide a comprehensive framework for creating Risk Management and Insurance solutions tailored to the needs of sustainable energy and health systems within the insurance industry. Current discourse focuses on next-generation insurance strategies that support businesses around the globe while protecting our environment, both today and in the future.
As we move from traditional approaches to more sustainable ones, innovative insurance offerings will continue to play an integral role in meeting our energy, healthcare, and climate goals.
Practical implementation is key: these Principles of Sustainable Insurance help organizations identify the most effective options for Risk Management and Insurance with regard to sustainable energy and health systems.
See Related: Merck & Co., Inc. ESG Profile (MRK): Is It Sustainable?
Why is sustainability important in insurance?
Sustainability is important in the insurance business because it allows the insurer to assess and account for potential financial risks and ESG risks that could affect its long-term business. For sustainability investors, this offers a level of transparency that is beneficial in making informed decisions about where to allocate capital.
See Related: Citigroup Inc. ESG Profile (C): Is It Sustainable?
What is ESG insurance?
ESG insurance is an important part of risk management, as it helps to identify, manage and mitigate environmental, social, and ethical risks. ESG insurance products use criteria to ensure that investments align with the ESG principles, creating a much-needed link between mitigating ESG risks and responsible insurance practices for key stakeholders.
By doing so, ESG insurance contributes to the overall development of a better sustainability agenda that will encourage responsible behavior from all sectors of society.
Related Resources
Kyle Kroeger, esteemed Purdue University alum and accomplished finance professional, brings a decade of invaluable experience from diverse finance roles in both small and large firms. An astute investor himself, Kyle adeptly navigates the spheres of corporate and client-side finance, always guiding with a principal investor's sharp acumen.
Hailing from a lineage of industrious Midwestern entrepreneurs and creatives, his business instincts are deeply ingrained. This background fuels his entrepreneurial spirit and underpins his commitment to responsible investment. As the Founder and Owner of The Impact Investor, Kyle fervently advocates for increased awareness of ethically invested funds, empowering individuals to make judicious investment decisions.
Striving to marry financial prudence with positive societal impact, Kyle imparts practical strategies for saving and investing, underlined by a robust ethos of conscientious capitalism. His ambition transcends personal gain, aiming instead to spark transformative global change through the power of responsible investment.
When not immersed in the world of finance, he's continually captivated by the cultural richness of new cities, relishing the opportunity to learn from diverse societies. This passion for travel is eloquently documented on his site, ViaTravelers.com, where you can delve into his unique experiences via his author profile.