There are several sustainable investing courses out there. Before choosing one, make sure that it matches your skill level and offers what you are looking for. Our guide offers some of the best courses you can pick from.
When it comes to sustainable investing, it's mostly about solving some of the world's biggest challenges. People have finally realized the need to take care of our planet, now pushing both the government and companies to take appropriate measures.
The world's economic growth is currently pinned on sustainability, a trend that seems to become popular by the day. Many investors now have to assess a company's sustainable strategies before putting their money there.
Unlock Sustainable Investing Opportunities 🌿
Join the green revolution by investing sustainably with our top partners. Discover platforms that align with your values and offer remarkable opportunities for growth.
And unlike popular belief, sustainable investing is profitable. However, for profitability, investors need skills on how to choose companies that align with their values and are managed well.
In this article, I will give you a list of sustainable investing courses that will give you all the knowledge you need to make the right investment decisions.
What is Sustainable Investing?
Sustainable investing aims to impact the world positively by helping nations, companies, and societies set sustainable development goals. It is guided by environmental, social, or governance investing principles to bring a positive change to the world.
Sometimes sustainable investing is guided by personal values and beliefs. For example, some investors choose to only invest in companies that have ethical, environmental practices.
Through sustainable investing, organizations have to pioneer better ways of doing business. Instead of only considering possible risks and expected returns, they also have to incorporate sustainable investment strategies that take care of the environmental, social, and governance issues.
This way, investors can make profits in a way that benefits the world.
Top Sustainable Investing Courses
Knowledge is power. And in the investing space, knowledge will also translate to more money.
Here is a list of sustainable investing courses that will ensure you have the knowledge and power to make money sustainably.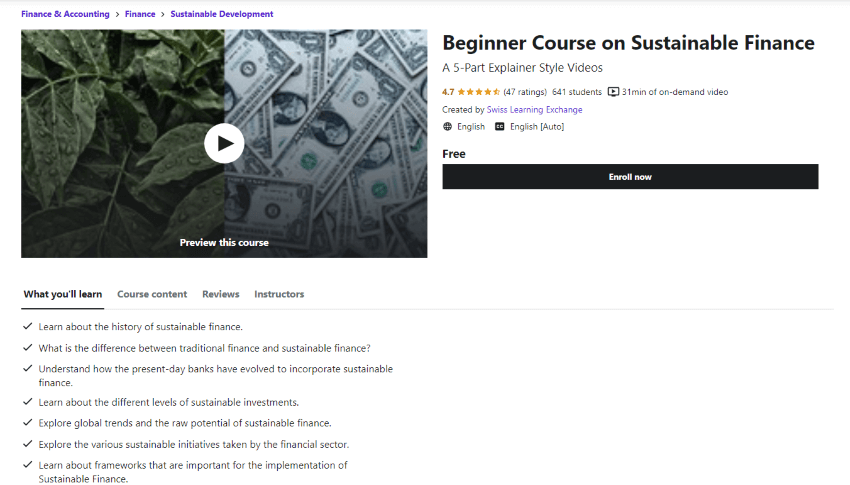 This is a 31-minute course that comes with explainer videos. It is ideal for anyone interested in finance, social, and environmental issues.
In this course, you get five-part explainer videos with questions at the end of each lesson.
If you are new to sustainable finance, this is the right course to take. You will also learn about related topics such as ESG investing, green finance, and social finance. The course is ideal for beginners since most of the lessons give you a proper introduction to the topics.
By the end of the course, you will be more familiar with sustainable finance. You will also know how to invest in green finance and also understand the social issues surrounding finance.
After this course, you will have the confidence to explore sustainable finance and start investing.
See Related: Best ESG Investing Courses to Take Today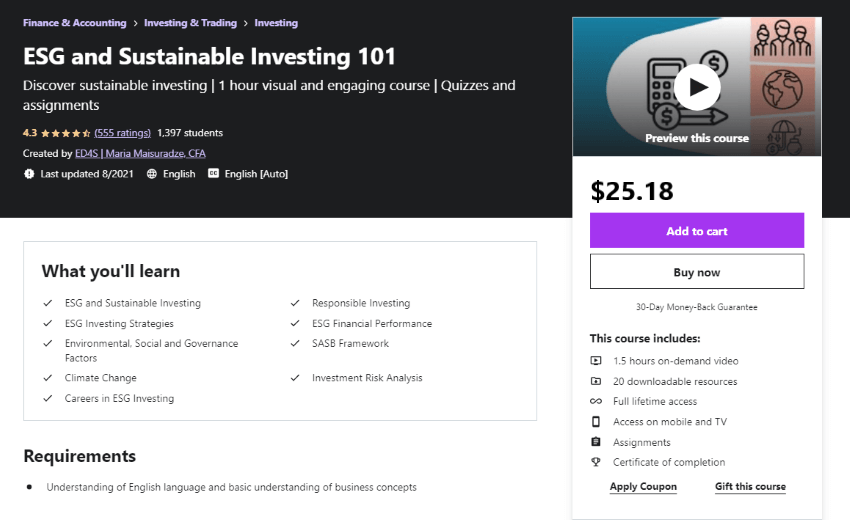 The ESG and Sustainable Investing 101 is a visual course that takes one hour to complete. It is a beginner course, so it is ideal for anyone without an investing or finance background.
This course is ideal for students, investors, investment professionals, financial advisors, and anyone passionate about sustainability.
Here, you'll get all the knowledge you need to start your sustainable investing journey. It covers most of the sustainable investing topics such as ESG investing, climate change, responsible investing, social and environmental factors.
And to keep you engaged, the course offers you multiple quizzes and assignments. If you want to apply your knowledge, you can do a case study "Putnam Sustainable Leaders Fund".
After completing the course, learners get access to a community forum where they share knowledge and research papers.
See Related: How to Start Investing With Purpose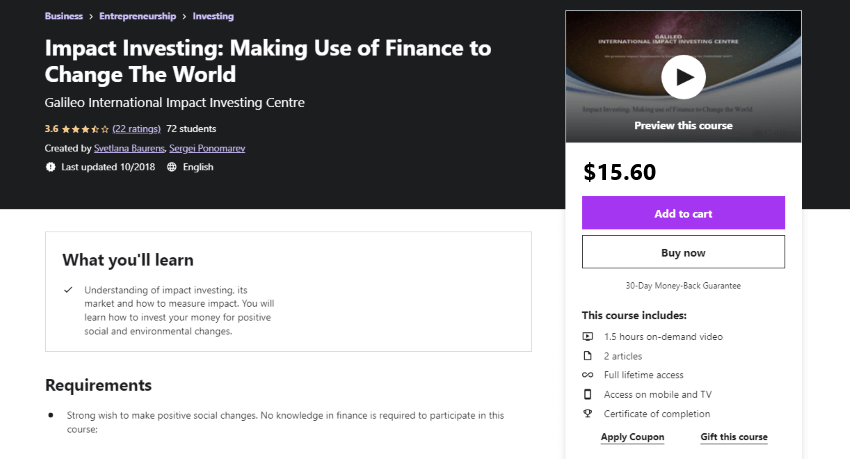 This one and half hour course do not require you to have any finance background. It will teach you how to invest your money for social and environmental change.
Therefore, if you want a positive social change in finance, this is the right course for you.
The course will introduce you to impact investing with all the definitions and practical examples. Apart from finance and investing, you will learn how to align your values when investing. You will also learn the social and environmental impact of your investment.
And that's not all! Apart from the in-depth finance lessons, this course also gives you impact stories that will leave you inspired.
The course is available in video format, but you also get two articles.
See Related: Best Podcasts About Impact Investing in 2022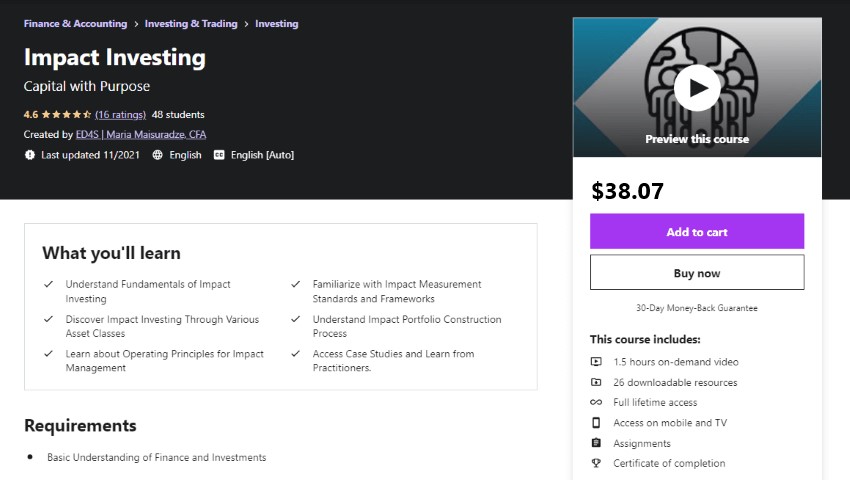 This impact investing course requires you to at least have a basic understanding of finance and investing. It is a 1.5-hour video course but also comes with 26 downloadable resources. Learners with a finance background will get a deep analysis of impact investing.
This is a foundation course on impact investing, so it gives you an introduction to various topics like sustainable development and blended finance. The lessons offered in this course are based on research and studies.
Apart from getting lessons on impact investing, you will also get access to case studies from practitioners for a better understanding of the topic.
And, you will also get assignments that will help you to assess your knowledge and skills.
See Related: Does Sustainable Investing Lead to Lower Returns?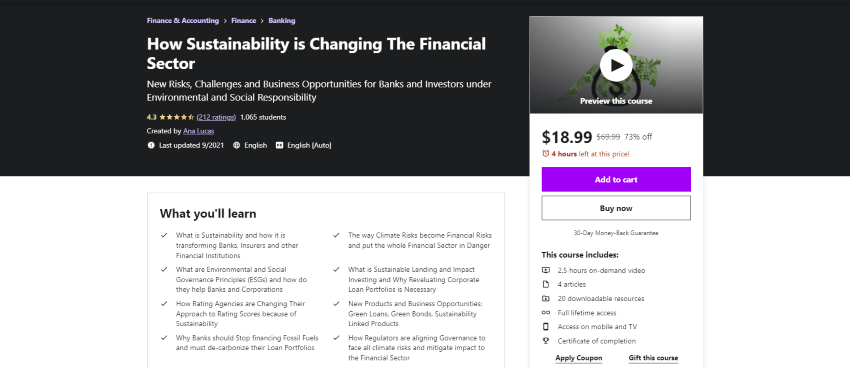 This is a 2.5 hours' video course that has four articles and 20 downloadable resources. The course is ideal for professionals in the banking sector as it focuses mainly on the financial sector. You can also take this course if you are interested in investing because it covers the environmental and social responsibilities of investors.
The course highlights the importance of environmental and social governance principles (ESGs) for banks and financial institutions. It also covers diverse topics such as climate change, governance, and how they affect the financial sector.
If you are interested in finance and aspiring to be an ESG analyst, this will be a good foundation course to give you all the basics. Finance professionals will also appreciate the insights offered by this course.
See Related: What is a Neobank? Definition & Examples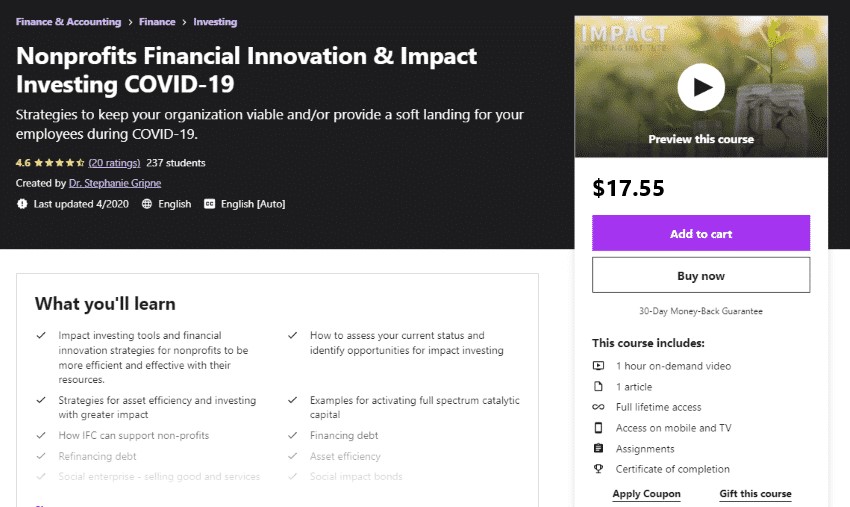 This is a fairly new course that was published during the pandemic since COVID-19 has changed the financial world. It is a one-hour course that covers impact investing and financial innovation.
To take this course, you only need to have numeracy skills to add and subtract numbers. Professionals working in the nonprofit world will also benefit from this course.
The course covers impact investing while also tackling general finance courses such as financing debt, asset efficiency, pays as you save, and social impact bonds. After the course, you will have the necessary knowledge on how to increase revenue, decrease cost, and reduce risk.
You will also get a sustainable investing certification after completion. The course comes with assignments and one article to help you with more understanding. You have full access to the course, and you can watch it on television and mobile.
See related: How to Create a Social Impact Measurement Framework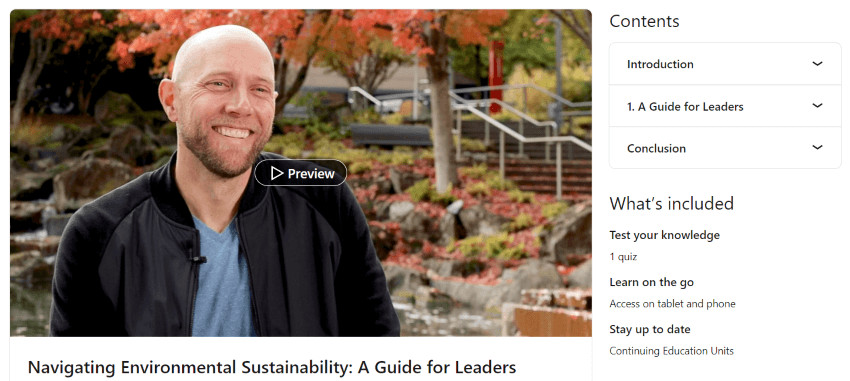 Navigating Environmental Sustainability: A Guide for Leaders by the chief environmental officer at Microsoft, Dr. Lucas Joppa, helps company leaders to address climate issues in their organizations.
With business leaders looking for meaningful ways to solve environmental issues, Dr. Joppa offers a set of rigid rules company leaders should follow to solve the problems. The course prepares companies for business transformations in the future of sustainable investing.
Dr. Joppa offers a short but insightful course that covers different topics on environmental sustainability and leadership. In the introduction, he explains the relationship between climate and leadership. He also covers business climate risk and opportunity.
The course gives investors a chance to think like business leaders when it comes to environmental sustainability, allowing them to make responsible investment decisions.
You can get this course on LinkedIn using your tablet or phone. And after completing the course, you get a LinkedIn Learning Certificate that will show on your profile. So, if you are looking for a sustainable investing online course, look no further.
See Related: The Estée Lauder Companies Inc. ESG Profile (EL): Is It Sustainable?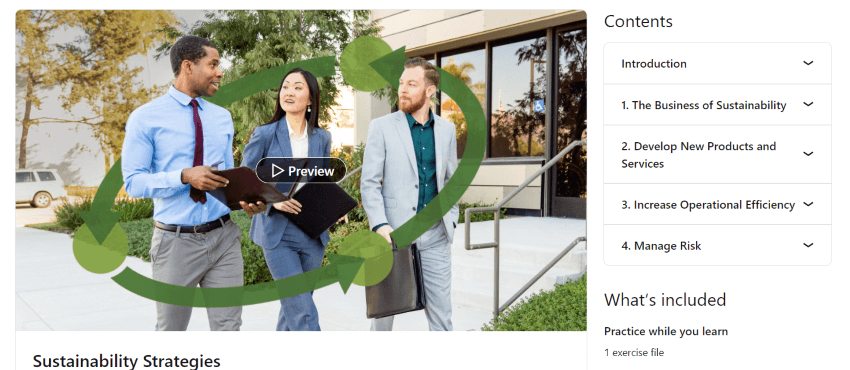 Sustainability Strategies is a course by David Bennell, who is a consultant on sustainability strategy and ESG practices. In this course, Bennell talks about smart sustainability practices for better financial performance.
It is a 56 minutes course that covers four chapters; Business of Sustainability, Develop New Products and Services, Increase Operational Efficiency, and Manage Risks. It is one of those sustainable investing courses that will teach you how to reduce energy use, create sustainable products, and reduce toxic emissions.
This course is ideal for business leaders, company owners, and sustainable investors. Company leaders will learn how to establish a reputation on sustainability and also protect their company licenses.
After each chapter, you will receive quizzes for the course. And in the end, you will get a LinkedIn Learning certificate that will show on your profile.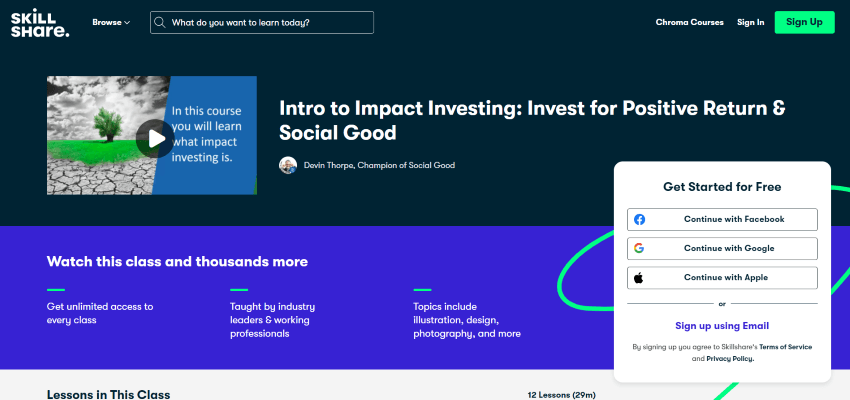 This course is by Devin Thorpe that is ideal for beginner investors. You don't even need a college degree to understand the lessons. It is a short course with 12 lessons that take 29 minutes to complete, but it is packed with knowledge.
The course is broken down into short videos under four minutes that give insights on different topics. You will learn about impact and socially responsible investing, so by the end of the course, you will be ready to make your first impact investment.
In this sustainable investment course, you will learn about impact investing and get a few examples. This is a short but practical course that goes directly to the point. If you are a beginner, you will enjoy the short and precise videos.
See Related: Merck & Co., Inc. ESG Profile (MRK): Is It Sustainable?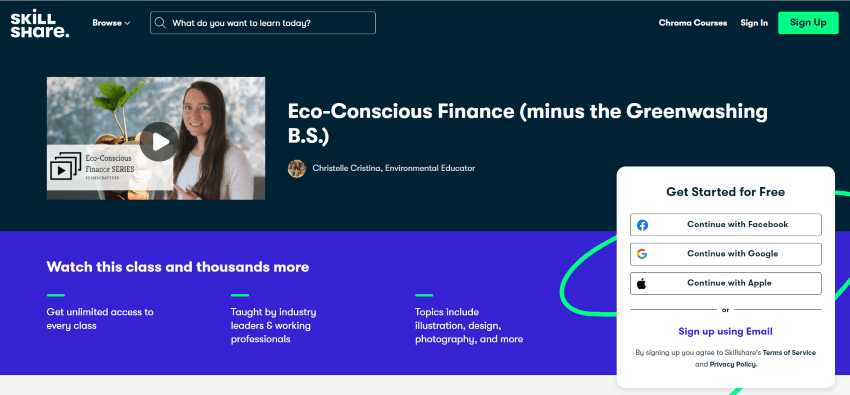 The Eco-Conscious Finance is a 36 minutes course with 8 lessons. This course was created by a French environmental educator Christelle Siohan and the Peruvian crafter Cristina Rojas. Apart from being a finance course, it also offers lessons on environmental activism.
This is a beginner course, so don't feel intimidating if you are new to eco-finance. It offers you a short and precise syllabus on how to better the environment with your money. In the course, you will learn eco-friendly donating and spending, impact investment, divestment, and responsible credit cards.
The course offers you an introduction to your money and the environment. It gives a good balance of investment and environmental activism. And by the end of the course, you will be able to make better choices with your money and the environment.
Why you should take a Sustainable Investing Course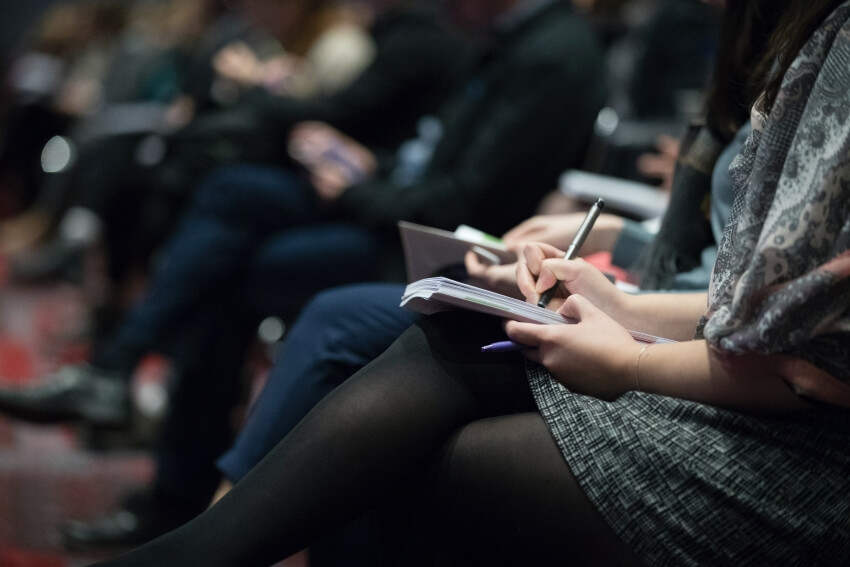 1. Learn New Investment Opportunities
Taking a sustainable investing course will help you to learn new sustainable investing opportunities.
Social responsible investing is outside the mainstream investing, and many people have no idea how to go about it. In many schools and investment classes, you will rarely hear about sustainable investing, so learning new investment opportunities might help.
2. New Career Opportunities
If you are looking for new career opportunities, sustainable investing courses will be helpful. For instance, if you want to become an ESG investment analyst, you need to take a sustainable investing course. Make sure that you get sustainable investing certification that you can show potential employers and clients.
3. Courses Available Online
You can get a sustainable investing online course without going to school. We have a lot of online resources that can give you access to courses with certifications at the end of the course. Most of these courses are short, so you can complete them in a few years.
4. Expand your Knowledge
Sustainable investing is a good topic to learn if you want to expand your knowledge. Whether you are an active investor or an environment enthusiast, investing is always a good topic to learn.
We have courses for beginners and also for people with a finance background. Sustainable investing courses are essential for investing and career growth.
Related Resources