Tesla is changing the world of automaking with its lineup of innovative electric vehicles packed with tech features. However, the automaker is also transforming the process of buying a car by moving from the traditional dealership model.
While Tesla has some showrooms where buyers can see and test drive cars, the entire buying and financing process happens online. During this process, buyers can apply for a Tesla car loan.
Let's take a closer look at Tesla auto loans and what you should know about applying for financing via Tesla.
Unlock Sustainable Investing Opportunities 🌿
Join the green revolution by investing sustainably with our top partners. Discover platforms that align with your values and offer remarkable opportunities for growth.
What Is a Tesla Auto Loan?

A Tesla auto loan is a financial product offered by a child company of the automaker. This company operates under the name Tesla Finance LLC and is responsible for reviewing loan applications, issuing funds, and processing loan payments.
Tesla also has an online platform where you can apply for financing via a third-party company. The automaker works with different partners to offer alternatives to its own financing products.
Buyers also have the possibility of shopping around for a car loan and securing financing before they order a Tesla via a bank or credit union of their choice. Tesla is a flexible company and getting financing through a lender of your choice won't be an issue.
Tesla lending is a convenient option since you can order your new vehicle and secure an auto loan as part of the same online process.
How to Apply for a Tesla Auto Loan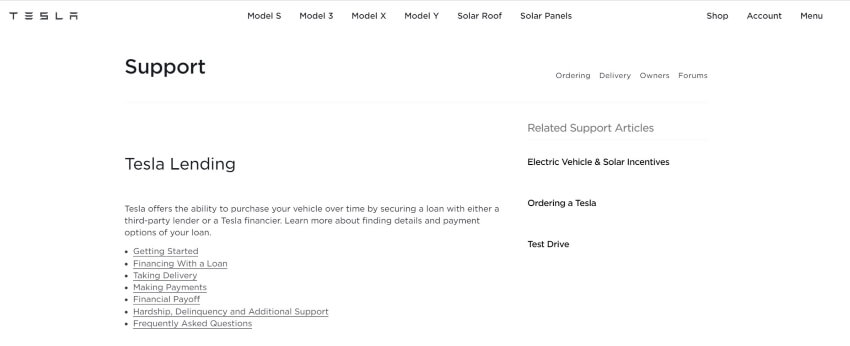 You can apply for financing after placing an order for a Tesla vehicle. Here are the steps to follow:
You'll have to place an order for the Tesla EV you want and choose how you want to customize the vehicle if applicable.
Your order will then go through, and you'll be able to review the details of the vehicle you selected. You will be able to confirm the scheduled delivery.
You should receive a confirmation for your order. You can then log into your Tesla account again and select a payment method.
You can choose to pay with cash, apply for a lease, or apply for an auto loan. If you select the loan option, you'll start a credit application.
There are different options available. You can select Tesla as your financer or select a third-party lender.
On the next screen, you'll have to indicate the total amount you want to finance and the duration of the loan.
For the next step, you'll have to enter your personal information, contact information, Social Security number, and employment details.
If you selected Tesla as your financier, Tesla will review your application and get back to you with a financing offer that you can approve online. You'll have to sign the loan agreement at least 24 hours before the scheduled delivery date.
If Tesla didn't approve your request for financing, you'll hear back from a Tesla representative who will help you explore other options.
You can find your loan details in your Tesla online account, along with information on how to make payments. Usually, you'll have to make your first Tesla auto loan payment 30 or 45 days after the delivery.
One of the advantages of getting a loan through Tesla is that you can make your car loan payments via your Tesla account or on the Tesla app.
See Related: How Self Driving Cars Impact Society
How to Get Approved for Tesla Auto Loan
Like every auto lender, Tesla has some requirements you have to meet to qualify for financing. You should also know that Tesla will offer you an APR based on your credit score and financing profile.
Tesla Auto Loan Requirements: Who Can Apply for Financing?
Tesla offers financing for its entire current lineup, including the models S, X, Y, and 3. However, not all buyers can get financing.
Tesla has a sales license in 27 states. You won't be able to apply for financing via Tesla if you live in a state where Tesla doesn't have a sales license.
Currently, Tesla has a sales license in Arizona, California, Colorado, Florida, Georgia, Idaho, Illinois, Hawaii, Indiana, Massachusetts, Maryland, Missouri, Mississippi, Nevada, New Jersey, New York, North Carolina, Ohio, Oregon, Pennsylvania, Rhode Island, Tennessee, Texas, Utah, Virginia, and Washington.
See Related: Greensky Finance Review: Is It Legit?
What Is a Good Tesla Financing Credit Score?
Tesla doesn't have any official guidelines regarding credit scores available online. While your credit score is an important factor that auto lenders will consider, it's important to keep in mind that they also look at other factors.
These factors include your income, your current level of debt, and how much you're willing to pay as a down payment. For instance, a buyer with an excellent credit score might qualify for a higher APR compared to a buyer with a lower credit score and a stronger income.
On average, buyers have a score of 700 or above when applying for a Tesla loan. You'll qualify for a better APR and save on the cost of borrowing if you have a score in the excellent range (above 780).
Tesla may or may not approve your application if you have a score below 700. If you're somewhere in the good range, Tesla will look at other factors like your income and debt level to make a decision.
Does Tesla finance bad credit? It's unlikely that you will qualify for a Tesla auto loan with a poor or fair credit score.
See Related: Best Alternatives to Yahoo! Finance
Financing Different Vehicles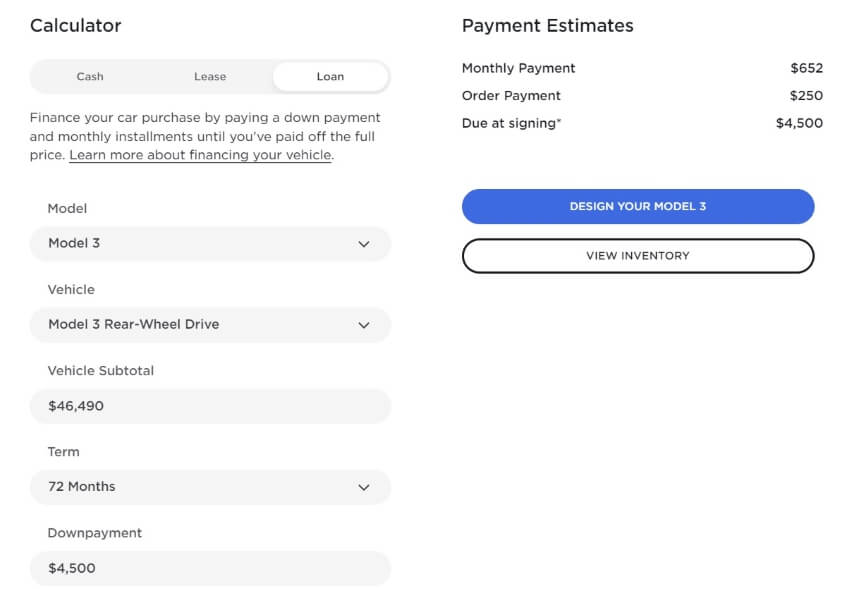 The price range of a Tesla EV can vary a lot from one model to another. The most affordable model, the Tesla Model 3, retails for $44,990. It costs less than the average cost of a new car at $47,000.
However, a Model S will cost $94,990 before personalization options, and pricing for the Model X starts at $104,990.
Obtaining a loan with a low Tesla financing APR is going to be a lot easier for a Model 3 or Model Y. You'll need a stronger financial profile to get financing for the other models due to the significant price difference.
What Kind of APR Does Tesla Offer?
The Tesla financing rates start at 2.49%. It means that buyers with a great credit score and a strong financial profile will qualify for a rate of 2.49% or close to it.
However, you will get a higher Tesla financing rate if you don't have a perfect credit score. You should know that the average Model X owner has a yearly income of $143,000 while Model 3 owners earn $128,000 a year on average.
There are no official guidelines regarding how income and other factors affect the APR that Tesla will offer, but it's unlikely that you will qualify for the lowest advertised APR of 2.49% if you don't have the same financial profile as the average Tesla owner.
How Do the Tesla Financing Rates Compare?
Some credit unions advertise lower APRs that start at 1.49% or 1.99%. It's unclear what kind of credit or income requirements you have to meet to qualify for these APRs, but it seems that there are other cheaper options to consider.
Other automakers are also offering 0% APR to the buyers with the strongest financial profile. It's not easy to qualify for these financing terms, and you'll usually need an excellent credit score, a large down payment, or a qualifying trade. However, with a minimum APR of 2.49%, financing via Tesla tends to cost more compared to what other automakers offer.
You should also know that the current trend is to offer lower APRs for auto loans due to the low sales numbers of the auto industry during the pandemic. In January 2022, the average APR was 3.94% for auto loans. This percentage fell from 4.96% in December 2018, the highest point in recent history.
Compared to these numbers, the 2.49% minimum APR offered by Tesla is lower than average but it's not a dramatic difference.
Tesla Loan Terms
The loan term or duration of the loan is another important consideration. Opting for a longer loan term will result in lower monthly payments, but it increases the total cost of borrowing.
Tesla offers different terms, including 36, 48, 60, or 72 months. In the past, Tesla offered limited options and didn't offer all these different terms for all its vehicles. This policy has changed, and Tesla financing is now more flexible.
Tesla offers an online calculator you can use to compare different scenarios and see how different terms would affect your monthly payments.
See Related: Different Millennial Banking Habits to Know About
Additional Things You Should Know When Financing a Tesla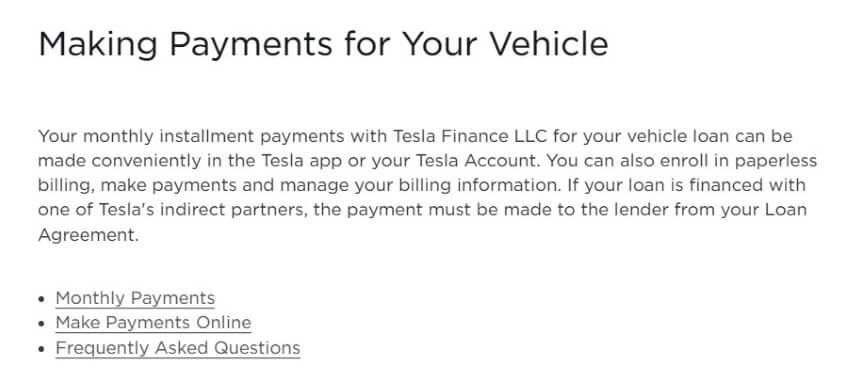 There are a few additional things to keep in mind if you want to apply for a loan via Tesla:
There is a delivery fee of $1,200 on top of the price of your new car. You can finance this fee.
Delivery takes up to 12 weeks. The financing terms are good for 30 or 60 days, which means you have to place the order and then apply for financing. You'll have to accept the loan and sign the agreement before the delivery date.
You'll have to pay sales tax on your new vehicle unless you live in a state that doesn't charge sales taxes.
If you fill out multiple auto loan applications within a 14-day window, they will only impact your credit score once. It can be a good idea to shop around and compare other offers once you get an APR from Tesla.
If you can't secure financing, you have the possibility of canceling your Tesla order. However, there is a $250 order fee that isn't refundable.
See Related: Is Tesla Powerwall Worth it? Our Tesla Powerwall Review
Why Tesla Loans Are a Convenient Option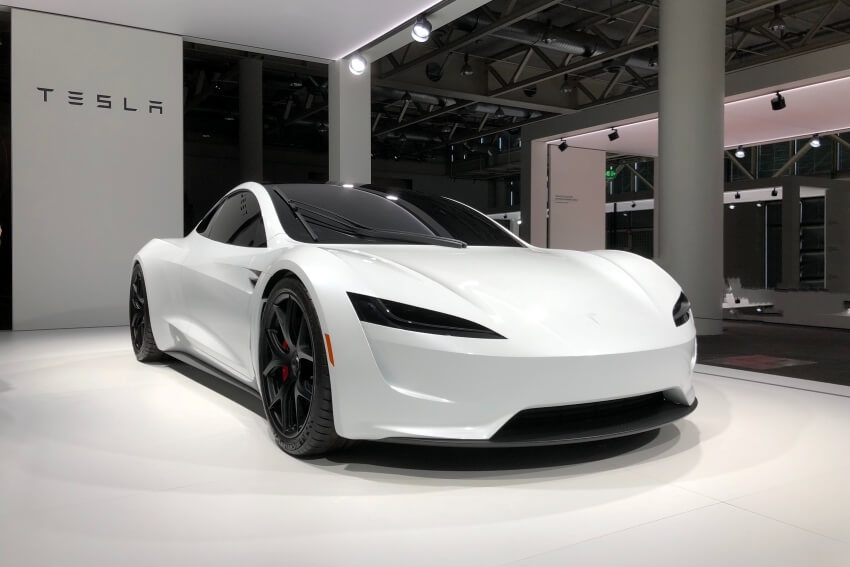 One of the main reasons to consider a Tesla loan is that applying for financing through Tesla is a convenient experience. You can secure financing as part of the vehicle ordering process to save time.
Tesla offers a simple interface that allows you to fill out a loan application. Plus, there is a convenient calculator you can use to see what your monthly payments will be. Tesla owners also have access to great tools for reviewing their financing details and making payments online or via the Tesla app.
Another advantage of choosing a Tesla loan is that Tesla seems to be flexible. A representative will contact you to discuss your options if you don't qualify for the terms you applied for.
It sounds like Tesla is willing to work with buyers to find a solution that works for both parties, whether it's making a larger down payment, changing the term of the loan, or securing financing through a third party.
The ease of use is a major advantage, but you should know that putting time and effort into shopping around and comparing different options can pay off.
While securing financing through a bank or credit union of your choice makes the process of getting a new car more complex, there are credit unions advertising lower APRs for Tesla loans.
Depending on your credit score and financing situation, you might be able to qualify for better terms than the ones Tesla offers.
See Related: Tips for Buying a Used Tesla
Pros and Cons of a Tesla Loan
Does a Tesla auto loan make sense for you? Let's take a closer look at the pros and cons of this financial product.
Pros:
It's easy to apply for financing as part of the buying process and Tesla offers a great experience.
The advertised minimum APR of 2.49% is lower than the current average.
Tesla has become more flexible and now offers more terms to choose from as well as financing for its entire lineup of new and used vehicles.
Tesla is a flexible option, and a representative will work with you to find an alternative if you don't get approved.
Cons:
Tesla doesn't offer financing in all states.
Tesla doesn't match the 0% APR that some automakers offer for buyers with a strong profile.
Some credit unions advertise a lower APR that starts at 1.49% for a Tesla. It can pay to shop around.
There are no official guidelines about credit or income requirements, which makes it difficult to get an idea of the kind of APR you will qualify for until you submit an application.
Conclusion
Tesla financing is an option worth considering if you value the ease of use that this online process offers. The different terms and relatively low APR are positive points. However, this option seems best for buyers with a strong credit score and excellent income.
Remember that shopping around and comparing different auto loans might not be convenient, but it can help you save a lot when financing a new vehicle, especially if your credit score isn't excellent.
FAQs
Here are a few additional things you should know about financing a Tesla.
Is it easy to finance a Tesla?
Tesla offers a streamlined process that makes applying for financing easy. However, not everyone will qualify for a loan. Obtaining financing is easier if you have a strong credit score or opt for the more affordable Model 3.
What credit score do you need for Tesla financing?
Tesla doesn't have any official credit requirements available. Obtaining financing shouldn't be an issue if your score is in the excellent range.
You should also qualify for an affordable APR if you have a score of 720 or above. You should expect to get a higher APR if you have a score below 720.
What bank does Tesla use for financing?
Tesla has a subsidiary called Tesla Finance LLC that acts as its financing department. The automaker also has partnerships with US Bank and Wells Fargo to offer third-party financing.
You can apply for these different options on the Tesla website or secure financing yourself by getting pre-qualified with a bank or credit union of your choice.
Related Resources