The Tesla spotted in the parking lot or cruising down the freeway is the envy of everyone driving near it. With cutting-edge technology for electric cars, a sleek design, and a surplus of attractive features, it is a car that many would love to get their hands on at some point.
When you get to that point and are looking into acquiring one of these beautiful vehicles, you are given the choice of leasing or buying.
With these two choices presented, how do you know if you should do a Tesla lease vs buy? What's the best option? How much is a Tesla lease?

This article will thoroughly review the Tesla leasing program offered through the company and purchasing the vehicle, whether through financing or outright.
What Should You Know About Tesla Leasing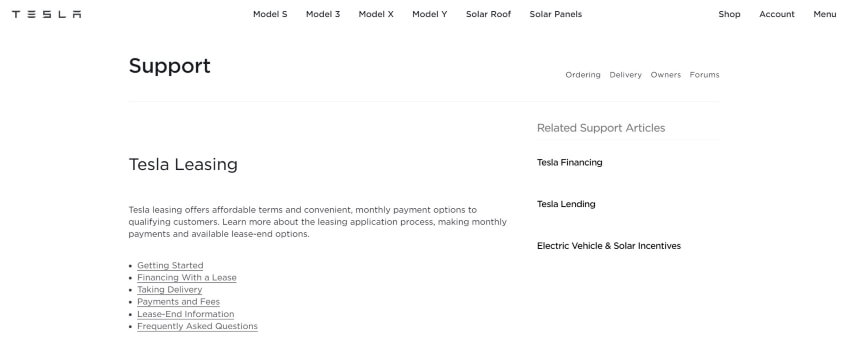 If you decide to lease a Tesla automobile, keeping the following information in mind while exploring leasing is pertinent.
Leasing is not the same as full ownership
A lease typically runs for a few years
Lease agreements come with restricted mileage
As the lessee, you are responsible for any damages to the vehicle
You are responsible for all maintenance during the lease period
After the lease period, you may incur additional charges due to extra mileage or excessive wear and tear to the vehicle
Other specific terms and conditions will be dependent on the company. With Tesla, you can self-check through their online checklist and decide how to proceed with your vehicle.
The list will guide you through all the different areas of your car and verify that all is in tip-top shape and ready for whatever the next plan entails.
Upon completing your leasing period, you have four options for your next steps. While some companies only offer one or two of the choices below, Tesla provides four separate scenarios to consider, including:
Return Your Tesla
Purchase Your Tesla
Extend Your Lease
Upgrade Your Tesla
Return Your Tesla
If you decide that the best path is to return your Tesla at the end of the leasing period, you will review the online checklist to determine what qualifies as excess wear and tear to the vehicle.
If there are areas that require repair or assistance to get the car back to its original condition, Tesla will reach out to settle any additional charges required.
You will initiate the end-of-lease process within your personal Tesla account.
Furthermore, you will complete all the necessary paperwork and review additional charges within your profile. You will also schedule your vehicle drop-off time and establish the location.
Purchase Your Tesla
After a lease is completed, many don't want to return the car they have come to love. Thankfully, there are many circumstances in which you don't have to return your beloved Tesla and can purchase it from the company instead.
While not all models qualify for this option (namely the Tesla Model 3 and the Tesla Model Y), you can initiate the process through your Tesla account if yours meets the criteria.
In your profile, you can request an estimate for your particular vehicle. Therefore, if you have a Tesla Model S left, you may be able to get an estimate to purchase.
How much will it cost to buy a Tesla? Tesla will provide a purchasing packet to review the total cost and breakdown. From there, you send payment to cover the purchase price, and they will transfer ownership to you promptly.
Extend Your Lease
If you need a little extra time with your Tesla, the company also offers you the opportunity to extend your lease. In order to do so, you must be current on all your lease payments and be within three months of your agreement's end date.
Like the previous options, extending your lease's cost savings occurs within your Tesla account. The maximum time you can further your Tesla lease program is six months.
Upgrade Your Tesla
If you have your eye on one of the newer Tesla models that have come out since you began your lease, you may have the opportunity to do so when the end of your leasing terms is near.
If this is something that you are interested in, reach out to a customer service representative at [email protected] to discuss your options.
Buy vs Lease a Tesla
When you purchase a Tesla vehicle, you obtain ownership of the car. When you buy through Tesla, you can participate in one of their financing programs or utilize your financial institution to finalize the sale.
Like leasing, you can customize your Tesla to match the color and features you want in a vehicle. However, unlike leasing, you are not limited to a specific mileage level and do not return your car at the end of a designated period.
The vehicle is yours to keep and to do with as you wish. While you do still have the ability to trade your car in for a different make or model, that is done separately from Tesla.
You can sometimes trade in one Tesla model for another with the program. For example, you could go from leasing the Tesla Model X to the Tesla Model S. However, trading a car after having purchased it is entirely different.
Trading In After Purchase
When you initially consider turning in your current vehicle for a newer style or different make, the standard routine is to speak to a car dealership that carries the make and model you desire. Once you establish the appropriate sellers, you gauge their interest in bringing your car to their used car inventory.
Once this conversation has started, the dealership will give you an estimate of what price they will provide you with for your car, which you will use towards purchasing a new vehicle.
Sometimes, the amount will be too low, and purchasing another automobile won't be feasible. If that situation occurs, many will take the time to visit another dealership.
Sometimes, you will find special promotions that will give you more for your trade-in than you would typically get. An opportunity like this often presents the chance to get a new vehicle for a reduced price or less financing.
For example, suppose you are looking at an SUV with an average cost of $40,000 when purchased brand new. You research your current car online on websites such as Kelly Blue Book that give you an estimate as to what the worth is.
Your research shows that you can expect around $12,000 for your car in its current state. If the dealership you visit agrees to trade in your current vehicle for that price, you will reduce the purchase price for the new SUV to $28,000 instead of the original $40,000 cost.
How Are the Options Different?
Several aspects make buying and leasing a Tesla unique. While one provides permanent ownership, the other allows you to obtain a new vehicle every few years.
Additional things to consider when reviewing how the two options are different include:
Varying Interest Rates Between Both Options
Mileage Restrictions (Leasing)
Additional Fees For Wear and Tear (Leasing)
Ability To Trade-In For Newer Models (Leasing)
Lower Monthly Rates (Leasing)
More Extended Payment Responsibility (Purchasing)
Some of these carry a more significant importance for certain individuals than others. While many enjoy being able to change to a new vehicle every few years, others would rather have the freedom to drive their car as they choose without concern for the mileage used.
Varying Interest Rates Between Both Options
Depending on your route, your interest rate will correspond with that choice, your credit score, and other items specific to the lender or company.
While leasing will be with the company, in this case, Tesla, buying a car can happen with the company, bank, credit union, or cash. Also, a new Tesla can have varying rates through Tesla financing, depending on the model you select, including differences in long-range or a traditional base Tesla model such as the Tesla Model 3.
Mileage Restrictions (Leasing)
As mentioned above, leasing electric vehicles comes with limited mileage available to you for the duration of your lease.
However, purchasing a vehicle does not have this restriction. It's standard that a lease will provide 12,000 miles per year. If you drive a long range of distances or frequently travel, this amount will likely be too low for your needs.
Additional Fees For Wear and Tear (Leasing)
Everybody loves that new car smell. Unfortunately, it doesn't last forever. Your vehicle will be used extensively during the following months and years. When you purchase a car, the status and care doesn't matter because you are responsible for it long-term.
At the end of your lease, a review of your vehicle will provide insight into the level of wear and tear and an estimate of the extra costs you will have to pay.
These costs are part of the Tesla lease requirements to return the vehicle to its original condition so the company can market it to prospective buyers.
Ability To Trade-In For Newer Models (Leasing)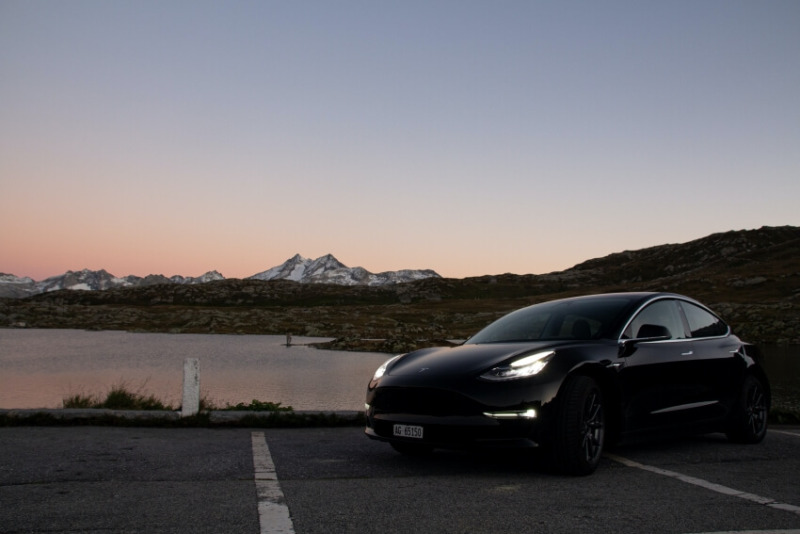 You can upgrade at the end of your leasing period in something unique only to leasing, an option that isn't available at all companies.
While purchasing a used car loan allows you to trade in your vehicle for whatever value is associated with it, the leasing trade-in will enable you to do so in fewer steps.
See Related: Best Tesla Financing Rates in the Market
Lower Monthly Rates (Leasing)
You often have a reduced monthly payment because of the tax credits the structure leasing provides and the accompanying stipulations. But, Tesla owners are the ones who get to claim and keep the electric car tax credit, so depending on your financial situation and location, this can have a decent impact.
A big reason for this is the limited battery range and mileage these cars get. When you drive less, it's less wear and tear on the vehicle. Therefore, the company can resell it at a higher rate after the leasing period is complete, giving you a lower Tesla lease cost.
More Extended Payment Responsibility (Purchasing)
While leasing often encompasses a period down payment of around three years, the Tesla average price can come with financing terms of up to eight or more years. Therefore, your financial responsibility for the vehicle is considerably longer than what you have in a monthly payment on a traditional lease back.
While the two options have many differences, it doesn't mean that one path is less appealing than the other. For some individuals, leasing is the best solution for their needs. Additionally, many people view the car buying process as a better fit for their daily lives.
See Related: Varo vs Chime: What is Better?
How Are the Options Similar?
Although leasing and purchasing have many different aspects, just as many share similarities. Each route provides a reliable vehicle for you to use as you desire and the ability to select your chosen car.
When considering whether to lease or buy Tesla, pay attention to the following:
Customized Look and Features
Access To All New Models and Technology
Long-term Vehicle Usage
Trade-In Potential
Tesla Warranties and Customer Service Assistance
Personal Tesla Account For Vehicle Management Purposes
Regardless of which route you decide to take, you have access to everything that makes up the foundation of Tesla as a company.
Whether purchased or leased, the Tesla engineers will construct your vehicle similarly with the same high-quality attributes that make it uniquely Tesla.
Customized Look and Features
In both instances, leasing or purchasing with Tesla, you get to specify your dream car's style and features. Therefore, you can pick the color, interior, and materials, among many other elements.
This ability helps you feel a stronger connection to the vehicle and allows you to be a part of the car's design.
Access To All New Models and Technology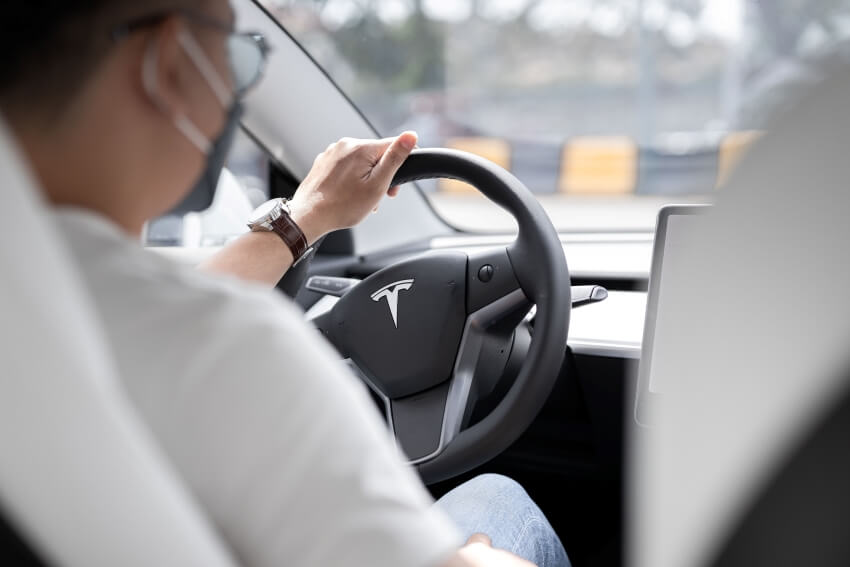 Regardless of the route you take to obtain a Tesla, you will have the same level of access to the new models that the electric car company creates and the technology they outfit them with while in production.
There isn't a specific model produced only for leasing and another for those purchasing a Tesla.
See Related: Tips for Buying a Used Tesla
Long-term Vehicle Usage
While leasing is most commonly for three full years, it is still fully available to the leaseholder for that entire duration. Purchasing a vehicle comes with extended ownership, but both options allow dedicated access to the car for a long-term solution.
Trade-In Potential
While the process looks different for each route, leasing, and purchasing allow you to trade the vehicle for an upgraded option. Whether it's with a new lease or using the value towards purchasing another car, the choice is available for you to select a different vehicle when the time is right.
Tesla Warranties and Customer Service Assistance
It doesn't matter whether you decide to lease or purchase a Tesla vehicle. Each option permits you access to the company warranties for your car and customer service assistance for the duration of your lease or the life of your automobile.
Personal Tesla Account For Vehicle Management Purposes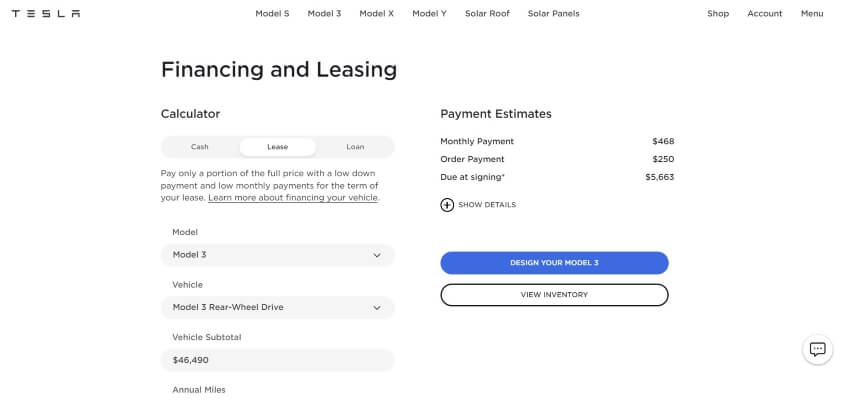 One of the top perks of leasing or buying a Tesla is online access to your personalized company profile. With this, you can request estimates for purchase, perform your lease checklist, view your payment history, and much more.
Having everything in one place and bypassing lengthy phone conversations is a benefit many appreciate. Accessing this perk no matter what avenue you take is a feature that not many companies offer to customers.
In addition to the above, Tesla offers an online calculator that helps you estimate what your lease and purchase payments will equal monthly. This calculator is available for all prospective buyers on the Tesla website.
See Related: How Self Driving Cars Impact Society
Should I Lease A Tesla?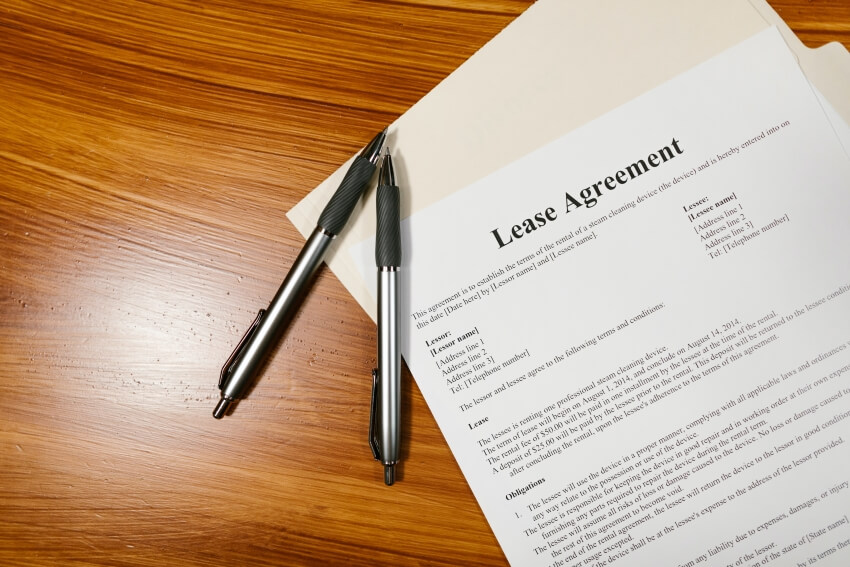 If you are going back and forth to obtain a Tesla for personal use, you may wonder what is better about leasing. While there are many positive attributes affiliated with leasing, some of the pros and cons of leasing a Tesla include:
Lower Monthly Payments
Upgrade Options
Ability to Purchase
New Car Every Few Years
Leasing is an excellent option for many. Having the ability to change up your vehicles every few years is quite appealing, and it's one of the top reasons people choose to go that route.
With safety features and technology changing rapidly, a three-year span can mean a huge difference in the types of vehicles available.
Additionally, the lower monthly payment amount can reflect the limited mileage available during a leasing period. Therefore, you are paying a smaller monthly price than what you would be with the purchase method.
What Is Better About Buying?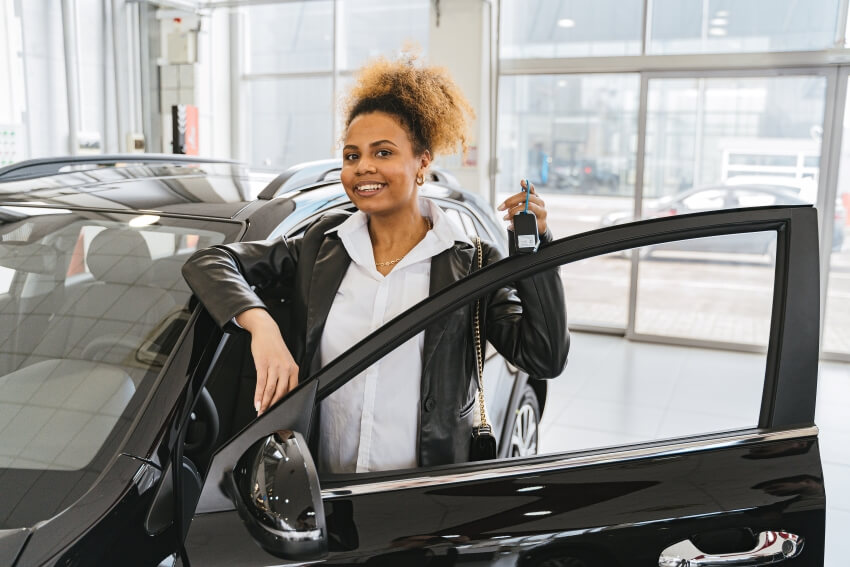 On the flip side, buying a car has benefits shoppers can appreciate. In general, buying has been the go-to method for car ownership. It wasn't until recently that leasing took off and became a contender.
Some of the pros and cons of buying a Tesla include:
The Permanency That Comes With Sole Ownership
Unlimited Mileage
Choice Of Financial Institutions For Payment
No Additional Fees For Wear and Tear
As stated above, buying has been the primary source of car acquisition until recently. Therefore, many still see it as the best route for car buyers.
Additionally, having something tangible in exchange for all the money spent is appreciated, whereas leasing requires you to return the item at the end of the term.
Who Should Choose To Lease?
Leasing is an excellent option for many people looking for a brand-new car for less money. Due to the limited miles you can drive on a lease, you can participate in a lower payment amount. You may also have a lower loan interest rate depending on your credit score and your Tesla lease terms.
While the downfall of this method is that you don't automatically get to keep the vehicle at the end of the first lease term, you can purchase the car outright if you desire once the period is complete.
Most people willingly trade the ability to choose a new vehicle every three years over gaining permanent ownership of one.
In the end, leasing is an excellent option for someone who doesn't drive many miles back and forth to work or school and resides close to necessary amenities.
For those who always want the newest models and designs, leasing is an excellent option, as they can constantly trade out for the latest versions and the best features.
Who Should Choose To Buy?
Buying is likely the better option for those who aren't as concerned with having the latest and greatest. When purchasing a vehicle instead of leasing, you can go with whatever financial institution you choose, which opens you up to competitive interest rates that you wouldn't get otherwise.
Additionally, not being restricted to a certain amount of miles is highly beneficial for those who travel frequently or live in rural areas.
Typically, in these situations, the extra miles will add multiple charges at the end of your lease that you must reconcile with the company.
All in all, those who buy often want a physical item to show for their purchase. While this isn't something you get in the end with leasing, it's something obtainable with buying a car.
Buying provides a more relaxed atmosphere for those who don't want to be concerned with wear and tear and restrictions.
FAQs
Is it smart to lease than buy?
Leasing a car is a process where you pay for the use of a vehicle for a specific period of time, usually 2-3 years, and then return the car to the dealership. Leasing can be a smart option for those who want to drive a new car every few years without worrying about maintenance costs. However, leasing can be more expensive in the long run than buying a car outright, and you won't own the car at the end of the lease. It's important to weigh the pros and cons of leasing versus buying to determine which option is best for your individual needs and financial situation.
Does Tesla lease include maintenance?
Tesla lease does not include maintenance. Lessees are responsible for the routine maintenance and repairs of their leased Tesla vehicles. However, Tesla offers a prepaid maintenance plan that can be added to the lease agreement for an additional fee. This plan covers the recommended maintenance services for the duration of the lease term, including annual inspections, tire rotations, and brake fluid replacements.
Is it more worth it to buy or lease a car?
Lease vs buy a car is a common dilemma for many car buyers. Leasing a car typically involves lower monthly payments than buying, but you won't own the car at the end of the lease term. On the other hand, buying a car involves higher monthly payments but you will own the car outright once it's paid off. Ultimately, whether it's more worth it to buy or lease a car depends on your personal financial situation and driving needs.
Can I get a Tesla with a 650 credit score?
Is it possible to get a Tesla with a 650 credit score? While a 650 credit score is considered fair, it may not be enough to qualify for a Tesla lease or loan on its own. Tesla typically requires a credit score of at least 680 for financing options, but there are other factors that may be taken into consideration such as income, debt-to-income ratio, and employment history. It's recommended to check with Tesla or a financial institution to determine eligibility for financing options.
Related Resources
Kyle Kroeger, esteemed Purdue University alum and accomplished finance professional, brings a decade of invaluable experience from diverse finance roles in both small and large firms. An astute investor himself, Kyle adeptly navigates the spheres of corporate and client-side finance, always guiding with a principal investor's sharp acumen.
Hailing from a lineage of industrious Midwestern entrepreneurs and creatives, his business instincts are deeply ingrained. This background fuels his entrepreneurial spirit and underpins his commitment to responsible investment. As the Founder and Owner of The Impact Investor, Kyle fervently advocates for increased awareness of ethically invested funds, empowering individuals to make judicious investment decisions.
Striving to marry financial prudence with positive societal impact, Kyle imparts practical strategies for saving and investing, underlined by a robust ethos of conscientious capitalism. His ambition transcends personal gain, aiming instead to spark transformative global change through the power of responsible investment.
When not immersed in the world of finance, he's continually captivated by the cultural richness of new cities, relishing the opportunity to learn from diverse societies. This passion for travel is eloquently documented on his site, ViaTravelers.com, where you can delve into his unique experiences via his author profile.