Back in 2019, Tesla announced that it would be offering a new solar rental program to provide homeowners with a cheap renewable energy option. For a monthly payment of as low as $50, customers could enjoy the perks of a lower electric bill without having to invest in solar panels of their own.
Tesla's solar leasing option also freed customers from worrying about high installation costs or a long-term contract commitment. But, unfortunately, the Tesla solar rental program didn't last for long – by 2021, Tesla had discontinued it altogether. Cheers, Elon.
In some ways, this didn't come as a huge surprise, as Tesla never really seemed to go all in on the idea. Even when it was active, the company's home solar leasing program was only available in six states, including Arizona, California, Connecticut, Massachusetts, New Jersey, and New Mexico. The Pandemic certainly didn't help things either.
Unlock Sustainable Investing Opportunities 🌿
Join the green revolution by investing sustainably with our top partners. Discover platforms that align with your values and offer remarkable opportunities for growth.
But now that the Tesla solar rental program is off the shelf, many consumers have been left wondering about the best alternative ways to enjoy a solar energy system. While lower electricity bills are great, it's important to make sure that you end up breaking the bank on upfront fees.
Whether you're looking to purchase a rooftop solar system of your own or explore other leasing opportunities, rest assured that there are still plenty of great options available. We'll look into everything from the best solar leasing options to financing and tax breaks that can help you save on solar.
Tesla Financing Options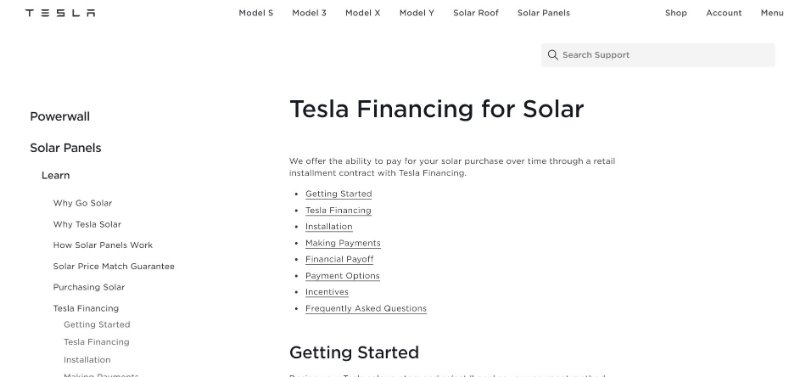 If you have your heart set on Tesla solar panels or solar roof tiles, then you can buy your system outright. While Tesla no longer offers solar rental, they do offer financing with a 10% initial downpayment.
After that, you'll continue to make monthly payments, which vary in price based on system sizes. As Tesla points out, each monthly payment will be a bit more manageable due to the fact that your solar system should start lowering your monthly electric bill immediately.
Although buying solar panels is definitely a long-term investment, Tesla won't leave you footing the bill if you decide to move before paying off your system. Instead, they offer to transfer your remaining balance to the new homeowner. Just make sure you discuss this with prospective home buyers beforehand to avoid any surprises!
Explore Other Solar Rental Options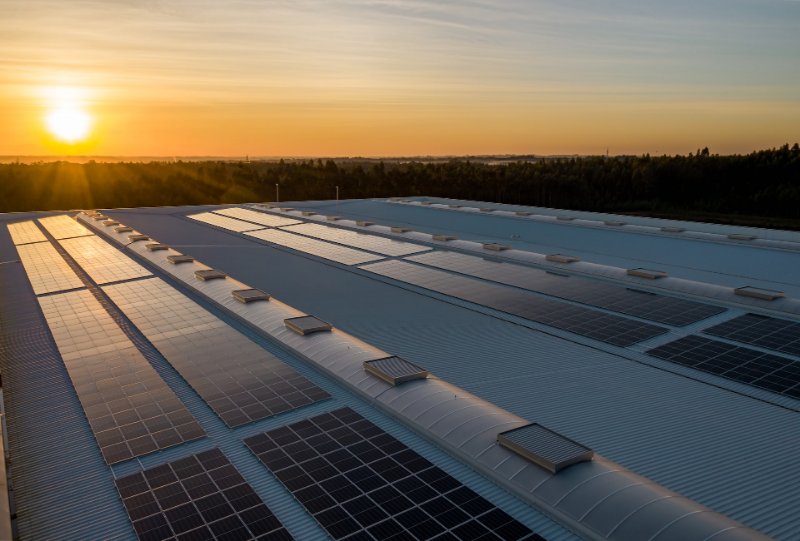 While companies Telsa may no longer rent solar energy, there are other companies that still do. If you do decide to opt for solar leasing, then the panels and installation will usually be covered by the provider.
Throughout the duration of the lease, you'll pay a standard monthly fee to enjoy the energy that your system produces.
Leasing may be an interesting option for some customers, but it's also important to note that it's not without its drawbacks. One major consideration is that if you do decide to rent, you will not be eligible for any tax credits or benefits available to customers who purchase their solar systems.
Additionally, be wary of long-term contract agreements, as you may be stuck with the same panels for years, even if newer models become available.
See Related: Solar for Low-Income Households: Top Financing Options
Companies That Rent Solar Energy Systems
As solar panels become more affordable and come with more tax benefits, solar leasing is getting a little less common than it was even a decade ago. But there are still a few well-known companies that provide the option, including:
1. SunRun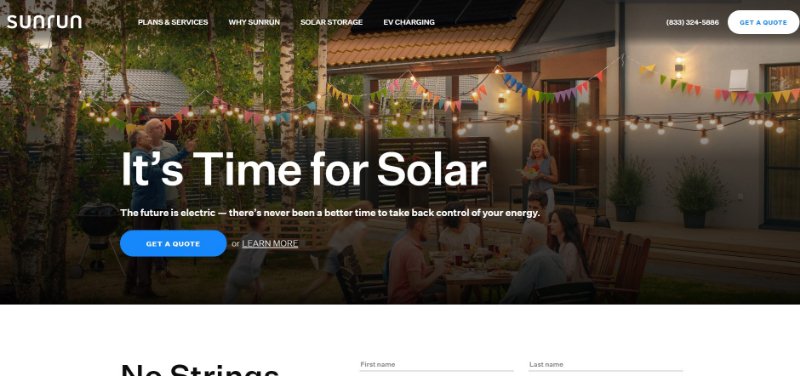 SunRun is one of the largest providers of residential solar systems in the United States and offers an array of different plans. Customers can choose from monthly solar leasing plans, financing, or purchase options.
See Related: Tips for Buying a Used Tesla
2. SunPower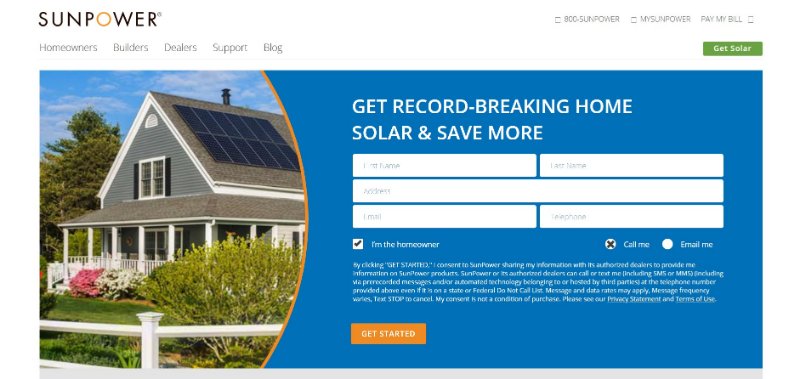 SunPower is another popular solar company that offers solutions for homeowners. SunPower offers a fixed rate monthly lease contract, complete with the option (but not obligation) to purchase the system if you decide it's right for you. The company also provides low-interest financing options for homeowners who wish to purchase their own systems over time.
See Related: Best Tesla Financing Rates in the Market
3. Short-Term Solar Rental Providers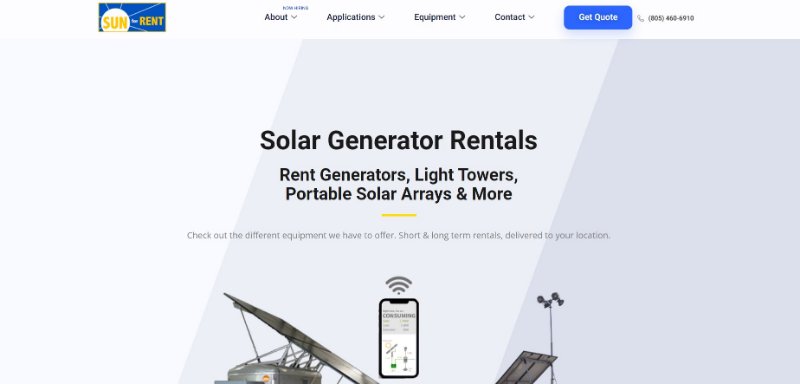 In addition to traditional residential solar panel rentals, there are now even companies that rent out portable solar solutions on a short or long-term basis. Companies like Sun for Rent and Rent Solar offer towable solar generators and towers that can serve as an interesting introduction to solar power and provide off-grid solutions.
See Related: Best Business Loans for Solar Energy
Take Advantage Of Government Discounts and Tax Credits
If you do decide to purchase your own solar panel system, then make sure you take advantage of any state or federal benefits that may be available.
The California Clean Energy association, for instance, combines state and local programs that allow homeowners to have solar panels installed at no upfront cost.
Homeowners from any state who purchase a solar PV system can also enjoy the residential solar energy tax credit. As of August 2022, homeowners can enjoy a tax credit of 30% of the cost of installation on any qualifying solar energy system installed between 2022 – 2033.
That means that you'll enjoy a 30% dollar-for-dollar credit towards your system's installation when it's time to pay income taxes that year. Such benefits and discounts can add up to save you a great deal of money and are definitely worth taking the time to research!
See Related: Tesla Auto Loan Overview: How to Get the Best Terms From Tesla
Research the Best Deals With EnergySage
Solar panels are a major investment, so it's important to do your research when it comes to making sure you get the best value. If you don't already have another provider in mind, then EnergySage can help you find the best contenders.
EnergySage is an online consumer comparison tool geared specifically towards solar power. Just sign up for an account, tell them about your property, and get customized quotes from local providers in minutes.
This can be a great way to locate companies such as Arcadia which provide solar energy services that are very similar to Tesla's. With a 4.7 Trustpilot review, Arcadia provides low-cost solar power, solar storage, and an app that allows you to monitor your system.
See Related: Different Solar Financing Models: What is Best for You?
Look Into Community Solar Options
Many people would love to get in on all the benefits of solar energy but simply aren't in a position to have solar panels installed on their property. Maybe they rent their home, live in an apartment, or aren't able to install a solar roof for a number of other reasons.
Community solar is a concept that's been developed to give anyone the opportunity to enjoy solar energy without actually having to invest in a system of their own. While the specifics of these programs vary by location, they tend to work in one of two ways.
The first is by allowing members of a multi-tenant community, such as an apartment building or condominium, to share the energy produced by a large system on-site. The second set-up works by allowing local individuals to either purchase or lease a portion of bigger systems that operate at other sites.
Participating in a solar community can lower your utility costs in a few ways, depending on how your particular program operates. Some communities are set up in such a way that participants receive two separate bills at the end of each month: one from their traditional electric company and another for any solar energy they've consumed.
Others simply provide each participant with a monthly credit on their electricity bill for the amount of energy their portion of the panels produced.
See Related: Best Commercial Solar Finance Companies
Community Solar Resources
Community solar programs can be a great way for anyone to lower electricity costs, without actually having to purchase or even lease solar panels on their own. To find out more about community solar programs near you, visit:
See Related: Best Auto Loans for Tesla: Top Financing Options
4. Energy Sage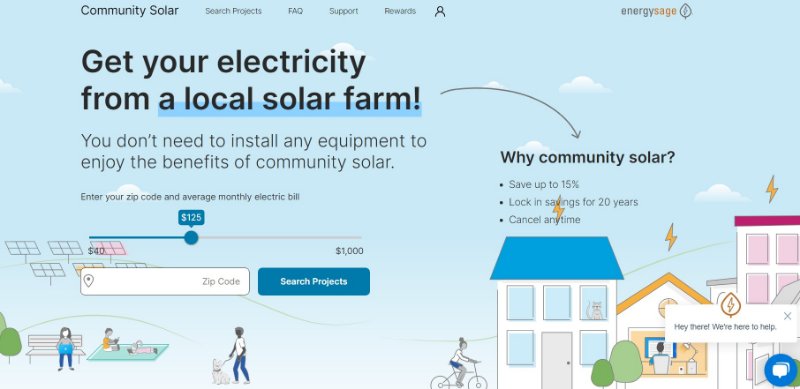 Want to find out if there are any active solar communities near you? Visit Energy Sage's community solar search page, type in your zip code, and check out the results.
5. Valmont Solar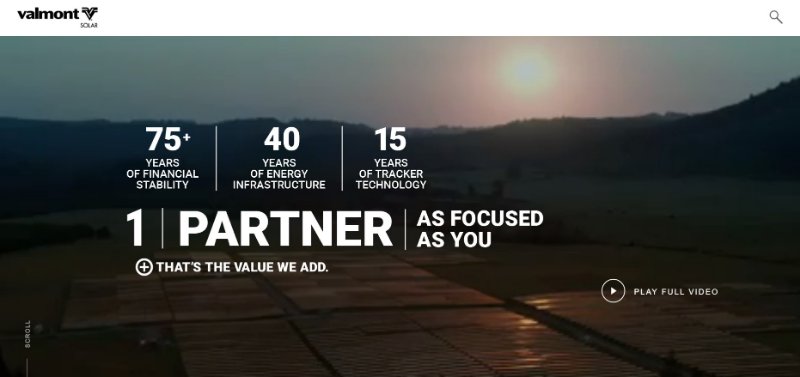 If you're a solar developer, utility, or even a farmer looking to launch a community solar project, then Valmont may be worth looking into. They have supported nearly 300MW of community solar projects across the US with their leading solar tracker solutions and fully-integrated energy infrastructure services. The company offers partnerships with solar project developers, installers, farmers, and communities that are dedicated to creating sustainable energy solutions.
6. U.S. Department of Energy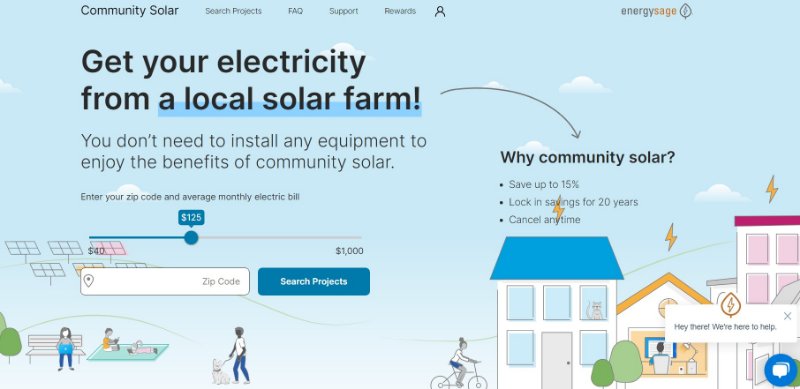 The Department of Energy's Solar Energy Technologies Office (SETO) has plenty of great information that can help new community solar partners get started.
7. SEIA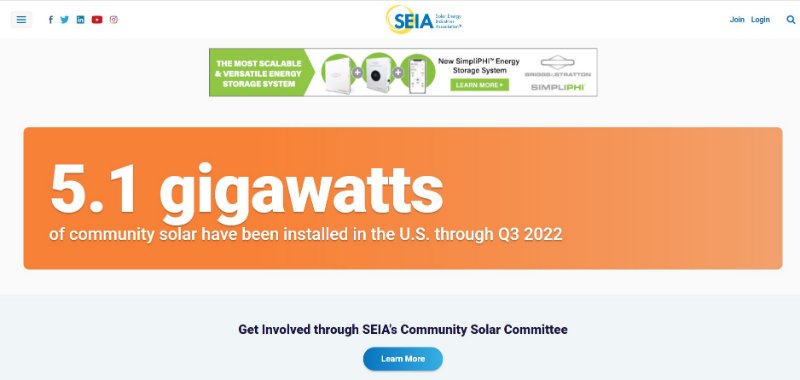 The Solar Energy Industries Association (SEIA) also has a wealth of information including the latest solar community news, resources, and more.
See Related: What Is Commercial Solar? What You Should Know
Look Into a HomeStyle Energy Mortgage
Fannie Mae recently released a program that helps homeowners work clean energy upgrades into the purchase or refinancing of their homes. With the HomeStyle Energy Mortgage, homeowners can borrow up to 15% of their home's property value without resorting to loan options such as PACE, subordinate, or unsecured loans.
The loan can be used for energy-efficient upgrades to solar and water systems, to increase a property's natural disaster resistance, or even to pay off other debts related to energy upgrades.
Best of all, you'll still be able to enjoy all the tax benefits of purchasing your own system. Investing in solar and other renewable energy measures is not only a great way to cut long-term utility costs, but it can also increase your home's value.
If you're considering purchasing or refinancing your home anyway, then this is an option that's certainly worth checking out. You may even be able to get a lower interest rate than those available through other financing options.
Find Out the Value Of Solar With the Free PV Value Calculator
If you're still on the fence about whether or not solar is the right choice for you, then head over to PV Value, a free solar value calculator. Designed for use by everyone from homeowners and commercial building owners to real estate agents and realtors, the free online tool can help answer your questions about the value of solar energy.
Just enter some basic information to create your account and follow the prompts to discover how much solar PV is worth in your area. The tool takes into account both the cost and savings that solar has to offer to give you a good idea of whether it's the right investment for you.
Related Resources