As any experienced investor can tell you, the stock market isn't always known for its predictability. One day your portfolio is looking great and the next day a bear market creeps up and takes things in a very different direction.
This is one of the many reasons that seasoned investors often strive to create a diversified portfolio. Adding a few alternative investments to the mix can go a long way toward insuring you never put all your eggs in one metaphorical basket. The good news is that the internet has made finding alternative investments easier to find than ever before.
These days you can invest in anything from real estate to farmland right from your own laptop. If you're looking for a more exotic investment opportunity, sites like the Vinovest platform now make it possible to invest in fine wines!
Unlock Sustainable Investing Opportunities 🌿
Join the green revolution by investing sustainably with our top partners. Discover platforms that align with your values and offer remarkable opportunities for growth.
As it turns out, fine wine investing has been a thing for years now. But it's largely been dominated by a fairly select community of investors. And why not? After all, who has the time to stay on top of fine wine prices, attend wine auctions, and worry about having to secure storage for all those bottles?
These are the exact problems that Vinovest claims to solve. But who exactly is behind Vinovest and is it legit? You've come to the right place to find out. Here we'll answer all these questions and many more with an in-depth Vinovest review.
Our VinoVest Review Methodology
Vinovest is indeed a legit wine investing platform with a Better Business Bureau (BBB) rating of B+. Our goal is to give you a thorough, and honest Vinovest review in order to help you decide whether the platform is right for you.
In order to give you an overall picture of Vinovest and how it works, we've gone undercover as a potential Vinovest investor. While this is not necessarily as stealthy as it sounds (anyone can sign up for a free account), we'll be relating our experiences as well as those of other verified users.
We'll start by answering some common questions about the trading platform itself and what it does. Then we'll delve deeper into the good, the questionable, and everything in between.
You'll get a breakdown of some of Vinovest's key features and our ratings on everything from its ease of use to customer service reputation. Whether or not Vinovest (or even fine wine investing) is for you is something that only you can decide. Our aim is not to convince you either way, but to present you with the information you need to make an informed decision.
What Is VinoVest and How Does It Simplify Fine Wine Investing?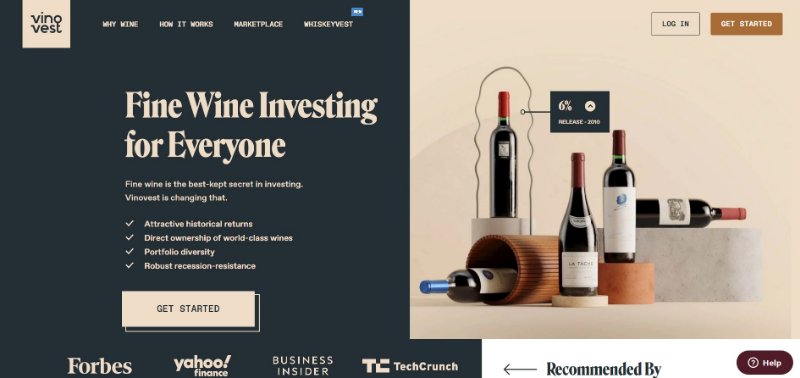 Fine wine investing may initially sound like a luxury for the rich and ridiculously cultured. The truth is, it kind of has been for most of history.
While wine experts have been known to purchase wine on the cheap and sell it for a pretty penny, later on, few of us have the time or knowledge to pull off such a feat. At least not on our own.
That's where wine investing platforms like Vinovest come in. Created by Anthony Zhang and Brent Akamine, Vinovest was founded in Culver City, California in 2019. While a relatively young company, Vinovest has latched onto a killer concept.
Its aim is to make it possible for anyone to add fine wines to their investment portfolio, without all of the hassles usually attached to such a venture. To accomplish this aim, Vinovest assembled a team of software engineers, scientists, advisors, and wine experts to create an easy-to-use investing platform.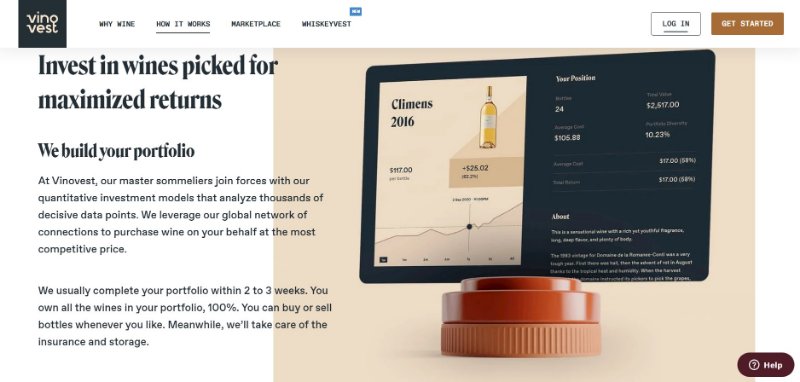 There, investors can create an investment portfolio that they can stock with bottles of investment-grade wine. The coolest part is that Vinovest not only helps locate the best wines for you, but it also takes care of everything from its authentication and proof of ownership to its storage and insurance.
Vinovest stores each of your bottles of fine wine in a secure, temperature and humidity-controlled warehouse. This in itself is a pretty big perk, as it allows investors to purchase rare wines without having to worry about constructing a cellar worthy of storing them.
Should you decide you'd rather indulge in one of your investments, Vinovest will even ship it to you so you can literally liquify your liquid asset.
See Related: FarmTogether Review: Is It Legit or Worth It?
Can Fine Wine Investing Really Enhance Your Investment Portfolio?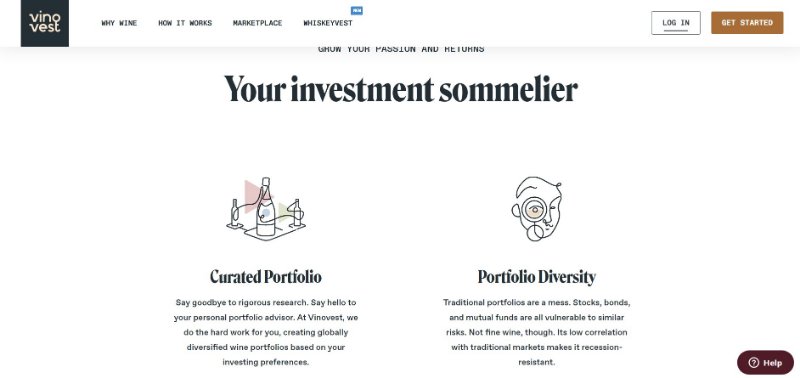 Okay, so this all sounds like an interesting premise. But is investing in fine wine actually a good idea? Historically speaking, it definitely seems to have its perks. As it turns out, fine wine investing has outperformed the Global Equity Index for the past 15 years. I know! I was surprised too!
Not only does it have this nice track record, but it's recession and inflation-proof, and tends to have little correlation with the stock market. In 2022, the S&P 500 was down nearly -16%, gold was down over -4%, and the Dow Jones had taken a hit of -12%. Yet the Liv-ex Inducies, which is "the benchmark for the global fine wine market" was still going strong at an average +11.1% return.
Fine wines make interesting alternative investments because they depend on a very different set of factors than the average asset. Unfortunately, the success of even a conservative portfolio of stocks and ETFs somewhat hinges on economic conditions. Investing in fine wine revolves more around things like scarcity, maturity, and pedigree.
Given that these are all factors that investors can actually control, a well-stocked wine portfolio can actually be both a lucrative and stable investment.
Vinovest's Key Features
One of the most important things to understand about Vinovest is that it offers two very distinct types of accounts. When you sign up on the platform, you can choose from either a self-directed trading account or one of a variety of managed accounts. Let's take a look at the differences in each one.
Vinovest Trading Account
We'll start by exploring the Vinovest trading account option, simply because it's pretty straightforward. A Vinovest trading account works in much the same way as a standard brokerage account. The main difference, of course, is that, instead of investing in the stock market, you'll be able to invest in wine from all over the world.
Once you create an account on the wine investing platform, you'll be able to connect it to your financial institution so that you can add funds. At that point, you'll be able to peruse fine wines from all over the world, including exclusive and rare wines. If you find an investment you're interested in, you can make the purchase and add it to your portfolio.
Buy when you want, sell when you want, all with no minimum investment requirements or hold times. Creating a personalized portfolio comes with its perks, but it's probably an idea best approached by a wine investor who is pretty confident in their knowledge of the industry.
See Related: Best B Corp Banks to Open an Account
Vinovest Managed Accounts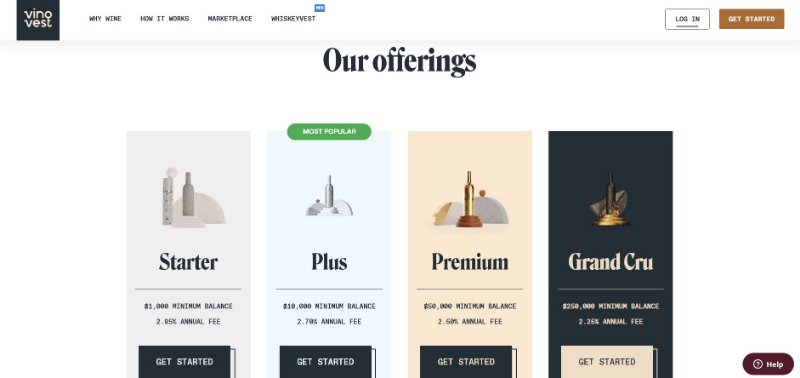 If you're interested in a Vinovest account but don't necessarily have any knowledge about buying and selling wine, then a managed account may be the best bet for you. Vinovest offers a selection of fully managed portfolios, each of which comes with different features.
Rather than choosing based on the features you prefer, however, your choice will largely depend on your minimum investment. Here's a look at Vinovest's portfolio management options and the requirements for each.
Starter Account
Vinovest's most basic managed portfolio, the Starter account is available for a minimum investment of $1,000 and charges a 2.85% annual management fee.
At this level, Vinovest investors will have very little control over their own portfolios, as all of the wines are selected by algorithms. These algorithms are designed to select the best wines for you based on your preferred risk tolerance and advise you on the peak times to sell your bottles at a profit.
While it may take a few weeks for the algorithm to do its thing, it will eventually select the best wine bottles for you. At that point, Vinovest will take care of having your wine shipped to secure storage facilities and provide you with insurance to cover your assets.
The starter account may be a good approach for newer investors looking to experience the yields of wine investments firsthand.
Plus Account
For a minimum investment of $10,000, you can upgrade to a Plus account, which comes with a 2.70% annual fee. You'll enjoy all the same benefits of the Starter account, but with access to rarer wines and portfolio reviews.
It's important to note that this is also an algorithm-driven account, so your wine investment choices will still be limited by the whims of Vinovest's AI selection process.
Premium Account
While the premium account comes with a hefty investment of $50,000 and a 2.50% annual fee, it's where you'll really begin to gain some control over your wine portfolio. A Premium account still comes with all the suggestions that Vinovest's algorithms are designed to offer, but also the ability to fully customize your portfolio if you should choose.
It's also possible to enjoy the best of both worlds, plus the advice of your dedicated portfolio manager. You'll also gain access to even rarer wines, including those only available by auction, as well as invites to schmooze at exclusive Vinovest events.
Last but not least, the Premium account comes with the ability to invest in wine futures if you feel particularly confident about a certain investment.
Grand Cru Account
If you're ready to go all in on wine investments or just happen to have a spare $250,000 lying around, then the Grand Cru may be for you. For a 2.25% annual management fee, you can enjoy the best that Vinovest has to offer.
As a Grand Cru investor, you'll score all the benefits of all the other account tiers, plus access to some of the rarest investment-grade wine that the wine market has to offer.
You'll also enjoy personalized quarterly reports on your portfolio and access to the Vinovest Advisory Council, which includes experienced and master sommeliers.
Mobile Apps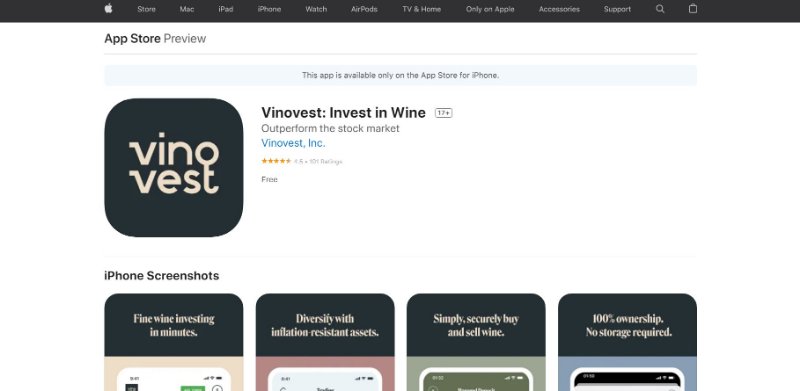 In addition to their web-based fine wine investing platform, Vinovest also has mobile apps available from the Apple Store and Google Play. This is a nice perk that allows members to place trades or check in on their wine investments on the go.
See Related: Best Green Apps for a More Sustainable Life
Community and Educational Info
Though still a relatively new company, Vinovest is on point when it comes to social media presence. Whether you're an investor or simply interested in learning more about how to invest in wine, you can follow them on Facebook and Instagram, as well as on Twitter @vinovest1.
Vinovest also offers a nice selection of articles that can help educate investors on the world of wine investment and stay on top of the latest news. There's also a newsletter you can sign up for to stay in the know, as well as a community where you can connect to other wine lovers.
The community platform, which is powered by Circle, also includes events like wine tastings and information about current deals and promos.
WhiskyVest
Vinovest also has a newer feature called Whiskeyvest that allows you to add casks of either American whiskey or ultra-rare scotch whisky to your portfolio. While this sounds like a cool idea, we will say that Vinovest's website isn't exactly thorough about the details, especially given that minimum investments are anywhere from $1,500 to $15,000.
In all fairness, however, from the moment you create an account, Vinovest is not shy about encouraging you to talk with a service representative. You can also reach out directly at [email protected].
Payment Methods
Vinovest accepts several different types of payment methods, including standard options like the standard ACH bank transfer, wire transfer, or check. But they also accept various cryptocurrencies through BitPay.
Vinovest has set itself up nicely to accept international investors by accepting a variety of currencies from dollars and pounds to Canadian and Hong Kong dollars. The crypto option can also make things much easier for other international or particularly tech-savvy investors. Crypto payment options include nearly a dozen different coins such as Bitcoin, Ethereum, and everyone's favorite good boy money, Dogecoin.
Last but not least, it also appears that you can fund a self-directed trading account with a credit card. Whether or not this is a wise choice for you will largely come down to your ability to pay off your card in time to avoid interest fees that might cut into your returns.
See Related: Best Investments for Young Adults
Vinovest: Pros and Cons
Now that you're familiar with how Vinovest works, it's time to get down to the real question. Is Vinovest specifically the best place to invest in wine? As we stated at the top, we're all about keeping it real. That's why we'll tell you upfront that while Vinovest has some good things going for it, it also has some concerning cons.
We'd advise taking both into consideration, in addition to doing your own research, before moving forward. Here we'll lay out a general overview before delving deeper into more specific Vinovest reviews of various features in the next section.
Pros
Removes traditional barriers to alternate assets investing through a handy fine wine investing platform.
Various investment portfolio options, from self-directed to managed.
Allows investors to buy fine wine without having to worry about storage or insurance.
Each bottle in your investment portfolio comes with a certificate of ownership.
Great educational resources and community.
Each Vinovest account comes with automatic enrollment in the company's carbon offset program.
Cons
Multiple Vinovest investors across various rating platforms, including the BBB and TrustPilot report major difficulties liquidating their portfolios. In this day and age, this is unacceptable for any investing platform.
Starter & Plus account members are severely restricted in controlling their own portfolios
Even the most basic managed account requires a minimum investment of $1,000.
In order to gain access to an investment portfolio advisor, you'll need to sign up for at least a Premium account, which requires a minimum investment of at least $50,000.
Most of Vinovest's storage facilities are in Europe, which can have tax, tariff, and other shipping implications.
Should You Use Vinovest to Invest in Fine Wines?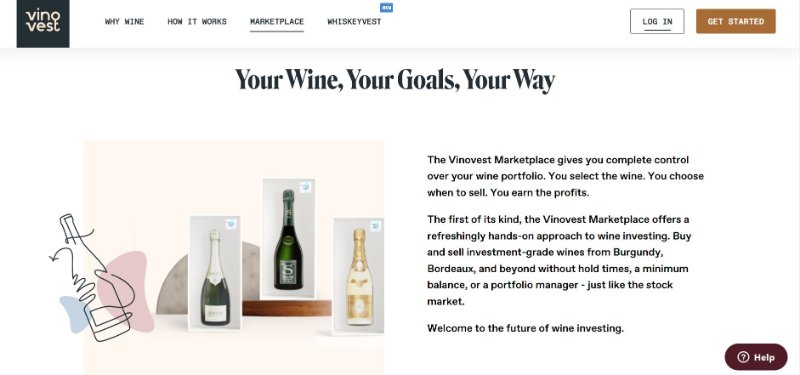 As you can see, there's a lot to consider before counting on Vinovest to help you dodge stock market volatility. Particularly given that there are now other fine wine investment platforms available. Let's break things down even further with specific Vinovest reviews that highlight the platform's strengths and weaknesses.
Ease-of-Use – 3.5
In many ways, Vinovest does make it much easier to invest in wine. The fact that they cover everything from the purchase of the bottles to validating, shipping, storing, and selling them is definitely impressive.
Their first two tiers of managed accounts also provide a very hands-off approach, which may be ideal for some investors. For others, it may be a bit frustrating, particularly given that even for $10,000 you'll still have very little control over your portfolio.
While the platform appears to make it relatively easy to invest in wine, many users report that the liquidation process is a bit more confusing. For this reason, it appears that Vinovest is best for long-term investors who are in no hurry to sell bottles or liquidate.
Features – 4
Vinovest's platform is relatively straightforward and does come with several great features that make it easy to invest in wine. Vinovest's self-directed wine trading platform is particularly cool and allows investors to pursue wines currently available for trading.
Due to Vinovest's relationships with global wine exchanges, you can find plenty of great deals on wines that you can purchase and sell whenever you like. It's kind of like a stock market for fine wine.
Vinovest's community, blog, and newsletter are also a nice way to help usher investors into the world of fine wine and stay on top of the latest news and events. The mobile app option is also handy, as it allows investors to check in on their portfolio or invest in fine wine from anywhere.
We're also impressed with the fact that Vinovest offers crypto as a payment method. Not only is this a solid choice for the future of business, but its also a great way to bypass the need for currency transfers from a wider array of international investors.
Customer Service – 1
This is where Vinovest really has some work to do. While many investors appear to be pretty happy watching their initial purchase reap returns, things appear to take a different turn when they're ready to liquidate.
Multiple users have reported that the liquidation process is incredibly frustrating and heavily relies on communication with customer service, which can take weeks or even months. One user even began to worry that he'd been taken in by a scam.
Okay, so Vinovest is a relatively new company. But this is simply unacceptable for any investment platform, new or not. No matter how great an investment that fine wine may be, the whole prospect becomes a bit questionable if investors can't be entirely confident in the company they've trusted to handle their money.
While Vinovest is open about the fact that it can take up to 90 days to liquidate your assets, there's simply no reason not to stay in touch with investors with updates throughout the process.
Value for Money – 2.5
This one's a little harder to rank because it can be very subjective based on each individual investor's net worth. If you're an accomplished investor who is simply looking for interesting alternative assets to help balance out your stock market portfolio, then Vinovest's minimums may not appear that high to you.
If you've got $50,000 to start investing in everything from wine futures to rare investment-grade wines, then you may end up having a great experience. Vinovest appears a bit biased toward members who are able to make a higher minimum investment and provides them with access to everyone from an advisor to a master sommelier.
For many of us, however, $10,000 is still a lot of money. While it's enough to begin building a balanced portfolio on Vinovest, the idea that it may not be enough to insure excellent customer service is worrying for any investment platform.
Then, of course, there are Vinovest's annual management fees to consider. While a 2.70% annual fee on a $10,000 account may not seem like much, it comes out at $270 every year. This is particularly worth considering if you plan to get the most out of your investment by holding long-term, as some wines can take up to 10 + years to appreciate in value.
See Related: Best Stock Apps for Investing
The Final Verdict: Is Vinovest Legit?
Overall, we'd give Vinovest a 2.75 based on a variety of factors. Vinovest is a great idea, and definitely has a lot going for it as far as capitalizing on fine wine performance vs the stock market. For the right investor, it may even be an excellent choice. But before signing up for a Vinovest account, however, we'd highly suggest speaking to your financial advisor to weigh the pros and cons.
Vinovest investors' portfolios come with several perks, such as wine storage, secondary market pricing, and the potential for high returns even with a relatively low-risk tolerance. Their annual fee is on the higher end, however, and it's worth calculating whether your annual returns will realistically be able to offset.
While we do believe that Vinovest is on the right track, we also have a hard time getting around the idea that even a few customers have had somewhat serious issues dealing with customer service. Worse still is the fact that Vinovest appears to have replied to a number of serious Trustpilot complaints with the same templated response.
This makes it hard to tell whether members with more money can expect to receive better service or if Vinovest is understaffed and struggling to keep up with its client list. Either way, we'd love to see this young company make the improvements needed to earn the trust of move investors. They've got a great idea and, again, are certainly on the right track. But in order to become a trusted source for alternative assets investing, they'll likely need to step things up a bit.
Other Ways to Invest in Fine Wine: Vinovest Wines Competitors
If you're looking to invest in fine wine but aren't sure whether or not Vinovest is right for you, then rest assured that there are several other options. Here is a list of several reputable Vinovest alternatives, each of which comes with its own unique perks.
Cult Wine Investments: Best Vinovest Alternative

Cult Wine Investments offers many of the same services as Vinovest but with a few added perks. While their lowest account tier starts at $10,000, Cult has an excellent reputation for customer service.
Geared toward the serious wine investor, Cult is designed to help investors build a fine wine portfolio complete with full insurance. They also offer services such as storing wine, direct ownership, and automatic portfolio rebalancing.
While their management fees are no less generous than Vinovest's, you will enjoy the ability to buy and sell wines for no additional fees. Cult also offers a client portal where you'll enjoy account support and live valuation and pricing information on each wine bottle in your portfolio.
All of the above is included in Cult's lowest tier, but should you decide to opt for a $35,000 minimum investment or more, your account offerings will increase very quickly. You'll enjoy active portfolio management, regular consultations with your relationship manager, portfolio customization, buy/sell recommendations, and more.
Moncharm Wine Traders: A More Personalized Investing Experience

Moncharm is a London-based fine wine merchant and an accredited Liv-Ex member with an established reputation for excellent customer service. If you're looking for more of a one-on-one experience, then they may be an excellent option for you.
Before you even transfer any funds, you'll speak to an account manager about your personal needs, objectives, risk tolerance, returns, and time horizon. Moncharm will then help you set up your portfolio and send you full ownership documentation from the storage facility where your wine is held.
You'll then continue to receive ongoing personal support, regular updates, and pricing valuations. When you're ready to sell your wine, Moncharm will be there waiting to help you through the process.
See Related: Best Real Estate Investment Websites
Alti Wine Exchange: Invest In Fine Wines With Blockchain Technology

If you're a fan of blockchain technology, then Alti Wine Exchange may be for you. The world's first blockchain-based wine trading platform, Alti is headquartered in Hong Kong and stores wines available on their platform in France's Bordeaux City Bond.
Anyone of legal age can sign up for a free Alti account, regardless of net income, and with no minimum account requirements. Whereas Vinovest's self-directed trading platform resembles the stock market, Alti's is more similar to trading Non-Fungible Tokens.
You'll enjoy the ability to buy and sell your wine any time you choose with full control over your own trading account. Alti is among the first wine trading platforms to cash in on blockchain technology, a concept that's likely to gain traction with more alternative assets in the near future. If you're looking for a way to invest in wine on your own terms, then Alti Wine is a solid way to turn wine into a tangible asset.
Vint: SEC-Qualified Fractional Share Investing
Vint works a little differently than the other trading platforms on our list. Founded in 2019, it's an SEC-qualified trading platform that allows investors to own fractional shares of various fine wine collections.
While you won't actually own the wines you invest in, you'll be able to reap the returns of a certain percentage of each expertly curated collection you chose to invest in. It's also important to note that there is currently no secondary market for Vint's investors.
This means that Vint is best approached by long-term investors who are okay with waiting until Vint decides to sell each collection, usually somewhere between 3-7 years later. Vint comes with the perk of no annual fees but does make its money through sourcing fees that vary by collection.
Wine Funding: Invest in Wine Producers

Rather than investing directly in fine wines, Wine Funding offers investors the chance to invest in the people who make them. The platform allows investors to choose from a variety of different crowdfunding opportunities for wine estates from all over the world.
You can then choose to get paid back in one of three unique ways.
Wine: You can reap your rewards with wine discounts of up to 15- 30%
Wine Bonds: Get reimbursed with 6-8% interest
Wine Equity: Should you choose to stay invested for the long haul, you can even become a shareholder of the estate.
Related Resources