Virtual Reality and the metaverse have been hot topics lately. Ever since Facebook officially announced its name change to Meta and its introduction into the metaverse, investors have been searching for the best virtual reality stocks out there.
As an investor, you need to be aware that Oculus VR stock isn't the only VR company in the stock market.
From software developers to chip manufacturers, there will be a wide range of companies that will succeed in virtual reality.
But which ones are the best? Today we'll cover our picks for top virtual reality stocks in the stock market today.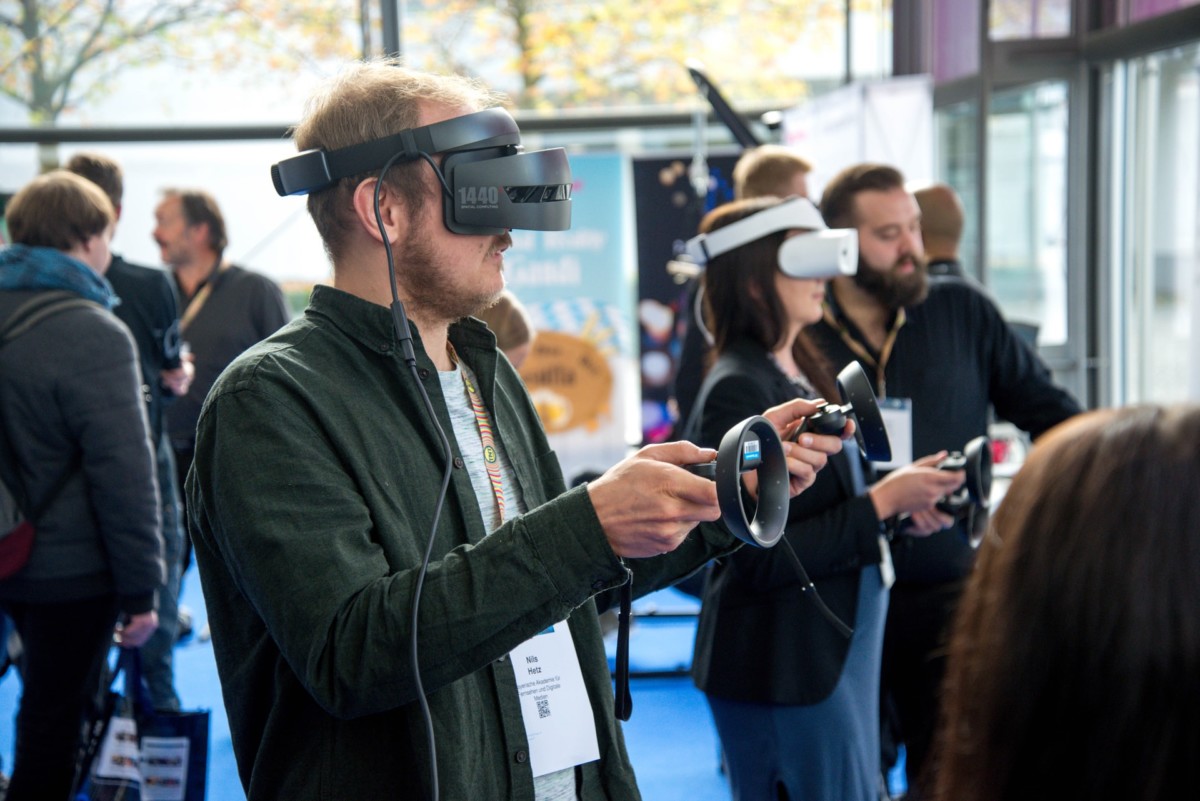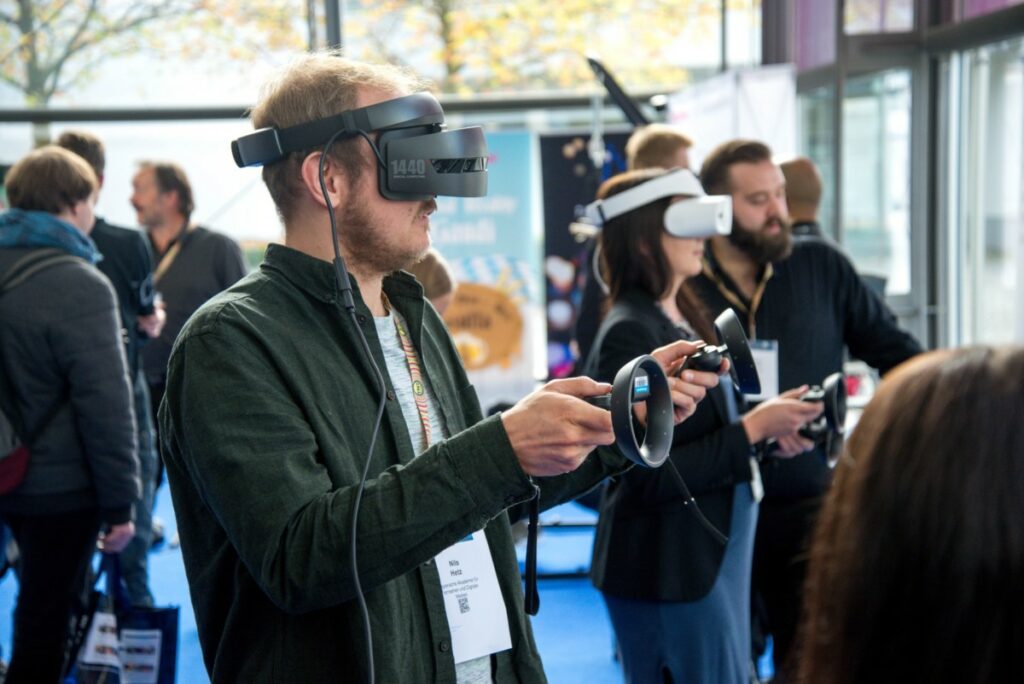 How We Chose the Best VR Stocks
In recent research by Grand View Research, the global VR market reached a valuation of $15.81 billion in 2020. It is also estimated that it could increase at an 18% compound annual growth rate from 2021 to 2028.
There are countless virtual reality company stock available and tech companies out there eager to enter the metaverse. How did we come up with our list of top virtual reality stocks?
Most of the top VR stocks are based on official announcements from the companies. A company that has a detailed plan or roadmap for the metaverse should excel in the sector. Companies that already have established products also have a huge advantage in the metaverse.
Next, we look at the current user base of each project. Oculus Quest stocks, Roblox, and Sony already have large user bases that are eager to enter the metaverse.
Of course, Apple also has a dedicated fanbase but has yet to announce any official metaverse plans. Still, Apple's fans are extremely dedicated and will buy almost any product they release. 
Many of the choices on this list form the backbone of the metaverse. Whether it's chip manufacturers or software developers, these companies will be essential for the metaverse.
Gaming and entertainment aren't the only uses for the metaverse. From meetings to manufacturing, Virtual Reality is quickly becoming vital in commercial, educational, military, and industrial fields.
You'll find commercial virtual reality company stocks are extremely profitable, and companies that provide commercial solutions will do extremely well in the metaverse.
Some other things to consider when looking for Virtual Reality firms to invest in. Many of the industry-leading VR companies are privately held and not available for public stock sales.
For example, Valve Corporation and Epic Games will be major influences on VR and the metaverse, but they are private companies. We won't include companies like this on our list of virtual reality stocks.
We also won't be delving into crypto-based metaverse or VR projects during this overview.
This article is presented as information and does not constitute financial advice. We advise anyone to perform their research and due diligence before investing in any project.
Best Virtual Reality Stocks to Invest in Today
Meta (NASDAQ: FB)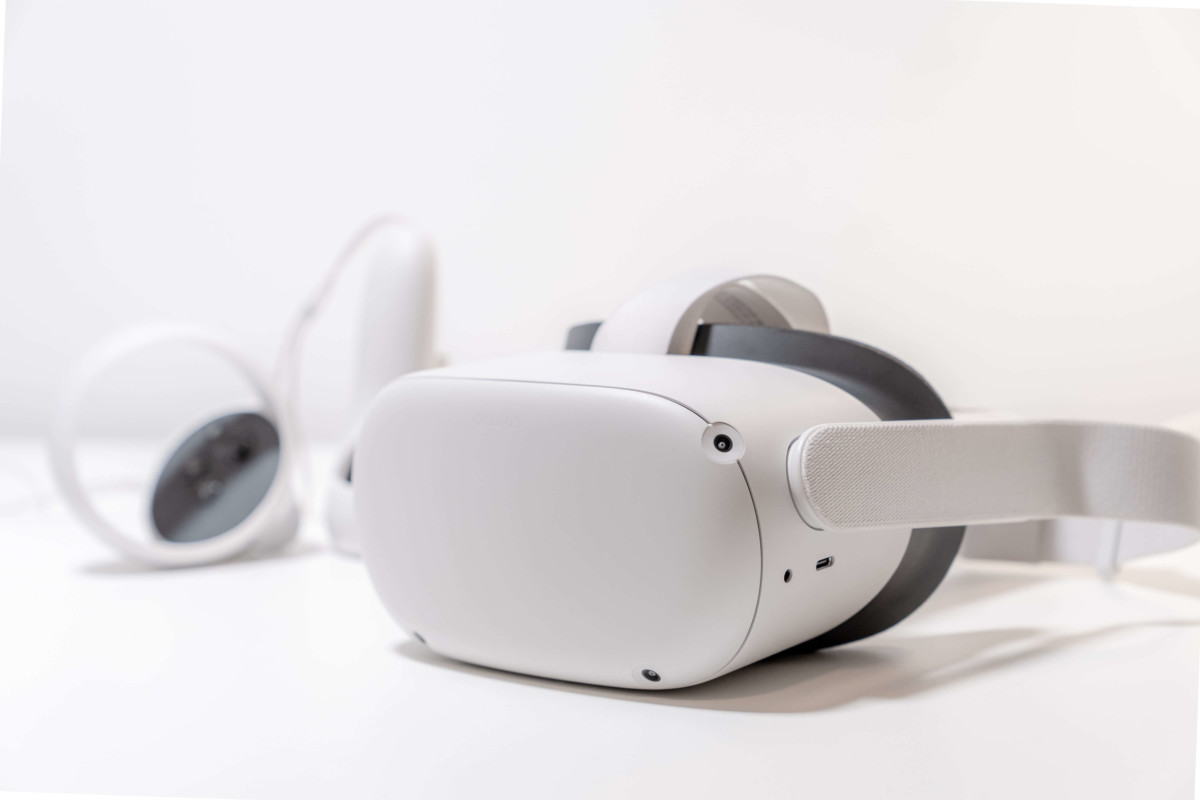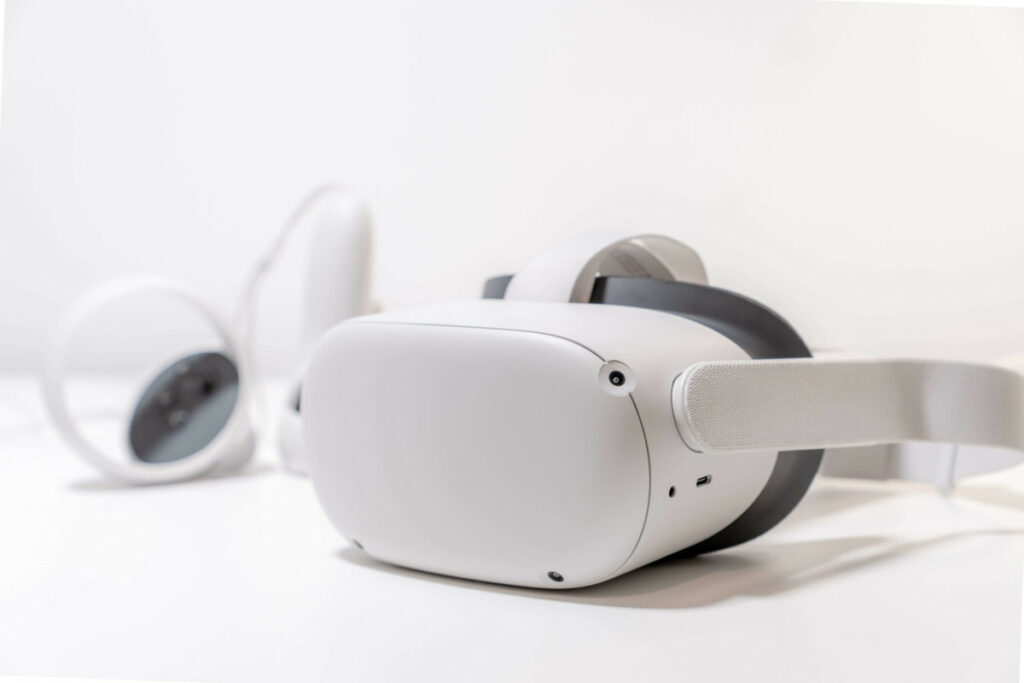 With their recent name change to Meta, Facebook is attempting to firmly plant itself as the goto company in the metaverse. Like them or not, Facebook and Meta are first to the scene and attempting to claim the metaverse as their own.
The company has had a huge lead in the VR industry ever since it acquired Oculus in 2014. Their latest VR headset, the Oculus Quest 2 has seen massive success in 2021 and far outsells all other competitors. Experts estimate that Meta's Oculus stock could own up to 75% of the VR and AR market share by 2022.
Meta's official metaverse announcement in November of 2021 outlines a detailed plan for future software and hardware improvements users should expect in the coming years.
During the announcement, CEO Mark Zuckerberg showcased Meta's idea for the metaverse, including an upgraded headset called Project Cambria.
While some users are against many of Facebook's business practices, they have set themselves up to be a leader for investments in virtual reality.
Pros
Facebook has a huge existing user base.
Oculus Quest 2 is already the most popular VR headset.
Quest 2 is affordable and does not require a high-end PC or console to use.
Quest 2 is untethered and requires no wires to use.
Cons
Facebook has a poor reputation due to privacy and security issues.
Facebook is known to censor and may limit freedom of expression on its apps.
Worries that the metaverse could be covered in ads like Facebook.  
See Related: Best Spatial Computing Stocks
Sony (NYSE: SNE)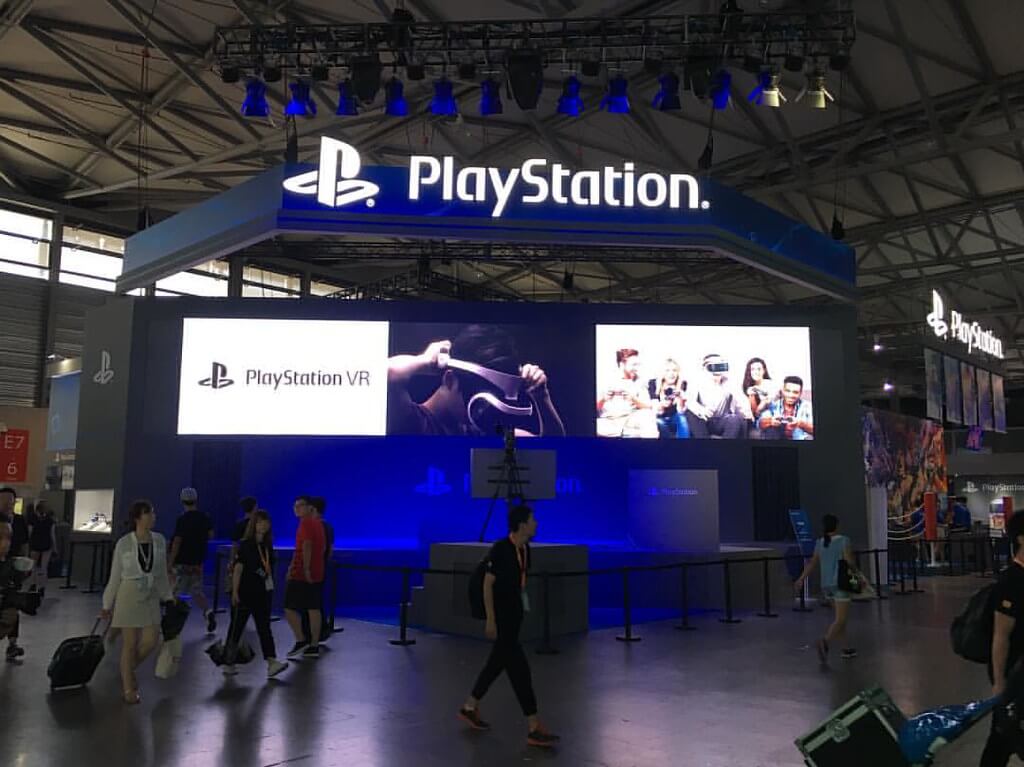 With the recent announcement of an updated PSVR headset and the massive success of the PS5 next-gen console, Sony is one of the best virtual reality stocks to invest in.
Originally released in 2016, the Playstation VR has needed an upgrade for quite some time. PSVR2 is a substantial upgrade to the original PSVR. Featuring 2000X2040 resolution and OLED HR displays, you'll get to enjoy incredible graphics and images in Sony's metaverse.
Combined with a PS5 console, Sony can deliver some of the best VR in the industry.
Pros
Next-gen graphics and gameplay.
The PS5 console is extremely popular and has sold over 13 million units in 2021.
Sony has outsold its biggest competitor, Xbox, every cycle since 2010.
Cons
PSVR requires a PS4 or PS5 console to operate.
The headset is tethered to the console by USB.
Sony has had supply issues, and it can be difficult to purchase a PS5 console.
Disney (NYSE: DIS)
No matter how good your technology is, virtual reality stocks will be boring without exciting and fun content. Like the kings of media, Disney owns so many different characters, fantasy worlds, and shows that they can utilize in their recently announced metaverse projects.
During Disney's fourth-quarter earnings report in November 2021, CEO Bob Chapek outlined Disney's plan for the metaverse. They are planning a combination of movies, Disney+, theme parks, and more for their metaverse.
What makes Disney's idea unique, they seem to be concentrating on utilizing both virtual reality and augmented reality technologies to enhance their theme parks and the real world. This could revolutionize their amusement parks around the world and give visitors an upgraded experience.
Patents that were filed in July 2020 showcase technologies that display 3D images and holograms on walls and physical objects. The technology also does not require a VR headset making it accessible to everyone.
Pros
Disney has the rights of some of the most popular characters in entertainment.
They are experts at providing interesting and exciting content for their customers.
Disney's new metaverse won't require a VR or AR headset.
Cons
You may need to visit a Disney theme park to enjoy their metaverse.
Disney's metaverse is still in the early stages of development with no real information.
See Related: What are Social Returns on Investment?
Microsoft (NASDAQ: MSFT)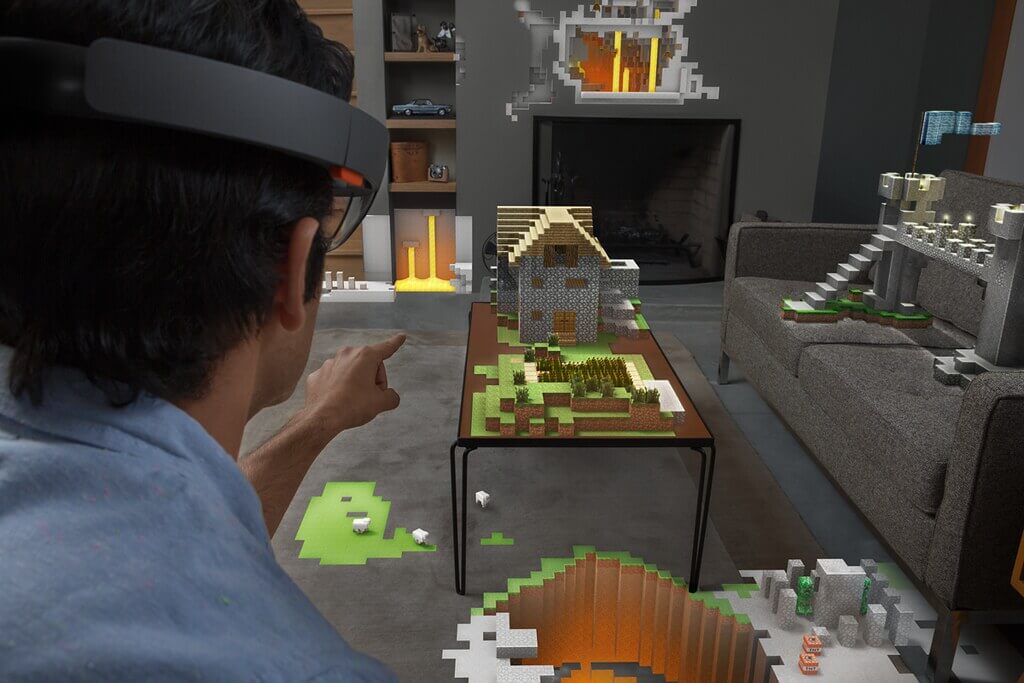 The metaverse will be more than just fun and games. Microsoft has major plans that will help them succeed, and they are one of the best virtual reality companies to invest in.
Hololens is their premium AR headset that has been extremely successful in commercial, educational, and military sectors. The headset is ideal for these sectors and allows users to interact and work with others from around the world.
Unfortunately, pricing on Microsoft's augmented reality headset is high. Currently, they do not produce any product that is viable for use at your home.
In March of 2021, Microsoft announced Mesh. This software is designed to help users connect and share from anywhere and on any device. Using their mixed reality technologies allows users to work together and learn together.
Of course, currently, Windows is the preferred operating system for high-end gaming and VR and has no serious competitors in systems that can run games and virtual reality.
This makes Microsoft one of the most influential virtual reality company stocks.
Pros
Mesh is compatible with all types of devices, including headsets, PCs, and smart devices.
Microsoft's metaverse has a strong foothold in the industry, military, and educational sectors.
Windows Operating System dominates high-end gaming and virtual reality applications.
Hololens will excel in commercial metaverse applications.
Cons
Hololens is priced for commercial use and out of reach for most personal users.
Little consumer usage could limit Microsoft's metaverse growth.
Nvidia (NASDAQ: NVDA)
The metaverse will be empty without creators building beautiful worlds. Nvidia is concentrating on building tools and hardware that will create the metaverse. Omniverse is their open design platform that allows for virtual collaboration and smooth workflows.
Currently, in beta, Omniverse allows creators and developers to bring the metaverse to life. It is a suite of tools that allows developers to work together and streamline their workflow. Omniverse Create is the core app that features world-building and simulations. Combined with hundreds of extensions, even novice creators will soon be creating the metaverse of their dreams.
Nvidia is one of the companies producing the leading graphics processing unit (GPU) used in today's high-end gaming systems. These GPUs provide seamless ultra-HD graphics and imaging for today's latest games.
Their commercial-grade GPUs are also used to create some of the best CGI and imaging in today's hit films and TV shows.
Pros
Nvidia's GPUs are always in high demand.
Omniverse integrates with the most popular editing and design software.
Nvidia GPUs offer amazing imaging and performance for VR applications.
Nvidia has a large market share for mobile devices
Cons
Chip shortages cause delays and high prices on new products coming to market.
AMD could gain more market share through lower prices for GPUs.
AMD (NASDAQ: AMD)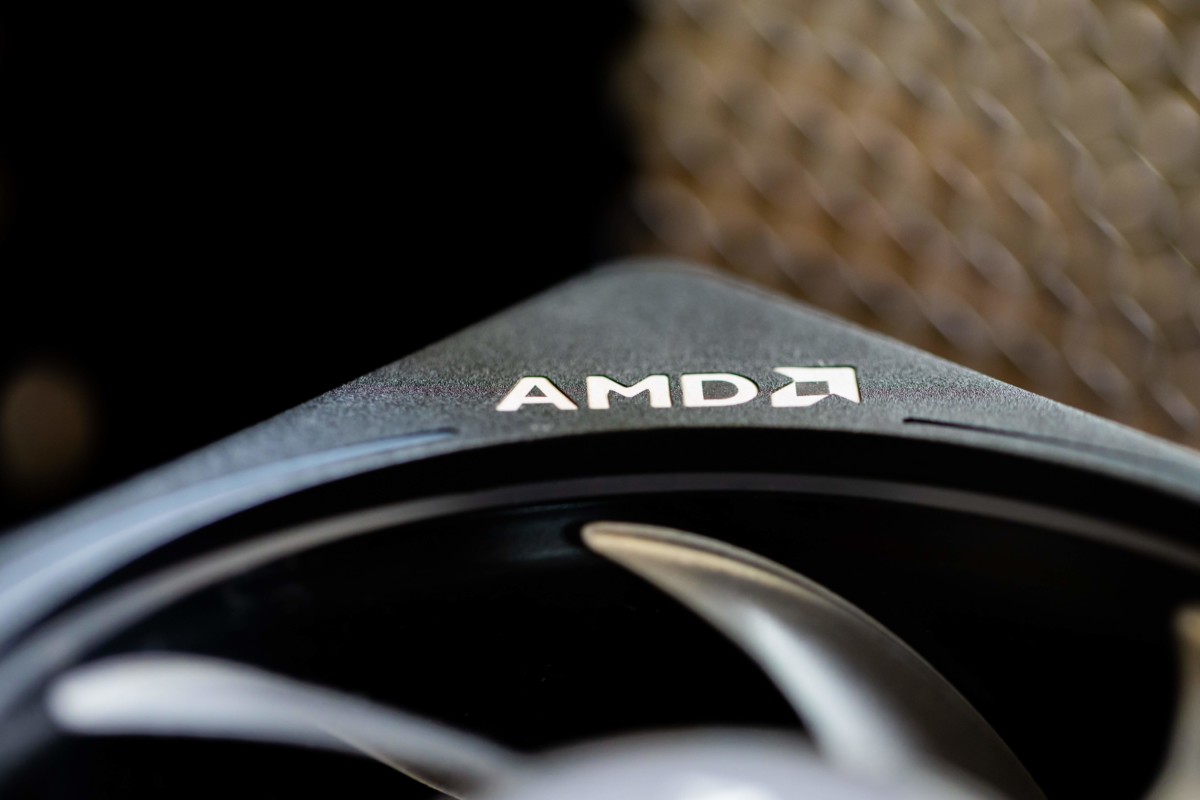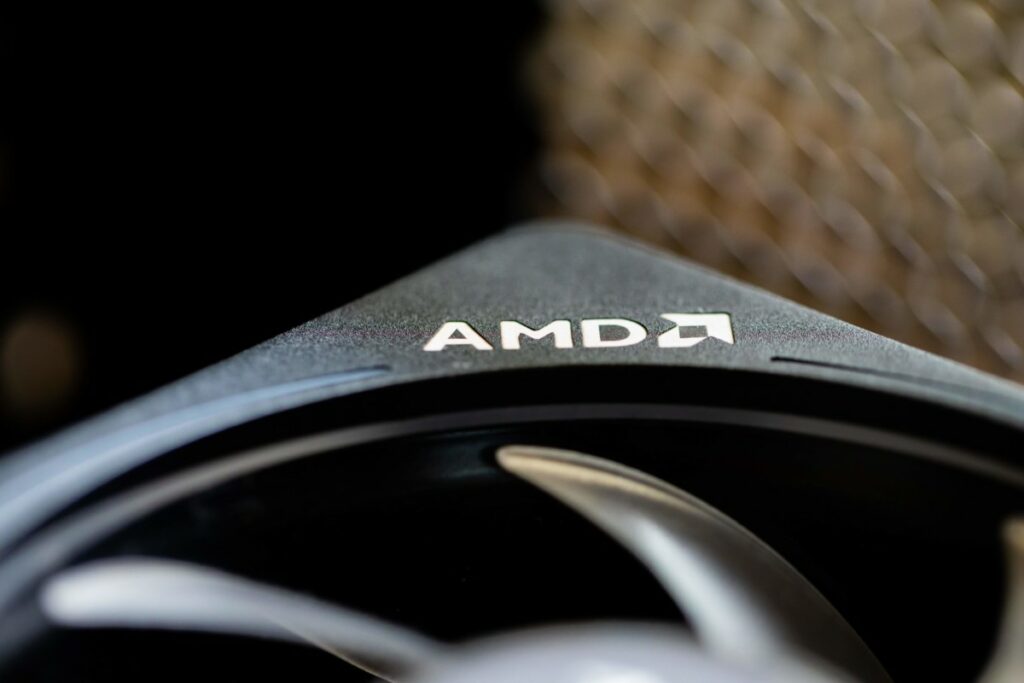 As Nvidia's biggest competitor, AMD has plenty of plans to take over the metaverse as well. While they may not have as large a market share in GPUs, AMD also produces some of the best CPUs on the market.
Recently AMD announced that Meta will be using AMD's Epyc chips to power their data centers. This is a huge win for AMD and should be a boost to their stock price. Along with this deal, AMD has also secured deals with Alphabet, Amazon, and Microsoft.
For consumers, AMD makes some of the best and most affordable CPUs and GPUs on the market, helping them increase their market share compared to Intel and other competitors.
They are also pioneering new VR technologies with their LiquidVR product line.
Pros
Recent partnerships ensure AMD will be providing the hardware for the metaverse.
They recently announced a new line of chips for supercomputing markets.
Cons
Chip shortages will also affect AMD and its ability to produce products.
With Apple entering CPU and GPU markets could cause issues for AMD.
See Related: Best Lithium Stocks to Invest in Today
Unity Software (NYSE: U)
Unity and its graphics engine are set to revolutionize gaming and entertainment. Their software has been used to create some of the most engaging and beautiful games and entertainment of all time. Unity is also an effective tool for film, animation, manufacturing, and engineering.
From Blizzard Entertainment to indie publishers, Unity is one of the most successful design engines on the market today.
Unity has a massive market share and accounts for over 71% of the top 1000 mobile games currently on the market. They also have an estimated 2.7 billion person userbase.
Unity has become a favorite with VR developers as well, and the engine has been used to create PC and PS VR gaming titles, including Rick and Morty: Virtual Rick-Ality and Osiris: New Dawn.
Pros
Unity recently acquired the digital effects company Weta Digital.
Unity is one of the easiest to use game engines.
Ideal for indie developers.
Cons
Stiff competition from Unreal Engine and Epic Games could mean a smaller market share for Unity.
Graphics quality needs improvement to compete with AAA titles and Unreal Engine.
Apple (NASDAQ: AAPL)
While Apple has been quiet on the metaverse front, most experts agree that they are secretly working on hardware that could transform VR and the metaverse. The rumor mill has been buzzing for years about Apple and its entry into the VR sector, and we may finally get an announcement in 2022.
Known for creating transformative products that instantly change an industry, a VR or AR headset from Apple would be groundbreaking news that should propel their stock value. Apple has a devoted fanbase, and a new product would instantly build excitement. Just like the introduction of the iPhone, we expect an Apple VR announcement to spark excitement.
Perhaps at the next Apple Keynote, we will finally get an announcement concerning Apple's entry in the metaverse.
Pros
Apple's dedicated customer base will ensure a VR product's success.
The new M1 processor would allow for a standalone device.
Cons
There is no official information concerning Apple and any VR/AR product.
Experts predict a high price tag for an Apple headset. 
See Related: Best Self-Driving Car Stocks
Intel (NASDAQ: INTC)
As the largest CPU vendor, Intel powers over 60% of the PCS around the world. This means that most metaverse users will be running an Intel processor. Intel and its i7 processors offer more than enough power to deliver the best visuals and control in a 3D world.
Recent partnerships with Oculus and ESL Gaming have given Intel more exposure to VR enthusiasts, gamers, and professional gamers. The VR Challenger League was announced in 2018 and has since been sponsored by Intel.
Intel is also at the forefront of commercial VR and metaverse applications with its Xeon processors. Commercial VR is set to become a huge market as more and more companies and industries integrate the metaverse in their plans. We see Intel as a major player in commercial VR markets, and this will only increase their market share of the metaverse.
Pros
Intel is the largest manufacturer of CPUs and integrated GPUs.
The company is releasing its first-gen GPU in 2022.
Cons
Intel is seeing fierce competition from AMD.
Apple recently introduced their M1 processors that have cut into Intel's market share.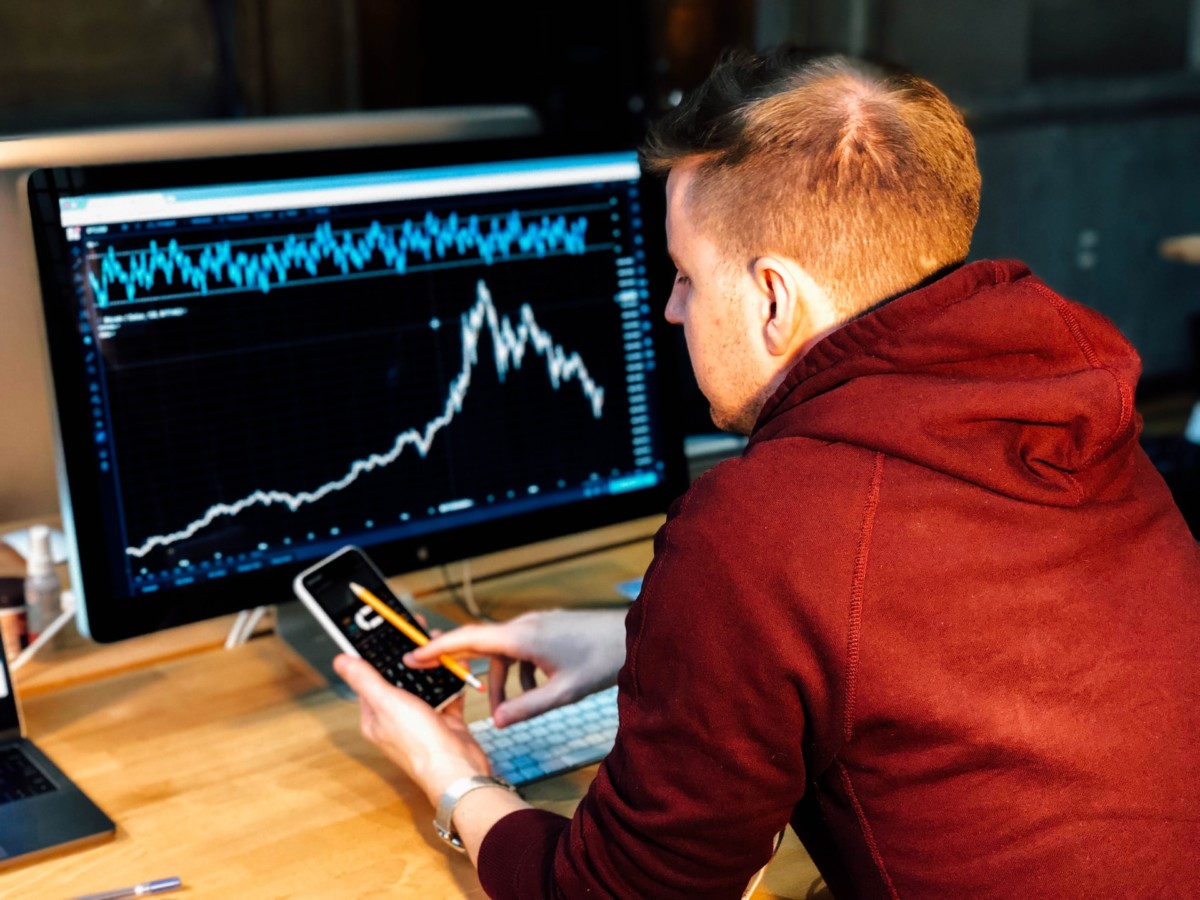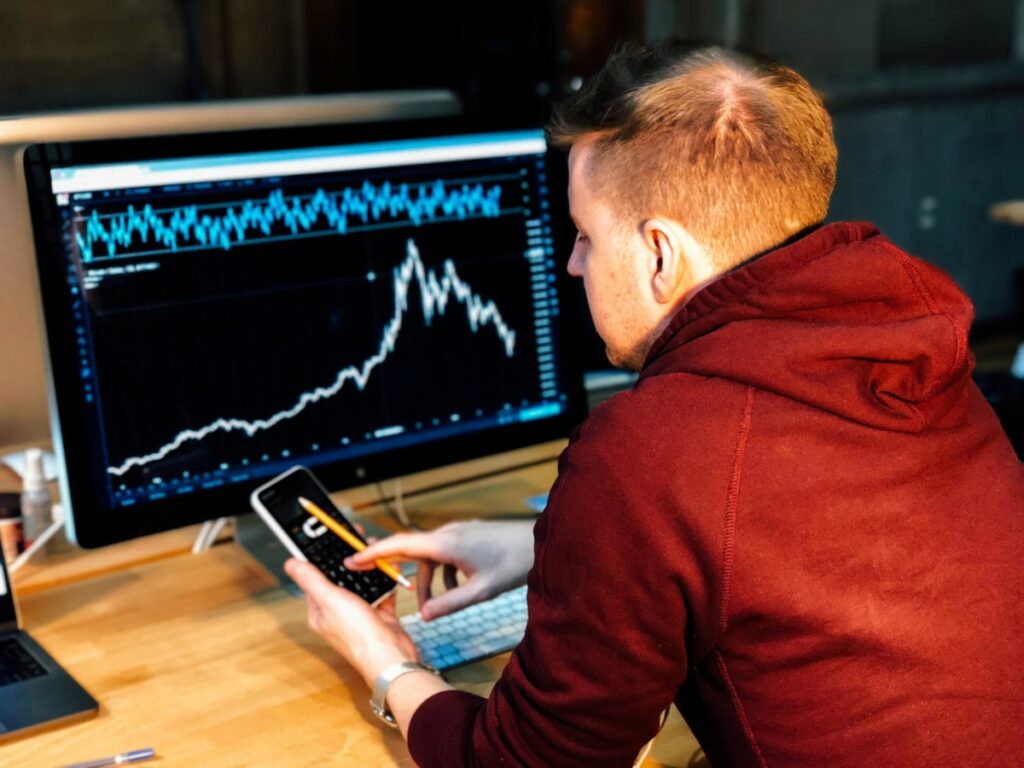 Roblox (NYSE: RBLX)
With close to 50 million daily users, Roblox has a well-established user base already participating in their version of the metaverse. While it may not be VR yet, Roblox is a major contender for metaverse king.
Roblox is a platform where users can go to play games. It features a storefront where you can purchase and play games that are developed by its users. Currently, there are 20 million games available on the platform. You can play Roblox games on any type of device, including PCs, Mac, VR headsets, and smart devices, making it easy to access for almost anyone.
Roblox has become incredibly popular with children, and experts estimate that over half of all children in the United States are active on Roblox. This userbase continues to grow as Roblox adds new features. Upcoming metaverse-related features include live concerts, virtual party spaces, and movie screenings.

The ease of use and no need for a headset make Roblox one of the most enticing metaverse concepts currently available.
Pros
No need for expensive VR headsets to enjoy Roblox.
The platform has an already established and dedicated fanbase.
Indie developers are encouraged to build and design their worlds.
Plans to expand past gaming and offer a true metaverse experience.
Cons
While large, the userbase does have many children and may deter adults from joining.
Alphabet (NASDAQ: GOOGL)
Google has been quietly working on metaverse solutions for years. Their first VR experiment, Cardboard, let anyone with a smartphone test out VR. They've also had some failed experiments, including Google Glass and Magic Leap over the years.
While no official products have been announced, we expect Alphabet to be good virtual reality stock to buy.
Google shines with its AR-related products for smart devices. Google Lens is an effective AR app that offers you insights into anything you view with your smart device. AR on your phone or tablet makes directions easier or makes your favorite app more exciting.
YouTube is also one of the largest collections of VR videos, and their collection grows by thousands of videos a day.
Pros
Google is expected to announce a new pair of AR glasses by 2022.
Large market share in the smartphone market due to the android operating system
Cons
There have been no official announcements from Alphabet concerning metaverse products.
Google has had several VR and AR products fail during development and release.
Samsung (KRX: 005930)
While Samsung may have stopped producing virtual reality headsets, they are still poised to be a major player in the metaverse. This is because Samsung holds over 20% of the global smartphone market. Therefore, many users will be using their Samsung devices to enjoy the metaverse.
Samsung has also entered the NFT marketplace by adding an NFT platform into their smart TVs and devices. This will allow users to browse, buy, sell, and collect NFTs directly from their television.
If you ever wanted to have a Bored Ape or Cryptopunk in your TV, Samsung is making it possible. As NFTs become an important part of the metaverse, Samsung seems to have a headstart in this niche of the metaverse market.
Samsung has also partnered with Decentrland, one of the most hyped metaverse projects of 2021. Samsung opened a virtual replica of its NYC flagship store inside Decentraland. The store is only accessible through Decentrland, and users can enjoy a virtual experience with a virtual guide.
Unfortunately, there are currently no known plans for Samsung to reenter the VR headset market.
Pros
Samsung is embracing NFTs and other metaverse-related projects.
Samsung dominates the mobile industry and has a huge marketplace for AR.
Cons
No official plans for the metaverse or new VR hardware.
Samsung has stopped support for Samsung Gear VR.
HTC (TPE: 2498)
HTC entered the VR market in 2016 with its excellent VIVE headset. Since then, they have been known for their premium VR headsets that take gaming and 3D content to the next level.
Recently they announced the Vive Flow, which is a unique take on the VR headset. This headset is extremely light and is ideal for long viewing or gaming sessions. HTC also features a wide range of accessories for VR, including body trackers and facial recognition trackers that make VR experiences more immersive.
Upcoming products include a Vive Pro 2 for 5K gaming and Vive Focus 3, which is a professional business VR headset. Both headsets are premium models that offer exceptional imaging.
The Vive Focus 3 is a top-of-the-line headset that features precise tracking, excellent controls, and lasts up to 15 hours on a single charge. This headset is ideal for corporate meetings or training simulations.
HTC is poised to continue being one of the best VR company stocks.
Pros
HTC makes some of the best high-end VR headsets in the industry.
Upcoming headsets from HTC are set to take VR graphics to next-gen gaming levels.
HTC makes excellent body tracking and facial tracking hardware for better immersion.
Cons
HTC is only available on the Taiwanese Stock exchange and can be difficult for foreigners to purchase.
Related Resources
Kyle Kroeger, esteemed Purdue University alum and accomplished finance professional, brings a decade of invaluable experience from diverse finance roles in both small and large firms. An astute investor himself, Kyle adeptly navigates the spheres of corporate and client-side finance, always guiding with a principal investor's sharp acumen.
Hailing from a lineage of industrious Midwestern entrepreneurs and creatives, his business instincts are deeply ingrained. This background fuels his entrepreneurial spirit and underpins his commitment to responsible investment. As the Founder and Owner of The Impact Investor, Kyle fervently advocates for increased awareness of ethically invested funds, empowering individuals to make judicious investment decisions.
Striving to marry financial prudence with positive societal impact, Kyle imparts practical strategies for saving and investing, underlined by a robust ethos of conscientious capitalism. His ambition transcends personal gain, aiming instead to spark transformative global change through the power of responsible investment.
When not immersed in the world of finance, he's continually captivated by the cultural richness of new cities, relishing the opportunity to learn from diverse societies. This passion for travel is eloquently documented on his site, ViaTravelers.com, where you can delve into his unique experiences via his author profile.