Wealthify, a UK-based investment platform, has become increasingly popular among novice investors seeking a simplified approach to their finances. Known for its user-friendly interface and automated investment service, Wealthify offers a range of features that cater to both beginners and experienced investors alike.
With five different plans, including ethical investing options and a minimal deposit requirement of just £1, it's no wonder this platform has garnered positive reviews and a loyal customer base.
As an independent robo-advisor, Wealthify invests primarily in ETFs, ensuring clients benefit from lower investment management costs.
Competing with other robo-advisers like Nutmeg and Moneyfarm, Wealthify receives strong backing from major financial organizations, further solidifying its credibility in the market. Additionally, their customer service options, which include phone, email, and live chat support, ensure a seamless investing experience for users.
Before making an investment decision, it is important to consider the pros and cons of any platform. While Wealthify has many attractive features and generally positive reviews, potential investors should know that the fees may not be the lowest available for larger investments.
Nonetheless, Wealthify continues to be a popular choice in the UK for those seeking a streamlined and automated approach to investing.
What is Wealthify?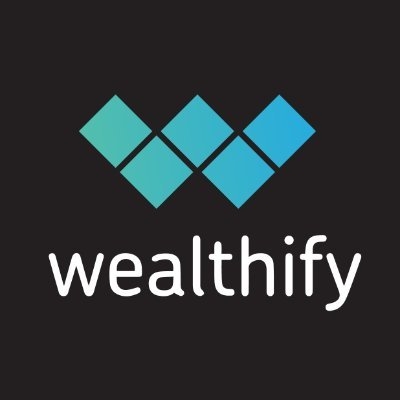 Wealthify is a Cardiff-based robo-advisor that simplifies investment management for users by creating portfolios aligned with their risk appetites. Founded in 2016 and backed by Aviva, an industry giant in insurance and investment, this platform stands out as a reliable option for investors looking to grow their money.
As a robo-advisor, Wealthify automates the entire investment process, making it more accessible for those without adequate time or experience. The platform invests in Exchange-Traded Funds (ETFs), keeping costs low and adding efficiency. With a focus on simplicity, Wealthify offers an easy-to-use app that streamlines the user experience.
Wealthify operates under the supervision of the Financial Conduct Authority (FCA), a crucial institution overseeing the UK's financial firms. Moreover, investments made with this platform come with the Financial Services Compensation Scheme (FSCS) protection. If a Wealthify account faces insolvency, the FSCS covers users' investments up to £85,000, easing concerns about security and safeguarding clients' funds.
Investment Options with Wealthify

Wealthify offers a convenient and accessible way for individuals to start investing in diversified portfolios. Their robo-advisor platform is designed to suit a variety of investment objectives, catering to different risk profiles and goals. Investors can choose from various pre-made portfolios constructed using a combination of asset classes such as stocks, bonds, ETFs, and mutual funds.
When you open an account with Wealthify, the platform asks about your risk tolerance, investment goals, and time horizon. Based on this information, their algorithm suggests a tailored portfolio that fits your preferences. The five main options range from Cautious to Adventurous, each featuring a different balance of assets to reflect the desired level of risk and potential returns.
Cautious portfolios mainly focus on lower-risk assets like bonds and government securities, with a small percentage in stocks. As the risk tolerance increases, the portfolios shift more towards equities, with Adventurous options predominantly investing in stocks for potentially higher returns.
In addition to traditional investments, Wealthify offers an ethical investment plan, allowing you to invest in socially responsible companies and initiatives. This option features a slightly higher fee than their standard plans but allows wealthify stocks and you to align your investments with your values.
Wealthify's portfolios are automatically managed and rebalanced periodically by their team of experts. This ensures that the asset allocation remains consistent with the chosen risk profile and market conditions. By offering a range of diversified portfolios and adapting to changes in the market, Wealthify enables clients to build a solid foundation for their investment journey.
See Related: Revolut Review: Is It Legit or Worth It?
Understanding Wealthify Portfolios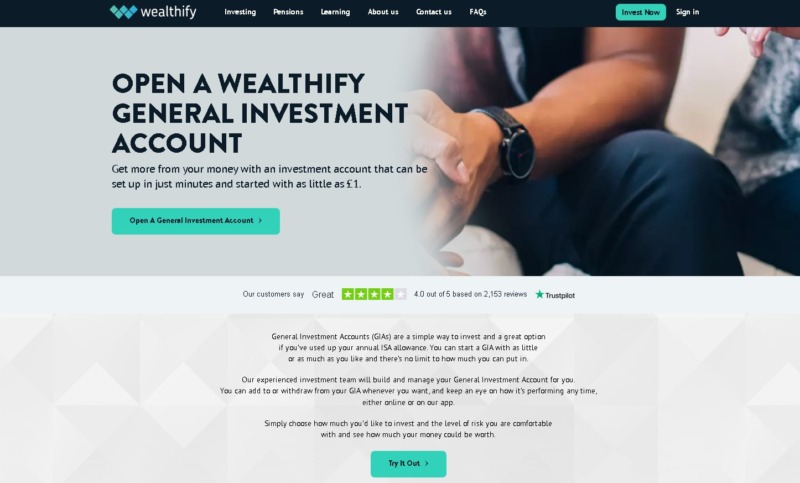 Wealthify offers a variety of portfolio options to suit different investor preferences and risk appetites. Each portfolio is designed with a specific attitude toward risk in mind so clients can select the one that aligns best with their investment goals.
There are five main portfolios available to investors: Confident, Adventurous, Ambitious, Cautious, and Tentative. Each option represents a different level of capital at risk and tolerance, with Confidence being the most aggressive and Tentative being the most conservative.
Confident: High-risk tolerance for investors seeking higher returns over the long term while understanding the potential for significant market fluctuations.
Adventurous: Moderate to high-risk tolerance, appealing to investors who want to balance potential higher returns with some level of stability.
Ambitious: Moderate risk tolerance, designed for individuals looking for a balance between growth and stability, accepting some fluctuations for the prospect of long-term returns.
Cautious: Low to moderate risk tolerance, suitable for clients prioritizing capital preservation with modest growth potential.
Tentative: Low-risk tolerance, ideal for conservative investors seeking minimal fluctuations and a focus on capital preservation.
Wealthify also offers two plan types catering to different investment style preferences: the Ethical Plan and the Original Plan. The Ethical Plan includes investments in companies, organizations, and projects that adhere to strong environmental, social, and governance (ESG) criteria. On the other hand, the Original Plan takes a more traditional approach to investing without emphasizing ESG factors.
When creating a Wealthify portfolio, clients will be asked to determine their attitude to risk. This information is used to help tailor the investment strategy accordingly, ensuring alignment with an individual's trust in market performance and personal investment objectives.
This personalized approach allows Wealthify to combine the advantages of robo-advisory with the insights and preferences of each client, creating an investment experience that efficiently suits a wide range of investors.
Types of Accounts and Services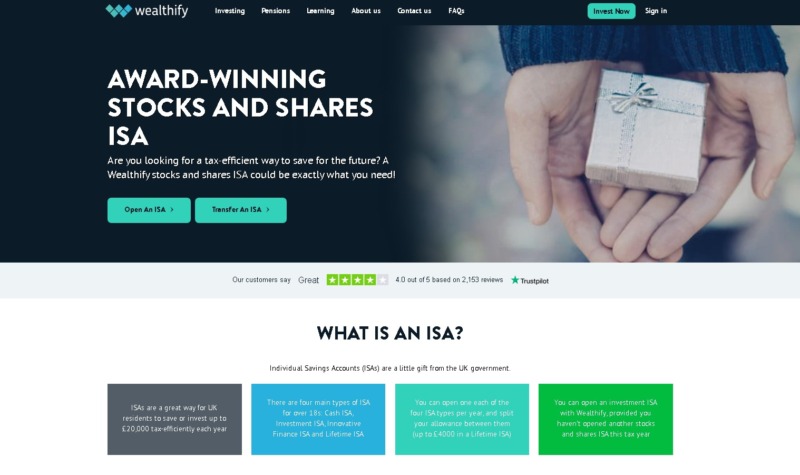 Wealthify offers a range of account types catering to different investors' needs. The investment platform is primarily designed for those seeking a hands-off investment strategy. It carefully considers investment goals, risk tolerance, and time horizon to create a well-suited portfolio for each user.
Wealthify's Individual Saving Account (ISA) allows investors to make tax-efficient contributions, as the returns gained within this account are exempt from income and capital gains tax. With the Stocks and Shares ISA, users enjoy the tax benefits while investing in a diverse portfolio.
The Junior ISA (JISA) enables parents or guardians to invest on behalf of their children, helping them build a nest egg before they turn 18. This account type is an excellent tool for families looking to provide a solid financial foundation for their child's future.
For those looking for a general, non-tax-advantaged account, Wealthify offers the General Investment Account (GIA). The GIA is a flexible option for those who have exhausted their annual ISA allowance or wish to invest without the restrictions of an ISA.
Individuals looking to build up their retirement pot can opt for Wealthify's Personal Pension option. It's a straightforward, transparent retirement-saving approach with tax-free benefits and a low minimum investment requirement.
Although Wealthify does not offer Cash ISAs or Self-Invested Personal Pensions (SIPP), its variety of account types allows most users to engage in long-term investment planning. The platform is particularly well-suited for novice investors, while experienced investors will likely appreciate the simplicity and the tailored portfolios based on user preferences.
See Related: Vinovest Review: Is It Legit & Worth It?
Wealthify App and Website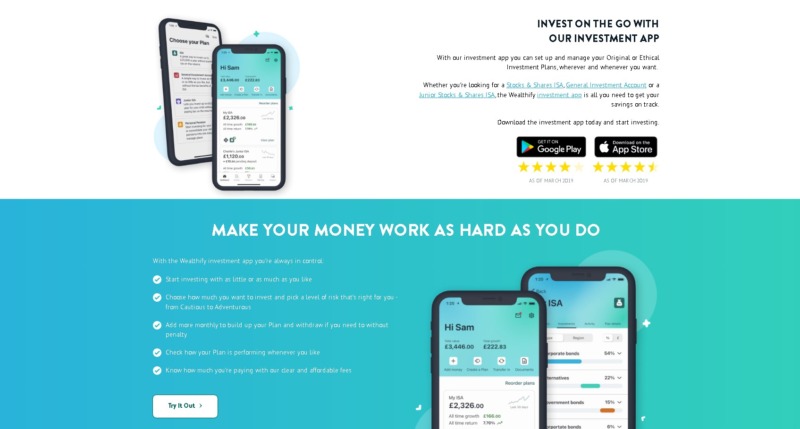 Wealthify offers a user-friendly app and website designed to streamline the investment process. The clean and straightforward layout makes it easy for experienced and novice investors to navigate. With just a few taps, users can create an account, set up a portfolio, and track their investments on the go.
The mobile app, available on iOS and Android devices, provides access to Wealthify's key investing features. Users can keep tabs on their portfolio's performance, view transaction history, and even make additional deposits or withdrawals within the app. The app also features a responsive customer service option, ensuring help is always a click away.
Wealthify's online presence extends beyond its app – the company's website complements the app by offering users additional information on the platform's investing strategies, performance history, and ethical investment options. For those who prefer a desktop browser, the website's interface is as seamless and easy to use as the mobile app.
Wealthify's commitment to providing an accessible and user-friendly experience shines through its app and website. With this strong online presence, investors can confidently manage their portfolio, making Wealthify a top investment and a solid choice for anyone looking to enter the mobile and online investing world.
Wealthify Costs and Fees
Wealthify has a straightforward and transparent fee structure, providing investors with an affordable way to manage their investments. When investing with Wealthify, two main costs are involved: the Wealthify management fee and investment costs.
The Wealthify management fee is a simple annual fee, which is calculated based on the value of your investments and payable on a monthly basis. This fee covers everything from account management to portfolio rebalancing and customer support.
Investment costs are additional fees for purchasing and selling assets within your portfolio. These can include fund fees charged by the investment fund providers, and market spread costs, representing the difference between underlying assets' buying and selling prices.
Fund fees vary depending on the specific investment funds used in your portfolio. They often represent a small percentage of your total investment and are directly deducted by the fund provider.
An attractive aspect of Wealthify's fee structure is the absence of hidden fees or charges. There are no transaction fees, withdrawal fees, or setup costs. This makes Wealthify's offering even more appealing to cost-conscious investors.
While the ethical investment option may carry slightly higher fees, it is important to note that Wealthify's overall costs remain competitive. The simplicity and transparency of Wealthify's fee structure and affordable pricing make it a popular choice for those looking to access robo-advisory services.
Customer Support
Wealthify's customer support team is dedicated to providing a seamless experience for its users. They are skilled in addressing concerns and inquiries in a timely and efficient manner. Their responsiveness is lauded by customers, with one reviewer mentioning excellent support from a representative named Liam.
The customer service team can be contacted through various methods, including their secure messaging service. This is a preferred option as it allows for quick and precise communication. The company is highly regarded for its professionalism and responsiveness, which helps to foster trust among its clients.
Wealthify's team of advisors is also notable for their expertise in the field of investment theme personal finance. Their guidance and insights can be invaluable when users build their investment portfolios. Moreover, the user-friendly app and well-thought-out risk assessment questions contribute to a smooth customer experience.
Setting up an Account with Wealthify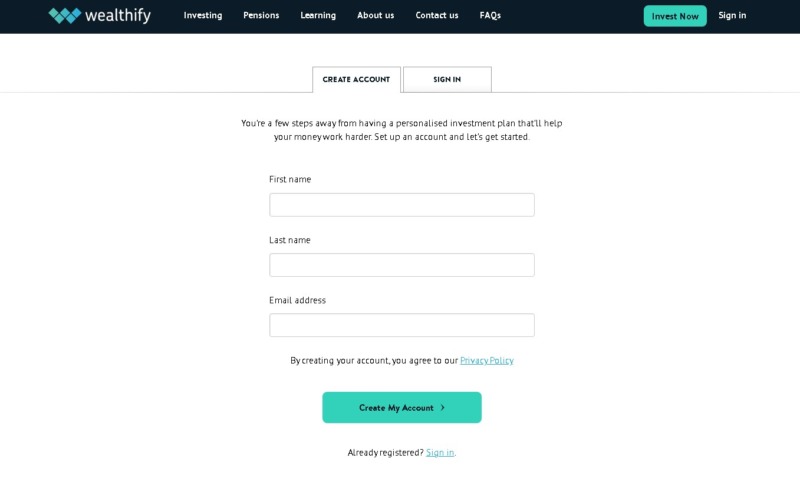 Setting up an account with Wealthify is a smooth and hassle-free process. To begin, users must provide personal details, such as their name, address, and contact information. This is followed by assessing their financial status – income, savings, and investment experience.
After sharing this information, users can select their investment horizon and risk tolerance level. These factors impact the choice between Wealthify's two investment styles: original and ethical. Actively managed by a team of experts, the intelligent algorithms help assemble portfolios that align with the user's risk appetite.
Next, users can set up funding options to withdraw money for their new account. Wealthify provides flexibility in funding methods, including direct debit and one-time lump sum deposits. The platform sets a minimum investment requirement of £1, providing accessibility to first-time investors and seasoned financial professionals.
As users grow their investments with Wealthify, they are encouraged to set financial goals, which can be monitored to assess performance and make necessary adjustments. The platform makes it easy to track these goals and provides valuable insights to assist users in making informed decisions.
Wealthify's user-friendly interface ensures that even novice investors can easily navigate trading. By clearly outlining each step in the process, this platform makes saving, investing, and monitoring performance an enjoyable and efficient experience.
See Related: AcreTrader Review: Is It Legit or Worth It?
Safety and Security
Investing with Wealthify involves certain safety and security measures to protect client interests. Owned by Aviva, a reputable insurance and financial services company, the platform strives to provide enhanced assurance to its users.
The Financial Conduct Authority (FCA) oversees Wealthify's operations, ensuring transparency and adherence to strict regulatory guidelines. With FCA supervision, customers can trust Wealthify to act in their best interest and maintain ethical business practices.
Despite these measures, it is essential to remember that capital is always at risk when investing. The platform clearly warns investors about potential losses, as market fluctuations can't be predicted with absolute certainty. Thus, users should carefully consider their risk tolerance before investing.
In the unlikely event of Wealthify's insolvency, the Financial Services Compensation Scheme (FSCS) offers an additional layer of protection. The scheme covers up to £85,000 per person, providing a safety net if the platform fails to meet its financial obligations.
Wealthify's affiliation with Aviva, FCA regulation, and FSCS coverage contribute to increased user safety and security. However, clients should still conduct thorough research and assess their willingness to face potential risks, as with any investment vehicle.
Additional Features
Wealthify boasts a variety of extra features to enhance users' experience. Their blog is a valuable resource, offering insights into personal finance, investing trends, financial advice, and market updates. By regularly reading these articles, customers can stay informed and better understand their investment choices.
Another attractive aspect of Wealthify is its Refer a Friend program. When users invite friends to join the platform, both parties can receive financial rewards, making it a win-win situation for all involved. This encourages new sign-ups and fosters a community of satisfied customers.
Wealthify empowers its clients to adjust and monitor their investments effortlessly. Users can easily modify their portfolios, risk levels, or investment amounts with an intuitive online platform. Additionally, the platform provides tools for tracking investments' performance over time, giving customers a clear view of their progress.
Many investors want to support ethical investments in today's socially conscious world. Wealthify addresses this by offering an Ethical investment option.
This choice allows Wealthify pension clients to invest their funds in companies focused on sustainability, social responsibility, and good governance. With Wealthify's ethical choices, investors can support enterprises that align with their values.
Lastly, the platform offers an Original investment plan to provide robust diversification across multiple industries and asset classes. By investing in this option, users can benefit from a balanced mix of bonds, equities, and commodities, which helps them achieve steady, long-term growth.
See Related: Best Wealthfront Alternatives | Apps Like Wealthfront
Wealthify Alternatives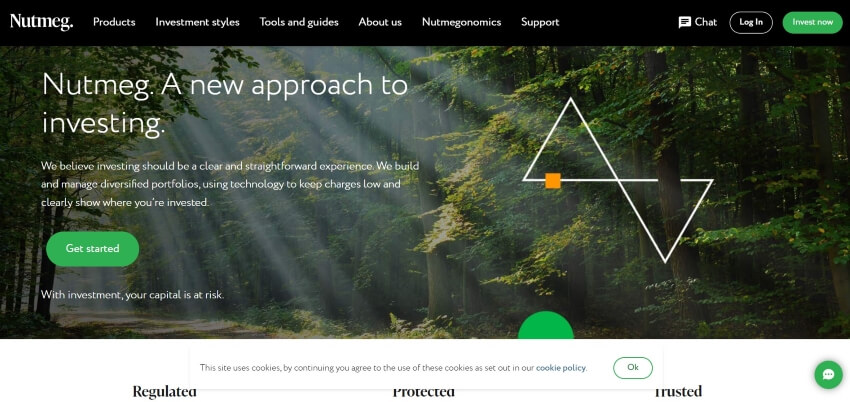 In robo-advisors, Wealthify finds itself among competitors like Nutmeg and Moneyfarm, each offering unique features and strategies to appeal to different investors. Let's explore options that could serve as alternatives to Wealthify for your investment platform needs.
Nutmeg distinguishes itself through a diverse range of portfolios, offering fully managed and fixed allocation strategies to cater to investors with varying risk appetites and goals.
With a 0.75% fee on investments up to £100,000 and lower fees beyond that, Nutmeg offers good value for experienced and novice investors. However, please note that Nutmeg requires a minimum investment of £500, which might be a hurdle for those looking to invest smaller amounts.
Moneyfarm stands out with its custom investment portfolios that match an investor's risk tolerance. Additionally, the platform provides human advice to help you fine-tune your investment strategy further.
Moneyfarm's fees decrease as your invested amount increases, with 0.75% for investments up to £10,000 and 0.6% for the next tier. Despite these competitive fees, Moneyfarm also requires a minimum investment of £500, potentially turning away those with less capital.
Both platforms, however, require a higher minimum investment than Wealthify. Consider your preferences, budget, and long-term goals when picking an investment platform, and remember to stay informed about any changes in fees and policies.
Frequently Asked Questions
How do Wealthify's fees compare to competitors?
Wealthify charges a management fee that typically depends on your investment amount. For lower investments, their fees may be slightly higher than some competitors.
However, as your investment grows, their fees become more competitive. It's essential to compare the fee structure of different platforms to ensure you choose one that suits your investment needs and budget.
Does Wealthify offer any unique features?
Wealthify offers an easy-to-use platform, making it accessible and understandable for novice investors. Furthermore, they provide many ethical investment plans and options, allowing you to align your investments with your values. Although unique features may not be abundant, Wealthify's simplicity and user-friendliness appeal to many investors.
What's the experience of using Wealthify's platform?
Wealthify's platform is designed to be simple, intuitive, and user-friendly. Investors can easily navigate the interface, make investment choices, and monitor their portfolios. The platform also includes a mobile app, allowing you to manage your investments conveniently from your smartphone.
Has Wealthify received any notable awards or recognition?
Wealthify has been recognized and commended for its high level of customer service. Users have praised the responsiveness and helpfulness of Wealthify's support team when addressing their questions or concerns. Although they may not have numerous accolades in the industry, positive customer feedback is an essential indicator of their reliability and effectiveness.
Can I trust Wealthify with my investments?
Wealthify is a legitimate online investment management service that is regulated by the Financial Conduct Authority (FCA). Given their adherence to strict regulations and user experiences, Wealthify has earned the trust of many investors. While no investment platform can guarantee returns, Wealthify's transparency and commitment to regulatory standards make it a reliable choice for your investment needs.
What are the fund choices available with Wealthify?
Wealthify offers a range of investment portfolios, including stocks, shares, and other asset classes. They categorize these portfolios into five investment styles, allowing you to choose depending on your desired risk level, financial goals, and personal preferences. Additionally, Wealthify provides ethical investment options, meaning you have some control over the type of companies you invest in.
Related Resources
Kyle Kroeger, esteemed Purdue University alum and accomplished finance professional, brings a decade of invaluable experience from diverse finance roles in both small and large firms. An astute investor himself, Kyle adeptly navigates the spheres of corporate and client-side finance, always guiding with a principal investor's sharp acumen.
Hailing from a lineage of industrious Midwestern entrepreneurs and creatives, his business instincts are deeply ingrained. This background fuels his entrepreneurial spirit and underpins his commitment to responsible investment. As the Founder and Owner of The Impact Investor, Kyle fervently advocates for increased awareness of ethically invested funds, empowering individuals to make judicious investment decisions.
Striving to marry financial prudence with positive societal impact, Kyle imparts practical strategies for saving and investing, underlined by a robust ethos of conscientious capitalism. His ambition transcends personal gain, aiming instead to spark transformative global change through the power of responsible investment.
When not immersed in the world of finance, he's continually captivated by the cultural richness of new cities, relishing the opportunity to learn from diverse societies. This passion for travel is eloquently documented on his site, ViaTravelers.com, where you can delve into his unique experiences via his author profile.