Entrepreneurs are business start-up owners. These people start their businesses for different reasons, but most focus on profit-making. Well, organizations exist to make a profit from goods and services, that's not news. However, what you use your revenues for, determines the type of entrepreneur you become.
Businesses are now increasingly supporting environmental, social, and governance causes to meet their ESG goals or appeal to socially conscious customers. It is not just enough to have products and services that meet market expectations. Consumers have switched to checking why your business exists, and what your goals are. Is it to make only a profit, or does it have other purposes?
Do you care about getting rich or benefitting your stakeholders and the world around you? With impact investing, investors look for brands that channel their money to environmental and social causes. Businesses that positively impact society fall under social enterprises, which brings us to social entrepreneurship.
Unlock Sustainable Investing Opportunities 🌿
Join the green revolution by investing sustainably with our top partners. Discover platforms that align with your values and offer remarkable opportunities for growth.
But what is social entrepreneurship, and who are social entrepreneurs? This article answers this question and gives examples of social entrepreneurship to follow. Read on for details!
What is Social Entrepreneurship?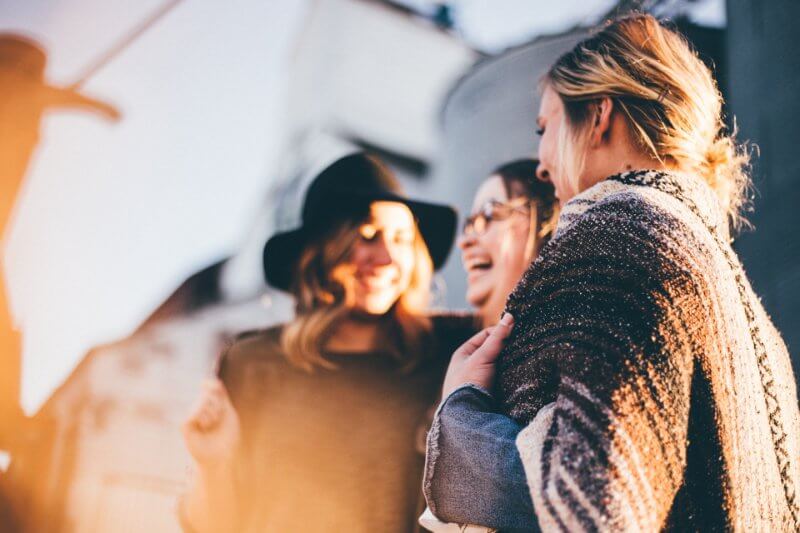 The basic definition of social entrepreneurship involves individuals or groups starting a business that uses its profit to find a solution to social problems. It can address insecurity, food shortage, lack of education, water shortage, homelessness, and more!
A social entrepreneur is a person that starts a business to make a positive impact on society while earning a living from it. Such people belong to the do-good group. They are motivated to start a business to bring a positive change to society instead of earning more profit and getting richer.
Social entrepreneurs explore business opportunities with a social mission. It can solve a problem in the immediate community, society, or world.
A social enterprise is often confused with non-profit organizations, but the main difference is that social businesses are for-profit, but they use that profit to achieve corporate social responsibility.
See Related: Best Impact Investing Software for Measurement & Metrics
Types of Social Entrepreneurs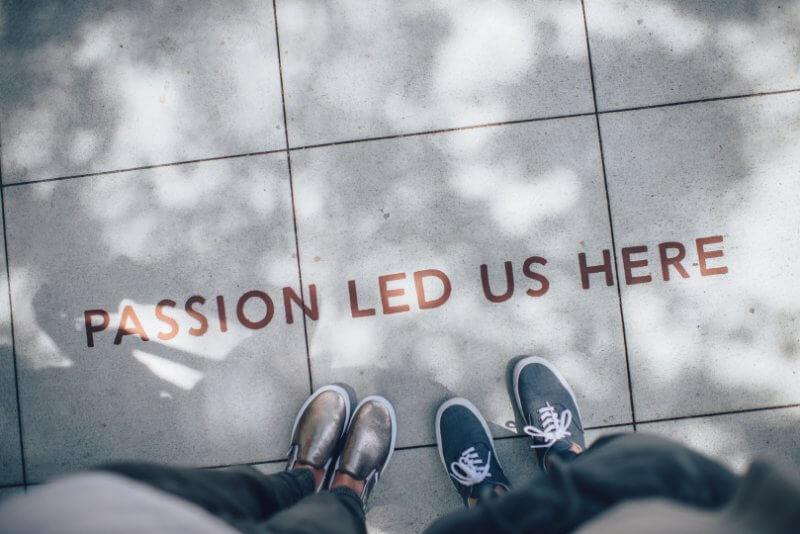 There is no one-definition-fits-it-all when starting a business to bring a positive change to society.
Social entrepreneurs differ from traditional businesspersons in strategies, goals, and business models. That means social entrepreneurs or enterprises can be grouped according to their social mission. These include the following:
Community Social Entrepreneur
A community social entrepreneur creates a positive impact in a small geographical area. It helps a particular community to solve some of the problems it faces from the revenues generated.
Social entrepreneurs in this category are mainly individuals or small organizations. They address issues such as fighting unemployment, promoting health, raising awareness of social issues, providing financial aid, combating racism, and so on. They might even build community centers, markets, schools, reservoirs, and any number of things that can enrich a community.
Community social entrepreneurs work directly with the members of the community. That may slow down the decision-making process, but it's worth it. You make an immediately visible change to your community, rather you'll be laying the foundations for a better world for future generations.
A good example of a community social entrepreneur is Love Your Melon. The company donates hats to children battling cancer and donates funds to aid treatment.
Non-profit Social Entrepreneur
Unlike a traditional business that focuses primarily on its gains, non-profit social enterprises prioritize social well-being. The business model is about reinvesting any generated revenue back to make more positive impacts on society.
Non-profit social enterprises are usually big companies and large organizations that use their market power in the developing world. They have more funds from an established business and are more likely to meet their social goals.
Non-profit social entrepreneurs can any of the following:
Churches
Public schools
Public charities
Public clinics and hospitals
Political organizations
Legal aid societies
Volunteer services organizations
Labor unions
Professional associations
Research institutes
Some governmental agencies
Transformational Social Entrepreneur
Transformational social enterprises are up-scaled non-profit enterprises. They focus on bringing societal changes by solving problems that other businesses and governments have failed to achieve. An entrepreneur of this scale has a network of business enterprises that focus on the social benefits.
Lush is a good example of a transformational social entrepreneur. The company has donated millions of dollars and supported thousands of grassroots projects that contribute to positive impact.
A transformational social enterprise can get integrated into the government. Another advantage that such social entrepreneurs enjoy includes the easy acquisition of top talents. However, they still have to operate within set rules and regulations.
Global Social Entrepreneur
As the name suggests, global social entrepreneurs set up businesses for global change. They usually run multi-billion business enterprises that fund the social mission. Usually, they work with other social entrepreneurs to meet their goals of changing the world for the better.
Warby Parker is a good example to mention. Through its Buy a Pair Give a Pair program, the company has donated eyeglasses to the less unfortunate worldwide.
See Related: What is Social Arbitrage Investing?
Benefits of Social Entrepreneurship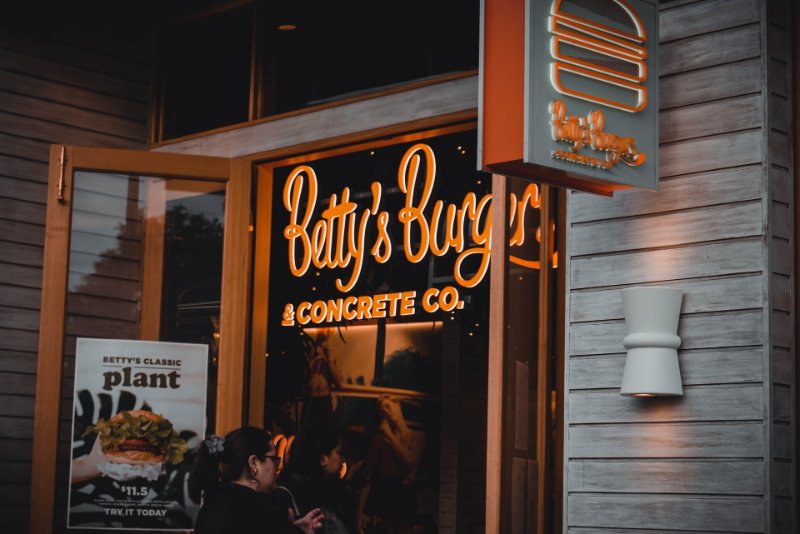 Social enterprises do not focus primarily on scaling the business world. A chunk of the profit is used to make social changes or change the world. That might seem disadvantageous compared with traditional businesses that typically reinvest all their revenues.
However, social entrepreneurship still has many benefits. First of all, it exists for societal well-being. It solves problems most commonly faced in the community, society, and world. But besides that, there are other benefits. These include the following:
High Productivity
It is becoming challenging to motivate employees to work hard only to generate profits for the shareholders. But if there is a common social cause as a goal, everyone will feel motivated to do their best to achieve the goals.
Social entrepreneurship involves solving social issues such as racism, sexism, poverty, human rights violation, abortion rights, etc. These social responsibilities motivate people to work hard and make their efforts count.
Brand Development
The concept of conscious consumerism has made it nearly impossible to sell products based on their features without tagging their social benefits. That gives social enterprises an edge over traditional businesses in impact banding.
Consumers are more inclined to purchase products from brands that bring positive change to society.
Free Marketing
When your business focuses on social value rather than generating profits for shareholders, the brand can speak for itself.
It also becomes easy to win the hearts of influencers and gain followings by telling heart-captivating stories about your social mission!
More Partnership Opportunities
Other like-minded social entrepreneurs subscribe to your social entrepreneurship idea. These people will be more willing to partner with you or invest in your entrepreneurial venture.
Easy Access to Support System
It is easier for a social enterprise to access grants, certifications, and other support systems. Other organizations exist to offer such services to social entrepreneurs in support of their social ventures. These include governments and global organizations.
See Related: Best Green Credit Cards to Support the Environment
Social Entrepreneurship Examples
There are many successful social entrepreneurs worldwide. Their mission to create positive change and develop the world has paid off. Get your inspiration as an aspiring social entrepreneur to keep you going. It also proves that businesses can still succeed even if scaling up is not the primary goal.
The following are the best social entrepreneurship examples:
TOMS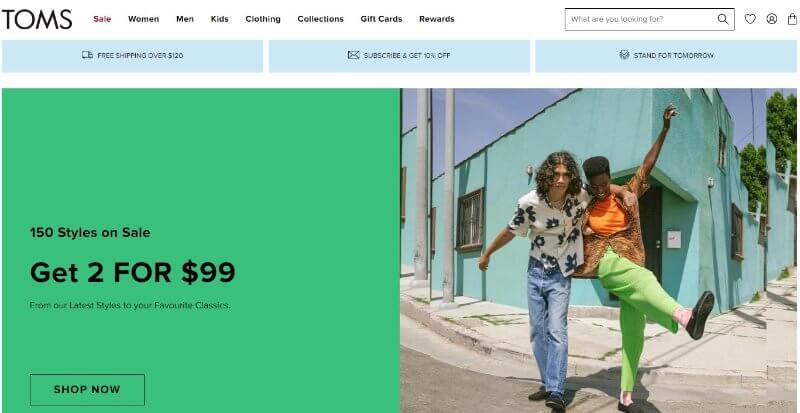 TOMS started with a campaign of giving one pair of shoes to a needed child for every pair of shoes sold. Today, the company has given about 100 million shoes to the needy. But that is not all. Its existence has come with many appreciable social benefits. That's what makes it one of the world's leading social enterprises.
TOMS is not the first company to implement social entrepreneurship ideas. However, it is one of the top brands that popularized social entrepreneurship in the past decade. This company was founded by Blake Mycoskie in 2006 during his trip to Argentina.
TOMS launched the TOMS Eyewear program in 2011, aimed at helping people in need of media treatment and eyeglasses. In 2014, TOMS also rolled a TOMS Roasting Co. The only objective of this coffee-roasting sub-company is to bring sustainable water systems to people who lack access to clean water.
Currently, TOMS donates one dollar for every three dollars gained in profit to help solve social problems. That ensures safe birth, bullying prevention, and other causes.
LSTN Sound Co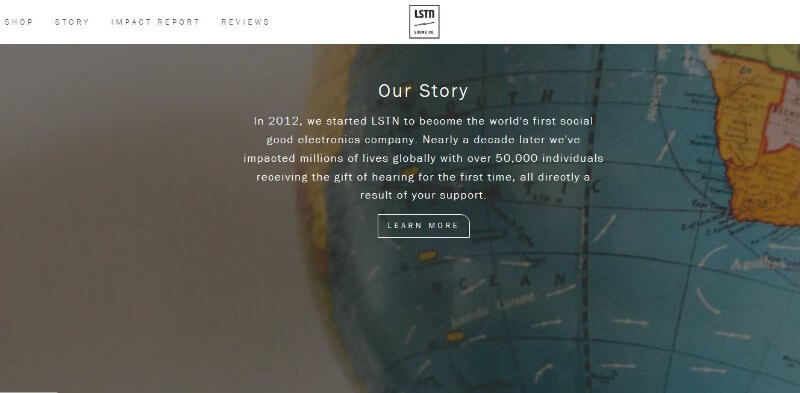 LSTN Sound was founded in 2012 as the world's first inspirational electronics company. The electronic company manufactures earphones to make listening to music and video conferencing fun.
LSTN co-founders Bridget Hilton and Joe Huff were motivated by a viral video on YouTube. The video featured a deaf person who was thrilled to hear her own voice for the first time. This inspiration made them believe that everyone deserves to get a hearing aid and decided to help through their foundation.
LSTN has used the revenue generated from the sales of headphones, earbuds, and speakers to help more than 50,000 people around the world. The company also partners with the non-profit Starkey Hearing Foundation to help achieve its social mission.
Access to hearing aid donated by LSTN Sound has improved the livelihood of thousands of people and created a ripple effect among millions worldwide. The company has made that possible from the proceeds of the purchase of its products. When you buy headphones, earbuds, or speakers, you help another person access a hearing aid.
See Related: Best Energy Management Software Programs
Love Your Melon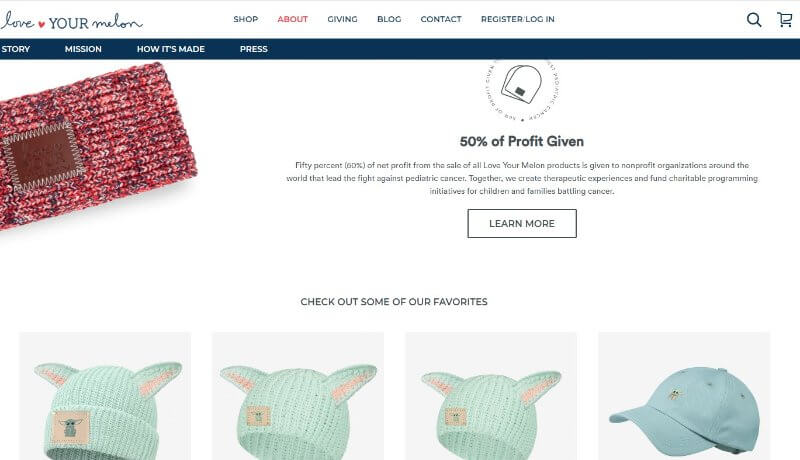 Love Your Melon was founded by an entrepreneurship class at the University of St. Thomas in Saint Paul, Minnesota. Zachary and Brian started it in 2012 as a business that brings positive social impact. The duo wanted to help children battling cancer, and they started it as simple as putting a hat on every victim.
The first goal of Love Your Melon was to give 45,000 hats to children battling cancer in America. But after achieving that, the company set a new target of donating $1 million to pediatric cancer research and supporting children and families. Love Your Melon has given over $9.4 million and 230,000 hats.
The company also gives 50% of the profit made from the sales of any of its products to non-profit organizations around the world that help fight pediatric cancer.
Love Your Melon has managed to create a global network and create therapeutic experiences. It also funds charitable initiatives that help children and families battling cancer.
Warby Parker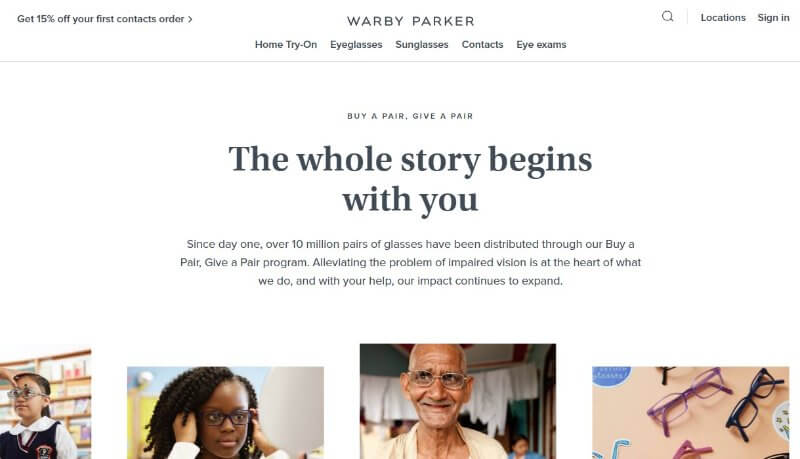 Warby Parker is a company that deals with eyeglasses, sunglasses, contacts, and eyewear accessories. The company came into the social entrepreneurship limelight when it launched the Buy a Pair Give a Pair program. Since its launch, Warby Parker has donated over 10 million pairs of glasses to those who could not afford them.
Warby Parker's mission is to solve the vision impairment problem that affects most people worldwide. This issue severely affects over 2 billion people, some of whom cannot work. Warby Parker works closely with partners to reach out to the needy and help solve that problem.
Warby Parker has worked with VissionSpring as a partner in its first social well-being mission. It supported the social entrepreneurship model to reach low-income men and women internationally.
In 2015, Warby Parker rolled out a Pupils Project. It partnered with many organizations and local agencies to provide free vision screenings, eye exams, and glasses to school-going children. This step helped many students get the eyewear they needed to continue their studies flawlessly and start achieving their dreams.
There is no doubt that Warby Parker is one of the social entrepreneurship examples that change lives for the better. Its cause for positive social impact is evident.
See Related: What is the Pyramid of Corporate Social Responsibility?
FIGS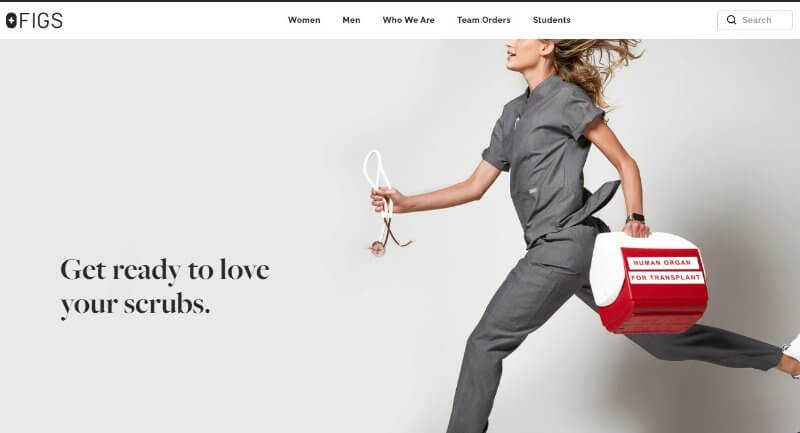 FIGS is a direct-to-direct consumer healthcare apparel and lifestyle brand that empowers and serves healthcare professionals. The company is committed to making every individual in the health sector look, feel, and give the best performance. It does that by creating comfortable apparel, but that's not all FIGS contributes…
FIGS may not contribute much to social vision, but its efforts are also worth appreciation. Apart from ensuring that health workers feel their best and always give their best at work, it also donates its products.
As of 2019, FIGS had distributed over half a million free apparel to health professionals worldwide. These donations have reached 35 different countries.
See Related: What is a Serial Entrepreneur? Definition & Examples To Know
Lush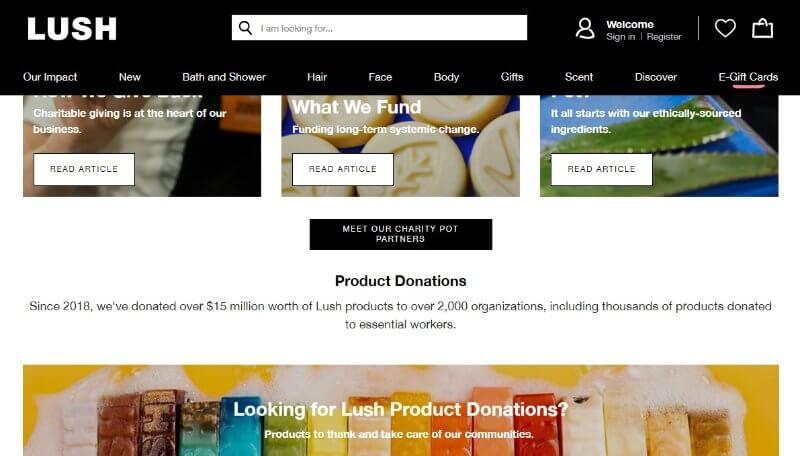 Lush is a cosmetic retailer founded in 1995. It sells soaps, shampoos, creams, shower gels, lotions, and other products. It features on this list as one of the social entrepreneurship examples because it supports social causes and vision.
Lush advocates for people, animals, and the planet. It does that through ethically-sourced ingredients and grant programs that fund grassroots organizations around the world. There are different donation strategies that this company applies. The most common are Charity Pot Grants, product donations, and ethical campaigns.
Through the Charity Pot Grant, Lush has donated $53 million and supported over 2,900 grassroots projects that contribute to a positive impact, by funding long-term systemic change.
Since 2018, Lush has also donated $15 million worth of its products to over 2,000 organizations. Some of this goes to essential service providers to ensure the well-being of people. Lush also conducts ethical campaigns that support voices advocating for human rights, animal protection, and environmental sustainability.
See Related: How to Save Money & Go Green; a Step-by-Step Guide
Ben & Jerry's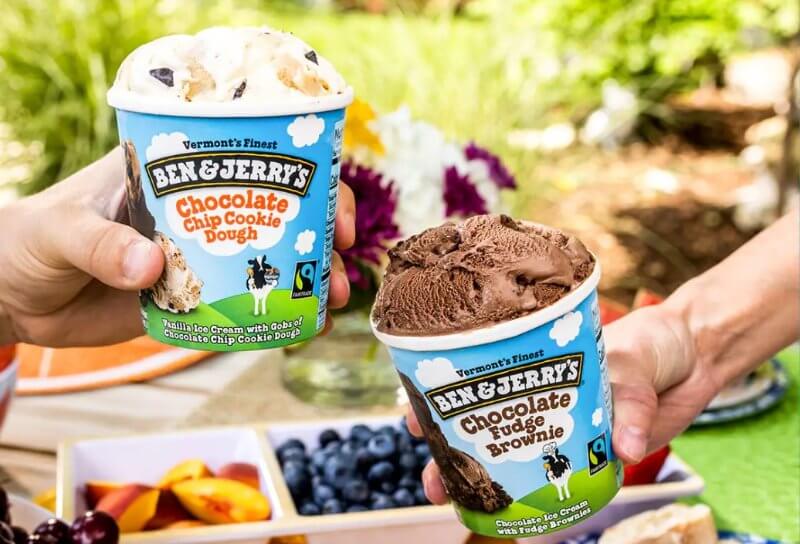 Ben & Jerry's is a globally beloved ice cream brand also dedicated to using a percentage of proceeds to achieve a social vision.
Its mission statement clearly states how it is committed to the prosperity of everyone who's connected to its business and beyond. It aims to ensure the well-being of its suppliers, employees, farmers, customers, franchises, and neighbors.
Ben & Jerry's has always been committed to many positive causes covering social, environmental, and governance.
The company ensures its workers get a livable salary. Their products may be priced higher than other ice creams, but much of the profit is used on wages – as well as sourcing the finest ingredients.
Ben & Jerry's supports different movements that ensure the well-being of different groups of people. Both Ben and Jerry have been advocates of voting rights, environmentally-friendly farming, racial justice, LGBTQ+ rights, climate justice, and campaign finance reform, just to mention a few.
Good Eggs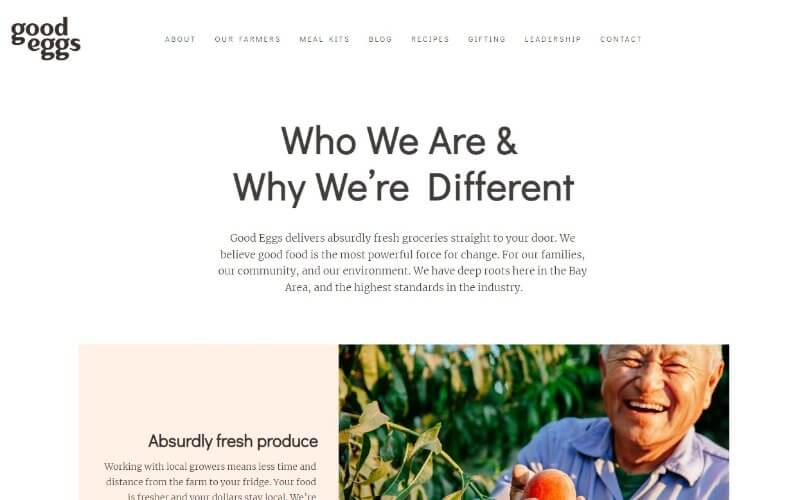 Good Eggs sets itself apart in the grocery delivery business because it supports social values. The company believes that good food is the best way to bring change, and it has proved it from time to time. It does so by keeping high standards in the industry and sourcing from local producers.
Firstly, Good Eggs supports the community by sourcing 70% of food from local farmers. Secondly, every employee has a stake in the business. That not only empowers them but also promotes transparency and healthy business practices. Workers earn wages and proceeds to meet their daily needs and fund their personal development.
See Related: What is the Pyramid of Corporate Social Responsibility?
Ladakhi Women's Travel Company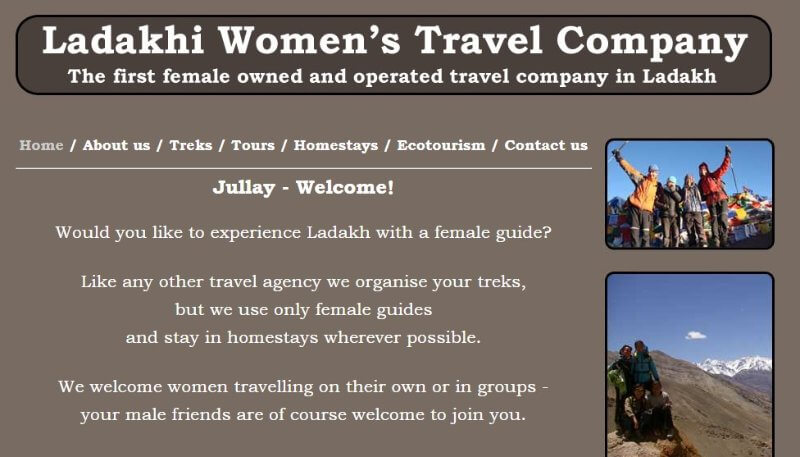 Ladakhi Women's Travel Company is the first female-owned and operated travel company in Ladakh, India. It was created to change the narrative in the Indian travel industry that was dominated by men. The company was founded in 2009 by Thinlas Chorol.
Ladakhi Women's Travel Company has successfully organized educational and ecological friendly tours, homestays, and treks for travelers and tourists. It has also inspired local women to show their ability to serve as trekkers and travel guides in their hometowns.
The company has also enhanced economic growth by encouraging women to find work in Ladakh and be independent. Generally, we can say Ladakhi Women's Travel Company fights for gender equality and to raise awareness.
Jaipur Rugs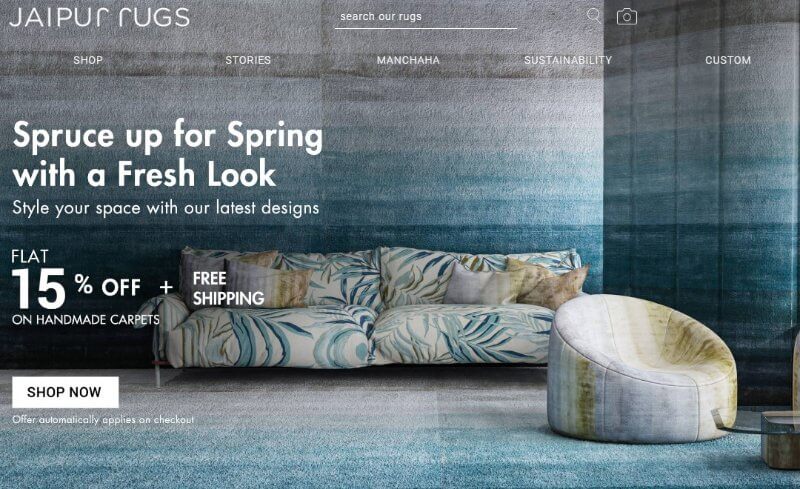 Jaipur Rugs is primarily focused on producing high-quality handmade and socially sustainable floor coverings. The company was established in 1978, coming from a humble beginning to perfect the art of carpet weaving.
Jaipur Rugs found a way to connect local artisans to the global market. And thus far, the company has produced some of the best, thoughtfully crafted, unique, handmade rugs. It has continuously connected gifted rug makers to the customers, expanding their livelihood by promoting local industry.
Jaipur Rugs has supported health, literacy, vocational, financial, and entrepreneurial ventures and inspired many in the community. The company promotes the spirit of hard work and self-sustenance.
See Related: How to Build a Socially Responsible IRA Portfolio
SEKEM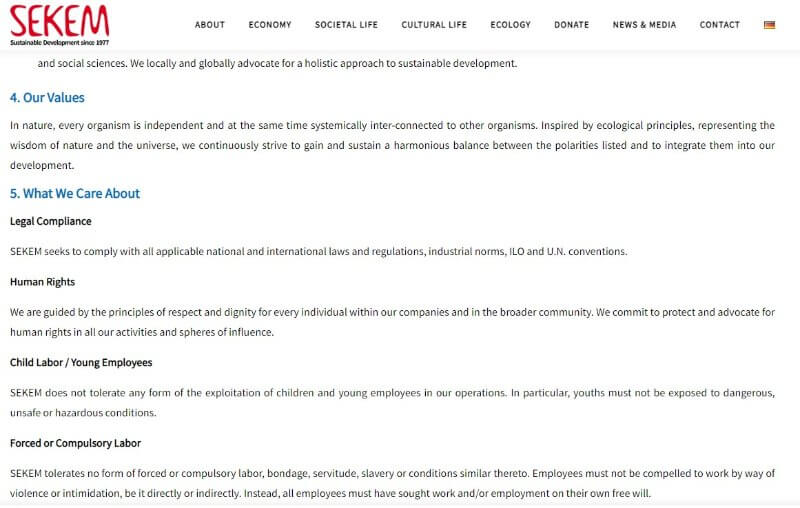 SEKEM is an Egyptian company founded in 1977. The social entrepreneurship ideas behind its establishment were to give back to society. It was the vision of Dr. Ibrahim Abouleish, who started by digging the first well in the desert.
SEKEM is committed to sustainable development for a better future. It believes in a world where every individual can get to full potential and live together in social forms and all economic activities conducted sustainably.
Presently, the company has managed to produce medical herbs and health products to meet the needs of its customers and ensure the well-being of everyone. SEKEM has also improved the environment through dynamic farms.
SEKEM has built educational centers for children to emphasize creativity and analytical thought. It also instituted a health center to ensure a holistic approach to medication.
Uncommon Goods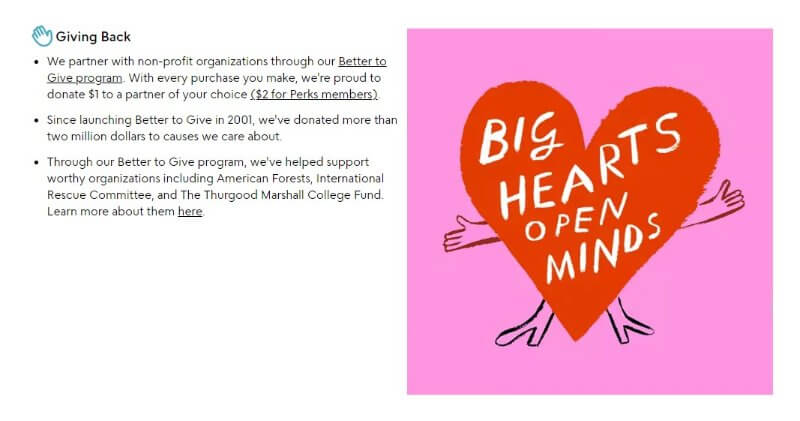 Uncommon Goods was founded in 1999 by Dave Bolotsky. It's an online marketplace that connects artisans and their creations with shoppers who want unique products. Most people use this platform when shopping for unique gifts.
The company is responsible for sourcing products from around the world. Some are also crafted in-house by a team of designers and artists. Every product created has a unique purpose and solves a problem. They are made from unusual, reclaimed, or recycled material as a strategy for environmental sustainability.
Uncommon Goods has a Better to Give program through a partnership with non-profit organizations. The company states that it donates $1 for every purchase to a partner of your choice. Since rolling out the program in 2001, the company has donated more than $2 million to fund causes with positive social and environmental impact.
Some of the organizations that Uncommon Goods have supported include American Forests, The Thurgood Marshall College Fund, and International Rescue Committee.
See Related: Top Social Sustainability Examples to Know
GoldieBlox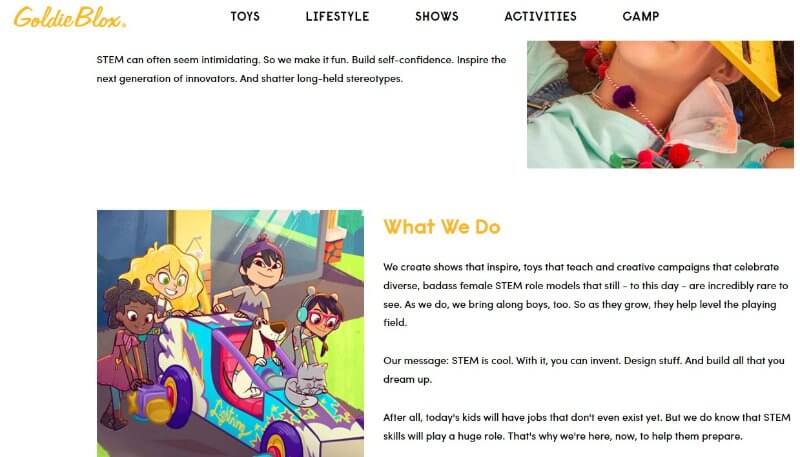 GoldieBlox has a mission to reach out to girls at a young age and introduce them to Science, Technology, Engineering, and Mathematics (STEM). The company has adopted ways of empowering girls to look at STEM differently and inspiring them to be innovators of the future.
The main goal of GoldieBlox is to build self-confidence and inspire young girls by creating fun ways of learning STEM. It sells toys that teach and conducts a creative campaign to celebrate female STEM role models.
GoldieBlox has reached millions of girls worldwide in the past decade alone by reshaping children's toys and media.
United by Blue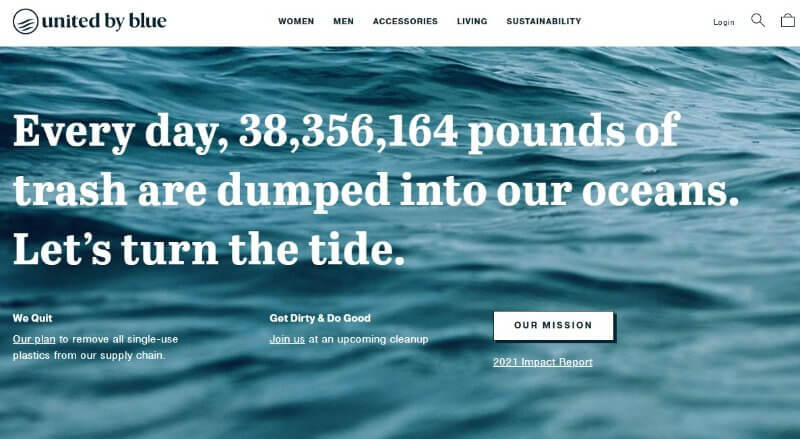 United by Blue is an outdoor apparel store committed to making the world a better place for humanity and other living organisms.
The company starts this journey to achieving its ESG goals by using materials that leave little or no footprint. It sources sustainable materials to ensure generation prosperity.
One of the main contributions of United by Blue is removing trash from waterways and oceans equivalent to the product purchased. So far, the company has managed to clear more than 3 million pounds of trash!
How to Start a Social Entrepreneurship
Social entrepreneurship requires a passion for solving a social problem. If you have that drive, you can be a social entrepreneur. So, how do you get started and take off for success? Here are the general steps to follow:
Understanding the Problem and Solution
The first step in starting social entrepreneurship is understanding the problem you intend to face. You may need to read, travel, and interview people to know how it affects them and what they are asking for.
This first step takes time, and you should dedicate everything to it. Without understanding the social issue you want to address, you can easily lose track along the way.
Evaluating Social Entrepreneurship Ideas
Once you understand the social problem you want to solve, it becomes easy to evaluate all social entrepreneurship ideas. You can only give your social enterprise a good start if it is built on a strong foundation backed up with passion.
For example, you can start a restaurant that donates food to locals who go hungry. Another good example is setting up a barbershop where every haircut pays for the next haircut for people who cannot afford it.
Creating a Business Plan
A social enterprise also requires a business plan. It is what should guide you on your visions and goals, both short-term and long-term. You can also use a business plan to measure your success.
For example, your social entrepreneurship goal can be building education centers. You can target five such structures to be erected by the end of the fifth year in business. A business plan helps capture such details and much more.
Funding Method
The next step is to look for funds to kickstart your social entrepreneurship. This is where many aspiring traditional and social entrepreneurs reach a roadblock in their journey. Raising funds to start a business is a challenging task that requires an appropriate strategy.
Non-profit business model
Some reliable places to look for funding to achieve your dream include Kickstarter, Fundable, and GoFundMe. You will have to create a good mission statement that resonates with the community members to get support.
Crowdfunding sites mainly help you raise funds, but you can get additional benefits. You are also raising awareness and developing your brand in the process. Also, use the feedback you get from there to adjust your social entrepreneur plan.
But to succeed in getting funds, you should prove how you bring a solution to the problem and sustainability around your business.
Hybrid business model
A hybrid business model involves partnering with other non-profit organizations to help you reach your goals. They can be the direct beneficiaries or connect you to your target group.
Raising funds to start such social entrepreneurship is not as straightforward as the previous business model. So, do your research and know everything you need or expect from you as a social entrepreneur. Enter into a partnership business only after understanding all the policies and how it operates.
For-profit business model
You should note that your social business can only make a sustainable social impact if it's profitable. Design your business to ethically generate profit to help you reach your social goals.
FAQ
Who is a famous social entrepreneur?
There are many social entrepreneurs worldwide at different scales, but the most famous one is Bill Drayton. He is the father of social entrepreneurship and the founder and CEO of Ashoka, a non-profit organization founded about 4 decades ago. Other notable social entrepreneurs include Jazzmine Raine, Shiza Shahid, Manish Gupta, Blake Mycoskie, Scott Harrison, and Alex Husted, to name a few.
How do social entrepreneurs make a profit?
A social enterprise can sell products and services, just like typical businesses. To generate a profit from the sales, social entrepreneurs maintain the quality of their products and services and trade on-demand commodities. The proceeds from the sales are not all given back to society. A portion is reinvested into the business and set aside as the profit.
What makes a social entrepreneur successful?
Social entrepreneurs have a business idea and the process to actualize it. They do their homework about market trends, demands, and all other relevant information required for the success of their businesses. But most importantly, social entrepreneurs can be successful if they have a passion for helping society.
How do social enterprises get funding?
Social enterprises can get funds from grants, investments, or both. A social entrepreneur can also use savings to start a business, just like typical businesses.
Related Resources