Coal and gas have been the mainstay of energy companies since harnessing their power were invented. However, with climate change becoming a real problem that can no longer be ignored, more governments, including our own, are looking for more renewable energy sources to keep the lights on.
Though opposition to renewable power is still strong in some political circles, the momentum in the solar power and renewable energy market is picking up steam.
According to a recent article in Forbes magazine, the solar power industry alone provides more jobs than gas, oil, and coal combined. With the economy in shambles, not only is job-creating big on the agenda, renewable, more affordable power is more important than ever.
Unlock Sustainable Investing Opportunities 🌿
Join the green revolution by investing sustainably with our top partners. Discover platforms that align with your values and offer remarkable opportunities for growth.
Needless to say, solar power is on the rise for a variety of reasons which makes it a good candidate for ESG investing. However, breaking into the investment market is a whole other story, but with Wunder Capital, a lot of the guesswork is taken out of the equation.
A.s we get into our Wunder Capital review, you will come to find that picking risky solar stocks is no longer the only way to help the planet. Many firms show a lot of promise only to shut their doors a year or two later, taking your investment along with them. With Wunder Capital, you can invest in solar without the high amount of risk that generally comes from ESG investing in the solar market.
What is Wunder Capital?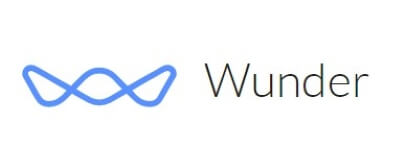 Wunder Capital is all about investing but with a singular purpose. Unlike other online investment firms, this one targets solar energy exclusively.
It helps both investors look to bulk up their ESG portfolios and solar energy projects that need funding to move forward. The funds created by Wunder Capital are a mix of existing and new solar companies in the small and midsized ranges.
This is a financial technology company with a purpose, and instead of just focusing on client returns, it has an eye on the future of the planet. The company manages every aspect of the process, so while there is risk investing like all stocks, it is minimal.
Any accredited investor looking to add solar stocks to their portfolio is eligible to sign up with Wunder Capital. Since its start, the company has shown a steady stream of moderate returns on its investments and has also paid out those returns to investors.
In a recent round of funding, 112 million dollars were raised that are being put directly in the hands of solar companies who are on the cusp of doing big things for the planet. Solar energy funding has been lagging compared to other renewable energy efforts, but with their help, over 100 companies covering 30 states have gotten a fresh start on their ESG efforts.
See Related: Best Impact Investing Books
All About How Wunder Capital Works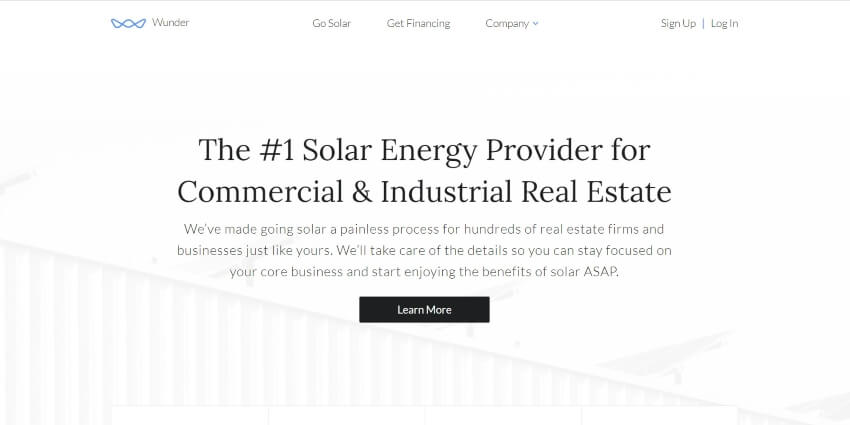 As you can see from our Wunder Capital review so far, this company operates differently than other investment firms. Instead of investing in the open market, the firm invests directly with solar companies in need of funding to further their initiatives.
They handle the applications, approvals, underwriting, and loan servicing for each solar company provided with your investment funds.
As companies repay the loans, returns are paid out to investors. Each investment term has a set time period to maturity, and as an investor, you must hold your investment until the maturity date, basically, as if you are a lender. Wunder Capital manages three debt funds at any given time.
Most of the businesses in the loan portfolio are midsized, while some may be start-ups. The company is a smart way for smaller investors to finance large-scale solar projects to improve communities across the United States.
It is important to note that while projections are provided during the investment phases, returns are not guaranteed. Actual returns depend on borrower performance and repayments.
See Related: Awesome Impact Investing Examples to Know
How to Sign up For Wunder Capital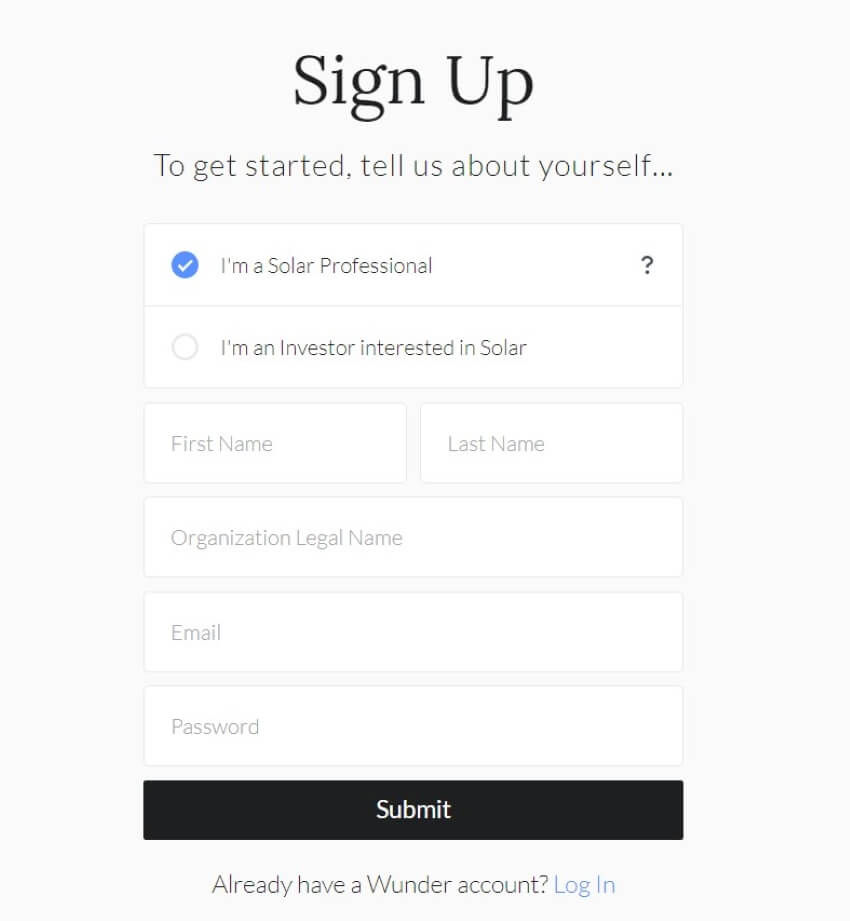 As part of our Wunder Capital review, we will also cover how to sign up and create an account on the site. Signing up to Wunder Capital is easier than you may think.
As long as you are an accredited investor and have at least 1,000 dollars to invest, you can open an account. When you go to the website, you will be asked if you want to create a personal account and an individual investor or a solar professional interested in seeking financing.
Our Wunder Capital review will focus on the investor side of things only. You can also sign up as a representative of an investment firm if you are looking to invest higher sums.
These applications are reviewed on a per-application basis, so you may or may not be approved. As an individual investor, you will be guided through the account setup process if they have spots available. If new investments spots are not currently available, you can sign up to be put on the waitlist for when their next round of solar investment funding becomes available.
You will need to reside in the US to become an investor with Wunder Capital. All of their solar investments are US-based and managed.
You will need to provide your financial information, personal details, and of course, verify your income and identity. Following these steps, you will then be asked some basic questions regarding your solar investment goals and how much you plan to invest, and over what time period.
Because Wunder Capital manages and approves the companies that receive your investment, there may be a delay in when you will start to see returns and the amount.
The company generally funds in investment blocks and has a set maturity date for each round of investment. Returns are paid out as companies repay their debt, after which a new round of funding is initiated.
See Related: What is Quadruple Bottom Line?
Is Wunder Capital Legit?
As you can see from what we have covered in our Wunder Capital review, Wunder Capital is a legitimate investment tool. The company is licensed and registered to conduct financial transactions both locally and internationally. The business falls under the regulations of the SEC, among others.
Wunder Capital is considered a financial technology company and handles all of the investment operations and underwriting themselves.
As far as the SEC is concerned, Wunder Capital retains the same legal status and responsibilities as a traditional human investment firm, if not more.
They are also subject to the same rules, regulations, and securities laws as traditional investment brokers.
Consumers can look up Wunder Capital on BrokerCheck to find more detailed information regarding their services and status with the SEC. It is important to note that any assets held or managed by Wunder Capital on your behalf are not FDIC insured since they are investment funds and not traditional deposits.
See Related: AcreTrader Review: Is It Legit or Worth It?
Wunder Capital Pros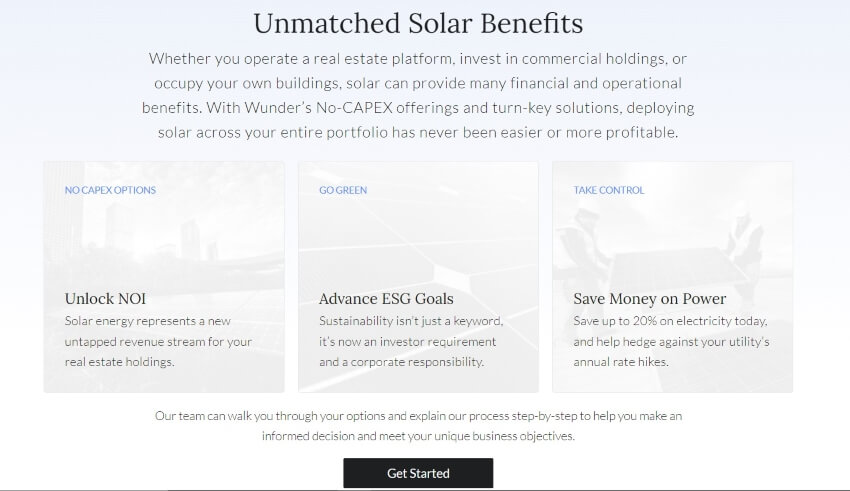 Low fees are one of the bigger draws of Wunder Capital. At only $1,000 to start, this is a great platform for both new investors and those on a limited income.
Though the platform is only for solar stocks, it is a great way to diversify your portfolio with lower exposure to risk.
There is an active team of verified solar experts working for the company that underwrites all of the deals offered to the clients on the platform.
This means that before a company is given a loan with your investment dollars, their applications are vetted by people who actually know what to look for in a successful solar operation.
Due to the single industry investment model and the strict underwriting protocols, investors can earn a steady income from the returns that go directly to their bank accounts. Sustainable investing that is socially and ethically moral has never been easier.
All of the investment opportunities are based on actual company assets, and as such, there is less risk to your investment than with traditional investments or stocks.
Customer service is very active, so if you have a problem, you can email or call them directly for assistance.
See Related: Benefit of Corporation vs. B Corp
Wunder Capital Cons
There are a lot of good things about Wunder Capital, but there are also a few downsides. One of the drawbacks is that only investors that are accredited can invest.
This may not be a problem for everyone, but for the casual investor, it will prevent them from using the service at all. In addition, any investments made must be retained until the funds mature.
There is no secondary market for these funds, so you need to be 100% certain before investment. Other stocks have secondary markets which allow you to sell them off if you are no longer interested in the stock or if you need to liquidate your assets for any reason.
Participating in the stock market is always a gamble, regardless of how well a stock or company performs. That being said, you should only invest with money that you can afford to live without.
Because the funds invested with Wunder Capital must be held until maturity, there is no way to cash out if you need the money early. One of the biggest downsides to Wunder Capital is the investment returns and performance.
Companies have to repay their loans for returns the be generated. So, if someone defaults or makes late payments, the level of return on your investment will be directly impacted.
See Related: How to Invest in Wind Energy
Wunder Capital Fees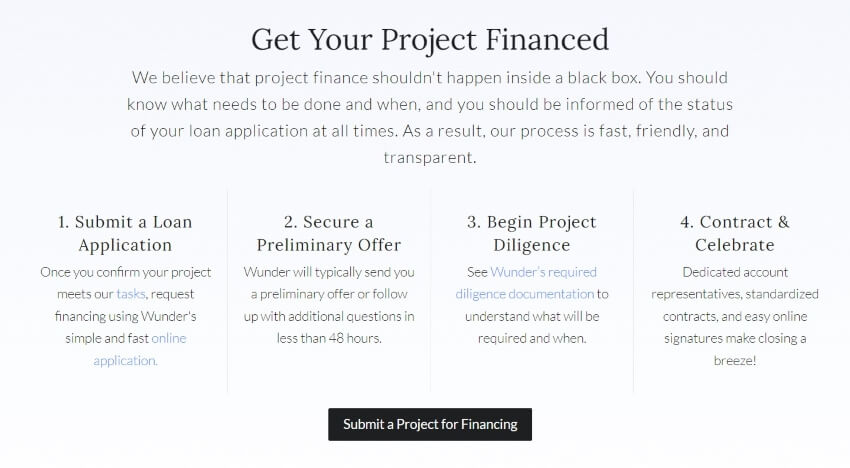 Wunder Capital has a $1,000 minimum investment and charges 0.25% annually regardless of account level. The length of investments ranges from 60 months to 120 months, and the notes are considered unsecured. There is no secondary market, so investments must be held until they are mature.
The company provides monthly distributions directly deposited into the client's bank account.
See Related: Environmental Justice Jobs
Wunder Capital Performance Ratings
Wunder Capital is one of the best options for investing directly in solar energy projects if you want a more secured chance of a return.
However, only accredited investors can invest in the solar or green energy projects available on this platform. The returns so far have been moderate but steady, which is much better than other volatile open-source ESG projects.
There is a $1,000 minimum investment, but considering the requirements to be an accredited investor, this is low for their income bracket.
If you are an accredited investor, basically a person who makes at least $200,000 per year with a net worth of 1 million, this is a great ESG investment program to consider.
Ease-of-Use – 4
Features – 4
Customer Service – 5
Value for Money – 4
Although the minimum level of investment is low for accredited investors, there is no secondary market which means that you must hold your investment until it matures.
The company does perform a fair amount of due diligence before choosing solar companies to add to their offerings, but it is something that you must keep in mind before signing up.
See Related: Important Pros and Cons of Electric Vehicle
Wunder Capital Referral
Wunder Capital is a bit different than other services on our list. It focuses on solar energy in particular and helps to connect interested investors with firms that are in the field of solar energy. As an ESG investment service, this is one of the best single-focus programs on the market.
The proprietary algorithms used to fund solar projects are pretty accurate in their assessment, but it is important to perform your own independent research before committing.
Wunder Capital is best suited to those who already have a varied portfolio and are interested in adding solar investments specifically.
Related Reviews
Related Resources