Investing in farmland REITs can be tricky if you don't know where to start. This article explores some of the best farmland REITs to help you make that wise investment decision.
Land is arguably the most stable asset class in the market and has been for centuries. Whether you buy land to resell, farm, or bring up some rental properties, land rarely disappoints.
Farmland investments are a great way to grow wealth, especially since you are almost certain of the return on investment. In addition, it's one sure way of hedging your finances against unpredictable inflation.
Unlock Sustainable Investing Opportunities 🌿
Join the green revolution by investing sustainably with our top partners. Discover platforms that align with your values and offer remarkable opportunities for growth.
However, investing in farmland hasn't been easy in the past. It was normally seen as an investment for the rich and mighty. Mainly, this is because it required a lot of upfront investment, which most new investors couldn't afford.
But this is not the case anymore. Farmland REITs and various farmland crowdfunding companies make everything easy. Now, numerous low-cost agricultural investing platforms allow anyone to invest in farmland.
So, what are some of the best farmland REITs you can rely on? With Robinhood, you can access the best REITs without any brokerage commissions. And it allows you to buy fractional shares.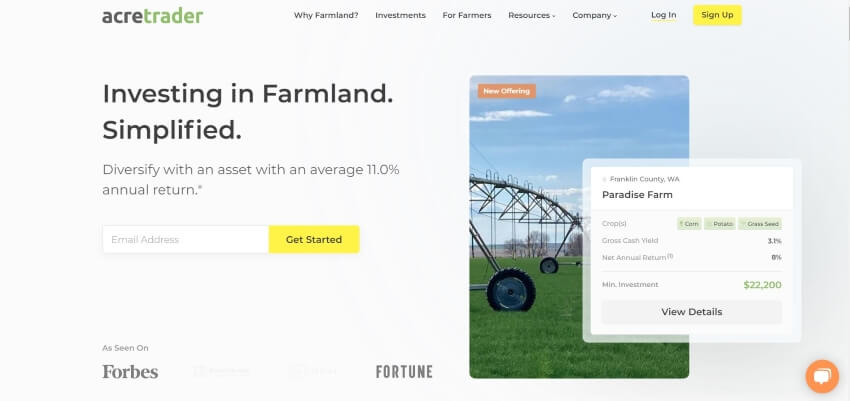 1. AcreTrader
Top Recommendation
Investors have access to a vast number of options for gaining exposure to this alternative asset with low management fees, secondary-check, an easy-to-use online platform, ability to diversify farmland holdings across the country in minutes.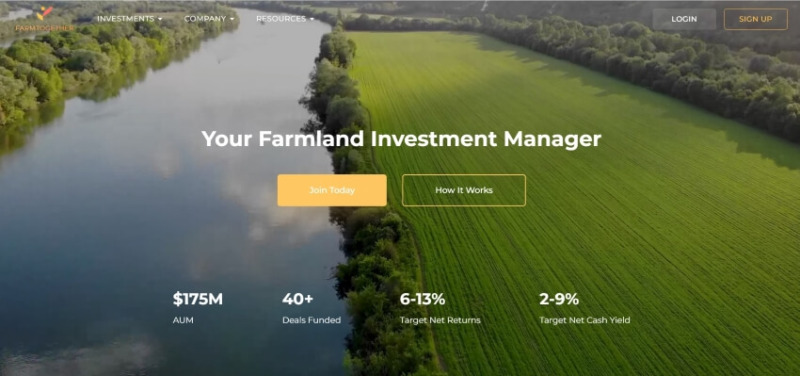 2. FarmTogether
Investors seeking uncorrelated returns from traditional asset classes such as stocks and bonds can find welcome diversification with farmland. With strong absolute returns and absolute returns, FarmTogether will help you reach your financial goals.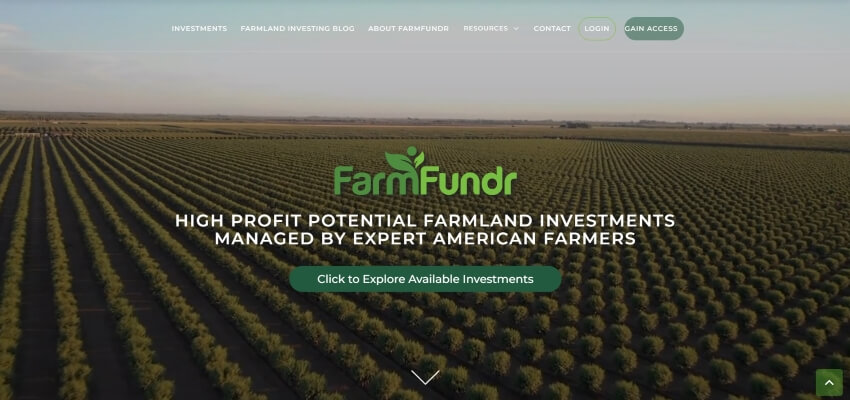 3. FarmFunr
FarmFundr allows you to invest in farmland, a tangible asset that provides a stable and reliable investment opportunity. Our managed agribusinesses are carefully selected, offering investors the chance to diversify their portfolios through agricultural real estate. Invest in farming today!