Real estate investing is one of the best ways to make money. But it's a complicated world, full of paperwork and regulations. Fortunately, many apps can help you get started with real estate investing without breaking the bank or having to spend weeks reading through a bunch of books.
Best Real Estate Investment Websites & Apps
Here's a list of some great websites and apps for real estate investing that will help you get started quickly:
1. Fundrise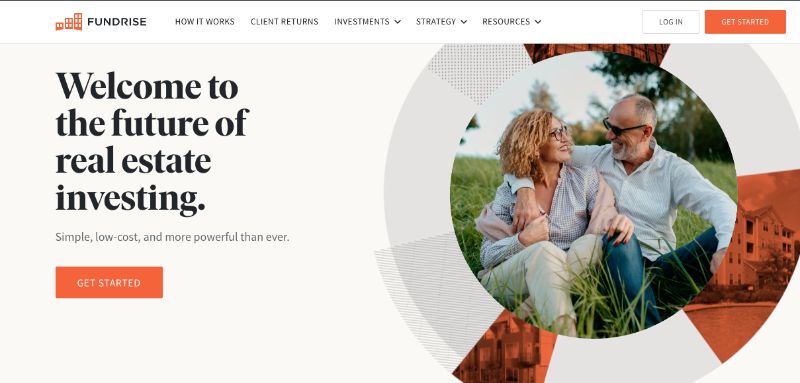 Fundrise is an investing app that offers a broad range of real estate investments. You can invest directly in properties through Fundrise's network of private lenders or the app's automated investment tool.
Unlock Sustainable Investing Opportunities 🌿
Join the green revolution by investing sustainably with our top partners. Discover platforms that align with your values and offer remarkable opportunities for growth.
Start by creating an account and choosing how you want to invest: direct property investing, crowdfunded loans (or both). From there, you can choose from a variety of properties across the country or take advantage of Fundrise's automated investing tool.
Once you've chosen your investment type and location(s), it's time for the fun part! Investing is as simple as clicking "purchase" on one or more properties with cash balances in excess of $0. This will prompt an automatic purchase order for those assets within 48 hours—no paperwork required! Fundrise offers real estate investing through it's app.
See Related: Solar Farm Income Per Acre: How Much Can You Earn?
2. DiversyFund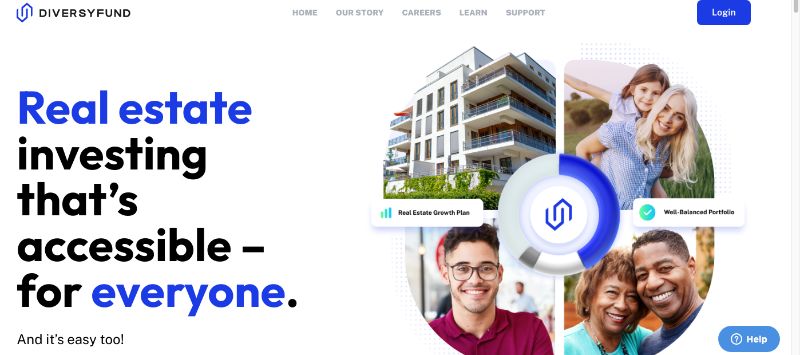 DiversyFund is a real estate crowdfunding platform. DiversityFund specializes in investing in alternative technologies and services. They help everyday Americans realize their American dream through access to wealth-generating opportunities that were once reserved for the 5%.
Just 500 people can get into an apartment development with high-quality apartments. The Diverse Fund provides the ability to purchase shares of fully-screened multifamily properties. You can own a Real Estate Investment Trust (REIT) by simply clicking on the button. Just like Fundrise!
DiversityFund offers the most common types of investing: the Growth Remit, Income Growth Remit (IGR), and Equity Growth Remit (EGR). Buyers have access to several investment vehicles from which they may choose depending on their needs or preferences at any given time period depending on their goals for this particular investment vehicle at that moment in time when buying it if they choose to do so or not.
See Related: What is the Impact of Foreigners Investing In US Real Estate?
3. AcreTrader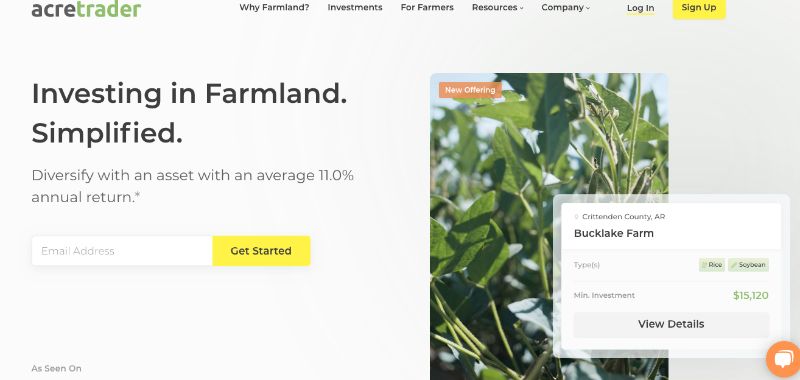 AcreTrader is one of the industry's most popular real estate investing apps, with a 4.5-star rating and more than 13,000 five-star reviews on the App Store. The app's primary purpose is to let users find and invest in land and connect with other investors looking to buy or sell the property.
AcreTrader provides access to thousands of properties across all 50 states, including information about each lot's size, price per acre, and other details such as what types of buildings can be built there (single-family homes or commercial structures).
The app allows users to post their own listings for sale or rent so that others can see what they have available in their portfolios. This way, you don't have to worry about trying out different websites just searching for one specific feature–everything related directly under one roof!
AcreTrader was founded by two brothers from California who wanted an easy way for people all over America to find land online without having any prior knowledge about real estate investing — simply put: we want everyone involved!
They've done just that since 2009 by creating a platform where anyone can search through listings quickly without having complicated processes involved – which means less time spent searching around…making things easier & enjoyable! Commercial real estate investors can also benefit from using these top tools for the real estate market. Read our full AcreTrader review for more information.
See Related: Best Solar Crowdfunding Options for Renewable Energy Projects
4. Streitwise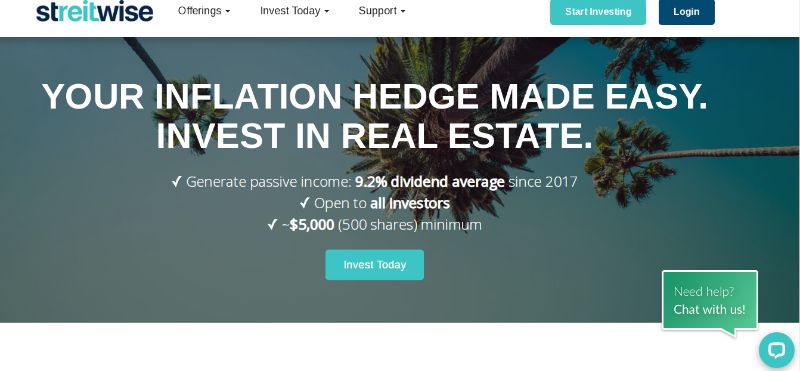 Streitwise is a real estate investment platform designed to help accredited investors find high-quality real estate investments. Streitwise's aim is to become the go-to resource for investors who want to purchase excellent properties but don't have time or expertise in the area. To do this, Streitwise has compiled a list of proven opportunities from reputable sources and organized them into easy-to-search categories.
Each deal comes with thorough documentation on location, structure, and condition, along with comps so you can compare it against similar properties in your market. Personal profiles also give detailed information about each property owner (including their current net worth).
See Related: FarmTogether Review: Is It Legit or Worth It?
5. GROUNDFLOOR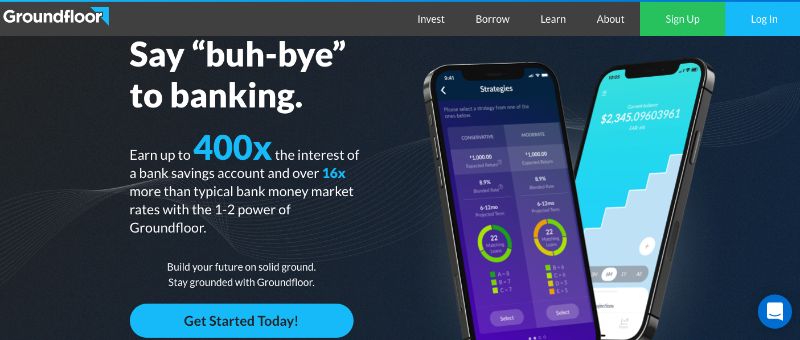 Groundfloor is a real estate crowdfunding platform that allows investors to invest in small loans to single borrowers. It's similar to Lending Club and Prosper, but with fewer options.
You can only invest in real estate loans that are backed by the FHA (Federal Housing Administration) or Veterans Affairs (VA). The minimum investment is $10,000, and there are no transaction fees beyond what you pay Groundfloor to manage your account, ranging from 0% to 1%.
As long as you have enough cash available for investment, Groundfloor will help you find properties and borrowers all over the country so that you can diversify your investments across multiple states. If a borrower defaults on their loan, Groundfloor pays back its investors first before going after the borrower's other assets (like their home) for repayment.
Your funds are FDIC insured up to $250K per person, per institution; so if one of your investments defaults unexpectedly, then your money will be protected up to this limit (but it would take many years before anyone's property defaulted). If a property goes into foreclosure, then Groundfloor can negotiate directly with banks on behalf of its investors—which may be better than dealing directly with homeowners who may not have any incentive!
See Related: Best Investments for Young Adults
6. CrowdStreet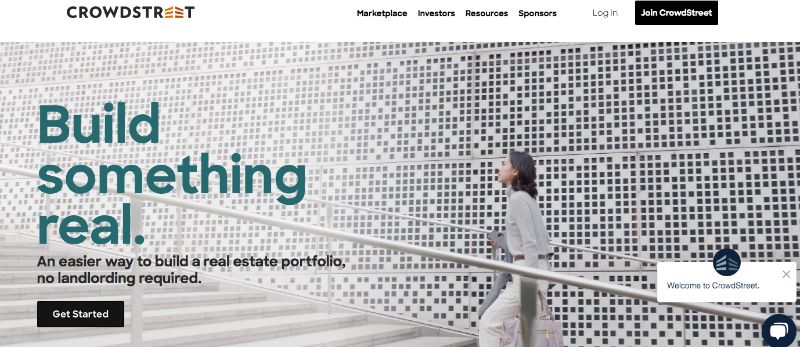 CrowdStreet is a real estate crowdfunding platform that allows investors to invest in real estate projects and earn passive income. CrowdStreet allows regular people to make real property investments previously reserved for wealthy people. The CrowdStreet marketplace allows investors to choose from over 50 investment opportunities across a range of asset classes.
Crowdstreet offers online buying and selling options. The CrowdStreet platform lets you: Each deal undergoes a thorough evaluation for inclusion within the Marketplace. Crowdstreet also shares data that is collected by their investors to improve their decision to invest.
See Related: How to Invest in Community [Step-by-Step Guide]
7. Arrived Homes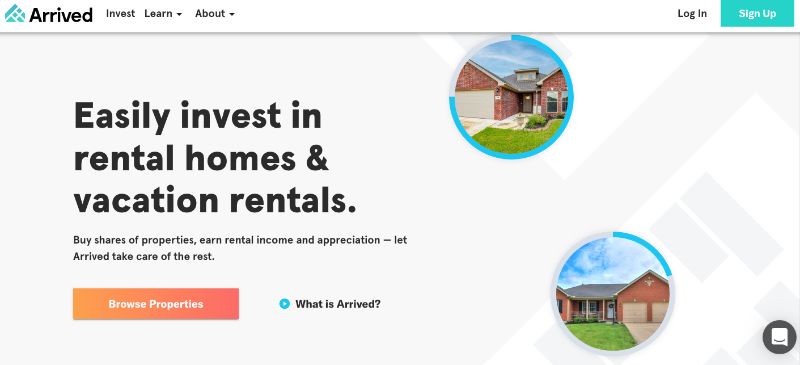 Arrived Homes is a real estate investment company that helps prospective buyers get into the market. You can browse listings, see how much they're worth, and then make an offer through the app. It's good for people who want to buy a single property or add to their portfolio without dealing with too much legwork.
You can also use Arrived Homes if you're looking for help buying or selling your primary residence—the company will even cover closing costs! In addition, they provide access to an experienced agent who can assist with any questions you may have along the way.
If this sounds like something you'd be interested in doing, but there are certain months when it's not possible for some reason (maybe it conflicts with another responsibility), then consider signing up anyway because apps like these tend not only to improve over time but also become less expensive as more people sign up for them (which means lower maintenance fees).
This will ensure that regardless of what happens down the line, there'll always be someone ready and willing should anything change unexpectedly – plus, most importantly, it means no missed opportunities!
See Related: Public Investment App Review: Is it Worth It?
8. PeerStreet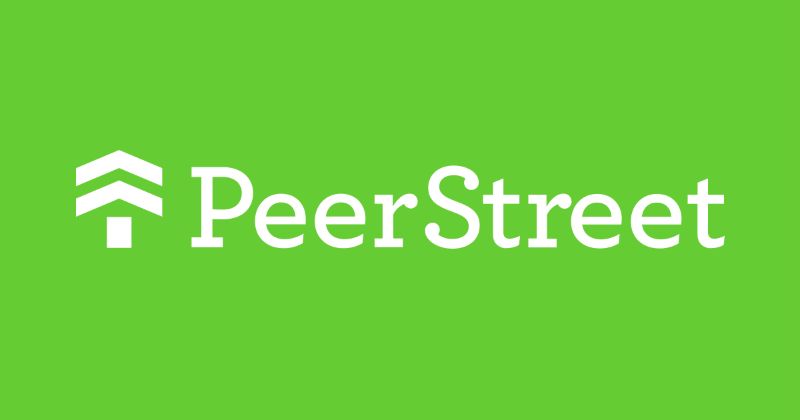 PeerStreet is the easiest way to invest in real estate. It's a real estate crowdfunding platform that allows borrowers to easily access private capital from individual investors.
Borrowers can use PeerStreet to raise money for various purposes, including purchasing residential properties, commercial investment properties, and debt consolidation loans. PeerStreet allows you to invest in real estate by pooling together your funds with those of other investors.
Borrowers are pre-screened, and their loan requests go through an approval process before being listed on the site, so you know exactly what you're getting into before investing your hard-earned money in someone else's property. If you're looking for a safe way to diversify your portfolio or want to add some extra income through regular monthly payments, then PeerStreet might be right for you!
See Related: How to Become an Impact Investor [Step-By-Step Guide]
9. Roofstock

Roofstock is a marketplace for investing in single-family homes. Roofstock offers an app to invest passively in real estate properties. The Roofstock Portfolio Diversification Tool will immediately assist a person looking for a stable stream of passive income. It is easier to start using Roofstock to purchase your property rather than meeting an agent.
You can register and build an investor profile. Roofstock aims at people looking for passive income without re-buying homes and building a house. Roof Stock can assist with buying, selling, or owning a residential property
See Related: Best Banks for Low-Income Earners
10. EquityMultiple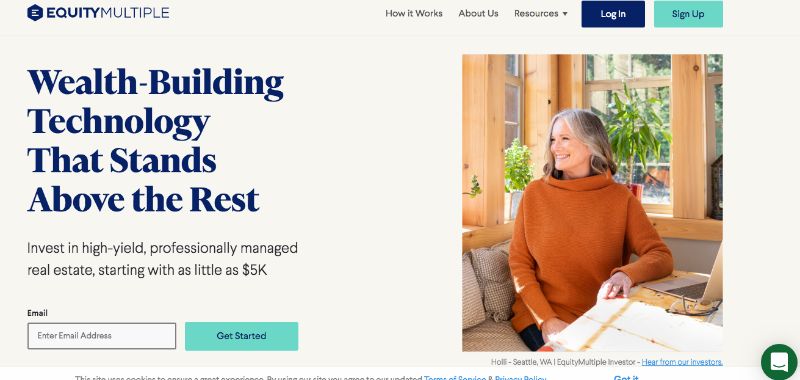 EquityMultiple is a real estate crowdfunding platform that allows you to invest in real estate deals in the United States. Using EquityMultiple, investors can browse through dozens of different properties across all 50 states and select the ones they're interested in.
These properties are then listed on EquityMultiple's website, giving investors access to them without having to work with a broker. Investors can then invest as little as $500 into each property (up to $1 million), meaning there are plenty of options for all budgets.
EquityMultiple has made it easy for investors by providing information about each property, such as its location and budget requirements, before launching any campaigns, so you know exactly what kind of returns you can expect from each investment opportunity before committing funds for an entire project.
See Related: Aspiration Zero Credit Card Review
11. YieldStreet

YieldStreet is a great app for finding commercial real estate investments. Not only does it have an excellent mobile app, but it also has a terrific website and customer service. It's one of my favorite platforms to use because of its ease of use and wide variety of investment options, such as mezzanine loans and first mortgages.
YieldStreet investors can search by city and state in order to find properties within their proximity. There are currently over 7,000 properties listed on the platform, so you're sure to find something that fits your needs!
See Related: Best Impact Investing Books to Read
12. Zillow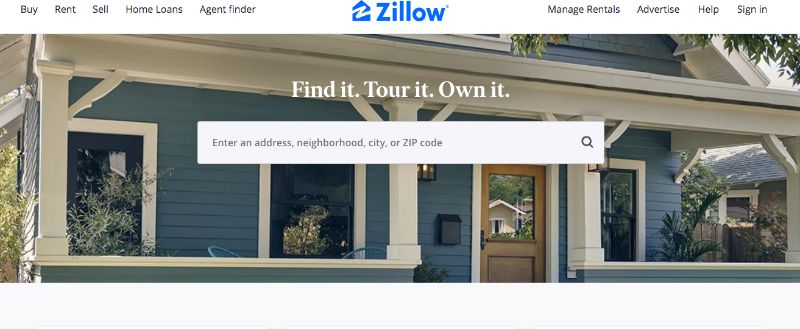 Zillow is a real estate company that provides online real estate information. It is the most popular and used site in the United States. Zillow provides a free service that allows users to search for homes for sale and get information about those homes, like home value estimates, school information, and local information. The best thing about Zillow is that it has an app where you can access all of your saved searches on your phone or tablet anytime.
See Related: Greensky Finance Review: Is It Legit?
13. BiggerPockets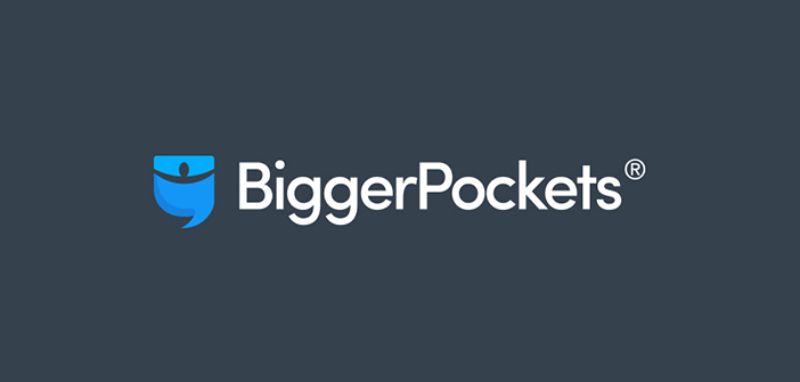 BiggerPockets is a real estate investing website and forum that offers plenty of resources for beginners to expert real estate investors. The site has over 150,000 members in all 50 states, with more than a thousand local groups nationwide. Here you'll find educational articles on every aspect of real estate investing and access to a robust community where you can connect with other investors and ask questions.
The forum section is especially useful if you're just getting started or want to learn more about specific topics, such as buying your first property or managing rental properties. There are also separate forums for finding partners and financing your deals. You'll find plenty of helpful advice here!
See Related: Best States for Real Estate Investing
14. FarmTogether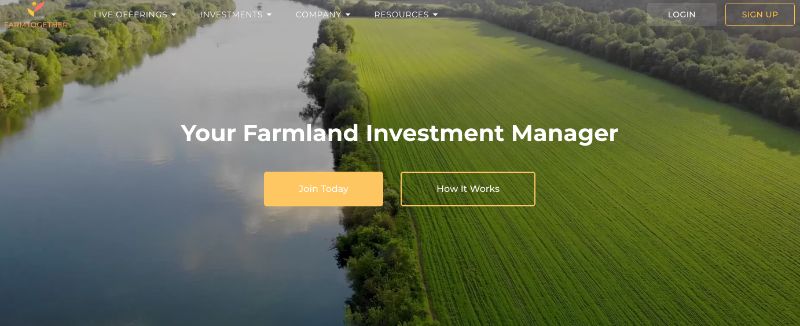 FarmTogether is a new real estate investment platform that allows users to invest directly in farms and agricultural properties. This is a new way to invest in the future of food, and it works as a crowdfunded real estate platform for farmers. FarmTogether's main goal is to help small family-owned farms raise money for their operations.
If you're looking for somewhere safe and reliable to invest your money, FarmTogether might be the answer! It's one of the most trusted online platforms for investing in agricultural properties because it provides transparency into each property's value, so there aren't any hidden fees or costs associated with this type of real estate investing strategy.
See Related: FarmTogether Review: Is It Legit or Worth It?
15. DealCheck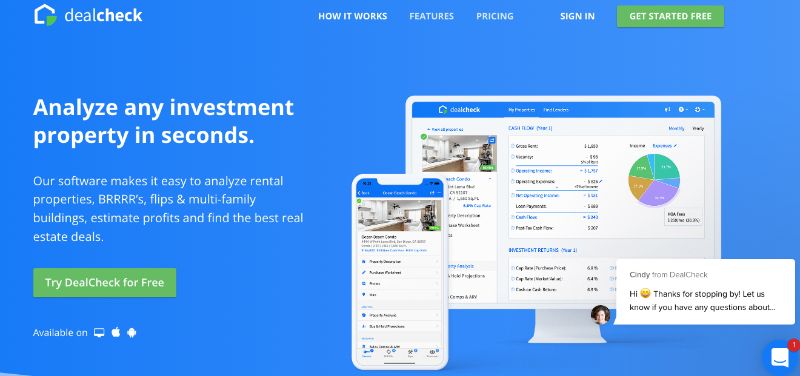 DealCheck is a real estate analytics tool that provides real estate investors with a comprehensive view of their investments, including market trends, property information, and more. It also provides investors with a wide variety of tools that help them make smart decisions.
The DealCheck app allows you to track properties by entering your property address and the date range you want to review. The app will then give you current data on the price per square foot for each month from 1990-2019 so you can see how your property stacks up against similar homes in the area. You can filter by different price points as well.
See Related: IMPACT App by Interactive Brokers Review: Is It Legit?
Conclusion
I hope this list has been helpful in finding the best real estate investing apps. The market is changing quickly, so keep looking for new apps that might become your next favorite tool! I'd also like to take this opportunity to remind everyone of two things: one, never invest more than you can afford to lose, and two, always do your research before signing on with any company or product.
FAQs
How to invest $100 000 dollars in real estate?
Investing $100,000 dollars in real estate is a significant financial decision that requires careful planning and research. One must first determine their investment goals and risk tolerance before deciding on a specific investment strategy. Some options to consider include purchasing rental properties, investing in real estate investment trusts (REITs), or flipping properties for profit.
It is important to thoroughly research and analyze potential properties and markets, as well as consider the costs associated with property management and maintenance. Consulting with a financial advisor or real estate professional can also provide valuable insights and guidance in making informed investment decisions.
Where to invest $5,000 in real estate?
Investing $5,000 in real estate is a feasible option for those looking to diversify their portfolio. One option is to invest in a Real Estate Investment Trust (REIT), which allows investors to own shares in a portfolio of income-generating properties without the responsibility of managing them. Another option is to invest in a real estate crowdfunding platform, where investors can pool their money with others to invest in a specific property or portfolio of properties.
How to invest $10,000 dollars in real estate?
Investing $10,000 dollars in real estate is the act of using that money to purchase a share or interest in a property with the goal of generating a profit. One must consider factors such as location, market trends, and potential rental income when deciding where to invest. It is important to thoroughly research and understand the risks involved in real estate investing before making any decisions.
Which real estate investment is best?
Is there a specific type of real estate investment you are referring to? Without more information, it is difficult to provide a concise and informative answer. Real estate investments can take many forms, including residential properties, commercial properties, and REITs (real estate investment trusts).
The best real estate investment for an individual depends on their investment goals, risk tolerance, and financial situation. It is important to do thorough research and consult with a financial advisor before making any investment decisions.
Related Resources: