Looking to invest for impact and have a presence in sustainable investing? Check out these apps that will make it easy for you to deploy capital that will invest for impact. These are the best impact investing apps out there.
Do you know the history of Impact Investing? It is interesting to know more information about it. Also, finding a real, true impact investing platform is few and far between.
But more platforms are offering unique, catered solutions to investors that will enable them to find the sustainably responsible investments they are looking for.
Unlock Sustainable Investing Opportunities 🌿
Join the green revolution by investing sustainably with our top partners. Discover platforms that align with your values and offer remarkable opportunities for growth.
Look for these socially responsible and impact-oriented investment apps to help you find the investments that will make a difference in the world.
Best Impact Investing Apps for ESG Investors
These are the top investing for impact apps that you need to know.
1. M1 Finance
M1 Finance is a great solution for investors looking to develop a portfolio and leave its management to the pros. The platform uses a 'pie' portfolio model that allocates your investment to each 'slice' of stock, fund, and asset.
This gives clients the freedom to create a portfolio tailored to their preferences.
With over 500,000 clients and $2 billion in assets under management, M1 Finance is one of the best choices for sophisticated investors thanks to its high level of customization and options for automated investing.
Why it's one of the best:
If you're a socially responsible investor, M1 Finance is one of the best impact investing apps available online. You may choose to populate one piece or more of your investment 'pie" with socially conscious companies or socially responsible ETFs.
Setting up your own pie is akin to creating a personalized ETF. You can also choose to tap the 'research' option and select any of M1 Finance's socially responsible pre-made portfolios for an easier way to invest.
Among the investment pies available in M1 Finance is a pre-made pie called Responsible Investing.
This includes four Nuveen-managed SRI funds that offer more than a 1% dividend yield.
International Responsible Investing, the M1 Finance expert pie, combines Nuveen international SRI funds with the domestic option and offers a 1.3% dividend yield.
See Related: How to Store Solar Energy for Later Use
2. Wealthsimple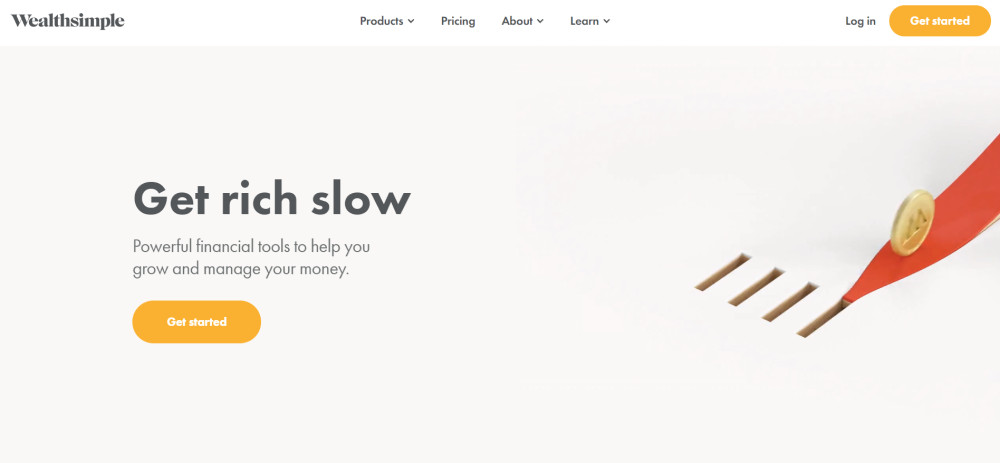 With diverse portfolio choices and full access to a stellar team of financial advisors regardless of your account balance, Wealthsimple is one of the best impact investing apps in the market.
The app comes with a $0 account minimum for Wealthsimple basic and comes with automatic rebalancing, automated deposits, as well as dividend reinvestment.
Those who maintain a $100,000 minimum balance are qualified for the Wealthsimple Black service. This account offers clients a lower management fee and tax-loss harvesting.
Wealthsimple investors can select between three risk-weighted SRI portfolios.
Drawing from exchange-traded funds that track the global economy according to social and environmental impacts along with other performance factors.
See Related: Ethical Dividend Stocks to Invest in Today
Why it's one of the best:
The Wealthsimple SRI Portfolio puts an investment focus on companies that support gender diversity, produce low carbon emissions, and support affordable housing.
This offers investors the opportunity to invest in companies that align with their personal values.
With a strict screening process, investments are removed from controversial companies and those that dabble in weaponry, fossil fuels, and tobacco.
Only those with a track record of showing socially responsible values are accepted.
This means removing the top 25% of carbon emitters in each industry and selecting companies that have at least three women on their board of directors.
See Related: Best Portable Solar Panels for Home
3. IMPACT App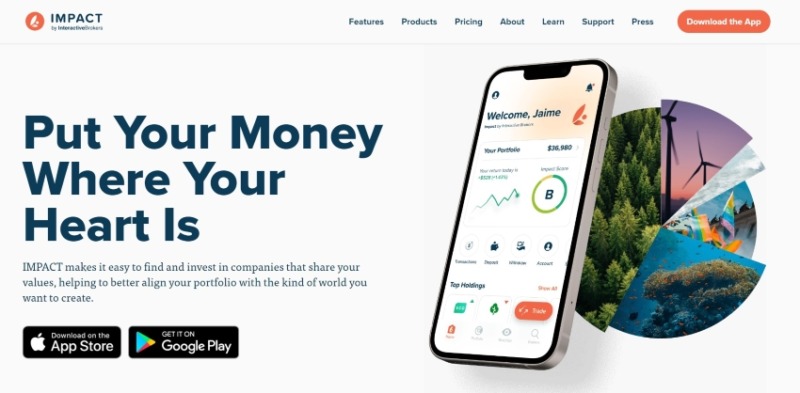 The new IMPACT App by Interactive Brokers is fast becoming one of our favorite tools for impact investing! It's also great for people new to investing.
Founded in 1993, US-based Interactive Brokers (or IBKR) is a global brokerage firm that streamlines the brokerage services approach, focusing on market access, low costs, and unrivaled trade executions with an ESG slant.
The new IMPACT app brings the utility and values alignment offered by Interactive Brokers LLC into your palm. The best thing about it is it allows you to select your own conscious investment plan that aligns with your own impact values.
You can literally put your money where your mouth is, whether you want to invest in companies that strive for racial equality or clean water usage to avoiding investment opportunities that involve fossil fuels for example.
You can even invest in opportunities that offset your own energy usage of the app itself!
Why it's one of the best:
IMPACT App by Interactive Brokers is a great mobile application that should be great news to any impact investor. It's easy to understand, and easy to use – the app is so well built it's almost fun.
Inexperienced investors can create an elaborate portfolio that aligns with their ESG values. If you want to achieve impact goals, this application helps you. You will do it effortlessly through intelligent sustainability investment.
See Related: Best Stock Apps for Investing
4. Betterment
This automated investing platform offers several features and services for investors, including access to live human advisors, automatic portfolio rebalancing, access to customer service, and advanced tax-saving strategies.
As one of the most popular robo advisors, Betterment uses algorithms that automatically allocate your investment based on your preferences.
After asking you several questions, Betterment builds a portfolio for you using various ETFs.
With your financial goals in mind, the platform helps you decide how much to initially invest and how much to dole out on an ongoing basis.
Why it's one of the best:
Betterment has no account minimum but requires a $100,000 minimum investment for their premium service which offers access to Certified Financial Planners and advice to your investments outside of Betterment (e.g. real estate, 401(k), individual stocks).
Betterment offers socially conscious investments for an affordable fee. The platform's SRI investment strategy includes analyzing all available low-cost SRI ETFs.
Betterment discovered that emerging stock asset classes and large-cap U.S. stocks could be replaced with SRI-focused funds. The platform then left out the other asset classes upon finding no socially responsible options that liquid or offered low fees.
Though Betterment currently has a limited SRI approach, the platform hopes to expand its impact investment options.
Regardless, Betterment is one of the best impact investing apps for investors looking for robo advisors without the need for a minimum investment amount and for those who are looking for cash management and high yield savings.
Read more in our full Betterment SRI review to see if it's the right fit for you.
See Related: Best Podcasts About Impact Investing
5. Sustainfolio
Sustainfolio, one of the newest players in the robo advisor industry, prides itself on being 100% focused on sustainable investing.
While other investment apps in the game only include sustainable investments as a niche area in their business model, Sustainfolio has made socially responsible investing their whole business.
Several accounts are available on the platform, including joint, trust, individual, IRA, IRA and 401(k), as well as Rollover and 403(b) Rollover.
There is a $5,000 minimum investment to join Sustainfolio while charging a 0.50% annual management fee.
Why it's one of the best:
Sustainfolio offers low-cost ETFs for their portfolios based on their experience in sustainable and responsible investing.
The platform is for investors who are looking to support a startup robo-advisor and don't mind the fees associated with a masterfully selected sustainable investment portfolio.
Clients will be asked to answer a few questions about their goals, age, and risk tolerance which will be used to build a portfolio aligned with their investment preferences.
All of the platform's portfolios exclusively invest in a diverse range of sustainable funds that screen social, environmental, and governance criteria.
Clients can invest across asset classes that include International Equities and Sustainably Screened Bonds, US Large, Mid, and Small Cap Equities, or fixed income.
Once you've funded your account, Sustainfolio automatically manages your investments. All clients in Sustainfolio receive an annual personal review of their accounts.
See Related: Green Century Funds Review: Is it Worth?
6. Earthfolio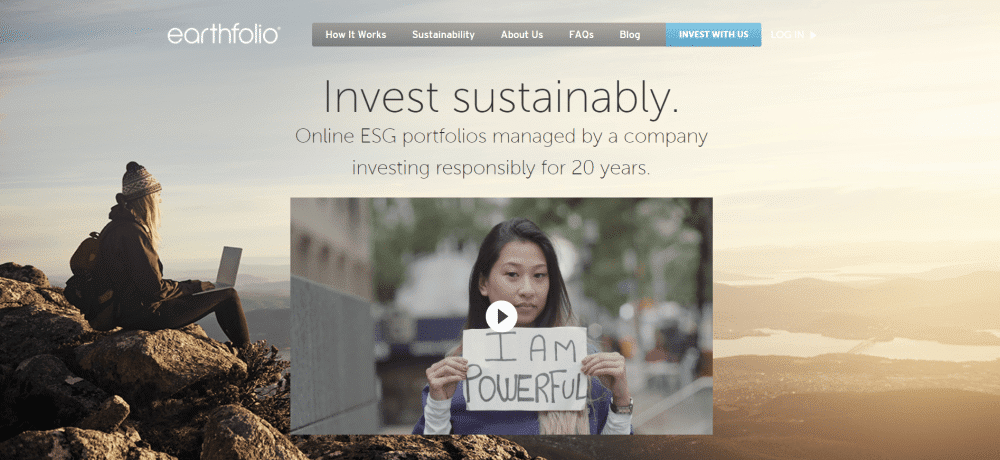 If you're an impact investor looking for socially responsible companies to invest in, nothing compares to the laser-focused selections of Sustainfolio.
Just like Sustainfolio, Earthfolio is another robo investment platform that invests exclusively in ESG companies and sustainable mutual funds while using up to ten social, environmental, and governance criteria to screen them.
The platform optimizes your investment performance by creating a diversified foundation of the best sustainable funds with an established track record and strong management.
Once you've invested in the platform, Eartfolio helps manage your investment by automatically rebalancing it so you can always stay on track.
After answering a few questions about your goals and risk tolerance, Earthfolio designs an investment plan that aligns with your investment needs. The platform offers several accounts including joint accounts, individual accounts, trust, SEP, IRA Rollover, and 401(k) Rollover & 403(b) Rollover.
Why it's one of the best:
Earthfolio then provides you with a tailor-made recommendation that includes all that you need to make wise decisions.
This includes a list of ESG funds, a 10-year history of the portfolio model, and a portfolio mix based on your investment goal.
After adding funds to your account, the platform instantly monitors and manages your account.
Interested investors are required to have at least $25,000 to start an account. Once you've joined the platform, the management fees are at an affordable 0.50% per year.
Like what you are hearing? Read more in our Earthfolio review.
See Related: What is Gender Lens Investing? Everything You Need to Know
7. OpenInvest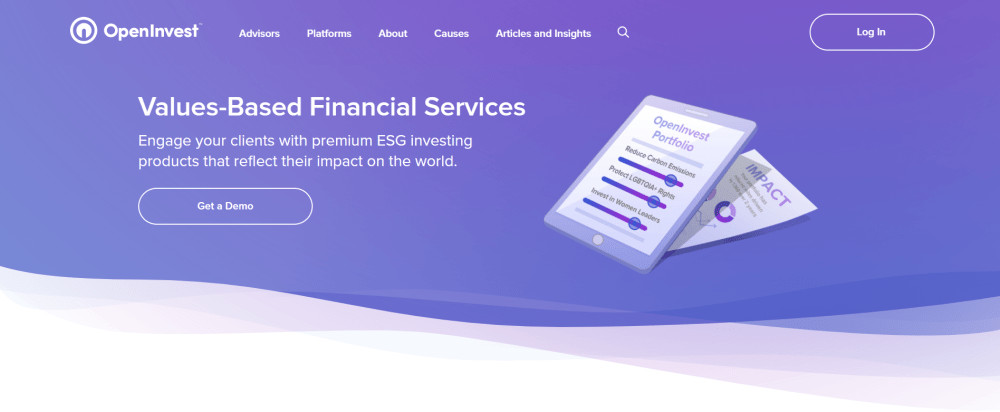 Unlike other robo advisors, OpenInvest is uniquely structured as a Public Benefit Corporation (PBC), instead of a C Corp, LLC, or other types of legal structures. As such, they have written their corporation's environmental and social missions into their legal charter.
OpenInvest is recognized in over 30 states with a PBC status that focuses on a company's impact on the wider public just like other socially conscious firms like Kickstarter and Patagonia.
Why it's one of the best:
A variety of factors make OpenInvest one of the best impact investing apps. Tangible impact reporting offers access to proprietary reports that highlight the overall impact of their investments, including carbon dioxide emissions and the percentage of women in leadership.
Clients are also offered portfolios backed up by real data, so they can build portfolios based on values-based metrics like racial justice, LGBTQIA+ rights, disability inclusion, and others.
Just like other robo advisors in the field, OpenInvest offers risk-aligned investment portfolios with a management fee of 0.5% along with tax-loss harvesting.
The platform only includes impact investing firms derived from S&P 500 universe and practices due diligence in screening companies according to socially conscious investment criteria.
Do note that OpenInvest portfolios are not composed of funds, but of individual SRI company stocks.
For the fixed portion of their portfolio, investors can choose a low fee, diversified bond ETF (BND), or they may opt to invest in a 'Green Bond' fund, which includes a higher underlying management fee.
Like what you are hearing? Check out this OpenInvest review to learn more.
See Related: Public Investment App Review: Is it Worth It?
8. Personal Capital
Used by over two million people, Personal Capital is one of the most popular investing apps in the market.
While most only need its free version to tide them over, its paid wealth management feature is an extremely robust tool that blends automated investment tools with active human management.
Why it's one of the best:
With Personal Capital, your portfolio is managed according to Modern Portfolio Theory, which invests across multiple asset classes to properly diversify.
For investors who choose to incorporate SRI into their investing activities, the platform selects investments for you based on their environmental, social, and governance.
Individual U.S. stocks are screened and those who dabble in the tobacco, adult entertainment, small arms, gambling, and the energy sector are excluded.
Like what you are hearing? Read our full Personal Capital review.
See Related: Important Pros and Cons of Cryptocurrency
9. Axos Invest
The level of customization is what makes Axos Invest one of the best impact investing apps in the market. Investors can add or remove up to 32 investment types which include socially responsible investments.
With a 0.24% management fee as opposed to the typical 0.25% to 0.50% fees other robo advisors offer. While this isn't a big difference, it amounts to huge savings in the long run.
Just like other robo advisors, Axos Invest's investment philosophy is grounded on modern portfolio theory.
Axos will automatically create a portfolio for you after asking a few questions and determining your 'risk score'. Your portfolio of exchange-traded funds depends on the risk you are willing to accept.
Why it's one of the best:
With a goal-based approach, investors can develop 'milestones' or buckets for their money.
The investor then informs the app about their time horizon, goals, net worth, and income, and the platform calculates the recommended investments for a particular milestone.
Axos Invest's SRI portfolios are located within its Portfolio Plus Featured Portfolios. The options include impactful choices including sustainable energy and gender empowerment.
Axos is a spectacular choice for investors who are looking for an affordable investment manager that guides you toward a particular goal.
If you like a little less spoonfeeding and more freedom in handling your investments, the platform offers you all the tools needed to make an informed decision.
Like what you are hearing? Read more in our full Axos Invest review.
See Related: How to Invest in EV Charging Stations
10. Ellevest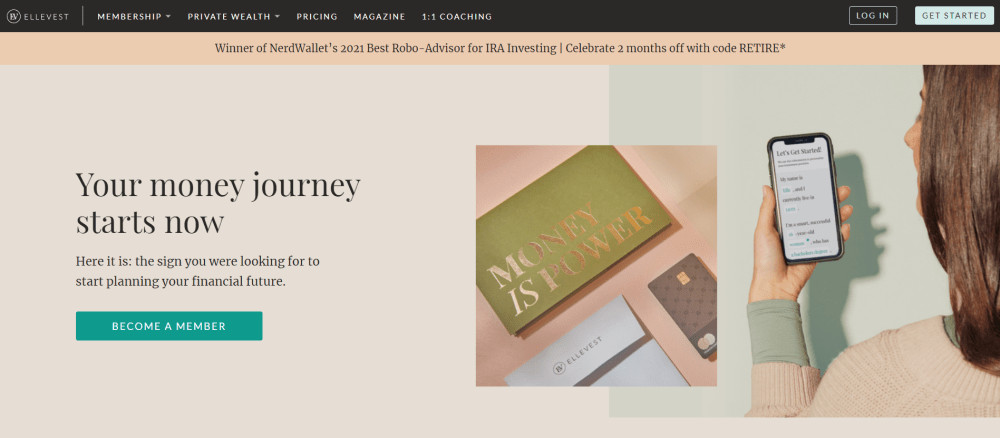 Ellevest is a robo-advisory service for women by women, but it welcomes clients of all expressions and gender identities as well.
This subscription-based platform costs $1, $5, and $9 per month depending on the level of services you choose.
The platform only charges management fees for ETFs included in your portfolios but doesn't charge asset-based fees.
Ellevest unique is in its female-focused features make it one of the best ESG investing apps.
The platform utilizes gender-specific salary curves and longevity data to develop goal-planning forecasts. Those who are planning for retirement, for example, will see longer life spans for women.
This encourages women to save enough money for post-paid-employment years.
After setting your goals in the platform, Ellevest shows you a suggested portfolio asset allocation with specific ETFs and mutual funds.
The platforms' Core Portfolio includes several ETFs including Schwab, Vanguard, iShares, and mutual funds in certain cases.
Why it's one of the best:
The platform's Impact Portfolios invest in three specific areas: companies that offer loans for community services, companies with female leadership, and firms with good standards for ethical practices and sustainability.
Apart from including SRI criteria, these portfolios include asset class diversity as well as asset classes that include funds like the Access Community Capital Fund and the Pax Ellevate Global Women's Leadership Fund, which allows women to invest in companies that support women's leadership and gender diversity.
Like what you are hearing? Read more in our full Ellevest review.
See Related: 15 Reasons Why You Need ESG Investing
11. SoFi Invest
This investment platform is rapidly expanding to cover the money, financial lending, and investing spheres. Great for beginner investors, SoFi Invest offers all the tools you need to easily get started in investing.
The platform has zero minimums, allowing anyone with shallow pockets to invest. Investors with SoFi accounts will enjoy the added convenience of being able to move money between their SoFi Invest accounts and SoFi Money.
More advanced investors may find SoFi features to be a bit wanting, however, as it doesn't offer tax-loss harvesting or stop-loss orders.
Access to Certified Financial Planners is a great advantage, nonetheless.
Why it's one of the best:
When it comes to impact investments, SoFi's Doing Good collection is a competitive choice that invests in SRI stocks and ETFs including pre-screened socially responsible companies such as Regional Management Corp., Oracle, Texas Instruments, Adobe, and 3M Co.
Though its collection of companies is a bit less comprehensive compared to other competitors that offer more robust, the zero management fee, access to certified financial planners, and the capacity to invest in fractional shares make it an ideal starter option.
Opening a SoFi Invest account is as easy as entering a few questions about your basic identification, investing experience, and risk tolerance.
The platform regularly offers bonuses for those opening new accounts, so it pays to check before signing up.
See Related: Best Impact Investing Books to Read
12. Nutmeg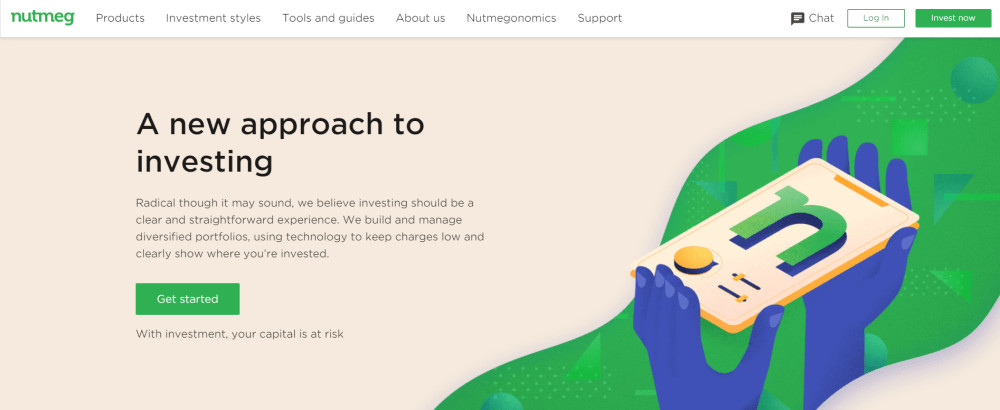 With diverse account types and a socially conscious portfolio, Nutmeg is easily one of the best impact investing apps in the market.
Great for starters, the platform has a smooth, well-designed onboarding procedure that includes filling in your goals, initial and recurring deposit levels, and investment horizons.
You will then be asked to select an investment style from a choice of three tiers: fully managed, fixed allocation, and socially responsible.
Each tier varies in fees so make sure to read the fine print before selecting one.
Once you're done selecting an investment style, you'll then have to select one of the five risk-sensitive increments which include cautious, steady, balance, growth, and adventurous.
Your choice of risk determines your equity and fixed income mix asset allocation for your chosen tier.
Why it's one of the best:
Nutmeg's socially responsible portfolio includes companies and bond issuers that have stellar environmental, social, and governance standards. The platform also avoids investing in companies engaged in controversial activities while putting a focus on those leading in ESG.
One of the best things about Nutmeg is its ongoing management. Investors get to enjoy a filly managed style, with a team of investment experts who will constantly monitor your portfolio for you.
The team rebalances your account while making sure that you're on your way to meeting your objectives.
Also, learn the ESG Investing Trends to enhance your knowledge about it.
Like what you are hearing? Read our full Nutmeg review to learn more about the platform.
All these three options let you look at the bigger picture other than material benefits when investing your money.
Related Reviews
Related Resources