For most investors, a passive investing strategy makes the most sense. The recent shift from actively managed funds to index funds has shown that automation and passive investing will win out for most investors.
However, how does a new investor know which service to trust their money with, given how many services there are out there?
Two of the services that come up often are Betterment and Personal Capital. Both of these U.S.-based financial management companies have their pros and cons.
Unlock Sustainable Investing Opportunities 🌿
Join the green revolution by investing sustainably with our top partners. Discover platforms that align with your values and offer remarkable opportunities for growth.
But, how do you know which one is best for you? Betterment vs Personal Capital? Let's take a look at what both platforms offer and how you can maximize their services, depending on your investing needs.
What Is Betterment?

Betterment is an independent robo-advisor designed to provide investment assistance based on your investing goals.
This service, which was just an investing automation tool before, now offers services that expand on its suite of investment options and provide advice on where and how to invest based on your goals.
Betterment was founded back in 2008 and is based in New York. Like other modern investment platforms, Betterment focused on solid investing principles learned by the market over the last century of investing data and research.
As such, the platform focused on asset diversification and consistent investing to maximize returns in the long term for investors.
Pros
Cons
Requires knowledge of personal investing goals and strategies
Limited human assistance without a significant account value
How Betterment Works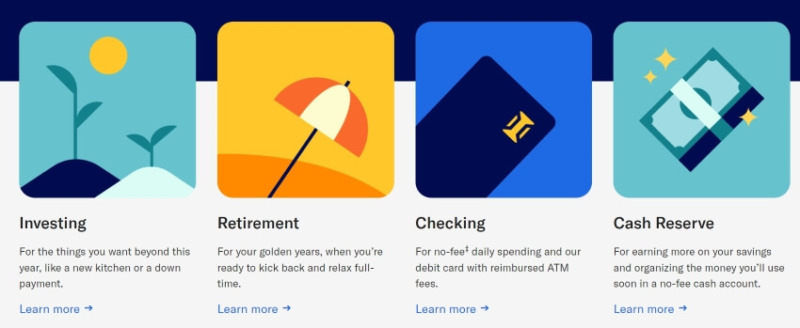 Over its 14 years of service, Betterment has grown its range of options to better personalize its services to different investors while still maintaining solid investing principles. Here is the list of investing strategies Betterment has listed as options for their services:
Betterment Core: The main strategy that Betterment has focused on for 14 years, this strategy uses low-cost and tax-efficient ETFs that offer diversification and consistent returns.
Betterment Cash: Rather than investing in stocks or ETFs, this strategy places an investor's cash into a bank network to achieve a higher variable interest rate than a standard savings account.
BlackRock Target Income: This strategy uses a bond-only strategy based on a similar plan used by BlackRock.
Broad Impact: One of their socially responsible options, this strategy focuses on ETFs with high ESG ratings to give investors a chance to invest in environmentally friendly companies.
Climate Impact: More specific than the Broad Impact option, this strategy focuses on low- and no-carbon emission companies and funds that support environmental projects.
Goldman Sachs Smart Beta: By investing in Goldman Sachs ETFs, this strategy tries to beat out other portfolios that focus on market capitalization strategies.
Innovative Technology: With how much growth has come from the tech market in the last few decades, a dedicated technology strategy can have higher returns than other, broader strategies.
Social Impact: This option gives investors the chance to invest in multiple ETFs dedicated to supporting minority and gender-inclusive programs.
Outside of its automated investing options, Betterment also offers IRA and 401(k) options. Betterment supports traditional, Roth, and SEP IRAs, as well as helping investors convert a traditional IRA to a Roth IRA if needed.
Also, Betterment recently acquired Makara, an automated cryptocurrency investing platform. While this service isn't online as of the beginning of 2022, Betterment believes this integration will help investors get into cryptocurrency investing without the complexity dedicated cryptocurrency exchanges have.
Betterment also offers tools for its users to plan their investment strategy based on their timelines and goals. Several of the tools on the website and in their app give you data and graphs to show if your investments are on track based on your target goal and timeline.
Finally, Betterment has a wide range of resources on its website, including articles in its Help Center and investing blog. All these resources give you extra tips and tools to consider when forming and executing your investment goals.
Joining Betterment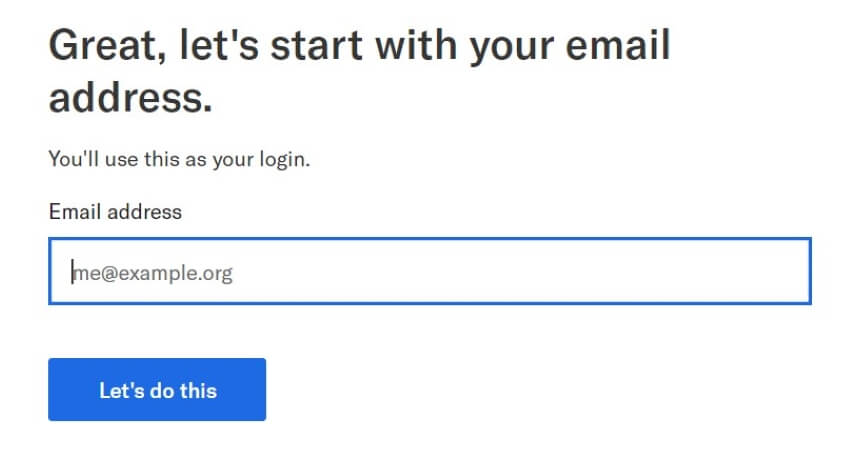 When you sign up with Betterment, they have a set of questions that you answer about your investing goals and their time horizon. The point of these questions is to help new users get matched with an investing strategy that best matches their goals.
Once you are all set, the robo-advisor on Betterment manages your portfolio for you. The bot will make trades based on market forces and signals, replacing the active management that a traditional financial advisor would do, but with less cost and cheaper fees.
What Is Personal Capital?

Personal Capital is an investing service that splits between traditional and robo-advisor functionality.
While Personal Capital does use some of the tools that are common to robo-advisors, such as automated investing processes, Personal Capital also has actively-managed assets and advising.
Personal Capital was founded in 2009 and is based in San Carlos, California. Their Financial Tools are popular and free for all users that offer investing, budgeting, and financial management tools.
These tools can be found on their website, meaning any user could pop over there right now and use these tools.
Pros
Combined active fund management features with automated trading services
Maintains a wide range of financial tools for all users to enjoy
Helps users create an investing strategy that works for them
Cons
Higher annual fees than a standard automated wealth management service
Cannot opt-out of having a human financial advisor
See Related: Upgrade Loan Review: Is It Legit to Use?
How Personal Capital Works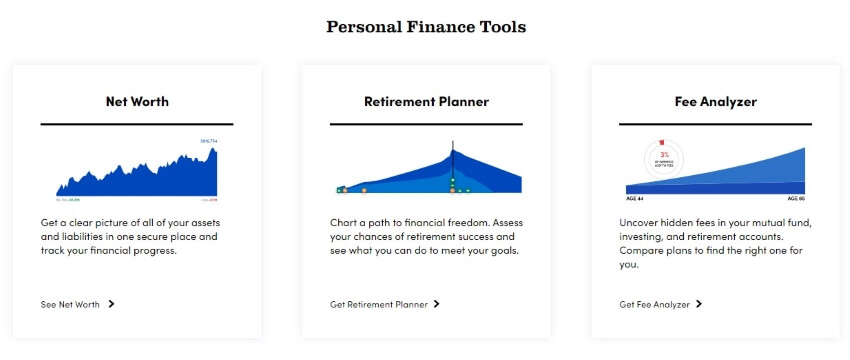 Personal Capital's Wealth Management service is their primary focus. Although this service is comparable to a robo-advisor investing service, it is also comparable to a human-direct investing service.
This fact is due to asset managers and financial advisors working alongside the automated investing service to apply solid investing strategies to an investor's portfolio.
Overall, Personal Capital offers these investing services to its users:
Wealth Management: This investing service of Personal Capital marries automated investing with a human financial advisor to utilize portfolio weighting, tax optimization, and intelligence rebalancing to maximize returns for the investor.
Private Client Perks: As your investment portfolio grows, Personal Capital increases the team surrounding you and reduces the fee structure on your portfolio.
Socially Responsible Investing: Personal Capital offers investment strategies that favor companies with high ESG ratings.
Personal Strategy: Utilizing a combination of human advisors and automated investing services, this strategy personalizes a portfolio for you even if you do not know specific ETFs or stocks.
401(k) Management: This strategy allows Personal Capital to monitor your 401(k) and offers holistic advice and plans for how to grow that 401(k) over your timeframe.
Personal Capital Cash: Although not an investing strategy, this cash account overs an insured location to store your cash reserves for when an investment opportunity arises.
In addition to these investing strategies, Personal Capital is also well-known for its financial planning tools on its website.
These tools allow you to calculate various numbers, such as Net Worth or Savings, without being a user of their service. Anyone can go to the website and use these numbers in their preferred wealth management service.
See Related: Angel Investing vs Venture Capital: What's the Difference?
Joining Personal Capital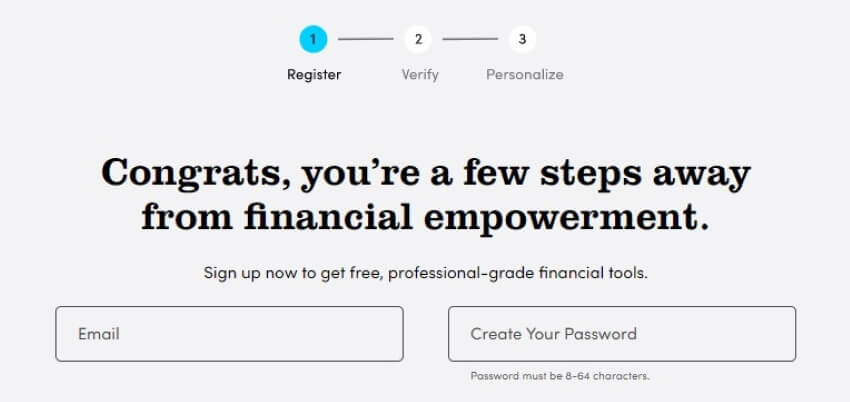 Once you join Personal Capital, a financial advisor works with you to determine the best strategy for you. Combined with the automated investing tools of the wealth managers of Personal Capital, you get off to a solid start when you invest with Personal Capital.
Once your account is up, your advisor will take the returns from your investments and additional cash you invest into the account to grow your assets and reach your investing goals in the timeframe you set.
Nothing is a guarantee in the stock market. But, combining the human touch of a financial advisor with automated tools means that you have a better chance of finding financial success. 
See Related: Best Robotics Stocks to Buy Now
The Comparisons: Betterment vs. Personal Capital
While there is no direct answer to this, you can take a closer look at each aspect of Betterment and Personal Capital to see which is better for you. Below, we will closely compare various features of both services.
Betterment Management Fees vs. Personal Capital Fees
To start, Betterment has two different fee rates depending on which tier of their investing services you want to get.
At the 0.25% annual rate, you get access to Betterment's investing portfolios, including all the strategies listed earlier.
Also, you can choose to set up a checking or cash reserve account for no extra fee. There is no account minimum for this rate, meaning you can have any amount of money invested with these services.
At the 0.40% annual rate, things get even better. While you need to invest at least $100,000 with Betterment to get here, this package has all the previous rate's features. The bonus here is the unlimited contact and advice from Betterment's investing professionals.
These pros can help you make investment decisions and answer questions about taxes, ETF holdings, and so forth.
You do not have to upgrade to the higher tier rate if you do not want to, though. You will have the option to enable it when your account reaches the $100k minimum, so you have the choice of if you want the extra help or not.
However, Personal Capital's hybrid approach does come with a cost. You can expect to pay a different annual fee rate depending on how much capital you have invested with Personal Capital:
$0 to $1 million: 0.89%
$1,000,001 – $3 million: 0.79%
$3,000,001 – $5 million: 0.69%
$5,000,001 – $10 million: 0.59%
Over $10 million: 0.49%
As your asset value grows, Personal Capital automatically scales your fee rate down over time. The lower rates are for their Private Clients or individuals who invest over $1 million with the financial institution.
Betterment Customer Support vs. Personal Capital Support
While both of these services have customer support, Personal Capital wins out over Betterment.
Personal Capital has a 24/7 customer service line that allows its users to get help any time they need it. Betterment, however, only has phone services during daytime hours, including weekends.
Both Personal Capital and Betterment have support emails as well that users can use to send messages and questions as needed.
Betterment Returns vs. Personal Capital Returns
Overall, both Betterment and Personal Capital beat the average return of the stock market thanks to their automated trading and portfolio rebalancing features.
Automation like this helps remove the emotional aspect of trading out of investing, keeping a user from exiting a strong asset during a wide market downturn.
Betterment Performance vs. Personal Capital Performance
Both Betterment and Personal Capital provide financial reports to their users.
This data shows investors how different strategies performed during the financial quarter, allowing those investors to see how they compared against the market during the same timeframe.
Betterment and Personal Capital had very similar returns. For their general portfolios, Betterment earned an average 8.6% return between 2012 and 2018, compared to Personal Capital's 8.5 return during the same period.
Betterment Security vs. Personal Capital Security
Both are SIPC members and follow strict American guidelines on financial information security. They must follow the SEC's guidelines on transparency and financial responsibility to their users because these services are based in the United States.
How Are Betterment and Personal Capital Similar?
The easiest comparison to make between Betterment and Personal Capital is their underlying asset management. Both services use automating asset trading to manage the ETFs and stocks that make up their client's portfolio.
By automating these trades, both Betterment and Personal Capital help remove the human element from trading.
While a persona might trade in and out of a paper asset based on daily prices, trading robots instead look at defined signals to determine if a stock continues to be a worthwhile asset to hold or not.
Mainly, the automation these services use helps save money. Using robots to do all the trading means that both companies need fewer financial staff to keep their business operating. This automation helps reduce overhead, thus reducing the fees they have to charge to keep the lights on and computers humming.
Those savings pass down to the users in the form of lower annual fees. Actively-managed funds tend to have a 1% or higher annual rate. Neither Personal Capital nor Betterment is that expensive, but still offer many of the same services these actively-managed funds would have for their users.
See Related: Varo vs Chime: What is Better?
How Are Betterment and Personal Capital Different?
The most obvious way that Betterment and Personal Capital differ is their inclusion of human advisors.
To Betterment, a human advisor is a nice perk but not a requirement to use its platform, as seen in their optional fee structure. However, Personal Capital believes that a human advisor is integral to the investing process, even if the buys and sells are automated.
Personal Capital bakes the extra cost of the human financial advisor into their fees. Because of this, Personal Capital is more expensive than Betterment, no matter how much you have invested with Personal Capital. Even at the $10 million net worth value, you will still pay more than double what users on Betterment will.
Still, that extra cost means that you have a guaranteed contact in the financial world that has your back. If you want a truly hands-off approach to wealth management, then using Personal Capital's services means you will not have to decide your strategy if you do not want to.
Plus, Personal Capital tailors your investing strategy to your specific needs, especially as your account value goes up.
Betterment strategies are great for deciding your course early on but do not have the same level of customization that Personal Capital and its human advisors can offer.
However, that customization is at the macroscopic level. Betterment's app lets a user go into their investments and change things up. However, the user needs to know how making those changes affects their portfolio and financial circumstances.
Finally, Betterment simply has a broader range of financial and investment services that they offer compared to Personal Capital. In addition to investment accounts and IRA and 401(k) management, Betterment is adding more tools to its user's array of choices to grow their wealth.
See Related: Acorns Sustainable Portfolio Review: Is It Worth It?
What's Better About Betterment?
Overall, Betterment offers the most customizable experience of the two services. With its focus on automating the investing experience, Betterment allows users to choose which services and investing strategies they want to follow.
One of the best things about Betterment is its low minimum investment requirement.
Because the service is entirely automated, Betterment can get away with a $0 investment minimum thanks to its asset management being done by automated robots. As long as the robot has processing power, it can run any number of accounts, regardless of their size.
Also, as an automated platform, Betterment doesn't have to charge a large fee to turn a profit for itself. Because of this, Betterment's 0.25% fee is well below any human-managed financial management service.
Robots and software are much cheaper and easier to maintain than a team of financial advisors, reducing costs for Betterment and, by extension, their users.
Betterment also offers a wide range of stock options for investors. A user can invest in all kinds of stocks based on market capitalization. Because of the environmental and social strategies Betterment offers, this range of options is a necessity for investors that want to buy into smaller, greener companies.
Speaking of moral investing, Betterment offers more options for investors trying to buy into greener and socially-minded companies.
By having multiple investing strategies that both offer solid returns and allow investors to buy into progressive companies, Betterment comes out ahead of Personal Capital's listed portfolios.
Also, for those that find that they can make their way in the investing world, the optional human investment advice is a positive thing. By making the additional advice optional, Betterment users can keep their fees low while taking advantage of what the Betterment platform offers.
For users that want to have a person help them out, they'll find that their fees are still lower than other wealth management services. Betterment's annual fee never goes above 0.40%, which is below what Personal Capital offers to their investors with over $10 million.
Speaking of benefits, Betterment uses tax-loss harvesting strategies no matter how much money you have invested with them. This strategy also helps lower costs by reducing the amount of taxes you would have to pay year-to-year.
Overall, Betterment and Personal Capital have the same basis for their services. Where they differ is how they apply this automation and how important they view this automation to be to the investing experience.
See Related: Free Financial Advisors to Start Financial Planning
What's Better About Personal Capital?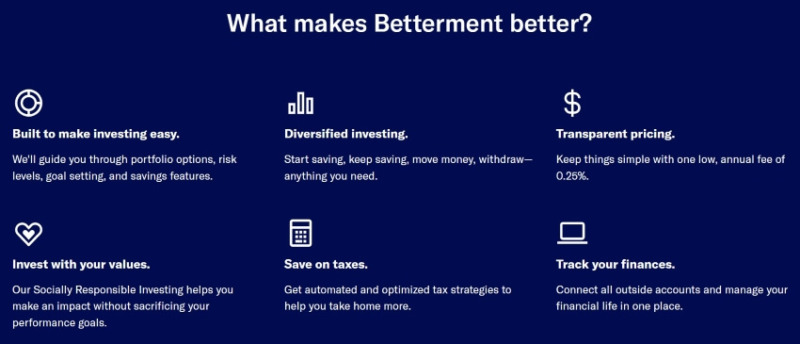 Because of their marriage of actively-managed and automated investing strategies, Personal Capital tries to blend the best of two worlds.
This strategy puts Personal Capital in a unique position to offer solid automated returns backed by human intelligence and emotional capacity.
One of the great things about Personal Capital is that they make many of their financial planning tools free to use on their website.
By allowing users to determine their net worth, savings goals, and other financial data points, Personal Capital builds trust with its users. If they share these tools for free, how much more can they do for a paying customer?
We cannot know for sure that this was the goal of Personal Capital. But, it makes sense that, if they are happy to share these calculators for free, they must be holding something more valuable behind the paywall.
Given the extent Personal Capital goes to plan a strategy for you, it is safe to say that assumption is valid. Even if Personal Capital doesn't manage your entire portfolio, the service still considers those accounts when determining your strategy for the assets they manage for you. This process allows Personal Capital to fill any gaps or adopt a strategy that compliments your current investments.
Plus, the investments that Personal Capital makes tend to line up well without automated investment services. Thanks to most of the asset management being done by automated services, Personal Capital achieves a similar annual return that services like Betterment return while maintaining a human connection for their clients.
Also, Personal Capital goes further than Betterment when it comes to tax-loss harvesting. Betterment maintains harvesting strategies that work within the ETFs that they offer.
Personal Capital, however, can apply its human financial managers to use harvesting strategies using individual stocks. Personal Capital can then engage in more nuanced tax-loss harvesting, meaning lower taxes for your investment account.
Finally, Personal Capital offers more personalized touches for their higher net-worth clients. In other words, by sticking around with them for a long time, a user can build their net worth and see a larger return and more attention placed on their account, unlike with Betterment.
See Related: VFTAX Review: Is This a Good ESG Mutual Fund?
Is Personal Capital Better Than Betterment?
Overall, the best choice between Personal Capital and Betterment comes down to an individual investor's needs and preferred features.
Who Should Get Betterment (and Why)?
Ultimately, Betterment is best for the user that knows what they want to do with their investments. The decoupling of the financial advisor from the investment process means that Betterment fully embraces the cost savings that automation offers.
This automation offers a similar experience to actively-managed funds without the price tag a financial advisor comes with.
Because of how much Betterment relies on this automation, that makes this service great for those that want to save on annual fees.
Betterment's annual fees are always lower than what Personal Capital offers, even if you elect to have some contact with a human financial advisor. In some cases, this can be a two to four times difference between the two platforms.
Finally, Betterment is best for folks that want exposure to the widest range of asset classes.
Betterment is taking steps that will let them offer more assets in a simpler way than other services offer right now. In time, Betterment could become an automated version of the bigger names in investing across all asset classes.
Who Should Get Personal Capital (and Why)?
As for Personal Capital, it is best for folks that want to take advantage of what automated trading has to offer without active management on their part.
With how complex the world of finance and investing can be, relying on an expert-backed by technology can be reassuring for some investors.
Also, a touch of active management by Personal Capital's financial managers means that you can take advantage of investing and tax strategies that are hard for automation to replicate right now.
Individual stock tax-loss harvesting and similar strategies give you ways to save money that the services on Betterment don't have right now.
Finally, Personal Capital is a great service to transition from actively-managed funds to something more like a hybrid.
By combining human contact with automated trading, working with Personal Capital will give an investor an experience similar to a mutual fund but with more consistent returns thanks to the trading automation.
Related Resources