Investors are becoming more aware and interested in where their money is being invested. Weapon-free funds investing is one area that has recently been attracting many investors. If this is your area, here is all you need to know about how to make the most out of it.
Do you know what your investments are funding?
Are you sure your mutual funds are circulating within businesses whose values correspond with what you stand for?
Unlock Sustainable Investing Opportunities 🌿
Join the green revolution by investing sustainably with our top partners. Discover platforms that align with your values and offer remarkable opportunities for growth.
Well, it's admittedly difficult to determine these multi-billion companies' investment policies and choices. However, it is still possible to find mutual fund investments that align with your values.
If you resolve to invest in line with your world demilitarization values and still gain just as much income, you have several options you can opt for.
The truth is most people currently want to see a safer world without so many weapons available just for anyone.
For example, gun violence has been quite prevalent in numerous neighborhoods and cities around the globe, something that makes many investors opt for gun-free funds.
But, the main question now remains; are there any great weapon-free funds in the market that promise attractive ROI (Return on Investment)?
This article explores more on this, showing you how you can invest your money to create less weapon-riddled neighborhoods.
First, though, let's find out what exactly weapon-free funds are.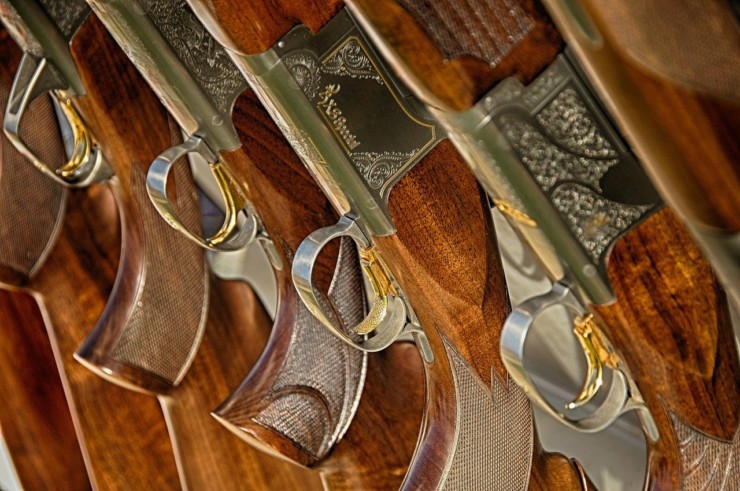 What are Weapon Free Funds?
Weapon-free funds are mutual funds, and ETFs whose investment doesn't include financial instruments from companies that engage in or support military hardware manufacture or supply.
It means that the company, as a matter of policy, only invests in businesses that stand for a world free from weapon proliferation.
This policy is also known as Responsible Investment (RI). The best part is there are several profitable funds out there to choose from.
When doing your personal portfolio search, here is a list of the current best weapon-free funds you should consider.
Parnassus Endeavor Fund
Pax Global Environmental Markets Instl
Domini Equity Impact Fund
Neuberger Berman Sustainable Equity Fund
New Alternatives Fund
Pax Ellevate Global Women's Leadership Fund Individual Investor
AMP Ethical Balanced Fund
Calvert Global Water Fund
Let's take a look into the profitability of each fund.
Top Weapon Free Funds to Invest In Right Now
1. Parnassus Endeavor Fund
Parnassus Endeavor Fund was founded in 2005 by the workers of Parnassus, a San Francisco-based firm. It's one of the best weapon-free funds to buy. The fund's major investments are in Gilead Sciences, Qualcomm, VF, United Parcel Service, and Micron Technology.
The firm has secured its shareholders' interest by channeling greater capital to about thirty well-managed favorable stocks. The fund's investment team identifies the best stocks to invest in by looking at various valuation and quality metrics, as well as screening out stocks from companies that derive revenues from weapons, tobacco, alcohol, gambling, nuclear power, etc.
Generally, Parnassus Endeavor Fund is more attracted to companies that display sustainable competitive advantage, exemplary management, relevant products or services, and ethical practices.
Therefore, if you are looking to invest in a fund that has both the society and the environment at heart, Parnassus Endeavor is an excellent option.
See Related: Best Gun-Free Funds to Buy Today
2. Pax Global Environmental Markets Instl
The fund's portfolio spreads across companies working on creative solutions to the challenges involved in the supply of energy, water, sustainable waste handling, and resource rehabilitation. It has a large portfolio involving well-performing foreign stocks in the European and Asian markets.
Pax Global has one of the best energy efficiency reputations, with a substantial investment in water and sanitation development, food and agribusiness, and forestry. It mainly invests its assets in companies that focus more on the environmental markets.
The current global population explosion puts the fund in a strategic position, making it one of the best weapon-free stocks to invest in. 
See Related: Best ESG Target Date Funds
3. Domini Equity Impact Fund
Domini Equity Impact Fund's investment priority is on equity securities and other ventures with related "impact" and economic features, such as futures and options.
The fund's core framework of widening its choices of mid to large market capitalization firms with a firm commitment to environmental and social welfare has afforded it greater endearment to its shareholders.
Through its own research, the fund determines which companies support sustainability undertakings such as carbon reduction, availing clean water, sustainable food mechanisms, and financial empowerment.
The fund's continued positive performance, coupled with its green ideals, earns it a place in the list of the best weapon-free funds to buy this year.
4. Neuberger Berman Sustainable Equity Fund
This fund mainly invests in the securities of mid to large-capitalization businesses, which comply with its environmental policy, social inclusivity, and administrative model terms. In order to minimize risk, the fund has built a multi-industry portfolio.
This strategy, coupled with a positive turnover, makes it an attractive fund for you to buy.
The fund's long-term tenability is anchored on its keen research of the value and sustainability of candidate stocks, hence sieving out the financial chaff.
Generally, this fund aims at achieving a sustainable world by choosing stocks and investment assets from companies that take care of the environment. The fund works on the belief that ESG (environment, social, and governance) factors are a crucial driver of long-term return on investment.
Its weapons policy is also quite clear. The fund continually supports and upholds all conventions that promote a ban on controversial weapon production.
It, therefore, ensures that it never invests in securities and stocks from companies believed to manufacture controversial weapons.
5. New Alternatives Fund
This fund's main investment focus is in regular equity securities. Founded in 1982, the fund has been, for the longest time, investing in companies that support environmental conservation and renewable energy. Its main focus is finding companies with a positive environmental impact.
Generally, the New Alternatives Fund portfolio includes firms and industries of varying sizes, focusing on conservation, wind, solar, and hydro energy production. In essence, it supports stocks from companies that advocate for a reduction in the use of fossil fuels.
It has asserted its financial presence in a spectrum of big names such as YieldCos, American Depository Receipts (ADR), real estate investment trusts (REITs), as well as several publicly-traded MLPs.
Therefore, the fund is not only one of the best weapons-free funds but also an ideal option for environmentally conscious investors.
6. Pax Ellevate Global Women's Leadership Fund Individual Investor
These funds target investments whose value and profit yield are greater than Pax Global Women's Leadership Index.
The fund has established a positive income turnover record over the years, which is a positive thing for the investors.
Generally, this fund invests around 80% or more of its assets in the Women's index component securities.
It also invests in Global Depository Receipts, American Depositary Receipts, and Euro Depository Receipts, which also represent Women's index component securities.
This easily places the fund on the list of the best weapon-free stocks to buy.
See related: 11 Best Fidelity ESG Funds to Invest
7. AMP Ethical Balanced Fund
AMP is a socially responsible investment fund that uses financial analysis and sustainability to determine the best stocks or securities to invest in. The fund invests in a mix of income and growth assets, excluding investments that do not align with their responsible criteria.
For instance, AMP filters stocks from companies whose businesses include weapons, fossil fuels, gambling, alcohol, palm oil, adult content, etc. This investment fund is ideal for investors seeking investment opportunities that reflect their values. However, the ideal investors here should be comfortable facing medium risk and returns levels.
The fund understands that knowing where your money is being invested is important for many investors. Therefore, consider various factors such as environment, risks, as well as social and governance, before picking a stock.
Note: The AMP fund is certified by the RIAA (Responsible Investment Association of Australia)
8. Calvert Global Water Fund
The fund invests the biggest portion of its assets in securities of national as well as international firms in the water sector. Its portfolio also involves companies that have an indirect stake in water service as well as technology.
The fund's performance is estimated to rise due to the need for clean water and the attendant demand for more innovative and sustainable methods of delivery and storage.
Some of its top holdings include Ecolab Inc, IDEX Corp, Tetra Tech Inc, and Rexnord Corp. If you wish to see how Calvert Global Water Fund performs compared to others in its category, check out here.
See Related:
Pros and Cons of Investing in Weapon Free Funds
Is investing in weapon-free funds profitable, or is it a mere philanthropic feat?
Well, this type of investment is not without its ups and downs. Every business has its share of both, after all. First, though, let's look at its brighter side.
Pros of Weapon-Free Funds
1. Contributes to World Peace and Security
Your action may seem feeble to you for now, but come to think of it. By choosing a weapon-free fund, you will reduce weapon production by the size of your investment.
Let's think about it this way. What kind of weapon can your investment possibly afford? What's its killing or maiming capability? The answer to this math equals your funding.
2. Safeguards the Environment
It's difficult to isolate weapon-free funds from the environment. The threat and actual destruction of ecosystems and infrastructure during a war is continually evident. Think of Afghanistan, the West Bank, and several regions of the African continent.
You may not really have approved of your money to be used in weapon manufacture, but if you are not certain of your fund's portfolio, chances are your money is enhancing weapon-making endeavors.
3. They Promote Human Rights
The availability of superior weapons brings a motivation to oppress vulnerable neighbors. There is no regard for human rights or dignity during a time of war. Nations with more sophisticated weapons become conceited.
They despise, threaten and attack innocent neighbors.
Unfortunately, the same reality unfolds in our suburbs and homes almost daily. This is all thanks to companies and contractors funded by some mutual funds.
Cons of Weapon-Free Funds
1. Might not be as Profitable
Trying to invest only in weapon-free funds might limit your scope of investment opportunities. Also, you might forego other more lucrative opportunities that might have made you incredible amounts of money.
2. Not Easy to Identify
Many funds have investments in companies that support or manufacture weapons—identifying those that don't can be a cumbersome task, especially since the largest percentage do.
How to Screen Low Weapon Risk Funds?
Aligning your investment choices with your values is paramount. However, it's not all easy to identify funds that only invest your money where your interests and values lay.
Luckily several platforms have come up to help you screen for funds that match your values.
In our case here, Weapons Free Funds is an excellent platform that helps you find sustainably invested mutual funds and ETFs that exclude holdings from weapons-related companies.
The platform calculates how many holdings are flagged in a fund's portfolio, considering the percentage and the total number of assets that a fund invests in such companies.
Generally, it groups mutual funds in three main categories; civilian weapons, military weapons, and a combination of the two. After, thorough scrutiny of these funds, it awards the funds one of these weapon grades:
Grade A – this implies that the specific fund has zero direct investments in companies manufacturing military weapons or civilian firearms. It also indicates zero connection to civilian firearm retailers.
Grade B – this grade implies that a fund has zero direct investments in companies manufacturing civilian firearms or military weapons, but has directly invested in civilian firearm retailers.
Grade F – this group includes funds that have not only invested directly in companies manufacturing military weapons, but also in civilian firearm manufacturers.
Based on this categorization, you can easily identify funds that fit your values, and that will help keep your conscience clean.
Besides Weapon Free Funds, you can seek investment advice from an investment adviser on how to create an investment plan or personal portfolio that excludes mutual funds associated with civilian or military weapon companies.
Types of Funds to Screen
So, what types of funds does this platform help you to screen?
1. Target Date Fund Series
These are a group of funds in which each fund is designed to include a different mix of financial instruments for investors in various retirement timelines. Your employer's 401 k retirement plan will mostly include these types of funds.
So, are your savings invested in the right place? Use this platform to find out. You can use it to identify the best funds for your retirement plan or personal investment portfolio.
2. Index Funds
These are mutual funds or ETFs that use specific preset rules to help them track a certain group of primary investments. Their portfolio is designed to monitor elements of a certain financial market index.
Note: Weapons Free Funds does not offer financial planning advice. Nor does it provide users with legal or tax advice. It is simply a nonprofit organization dedicated to offering free information to investors to help them choose the right companies to invest in.
Is Investing in Weapons Free Funds Profitable?
Certainly yes! Just like many other global economic sectors, the global arms trade is quite a lucrative one. That's why so many companies are doing it.
However, the profits will depend on the type of companies and stocks that the funds opt to invest in. As I mentioned earlier, most of the weapon-free funds focus on environment conservation, sustainability, and society preservation.
Some of these stocks, like the climate change stocks, social responsibility, and technology ones, can be quite lucrative given the focus on sustainability which has been a proven profit driver for years.
A fund's portfolio mix is all that matters when determining how profitable a fund is. If done right, weapon-free funds can be pretty profitable.
Related Resources