Individuals and corporate companies are becoming more environmentally conscious and focusing more on reducing their greenhouse gas emissions.
As a result, they have embraced renewable energy credit to achieve their objectives. Renewable energy credits show your efforts toward carbon neutrality. Even if you are not involved in the actual renewable energy production, purchasing the credit proves that the energy you use came from clean sources.
So, what renewable energy credit software programs can help you prove it and make reporting easier?
What Are Renewable Energy Credits?
Renewable energy credits are tradable, non-tangible commodities that prove that 1 MWh of energy produced came from renewable energy sources. It shows that 1 MWh of energy you use is from green sources if you are a consumer.
The energy on the grid comes from all sources. So, how do you prove that you are using energy from wind power or solar power? A renewable energy credit certificate is your defender.
What Are The Benefits of Renewable Energy Credits?
RECs prove that you are using electricity or generating energy from green sources. By purchasing a REC, you support more supply of renewable energy. You also reduce your carbon footprint.
REC is a good fit for you if you:
Want to know how the energy you are using was produced
Have environmental performance objectives you want to achieve
Want to reduce your carbon footprints
Cannot install solar or other renewable energy to power your home or business
Show support for renewable energy markets.
Best Energy Credit Software Programs To Consider
Renewable energy software enables energy optimization and evaluation of the market to seize profitable opportunities.
Choosing the best software helps you in commodity trading and risk management for business sustainability. Consider the following energy credit software programs as possible options to help you achieve carbon neutrality:
FlexiDAO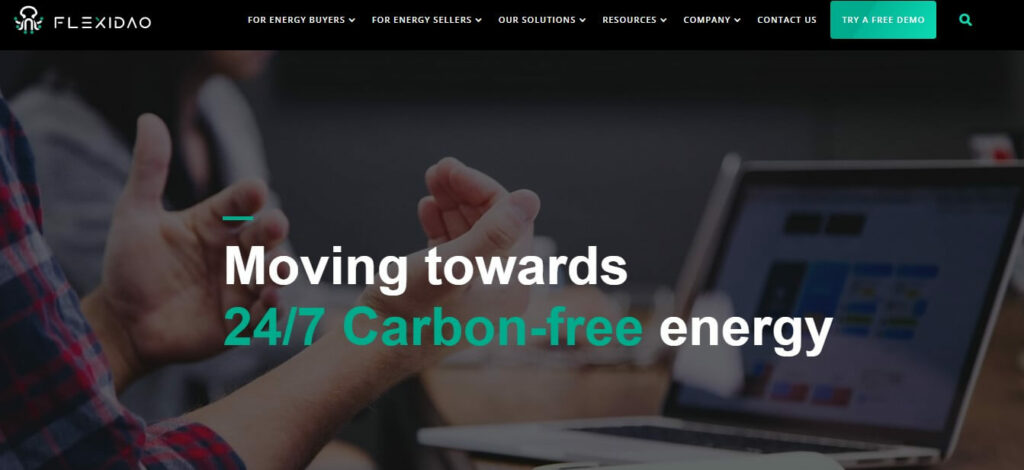 FlexiDAO software enables energy organizations to reduce admin costs of environmental reporting. It helps to consolidate global scope 2 emissions data. Any energy data collected from metering, carbon dioxide emissions, and energy certificates are available in one platform.
If you are a consumer, FlexiDAO helps you understand the true origin of your energy. It also increases your credibility or green energy even if not involved in the actual generation. Using this energy software assures your auditors about your regulatory compliance.
FlexiDAO is also for energy professionals who want to track their progress and stay on course to achieve their objectives. It becomes easy to track green tariffs and all other energy commodities monthly. You can verify all your invoices and monitor costs against what you budgeted for through advanced analytics.
Whatever the data collected or information analyzed, you can share it with auditors and stakeholders. You can launch educational media campaigns using an interactive approach. That is possible through the visualization of renewable energy sources.
Also, FlexiDAO helps to create reports with KPIs for energy and environmental reporting. You can download data as PDF or Excel, whichever meets the requirements of the agencies.
Feature Summary:
Energy and environmental reporting
Monitor your global green energy portfolio
Increase the credibility of your green energy
Reduce admin costs of reporting
Consolidate green energy data in one place
Get more transparency on your renewable energy contracts.
See Related: Best Artificial Intelligence Stocks to Buy Now
Openlink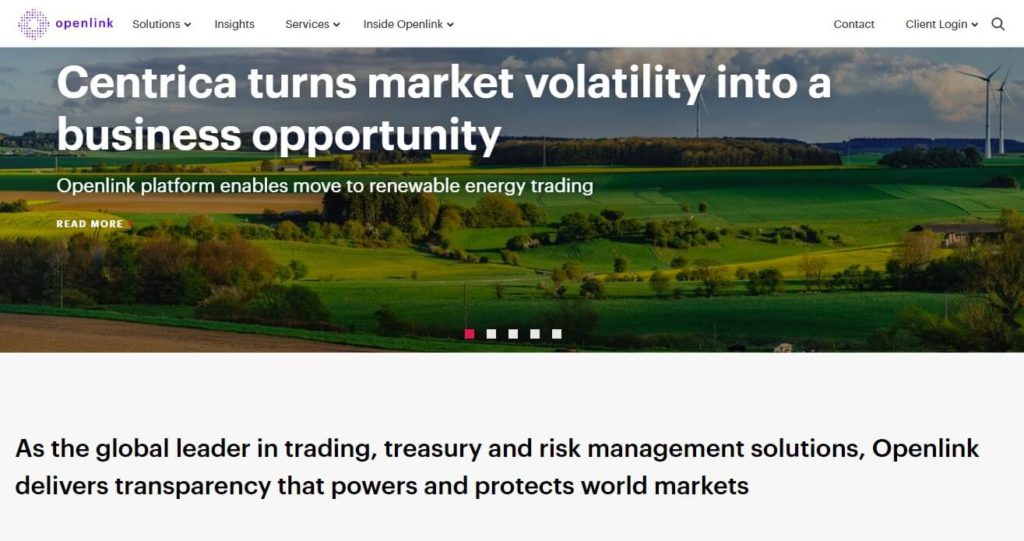 Openlink is an energy trading and risk management software that manages everything from power generation to distribution. It covers renewable energy and natural gas, coal, and crude oil.
Openlink's risk management STRM software offers a complete energy trading solution to risk managers, traders, and energy professionals. They can use it to plan, procure, process, manage, move, and trade energy. It covers everything from trade capture to accounting, risk, reporting, and compliance.
With Openlink tools, you can easily handle daily and intraday nominations and manage communications. Identifying imbalances across multiple energy markets and grid operators also becomes easy.
Openlink helps improve productivity and reduces risks of errors and related penalties. There is also constant support from a committed team to help your business succeed.
Feature Summary:
Keep track of cross-border rules compliance
Manage complex intra-day nominations
Manage power scheduling across multiple markets
A single, unified and timely natural gas solution
Real-time software that reduces operational, market, and credit risk.
FIS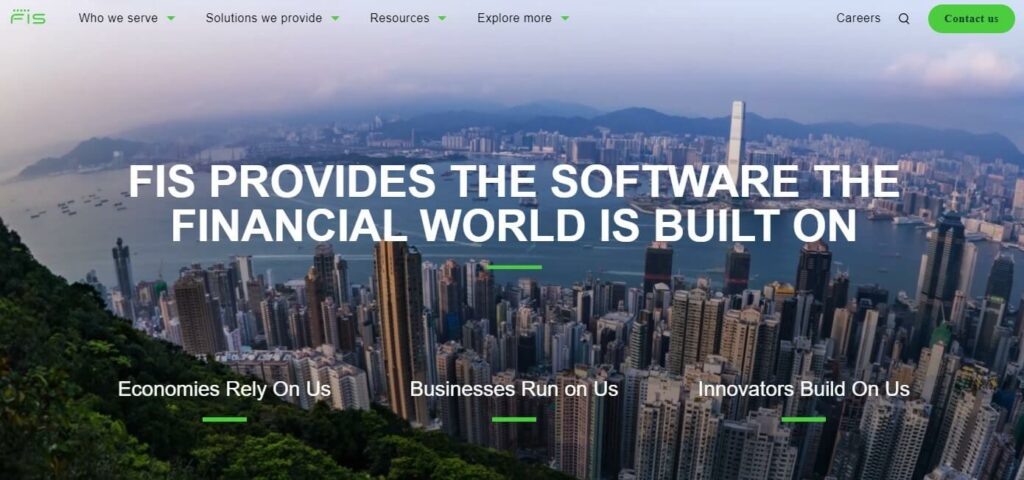 FIS is another risk management ETRM software that brings solutions to the complex, global energy market. Its technology helps different organizations to compete at the international level while remaining compliant with regulations and standards.
The FIS energy and commodity trading and risk management can help you succeed in this complex market. You can choose it for market data, risk management, accounting, and treasury. There is virtually nothing you cannot do with FIS. You can handle all your trading operations with this ETRM software in the energy sector.
FIS offers you a trading platform that helps you compete effectively. You can access a front-to-back trading system and logistic platform that streamlines and integrates everything energy trading activity you engage with.
FIS also offers you a market data suite for easy data access and advanced analytics that suit any trader in the energy sector. Lastly, the FIS energy portfolio manager covers all your planned tasks and helps you keep communication with stakeholders alive.
Feature Summary:
FIS market data suite
FIS energy portfolio manager
FIS energy, trading, risk, and logistics platform
FIS commodity risk manager
Helping clients to reach their goals
Pandell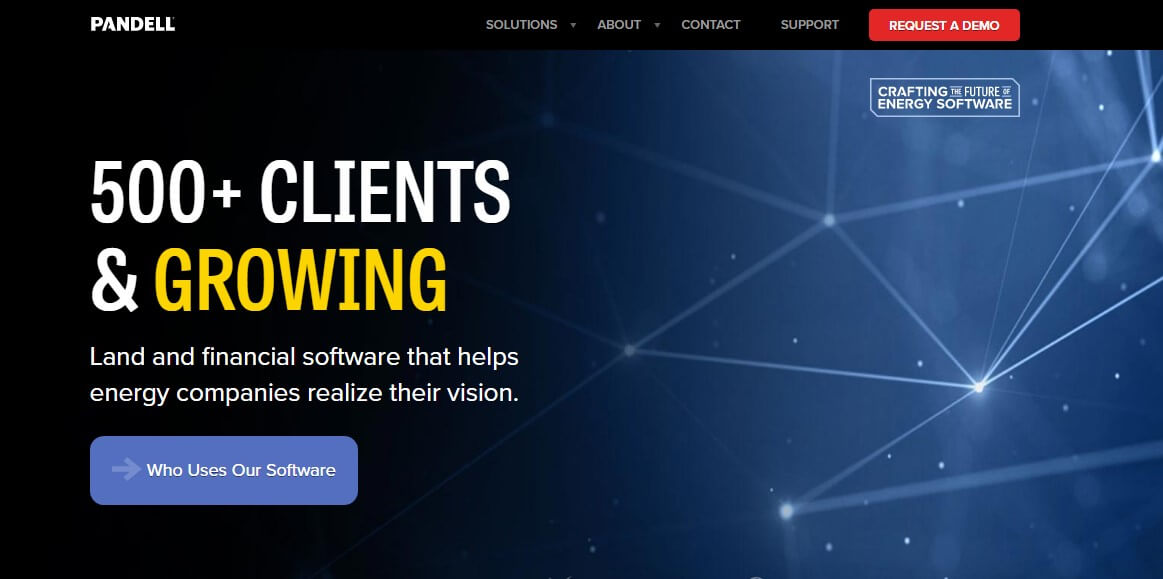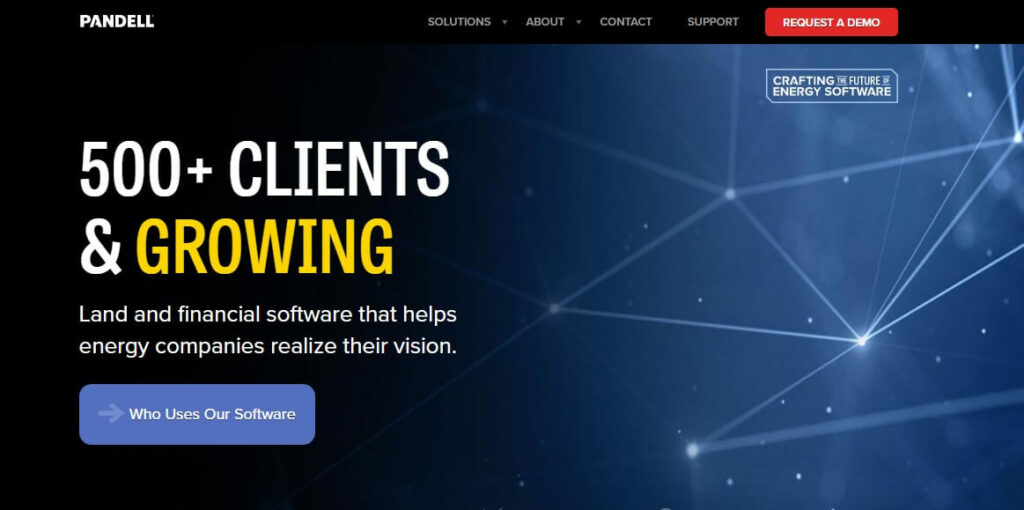 Pandell is the best choice of renewable energy developers or operators. It covers energy production from solar, wind, geothermal, nuclear, and other renewable energy sources.
Pandell offers a solution to companies in all energy sectors, from startups to corporate energy leaders.
With Pandell, land asset management, communication, payment, GIS mapping, and project cost analysis become easy. It is built to provide solutions to problems that renewable businesses face. You can grow together when you choose Pandell.
Pandell platform includes a rolled-up dashboard advanced analytics. That gives you an insight into your business operations to answer most of your critical questions. And the good news is that it will scale up with your growing needs.
Feature Summary:
Project Cost Tracking
Advanced Analytics and Reporting
Automates Payment Obligations
Project Management & Tracking
Esri Integrated GIS Maps
Central Web Repository for Land Leases, Contracts, & Related Data
Track and Automate Critical Admin Work
Easily Map Real-time Workflow Status on Multiple Projects
Create New Projects in Minutes
Built to Solve Key Renewable Business Challenges
Power Hub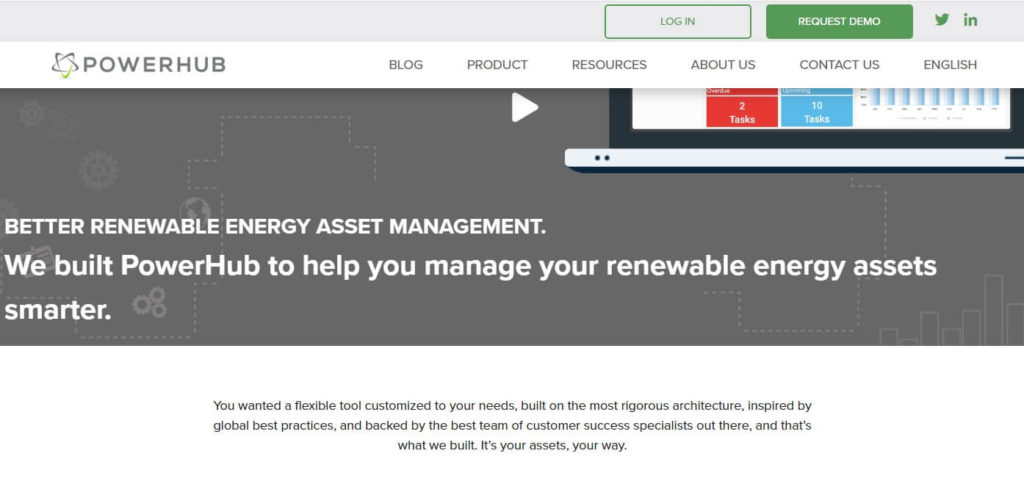 Power Hub is a tool designed to manage your renewable energy assets. It is the best choice if you are looking for flexible software that you can customize to meet your specific needs.
Power Hub is built on the most rigorous architecture inspired by global practices and supported by a team of customer specialists. It is to safeguard your energy assets and get the best out of your investment.
Power Hub is one tool for every business. You don't need any other software because Power Hub provides market information and data you need when and where you need it.
This renewable energy management tool makes tracking and reporting easier. It also enhances information accuracy. People will not doubt your data if they hear that you use Power Hub in your integrated energy systems.
Power Hub unlocks efficiencies and capabilities and gives you better insights for business growth. It centralizes and digitizes project information and connects all systems. This enhances information access and better analysis.
Feature Summary:
Fully customizable platform
Automated workflows and reports
Automated invoicing
Financial management
Communications and tracking
Contract and compliance management
Task and event management
Document management
Portfolio and SPV administration
Stakeholder engagement
Investor relations and tracking
Operational KPI tracking
Wattics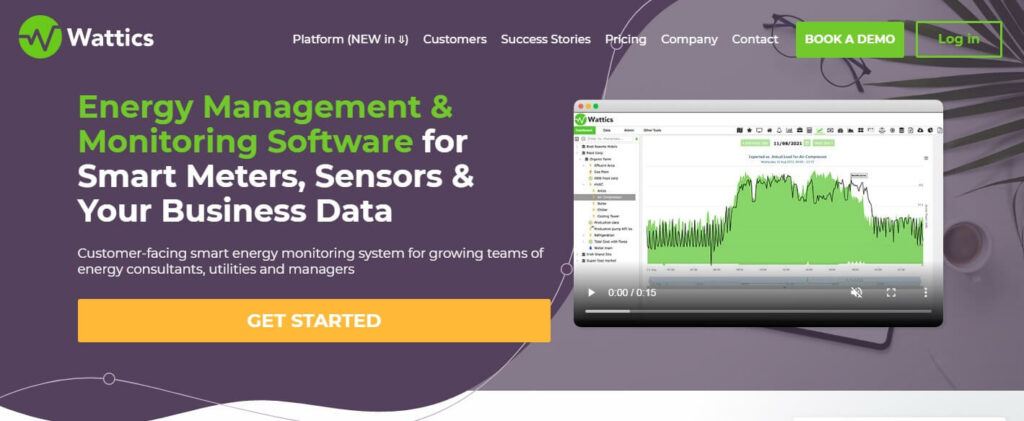 Wattics is an energy management tool that comes with many features and benefits. You can access a set of energy advanced analytics tools that saves you time. Also, the user interface is designed to help you keep your customers and grow recurring revenue.
Wattics platform uses machine learning technology to detect anomalies and report the same to the operator. You can also download data and analysis reports.
The energy analytic tools help you identify energy and cost-saving opportunities to improve your performance. Wattics is used by energy service companies, energy consultants, energy managers, energy suppliers, and utilities.
Apart from monitoring, Wattics helps you manage your renewable energy systems. You can track and report your energy consumption and cost savings. Furthermore, you access regression modeling and predictive analysis to grow your business.
Wattics has many features. But just know it offers you a web-based platform for doing virtually everything regarding your business.
Feature Summary:
Certification & CO2 Compliance
Automated Reports & Bills
White-labeled Dashboard
End-Consumer Management
Modularity & API
Machine-Learning Analytics
Multi-Purpose Data Visualization
Complete project management tool
QOS Energy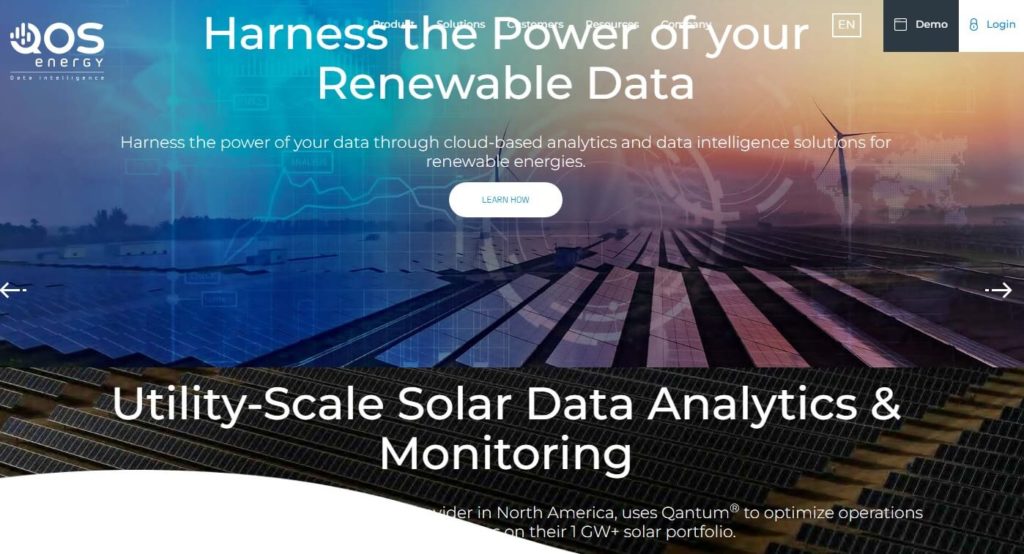 QOS Energy is an innovative independent software vendor specializing in cloud-based software solutions. It targets renewable asset owners and operators. QOS is a global company with a presence in over 23 countries.
QOS Energy offers in-house services in industrial IoT, cloud computing, data exchange, and analytics solutions. It uses an all-in-one centralized platform that collects, organizes, stores, and analyzes data to give valuable insights.
Qantum is designed to maximize renewable energy production and optimize asset management. It will also help you in the operation and maintenance process. You will seamlessly access the data you need for performance analytics.
Qantum has a customizable dashboard and machine-learning tools that you can integrate into your systems.
Feature Summary:
asset monitoring and management
all-in-one renewable data hub
seamless data retrieval from any renewable plant or storage facility
Support, training, and assistance services
Independence, agility & innovation
SENS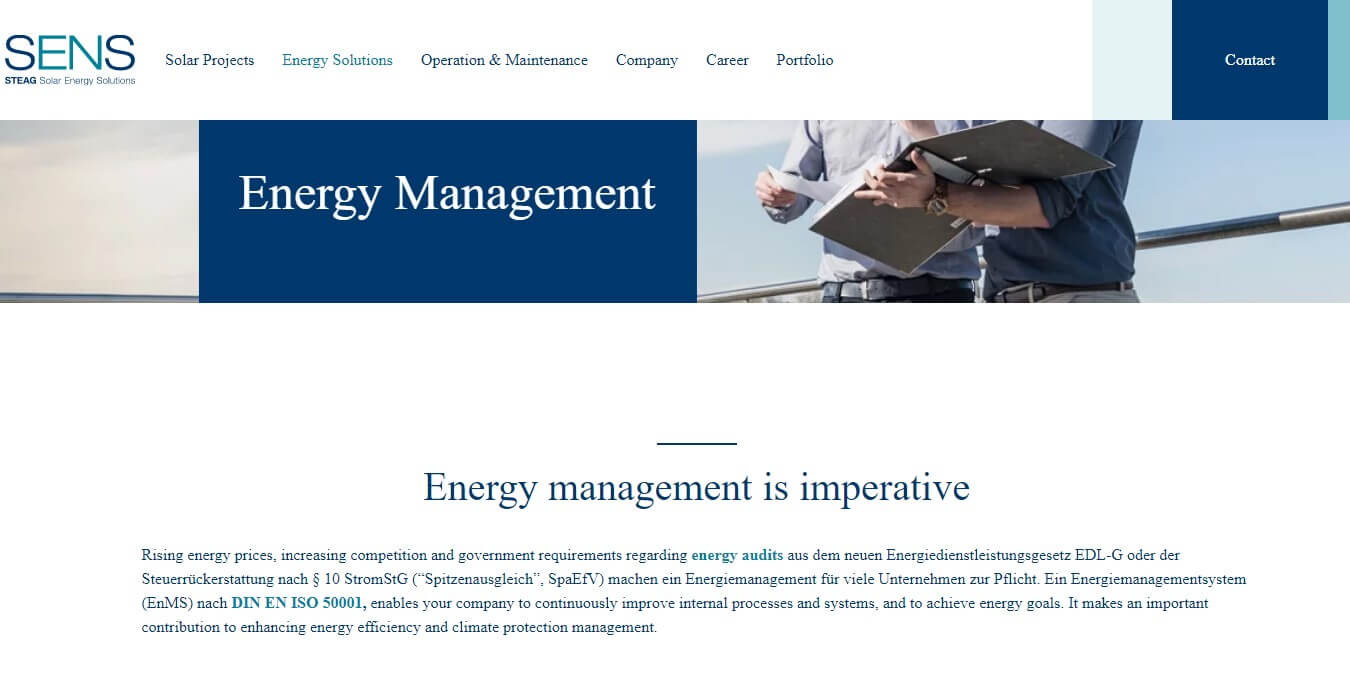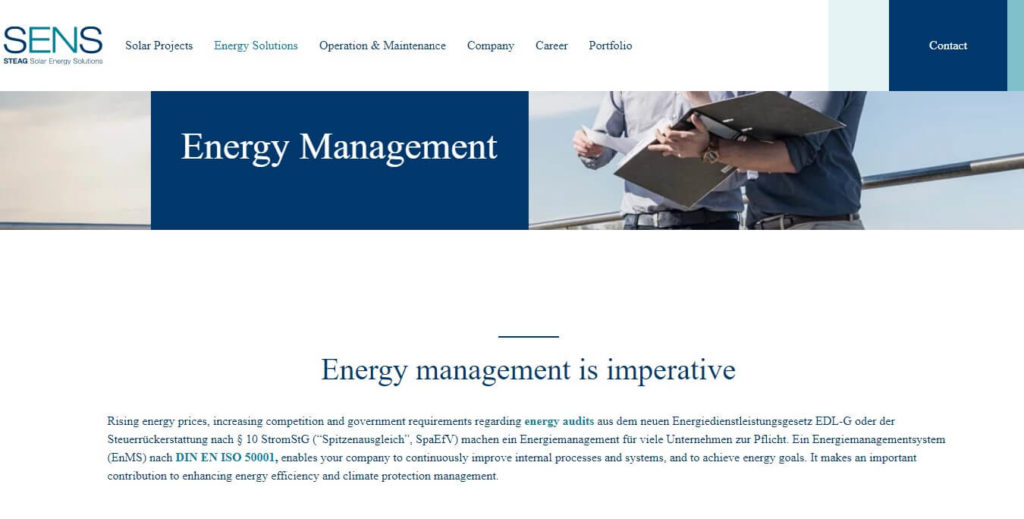 Digitize your energy management with SENS. This software helps you get an overview of your energy cost and reports. You can also integrate all internal processes.
SENS offers solar energy solutions that make your energy consumption measurable and evaluable\. It enhances data transparency. So, no one will doubt your energy report.
SENS also helps you reduce your energy consumption and associated cost. It continuously monitors, analyzes, and determines the actual cost per commodity. You will access all the details you want to set your strategies to reduce your carbon footprint.
SENS meets the requirements of ISO 50001 and gives detailed analysis functions. It provides live data streaming and flexible rights management.
Feature Summary:
Intuitive energy management software
Detailed analysis functions
Vendor independence
Reporting by mouse click
Extensive permissions management
Bank standard data security
Easy implementation and licensing
Individual customer service
Predictive Maintenance
WatchWire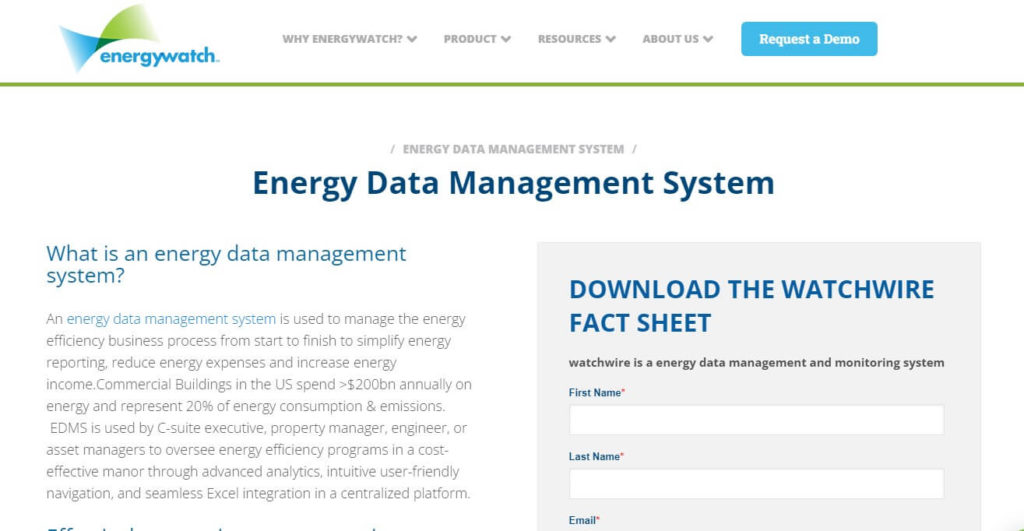 WatchWire is cloud-based sustainability and renewable energy software for the real estate industry. It is used for managing utility consumption, budgeting, sustainability, and more.
This software has a customizable dashboard to meet every need. Asset managers, sustainability managers, finance managers, and engineers can use it to track KPIs. They can then create a dashboard for the use case.
WatchWire provides utility budgeting modules for assessing budgets based on factors, such as forecasts, delivery tariffs, and proprietary consumption. That can help you when allocating capital because you will have requirements.
WatchWire also facilitates the integration with most energy efficiency programs for streamlining operations across the organization.
Feature Summary:
Energy Management Software
Integrated Workplace Management Systems
Customizable dashboards
Utility budgeting module
Willdoo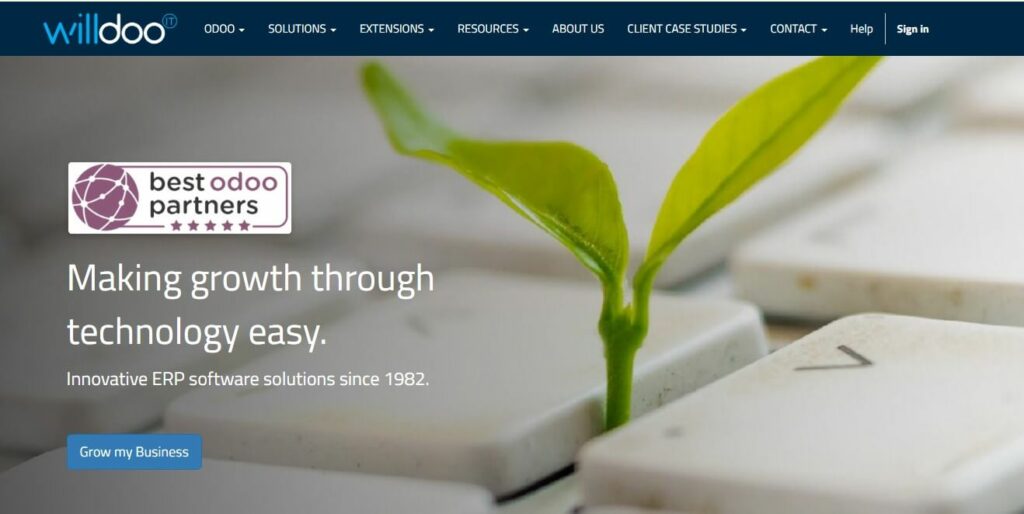 Wildoo is a business management solution designed for the renewable energy market. It can be used by both retail and supplier enterprises.
Willdoo integrates essential business features into one package that meets industry requirements. This platform helps in providing measurable benefits by reducing management overheads. It also helps to integrate your workflows from the initial contract through all operations.
Willdoo Renewables covers all areas of your operations, including sales, inventory, accounting, marketing, supply chain management, etc. It is all you need to manage your business. Say goodbye to multiple tools you have been using.
Willdoo Renewables is based on a modern cloud platform. It is easy to use, mobile-friendly, and remotely accessible. It also has all features for small startups and large corporate organizations.
Feature Summary:
Inventory with automated procurements online quote presentation
Manufacturing, BOMs & Kitting
Customer account and activity statements
Supplier batched payments and ABA file generation
Full email integration
Quoting & Full job profitability reports
Document management and eSignature
CRM and marketing
eCommerce customer support
Know any other energy credit software programs you're fond of? Let us know!
Kyle Kroeger, esteemed Purdue University alum and accomplished finance professional, brings a decade of invaluable experience from diverse finance roles in both small and large firms. An astute investor himself, Kyle adeptly navigates the spheres of corporate and client-side finance, always guiding with a principal investor's sharp acumen.
Hailing from a lineage of industrious Midwestern entrepreneurs and creatives, his business instincts are deeply ingrained. This background fuels his entrepreneurial spirit and underpins his commitment to responsible investment. As the Founder and Owner of The Impact Investor, Kyle fervently advocates for increased awareness of ethically invested funds, empowering individuals to make judicious investment decisions.
Striving to marry financial prudence with positive societal impact, Kyle imparts practical strategies for saving and investing, underlined by a robust ethos of conscientious capitalism. His ambition transcends personal gain, aiming instead to spark transformative global change through the power of responsible investment.
When not immersed in the world of finance, he's continually captivated by the cultural richness of new cities, relishing the opportunity to learn from diverse societies. This passion for travel is eloquently documented on his site, ViaTravelers.com, where you can delve into his unique experiences via his author profile.