Homeowners are always looking for ways to save energy and money. It's not easy to find an affordable way to do this, but there is a solution!
A loan can help you get on your feet in upgrading your home energy systems to build or refurbish a more energy-efficient home.
Consider getting in touch with energy companies that provide these loans-perhaps they'll have a program that can help you get started with energy-efficient improvement without costing too much.
Unlock Sustainable Investing Opportunities 🌿
Join the green revolution by investing sustainably with our top partners. Discover platforms that align with your values and offer remarkable opportunities for growth.
Best Energy Efficiency Loans for Homeowners
How do you go about getting an energy efficiency loan? The best way to start is by checking with your local utility provider or state government. Many times, these providers will have their own energy efficiency financing options for homeowners.
If you're not sure where to start, or you want to explore all of your options, you can also try contacting a few reputable lenders that offer energy efficiency loans.
1. Axos Bank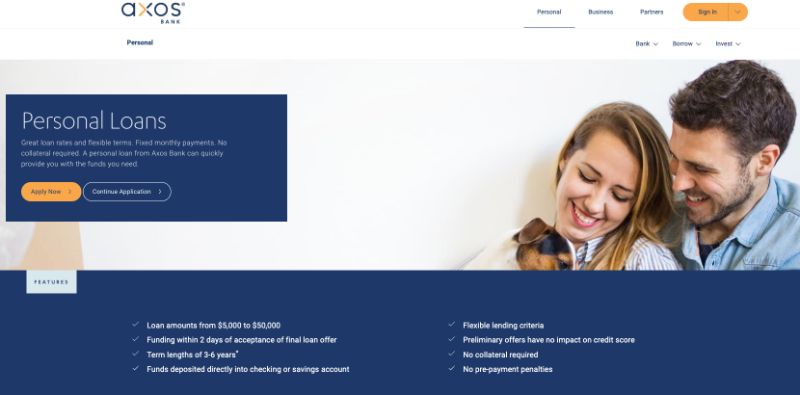 Axos Bank is a technology-driven bank that offers anytime access to your funds and full-service banking. With this digital bank, you can get personal loans in the next business day for home projects.
With a digital bank, you can get personal loans within 24 hours and have full-service banking anytime. At Axos Personal Loans they are all about helping our customers stay ahead of evolving needs with personalized services that are tailored just for them.
By using a digital bank as well, you'll be reducing your overall carbon footprint as they have limited brick-and-mortar space.
They also offer a full-fledged investing platform. Like what you are hearing? Read our Axos Invest review if you'd like to pair their personal loan offering with investing.
See Related: Upgrade Loan Review: Is It Legit to Use?
2. Figure Home Equity Line of Credit (HELOC)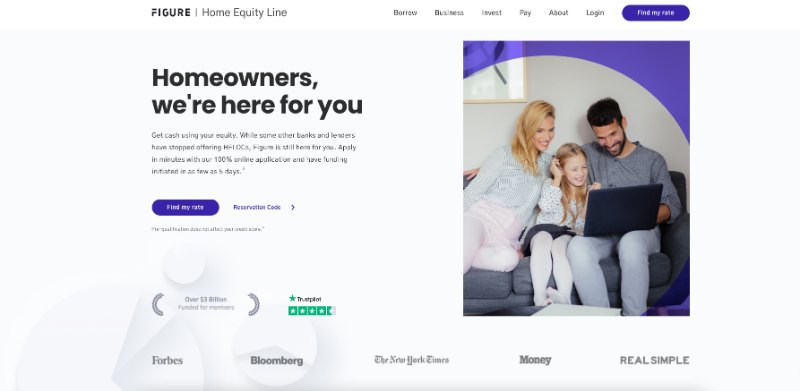 If you're a homeowner looking to finance an energy improvement project, Figure.com's home equity line of credit is a great option.
With low-interest rates and flexible repayment terms, it's a smart way to use the equity in your home to finance your project. Plus, the application process is quick and easy, and you can get started right away.
Here are some key features of why Figure makes a great home improvement loan:
Get a HELOC up to $400,000 without ever having to leave your house
Skip the paperwork and get funded in as few as 5 days
Tap into your home equity for cash when you need it most
Get your notarization done quickly, easily, and from the comfort of your own home with an average response time is less than 45 seconds
If you're considering taking out a home equity loan to finance your next energy upgrade project, Figure.com is the place to go. You'll get a fantastic interest rate, flexible repayment terms, and the option to begin work right away because of it.
See Related: Tesla Auto Loan Overview: How to Get the Best Terms From Tesla
3. HelpWithMyLoan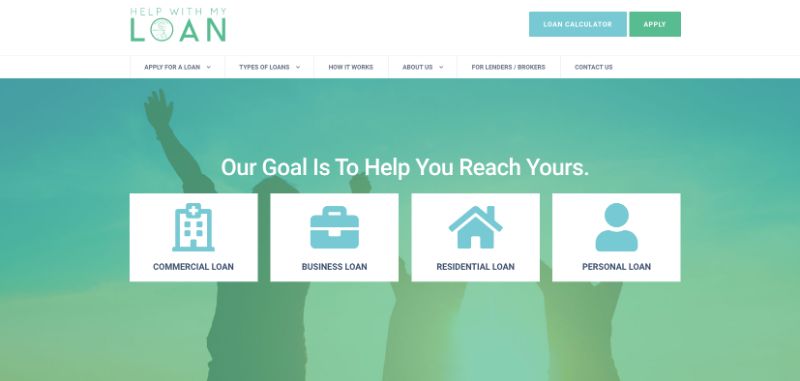 Helpwithmyloan is designed for people, brokers, company owners, and bank executives who need help in all aspects of lending.
If you're looking to finance energy efficiency improvements to your home, Helpwithmyloan is the perfect platform for you. Their team of experts can help you find the best lending options available, whether you're a business owner or an individual looking for assistance.
They can help you evaluate personal loan options, home equity lines of credit, mortgage refinance/purchase, or even alternative forms of financing.
Helpwithmyloan also has a wide range of resources available to help you get the most out of your loan, including tips on how to save money and reduce your energy consumption.
Spend less time searching for the best financial products
Connect with independent loan platforms for competitive rates
Get your loan processed in as little as 24 hours
No upfront fees and no hassle
See Related: Neobank vs Digital Bank: What's the Difference?
4. PersonalLoans.com
PersonalLoans.com is a great way for consumers to be connected with personal loans for a variety of reasons. Their easy-to-use online service can help you to get a loan of between $1,000 and $35,000, right from your home or office, or even on the go through your mobile device.
Personal loans are a popular form of borrowing because they may be used for a variety of purposes, such as house renovations or energy efficiency projects.
The application process is straightforward and convenient, and our network of lenders provides competitive rates and terms.
So if you're searching for a personal loan, PersonalLoans.com is a pretty good place to start.
See Related: Best Tesla Financing Rates
5. SuperMoney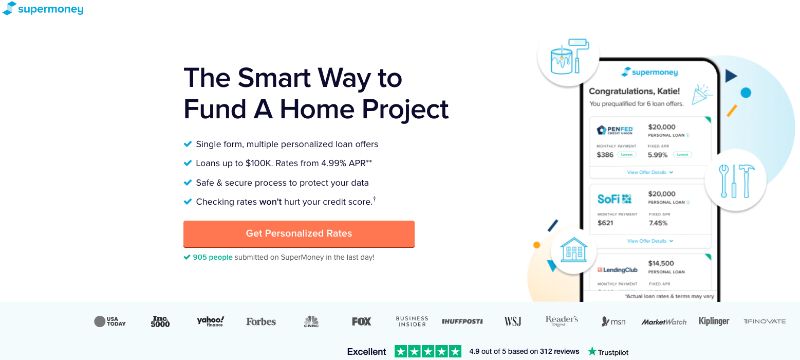 SuperMoney is a great resource for homeowners looking to finance energy efficiency projects. SuperMoney offers loans for a variety of different home improvement projects, including solar panel installation, energy-efficient windows, and more.
They also offer a variety of different repayment options, so you can choose the option that best fits your needs.
SuperMoney is a great way to finance your energy efficiency project because it offers competitive rates and flexible repayment options.
See Related: Best Business Loans for Solar Energy
6. Unlock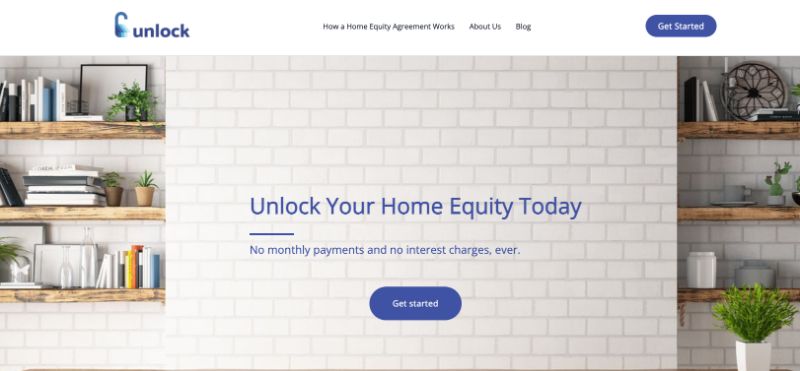 If you're looking for a way to finance your energy efficiency project, Unlock may be the right choice for you. Unlock offers homeowners a new loan alternative that lets them tap into their home equity without taking on additional debt. You can get $30,000-$500,000, depending on the home value and how much you owe on your home.
Unlocking equity in your home can be a great way to get the funds you need for energy efficiency upgrades and other home improvement projects. When you unlock equity, you are essentially taking out a loan against the future value of your home.
For example, you may be able to unlock 10% of your home equity in exchange for 16% of your home's value in the future. This can be a great way to get the funds you need for energy efficiency projects without having to take out a traditional loan.
Do your homework on this alternative form of financing in advance to ensure it's right for you. If it is, Unlock is one of the leading providers for unlocking your home equity.
7. LoanPioneer
LoanPioneer.com is a convenient platform to find a personal loan. Through their network of lenders, they help people borrow up to $5,000 for any reason. LoanPioneer can be especially helpful for those needing fast, hassle-free financial assistance for home improvement projects.
You can expect to obtain the best rates and terms on your loan from their team of experienced lenders. You may even receive your money the next business day.
LoanPioneer makes it easy and stress-free to get the cash you need to complete your home improvement project so you can enjoy your newly updated home. This is a better option for people with lower credit scores than the national average.
8. Admirals Bank Home Improvement and Renewable Energy Lending
The FSMA Title 1 home renovation loan was financed by Admiral Bank. Admiral Alternatives provides loans to houses and construction sites with new roofs or solar or thermal panels installed.
Installing, commissioning, and installing a solar energy system for a business or individual is free of charge. Admiral Bank also offers specialized loans targeted toward renewable sectors.
This loan may be suitable for homeowners who want to install a solar water heater, solar panels, and other energy-efficient improvements.
9. American HomeMpowerment – New Jersey, Delaware
New Jersey and Delaware residents can call the local utility company or visit a government agency in their area to find out about energy efficiency loans.
In addition, there are several tools available online that may be helpful in finding financing options in your area. The best place to start is with the New Jersey Board of Public Utilities.
10. Energy Efficient Mortgage Loans for Homeowners
If you're interested in energy efficiency loans, but also want to explore other financing options, you might consider an Energy Efficient Mortgage (EEM). This type of loan may help you lower your monthly payments if you make energy-saving improvements to your home.
See how much money you can get for these types of projects with BrightenLoans. You just answer a few questions and they will provide an instant quote of loan terms and amounts.
An EEM is a mortgage that allows you to borrow more money than the purchase price of the home in order to pay for energy-saving improvements.
These loans are available through most major lenders and can be used for a variety of purposes, including purchasing a new or existing home, refinancing an existing mortgage, or making energy-saving improvements to your current home.
To be eligible for an EEM, you must meet certain requirements, including:
The home must be your primary residence
The property must be located in the United States
You must be a U.S. citizen or permanent resident
Your total housing expenses (including property taxes and mortgage payments) must not exceed 45% of your gross income (45 percent is the maximum allowed by law a larger percentage might be possible with lender approval)
You must apply for an Energy Smart Home Improvement Loan or a Federal Energy Grant.
See Related: How to Build Socially Responsible IRA
What is an energy efficiency loan?
An energy efficiency loan is a way for homeowners to save energy and money. When you have an energy efficiency loan as a homeowner, it's easier to afford the solutions that will help you lower your monthly energy bill, which can be quite expensive when not monitored properly.
Consider getting in touch with energy companies that provide these loans-perhaps they'll have a program that can help you get started with energy efficiency without costing too much.
What Makes Energy Efficiency Loans For Homeowners Unique?
Homeowners always looking for ways to save on their monthly bills and this means finding ways to conserve their energy usage. It's not easy to find an affordable way to do this, but we're here to help!
Energy efficiency loans are one of the best options homeowners have when it comes to lowering their utility bills. These loans make it easier for homeowners to afford the solutions that will help them save on their monthly energy usage.
We recommend getting in touch with energy companies that provide these loans-perhaps they'll have a program that can help you get started with energy efficiency without costing too much.
See Related: Most Unethical Banks You Need to Avoid
How do energy efficiency loans work?
The loan cycles vary, but typically these loans are taken out over at least 10 years. However, there are also installment plans that can (and often do) last for 30-year cycles or periods that go well into retirement.
The rate for energy-efficiency loans is usually either low enough to put this type of power bill coverage on par with other types of home mortgage expenses or sometimes lower than what one would pay in energy-efficient mortgage rates.
And while it (typically) won't cover all costs related to your home energy costs, many people who take out an equity line against their homes will find themselves able to cover other unaffordable monthly expenditures like child care costs and medical bills during any period when they're not employed due to illness.
See Related: Best Credit Builder Loans
Types of Loans for Energy Efficiency or Renewable Energy Projects
Personal loans
Personal loans for energy efficiency projects can be a great way to finance your project. This type of loan usually has lower interest rates and more flexible repayment terms.
However, the approval process can be strict and you may not be able to get the full amount you need. So it is important to shop around for the best personal loan that meets your needs.
Personal loans have several advantages and disadvantages. On the plus side, they are easy to get from personal loans since lenders are looking to place these loans quickly and they are usually for lower dollar amounts. If you need to make urgent repairs, a personal loan is typically your best bet.
These types of loans are taken out for a variety of reasons, including weddings and medical expenses.
Home equity loans
Some of the most well-known ways to finance energy-efficient installations such as solar panels involve an equity loan. Standard home equity lines of credit can provide good value when a person lives at home and has strong credit ratings. On the downside, houses themselves must be a security against a potential loan.
Solar loans
Solar loans are another great way to finance solar energy improvements. These loans are designed specifically for solar energy projects, and they offer a number of benefits, including:
Low-interest rates
Flexible terms
Affordable monthly payments
If you're interested in financing a solar energy project, a solar loan is a great option. Contact your local utility provider or lender to learn more about solar loans and how they can help you save money on your energy bills.
PACE Loans
Property-assessed clean energy (PACE) loans are a great way for homeowners to finance energy-saving improvements to their homes.
A PACE loan is a type of fast-track loan that may be taken out through any major lender. It can be used to cover the cost of making energy-efficient upgrades to your current residence.
PACE means that the loan is senior to the borrower's mortgage and can even occur for home improvements for energy-efficient upgrades like wall insulation, heat pump water heaters, and heating and cooling systems.
The loan is a long-term loan and given that the loan sits senior to your home mortgage, PACE loans have attractive interest rates.
Why should homeowners consider getting one of these loans?
Homeowners who have been looking for a way to lower their electric bills or looking for energy improvements may find that financing is the best option.
If homeowners cannot afford an entire home rooftop solar system, one of these loans provides a great intermediate step for those wanting to save money and energy by making their homes more efficient.
Some of the most popular reasons why people look into getting an energy efficiency loan include being able to upgrade their roof with high-quality, eco-friendly materials as well as reducing home cooling costs by getting window replacements.
In fact, many people say that they've been able to save up to 50% on programmable thermostats alone after doing some research. Saving money is always important when it comes to life's essentials – from mortgage payments and groceries to energy costs.
Benefits from Financing Energy Improvements
Here are some other benefits that you can expect from one of these loans:
You'll be able to get more money than if you were paying for the same improvements with cash.
The loan's repayments will probably be less than your monthly energy bill savings, so you'll save even more money in the long term.
Energy efficiency financing or even an energy-efficient mortgage can be used to finance a variety of improvements, meaning that you can make your home more sustainable and comfortable while saving on your energy bills.
See Related: Reasons Why ESG Investing is Important
What energy efficiency improvements can be financed?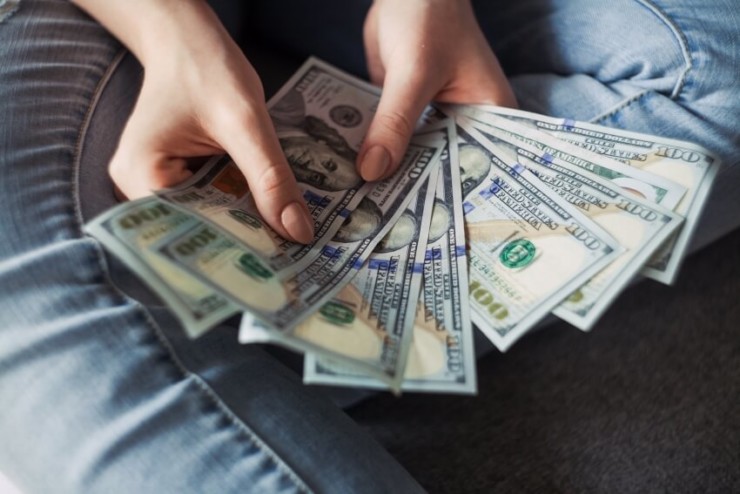 Energy-efficient, or "green," improvements can start with a new solar panel system and continue right up to a Home Energy Audit that identifies the best ways to achieve those goals based on your specific needs.
These efficient systems save you from increased utility costs down the line as well as decreased monthly bills. The result is improved, comfortable energy savings for you and your family – plus lower lifetime utility expenses.
Pool products
Pool systems are very inefficient. Using efficient pools, such as water-saving filters and a solar panel system for swimming pools, it is possible to reduce water usage.
Most lenders promote eligible construction projects that use efficiency pool pumps and motor pumps. Variability in pool covers according to the federal government-owned.
Lighting
LED lighting is one of the most popular and efficient types of home energy improvements. LED lights to use around 90% less energy than traditional incandescent light bulbs, and can last up to 25 times longer! Not only do they save you money on your electric bills, but they also help reduce your carbon footprint.
There are a variety of LED lighting products available on the market, so it's important to do your research to find the best ones for your home.
Look for LED light bulbs that are dimmable and compatible with your existing light fixtures, as well as LED strips and lamps that can be used in place of traditional light fixtures.
Appliances
Did you know that one of the best ways to save energy and money in your home is by upgrading your appliances?
These appliances are more efficient than traditional models and can save you a lot of money over time on your energy bills.
There are a variety of different EnergyStar appliances available on the market, so it's important to do your research to find the best ones for your home.
Look for appliances that are Energy Star certified- this means that they meet strict efficiency requirements set by the government.
Some of the most popular energy star appliances include refrigerators, laundry dryers, convection ovens, dishwashers, and freezers.
Heating & cooling
Efficiency in the heating and cooling of your home is one of the best ways to cut your energy bills, so it's important to take steps to make them more efficient.
The best way to start is by upgrading your furnace or boiler with an Energy Star-certified model. If you already have one, look into getting an Air Conditioning system that uses the least amount of energy possible.
This will help keep your home at a comfortable temperature while cutting down on the amount of energy that you need to use. Also, think about getting insulation for all your ductwork to insulate your home. Adding radiant barrier sleeves can also help trap heat inside your ducts and save energy without sacrificing comfort.
Water heaters
Water heating is one of the biggest drains on home energy. Many people do not know that water heating can be recycled to use in other parts of your house. The use of a high-efficiency water heater will save you money over time by using less energy.
It's important to take care when upgrading or building a new water heater. Hire an expert to help you design the best type for your needs and location. There are many types of water heaters, so it's important to do your research to find the best one for you.
One of the most common energy upgrades is solar hot water heaters, which use solar thermal technology to keep your water hot.
Insulation
Insulation is a way to make your home more energy-efficient. It can help save money on your utility bills. There are different types of insulation, so you need to research which one will work best for your house.
Look for insulation that is specifically designed for the climate in which you live- this will help ensure that your home is properly insulated and that you're not losing energy through the walls or roof. Adding insulation to your home can be a big job, but it's well worth the effort in the long run.
Cool roofs
Cool roofs are a type of roofing material that is designed to reflect sunlight and disperse heat. A cool roof achieves these results by using a coating that reflects the sun's rays.
When applied, the coating repels water and dirt, minimizing solar heat absorption. In addition, a cool roof protects from some of the damaging effects of UV rays as well as from some extreme impacts from hail storms.
In addition to all those wonderful features, a cool roof has been shown to cut energy consumption on air-conditioning costs by up to 30%. This would be even more significant in hotter climates where air conditioning is used more frequently.
Cool roofs also make a home cooler on days when there is no need for air conditioning – it can save energy in both the winter and the summer. Cool roofs are eligible for a $1 per square foot rebate offered through Go Green Energy Solutions.
See Related: Most Green Cryptocurrencies to Invest In
Final Thoughts
Energy-efficient homes are no longer a thing of the future or just a pipe dream. Most of these energy efficiency upgrades are becoming part of new building codes like rooftop solar panels on new homes built in California.
Now that you've read through all of the energy-efficiency tips we discussed, it should be easier to see how these various strategies can help you lower your monthly energy bills and save money. You may still think this is too much work- but do remember that every little bit helps.
It's important to take proactive steps toward becoming more efficient so you don't risk running out of power in the future.
This article has given plenty of ideas for making upgrades or taking on an energy efficiency loan program. If any of this sounds like something up your alley, please reach out and let us know.
Join our newsletter to get all the latest tips and tricks on sustainability directly to your email inbox.
Related Resources