Many corporate and startup companies have adopted energy management strategies. One of the most effective ways to manage energy consumption and cost is investing in good energy management software.
Today, most companies use these systems to achieve environmental sustainability goals.
Many benefits come with energy management systems. Energy management can be a challenge. Tracking energy usage, system efficiency, and other related aspects requires time and expertise. Fortunately, there is software that makes the entire process simple and cost-effective.
Read on as we look at the features of some of the most reliable energy management systems in this article.
What are Energy Management Software Programs?
An energy management software is a program with tools to reduce energy costs and consumption. It can be used during the design phase or routine running of your business to monitor energy data from devices.
An energy management software can be cloud-based or computer-based. It is an integral part of your energy management system that aims at enhancing energy efficiency.
Why Does Energy Management Matter?
As energy costs rise, energy management becomes a necessity rather than an option these days. And why is that the case, you ponder?
Consider the following reasons:
Establish a more streamlined workflow
Give you better insight into your energy data
Save time spent on manual work
Easy hand-over to stakeholders
Secures your data in one place
List of The Best Energy Management Software to Consider
Many energy management software programs for building energy management systems exist. You might be overwhelmed by the sheer number of them out there, but we have done the bulk of that searching for you.
If you are looking for the best energy manager, consider the following options:
Wattics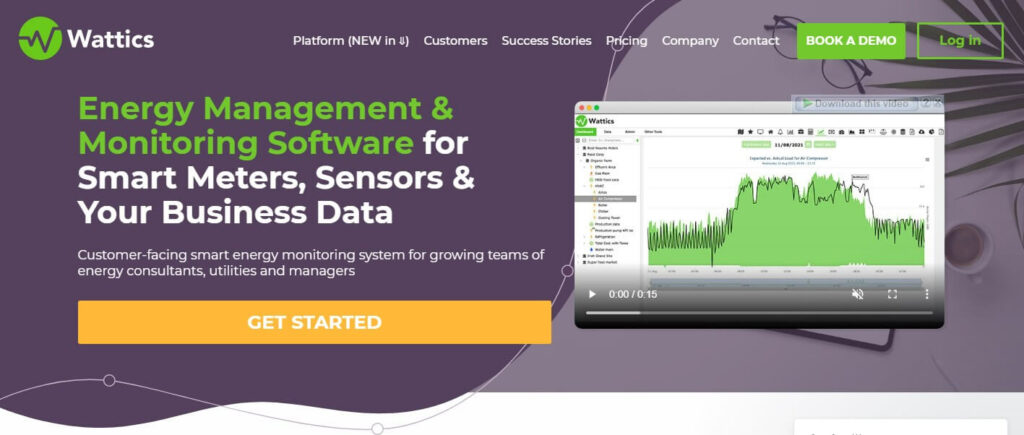 Wattics is a web-based energy management software for energy managers and everyday consumers. It connects with your smart meters, sensors, and energy data to offer the needed analytics.
Wattics gives you an automated energy management solution to make your business energy efficient. It helps improve performance by looking at your daily energy usage across different areas. Whether you use it for lighting, heating, pumping, or other operations, Wattics is the management software to capture all that data.
Wattics monitors the reading on your energy meters to report the times when demand is high. It also identifies potential hours when energy is wasted. That helps in energy cost savings.
Wattics is a customer-facing smart energy monitoring system for businesses of all sizes. Teams of energy consultants and managers can harness the full potential of this software.
Feature Summary:
Machine-Learning Analytics
Multi-Purpose Data Visualization
Measure & Verify
Operation wastage and power quality analysis
Alarms and Events
Certification & CO2 Compliance
Automated Reports & Billing data
Formula composer
White-Labeled Dashboard
Modularity & API
Eniscope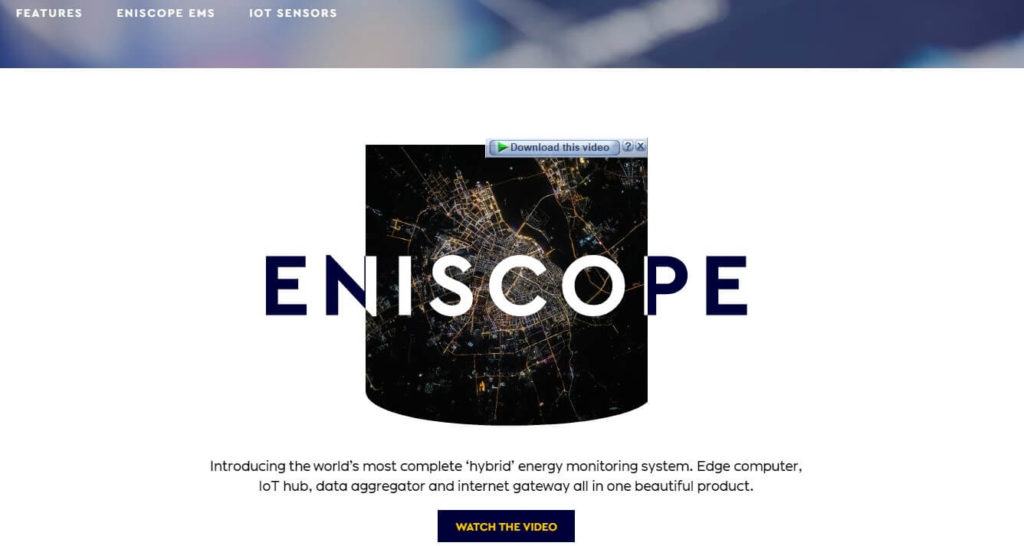 Eniscope is the new technology that makes your invisible energy cost visible. Consider upgrading your management system with Eniscope hardware and software.
Eniscope provides users with the most efficient way of tracking energy usage in buildings and facilities. With the management software solution offered, you can access data across different facilities and enhance cost savings.
Eniscope offers a unique energy management solution to energy managers and businesses. It gives clients easy to install energy monitoring hardware and interactive software for building sustainable systems.
Eniscope leverages the full power of technology to enhance the energy efficiency of every structure. It relies on an Edge computer, IoT hub, data aggregator, and internet gateway to link all the products to a centralized platform.
The energy management solution offered by Eniscope goes beyond just monitoring your energy consumption. It is also an air suite package for monitoring temperature, humidity, occupancy, light, Co2, and air quality.
Also, Ebiscope integrates easily with Building Management Systems or Computer-Aided Facilities Management solutions.
Feature Summary:
Real-Time Energy Data
Beautiful Analytics
Cloud Platform
Building Level Monitoring
Asset Level Monitoring
Environmental Sensing
Alarms & Notifications
Remote Control Capabilities
API Integrations
Brightly Energy Manager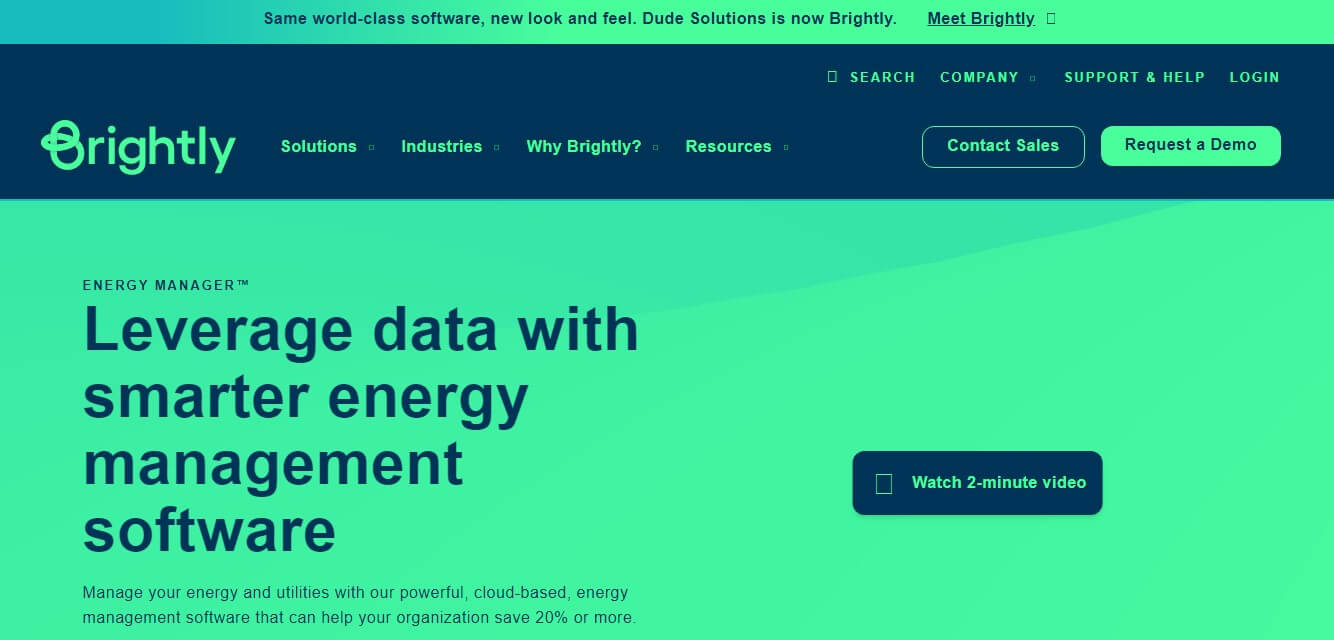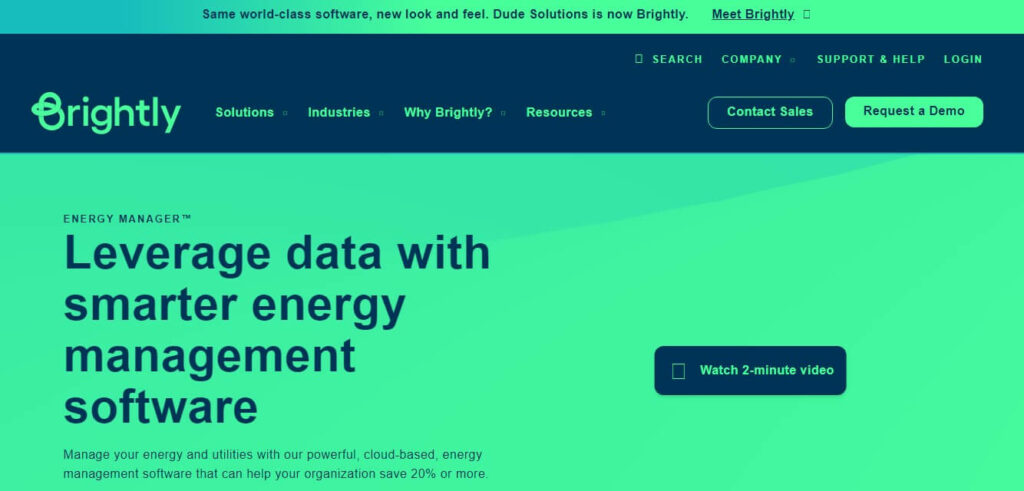 Brightly Energy Manager is a cloud-based utility bill and energy management software. It has easy-to-use tools that empower building operators. They can quickly identify utility waste, prioritize, action, and make sound decisions.
Brightly Energy Manager has a centralized platform that helps in cost tracking and the identification of cost-saving opportunities. You will have one place to pinpoint your possible billing errors, low-performing buildings, and positive behavior adjustments'.
Brightly Energy Manager is for organizations of businesses of all sizes. It has tools that even an inexperienced energy manager can use. And if you are an advanced user, it also provides you with comprehensive analytics on energy use.
Brightly Energy Manager also goes beyond the typical energy management software programs. You can use it to make data-driven decisions. It relays real-time utility data, measures, and verifies different projects. Additionally, you get intuitive reports and charts to prove ROI.
Brightly Energy Manager is an online tool designed for building operators in all industries. The aim is to reduce your energy consumption and improve energy efficiency.
Feature Summary:
Centralized Energy Dashboard
Utility Data Import & Export
Utility Tracking & Monitoring
Robust Reporting
Energy-Saving Actions
Optional Add-On Services
Prove and communicate success to stakeholders
Act quickly with real-time data
Track energy-saving initiatives
Identify energy waste and improve sustainability
See Related: Best Artificial Intelligence Stocks to Buy Now
EnergyCAP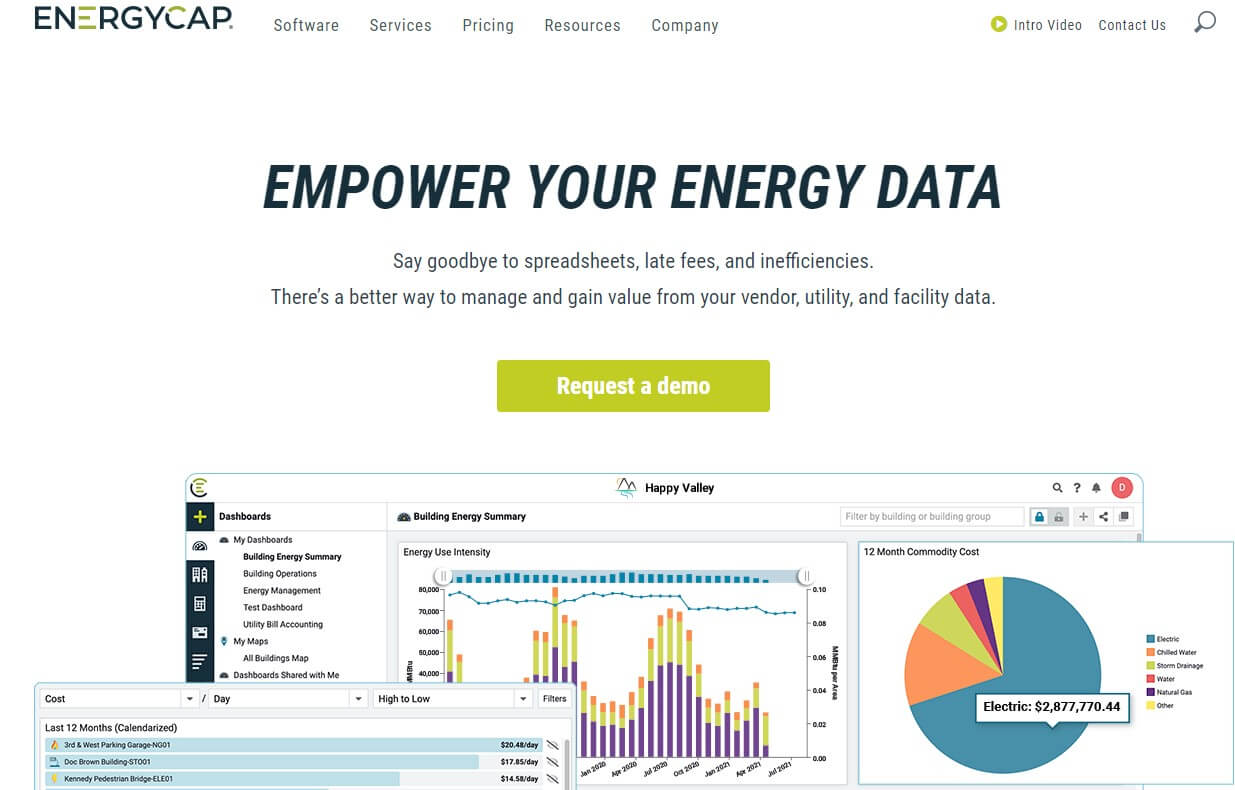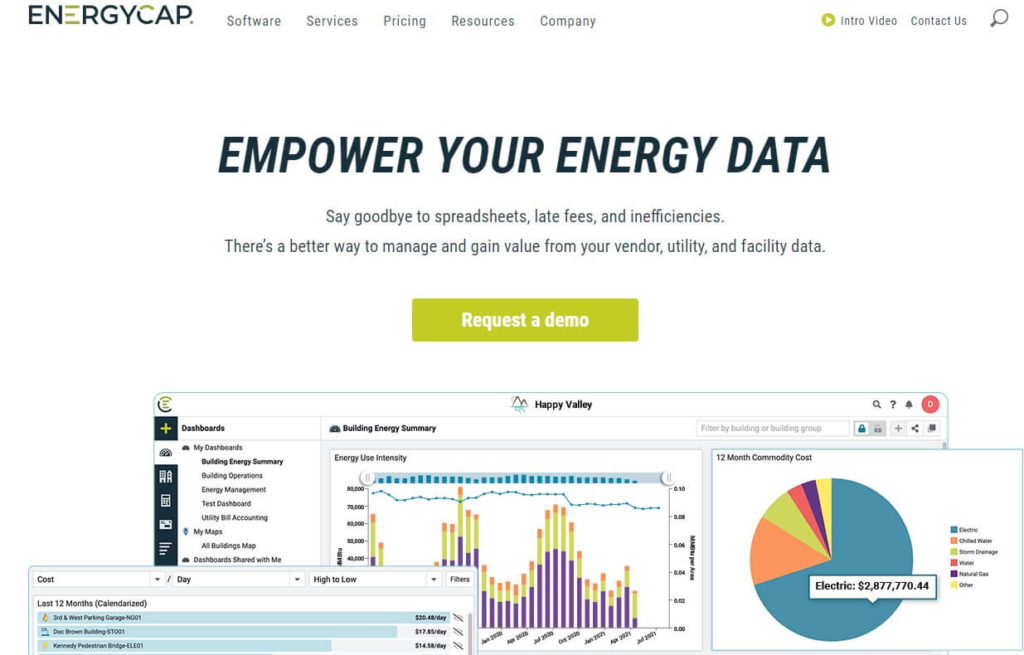 EnergyCAP is a cloud-based utility bill and energy management platform. It is designed to help organizations of all sizes optimize energy usage.
With EnergyCAP, sustainability and energy managers can pinpoint any energy waste within the facility. It also provides access to energy star rating and evaluation of impacts of energy conservation projects.
EnergyCAP provides you with a live dashboard for sharing and tracking energy data. You can easily see any cost-saving opportunities for a more energy-efficient utility bill management system.
Many organizations are already using EnergyCAP to reduce energy costs. It is the go-to management software if you want to optimize energy usage.
EnergyCAP can form an integral part of all automation systems for utility bill tracking. It offers unique energy management solutions to different organizations. If you are an energy manager, you will forget about spreadsheets, late fees, and inefficiencies in using such tools.
Choose EnergyCAP to not only track your energy use but also to enhance cost savings. It offers you a better way to manage and gain value from your vendor, utility, and facility data. You will easily access automated bill entry, budgeting, and auditing tools in one place.
Energy and sustainability management is a complex process. EnergyCAP makes it easy. Choose this to save money, time, and stay stress-free.
Feature Summary:
Facility Benchmarking
Account and Meter Tracking
Utility Bill Auditing
UTILITY BILL AUDITING
Weather Data
ENERGY STAR Benchmarking
Accounting Export
Utility Data Reporting
Interval Data
Campus Chargebacks
Project Tracking
Greenhouse Gas Tracking
Cost Avoidance
Entronix EMP Software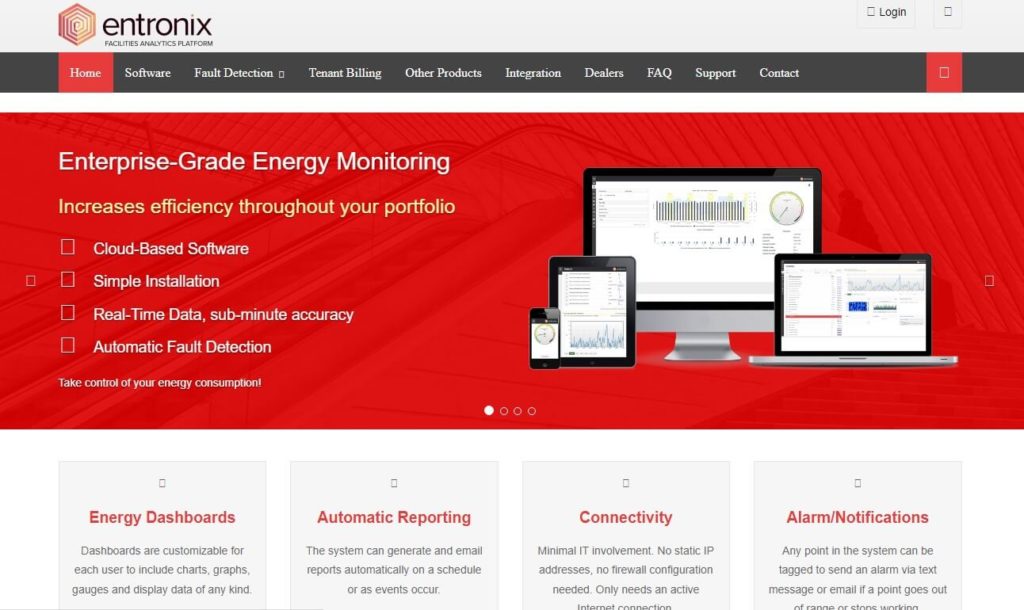 Entronix EMP Software is an energy management software for energy consumption monitoring, demand prediction, and fault detection. You can additionally use this cloud-based software to manage multiple facilities.
It is the best choice for apartments, arenas, condos, industrial sites, etc.
You can do many things with Entronix EMP Software. Monitoring sensors and energy data, controlling electrical devices, planning budgets, and comparing energy usage are examples of what you can do with this software.
Entronix EMP Software also has a built-in real-time notification system that sends alert messages to the building operator or energy manager. You will get alerts when approaching peak hours, there is power loss or errors in the energy systems.
Entronix EMP Software has many features and key performance indicators to help you reduce energy costs. By choosing it, you will have access to an energy dashboard, automatic reporting, connectivity, etc.
Entronix EMP Software is your energy management solution that scales up with your business. It is also highly customizable. You can personalize the features and set access rights for different users.
Feature Summary:
Customization energy Dashboards
Automatic Reporting
Automatic Alarm/Notifications
Customizable access levels
Third-party software integration
Automatically generates/prints/email invoices
Supports multiple meter manufacturers
eSight Energy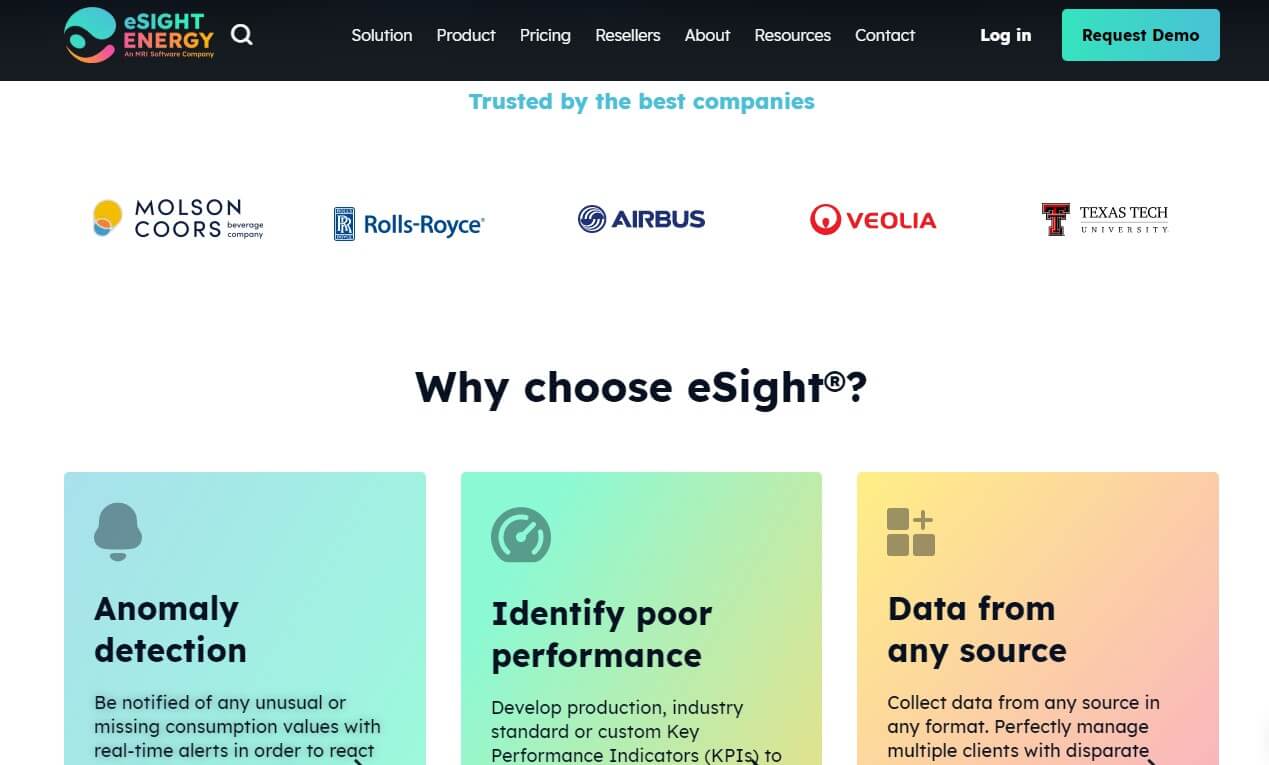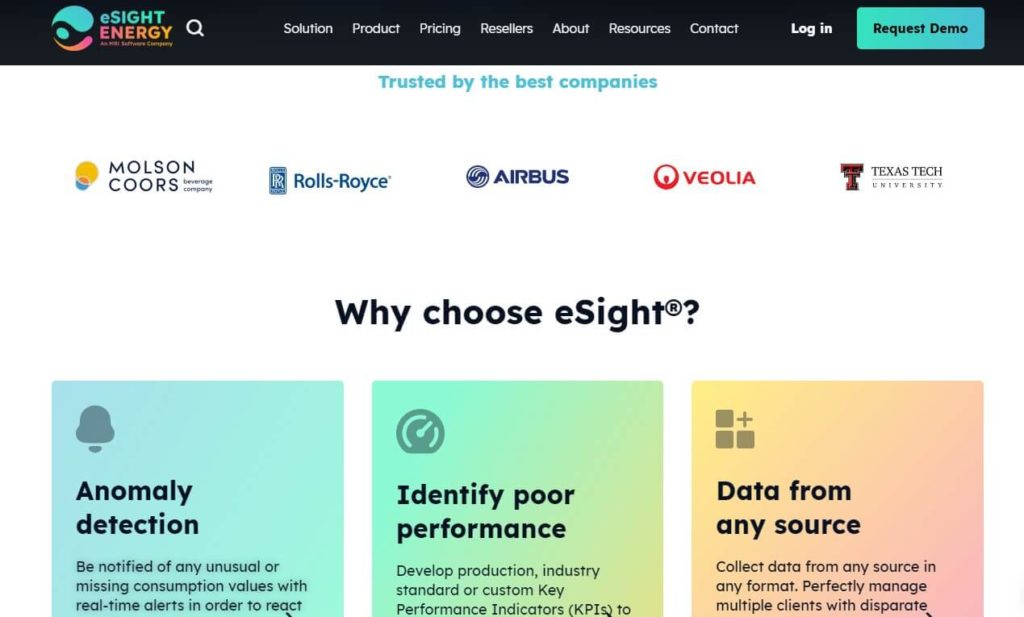 eSight Energy is a specialized energy management software with sophisticated energy monitoring and targeting packages. It offers resources and energy intelligence to organizations for their energy management systems.
eSight Energy provides comprehensive and intuitive techniques for managing every aspect of energy use. It aids in pinpointing cost savings opportunities and the making of data-driven decisions.
Whether you rely on renewable energy or any other source, eSight Energy will enhance your energy performance. It can be used in all energy systems for energy monitoring. Building operators, estate, and utility managers can rely on this management software.
Like most energy management software on this list, eSight Energy has an automated notification feature. You will get real-time alerts of any detected anomaly in the energy management system.
eSight Energy allows you to use standard or customized key performance indicators to compare energy consumption. You will have control of the performance at all times.
eSight Energy allows you to collect energy data from any source in any document format. You can also create reports and charts for better data visualization. That aids in better energy monitoring and avoiding energy waste. You can also identify underperforming equipment and address any inefficiencies on time.
Feature Summary:
Benchmarking
Bill Audit
Bill Database
Bill Importing
Budgeting/Forecasting
Compliance Management
Contract/License Management
Cost / Use Reporting
Emissions Monitoring
Energy Price Analysis
Facility Scheduling
Greenhouse Gas Tracking
Load Management
Meter Tracking
Weather Normalization
DEXMA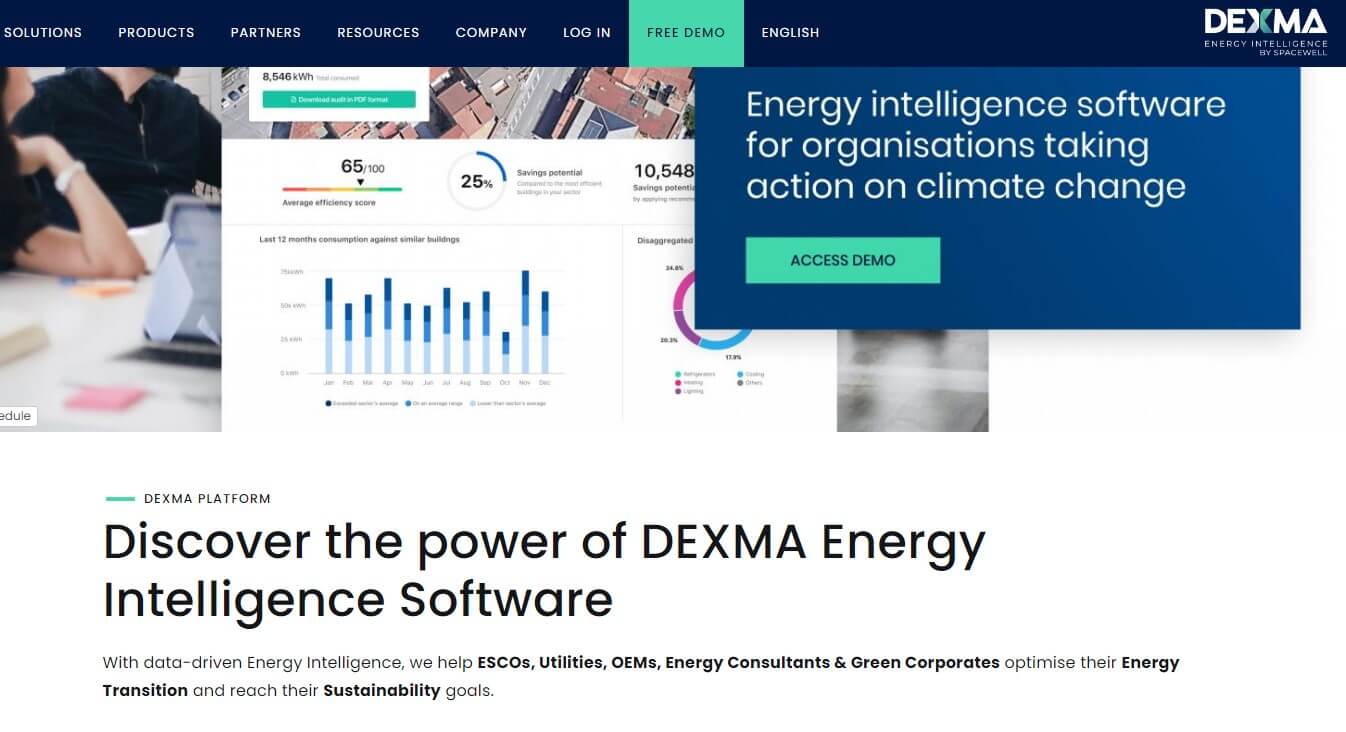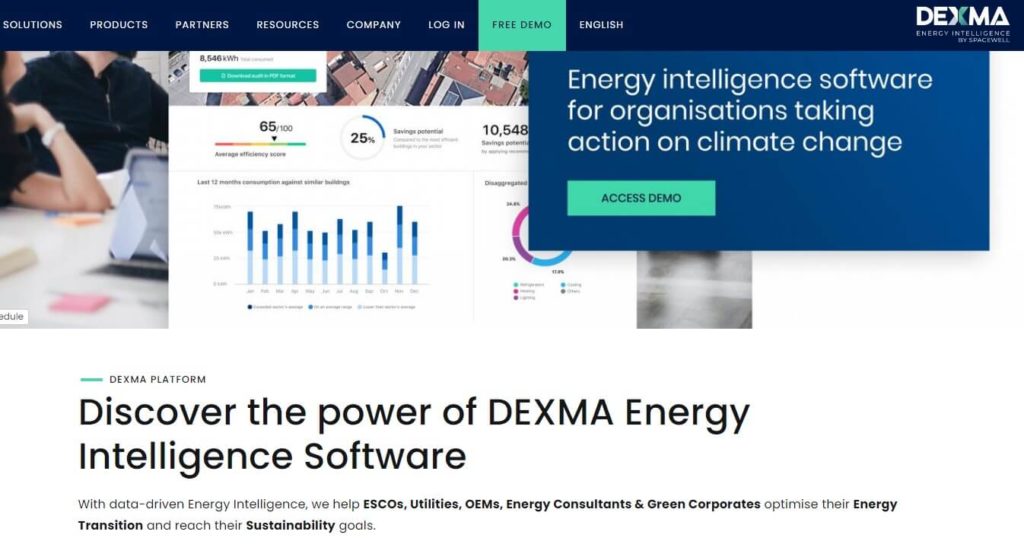 DEXMA is energy management, intelligence, and analytics software, based online. It helps utility providers of different sizes deliver accurate and on-time data to clients.
DEXMA enables users to constantly monitor utility consumption trends, provide data-driven insights, and track key performance indicators. Its main features include billing data analysis, budgeting, and reporting. All these are automated to save you time and reduce costs.
DEXMA also has consumption alerts and emissions monitoring tools. You can use it to monitor your carbon footprint and receive real-time notifications for any set parameter. These will help you take timely actions to reduce energy waste and energy bills.
Users can manage contracts, run cost reports, and handle cost allocations. Besides, DEXMA can integrate with any energy control system for more efficient operations.
DEXMA allows you to analyze data in seconds and use utility data from any source. And for every data analyzed, DEXMA identifies energy savings opportunities to save time and reduce costs.
Feature Summary:
Benchmarking & energy audits
Real-Time Monitoring
On-Demand System Control
Cost Allocation
From Global to Local
Verified Savings
Easy Reporting
Events2HVAC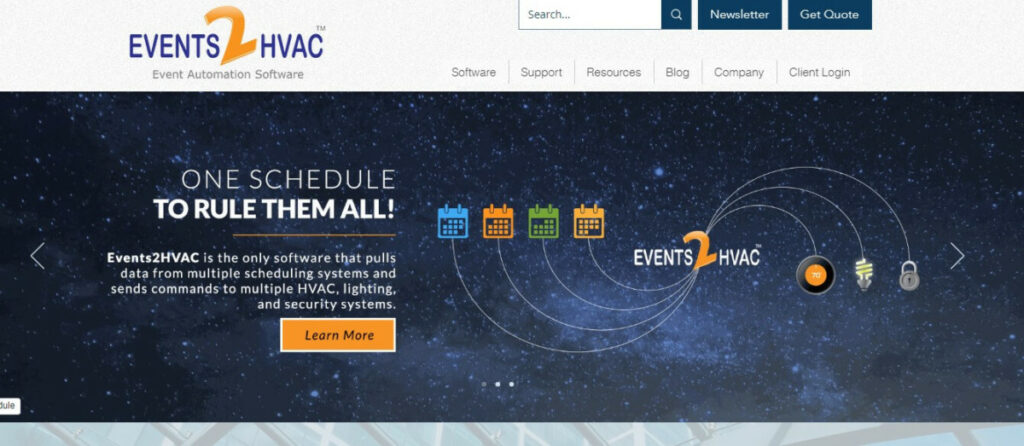 Events2HVAC automates HVAC scheduling by incorporating room schedules into HVAC system controls. This tool can reduce your energy consumption by 50% if correctly deployed.
If you are an event master or in charge of a boardroom or concert hall, Events2HVAC can be your all-time friend. It features many functionalities for energy management.
Events2HVAC trades carefully between room conditions and cost savings. Events2HVAC ensures that the room is conditioned just before the meeting or event using the pre-start feature.
Events2HVAC is reliable, flexible, and compatible with many energy management systems. Once integrated, it works like an autopilot to control room conditions.
Where is Events2HVAC best for? Events2HVAC is more effective in schools, churches, convention centers, government buildings, and conference rooms.
Feature Summary:
Commercial Properties
Facility Scheduling
Occupancy Management
Room Booking
Scheduling
Space Management
Fabriq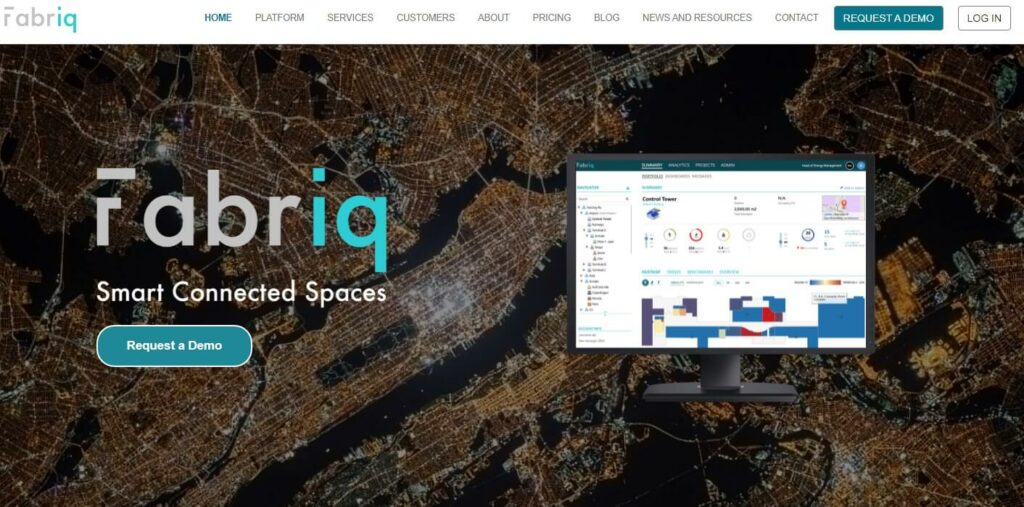 Fabriq helps users manage energy and building performance across all assets. You can track any set performance indicators for any building type to reduce costs and carbon emissions and improve health.
Fabriq is an energy management solution for commercial real estate investors and owners, energy managers, and technology service providers. It is one of the software solutions you can choose for facilities management.
Be in charge of your utility consumption with Fabriq. The platform connects all your data sources and makes equipment management easy. You will quickly integrate all your building's energy management systems into one place for tracking.
Fabriq also leads in reporting your energy and sustainability data to the regulators. You can run reports on the platform and export them as PDF/DOC or submit data directly to agencies. The same results can also be shared with all stakeholders, including landlords and tenants.
Lastly, Fabriq allows users to benchmark buildings to identify any opportunity to reduce costs and manage projects.
Feature Summary:
Audit Management
Compliance Management
Corrective and Preventive Actions (CAPA)
Sustainability Reporting
Document Management
Emissions Monitoring and Inventory
Energy Management
KPI Monitoring
Meter Tracking
EnergyWatch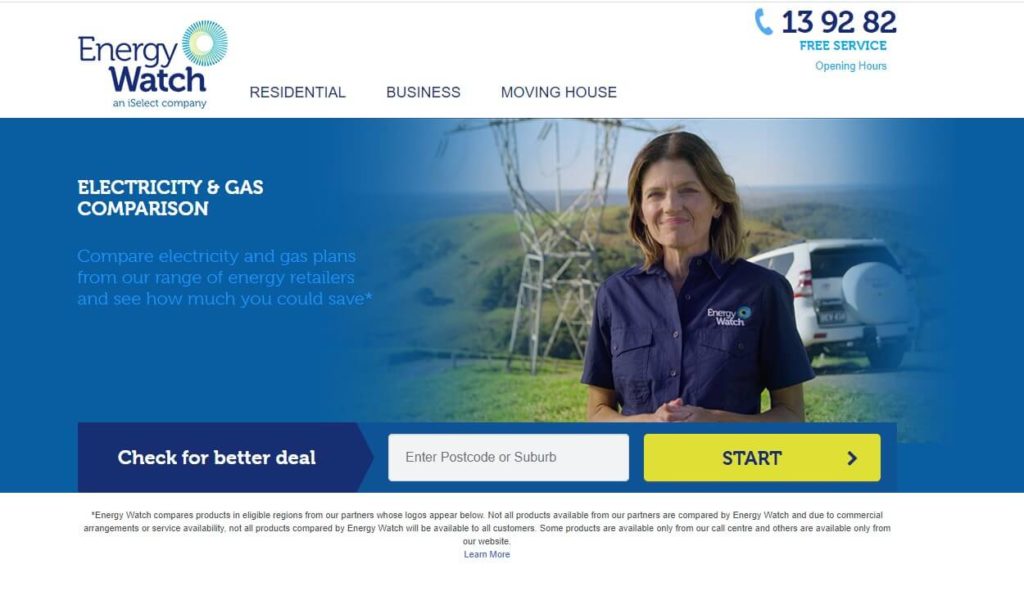 EnergyWatch or WatchWire is online software that provides an insight into your energy usage. This management software aids in the identification of consumption patterns and savings opportunities. That enables organizations to pinpoint waste and reduce costs.
This enterprise-grade platform makes sustainability and energy data management simple for you and your entire team. Monitor real-time data and trend analytics to gain insights into your performance.
WatchWire is used by building managers for utility billing. It provides a user-friendly interface and seamless excel integration to automate processes and save you time.
You can also choose WatchWire if you are an energy manager for an enterprise-level facility, educational facility, utility, or commercial building. It has the right features just for everyone, regardless of your industry. If you want to save time and reduce costs, choose this software.
Feature Summary:
Activity Dashboard
Audit Management
Benchmarking
Bill Audit
Bill Database
Bill Importing
Budgeting/Forecasting
Commercial Properties
Compliance Management
Contract/License Management
Emissions Monitoring
Energy Price Analysis
Fixed Asset Management
ETAP Energy Management System
ETAP is an intelligent energy management software control system. It is designed to reduce energy consumption, improve system utilization, and increase the management system's reliability. You can also rely on it to predict electrical energy system performance and optimize energy usage to reduce utility bills.
ETAP is an automatic multi-area supervisory control system for multiple facilities. You no longer have to move from site to site when your energy management systems include this software. Regulate generation levels from different plants remotely.
ETAP is mainly for managing electricity generation plants. Its features are purposefully designed to enhance system efficiency.
You can rely on it for economic dispatch, load forecasting, unit commitment, interchange scheduling, and reserve management. It lifts the load off the shoulder of plant operators through the automation process.
Feature Summary:
Automatic steady-state optimization control
Intelligent generation control
Chain of logic controls & action validations
Generation averaging (load sharing)
Minimize MW & Mvar losses
Minimize power factor penalties
Intelligent inhibitive & permissive controls
Maximize voltage security index
Energy cost assessment
Auto control overload, over/under voltage, etc.
Auto control LTCs, circuit breakers, relays, etc.
User-friendly logic & macros
Control system simulator
Peak shaving
Optimize spin reserve
Supervisory & advisory control
Fuel cost optimization
Economic dynamic dispatch
Acotel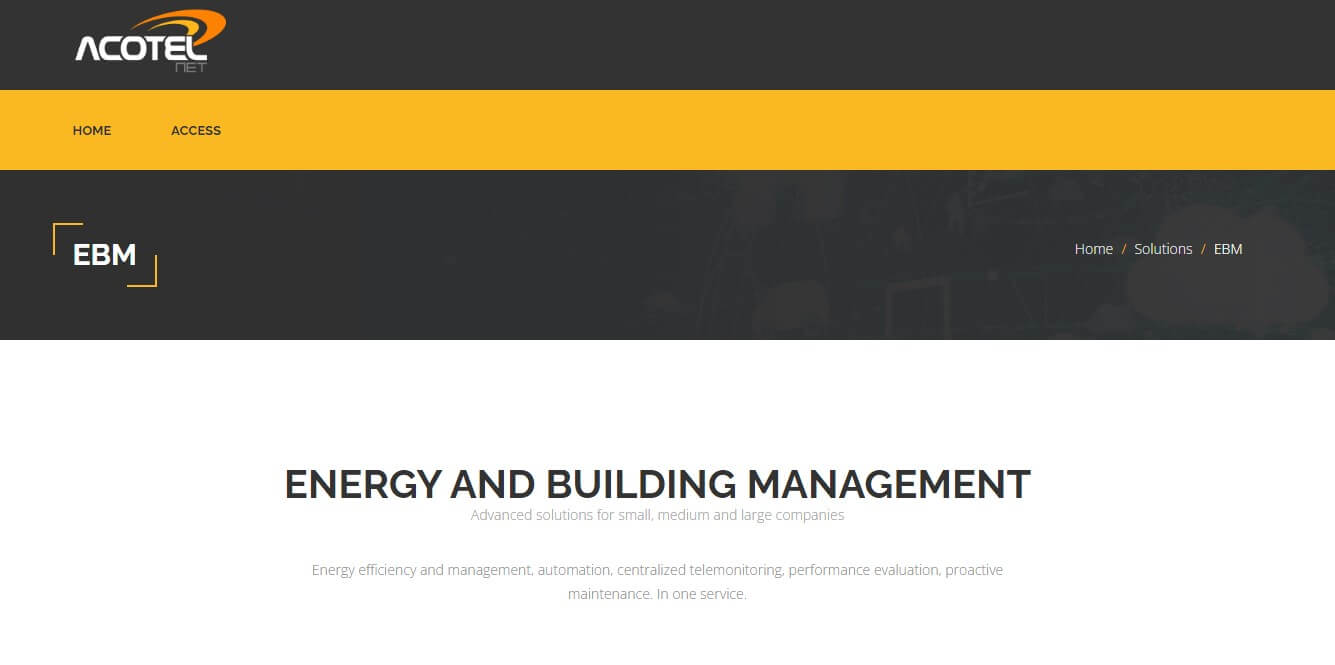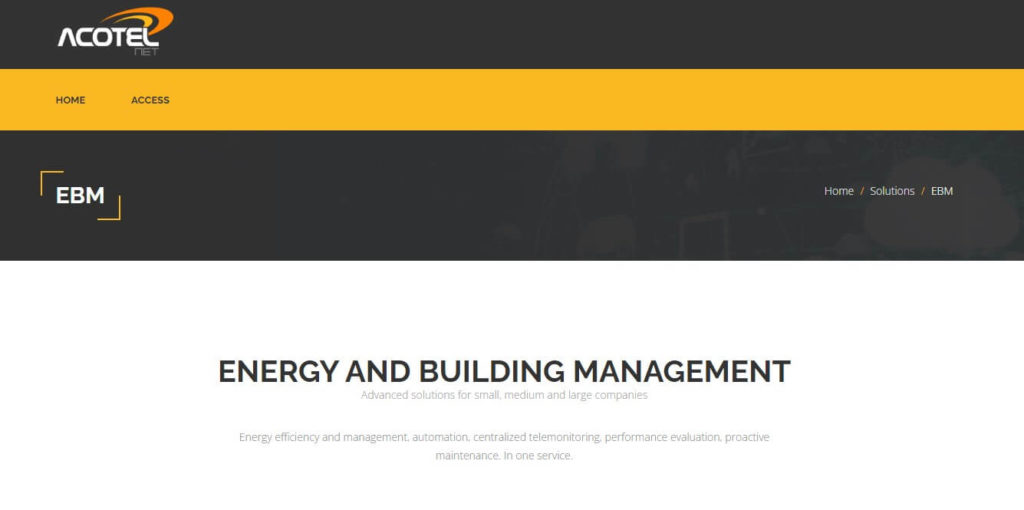 Acotel offers energy and building management solutions to small, medium, and large enterprises. What does the software promise you?
It provides an all-in-one platform for energy efficiency and management, automation, centralized telemonitoring, proactive maintenance, and energy performance evaluation.
Acotel I designed with high compatibility. You will not have to purchase a new set of energy meters and sensors when you choose. This web-based platform can manage data from almost any sensors connected to it.
Acotel is also praised for advanced analytics. It is sometimes not easy to make sense of the previous energy data. But with Acotel, it becomes easy to interpret any measurements and offer data-driven insights for setting business strategies.
What more can you gain from Acotel? Well, this tool offers you custom dashboards and reports through its tailor-made solutions. You can customize the interface to meet your specific needs.
Lastly, you can access 24/7 technical assistance and energy consulting services. There is a team of professionals on standby to support you when in need.
Feature Summary:
Compatible with all sensors
Evolved analysis
Custom dashboards and reports
Technical assistance and energy consulting
Optimization of costs and energy savings
Personalized services based on your needs
UtilityTrakR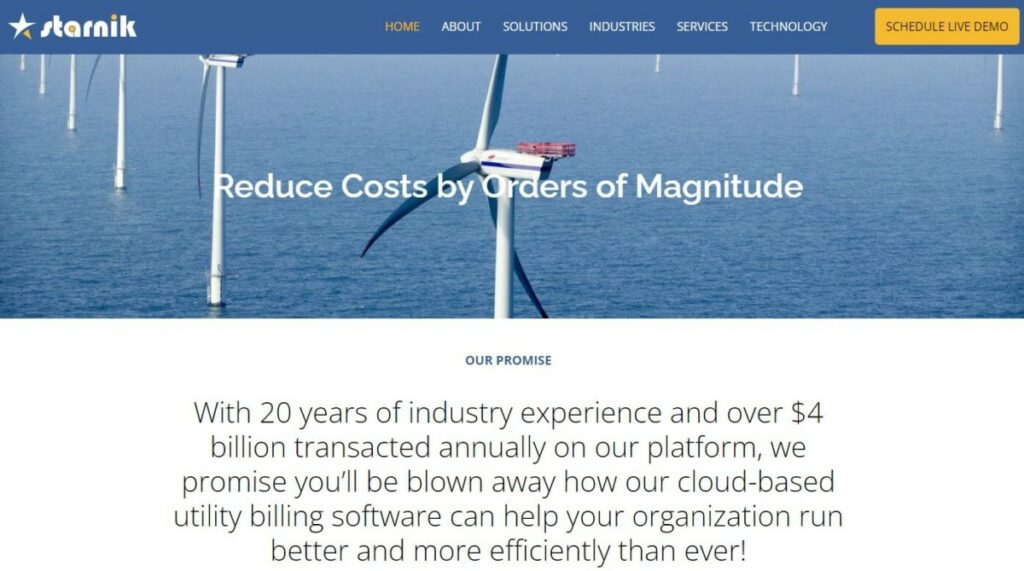 UtilityTrakR from Starnik brings the best in technology to the utility industry. It is a cloud-based energy management solution for utility billing and energy management. UtilityTrakR is tailored to meet the needs of every client regardless of the size of the organization or industry.
UtilityTrakR is a single platform with a comprehensive suite of products for billing, monitoring, payments, customer services, and much more. It is an end-to-end utility management software for everyone.
You don't have to change our business model or processes to use UtilityTrakR. It will fit in the current system without any problems.
UtilityTrakR is accessible from anywhere at any time. You can still use this web-based energy management software in the office or at home.
Another most important feature of UtilityTrakR is data security. It offers bank-level data encryptions and backup every 15 minutes. You don't have to worry about data breaches or loss because your data is securely backed up on multiple servers.
UtilityTrakR can be your best choice if you deal with data centers or just large databases to manage.
Feature Summary:
Billing
Rate Scheduling
Cashiering
Automated Delinquency Management
Mobile Field Service
Mass Notifications
Document Management
Energy Auditing
Free Unlimited Support
Ultimate Data Security
Infinitely Customizable Reporting
Business Intelligence and Analytics
Fine-Grained User Control
Digital Energy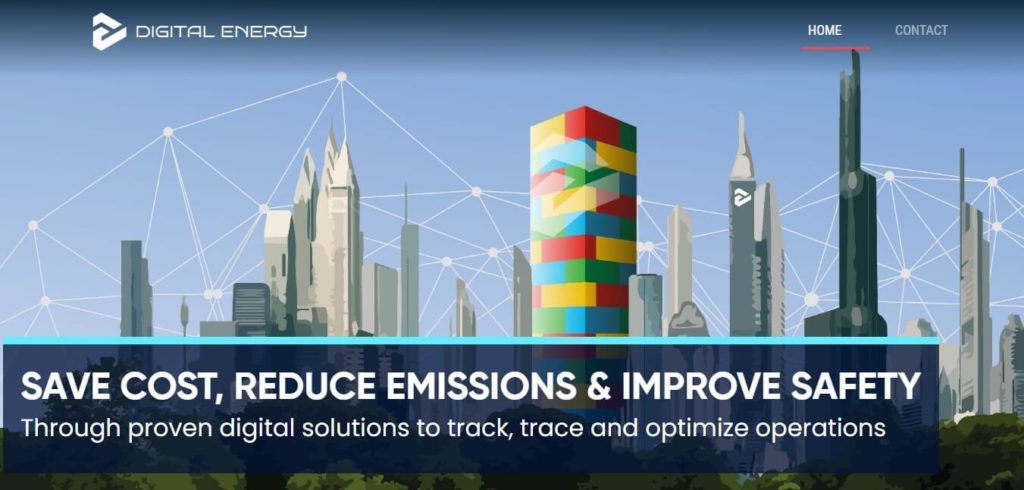 Digital Energy software offers a proven digital solution to track, trace, and optimize operations in any organization. It is the pathway to cost savings, emissions reduction, and safety enhancement.
Digital Energy is reliable in collecting energy data needed for reporting, monitoring, and engagement. The energy management software enables efficient management and operation of facilities.
This SaaS software is best suited for anyone who wants to save energy and reduce costs. Digital Energy is for you if you are in the public, private, or voluntary sectors. You don't have to look anywhere else for an alternative.
Feature Summary:
Benchmarking
Bill Audit
Bill Database
Bill Importing
Budgeting/Forecasting
Compliance Management
Cost / Use Reporting
Emissions Monitoring
Greenhouse Gas Tracking
Meter Tracking
Galooli Smart Site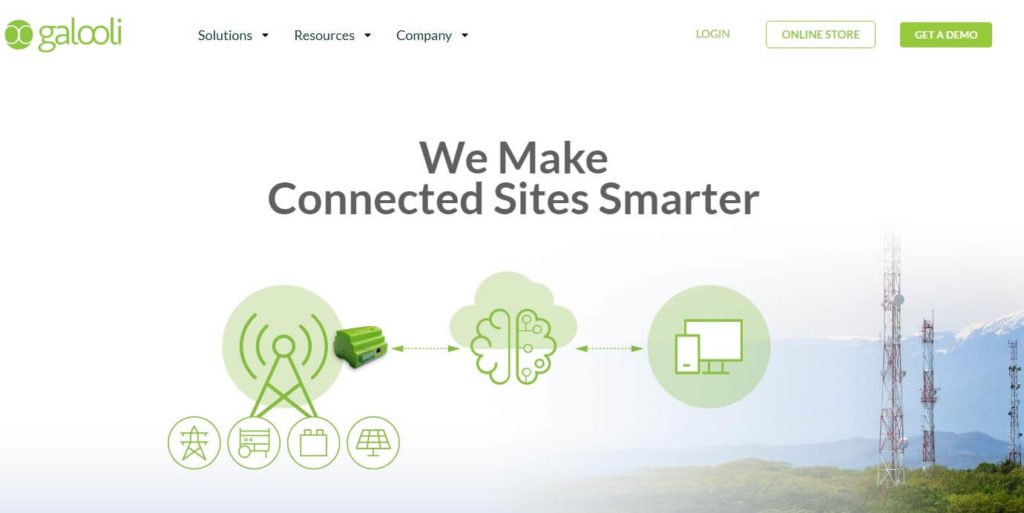 Galooli uses cutting-edge technology to provide users with smooth, efficient, and smart energy management solutions for their connected assets. It helps you extend the lifespan of your power sources and minimize energy loss.
With Galooli's web-based platform, you will get maximum uptime and improve the reliability of your system. It will help you prevent power drops and associated regulatory fines.
Galooli Smart Site also helps you maximize OPEX savings and remote management capabilities. You don't have to visit the sites physically to track energy parameters.
Feature Summary:
Manage all your on-site energy sources
Predictive Analytics and Cutting-Edge IoT
Real-time Alerts
Remediation Management
Compliance Management
Cost / Use Reporting
Deployment Management
Meter Tracking
Related Resources
Kyle Kroeger, esteemed Purdue University alum and accomplished finance professional, brings a decade of invaluable experience from diverse finance roles in both small and large firms. An astute investor himself, Kyle adeptly navigates the spheres of corporate and client-side finance, always guiding with a principal investor's sharp acumen.
Hailing from a lineage of industrious Midwestern entrepreneurs and creatives, his business instincts are deeply ingrained. This background fuels his entrepreneurial spirit and underpins his commitment to responsible investment. As the Founder and Owner of The Impact Investor, Kyle fervently advocates for increased awareness of ethically invested funds, empowering individuals to make judicious investment decisions.
Striving to marry financial prudence with positive societal impact, Kyle imparts practical strategies for saving and investing, underlined by a robust ethos of conscientious capitalism. His ambition transcends personal gain, aiming instead to spark transformative global change through the power of responsible investment.
When not immersed in the world of finance, he's continually captivated by the cultural richness of new cities, relishing the opportunity to learn from diverse societies. This passion for travel is eloquently documented on his site, ViaTravelers.com, where you can delve into his unique experiences via his author profile.