In the UK, Robo-advisors is one of the fastest-growing industries in the investment world. More first-time and seasoned investors are turning towards online options to manage their finances and simultaneously lower their expenses. Traditional financial advisors are still around, but their high fees and short service times are no longer desired among the younger generation.
One of the top Robo-advisors on the market in the UK is Nutmeg, which has captured the hearts of millennials, first-time investors, and even global investors looking to break into the UK market.
In our Nutmeg review, you will learn how this company takes the guesswork out of investing and also transforms this into an online-friendly platform.
Unlock Sustainable Investing Opportunities 🌿
Join the green revolution by investing sustainably with our top partners. Discover platforms that align with your values and offer remarkable opportunities for growth.
Robo-investors are easy to use, automated, and much more affordable than dealing with a certified financial advisor in person.
It is worth noting that with so many new Robo-advisors hitting the market, it can be hard to know which ones are legit and which ones will actually help you garner a good return for your investment.
Our Nutmeg review will show you how this platform ranks compared to others on the market so you can make an informed choice to help you secure your future.
What is Nutmeg Invest?

Before our Nutmeg review, let's talk about what Nutmeg Invest actually is. Nutmeg is the first discretionary investment management company launched online in the United Kingdom.
It was first launched in the spring of 2011 by a team of two investors who were tired of how difficult and murky the world of investments in the UK had become.
Today, they manage more than 1.5 billion dollars of work assets. To date, they boast just over 60k customers, almost half of whom were first-time investors when they created accounts with the management company.
They are now the world's 8th largest managers of wealth in the UK.
See Related: How to Invest in Carbon Credits
How Nutmeg Invest Works
Nutmeg Invest uses smart algorithms paired with in-house market analysts to tailor investment portfolios to meet the needs of each of its clients. The portfolios will contain ETF's that are intended to diversify existing portfolios or to create new balanced portfolios for first-time investors.
Portfolios are built according to each client's investment amounts and risk appetite. If you are a beginner or a passive investor who wants moderate growth, there is a portfolio option for you. Higher-risk portfolio customization options are available for those interested in taking a more adventurous approach to their investments.
The team behind the company has provided a list of more than 1800 ETFs for the investment pool. This team will also assign specific ETF's they consider the best for each particular class, region, and industry sector.
Your assessment questions will help you choose which ETF's from this pool are best suited to your risk appetite, and then they will be added to your customized investment portfolio.
See Related: Awesome Impact Investing Examples to Know
Types of Accounts
Nutmeg offers a variety of account types to cater to the diverse investment needs of its clients. These accounts are designed to provide options for short-term and long-term goals, retirement planning, and saving for children's future expenses, all while ensuring cost-efficient and transparent pricing.
Pensions
Nutmeg provides a Self-Invested Personal Pension (SIPP), allowing investors to have control over their retirement funds. This pension account is designed for individuals wanting to invest with tax benefits and long-term growth.
ISAs
Individual Savings Accounts (ISAs) are popular for UK investors looking to save with tax advantages. Nutmeg offers several types of ISAs, including Stocks and Shares ISA, Lifetime ISA, and Junior ISA.
Stocks and Shares ISA – This account allows investors to invest in a tax-efficient manner, as there are no capital gains or dividend taxes on investments held within the ISA. Investors can choose from various risk levels and investment options offered by Nutmeg.
Lifetime ISA – Ideal for those saving for their first home or retirement, the Lifetime ISA offers a government bonus of 25% of the total annual contributions (up to £1,000 per year). Nutmeg's Lifetime ISA provides an accessible platform for investors to grow their savings.
Junior ISA – Designed for parents or guardians to save and invest on behalf of their children, the Junior ISA offers tax-free returns on investments up to £9,000 per annum, with the funds accessible once the child reaches the age of 18.
General Investment Accounts (GIA)
Nutmeg offers a General Investment Account for investors seeking more flexible options without the restrictions associated with ISAs or pensions. This account allows for easy investment, diversification, and access to funds without limits on contributions or withdrawal penalties. However, remember that the GIA doesn't provide the same tax advantages as ISAs or pensions.
Investment Styles and Portfolios
When considering Nutmeg as an investment platform, it is crucial to understand their available investment styles and portfolios. Nutmeg offers three main investment styles: Fixed Allocation, Fully Managed, and Smart Alpha. Each style is designed to cater to different investor preferences and risk tolerances.
Fixed Allocation Portfolio
A Fixed Allocation Portfolio is ideal for investors who prefer a more passive approach. This investing style offers a set balance of assets, with periodic rebalancing to maintain the target allocations. While these portfolios may not be actively managed, Nutmeg ensures they align with the investor's risk level.
Fully Managed Portfolios
Fully Managed Portfolios, on the other hand, provide a more active investment approach. The Nutmeg investment team actively monitors and manages these portfolios and make strategic adjustments in response to market conditions. This investing style aims to deliver better performance than the Fixed Allocation Portfolios in exchange for slightly higher management fees.
Smart Alpha Portfolios
Smart Alpha Portfolios represent Nutmeg's most advanced investment offering. These portfolios leverage the expertise of J.P. Morgan Asset Management and combine strategic and tactical asset allocation to maximize returns while managing risk.
This investing style requires a higher minimum investment and is designed for investors willing to take on additional risk for potentially greater returns.
Each investment style is available in different risk levels, from more conservative to more aggressive, providing options for various investor risk appetites. Nutmeg constructs its portfolios using a diversified mix of assets, including equities, bonds, and alternative investments.
Investment Strategy and Risk Levels
Nutmeg's investment strategy focuses on creating diversified portfolios tailored to an individual's attitude toward risk. This approach allows Nutmeg to cater to investors with varying degrees of experience and risk tolerance, providing them access to a range of portfolios designed to meet their investment goals.
The risk levels offered by Nutmeg range from 1 (ultra-low risk) to 10 (highest risk). Each risk level corresponds to a specific portfolio allocation that blends a mix of asset classes, such as equities, bonds, and cash, to achieve the desired balance between risk and reward.
When setting up an account, Nutmeg conducts a risk assessment that helps to identify an investor's attitude to risk. This involves answering questions that assess factors such as investment timeframe, financial goals, and overall risk tolerance. Once the risk profile is established, Nutmeg recommends a risk-rated portfolio to meet the investor's objectives.
It is important to note that one's attitude to risk may change over time, and Nutmeg provides the option to adjust the portfolio's risk level at any point. This flexibility allows investors to modify their evolving financial goals and needs.
In terms of investment strategy, Nutmeg adopts a passive investment approach, often relying on low-cost index-tracking funds to gain exposure to a diversified range of assets.
This approach aims to deliver long-term growth without needing constant management and adjustments. Nutmeg also offers a selection of socially responsible investment (SRI) portfolios for those who seek investments that align with their values.
Ethical and Socially Responsible Investing
Nutmeg is an online investment platform that offers a range of investment portfolios, including 10 fully managed socially responsible investment (SRI) portfolios. These portfolios cater to investors who prioritize ethical investing and wish to align their financial goals with their values.
The socially responsible portfolios consist of a diverse mix of funds, carefully selected to balance financial performance and principle-based objectives. Nutmeg evaluates these funds based on a comprehensive set of environmental, social, and governance (ESG) criteria, ensuring that investments positively impact society and the environment.
In terms of fees, Nutmeg charges a 0.75% fee for balances up to £100,000 and 0.35% for balances above this threshold in their socially responsible portfolios. This is slightly higher than their standard portfolios, with fees starting at 0.45% for up to £100,000.
The fund costs for the SRI portfolios are also slightly higher at 0.28%, compared to the standard portfolio's average cost of 0.22%. Despite these differences, Nutmeg remains competitive among other digital investment providers and is a popular choice for ethical investors.
With Nutmeg's SRI portfolios, investors can contribute to a positive societal and environmental impact without sacrificing financial returns. These portfolios have demonstrated that investing with a conscience does not necessarily mean compromising performance, making them an attractive option for those interested in ethical and socially responsible investing.
How to Sign up For Nutmeg Invest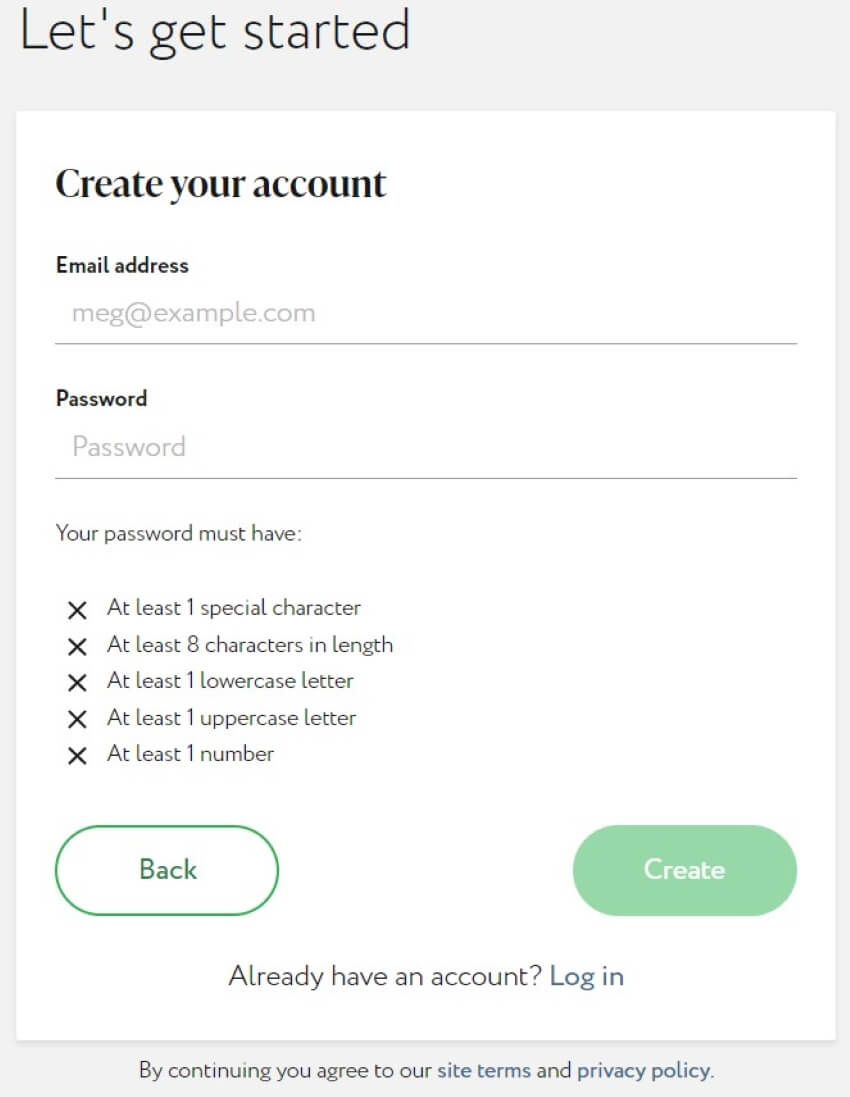 As part of our comprehensive Nutmeg review, we will also cover account creation and sign-up for the service.
Nutmeg is mainly for investors in the UK; however, some non-UK residents can also create accounts as long as they maintain a UK bank account and hold a British Passport. US citizens can no longer create new accounts due to complications with the tax law. However, existing US-based accounts are allowed.
To get started, first, look at the available portfolio options. Once you find one that fits your investing style, click the "invest now" button on the website's homepage. You will need to choose your account type. The options are:
General investment account
Lifetime ISA
Stocks and shares ISA
Personal pension
Once you select your account type, you must take a short survey to help determine the risk tolerance setting for your portfolio. The questions will cover how much you plan to invest, your intended length of investing, the reasons you are investing, the amount you plan to deposit upfront, as well as monthly if any.
Once you answer these questions, you will get a portfolio projection. This is a general idea of how well your estimated portfolio is expected to perform.
The onboarding process is very smooth and intuitive. Once you identify your deposit levels and investment horizons, consider your choice of a hands-on portfolio managed by a human team or automated. Fees will vary depending on the tier and style of management you choose.
The final page has a slider that lets you choose your risk & reward level, ranging from low to high. The increments are separated into five segments: cautious and adventurous. What you choose will influence the asset allocations within your investment tier.
See Related: How to Measure Social Impact (Step-By-Step Guide)
Ease of Use
Nutmeg offers a user-friendly experience through its website and mobile app, available on both iOS and Android platforms. The app has received favorable ratings, with 4.7 out of 5 stars on Apple and 4.4 on Android. This indicates that the platform is well-received by its user base, who appreciate the intuitive design and seamless functionality.
The website is also easy to navigate, with clear menu options and accessible information. Users can easily access their accounts from a desktop, phone, or tablet device. The responsive design ensures a consistent experience across different devices and screen sizes.
Setting up an account with Nutmeg is a straightforward process. New users are guided through a series of questions to determine their investment goals, risk tolerance, and other relevant factors. Based on this information, Nutmeg's experts will handle the investment management side, eliminating the need for users to make their own investment decisions.
The platform also emphasizes transparency, providing users with clear information about their investments and performance. This information is presented visually appealing, making it easy for users to understand and track their progress.
Withdrawal Process
The process of withdrawing funds from Nutmeg is straightforward. To begin, log into your Nutmeg account and navigate to the appropriate portfolio from which you want to withdraw money. Once in the portfolio, locate the option to "Cash Out" or "Withdraw Funds".
When initiating a withdrawal, ensure you are aware of any fees associated with the process. Nutmeg charges a varying fee for processing each withdrawal request. These fees may differ depending on your account type and the amount you are withdrawing.
It is important to note that withdrawals generally take 5-7 business days to be processed and reach your selected bank account. Nutmeg, along with your chosen payment processor, handles the automatic processing of each withdrawal once it is actioned and approved.
Remember that if you are invested in certain assets, such as property funds or alternative investments, they may take longer to liquidate. This can result in a longer withdrawal time for these specific investments. It is recommended to check the details of your investments before initiating a withdrawal to ensure a smooth experience.
Is Nutmeg Invest Legit?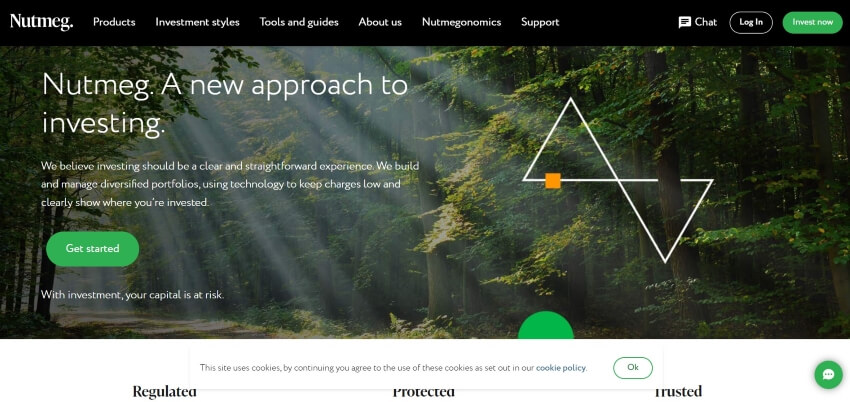 According to our Nutmeg review, Nutmeg Invest is a legitimate investment tool. The company is licensed and registered to conduct local and international financial transactions.
The business falls under the regulations of the SEC, among others. Like most Robo-advisors, Nutmeg Invest has joined FINA (Financial Industry Regulatory Authority). Though this is a self-regulatory organization, it allows investors to check the legitimacy and performance records so that a human advisor can be cross-referenced.
As far as the SEC is concerned, Robo-advisors retain the same legal status and responsibilities as traditional human investment advisors.
They must be legally registered and in good standing with the SEC to provide services to the public. They are also subject to the same rules, regulations, and securities laws as traditional investment brokers.
Consumers can look up Nutmeg Invest on BrokerCheck for more detailed information regarding their services and status with the SEC. It is important to note that any assets held or managed by Nutmeg Invest on your behalf are not FDIC-insured since they are investment funds and not traditional deposits.
See Related: Investing in Low-Income Neighborhoods
Customer Satisfaction and Complaint Handling
Nutmeg, an online investment management service, has received positive customer reviews, indicating their satisfaction with the platform's services. A key factor in customer satisfaction is how well a company handles customer complaints. In the case of Nutmeg, their customer service seems to be quite efficient, as reported by customers.
One recent review of Nutmeg highlights the promptness of their customer service, mentioning that an actual person answers the phone immediately. This quick response is essential in addressing any issues or concerns that the customers have that directly impact their satisfaction with the service.
Another important aspect of complaint handling is empathizing and understanding the customer's concerns. Nutmeg excels at this, as their financial advisors diligently look at customers' financial data and provide appropriate guidance, ultimately leading to satisfied customers.
It would be advisable for Nutmeg to conduct customer satisfaction surveys periodically. This will offer insights into improvement areas and help maintain high customer satisfaction rates. Surveys can also identify recurring issues that must be addressed, ensuring that the platform consistently delivers a satisfactory experience.
When focusing on customer satisfaction and complaint handling, the following elements should be kept in mind:
Listen and empathize with the customer's issue;
Provide prompt and efficient solutions;
Conduct regular customer satisfaction surveys;
Train customer service representatives to be knowledgeable and friendly.
Nutmeg Invest Pros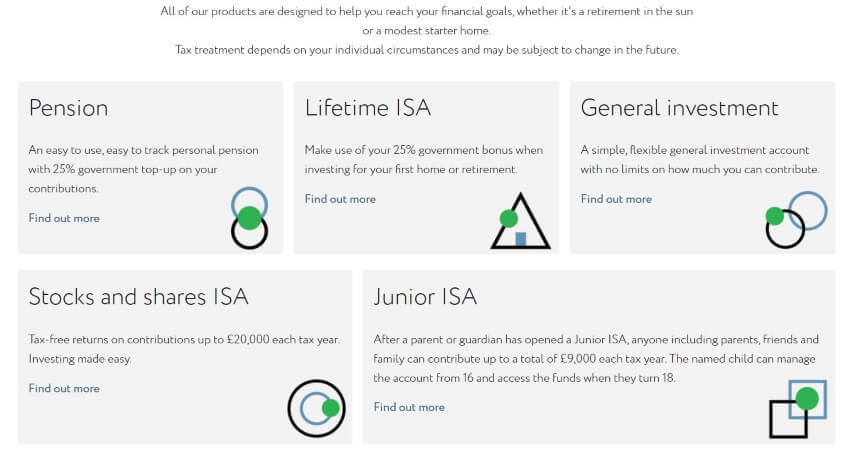 If you want to invest time, there are many reasons to move forward with Nutmeg. One of the best reasons to choose the platform is its easy-to-use interface that even those new to investing will understand. Not tech-savvy people will find the interface intuitive, making it one of our favorites in the ease-of-use category.
Fees can easily become a problem with any investment, but with Nutmeg, the rates are affordable, and the fee structure is transparent and easy to understand. Everything is listed on the main feed page, so you know in advance how much you will pay instead of worrying about your profits being eaten up by hidden charges.
Once your account reaches the higher tiers, you can also access live financial advisors to help your returns grow even more. Rebalances and dividend reinvestment are also automated, so you never have to worry about your portfolio growing stale or getting lopsided, which would increase your investment risk. Like many Robo-advisors, there are plenty of socially conscious investment options to add to your portfolio.
You can also create various account types to help you reach your investment goals. Account setup is quick and easy, and you can personalize your investing option according to your specific risk appetite.
Lastly, customer service is top-notch, so if you ever encounter a problem, someone is standing by to talk you through it.
See Related: Best ESG Funds to Invest for Impact
Nutmeg Invest Cons
As effective as Nutmeg is as a platform, it still has some negatives. The most prominent among them is the high requirements for investment.
General and ISA accounts have a £500 minimum upon account creation. In addition, users will have a monthly deposit of at least £100 until there is £5,000 in the account.
These rates price new and fixed-income investors out of the market, which is never good. There are also high fees for the automated fixed allocation tier compared to other platforms that offer the same or similar services.
Another issue many users noted is that once an account is set up in the fixed income tier, very few services are available to say users. Marketing also focuses on those in the higher tiers, making lower-tier users feel neglected and unwelcome.
Many other Robo-advisors offer critical tools such as tax optimization, but this feature is not present on Nutmeg despite the high fees. One of the most important things to note is that there is no third-party research on any of the stocks or services on the website. The available materials are basic and only provide the bare minimum of information.
See Related: History of Impact Investing
Nutmeg Invest Fees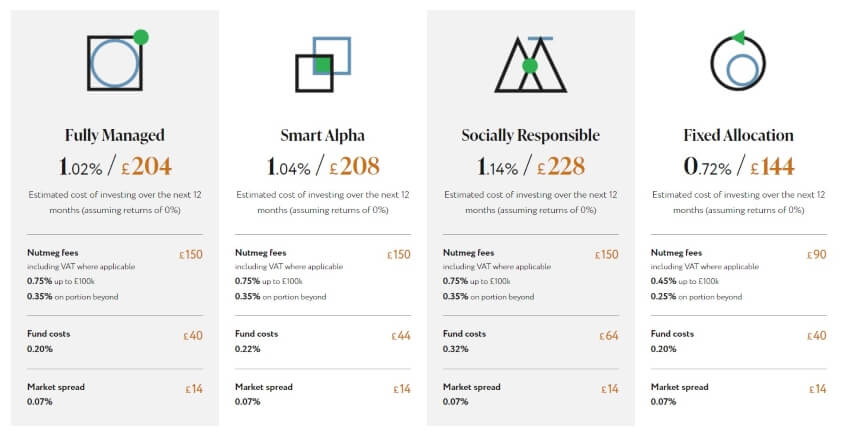 Nutmeg Invest has a £100,000 minimum investment and charges an account management fee. 0.45% annually, regardless of account level for their fixed allocation portfolios. Once the account balance exceeds £100,000, the management fee drops to 0.25%.
On par, the investment expense ratio averages 0.17%, with an average market spread charge of 0.07%. Nutmeg Invest charges fully managed portfolio accounts a fee of 0.75% for balances of £100,000 and below. The fully managed account fee for balances over £100,000 is 0.35%.
Additionally, the investment expense ratio averages 0.19%, with an average market spread of 0.07% for their fully managed accounts.
For clients with a socially responsible portfolio, the fees are 0.75% for balances of £100,000 and under and 0.35% for balances above the minimum. The market spread fee is the same as other account types, and the investment expense ratio averages 0.33%.
See Related: Best Impact Investing Books to Read
Nutmeg Invest Performance Ratings
Nutmeg is often in the headlines, but thankfully, for good reasons. The company boasts a large client base and extremely fast growth in the last few years. Though they have yet to profit despite increasing their client base, the founders confirm that the company is on track.
Most investments are solid, and the profits are returned to the business so Nutmeg can further establish itself as a global leader.
Despite the company not turning a profit, the investors have seen moderate to strong returns in their portfolios. State Street Corporation holds all investments and is also covered by FSCS, making this a strong choice for your investment account dollars.
Nutmeg Invest Referral
Investing with Nutmeg is a good option if you want to make your money go the distance. The platform is easy to use and takes care of most of the hard work on your behalf.
The fees are low; you must supply the funds and watch your money grow. For those interested in starting an ESG investment portfolio but are unsure how to go about it, Nutmeg Invest makes getting started with an investment portfolio simple and affordable.
See Related: What is the Theory of Change?
Nutmeg Alternatives
Nutmeg is a popular robo-advisory platform that offers investment management services, but other alternatives are available in the market. These alternatives appeal to individual investors seeking professional-level wealth management services without the traditional costs associated with them.
Moneyfarm is one such alternative, offering a range of investment portfolios tailored to various risk appetites and financial goals. Their user-friendly platform aims to help clients maximize their returns while minimizing risks. With Moneyfarm, clients can access multiple investment options, including ETFs, stocks, and bonds.
Wealthify is another notable player in the robo-advisory space, with a focus on offering a simple, low-cost investment solution for those new to the world of investing. Their platform uses advanced technology to create diverse investment portfolios primarily of ETFs. This platform is ideal for beginner investors who seek an easy entry point into the market.
AJ Bell offers a comprehensive investment platform that goes beyond just robo-advisory services. This alternative includes a DIY investing option, allowing investors to access a wide range of direct investments, such as shares, bonds, or funds. With its flexible approach, AJ Bell caters to passive investors looking for managed portfolios and active investors who prefer to make their own decisions.
Well-established financial institutions like JP Morgan and J.P. Morgan Chase also provide wealth management services to their clients. Although not robo-advisors in the same sense as Nutmeg, they still boast many experts who can help formulate personalized investment strategies. Investors seeking a highly personalized experience and wider access to investment products might opt for these traditional wealth managers.
Nutmeg Blog and Learning Resources
Nutmeg, a robo-advisor investment platform, offers an extensive blog and learning resources to help investors navigate the world of personal finance and sustainable investing. The blog features articles that range from financial market updates and expert analysis to sustainable investment strategies and beginner's guides. Investors can find a wealth of information to enhance their financial education and make better-informed decisions.
The learning resources available on Nutmeg's platform are designed to cater to investors of all levels. They provide clear, concise, and neutral explanations of various financial and investment topics. These resources address key areas such as portfolio diversification, risk management, and long-term financial planning. Beginners can find easy-to-understand guides, while seasoned investors can glean valuable insights from expert analysis.
One of Nutmeg's learning resources focuses on sustainable investing. This topic has gained prominence in recent years. Nutmeg's information helps investors understand the benefits and growth opportunities associated with investing in companies prioritizing environmental, social, and governance (ESG) factors. The resources offer a comprehensive view of the ESG investment landscape, empowering investors to make informed choices aligned with their values and goals.
In summary, Nutmeg's blog and learning resources are valuable tools for investors looking to expand their financial knowledge and engage in sustainable investing. By providing a wide range of information, expert analysis, and accessible learning materials, Nutmeg helps investors make well-informed decisions that align with their long-term financial objectives and personal values.
Security and Customer Protection
Nutmeg takes security and customer protection seriously. They ensure that all funds deposited with them are held in segregated bank accounts for added security. This means that clients' money is separate from the company's operational funds, providing a safeguard in adverse financial circumstances.
The platform employs rate limitations on suspicious account activities as an additional layer of protection. For instance, multiple failed login attempts trigger these safeguards, which help maintain account security and protect the client's interests.
It is important to note that Nutmeg is not regulated by the Financial Conduct Authority (FCA). However, this might not be an immediate red flag, as the FCA does not regulate all types of financial service providers, particularly if they do not fall under specific financial products or services.
Customers should exercise caution and conduct their due diligence when selecting a financial platform. If Nutmeg falls under the FCA jurisdiction in the future, it would then be covered by the Financial Services Compensation Scheme (FSCS), which offers added protection to clients.
While Nutmeg has a generally positive reputation regarding user experience and customer satisfaction, individuals must consider the benefits and potential risks of using the platform. By staying informed and vigilant, clients can make the best decision for their personal finance and investment needs.
Final Nutmeg Review Thoughts & Ratings
Ease-of-Use – 4
Features – 3
Customer Service – 5
Value for Money – 4
After looking at all the angles during our Nutmeg review, we have to say it is a great option for those living in the UK. It is no longer open to people in the US, but that doesn't stop the company from expanding its market reach. The high minimums make it a bit more restrictive, but other options exist if you are starting or don't have much to invest in.
Frequently Asked Questions
How do Nutmeg fees compare with competitors?
Nutmeg's fees range from 0.25% to 0.75%, with the higher fees associated with lower account balances. Compared to competitors, Nutmeg provides a competitive fee structure. It's essential to thoroughly compare different investment platforms' fees and services to ensure the best value for your investments.
What is the minimum investment required for Nutmeg?
The minimum investment required for Nutmeg is £100. This relatively low threshold allows a broader range of investors to access the platform and its services. Lower minimum investments make Nutmeg a viable option for beginner investors looking to start building their portfolios.
What are the risk levels offered by Nutmeg?
Nutmeg offers various risk levels to accommodate investors' different risk tolerance, ranging from lower-risk conservative to higher-risk aggressive portfolios. The platform provides fully managed, fixed allocation, and Socially Responsible Investing (SRI) portfolios, which may appeal to different investors based on their preferences and investment goals. Assessing your risk tolerance and selecting a suitable portfolio is crucial for achieving long-term success in the investment world.
Related Resources