Environmental, Social, and Governance (ESG) analysis tools are a powerful way to measure a company's performance. It does that against its environmental, social, or governance initiatives.
ESG tools are becoming an essential part of measuring corporate sustainability. It is now common for companies to include them in their annual reports.
Also, they disclose ESGs as part of their financial statements.
Best-Of by Category
| Category | Product |
| --- | --- |
| Best For Advanced ESG Analysis | Sustainalytics |
| Best For Sustainable Supply Chain Analysis | EcoVadis |
| Best For Community Impact Analysis | As You Sow |
| Best For Socially Responsible Investing | US SIF |
Best ESG Analysis Tools for Reporting & Screening
There are many different tools to help you analyze ESG data. And each one has its own benefits and drawbacks. Some of the most popular ESG investing tools include:
1. Sustainalytics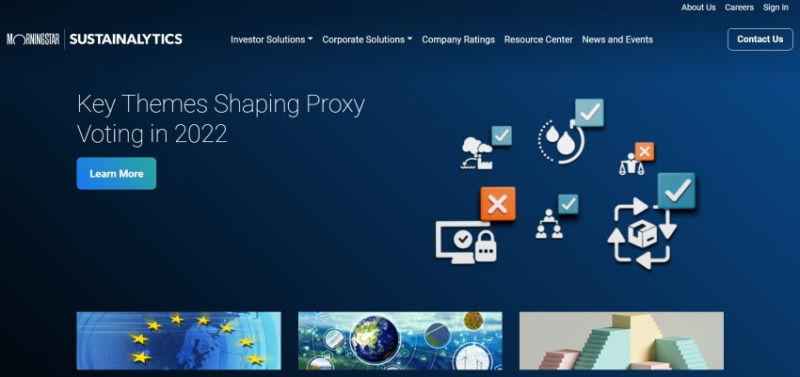 Sustainalytics offers global environmental, social, and governance (ESG) research and ratings. The company offers many different services, including ESG research, ratings, and analysis.
Sustainalytics has many different tools that can be used for ESG investing and analysis. They include Sustainalytics Corporate Ratings Database, Environmental Performance Database, and Social Performance Database.
The Sustainalytics Corporate Ratings Database is a comprehensive data set of ESG ratings for over 9,000 companies. The database includes ratings for environmental, social, and governance performance.
The Sustainalytics Environmental Performance Database contains over 60,000 environmental performance indicators. These are sourced from 9,000 companies.
The database includes energy use, emissions, water use, and more data.
See Related: Best Stock Screeners to Use
2. EcoVadis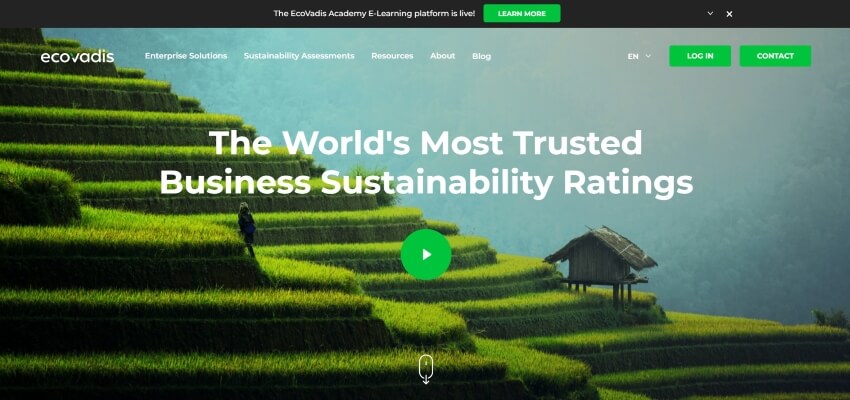 EcoVadis is a global provider of environmental, social, and governance (ESG) ratings. You can also rely on it for performance analysis. It offers many services, including ESG ratings, sustainability assessments, and supply chain evaluations.
EcoVadis has many different tools. These can be used for ESG analysis. The tools include EcoVadis Corporate Ratings Database and the EcoVadis Environmental Performance Database.
The EcoVadis Corporate Ratings Database is a comprehensive database of ESG ratings. It covers over 21,000 companies.
The database includes ratings for environmental, social, and governance performance. The EcoVadis Environmental Performance Database has over 200,000 environmental performance indicators. These databases originate from 21,000 companies. The database includes water use, energy use, emissions, and more data.
See Related: Best Energy Trading Products
3. As You Sow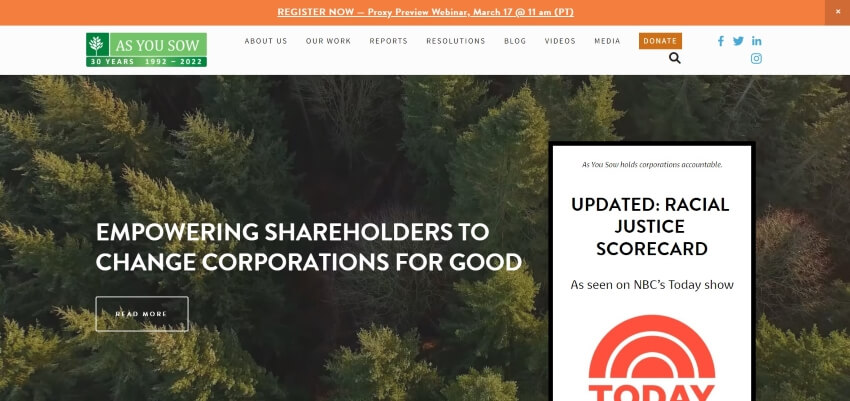 If you are looking for the best ESG investing tools, consider As You Sow. It provides one of the most comprehensive ESG tools.
ESG investors can determine the social responsibility of over 3,000 shared funds. They can also check how their carbon emissions affect society from the As You Sow website.
You can find your fund ratings on a scale of A to F. That depends on the screen you choose to perform a financial analysis.
You will get enough ESG data by scrolling on the page that loads next. It reveals all the ESG metrics you need to know. If the results do not resonate with your values, look for something better.
The As You Sow tool also has a search and filter function. Click on the search funds button on the right side of the navigation bar. Filter your search results by either fund family, category, grade, or performance.
This tool is the best for sustainable investing and investment strategy. Through it, you can engage your employer and plan on making it better through sponsorship. It may be the best choice for both individual and institutional investors.
See Related: Best Real Estate Investment Websites
4. US SIF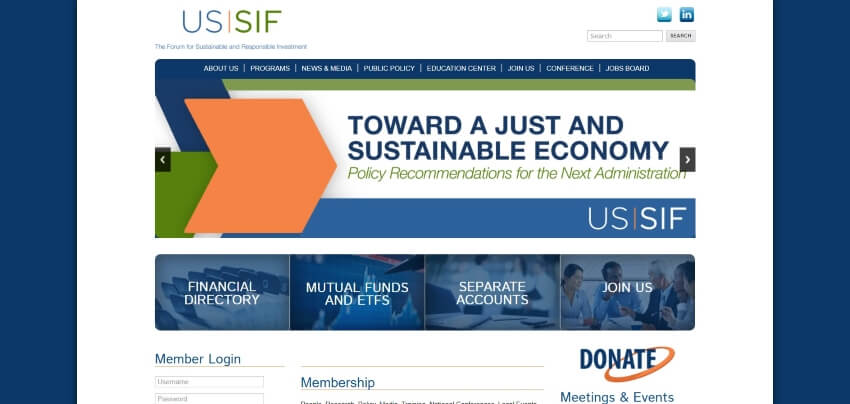 US SIF sustainable investment and mutual funds are the preferred tool. It should come first on your list. It is a popular program in the financial industry with renowned financial institutions. Those partnering companies include brokers, investment management companies, and non-profit associates.
US SIF has partners working as a team to discuss sustainable investment practices. It creates investor awareness through sustainable investment mutual funds and ETFs charts. That is publicly available on the website.
You can use this ESG tool for the analysis of financial performance. It offers you the best platform with insights into ESG analytics.
The US SIF tabs allow you to check different companies. Among the things to view include proxy voting records and activities of shareholders. You will find it helpful in risk analysis and many others.
This tool allows you to sort data according to financial metrics. The ESG data is displayed on the sustainability accounting standards board. Like all other ESG tools, US SIF allows you to sort out the data by type. You can narrow your search on the platform using the ESG factors provided.
See Related: Wealthify Review: Unbiased Analysis for Informed Investment Decisions
5. Morningstar ESG Screener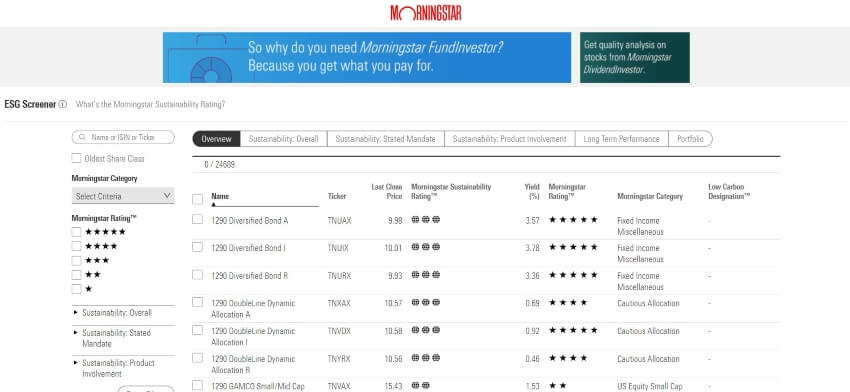 This tool shares data with the sister company, Sustainalytics. That makes it a performance analysis tool. With it, you can search for funds by the company name or sticker and refine your search. Choose funds with sustainability or ESG focus already identified. That is only possible if they have low carbon emissions.
Morningstar Sustainability is rated on a scale of 1-5 globes. Higher globes show funds with more investment in companies with lower ESG risks. That shows how efficient the find is in handling ESG risks compared to peers.
Morningstar ESG tool has a Portfolio tab. Here, you can view ESG analytics. The sustainability calculations include the mean ESG score for the past 12 months. This weighted average is for ranking funds for easier comparison with peers.
Morningstar ESG labels funds as a sustainable investments if they meet the criteria. They should have ESG metrics focused on public fillings. Funds that meet this criterion are placed in a group. Options are ESG funds focusing on ESG factors, impact funds, and environmental factor funds.
See Related: Best Real Estate Investing Software Solutions
6. MSCI ESG Ratings & Climate Search Tool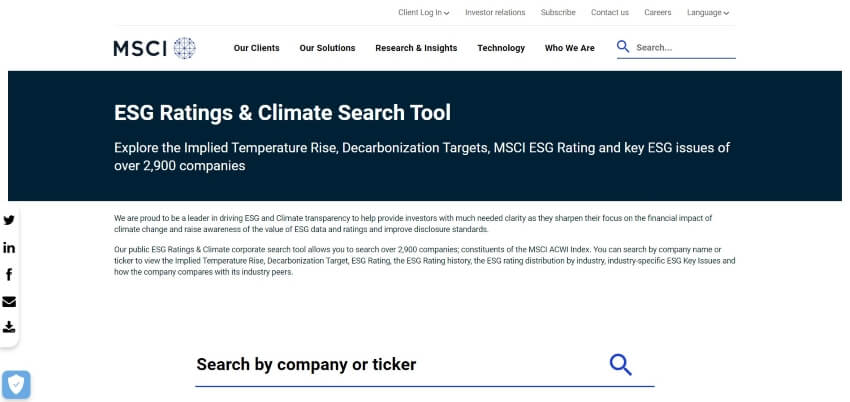 MSCI lets you search across an extensive ESG data set of over 2,900 constituents of investment MSCI ACWI Index. It is easy to use this ESG tool. Type the company name or ticker to compare it with global climate change objectives. You can also view its ESG risks and opportunities.
The impact of your firm on climate change is shown by the implied increase in temperature. That also indicates its alignment with the global warming target.
The tool converts the current and expected carbon emissions from about 10,000 firms to help you discover better ESG investing opportunities.
These are all publicly mentioned firms. But the conversion depends on their percentage of the carbon budget. From the ESG analytics, you can see the misaligned and aligned companies.
That shows firms emitting low and high carbon gasses, respectively. The ESG analytics also reveal the decarbonization target and whether the company achieves it or not.
You will find the year the mentioned company achieved near-zero carbon emissions. For ESG ratings, firms are assessed based on different ESG issues and graded. MSCI shows the firm as lagging or leading its peers across the material ESG issues.
See Related: Best Betterment Alternatives
7. ETF.com ESG Ratings
ETF.com ESG Ratings is the best tool for investors researching ESG ETFs.
The ESG Tab provides MSCI ESG data for funds depending on the exposure to different ESG factors. These include carbon emissions, sustainability impact, and governance risks to help you make better decisions during the investment process.
This platform shows the fund's rating on a scale of AAA-CCC and its quality ESG score out of 10. The ETF EST analytics gives the percentage of the fund's peers with ESG scores lower or equal to the fund in question.
Besides that, it provides a global position compared to all funds from data sources by MSCI. That will allow you to see how well your firm ranks.
It is easy to find ESG ETFs using this tool, but the investor's research should not stop at that point. This is the only platform where you can access the ESG data you need for ESG investing.
Strive to understand how the ETF determines and manages ESG investments and identify ESG risks involved. That will encourage safe, sustainable investment. Fortunately, ESG ETF educates investors and provides insights. Check on the ETF Channel tab for more information.
See Related: Best EV Battery Stocks
8. S&P Global ESG Screen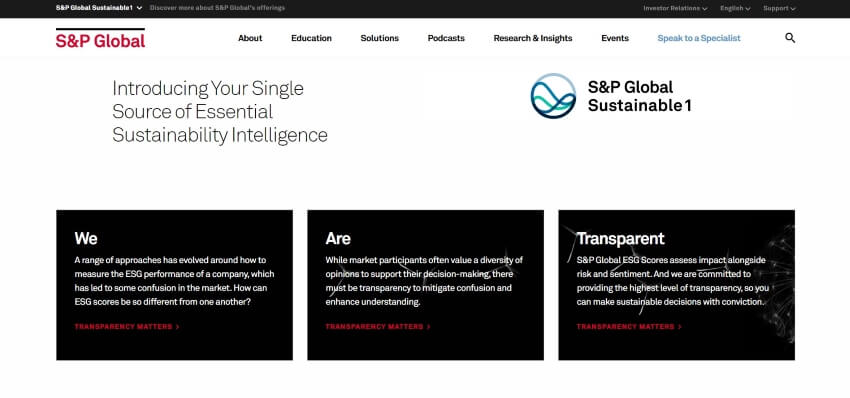 S&P has released their latest ESG solutions, which include scores and they are publicly available on the website beginning February 2021.
All investors can access ESG data on over 9,200 companies from the website. Every company that appears on the list was carefully evaluated on about 1,000 data points. It is the most extensive analysis ever done.
How does S&P Global check different companies? It relies on the portfolio characteristics.
It gets the portfolio by administering the Corporate Sustainability Assessment (CSA) industry-specific questionnaire. The data collected from the participating companies are analyzed and compared to give the scores and ranks.
Anyone can access S&P Global to view any company and its performance on environmental, social, and governance issues. The analysis is relative to the scores and rankings of peer groups.
Additionally, S&P Global has a spider chart for visual data presentation. It indicates the company's performance.
The performance is relative to the rivals on different ESG metrics for reporting. These include climate strategies, labor practices, talent acquisitions, and talent attraction to help you invest your financial capital and human capital in the right ways.
See Related: What is the Sustainability Accounting Standards Board?
9. Refinitiv ESG Scores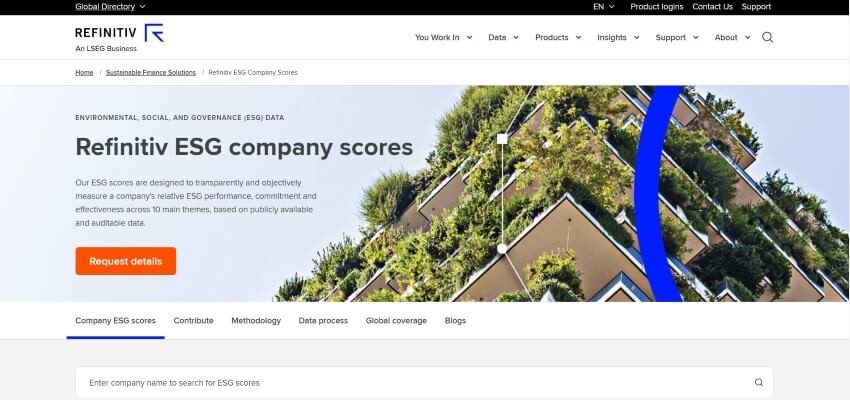 Refinitiv provides financial markets and company data to clients worldwide.
It is also one of the largest ESG content collection companies using manual investment processes. This is verifiable through available data across over 450 ESG metrics and 10,000 companies worldwide.
You can access the company's score on Refinitiv through its search function. Type the company identity, which can be a name, to view the performance score on a scale of 0-100. 0 means poor, and 100 excellent, relative to ESG performance and transparency.
The Refinitiv tool uses 10 main ESG factors to check different firms. The assessment considers the environmental, social, and governance pillars.
The social aspect looks into human rights, product sustainability, workforce, and community.
The tool also has an environmental section. This entails carbon emissions, usage of natural resources, and environmental product innovation.
Refinitiv shows the company's ESG data. The page is updated based on the portfolio characteristics deduced from the corporate annual reports. It refreshes product scores every week.
See Related: Best Green Chip Stocks
10. Charles Schwab SRI Screen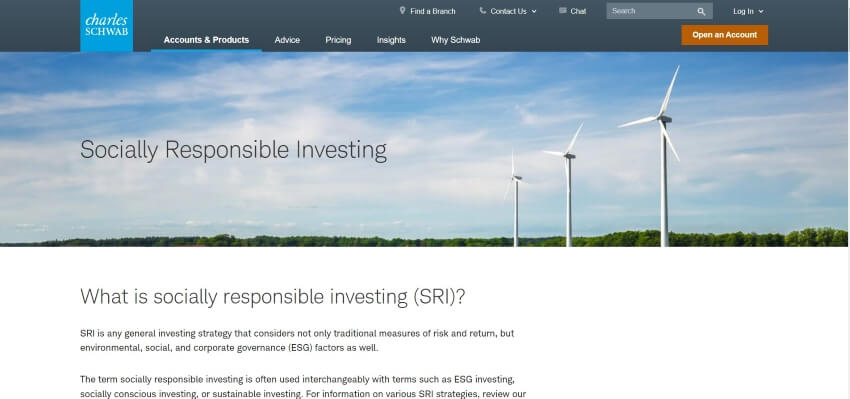 Private firms also offer SRI and ESG tools, and Charles Schwab is one of them. This tool is available to the public. Though other individual brokerage companies only consider their clients.
Charles Schwab enhances their tool with up-to-date ESG data. The aim is to meet the needs of different investors.
Everyone can now identify if a fund meets the ESG investing thresholds. That is possible through checking its portfolio characteristics. Charles Schwab SRI Screen compares data of up to five funds. That helps you find what suits your needs and identify ESG risks.
Charles Schwab SRI Screen allows you to narrow your search and better define the scope. It saves time by simplifying the investment process. This tool also ensures you get what matches your search criteria.
11. HESG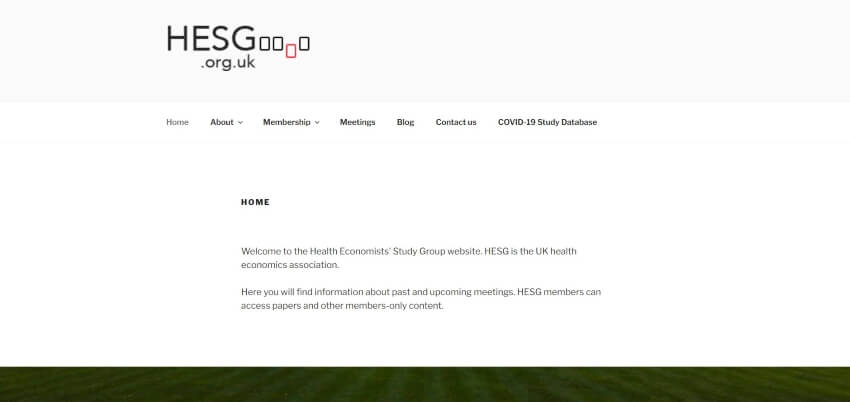 The HESG gap analysis tool allows hydropower proponents to identify gaps. It also allows them to maintain international industry good practice. HESG offers an action plan.
This tool is governed by the multi-stakeholder hydropower sustainability assessment council. It operates according to the new Environmental and Social Framework.
HESB also follows IFS Environmental and Social Performance Standards.
The HESG looks into 12 performance criteria, including the following:
Environmental and Social Assessment and Management
Communications and Consultation
Hydrological Resource
Climate Change Mitigation and Resilience
Water Quality and Sediments
Community Impacts and Infrastructure Safety
Labor and Working Conditions
Governance and Procurement
Resettlement
Biodiversity and Invasive Species
Indigenous Peoples
Cultural Heritage
HESG is the best option for investors in the renewable energy industry. It helps identify gaps and risks related to hydropower and good environmental practice.
12. APEX Funds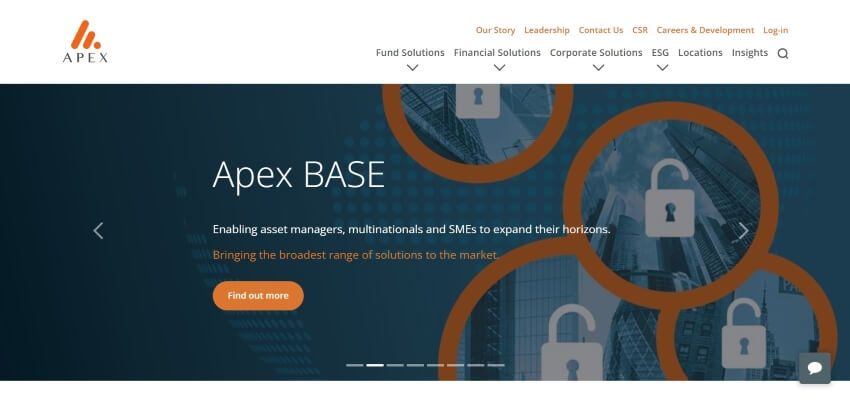 Apex Funds is an ESG fund service provider. It helps challenged clients understand investments and business.
It focuses on ESG pillars to measure and determine the sustainability and environmental impact. Apex Fund gives you a true and accurate assessment that you may not access in the private markets.
The understanding of ESG ratings is becoming increasingly important for success. The demand and pressure from investors, employees, and customers are mounting.
It will test if you can reduce risks and give returns that need a different approach. APEX Fund is here to help you.
The ESG rating services help investors unlock their potential and lead the transformation. Apex uses ESG data and insights to enhance ESG performance.
Final Verdict
ESG investing tools are made for benchmarking environmental performance against the leading global companies. They have business platforms.
These tools help you check and report your environmental, social, and governance performance. We have highlighted the most reputable tools you can use for that purpose. So, you can make your choice depending on your needs.
FAQs
What are ESG tools?
ESG tools are software programs or platforms designed to help investors and other stakeholders evaluate a company's performance based on environmental, social, and governance (ESG) factors. These tools use a variety of data sources and analysis techniques to provide insights into a company's sustainability and social responsibility practices, as well as its management practices and overall governance structure.
ESG tools are becoming increasingly important as investors seek to understand the long-term risks and opportunities associated with companies' ESG practices, and as companies themselves strive to improve their sustainability and social responsibility performance.
What is ESG stand for?
ESG stands for Environmental, Social, and Governance. It is a set of criteria used to evaluate a company's performance in these three areas. ESG factors are increasingly important to investors, who use them to assess a company's sustainability and long-term financial performance.
What is ESG method?
ESG method is a framework for evaluating companies based on environmental, social, and governance factors. This method is used by investors and other stakeholders to assess the sustainability and ethical impact of a company's operations. ESG factors can include a company's carbon footprint, labor practices, board diversity, and more.
Is ESG a marketing tool?
ESG (Environmental, Social, and Governance) is not a marketing tool. It is a framework used by companies to evaluate their sustainability and ethical practices. ESG factors are increasingly important to investors and stakeholders in assessing a company's long-term financial performance and impact on society and the environment.
Related Resources
Kyle Kroeger, esteemed Purdue University alum and accomplished finance professional, brings a decade of invaluable experience from diverse finance roles in both small and large firms. An astute investor himself, Kyle adeptly navigates the spheres of corporate and client-side finance, always guiding with a principal investor's sharp acumen.
Hailing from a lineage of industrious Midwestern entrepreneurs and creatives, his business instincts are deeply ingrained. This background fuels his entrepreneurial spirit and underpins his commitment to responsible investment. As the Founder and Owner of The Impact Investor, Kyle fervently advocates for increased awareness of ethically invested funds, empowering individuals to make judicious investment decisions.
Striving to marry financial prudence with positive societal impact, Kyle imparts practical strategies for saving and investing, underlined by a robust ethos of conscientious capitalism. His ambition transcends personal gain, aiming instead to spark transformative global change through the power of responsible investment.
When not immersed in the world of finance, he's continually captivated by the cultural richness of new cities, relishing the opportunity to learn from diverse societies. This passion for travel is eloquently documented on his site, ViaTravelers.com, where you can delve into his unique experiences via his author profile.