Have you considered adopting commercial solar power? Or are you interested in learning more about solar energy for your business? You should think about it as customers in every sector are increasingly opting to buy from environmentally conscious firms.
Solar energy is low-hanging fruit for businesses seeking to reduce expenses and increase profits. Switching to solar can lower their carbon footprint and show their commitment to sustainability and the transition to renewable energy.
Let's get to discuss the costs and benefits of installing solar panels for your business and how to get the top solar panel installation firms.
This post aims at answering all your commercial solar-related questions.
Let's jump into it!
What Is Commercial Solar?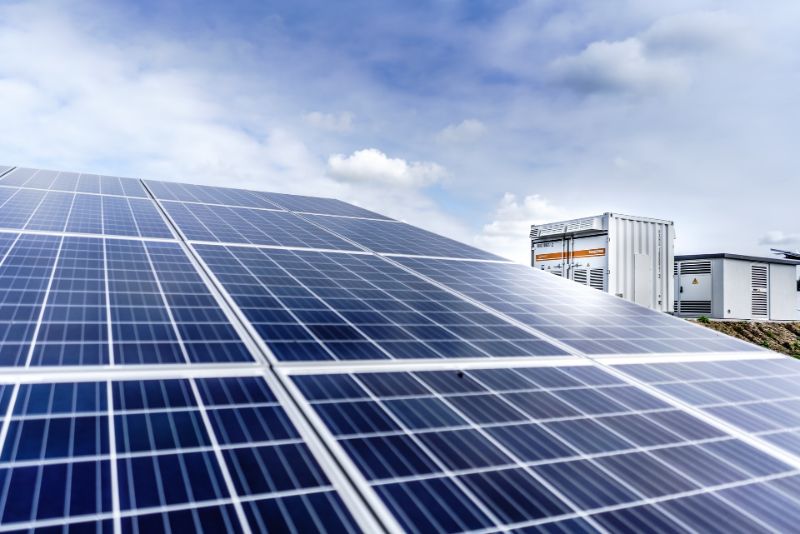 Commercial solar is installing solar panels in commercial and industrial establishments.
It encompasses all solar power applications outside the residential (solar panels for home) and utility sectors (solar power plants or solar farms). Thus, commercial solar is not limited to businesses. Also included are government agencies and nonprofit organizations.
Installations of commercial solar energy systems can benefit any number of businesses! For example:
Office buildings
Ranches
Vegetation grow houses
Warehouses
Infirmaries and hospitals
Daycare facilities
Shopping malls and other retail establishments
Parking garages, parking lots
Commercial Solar Panel System Installation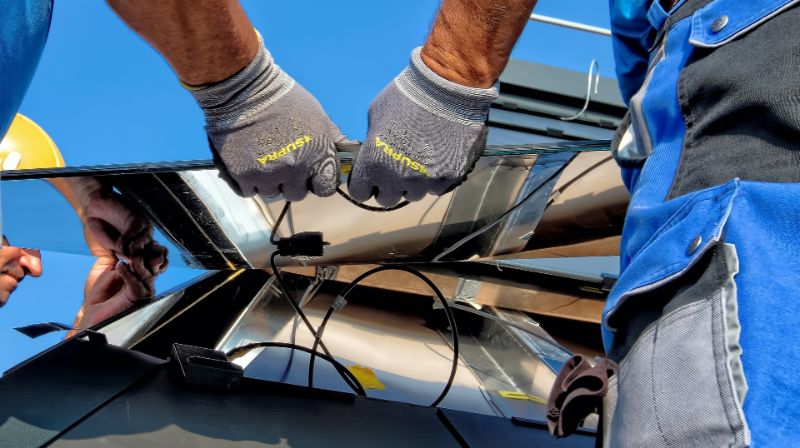 Commercial solar energy systems are different in size and scope from residential installations. Most commercial solar arrays are larger and others don't need to be mounted on roofs. Instead, some locations use solar carports, while others use ground-mounted solar panels.
More extensive commercial operations may even have a "power tower,"; a collection of mirrors concentrating the sun's beams on photovoltaic panels below them.
Most commercial systems are placed on a flat roof surface. They must be constructed on racks that face the sun. The idea is to maintain the optimal angle to harvest the greatest energy during the day.
Some systems even have components called the azimuth. The component keeps the panel angles in sync with the changing sun's altitude. Maximizing return on investment (ROI) requires the lowest possible cost per panel for larger commercial installations.
The cost of installation declines when you require less space, resources, and preparation. Also, better functioning solar panels have a longer lifespan, making them a safe investment.
Solar provides increasing opportunities for commercial property owners to offset part or all their electricity bills. A significant investment is required for a commercial solar system. It's very attractive due to solar subsidies, tax benefits, and innovative technologies.
See Related: How to Finance Solar Panels
Where Can You Install Commercial Solar Panel Systems?
You can install commercial solar systems in various structures and locations. The installation depends on the organizational structure and diverse locations from which they operate.
This is somewhat different from domestic solar panels that are installed on the rooftops of homes. While utility-scale plants are usually ground-mounted solar farms.
Some potential locations for installing business solar panels include:
Awnings and rooftops of commercial buildings.
Racks on roofs and other flat surfaces
Sheds and barns
Patio, pergola, and gazebo canopies
Roofs of garages and parking canopies
Attachments to poles
Around ponds and artificial lakes
Benefits of Commercial Solar Installations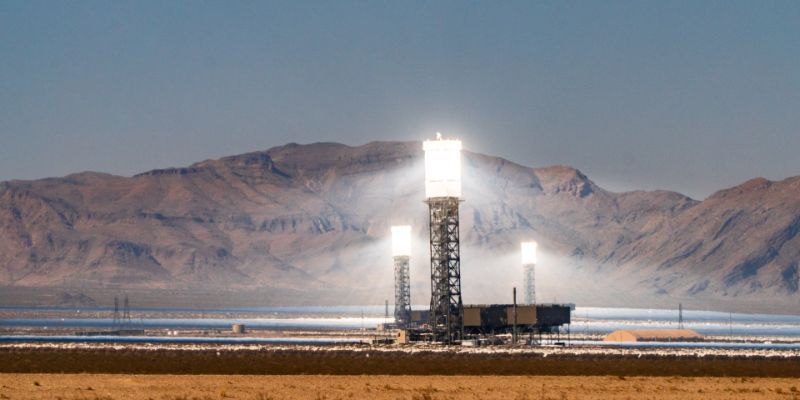 Commercial solar installations offer the same advantages as residential solar installations. For example, most business solar systems exceed 50 kW.
But the average household installation is 5 and 10 kW. This means that specific business solar installations can have an environmental and economic impact more than ten times that of a typical household installation.
See Related: Best Business Loans for Solar Energy
Environmental Benefits of Commercial Solar Panels
Commercial solar installations could compensate for hundreds or even thousands of tons of CO2 emitted by conventional energy production.
For instance, a 50 kW commercial system will provide around 65,000 kWh of clean energy per year.
This would reduce a business's carbon footprint by 1,000 metric tons throughout the lifetime of a commercial solar energy system (equivalent to not burning just over 1 million pounds of coal).
Solar is an excellent way for businesses to demonstrate real concern for the environment while generating revenue, and maybe even saving money.
See Related: Tips for Buying a House with Solar Panels
Financial Benefits of Commercial Solar Panels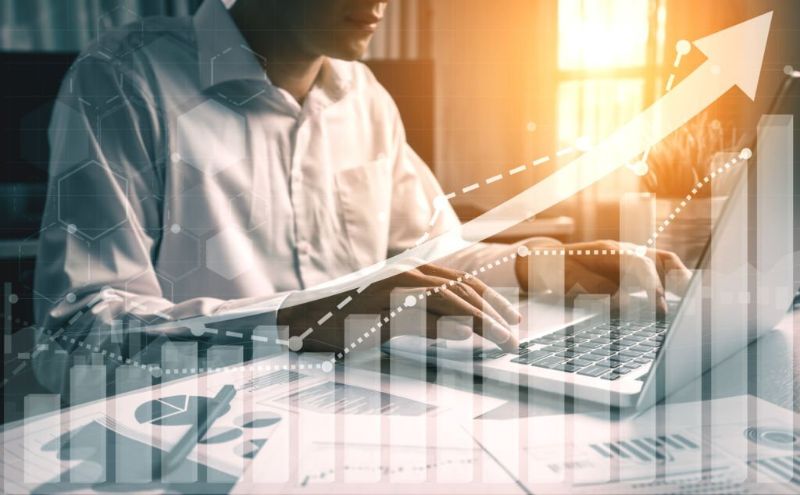 Energy prices are among the most expensive expenses a firm incurs. According to Energy Star reports, small businesses in the United States spend more than $60 billion annually on energy. Moreover, it is anticipated that utility costs will continue to rise.
Because of supply issues, utility tariffs change frequently. Businesses can lower their energy costs by investing in solar energy.
The average lifespan of solar panels is 25 years. A business can plan its energy bills for decades with the correct warranty and purchasing plan. Businesses can reinvest much money by offsetting the majority (and occasionally all) of their energy expenditures.
Solar panels provide various financial advantages. Here are ways solar energy can assist you with your finances:
Typically, they reduce operational costs by offsetting monthly electric bills.
Solar panels safeguard against future energy price fluctuations.
Solar panels increase the value of a home.
Companies receive a 26% tax credit, which significantly reduces the cost of installation.
The value of a company's solar panels can be depreciated, resulting in an initial tax deduction.
They enhance your organization's reputation as a forward-thinking leader in clean energy.
If you have a solar system with a battery backup, your company will not lose power during grid power outages.
See Related: How to Store Solar Energy for Later Use
Commercial Solar Financing Options
There are many ways to pay for solar panel installation. The advantages of using cash include:
A reduced total cost.
A quicker return on investment.
The ability to own all equipment.
If the cash option is not doable, you could consider a loan or a lease.
You can buy the equipment at the end of a conventional solar loan or lease. Leasing is an excellent option for many businesses. It lets you install solar panels without paying for them outright while still saving money on their electricity bills.
Commercial Solar Panel Incentives and Benefits
There are many reasons why businesses should transition to solar energy. Here are a few of the most significant benefits and justifications for commercial solar panel systems:
Tax credits and other solar incentives.
The cost of electricity offsets MACRS depreciation.
There are many methods to pay for it.
Earn environmental credentials.
Typically short time to make back your purchasing costs.
We'll discuss each of these perks in further detail below.
The federal investment tax credit (ITC), often known as the solar tax credit, equals 26% cost of solar panel installation.
Thus, if your company installs a solar power system, it will receive a tax credit of about 26% of the total cost. This guide from the Department of Energy explains how to use the commercial solar tax credit in further detail.
Municipal governments may provide even more incentives to encourage solar energy adoption. Check to see if your area offers any incentives.
Reliability and Maintenance
Solar panels need fewer maintenance practices. A glass-encased in high-quality metal protects the solar cells.
This means that the panels can withstand precipitation, snow, and hail. Additionally, they produce no noise or waste.
See Related: How to Invest in Wind Energy | Best Wind Stocks
Things to Consider Before Installing Commercial Solar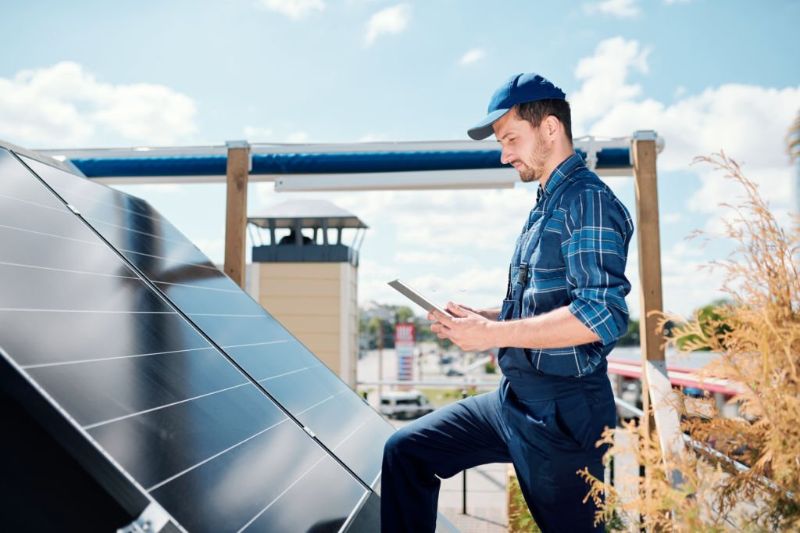 Solar energy for commercial use is prevalent worldwide. Sunlight may be used to generate energy. A solar panel system helps you;
Save money on electricity costs.
Reduce your carbon footprint.
Take advantage of tax incentives for solar energy businesses.
Many businesses don't use solar energy because they lack the skills, resources, finances, or desire to manage a project with as many components as solar power installation.
Here is what to look out for before you commit to commercial solar installation;
See Related: Tesla Outage: Do Solar Panels Work in a Blackout?
Look for the License. Is the provider Bonded and Insured?
Before hiring a solar provider, determine whether they are licensed, certified, and insured.
Verify that the solar provider has the proper licenses. They must have the proper insurance and bonds to safeguard you in case something goes wrong.
If an uninsured solar installer is injured on your property, you may be responsible for their medical expenses.
Commercial Solar Warranties
When selecting a solar firm to install commercial solar systems, you need to understand what warranties it provides. Solar energy systems for businesses are not cheap.
If your solar panel system breaks or ceases to function, a warranty might help you receive a refund.
Commercial Solar Maintenance Expertise
When selecting a solar installer, it is also essential to inquire about their approach to maintenance. If for example, your inverter stops working, you need to know that they can perform solar repairs fast.
The commercial solar installer's customer care services should be fast to reply too. In case of intensive repairs, your business solar installation firm should be able to fix your system in less than a month.
Commercial Friendly Financing
Funding a large solar plant's acquisition, installation, and upkeep might be challenging. If your company wishes to use solar energy, it's good to connect with a vendor who can assist with financing.
There's the option of third-party solar finance where the commercial customer is responsible for acquiring funds for the installation. This requires you to investigate tax benefits, rebates, and the best workable interest rates.
Installers that offer to finance collaborate with banks to devise no-down-payment arrangements. This collaboration allows clients to use their cash for other investments and projects.
Build An Accurate Breakdown of the Cost of Going Solar
Before beginning construction, a skilled solar firm should provide you with an accurate quote. The company should also be allowed to add estimation fees to the actual cost of a job.
You'll need to get a precise and detailed commercial solar quote to help you compare different quotations.
Communication should be in advance to avoid 'surprises' during the installation of your commercial solar panel.
Plan for Unexpected Power Outages
The power in your area will go out due to a severe storm, grid maintenance, a fire, or routine maintenance. Having a backup power source helps ensure that your business remains operational during the storm.
Adding a battery or generator will reduce your reliance on the power company and provide a backup power source during a power outage.
Ensure that the solar firm you choose has extensive knowledge of commercial battery backup solutions and microgrids.
Background Checks. Solar Reviews Matter!
If you read a few reviews of a company's solar products, you might see that more of them are favorable than unfavorable. This may indicate that they are a trustworthy solar firm.
Some negative reviews are expected. But the solar firm is likely reputable if the bulk of reviews are positive. Check websites such as Yelp to determine other people's experiences with the company.
FAQ
How many solar panels do I require for a commercial installation?
The number of solar panels required for an installation is determined mainly by the installation's objectives and the amount of available space. Some commercial solar projects, such as solar farms, are designed to generate income through the production and sale of electricity. 
Most firms seek to cut their energy expenditures. Therefore, they will only need to purchase as many solar panels as necessary to meet their energy demands.
The best way of determining the number of solar panels you need to meet your energy needs is by requesting a free estimate from a local solar contractor. 
How long does the installation of solar panels on a business take?
Commercial solar installations are more extensive than residential ones, making the installation procedure more challenging. Installation of solar panels on a business might take anywhere from a few weeks to a few months, depending on the size of the system.
 
Contacting a solar installer can help you determine how long it would take to install solar panels for your business.
Is it worthwhile for a business to install solar panels?
Commercial solar panel installation is a worthy investment a company can make. Solar panels can save businesses a lot of money on energy expenditures.
 
Besides, several corporate incentives are set to expire, so now is the optimal moment for companies to invest in solar.
Can solar panels be used in large-scale industries and commerce?
Solar systems in enterprises and factories are more valuable than residential solar panels. Because the business installations are more significant, the cost per watt is lower.
 
Therefore, the enterprises enjoy more value for their money.
Besides, commercial solar installations are still eligible for the solar tax credit, net metering, and certain tax advantages, making them an excellent investment for business owners.
Related Resources
Kyle Kroeger, esteemed Purdue University alum and accomplished finance professional, brings a decade of invaluable experience from diverse finance roles in both small and large firms. An astute investor himself, Kyle adeptly navigates the spheres of corporate and client-side finance, always guiding with a principal investor's sharp acumen.
Hailing from a lineage of industrious Midwestern entrepreneurs and creatives, his business instincts are deeply ingrained. This background fuels his entrepreneurial spirit and underpins his commitment to responsible investment. As the Founder and Owner of The Impact Investor, Kyle fervently advocates for increased awareness of ethically invested funds, empowering individuals to make judicious investment decisions.
Striving to marry financial prudence with positive societal impact, Kyle imparts practical strategies for saving and investing, underlined by a robust ethos of conscientious capitalism. His ambition transcends personal gain, aiming instead to spark transformative global change through the power of responsible investment.
When not immersed in the world of finance, he's continually captivated by the cultural richness of new cities, relishing the opportunity to learn from diverse societies. This passion for travel is eloquently documented on his site, ViaTravelers.com, where you can delve into his unique experiences via his author profile.