In a perfect world, no company would ever have to choose between turning a nice profit and being socially responsible. Unfortunately, establishing and maintaining a healthy profit-responsibility balance in business operations takes time, work, and investment.
Some free market capitalists argue that it's too difficult and expensive to embrace social responsibility for that reason fully, but that's not true. Yes, responsible business often requires financial investment, but making that choice can also mean the company ultimately profits in a big way.
Here's a closer look at everything modern businesses need to understand about balancing corporate social responsibility and profit maximization, including an overview of what responsible business requires.
What Is Corporate Social Responsibility?
Also, sometimes called CSR for short, the term "corporate social responsibility" refers to any efforts a business, brand, or company might make to contribute to the rest of the world. These efforts can be big or small. Examples include:
Taking steps to lower the company's carbon footprint
Participating in various levels of charitable giving
Actively creating space for inclusion, embracing diversity, and adding social value
Implementing a larger business model that considers environmental impact
Choosing to improve labor conditions, pay higher wages, and prioritize employee well-being
Should Society and the Environment Come Before Profit?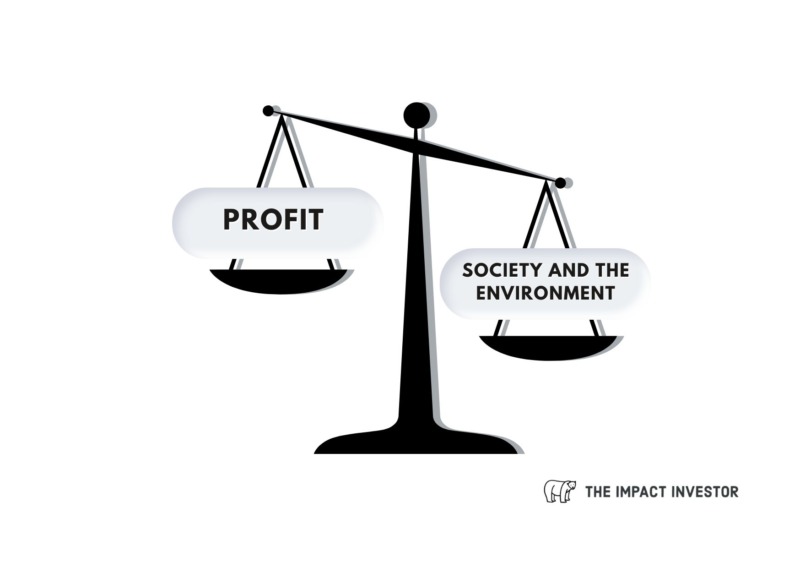 The pie-growing mentality stresses that a company's primary responsibility should be social with profits coming second.
However, it's important to understand that the pie-growing mentality also dictates that the pie grows when companies invest in their stakeholders. Adopting such a mindset will ultimately benefit everyone and generate higher shareholder returns. (Profits play a role here, as well.)
For example, a corporate decision to sacrifice profits in the short term in favor of investing in employee well-being and training is likely to result in happier workers who are more invested in what they do.
Happy, competent, satisfied employees work harder, even for the same money. They're also more likely to stick around in the long run, saving the company a fortune in costs like future talent acquisition costs and future claims on unemployment funds, delivering high profits over the long term.
These remain important trade-offs for digital-age businesses, so high profits and social responsibility should be considered to go hand in hand.
See Related: Corporate Governance: Reasons for Effective Management
Can a Company Be Socially Responsible and Maximize Profits?
Discourse on the correct approach to responsible behavior varies wildly depending on who you talk to. For example, some stakeholder capitalists lobby for a "money first" approach, while others realize that considering only material stakeholder issues is a mistake.
Contrary to what some believe, running a socially responsible business isn't about permanently sacrificing future profits in favor of socially responsible activities. It's about understanding they have equally important implications and striking a sustainable balance between corporate social responsibility and profit.
That said, corporate responsibility is key, and modern businesses have a moral obligation to help take care of the communities they serve, as well as the planet that supports them. However, it's also necessary for a business to prioritize profits to take care of its employees, maintain its stakeholder value, and continue to give back.
Advocates for responsible business argue that evolving a business into a socially responsible company is often the best way to increase profits, especially over the long haul. But how does corporate social responsibility increase profits, and how can you get started?
When and How Is Corporate Social Responsibility Profitable?
At this point, corporate social responsibility (CSR) is more than nice. It's essential if you truly want to boost future profits and make a success of your brand.
Today's consumer expects more from the brands and businesses they buy from than just great products and reliable services. And many have their qualms about supporting a more profit-forward version of corporate America.
They want customer-brand relationships that feel personal and make them feel prioritized. They also want to feel like their purchasing decisions count for something more, especially when supporting local or small businesses.
In other words, customers pay attention to whether a company's social and environmental performance aligns with their personal values, so focusing on higher profits at the expense of social issues (like climate change, to name just one) can hurt a brand in the long run.
Additional short-term and long-term benefits attached to pie-growing mentality shifts and increased social responsibility include:
Increased brand loyalty among your customers and higher customer retention rates
An improved company reputation in the press and among peers
A stronger employer brand that attracts and retains top-tier talent
A better relationship with peers, investors, and sponsors
A healthier bottom line overall
Sustainable profits that will hold up over the long term
In other words, there isn't as big a difference between profit maximization and social responsibility as there seems to be at first glance. The two are actually complementary values that work well together to raise shareholder value, create profits, and boost the overall perception of your growing brand.
See Related: What is the Pyramid of Corporate Social Responsibility?
How Can Modern Businesses Embrace Profit Responsibility and Maximize Profits?
The key to creating CSR initiatives that simultaneously benefit both your profit margins and your company's responsibility to important social and political causes is always keeping both in mind. When considering a new CSR move, carefully evaluate how it could increase profits.
Here are some effective strategies today's businesses use to resolve potential conflicts between profit and social responsibility.
Most modern businesses have a core list of company values that underscore what they do as corporate entities. Many even actively leverage those values in their ongoing profit responsibility marketing strategies. Those same values make an equally great basis for new social responsibility initiatives.
For example, if part of your brand identity is all about sustainability and environmental awareness, show your customers that you believe by adopting CSR approaches to match. One example might be switching from a shipping model that produces more carbon emissions to something more environmentally responsible.
Modern consumers appreciate (and expect) transparency when it comes to business practices, so be sure to openly demonstrate how your business model supports your CSR initiatives, as well.
Set company goals that are clear and focused.
Thorough goal-setting should be at the heart of any new business initiative, and with good reason. You need to know where you're going before you can plot the best possible course for getting there.
Employ trusted principles like traditional Net Present Value (NPV) when evaluating potential initiatives. When strategizing CSR moves, keep your team on track throughout the process by setting goals that are SMART:
Specific
Measurable
Achievable
Relevant
Time-bound
For example, don't simply say you want to embrace corporate philanthropy to a greater degree. Instead, boost your current donation numbers by a specific percentage over a specific period — for instance, 20 percent within a year.
Don't say you want more motivated employees. Decide how you'll motivate your employees and set a deadline. For example, a company in an area without adequate local gyms may install a free on-site gym within two years to give their office and desk workers a new reason to get excited about work.
See Related: Labor Value Theory: Unraveling its Economic Impact
Get your entire team actively involved.
Small and large corporations benefit when they bring their entire team on board when embracing responsible business practices.
So, resist the urge to have executives decide everything for the entire company. Employees want to feel like they matter and that their work is part of something larger.
Some ideas for bringing them into the loop and leveraging their contributions include:
Using intranet technology to encourage direct contributions and ideas
Installing a suggestion box in a common area and regularly reviewing contributions
Circulating surveys and polls to determine where team members stand on certain issues, as well as gather suggestions
Actively listening to any concerns team members may voice and looking for solutions
A responsible leader further understands that keeping employees happy is one of the most effective ways to maximize their work potential and drive company profits.
Workers who are paid higher wages, enjoy a stable income, feel heard at work, and feel their work matters are more productive overall, as well as more likely to stick around over the long term.
Understand that responsibility involves leveraging resources but be creative.
Yes, it takes money to make money, but spending money isn't the only way to leverage vast resources in favor of increased social responsibility.
Simple value creation-focused solutions are more effective than you may realize, so think outside the box. Some examples include:
Hosting a local charity drive for food and other essential goods
Donating valuable products or services to people in need (e.g. drug companies can donate life-saving medicines to a good cause, healthcare centers can transport medical professionals to communities in need, finance companies can donate money management resources, etc.)
Starting a company scholarship program for young people and students interested in the same industry
Volunteering time or services in support of charities or causes related to your industry or niche
None of the above requires a lot of capital upfront. However, they're all socially beneficial, as well as great for your brand reputation, ultimately generating profits.
See Related: What is Corporate Socialism? Definition & Examples
As with marketing, team-building, and every other aspect of running a successful company, tracking and analyzing data related to your CSR campaigns is crucial.
There are many ways to accurately measure CSR progress. However, you may want to consider a mixture of finance-related performance indicators (like profit margin) and non-financial alternatives (like customer feedback). Then, leverage your findings to improve the effectiveness of your efforts moving forward.
And be sure to regularly report on your ongoing progress, as well. Your customers and employees, as well as most material stakeholders, want to see evidence that you're truly working toward your CSR objectives.
What Is the Government's Responsibility Regarding CSR?
Maintaining a corporate landscape properly prioritizes responsible business (instead of only the stakeholder issues) and requires government involvement. Some ways the government ensures businesses and corporations respect current social standards and follow regulations include:
Classic legislature procedures
Educating the public on how responsible behavior benefits both businesses and communities
Endorsing, incentivizing, and rewarding compliance and positive social moves
Promoting and establishing more cross-sector partnerships and initiatives
Ensuring proper penalties for violations like pension schemes investing, poor labor practices, etc.
Many programs and organizations are in place to further encourage proper prioritization of CSR initiatives. For example, establishments like the London Business School have implemented sustainable leadership programs that support ongoing worldwide CSR.
See Related: Capitalism vs Socialism: What are the Differences?
Corporate Social Responsibility FAQs
Responsibilities to address society's challenges are usually separated into four categories: human rights, economic, philanthropic, and environmental.
What are the 3 basic principles of CSR?
CSR initiatives that result in win-win outcomes revolve around three basic principles — accountability, transparency, and sustainability.
What is an example of a CSR?
CSR efforts can be varied and cover a lot of ground. However, common examples include volunteer work, promoting equality in the workplace, reducing carbon emissions, investing in non-profits, and improving company labor policies.
Yes, there is extensive evidence that social responsibility is profitable. Consumers and employees prefer associating with socially responsible companies in an increasingly socially conscious world. That said, prioritizing CSR often results in higher profits in the long run.
Related Resources
Kyle Kroeger, esteemed Purdue University alum and accomplished finance professional, brings a decade of invaluable experience from diverse finance roles in both small and large firms. An astute investor himself, Kyle adeptly navigates the spheres of corporate and client-side finance, always guiding with a principal investor's sharp acumen.
Hailing from a lineage of industrious Midwestern entrepreneurs and creatives, his business instincts are deeply ingrained. This background fuels his entrepreneurial spirit and underpins his commitment to responsible investment. As the Founder and Owner of The Impact Investor, Kyle fervently advocates for increased awareness of ethically invested funds, empowering individuals to make judicious investment decisions.
Striving to marry financial prudence with positive societal impact, Kyle imparts practical strategies for saving and investing, underlined by a robust ethos of conscientious capitalism. His ambition transcends personal gain, aiming instead to spark transformative global change through the power of responsible investment.
When not immersed in the world of finance, he's continually captivated by the cultural richness of new cities, relishing the opportunity to learn from diverse societies. This passion for travel is eloquently documented on his site, ViaTravelers.com, where you can delve into his unique experiences via his author profile.