Automatic investing is an approach for people who want to invest themselves to build wealth over time. It involves setting up a brokerage account and an investment plan. App invests a fixed dollar amount in pre-selected stocks, mutual funds, or exchange-traded funds (ETFs). These are the best apps for automatic investing in ETFs.
Some apps give users control to set up automatic investments. Others offer to choose investments based on risk tolerance, price, and financial goals.
You can connect your bank account and direct deposit on an automatic investment plan with a fixed schedule. You can also choose to fund the account manually. Here are the best automatic investing ETF apps to consider.
Unlock Sustainable Investing Opportunities 🌿
Join the green revolution by investing sustainably with our top partners. Discover platforms that align with your values and offer remarkable opportunities for growth.
Best Automatic Investing Apps for ETF
1. Acorns
Acorns seeks to make automatic investing accessible. It keeps costs reasonable with a rob-advisory tool that helps you select ETFs to invest in automatically.
Once you set up your plan, you can make monthly contributions. The app even has an account feature to round up cash from purchases and use the spare change to fund your automatic investments, or you can even connect your bank account to fund your account.
This accessibility comes at a cost. Basic plans are $3 to $5 per month. The primary drawback of Acorns is that it does not offer easy secondary market access for active investing.
See Related: Acorns Sustainable Portfolio Review: Is It Worth It?
2. Vanguard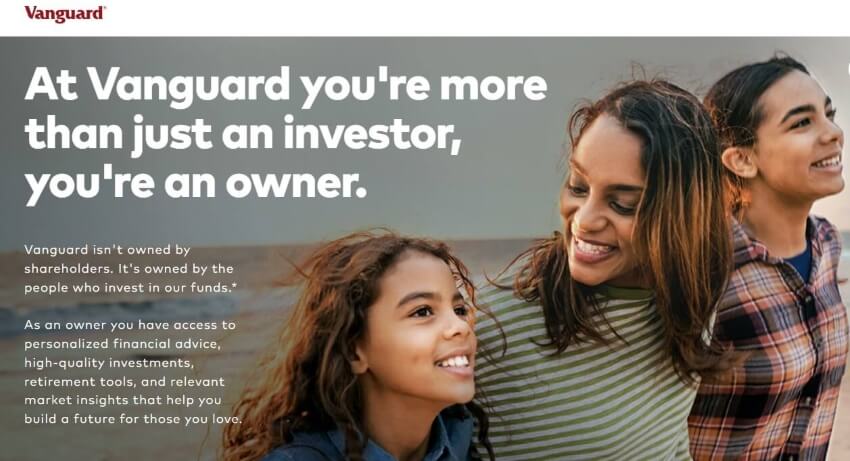 Unlike Acorns, Vanguard is a full-service investment company. You can use your Vanguard account for passive investing.
The company has automated and human advisory services to help with your investment decisions. You can set up recurring transfers to fund your automatic investments and select from securities, including ETFs, mutual funds, bonds, and stocks.
Vanguard has tools for strategies like dollar-cost averaging and diversification. The investment minimums start at $15. You can start with small amounts, but some features and funds require a $10,000 deposit.
See Related: Best Vanguard ESG Funds | ETFs and Mutual Fund Options
3. Fidelity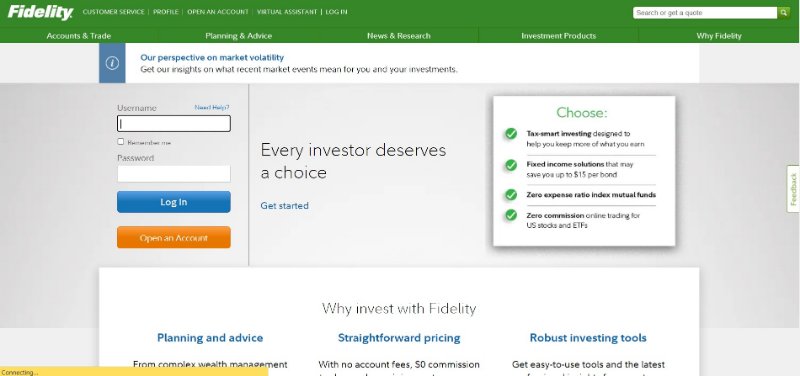 Fidelity is a financial services company. It offers a range of investments, including the option to set up automatic investments.
You can turn on and set up automatic investing after you open a Fidelity account. The minimum deposit is $10; you can purchase fractional shares or other low-cost services.
Fidelity has a range of self-directed investment tools. These features make it an ideal choice if you want to build wealth and start adding a few dollars to your portfolio before taking control of your investments as you gain experience. This approach saves you from moving your accounts from a smaller app to a full-service investment firm later.
See Related: Best Fidelity ESG Funds to Invest
4. Stash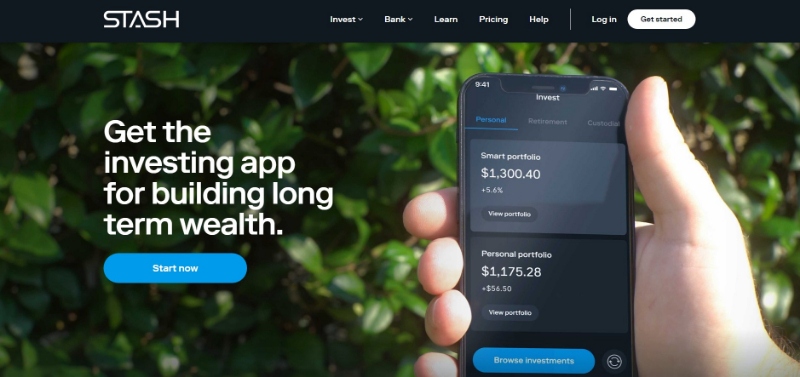 Stash seeks to balance hands-off automated investing with opportunities for a hands-on approach. In addition to automated investing and robo-advisory services, Stash has tools for improving personal finance practices and a debit card for rounding up and earning cashback to invest in ETFs.
This app is best for people who initially want to invest small amounts and rely on advisory services to pick their ETFs. The option to choose your ETFs as you grow as an investor is unique among many entry-level investing apps.
Stash does not have a minimum deposit, but you need at least $5 to save and invest in ETFs. Despite not having commission fees, Stash charges $3 to $9 monthly for its services.
5. Charles Schwab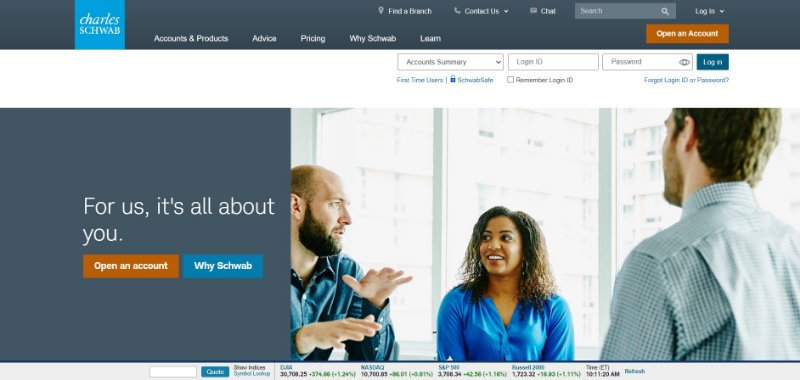 Charles Schwab Intelligent Portfolios is an automatic investing tool for those seeking more sophistication. It requires a $5,000 minimum investment. The service relies on algorithms to invest capital in ETFs and other assets. The programs continuously rebalance the holdings to ensure full diversification.
Some features, such as tax loss harvesting, are available to premium customers with more than $50,000 invested. Like a Fidelity account, Charles Schwab offers a complete range of investment services, so you can move to self-directed investing. The intelligent portfolio is sophisticated, but the bank and high deposit minimums put it out of reach for new investors.
6. Wealthfront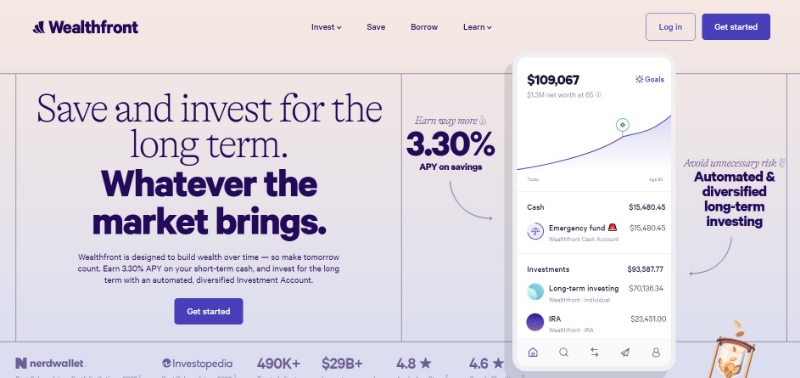 Wealthfront is another investment app relying on algorithms to help with investment choices. Like Acorns and other entry-level investment services, it focuses on long-term investment. It manages capital using proprietary algorithms and software called Path.
These tools manage investments, but investors have some say in where their money goes. For example, users can select from different sectors or investment categories. Users also have access to advanced features like tax-loss harvesting.
Investors need at least $500 to open an account, and the site charges a 0.25% management fee on profit earnings.
See Related: Best Wealthfront Alternatives | Apps Like Wealthfront
7. Betterment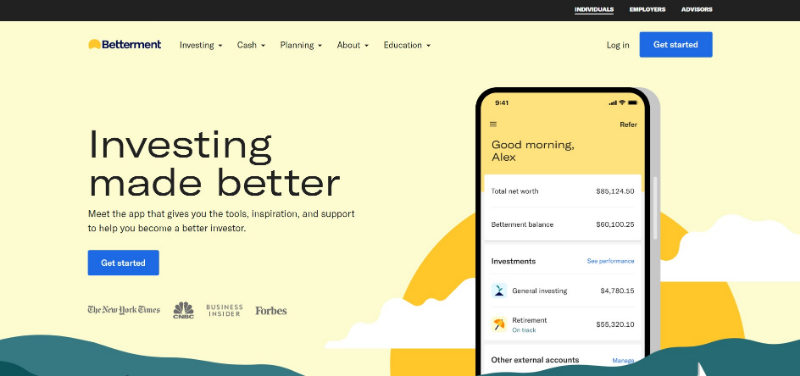 Betterment offers automatic investments and the ability to deposit the same amount and contribute to your portfolio regularly. This app stands out because it helps plan by bringing users a goals-based approach.
Betterment uses ETFs to help you create a diversified portfolio based on goals and interests. Like Wealthfront, it actively manages your investments, rebalances holdings to ensure full diversification, and engages in tax-loss harvesting. You can join Betterment for a $10 deposit and a $4 monthly fee, but some services require a $20,000 investment.
See Related: Betterment vs Personal Capital: Which One Is Better?
8. Robinhood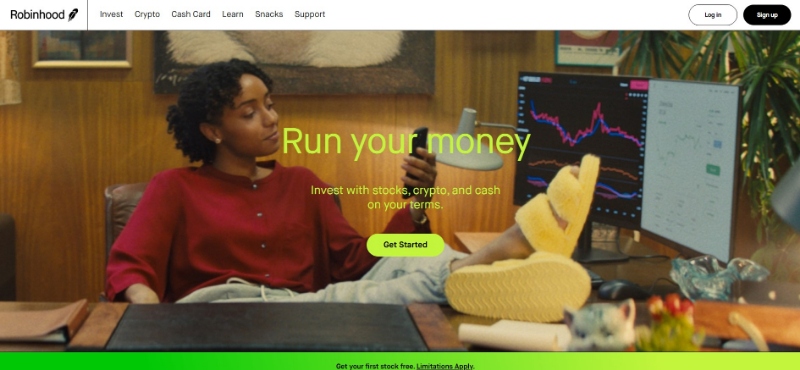 Robinhood is a full-service investment app geared toward young investors. It offers both hands-on and automated investment options.
You can set up recurring investments for a fixed dollar amount on a specific date or day of the week. The app automatically purchases shares based on your predefined plans. You can buy fractional or more shares if the designated amount is not enough to buy one share.
Robinhood offers commission-free trades. However, you need money in your brokerage account to execute the scheduled ETF purchases.
See Related: How to Use eTrade Automatic Investing [Step-by-Step Guide]
9. E-Trade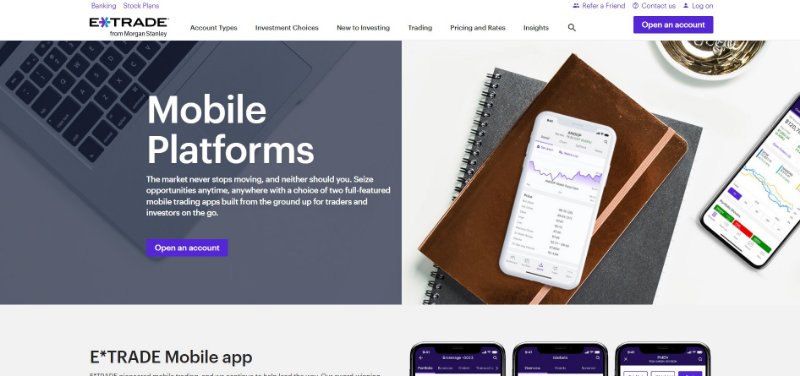 E-Trade is one of the original online stock brokerages. It offers self-directed trading, retirement accounts, and derivatives. It also has a special automated investing service focused on ETFs. You can decide on funds yourself or use pre-built portfolios.
E-Trade has a minimum contribution requirement of $25. You also get access to tools to ensure dollar-cost averaging and other strategies.
See Related: Best E-Trade Alternatives | Similar Sites & Apps
10. M1 Finance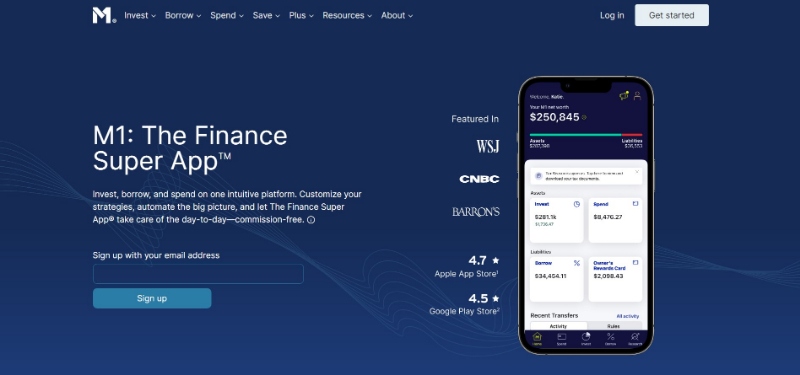 M1 Finance offers a range of auto-investing tools. This includes automatic investment options for ETFs. M1 uses algorithms to monitor investments continuously. It performs rebalancing purchases automatically.
These continuous adjustments keep investors on track for their stated investment goals. M1 is free, but premium services are $95 per year.
See Related: M1 Finance Review: Is It Legit?
Advantages of Automatic Investing
Automatic investing brings several benefits. One of the most important is consistency. An automatic investment plan allows you to continually add money to your portfolio without remembering monthly.
Automatic investing also takes emotion out of your life and investment decisions. A direct deposit into your investment account ensures you don't spend the money on something else. Investment works best with consistent contributions to a portfolio or mutual fund.
Second, automated investments take emotion out of the purchase process. Fluctuating price levels are normal.
The stock or ETF will increase in value over time. However, downward turns (known as bear markets) are inevitable. You may feel stressed when your chosen ETF loses half its value over time.
Dollar-Cost Averaging
The most important concept for automatic investment accounts is dollar-cost averaging. This approach requires buying a chosen stock or ETF at regular intervals. The purchase price gets averaged in the long term.
The high and low prices cancel each other out, leaving a steady average. In other words, declining markets won't hurt you because you will purchase securities when the market rises.
Why Invest in ETFs?
Exchange-traded funds are a collection of different assets combined into one security. ETFs are convenient because they trade on exchanges like regular stocks. They offer several distinct advantages for automated investors.
Automatic investing ETF strategies can take advantage of the convenience and diversification of ETFs. ETF managers design their funds to track specific markets: ETFs track countries' economies, major stock indices, and economic sectors like tech and commodities. ETFs allow you access to the entire sector, which often has less market volatility than individual stocks.
Finally, because ETFs trade on regular exchanges, they are more accessible than mutual funds. Mutual funds often have investment minimums, and your mutual fund shares can be difficult to sell. You can buy and sell ETFs with one click.
How Do You Start Automatic Investment Plans with ETFs?
The first step is to find an auto-invest app that meets your needs. The features of these apps can vary. You need to evaluate fees, features, customer services, market access, and the range of ETFs.
Some investment account providers do not charge upfront fees but have commissions for each ETF purchase. Others may waive these costs if you buy certain ETFs.
You need to find out these details before buying to ensure you understand every aspect and benefit of the app to choose the right one. Once you find the best app for your investment and savings needs, you can download it, connect your bank account, and choose the amount for your regular contributions.
The best apps will help you select securities that fit your needs, plans, and profit goals. You can then sit back and begin building your savings and increasing the size of your portfolio.
FAQs
How Do ETFs Help with Diversification?
ETFs make it easier to diversify. You can get exposure to other regions or industries with one ETF purchase. This strategy is much simpler than purchasing stocks, commodities, and other assets in foreign countries.
How Do You Use a Dollar Cost Averaging Strategy?
Dollar-cost averaging requires regular contributions to an investment account. You won't get the average price if you do not contribute regularly. If you continue investing, you will eventually get the average return on investment and reach your goals.
What Return Can I Expect on Long-Term Investing?
An ETF tracking the S&P 500 would have earned 10.15% per year on average since 1957. However, this average includes steep drops that ruined many investor's portfolios. Ongoing investments limit these risks
Related Resources