As the global economy becomes more inclined towards sustainability, investors are more interested in companies that display a high degree of environmental and social responsibility. Impact investing has taken shape in recent years, with individuals and companies investing more in things that bring positive change.
These global trends, which seem to grow even stronger, especially due to the devastating state we have put our planet in over the past decades, are likely to continue for the next several decades.
That's why, if you want to become one of the leading impact investors in the future, you should become more acquainted with the impact investing ecosystem to ensure that you can enjoy good returns in the future.
This article outlines some of the best impact investing online courses that will ensure you stay ahead of the pack.
What is Impact Investing?
Impact investing is meant to make positive social-economic changes while generating profit.
Therefore impact investors focus on putting their money on investments and companies that focus on positive environmental and social change.
On the other hand, this investment strategy requires companies to come up with business strategies that incorporate the investors' values targeting to make the world a better place.
Some of the impact investment opportunities include; renewable energy, sustainable agriculture, and electric cars. Impact investors put their money in companies that they believe to be worthwhile.
This strategy is all about responsible investment decisions.
Investors should be able to measure the societal impact of their investments before making the final decision. Ideally, impact investing is guided by personal belief and what the investor thinks is worthwhile.
Best Impact Investment Courses
The best way to get impact investing training is by taking an online course. Depending on your needs, you will find a good impact investing course to buy online.
Here are some impact investing courses you should try: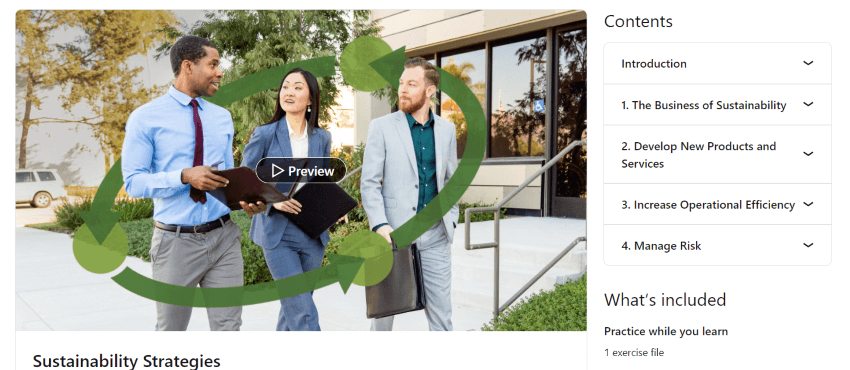 Sustainability Strategies is a course that introduces you to the changing business climate. This course is available on Linkedin and was created by David Bennell, a consultant of sustainability and ESG practices. For business owners, introducing sustainability is important to help them build successful strategies that will grow the company brand.
In the course, you will learn how to develop smart sustainability practices. The course takes 56 minutes to complete and covers four chapters.
Why you should take this course:
Certificate of completion – You get a certificate of completion after doing the course. The certificate appears on your LinkedIn profile, which will help you when searching for a job or looking for clients.
Created by an expert – David Bennell is in the field of sustainability and is currently a consultant. He has the knowledge and skills on sustainability and impacts investing.
Short course – the course takes 56 minutes only to complete.
Learning resources – you will get a project file with all the learning resources. The course is also available on your tablet or phone.
If you are looking for the best impact investment course, you certainly should try this one.
See Related: Best Artificial Intelligence Stocks to Buy Now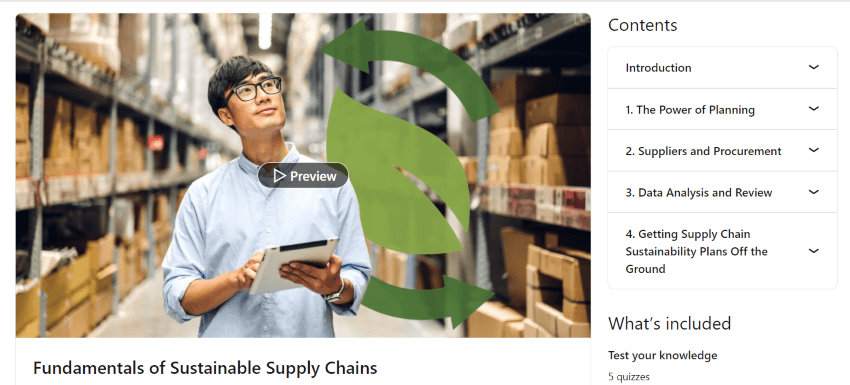 Fundamentals of Sustainable Supply Chains is a course that addresses product sourcing, manufacturing, distribution, and delivery concerns.
These are areas of concern for investors, and learning how the supply chain works can be important when making investment choices.
In the course, Sarah Barnes-Humphrey talks about her 20 years of experience in the field using case studies and real examples.
These examples are important to help business owners create sustainable business strategies. Barnes addresses issues like environmental impact, human rights, ethical labor practices, and anti-corruption in the course.
Why take this course:
It gives you insights on business sustainability – the course helps you understand what happens in the business supply chain to understand sustainability from a business point of view.
Addresses social and environmental issues – in the course, Barnes addresses social and environmental issues that businesses face. Impact investors will be intruded on by these issues.
Short course – the course duration is under one hour so it should not be a problem to finish it.
Written by an expert – Sarah Barnes has been in the field for over 20 years, so she is an expert.
See Related: Ways to Start Investing in Small Business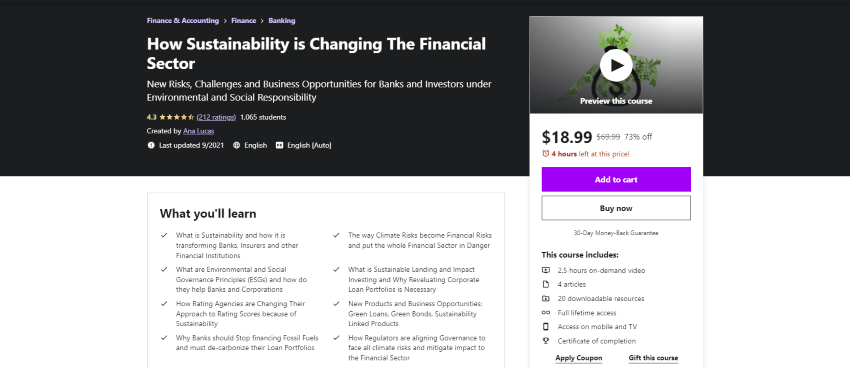 This course addresses sustainability but from the viewpoint of banks and other financial institutions. It gives insights into how climate affects the financial sector and the changes that are bound to happen. It talks about the environmental issue of banks funding fossil fuels that are harmful to the environment.
You will learn how financial institutions can make positive changes through sustainable finance. This is the funding of good company projects that promote sustainable development.
The course might not be ideal for people without a finance background since it touches on serious issues in the financial sector. People already in the field will find the course intriguing since it explains what happens in the financial sector and how banks adopt green portfolios.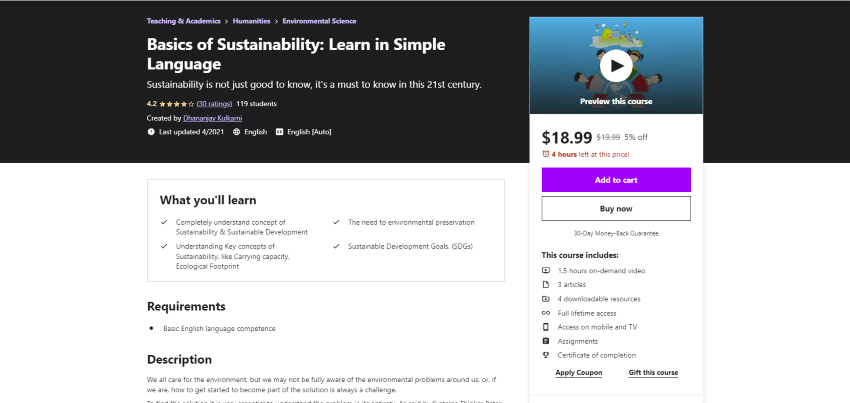 Basics of Sustainability is another incredible impact investing course you should try. It offers insights into environmental problems around us but in a simple language. For impact investors who are passionate about the environment, this course will be helpful.
It will help investors understand deep issues like sustainable development goals, ecological footprint, and environmental preservation. These are important issues for sustainable investing. This course was created for environmental activists, people passionate about climate change, and anyone interested in sustainable development goals.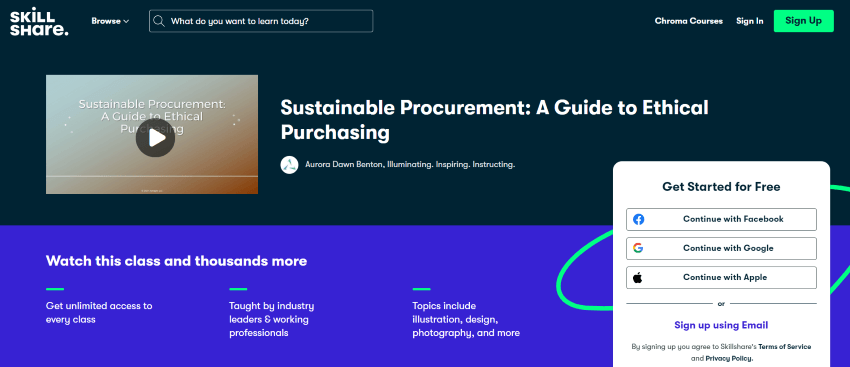 Sustainable procurement is important for every business. And investors should understand the importance of sustainable procurement before investing in any business.
This course is ideal for impact investors because it offers insights into how sustainable procurement works. The course takes 2 hours and 51 minutes, covering 21 lessons.
Aspiring impact investors will love the topics covered in this course, such as carbon emissions, humane working conditions, supplier diversity, economy, plastics, and toxic chemicals. The course was created for small business owners, procurement professionals, and anyone interested in sustainability in the business world.
See related: How to Invest in Renewable Energy [Step-By-Step]
Why you should Consider an Impact Investing Course
1. Impact the World Positively
An impact investing course will help to heal the world. This is because impact investing introduces you to investments that bring positive changes to the world.
If you want to make the world a better place while making a profit, impact investing is a good place to start. The course will provide you with all the knowledge you need to choose your investment wisely.
2. Invest Globally
When Investing, it is always a good idea to diversify your risk. Taking an impact investing course will open your eyes to the many investment opportunities available in the world.
The world is full of environmental and social opportunities you can invest in.
3. Get a New Investment Perspective.
Joining an impact investing program will give you a new investment perspective. You will see investment as a way to impact positive change and not just make a profit.
You will also learn to check for investments that bring social and economic change actively. After taking the course, how you think about investments and how you spend your money will change.
4. Start a New Career
Impact investing training can be what you need to start a new career. If you are already in the investment field and want to specialize in impact investing, taking some simple impact investing online courses might be just what you need. There is a high demand for impact investment experts, and training will be ideal.
5. Invest in what you Believe In
Investing in something that you believe in is always fulfilling. If you want to put your money into something that aligns with your values, it is time to think about impact investing.
For instance, if you believe in green energy investing, choosing companies that support green energy can be beneficial. Your investment will be more fulfilling as it will be tackling issues that affect the planet most.
6. Solve Problems in the World
An impact investing course opens your eyes to what is wrong in the environment and the world. Then you'll see opportunities that need funding.
Putting your money to work by investing in projects that make a difference in the world is a noble idea. It'll give you the satisfaction that you are solving problems in the world while at the same time making a profit.
7. Diversify your Portfolio
Taking an impact investing course can also help you to learn how to diversify your portfolio. If you are already an active investor, it is advisable to have different investments. Adding some impact investments to your portfolio will help you add a mix to the portfolio that guards you against unseen risks on one investment.
Studies have shown that impact investments do well and are less volatile. It is a good way to invest in something out of the usual investment.
8. Get a Profit
Besides allowing you to measure societal impact, this investment strategy will also help you make good money. However, if you want to make a profit from your investment, make sure that you get some training.
Getting training will give you all the skills that you need when investing. You will learn how to invest in projects for social change and get good returns while doing it.
Relevant Skills needed for Impact Investing
Problem-solving skills – You need to be able to find problems in your community and around the world and solve them accordingly. Impact investing is all about looking for problems in society and solving them to profit.
Financial skills – impact investing is still part of the investment. It is advisable to have some experience in finance to make the right investment decisions.
Relationship-building skills – investment is about interaction and building relationships. You need to build relationships with other investors and companies to determine what is available out there. These impact investment online courses help you do that.
Evaluation skills – impact investment will need a lot of evaluation. You need to evaluate the projects worthy of your time and those that are not. Good assessment skills will help you to make the right investment choices.
Knowledge in different sectors – it is advisable to know when you're making an impact investing in different sectors. Impact investing involves investing in less known areas such as renewable energy, recycling, and green energy. Before putting your money in any investment, make sure that you know the area.
Getting a Job in Impact Investment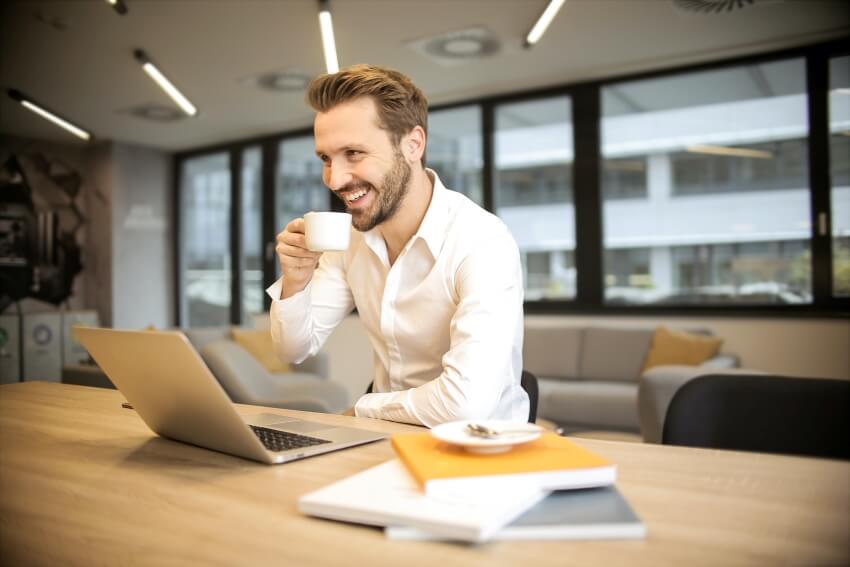 There are a lot of jobs in the impact investment world. Unfortunately, many people do not know how to get these job opportunities. Here is a guide to help you get a job in the impact investing industry.
1. 8. Get a Profit
The first step is to grow your skills. You will need to have the right skills to do the job right. Most of the skills you need to be successful in impact investment are listed above.
Fortunately, most of these skills can be learned through practice and research. Having the right skills will make the process easier.
2. Identify the Opportunities
Understanding how to identify the opportunities is always a good idea. You need to know where to find jobs so that you can actively look for them. For instance, you can find impact investing opportunities in non-government organizations and even community projects.
These are areas that are best suited for impact investment because they focus on bringing positive change to the world.
3. Network Building
The best way to get any job is to build networks, and impact investing is not any different. If you are looking for a job in impact investment, build networks with people and companies in the field. It will be easy to identify opportunities once they come up if you are already in the field.
You can build networks by attending conferences on climate change, social issues, and other fields that you are passionate about.
4. Think Big
Think big when looking for a job in impact investing. The field is very wide, and thinking big will help you find a job even in the least expected places. Do not limit yourself to one field because you might end up missing opportunities.
Even if you do not find a job, you can start a freelance career by being an impact investment consultant advising clients on opportunities related to impact investment.
If you want to become an impact investor or are interested in working in the impact investing field, taking some of these courses will be helpful. You can take courses that touch on finance, investment, and environmental sustainability.
FAQs
How do I learn impact investing?
Impact investing is the practice of investing in companies, organizations, and funds with the intention of generating social and environmental impact alongside financial returns. To learn impact investing, one can take online courses, attend workshops and seminars, and read books and articles on the subject. It is important to understand the principles of impact investing, the various investment strategies, and how to measure impact.
Does impact investing pay well?
Impact investing is a type of investing that aims to generate positive social or environmental impact alongside financial returns. While financial returns may not always be the primary objective of impact investing, studies have shown that impact investments can be profitable and may perform similarly to traditional investments. However, the financial returns of impact investing can vary depending on the specific investment and impact goals.
What is the difference between ESG and impact investing?
ESG (Environmental, Social, and Governance) investing is a strategy that considers a company's performance in these three areas when making investment decisions. Impact investing, on the other hand, is a strategy that seeks to generate measurable social or environmental impact alongside financial returns.
While ESG investing focuses on evaluating a company's sustainability and ethical practices, impact investing is more proactive in seeking out investments that create positive change in specific areas, such as renewable energy or affordable housing. In summary, ESG investing is a screening process while impact investing is an intentional investment approach.
How much does an impact investor make?
An impact investor is an individual or organization that seeks to generate social or environmental impact alongside a financial return. The amount an impact investor makes can vary widely depending on the investment strategy, the size of the investment, and the success of the investments. Impact investors may earn returns that are comparable to traditional investors, but they also prioritize the social and environmental outcomes of their investments.
Related Resources